Conductor / Composer Michael Gielen
A Conversation with Bruce Duffie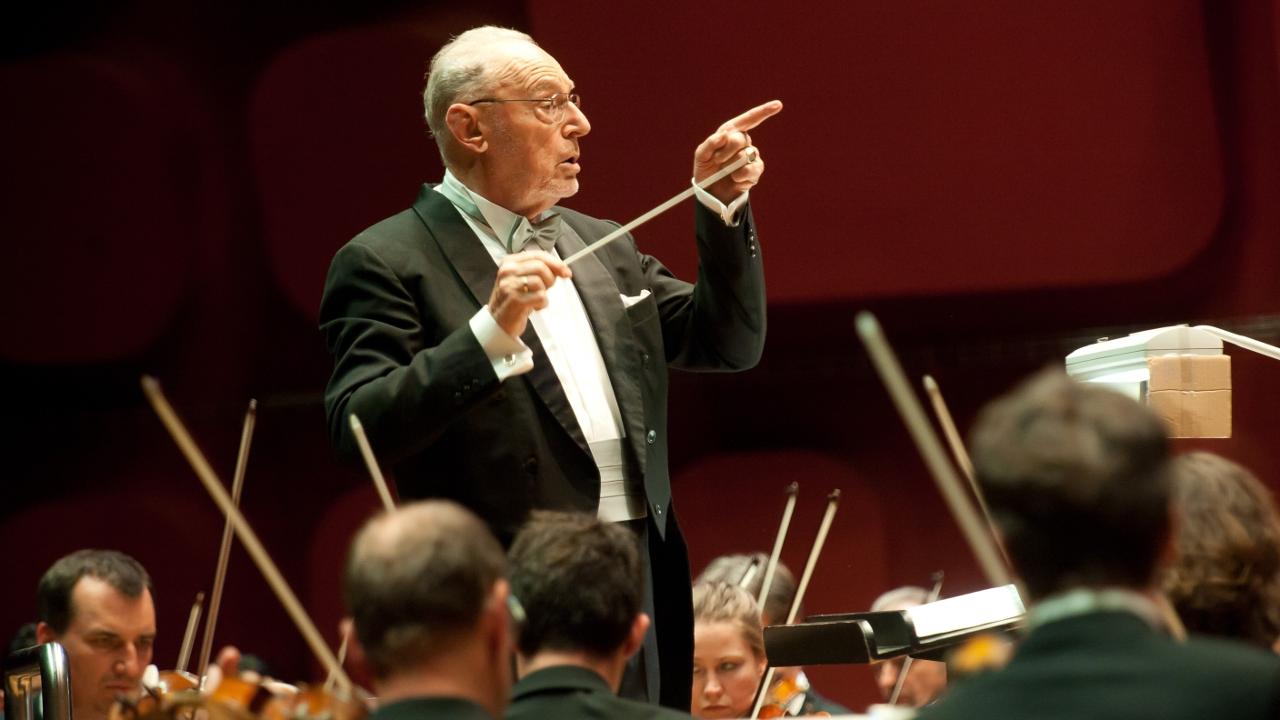 The German conductor, Micael (Andreas) Gielen (July 29, 1927 - ), is the son of the theatrical director Joseph Gielen. He studied under Erwin Leuchter in Buenos Aires (1942-1949), then under Josef Polnauer in Vienna (1950-1953).

An excellent pianist, Gielen made his debut in 1949 in Buenos Aires and played the complete piano works of Arnold Schoenberg in concert cycles. He became a répétiteur at the Teatro Colón, then went to the Vienna Opera as a répétiteur (1950-1952) and conductor (1952-1960). From 1960 to 1965, Gielen was the principal conductor of the Stockholm Opera. In 1965 he conducted the first performance of one of the major operas of the 20th century in Cologne, Die Soldaten by Bernd Alois Zimmermann.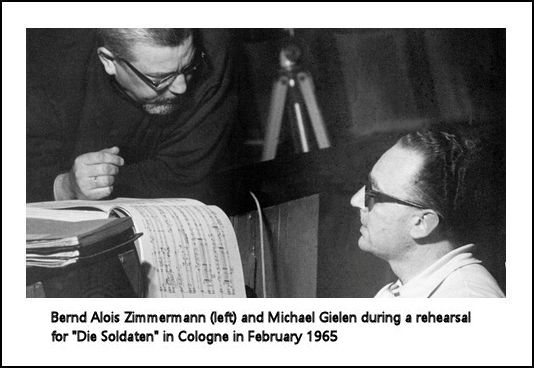 From 1969 to 1972 he was the principal conductor of the Belgian National Orchestra, and from 1969 he was a permanent guest of the South German Radio Symphony Orchestra. From 1972 to 1975 he was the director of the Dutch National Opera. From 1977 to 1987 he was the chief musical director in Frankfurt, and in the same period from 1980 to 1986 he was the Musical Director of the Cincinnati Symphony Orchestra. In 1979 he also became the principal guest conductor of the BBC Symphony Orchestra, London. In 1986 he took on the directorship of the SWR Sinfonieorchester BadenBaden & Freiburg. He also taught orchestral conducting at the Salzburg Mozarteum until he became an emeritus professor in 1995.

Gielen was a particularly keen proponent of the music of his contemporaries, and his first performances included Dramatic Scenes from Orpheus by Hans Werner Henze (1982), D'un opéra de voyage (1967) by Betsy Jolas, Requiem (1965) and Ramifications (1st version, 1969) by György Ligeti, Zwei Stücke (1978) by Detlev Müller-Siemens, L'Effacement du prince Igor (1971) by Henri Pousseur, Carré and Mixtur (1965) by Karlheinz Stockhausen, Symphonic scene (1961) and Namo (1971) by Isang Yun, Die Soldaten (1965) and Requiem für einen jungen Dichter (1969) by Bernd Alois Zimmermann. A tour with this work in 1995 took him through Austria, Britain, France and Germany. His own compositions often followed on from the Second Vienna School.



-- Throughout this page, names which are links refer to my Interviews elsewhere on my website. BD





In March of 1996, Michael Gielen returned to conduct two weeks of concerts with the Chicago Symphony Orchestra. The first week held the Symphony #6 by Mahler, and the second week included another (!) Symphony #6, this one by Beethoven, and a world premiere by Steven Stucky. He had first been here in 1973 for a concert of Haydn, Szymanowski, Penderecki, and Scriabin, and would subsequently return in 1997, 2001, and 2002.

He graciously agreed to meet with me for a conversation backstage at Orchestra Hall following an afternoon performance, and here is what was said at that time . . . . . . . . .


Bruce Duffie: You spent a number of years conducting opera, and now you're back into the symphonic realm. Aside from the very obvious, what are the differences between conducting opera and symphony?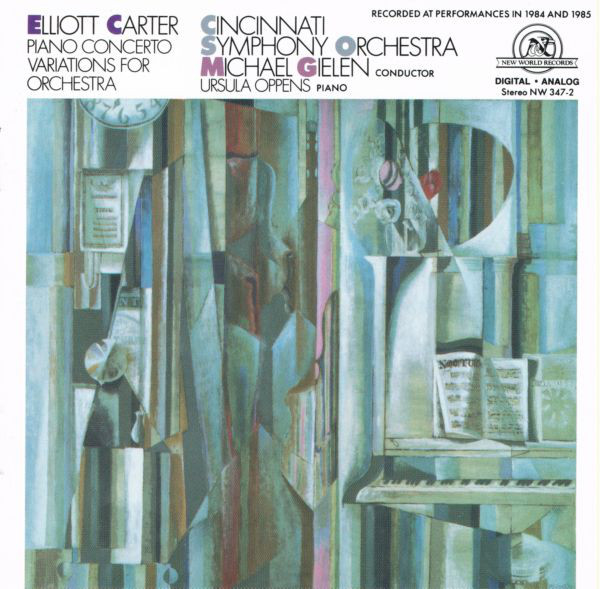 Michael Gielen: I've done both all my professional life. I started as a coach in the Teatro Colón in Buenos Aires when I was only twenty, assisting Erich Kleiber, then Furtwängler, and Böhm. I started to conduct very late. I came back to Vienna after the War in 1951, and was a coach at the Vienna State Opera. I was twenty-seven years old when I conducted for the first time in concert, and two years later I had a debut at the Vienna State Opera. Since then both things have gone parallel and together all the time. If you ask me what is the difference, maybe opera is more exciting in the sense that you never know whether the curtain will go up, and whether the soprano is going to be on stage. [Both laugh] You never know what else can happen. In concert things are little more assured.

BD: In a concert, is it nice to know that all of the weight rests on your shoulders rather than having to worry about the soprano and the tenor and the stage director? [Vis-à-vis the recording shown at left, see my Interviews with Elliott Carter, and Ursula Oppens.]

MG: [Laughs] If you want to put it that way. The big problem of opera conducting in German-speaking countries is the contrast of the 'stagione' theater — where you rehearse one piece, then you play it, and you get a maximum of two or three pieces at the same time — and the 'repertoire' opera house where you have up to twenty-five or thirty different operas running all season, but they rehearse only the new productions. So if you have not prepared the piece in that house two or three years ago, then you have absolutely no chance of rehearsing the whole thing together. You have a piano rehearsal with the singers, and then you go with a lot of confidence that your orchestra is going to follow you.

BD: Do they?

MG: Well, of course they do. Most of them are extremely experienced. But personally I'd prefer to conduct performances which I have been able to rehearse myself, to imprint my personal views on the music.

BD: In opera, how much is it a collaboration between the ideas of the musicians on stage and the idea of the conductor in the pit?

MG: It's a give and take. Certainly if you have remarkable singers you accept what they have to offer and follow them. On the other side, you may always say what you think it should musically be. My experience has been that the greater the singers, the more flexible they are. For instance, I was still pretty young when I did The Magic Flute for the first time. It was Irmgard Seefried singing Pamina, so of course before the performance I asked her what kind of tempo she wanted in her aria. She said, 'Oh, go ahead, Michael. You make the music and I'll be able to be with you.' Because she had done it with so many conductors there was no problem for her.

BD: You say the great singers are flexible. Are the great orchestras flexible?

MG: All orchestras are flexible. If you behave in the right way as a conductor, you will find flexibility on the part of the musicians. On the other hand, if an orchestra like the Berlin Philharmonic has worked with a great conductor like Karajan for twenty-five years, and they have been doing Brahms' First Symphony every second month of every season, and so many times on tour, they tend to play the way they're used to, and it is unwise to interfere too much. Bruno Walter used to say, 'Don't interfere if everything goes well.' So if you know this kind of tradition on the great classics and romantics, and if you come to an orchestra like the Vienna or the Berlin Philharmonic, it is wise to know what they're used in order not to interfere too much.

BD: Is it important when you're the music director of an orchestra to make sure that your orchestra will play for guest conductors, also?

MG: This is automatic.

BD: But is this part of your responsibility to make sure?

MG: How could one possibly make sure? If the guest is a good conductor and has the right attitude in a psychological sense, you will get excellent results. I don't think the music director has to preach to the orchestra, 'Please follow my colleagues.' They will!

BD: You can't teach them to be flexible?

MG: That depends on the kind of conducting you practice yourself, whether you're a rubato conductor or a rigid conductor. In the ideal situation, one should be free enough to accept ideas. Mainly one is engaged in order to communicate the ideas one brings. But on the other hand, the phrasing in a great orchestra will also influence the performance, so many things go without saying. So it is in the case here in Chicago. This is one of the great orchestras of the world, and they have been playing this Sixth Symphony by Mahler with Solti, of course, and with Boulez only three years ago, and other conductors have been doing it lately, so it is very well known. Then it is easier. With many orchestras in Europe, I wouldn't dare to do this symphony on just three rehearsals, but it is so well known here, and this orchestra is so capable. The language of this music is so familiar to the musicians, so it is not unknown territory like modern music can be sometimes. This is their repertoire, and I suppose that Mr. Barenboim also does Bruckner a lot. So they won't feel unsafe when one starts rehearsal. They really know it. so they offer what they think it should be.



* * * * *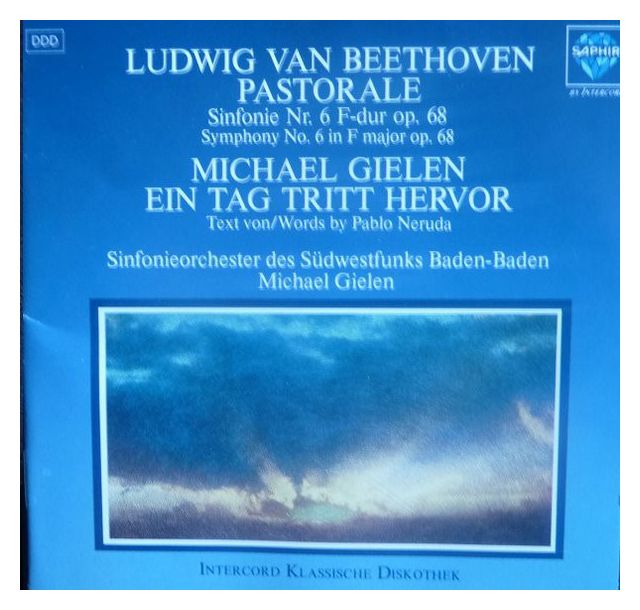 BD: You've mentioned modern music, and you are also a composer. Does that make you a better conductor?

MG: Yes. This is one of my fundamental convictions, that you can hear whether a conductor is or as also a composer by the sense of form. When you write music, at least in the early stages you try to fulfill great volumes of music, and that is a kind of experience of musical form which you cannot get in any different way. That is why the coherence of a very large form, like an act of a Wagner opera, might be more consistent with a conductor who has been composing. Take as an example, Furtwängler. He is an extreme example of a very personal view of the music, and a grasp of the large forms because he composed this kind of thing himself. Think of Boulez when he does French music, or Stravinsky. These composers are near to the music they do. Boulez has this understanding which gives a transparency, a clearness to performances which is exemplary, and has to do with the fact that he composes.

BD: Does what you conduct over the years affect how you compose?

MG: I hope not. [Has a huge laugh] No, I compose very little. I'm too busy learning scores during in the summer. Also, my orchestra in Baden-Baden has a festival of its own in South-West Germany in Donaueschingen, and for seventy-five years it is a specialist festival for contemporary new music. We have first performances of complicated scores every fall, in October, and so most of the summers I spend learning scores instead of composing, as Mahler did. He knew all the operas for Vienna so well that he could spend the summer composing.

BD: Would you like to have more time to compose?

MG: Yes, yes, certainly. At my age, I'm trying to reduce my conducting a little bit in the years to come in order to be more my own master.

BD: As a conductor and a composer, perhaps you're the ideal person to ask this 'easy' question. Where's music going today?

MG: I have no idea. [Much laughter] It's a very easy question and a very easy answer. I am no prophet. I have no idea.

BD: Do you like some of the directions that music's taken?

MG: In the past, yes. I believe the renewal, which happened after the Second World War with composers like Boulez, Stockhausen, and Nono, got to a stand-still in the '70s and '80s, and the kind of post-romanticism and return to tonality which we have seen is not a path which interests me very much. I wait for the next revolution to happen, and I hope it will happen during my lifetime with the younger generation.

BD: Do you know where to look for this revolution?

MG: We look all the time for our festival to find interesting scores.

BD: Are you looking into orchestral music, or choral music, or electronic music?

MG: The development of the combination of electronic music with computers is one of the more interesting aspects, and the live transformation of electronics in concert — like the last works of Nono, or Boulez's Répons — is an important step in a direction that has not yet been explored sufficiently.

BD: Are you taking part in those steps?

MG: No, not at all because I'm technically an idiot. [Both laugh] I write with a pencil on paper for the time being. But seriously, this is part of why I need more time for myself in order not to lose contact with these developments. I should really learn what a computer is. I don't have one at home, and I don't know what to do with it.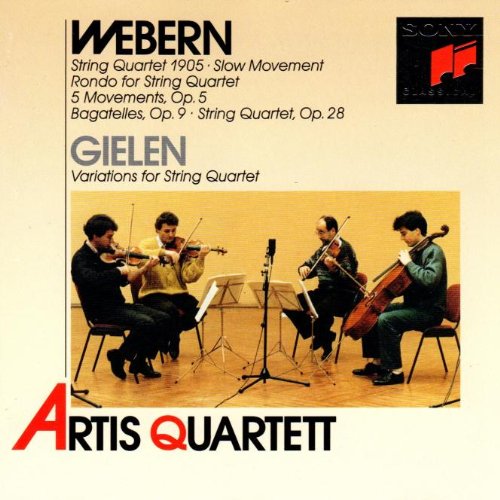 BD: When you're writing with the pencil, does the pencil lead your hand across the page, or are you controlling where that pencil goes all the time?

MG: The inner ear and the brain have to control everything.

BD: So you control how it comes out, and it doesn't have a life of its own?

MG: I would say that one invents an idea, and one has an idea of how a piece should be. One has the inner vision of the total thing, and then as you're working on it, it changes shape. At least the last thirty-five per cent of the piece — what earlier was called the recapitulation — in my experience turns out different from what one thought in the beginning it should be.

BD: Are you happy with the change?

MG: It is a logic which comes out of the material that you are employing. It has its own law. It goes its own way to a certain extent. It's like the input of musicians into a conductor's interpretation, so the material you are working with as a composer also is feedback on what is going on in your brain.

BD: You get feedback from page and you get feedback from the musicians. Do you also get feedback from the audience that comes to hear your piece, or any new piece?

MG: Yes. One feels it during the performance, whether they are coughing a lot or not. [Laughs] And the applause, of course, is a thermometer. But one's background has a quite clear sensation of the attention, and with a cultivated audience it depends on you how much you can interest them with what you're doing.

BD: Do you write orchestral compositions, and if so, do you conduct them yourself, or do you let other people conduct them?

MG: I've never written for orchestra. I've written for groups, and the biggest piece I've ever done is Variations for Forty Instruments, but that's not for orchestra. However, that's exactly what I'm planning — an orchestra piece — and the plans are pretty well defined, but I need several months, otherwise I don't even start. There's so much work. So far, though, most of my pieces are chamber.

BD: Have you been pleased with the performances of your works?

MG: Yes. Some of them had to be conducted, and most of the performances I conducted myself. Evidently my music is not such that everybody's trying to get it into performing. But it is a nice thing to write and to perform a piece which is an ensemble in size, and I felt very much honored to do it.



* * * * *



BD: Let me ask the great big question. What is the purpose of music?

MG: That depends for whom. I don't think there's an absolute purpose, but for the person who writes music it is the desire to survive one's own death, and the desire to be like God creating a little word of one's own. For an audience it is a different thing. It can be like a mirror of what is going on in the society, in the world, and even in nature. This is true of a piece of music or a painting. It can also be just a past time, as if they went to have a nice dinner, and so they are going to have a nice symphony. This also is legitimate. After all, most people are hard-working, so it will fill many different functions.

BD: Does it influence your section of program material if you know it's going to be a festival situation rather than a subscription concert where people have been working all day and just come for an evening?

MG: Certainly. A festival for modern music is only that, and has a specialist audience. For the normal audience, practically every program, or as many programs as possible, should have music of the twentieth century — and maybe the second half of the twentieth century — because the music of one's own time reflects one's own problems. Life in our world has become so difficult to bear that a large part of the normal bourgeois audience doesn't want to be confronted with these problems which express themselves in wars, revolution, social upheaval, unhappiness, and in psychoanalysis. When they go out in the evening, many people don't want to be confronted with that again. But on the other side, I believe that an art that does not reflect the problems of one's own period is untrue, so why should it be there at all? Just for fun? As a musician I would feel that I'm not taken seriously if I'm only there to be the clown.

BD: How do you balance the art and the fun?

MG: The amount of contemporary music in normal programs has to be judicious. If you give too much of a certain food, the stomach cannot absorb it, but in relatively small doses it is fine. In a three-piece program there should be one new piece. That should be possible, and I do think that one can educate one's audience as a Music Director. I've always tried to do that wherever I was in charge. Even in Cincinnati, not everybody, but a large part of the audience were grateful to be confronted with music they never heard before. Of course, there are always some conservatives who don't want to know anything more than what they know already.

BD: Are they really conservative, or are they just lazy?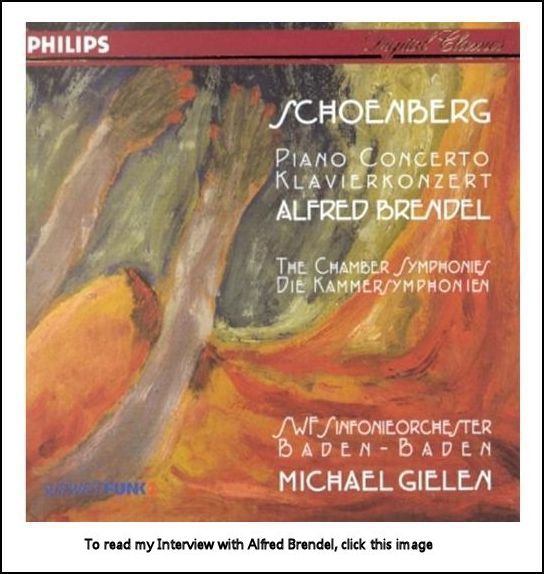 MG: What's the difference? [Laughs]

BD: From the vast array of literature, how do you decide which pieces you will program? And of course this becomes more important when you're presented with new scores. How do you decide which scores you will present and give birth to, and which scores you will set aside or let someone else tackle?

MG: It is impossible to do justice to all the different movements in art. One is conditioned by one's education, and by the life one has led as an artist to prefer certain things and to reject others. I don't think that my choices are always the best, but they are my choices. I cannot do differently. I always felt my first obligation was to confront audiences with the music by Schoenberg. This music is absolutely central for the understanding of what is going on in our century, and has been the source of so many developments. Twelve-tone technique has fostered the serial movement, and there's practically no composer in the world who has not been influenced in some way or other by Schoenberg. But, as I said, the problems which his music reflects — the great tension, the inner tension of his music — is something that not many people want to live with.

BD: If you get the audiences to understand and accept Schoenberg, does that make it easier to accept the composers that came after?

MG: Of course, certainly. It is also important to show in which sense the revolutionaries are conservatives. Schoenberg is a pupil of Brahms and a pupil of Mozart. If one plays his music, one should consider these traditional aspects of his music, and they would pave the way. They would make the bridge for an audience to understand him better. For instance, if you play Brahms, you should insist on the advanced aspects. The same for Beethoven as well as Berlioz. All these advanced aspects of older music prepare the listener for the traditional aspects of the modern music. So if you are in charge long enough — you have to be there for several years, let's say six or seven years — then you can make an overall plan, a five-year plan at least, of programming which will help your audience to come to grips with the music of their own time.

BD: You want to help the audience to understand all this?

MG: Yes. In the sense I understand it. It's like the preacher. He can only preach his own religion. He cannot preach the contrary of what he believes in.

BD: Is your religion music?

MG: I have none other.

BD: You teach a class in conducting. What advice do you have for young conductors coming along?

MG: I'm retired since last summer, 'emeritus' as they call it, but for eight years I've been teaching consistently in Salzburg in the Mozarteum. The main content of what I had to tell them was that there is no difference between modern and not-modern and old. That is, there is only music. Somehow, in some way, the same ingredients make the piece of music, and if you analyze classical music, you have also the tools to understand more modern music. It is very essential for students to understand this path of history, which goes Mozart, Beethoven, Brahms, Schoenberg, Webern, and on. If they do not understand that Webern has these roots in Mozart's composing technique, then they will never understand what it's all about. Though at first it sounds so complicated, if you digest it slowly — take it apart and then put it together — it becomes just as accessible as older music, which is not as simple as it sounds at first hearing.

BD: Just as you want to have a new piece on every standard concert, should you also put an old piece on every new music concert?

MG: That would be ideal. That would be wonderful. For instance, I remember a program where there was music by Bernd Alois Zimmermann, and I forgot who else, but right after the Zimmermann, the two pianists played the F Minor Fantasy for Piano Four Hands by Schubert. It was a relief because often modern music it not easy. The audience has to concentrate, and with the Schubert the ears are cleaned. So after this relaxation with music which has less volume and a different sentimental content, the last piece of the program was easily absorbed. But one danger of programs is that they have too many noisy pieces. I don't go to concerts very often, but sometimes I go to listen to colleagues, and I'm so grateful when there's a lot of soft music in it. That is the function of the third movement in Mahler's Sixth Symphony, where after all this relentlessness, all these marches, all the unhappiness, all the frustration which is expressed in the first two movements, and you can breathe in a different way. Then you have the strength to undergo the experience of listening to the finale, which is the longest finale in history.



* * * * *



BD: You conduct concerts for audiences and you also make recordings. Do you conduct differently for the microphone?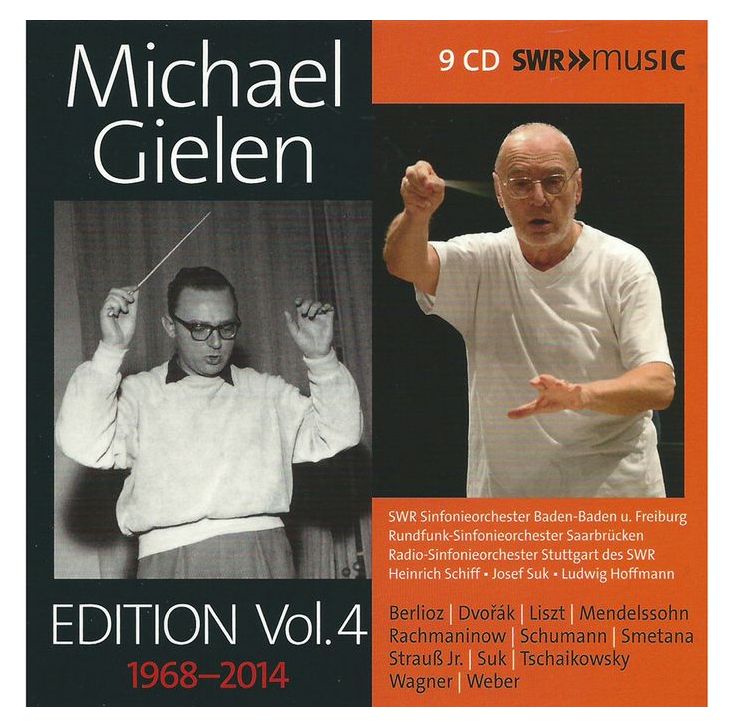 MG: I don't want to, but somehow the recording should be, or is intended to be, flawless — no wrong notes, no wrong rhythms, all the dynamics right, and so on. During the process of recording, of taking small passages maybe three times and correcting this and that, automatically everything becomes more rigid. The spontaneity of a concert performance, when you're in a good mood and in good health, and you think the audience is going to follow and the orchestra been rehearsed well, this spontaneity in the recording is often lost. That's why I appreciate very much now the industry that takes live recordings. Maybe there are a few corrections from a second performance, but fundamentally the basis of the whole record is a live performance. This is a very good idea, but obviously in a recording you can cut and splice, and get something that is technically accurate.

BD: Is there such a thing as a musically perfect performance?

MG: It's a question of taste more than anything else. Today many orchestras are so perfect, and many conductors are so meticulous, that a technically perfect performance is certainly possible. It's feasible, but whether it is musically as inspiring as a live performance with maybe little mistakes in it, this I'm not sure.

BD: I assume you are always striving for some kind of perfection?

MG: Of course.

BD: A little more than a year from now, you will hit seventy. Are you pleased with where your career has taken you to this point?

MG: I'm happy to be alive, yes. [Laughter all around] Some conductors grow very old, and as I said before, I've also other interests. Because I was so voracious in conducting and going ahead with the career, my wife and I did not travel as much for pleasure as we would have liked in order to know parts of the world which we don't know yet. Traveling was practically always combined with conducting. For that we need time, and for composing I need time. I don't know if I have the strength to do this, but I would like to write a book about performance technique for the conductor. This would include analyzing a piece, and trying to say what should be done in order to bring out the aspects which one finds in analysis.

BD: One last question. Is conducting fun?

MG: Sometimes! [Laughs] If you're in a good condition, and the orchestra also wants to play, and to like the piece, yes it can be enormous fun! You probably know this story that Boulez was a very well-known composer when he started to conduct. And somebody asked him, 'You're such a great composer, why do you want to conduct?' He said, 'I want to dominate!' And this aspect of being on the one … he was into Paris, let's say, Number 1 in a group of musicians who are making music with you, is a power aspect which is challenging and fascinating. It is I think a good thing that in our time it's changing more and more towards partnership. I think that the autocrats, the dictator like Toscanini was, would not be accepted any more easily, or here in Chicago, Mr. Reiner. We heard him in Vienna in 1956 for the opening of the reconstructed State Opera house on the Ring, and I assisted him for Meistersinger. It was a great experience, and he was very kind to me. His reputation was terrible, but in Vienna he was not a dictator at all. He had a fabulous ear.

BD: Did you learn something from Reiner, as you learned from Furtwängler and Kleiber?

MG: Kleiber was my great model, but Fritz Busch was also in Buenos Aires, and later Böhm and Serafin for Italian opera. Serafin was an example. His Norma I shall never forget. Reiner did just the Meistersinger. I added it to my repertoire from that time on, but I only conducted it twenty years later. One learns by observing any master and any person whom you respect, so you observe when he is working, and there is something to learn and to take from it. There's a case here that some of the conductors today said they learned from Michael Gielen, and if that is the case, I'm happy.

BD: Thank you for coming back to Chicago after all these years. I hope you'll come back again soon.

MG: Thank you very much. It's a pleasure to be here.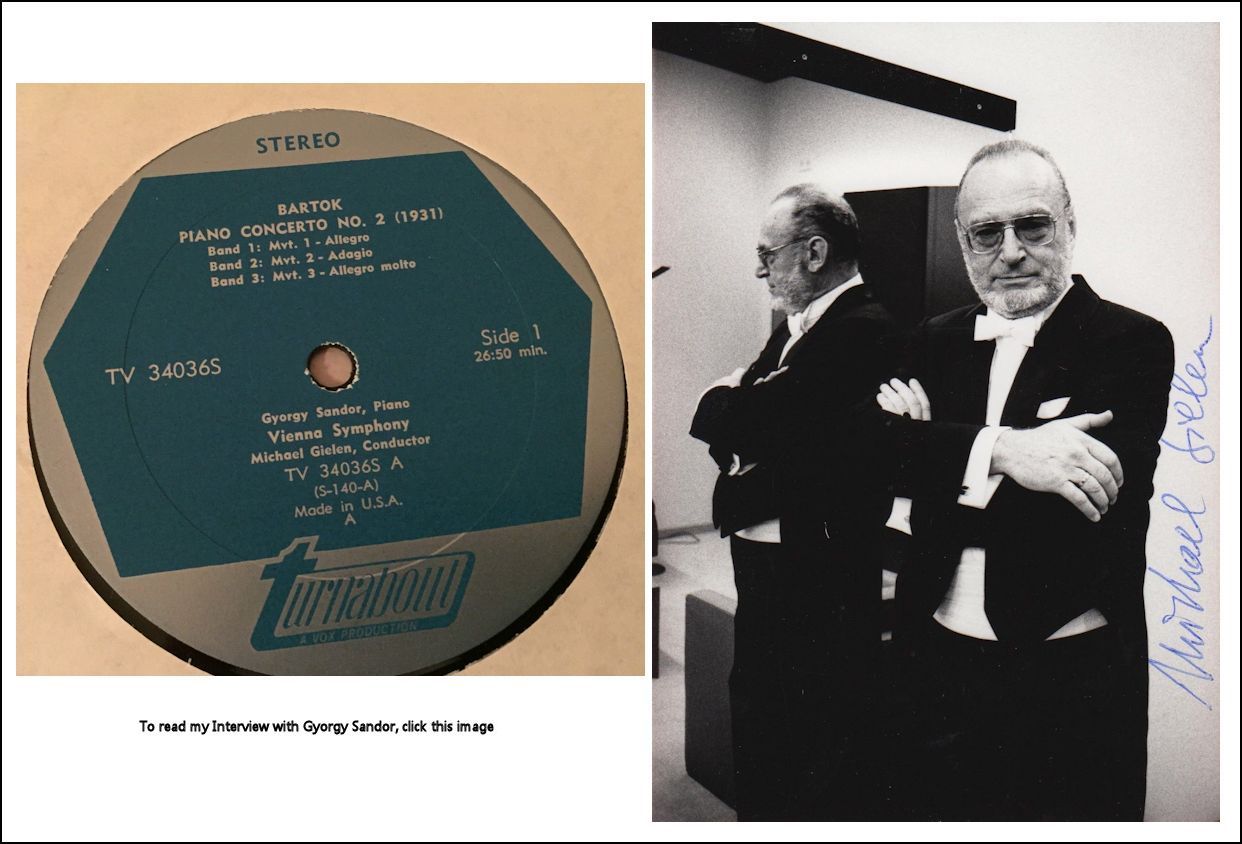 © 1996 Bruce Duffie

This conversation was recorded backstage at Orchestra Hall in Chicago on March 22, 1996. Portions were broadcast on WNIB the following year. This transcription was made in 2017, and posted on this website at that time. My thanks to British soprano Una Barry for her help in preparing this website presentation.

To see a full list (with links) of interviews which have been transcribed and posted on this website, click here. To read my thoughts on editing these interviews for print, as well as a few other interesting observations, click here.

Award - winning broadcaster Bruce Duffie was with WNIB, Classical 97 in Chicago from 1975 until its final moment as a classical station in February of 2001. His interviews have also appeared in various magazines and journals since 1980, and he now continues his broadcast series on WNUR-FM, as well as on Contemporary Classical Internet Radio.

You are invited to visit his website for more information about his work, including selected transcripts of other interviews, plus a full list of his guests. He would also like to call your attention to the photos and information about his grandfather, who was a pioneer in the automotive field more than a century ago. You may also send him E-Mail with comments, questions and suggestions.