Donald Martino, the Pulitzer Prize-winning composer who lived in Newton, died Thursday off the coast of Antigua while on a Caribbean cruise.
The cause of death was cardiac arrest following an attack of hyperglycemia. He was 74.
Mr. Martino was a prominent presence in Boston's musical life since he began teaching at New England Conservatory in 1969. In 1980, he took a post at Brandeis University, and from 1983 until his retirement from teaching in 1993 he taught at Harvard University.
A composer of meticulous craftsmanship, he used his prodigious technical skills and rigorous attention to detail to produce music that sounds spontaneous and emotionally immediate.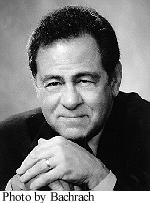 For a time Mr. Martino came under attack in the media as an ''academic serialist." He didn't like that characterization, although he was an academic and a serialist. In an interview with the Globe in 1980, he said, ''My music is not austere and academic. It is a fantasy that anyone writes academic music. People write music for other people; the intention is to warm the spirit. I write music for people to listen to, to react to; I want them to say, 'Hey, this is nice!' "
Mr. Martino loved many kinds of music -- jazz, Tin Pan Alley, opera, the great 19th-century virtuoso showpieces for clarinet, and the works of the composers of Second Viennese School, Schoenberg, Berg, and Webern, and their Italian successor Luigi Dallapiccola, with whom he studied in Florence on a Fulbright Fellowship in the mid-1950s.
A listener can hear all of these influences in his work, but only Mr. Martino could have written his music, which is sensuous and serious, even when it is playful or even cheeky, as in ''Dr. Schoenberg's Magic Cabaret."
He composed industriously for six decades, and even in recent years, when he was dogged by poor health, he continued to write. He created a publishing company, Dantalian Music, to issue his own music. Dantalian's ''shipping department" is a plywood counter that folds down over the washer and dryer in the basement of his home.
Mr. Martino took a computer and a portable keyboard with him on the cruise and spent most of his last day working on a commission from the Tanglewood Music Center for a Concertino for Violin and 14 Instruments, said his wife, Lora (Harvey) yesterday.
''We've taken cruises for many years now; it was our vacation mode," said his wife. ''He liked to sit in a room writing music. I like to be out and active in the sunshine. On a cruise, we could do that. On his last day he worked until 4 p.m."
His last completed work was a Concerto for Orchestra, finished last summer.
Mr. Martino was born in Plainfield, N.J. His first instrument was the clarinet, which he played both in jazz groups and symphony orchestras; he also played oboe and saxophone. He wrote major works for piano, but according to his friend and fellow composer Yehudi Wyner, he played the instrument with three fingers -- two in the right hand, one in the left, for the bass. At the time of Mr. Martino's retirement, Wyner produced a short piano piece in tribute called, ''ThreeFingered Don."
''He was a relentless worker of the highest standard," said Wyner. ''He had a very catholic view of things and great personal generosity; he was able to appreciate the aesthetic positions of other composers."
Mr. Martino studied at Syracuse University and at Princeton, where his mentors included composers Milton Babbitt and Roger Sessions. Mr. Martino taught at Princeton, Yale, and the Tanglewood Music Center before coming to Boston. Under the name ''Jimmy Vincent," he wrote several pop songs that never became popular.
''They were too original to become popular -- wayward, inventive, always interesting; you keep stubbing your toe," said Wyner.
Mr. Martino's largest work, composed on the scale of Mahler's ''Symphony of a Thousand," was ''Paradiso Choruses," an ecstatic setting of lines from the final section of Dante's ''Divine Comedy" premiered in 1975 at New England Conservatory. It calls for chorus, children's chorus, large orchestra, tape, and 14 soloists. The premiere was conducted by Lorna Cooke de Varon.
''For my 25th year at the Conservatory, I was given a present -- the opportunity to commission a new work," recalled de Varon yesterday. ''I asked Don for a small work for chorus and orchestra, and Donald came forth with this extraordinary thing. To prepare it was a fascinating and wonderful experience, and in a sense he stage-directed the whole performance, deciding where everyone would stand and sit. He was a perfectionist -- but not the kind that has a temper."
His 1974 Pulitzer Prize came for ''Notturno," a work for flute, clarinet, violin cello, and piano, a work of night moods, night fantasies.
In 1987 he wrote a Saxophone Concerto premiered by Kenneth Radnofsky.
''He was a man of uncompromising artistic integrity who heard every note he wrote; he was Brahms, working in a modern idiom," said Radnofsky yesterday.
Mr. Martino's most recent Boston premiere was early this year when conductor Gil Rose led clarinetist Ian Greitzer in the premiere of his luminous "Concertino for Clarinet and Orchestra" at a concert by the Boston Modern Orchestra Project last season.
''His music lost none of its complexity but it became more straightforward -- a little like the man himself," said Rose. ''He took no prisoners when he was dealing with music, but he became more and more congenial in human relations as he aged. He always knew exactly what he wanted."
In addition to his wife, he leaves a daughter, Anna Maria of Branford, Conn., and a son, Christopher of Boston.
Plans for a memorial event are not complete.