Ex-cso Bassoonist Willard Elliot, 73



June 10, 2000
By Karen Mellen, Chicago

Tribune

Staff Writer.

Unlike flashy instruments such as the flute or clarinet, the bassoon is a reliable instrument, its elegant, strong sounds heard during 90 percent of most symphonies, often rising to a solo.

In many ways, the instrument characterized Willard Elliot, 73, a retired principal bassoonist with the Chicago Symphony Orchestra. Colleagues said his quiet strength made him a Rock of Gibraltar of the symphony for three decades.

"You never worried whether something was going to come out wrong or not," said Dale Clevenger, principal horn for the CSO who sat near Mr. Elliot for three decades. "You never did. Because he was just so dependable, so reliable, so solid a player."

Mr. Elliot died of heart failure Wednesday, June 7, in Ft. Worth.

Mr. Elliot's love of music started early, cultivated in his native Texas by listening to his parents' old opera records, said his brother, Doug. He soon began piano lessons, then progressed to the clarinet. Eventually, he specialized in the bassoon, a complicated double-reed woodwind. The range of the bassoon is immense, able to reach deep baritones, but also producing clear notes similar to those of a tenor.

He started with the bassoon about age 14, even though he wanted to play much sooner, said his wife of 23 years, Pat. "He was waiting until he was big enough to play the bassoon," she said. "You have to have long enough fingers."

At age 19, Mr. Elliot earned his master's degree in composition from the Eastman School of Music in Rochester, N.Y. He then went on to play with the Houston Symphony Orchestra for three years and the Dallas Symphony Orchestra for 11 years. In 1964, he joined the CSO, continuing with the organization until he retired on Jan. 1, 1997, for health reasons, his wife said.

Known for his unwavering respect toward colleagues and high degree of professionalism, Mr. Elliot led by example, and was appreciated for his musical ability. "He inspired those around him to play up to his level," said Burl Lane, a longtime bassoonist with the CSO. "In this business, tempers can flare very easily. But he was the easiest man in the world to work with."

Mr. Elliot also was an accomplished composer whose pieces were performed by the CSO.

After retiring from the CSO, Mr. Elliot moved to Ft. Worth to teach music at Texas Christian University and give master classes around the country.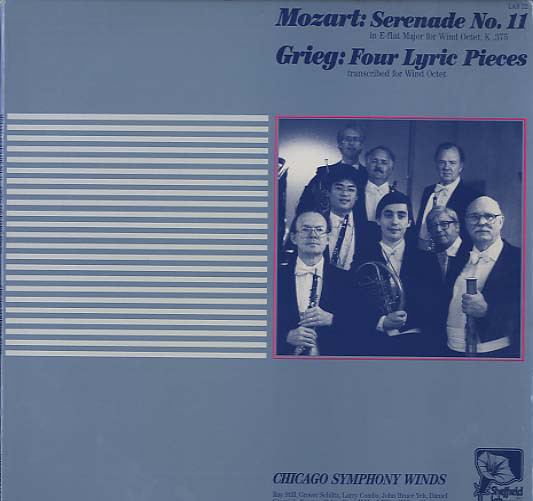 Williard Elliot (also the transcriber of the Grieg) is shown at right.

Immediately left of him is

Wilbur Simpson

. Behind Wilbur is oboist

Ray Still

.

Others shown (l-r) are Grover Schiltz, oboe,

John Bruce Yeh

, clarinet,

Norman Schweikert, horn,

Larry Combs

, clarinet, and Daniel Gingrich, horn.



Selected compositions

Symphony No. 2
Elegy for Bassoon and Orchestra, premiered December 7, 1959, Dallas Symphony Orchestra, Paul Kletzki conductor
Quetzalcoatl, a tone poem
Night Piece for Small Orchestra
Concerto for Two Bassoons and Orchestra
Concerto for bassoon and orchestra (1965)
3 Duets for flute and bassoon
Six 15th-Century French Songs for oboe, bassoon, and piano (1978)
Poem for bassoon and string quartet
Quintet for bassoon and strings
Two Metamorphoses for solo bassoon, string quartet, and wind quartet
Six Portuguese Songs for bassoon and piano
Six Portuguese Folk Songs for bassoon solo and orchestra (1990)
Elegy for Orchestra (1960) (Kousevitzky award (1961)
Snake Charmer, for alto flute and orchestra (1975)
Five Impressions for Wind Octet (1981)
Fantasy, for piccolo and piano (1978)
Five short pieces for oboe and piano (1986)
Septet, for flute, oboe, clarinet, bassoon, horn, trumpet, and tuba (1987)
Silhouettes (from impressions), for soprano, bassoon, and piano (1991)
Six Portuguese folk songs, for bassoon and piano (1988)
Tears, Idle Tears, for soprano, bassoon, and piano (1990)
Two sketches, for woodwind quintet (1986)
Evolutions, for two contra bassoons (premiered Aug 10, 1999, International Double Reed Society Annual Conference)


Selected arrangements and adaptations by Willard Elliot

Four lyric pieces for wind octet, Edvard Grieg (1986) [recording shown above]
Ma mere l'Oye cinq pieces enfantines, Maurice Ravel, arranged for flute, oboe, clarinet, bassoon, horn, violin, viola, violoncello, and bass (1988)
March from Turandot, Carl Maria von Weber, arranged for wind octet (2 oboes, 2 clarinets, 2 horns, 2 bassoons) (1986)
Peter Schmoll ouverture, Carl Maria von Weber, arranged for wind octet (1986)
Quartet in B-flat, for bassoon, violin, viola, and violoncello, Mozart, (adaptation) (1986)
Quejas o la maja y el ruisenor (Lament of the maja and the nightingale), from Goyescas, for wind octet: 2 oboes, 2 clarinets, 2 horns, 2 bassoons Granados, (1986)
Scriabiniana, suite of selected piano works, Alexander Scriabin, arranged for flute, oboe, clarinet, bassoon, horn, violin, viola, violoncello, and bass (1991)
Septet,for oboe, bassoon, horn, two violins, violoncello, and bass, Glinka, (new revision) (1988)
Seven preludes for clarinet and piano, Alexander Scriabin, (arrangement) (1986)
Valse, Opus 38, for flute, clarinet, bassoon, and piano Alexander Scriabin, (arrangement) (1986)

Most of the above compositions were published by Bruyere Music Publishers, a firm that Willard and his wife, Pat (née Patricia J. Bills), founded in 1986 to publish and popularize his compositions and arrangements.