Conductor Fiora Contino

A Conversation with Bruce Duffie






The American conductor, Fiora Contino, was born into an eminent musical family. Her father, Ferruccio Corradetti, was a leading baritone at La Scala and other principal European opera houses. She graduated from Oberlin College with a Bachelor of Music degree in piano. She furthered her musical training in Europe studying conducting at the Conservatoire Americain in Fontainebleau and the Ecole Normale in Paris with renowned pedagogue Nadia Boulanger, and at the Akademie Vienna with Hans Swarowsky. She then earned a Master's Degree, with distinction, and a Doctorate of Music in conducting from Indiana University School of Music. She was awarded the 1960 Premier Prix Hors Concours, cum laude from the Conservatoire in the field of conducting.

A respected educator, Fiora Contino has held teaching positions at Hillsdale College, Smith College, and Mount Holyoke College, as Director of Opera and Choral Activities at Bowling Green State University, and as principal conductor and Chairman of the Choral Department at Indiana University. She also served at Peabody Institute, and The University of Texas at Austin.

Fiora Contino has conducted opera performances for Aspen Musical Festival, Memphis Opera, Fort Worth Opera, Spring Opera Theater of the San Francisco Opera, Anchorage Opera, and the Teatro Grattacielo at Alice Tully Hall in New York City. Her performance of Puccini's

Madama Butterfly

with the Pittsburgh Symphony Orchestra, was greeted by the Philadelphia Evening Bulletin as "...magnificent, moving and of the very first order. Fiora Contino towered over everything as the conductor and music director. She held everything together with a baton that was sharp and in clear control of a magnificently coordinated performance. Her presence would do honor to any opera house in the world." She has led many productions for the Memphis Opera, including a performance of Puccini's

Turandot

with Birgit Nilsson.

Fiora Contino has been a regular conductor at the Temple University Music Festival in Ambler, Pennsylvania and Director of the Choral Institute at the Aspen Music Festival. She has also led performances with the symphony orchestras of New Orleans, Hartford, Baltimore, Memphis, San Francisco Symphony Orchestra and San Antonio.

New York columnist Byron Belt wrote of her in the Sunday Press, "She is too little known, but Ms. Contino is certainly one of the outstanding women conductors of our day - and we mention the sex…to underscore the fact because a man of her superlative gifts would surely be an international superstar today."






Fiora Contino was in Chicago in May of 1990 to conduct

Lakmé

with the Chicago Opera Theater at the Athenaeum, and she graciously took time from her schedule on the day before the first performance to speak with me . . . . .




Bruce Duffie

: Thank you very much for taking time on the day before the first performance.



Fiora Contino

: You are more than welcome.



BD

: Is there a sense of relief or a sense of expectancy on the day before you start off for real?



FC

: It's curiously a winding down day because the nights before the final dress rehearsal are just so very critical; they're full of a certain kind of urgency, so today's almost like a day of rest. Tomorrow I will get myself together for the performance, but right now it's almost like a sense of relief because the preparation is over.



BD

: Has all your preparation been done or have you left a little bit for the performance?



FC

: I am sure that every performance will be different. In opera, it depends so much on the way the singers feel. If they're really feeling their oats, you want to just let them go slower. That's always the danger. When they're feeling really good, they'll tend to want to take more time.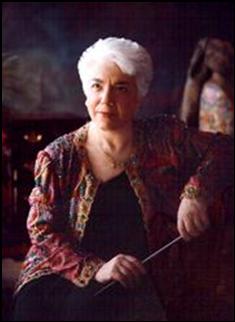 BD: They'll want to luxuriate?



FC

: Yes, in a way.



BD

: So you have to prevent that?



FC

: In a sense because it's my job to pace it.

Lakmé

is such a special kind of opera anyhow. It needs really to have careful hand.



BD

: What is it about this French work that requires a special touch?



FC

: First of all, it's a number opera. Therefore, unless one is aware of the larger form it tends to seem, "We're finished with this and now we do that." It could degenerate to that and I hope that it doesn't. You have to link it together and not come to a thundering climax in the middle of an act so that people think it's the end of an act. The second act is very long. It's a collection of vignettes, as it were, in the market place, so that takes great care. The last act is almost like an apotheosis. It's very sensual and even though she takes her own life it's like an opiate. It becomes that kind of sensuality, and it is very dangerous because if one gives into that without a sense of urgency, the act doesn't work. The first act is just about a perfect act. It was made incredibly well.



BD

: Then why is this opera is such a rarity?



FC

: Things come in and out of fashion. I remember when I went to school many years ago, people disdained Tchaikovsky. I remember a time when Wagner was extolled, and then early Verdi was though inferior to late Verdi. It's not; it is what it is. Everything is what it is.



BD

: But what has shoved this opera back into fashion?



FC

: Do you think it is back in fashion? It's a wonderful vehicle for a particular singer, and when one has that kind of a singer to sing the title role of Lakmé, then you really have a chance at a performance which will be very exciting. I think that we really do with Diana Walker who has high Es. Not "Bird Es," but you need to be exciting.



BD

: "Bell Es?"



FC

: Yes! So to speak; there are several in the

Bell Song

.



BD

: So then really you are waiting for the singer who can carry it through and then you do it.



FC

: I think that is what Allen Stone had in his mind, and I think that he actually put this opera together for Diana Walker. She is also uncommonly beautiful. She is so stunning.



BD

: Which doesn't detract from the performance!



FC

: To say the least, because it also would take someone that would be ravishingly beautiful. This is a kind of a fantasy, a French fantasy. It's 1883, if I am not mistaken, when this was first premiered, and the French always had this fascination for the East – in this case India. It's like a fantasy child born out of his imagination. The opera is scored very sensitively, with great subtlety. I think it really hangs together. If it is done too sweet, you could have a sugar high. I'm hoping that we're not doing it that way. It needs a great deal of rubato. The recordings are also not very wonderful. The Mesplé recording is the one that's regarded as being very French, but for me it is not as interesting.



BD

: Do you rely at all on recordings for ideas?



FC

: No, although I must say that I have researched all of them. I like to get an idea where it fails, especially on a specialty work. I sometimes listen to recordings much as an amateur would listen to them. In other words, is it interesting or is it boring? I look for what's exciting just to get a hint of what the score might hold.



BD

: To get the general impact?



FC

: Yes, but I don't rely on any recording in terms of

tempi

or anything like that.



BD

: Do you have any expectations of the audience that comes to see these performances?



FC

: In terms of size?



BD

: No, in terms of ability to understand the work or knowledge of it.



FC

: It's an easy work to see and hear. There's a certain amount of spectacle in it. There is a great deal of exoticism in the scoring and in the melodies. It's kind of like

Madama Butterfly

, except this time we're in India. The Indian priestess unwittingly falls in love with someone whose cultural class is a British soldier, and when she realizes that… I won't go into the story, but he really is so torn that he will eventually go back to his regiment. She decides to take her life so that he could be free to go. It's very much the

Butterfly

story.



BD

: Very passionate all the way around.



FC

: Yes, I think it is, so I have an expectation that the audience will love it. We've had a few visitors at rehearsals and they seem to be really astonished.



* * * * *





BD

: You conduct opera all over this country. Do you also conduct opera in Europe?



FC

: Not really. I do the regional companies. I have my own company in Peoria, Illinois, the Peoria Civic Opera. I have conducted in Europe, but not opera.



BD

: Do you conduct mostly opera in your career?



FC

: I've done a little bit of everything, or maybe a lot of everything. I've done a great deal of choral music, especially when I was younger. I was head of the choral department at Indiana University for a time, and then I was head of the Choral Institute at Aspen for a long time. I became really interested in symphonic music, so I've done a good deal of that. I was Music Director at the Anchorage Music Festival, and that's a purely symphonic assignment. But I think maybe I am more at home in opera than I am at the other things, even though my interest is very strongly peaked by the idea of orchestral conducting. That's a field I would like to do so much more.



BD

: You are from a family that sang at La Scala?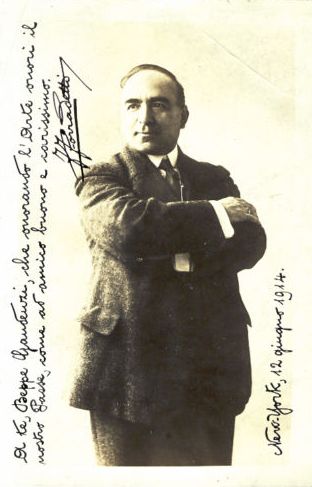 FC

: My father [

shown in photo at right

] was a very well known singer at the turn of the century. So I come from an operatic background, and language has always been easy for me.



BD

: Did you learn from him or is it just a taste and the breeding?



FC

: More a taste than anything, really, because my father died when I was fourteen. He was so much older than my mother, so he was born a good long time ago.



BD

: Do you remember him in a few performances?



FC

: I remember him as a teacher at the time. I was a child of his old age, so I remember him as a musician, as a strong, intellectual presence.



BD

: I've heard some recordings of your father!



FC

: [Seriously impressed] Have you really???



BD

: Yes. They are very strong, very interesting, very to the point.



FC

: He was very good, I think. Isn't that wonderful that you have heard him!



BD

: It's good that you admire your father.



FC

: Yes. As a child, you would always admire your father anyhow, but then as I've grown and met all the people who worked with him, it's so gratifying to know that indeed, yes he was wonderful. I have a half sister in Italy, Iris Adami Corradetti, who is recognized as one of the great singers and one of the great musicians and teachers of singing.



BD

: Why didn't you go into singing?



FC

: I had no voice, but it's just part of who I am. I sing vicariously I guess you would say.



BD

: You use others' voices.



FC

: Yes. But the idea of voice in music is so interesting because it's an intellectual thing as well with the literature, the philosophy, the history, the poetry. All of that almost takes music to an apogee, being spokesman for humanity. I know that sounds very corny.



BD

: No, not really. Now you have this experience of the great voices throughout a long period of time. Are the young singers today maintaining a standard that was set by previous generations and your father and the generations before him.



FC

: That's a hard question. I think that life is harder for our young singers than it ever would have been for my father because the theatres are so large. This is one of the great things about the Athenaeum here in Chicago, and that's why Diana can sing Lakmé night after night, rehearsal after rehearsal. It's a nine hundred seat theatre. In Peoria we have a twenty-two hundred seat theatre, so it takes far more effort to sing over everything. There is also the traveling. My father did a great deal of traveling. He went to Egypt, to France, to Germany, and when they would go with Toscanini to South America, they stayed three months.



BD

: And they would go by boat, which was more restful.



FC

: Yes, the whole company would go by boat. So I think that life is harder for these youngsters. Mark Thomsen, for instance, our tenor, is so busy. He goes from engagement to engagement.



BD

: Shouldn't you shake him by the lapels and tell him to slow down?



FC

: There's no way; he's earning a living.



BD

: Don't singers burn themselves out by singing too much?



FC

: Sometimes they do. Sometimes people are unwisely advised to go into a larger repertoire than they should at their age. There's a lot bad advice. They have managers, and managers sometimes have the best interest of the singer at heart, and sometimes they market them. There's a certain element of that, though there are some wonderful, wonderful voices.



BD

: [With a gentle nudge] You mean singers shouldn't be traded on the stock exchanges like pork bellies?



FC

: Really! Pavarotti doesn't sing anymore unless there's a hundred thousand in the hall, a Madison Square Garden, or some sort of a sports arena. And it's so unmusical; everything is amplified. But he makes so much more money at that than if he just pursued a career.



BD

: Yet all of the young singers aspire to have the supersize career.



FC

: There's another thing about singers of my father's era and before. They were trained in a discipline which is loosely called

bel canto

singing, which said that it was never the volume but always the quality of the sound that was the important thing. Every subtlety of the word was necessary, every legato line, every kind of vocalise that made the voice limber was the thing that was definitely stressed. Nowadays the teachers of singing will put a twenty-five year old into the role of Siegmund even if he doesn't have a top because they say he's got a big tenor voice. I think it's unwise.



BD

: They sing for a few years, and that's it.



FC

: That's right.



BD

: Is there any hope for opera as you see it?



FC

: Oh, of course there is! That will always continue. There is also hope when composers are drawn to it again and in increasing numbers. We can't simply do the operas of the past.



BD

: What advice do you have for a young composer who wants to write opera?



FC

: Get a grant that's connected to a company that will produce it. That's really the only way. You need to have a company that will give you a premiere.



* * * * *





BD

: You've conducted operas in the very old style, and in the Romantic style, and in the new style. What makes some of these operas work and some of them not work?



FC

: Sometimes it's just the genius of the musician who writes the music. Sometimes with particular things, the marriage of text and music is an unbeatable thing, but Verdi wrote very good operas with very bad texts. But for instance, an opera like

L'Incoronazione di Poppea

of Monteverdi has an incredibly beautiful and wonderful text. Wagner, in a curious way, succeeded so well because he wrote his own texts and they were welded to his music, as are the Boito collaborations with Verdi.

Falstaff

is unbeatable, as is the Barber collaboration with Menotti on

Antony and Cleopatra

. I still don't understand why that opera is not redone. Barber is a very good operatic composer, and

Vanessa

is very good opera.



BD

: You have this vast array of operas to choose from. How do you decide which ones you will seek to conduct?



FC

: I usually have no say about that at all. I am usually just simply hired as another cog in the wheel. In Peoria I must say that it's just a financial thing of what I think will bring people into the house. I don't know whether we could mount a

Lakmé

in Peoria.



BD

: "Will it play in Peoria?"



FC

: Exactly. I am not in a position to decide. Alan Stone has made a viable opera company on doing the very things that the Chicago Lyric normally does not present, and he does them in English. I have mixed feelings about opera in English.



BD

: Let's wade into that discussion. What are your feelings about opera in English?



FC

: I think the whole movement of opera in English is born out of the German movement that did all the operas in Germany. Germany had such a flourishing opera, and still does.



BD

: But Italy translated Wagner, so we can spread around the blame.



FC

: That's true and my father did those in Italian as well. If the translators were more skillful, it would be better.



BD

: We need more people like Andrew Porter.



FC

: Yes. The problem facing the young singer is enormous for translations. In my little company, I find that oftentimes if I do the big things, the singers are not so terribly interested in learning something in English translation because the next time they might be asked to do it, it might be in yet another translation. There is really no standard, no standardization of it. Certain operas work very well in English. I must say that when you get a

Traviata

in Italian, it just is more exciting. The vowels are in the right places because it was written with that language in mind.



BD

: What about fast comic opera with lots of recitative?



FC

: Probably they are better in English, although the surtitles have opened things up. There is no real excuse for somebody not wanting to come into the theatre saying "I don't understand." Most regional companies now do use surtitles.



BD

: So here's the dilemma. Would you rather do it in the original with surtitles or a brilliant English translation?



FC

: If I saw a brilliant English translation, I might be tempted; but I like the surtitles. You can look at them or not look at them as you wish. Nobody forces you to look at them if it disturbs you. I'm finding that the audiences are reacting with a much stronger degree of enthusiasm with the surtitles.



BD

: Are the surtitles going to mean the death of opera in English?



FC

: It depends on the purpose of the companies that produce opera. The Chicago Opera Theatre stands very strongly behind opera in English, and they do the kinds of things where English is a help in making something viable theatre. Most regional companies are going to surtitles.



BD

: How is the health of regional companies in America these days? You've conducted a number of them.



FC

: There sure are a lot of them, and they stay alive because of the generosity of their boards. Opera simply does not pay. You can cut every corner and you can fill every seat and it still is a nonpaying situation.



BD

: Is that right?



FC

: I don't know that there's any other way to do it because it involves so many people doing so many tasks. And why shouldn't they get paid? I have nothing against the theatre unions. Why shouldn't those people be paid like plumbers? God knows they sacrifice enough to being musicians or dancers, but the cost totally is staggering. We do seven performances because the theatre is small, but you can only do it so many times. You are not going to go on the road with something like they can with

Phantom of the Opera

. It's not entertainment; it's art.



BD

: Then let me ask a great big philosophical question. What is the purpose of opera in society?



FC

: It's art. It's an art form which is a magnificent attempt at combining many, many disciplines.



BD

: Is there any place for entertainment value in this art?



FC

: I think that's a by-product. If you are entertained, that's fine. I don't see that you go to

Fidelio

to be entertained. I really don't.



BD

: Do you go to the

Barber of Seville

to be entertained?



FC

: Possibly. Of course in their day those were meant exactly for that reason, but I think it's a by-product as we recreate them.



BD

: You say "in their day." Is there any way that we could – or should – understand these operas in the same way that they were intended by their composers now we've come through wars and depressions and upheavals?



FC

: It's every conductor's hope that there is an understanding, and that's the composer's understanding. That's such a complicated question. As a producer, does Zefferelli serve Puccini's interest in presenting

Turandot

by having so many people on the stage that you can't find the principal characters? Opera is such a form of so many different people working on the same score



BD

: Then whom do you serve?



FC

: I try to serve the composer. I really do, and in this

Lakmé

we have a marvelous director in David Gately. I have never worked with him before, but I have nothing but admiration for his work. For all of the posturing that could so easily creep into this kind of an opera, he's tried very hard not to go for the obvious. Then it becomes banal. But the score has beautiful melodies and very sensitive registration. It's incredible. In some of these scenes, every measure is adding a wind instrument or a string instrument which holds on a little bit longer than the winds. It's a very, very subtle piece of work and I think it deserves to be heard. I go for what I think the music says. In this case he uses chromaticism in the French way with all of these insane keys. The orchestra is in six flats and then suddenly there are measures of chords that are absolutely sharps, but she dies in C Major. If you think you understand his harmonic reasons for writing as he does, it's illuminating as to what he was trying to bring to the drama. There are all kinds of touches, but they're subtle touches. So hopefully this opera will be fluid, sensitively played in tune because I think that French music has got to have a refinement about it.



BD

: Are you now becoming something of a champion of

Lakmé

?



FC

: I think I am.



* * * * *





BD

: You mentioned that it is hard for you to pick and choose the operas you conduct. How do you decide if you will accept or decline the offers that you receive?



FC

: Oftentimes that's just a question of what's free in the book. I still teach at the University of Texas at Austin, and they give me lots of time off. I'm a senior member of the faculty and I have a great many privileges. So in certain cases it's simply a matter of time. I'm always interested in anything that is offered.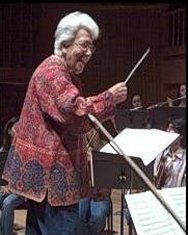 BD: Even if you think that it is not a worthy opera?



FC

: Probably.



BD

: How do you make an opera that is perhaps not worthy as interesting as one which is?



FC

: Some people may think that

Lakmé

is not interesting. It's like finding who a child is that way. Suppose you have a child that somebody thinks is not worthy or is not intellectual or is not this or is not that. The point is not to try to find a child who is worthy of you but to try to find out who that child is. As far as a piece of music is concerned, that's to be found in so many ways in the harmonies, the orchestration, the pacing, etc. If it has weak points, you try very, very hard to make it work so that they don't seem like weaknesses, but that they seem to be like the foible of the composer. I don't know whether I am making myself clear...



BD

: It sounds like no matter what the score, you are trying to root out the best of it and show that.



FC

: Hopefully.



BD

: Just to play devil's advocate for a moment, are there some scores that just don't work and should be either left on the library shelf or be discarded completely? You don't need to name specific names...



FC

: Oh, probably. It's always interesting to give something life, at least it's always interesting for me. I can't think of anything that I have ever done – this is a terrible admission – that at the time I was doing it I didn't believe in it.



BD

: I think it's a wonderful admission! It's great to believe in everything you're doing and give it its moment, its best shot.



FC

: One simply tries…



BD

: I want to bring up the subject of being a woman conductor. This is still, even in this day and age, certainly not out of the ordinary but yet not mainstreamed as much as it should be.



FC

: It's not main stream yet, but it will be. I'm sure that it will be. It wasn't main stream for women to play in symphony orchestras until relatively recently. Now it's not main stream for women to have the leading positions like concert master or principal cellist. I am proud to say that my daughter, Adriana, is the principal cellist in the Stuttgart Chamber Orchestra in a country which doesn't normally have women in the orchestra. She was just telling me on the phone the other day that they were thinking about hiring a conductor who when asked, "How many women are there in the Vienna Philharmonic?" he said, "Two too many." So she's ready to run for cover, but I think it's coming. I've never felt any animosity or any hostility between an orchestra and myself. They wait to see if you know your stuff.



BD

: Are you saying they put you through the ringer a little more?



FC

: The only time that ever has happened to me was years ago when I did a series of operas in Philadelphia for the Ambler Festival. It was the Pittsburgh Orchestra in the pit. The very first opera that I did was

Traviata

. They had played it a thousand times and they didn't want to rehearse it. I found myself sounding like a kindergarten teacher saying, "You will pay attention." So it was a very sobering experience for me. There was hostility there. I think they thought they needed to rehearse this one more time with this lady, where a man would not have had that.



BD

: Really?



FC

: I don't think so… well, I'm not sure.



BD

: Do you think maybe they were just bored with

Traviata

?



FC

: I don't think so. Let me put it this way, they wouldn't have let it show. They might have been just as bored. As it turned out, I was sort of on trial until the performance time when they realized that I could lead a performance. All the subsequent operas were more than a wonderful relationship – it was really a great relationship between myself and the orchestra.



BD

: Is it perhaps more satisfying to take someone who isn't enthusiastic about a woman and make that person more enthusiastic?



FC

: I don't really care. That's his problem, not my problem. Being a woman conductor, as far as I am concerned, is not a cause. It's just there. If somebody is uncomfortable with it, that's their problem and not my problem.



BD

: From your point of view is there any real difference between a woman leading a piece and a man leading the same piece?



FC

: I don't thinks so; I really don't think so. I've done a lot of teaching in my day, and I don't find that a male student or a female student couldn't either not learn from me. I find really that there should be no difference. It's the brain that's doing it.



BD

: Then there is perhaps no more sympathy for Violetta because you're a woman?



FC

: I doubt it.



BD

: Are you proud of the strides that women have made as far as breaking down these barriers?



FC

: Very definitely. There are some very, very talented young women coming up, such as Catherine Comet and JoAnn Falletta.



BD

: Catherine Comet is going to conduct the Chicago Symphony orchestra next year.



FC

: So I understand.



BD

: What about some of the older generation such as the late Antonia Brico? Was she a pioneer?



FC

: I think she was a fluke, but I don't know. I heard her once when she was really not with it. That might have been an isolated experience.



BD

: What about someone like Sarah Caldwell?



FC

: She's one of these ladies that does everything. I think that she is an enormously talented individual. If you are stage directing and conducting at the same time, your focus is split. I've got enough to do just shaping the musical line without worrying if somebody is in position. So I think that has blunted her in a sense as a conductor because she chooses to do everything.



BD

: You have no ambitions to be a director?



FC

: No. I tried it once with

Madama Butterfly

which I thought I knew inside and out, and I said never again! I still remember... it was in Memphis and somebody told me the prop lady was crying outside in the street. I had had a fit because certain props were not in place when they were supposed to have been… so I said never again.



BD

: Yet now when you're conducting, do you not have a responsibility to make sure that the stage director doesn't go too far out in left field?



FC

: Sometimes you really have not much to say, and in those cases when you feel that the stage director is not in sympathy with the way you feel the piece goes, I just try to stay out of his way and I go for broke. I try to make the music as wonderful as I possibly can even though I might disagree. That's happened more times than I care to remember.



BD

: Let me ask the "capriccio" question. Where should be the balance between the music and the drama?



FC

: They should be equal partners.



BD

: All the time?



FC

: We have a kind of regimen where certain rehearsals belong to the stage director and certain rehearsals belong to the music director, and all of us know the rules. What's so wonderful is when it starts to be a collaboration in the staging.



BD

: Do you attend the staging rehearsals?



FC

: All of them, yes, and when that happens, I think the whole process is greatly strengthened.



BD

: So you try to get a unified piece every time?



FC

: Yes. As I say with David Gately it's been a great experience, because I was very worried about this opera.



BD

: More so than others?



FC

: Yes.



BD

: Why?



FC

: Because it's more fragile than other operas. It's not your bread and butter kind of thing that no matter how it's acted or how it's sung, it's going to work.



BD

: Are there some operas where you could start them and let them roll along by themselves?



FC

: I think so, more so than this one.



BD

: Do you feel less powerful when there's something that has less need for you?



FC

: It just depends on how you look at it. I remember once doing a

Marriage of Figaro

where I detested the whole production. But when I went into the pit, I had to do it better, more true, more everything that I believed in or I couldn't have done it. So sometimes it just depends on how you look at it. It is a collaboration all the way down the line, even in terms of sets, costumes, everything. This company is very well organized. They have people here for weeks for make-up. Everything that is needed is here. I have a great admiration for what Alan Stone has put together here.



* * * * *





BD

: As you look back on your career, is there anything that you never expected to see as you started out, or that you hoped and is coming true?



FC

: That's a long time that you're asking me to look over. I am amazed that I have any career at all.



BD

: [Genuinely surprised] Why???



FC

: Because I basically stayed in an academic situation for stability for the raising of children. I was at Indiana for a long time. While I was there, I had been offered a written contract by Adler, a position as chorus master in San Francisco with the promise of some conducting. I almost took it. We had just moved to Bloomington, however, and my children were in high school and down. I had four children and the contract read thirty-two weeks. So that was a hard choice at that time. I made a hard choice to say that I couldn't do it. So having said that and having done that and staying in academe, I've been astonished that my outside professional life has been as varied as much as it has been. I've conducted a lot of orchestras in a lot of places. I have been at Aspen and a number of other major festivals, so I am surprised at that. I am wistful because of all of it, but the orchestral position has never presented itself. I would really love to have an orchestral position mostly because I haven't had a chance to do that much of the repertoire. It's just like a mountain ready to be climbed. I have done a lot of orchestral conducting, but I have never been a music director of an orchestra. I've never had that chance, and I think that the young women that come up will have that chance. Looking back, I am always so amazed that my children have turned out so well, because they have. I have worked with a lot of very major vocal stars like Birgit Nilsson in

Turandot

in Memphis, and Dorothy Kirsten. A lot of really very well known people and I never looked for any of it. I've never had a manager. I never really had the freedom. Now I have the freedom and I am almost ready to resign my university job, although I could stay on easily because I have tenure. I think that I have probably enough work to carry me, but I've never taken that big step like these youngsters do like to put yourself in the hands of a manager. Now that I don't have the responsibility of maintaining a house and making sure that all the kids went to school and were home, my life has changed a little bit. It's easier.



BD

: Are you going to take on more and more of these engagements?



FC

: Why not, as a long as I have the health to do it, and I seem to have enough energy to do what I need to do.



BD

: Is conducting fun?



FC

: Oh definitely yes. It's so satisfying. It's like being an actor without being an actor, and being a singer without being a singer, and being a composer without being a composer. It's the re-creation of the greatest minds and intellects in the world. Sometimes the most troubled, sometimes the happiest, sometimes… it's really my alter-life.



BD

: Are you re-creating it as exactly as you can, or are you putting a little bit of yourself in each one?



FC

: Every artist puts himself into everything or it would be nothing. You always draw on your own experience. I don't attempt to convey the impression that I would know what Delibes would want, or whether he would even like what I am doing. I am just trying my very best to understand his piece. Of course, that comes from my training, just as he tried his very best to create an Indian atmosphere. He never went to India. It's a fantasy, you know, it's a mind trip.



BD

: So you've got to have his fantasy and your own fantasy together.



FC

: Hopefully.



BD

: A marriage of two fantasies?



FC

: Yes. Well, I don't know how to respond to that because the conductor does not really create the music. Diana Walker is Lakmé, it's not myself. I'm not Lakmé except through what I can provide for her in terms of insight and through what I can do for her in terms of orchestral color and in terms of pacing so that she won't get tired. In a sense it's like being an enabler for other people to create the music. I'm not playing the violin; Arnie Roth is and playing it very well. So it's the most exciting thing in the world.



BD

: Thank you for coming to Chicago. I look forward to the production and hope that it goes well, and I hope you will come back to Chicago.



FC

: Thank you. Thank you so much.




======= ======= ======= ======= =======
- - - - - - - - - - - - - -
======= ======= ======= ======= =======






© 1990 Bruce Duffie


This interview was recorded at her hotel in Chicago on May 8, 1990. Portions (along with recordings) were used on WNIB later that day. Permission granted to Joan Whittemore to use portions in her book Wisdom, Wit and Will: Women Choral Conductors and their Art, published in 2009. The transcription was posted on this website in 2013.


To see a full list (with links) of interviews which have been transcribed and posted on this website, click here.

Award - winning broadcaster Bruce Duffie was with WNIB, Classical 97 in Chicago from 1975 until its final moment as a classical station in February of 2001. His interviews have also appeared in various magazines and journals since 1980, and he now continues his broadcast series on WNUR-FM, as well as on Contemporary Classical Internet Radio.

You are invited to visit his website for more information about his work, including selected transcripts of other interviews, plus a full list of his guests. He would also like to call your attention to the photos and information about his grandfather, who was a pioneer in the automotive field more than a century ago. You may also send him E-Mail with comments, questions and suggestions.