After studying for five years at the Royal Academy of Music and London University, in 1974 Kathryn Harries embarked upon a successful solo career as a recitalist and concert artist. Between 1977 and 1983 she presented the award-winning program Music Time for BBC One Television, and made her operatic debut in 1983 at Welsh National Opera as a Flower Maiden in Parsifal and as Leonore in Fidelio. Her repertoire comprises more than sixty roles including Kostelnička (Jenůfa), Kundry (Parsifal), Sieglinde (The Valkyrie), Gutrune, (Götterdämerung), Brangäne (Tristan und Isolde), Emilia Marty (Die Sache Makropulos), Didon (Les Troyens), Marie (Wozzeck), Carmen (Carmen), Judith (Bluebeard's Castle), Donna Elvira (Don Giovanni), and Countess Geschwitz (Lulu).
She has performed at all the leading British opera venues including the Royal Opera House, English National Opera, the Edinburgh Festival, and Glyndebourne Festival, as well as at major houses in the USA (Metropolitan Opera, New York City Opera, Lyric Opera of Chicago, San Francisco Opera and Los Angeles), and in Europe (the Palais Garnier, Chatelet and Bastille, Paris; Lyons; St. Etienne; Orange; Hamburg; Stuttgart; Berlin; Amsterdam; Genoa; Rome; Bilbao; Oviedo; Liège; Salzburg; Bochum.).

Harries is highly active as a concert singer, performing with the English Northern Philharmonia, the BBC Symphony Orchestra at the Barbican, as well as in The Rise and Fall of the City of Mahagonny at the BBC Proms, in Bremen and Lucerne with the BBC Philharmonic Orchestra. Among performances of the recent past are Kostelnička (Jenůfa), Mrs. Sedley (Peter Grimes), Massenet's Herodiade, Kabanicha (Katya Kabanova), Valerie von Kant (The Bitter Tears of Petra von Kant), Stolzius's Mother (Die Soldaten), Mrs. Grose (The Turn of the Screw), the Old Lady (Candide) and Emilia Marty (The Makropoulos Case).
Kathryn Harries was appointed Director of the National Opera Studio in London in 2009 and she is gaining an international reputation as a voice teacher and coach. She is vocal consultant for the new NI Opera in Northern Ireland and she regularly gives master classes in the UK and abroad. Kathryn was appointed senior judge for the Lexus Song Quest in New Zealand in 2014 and recently returned from Auckland, where she was chief vocal coach for the inaugural Kiri Programme.
Kathryn has been a supporter of a wide variety of charities since 1977 and she has organised and sung at hundreds of concerts, raising over £400,000. Kathryn is also a keen long-distance walker and, in 2001, she walked from John O'Groats to Land's End for Speakability, raising £86,000. In 2006, she created the Opera Walk to raise funds for the ENO and WNO Benevolent Funds and walked from London to Cardiff, Cardiff to Leeds and then back to London. Her annual walk takes place in London for the charity, Cardiac Risk in the Young (CRY).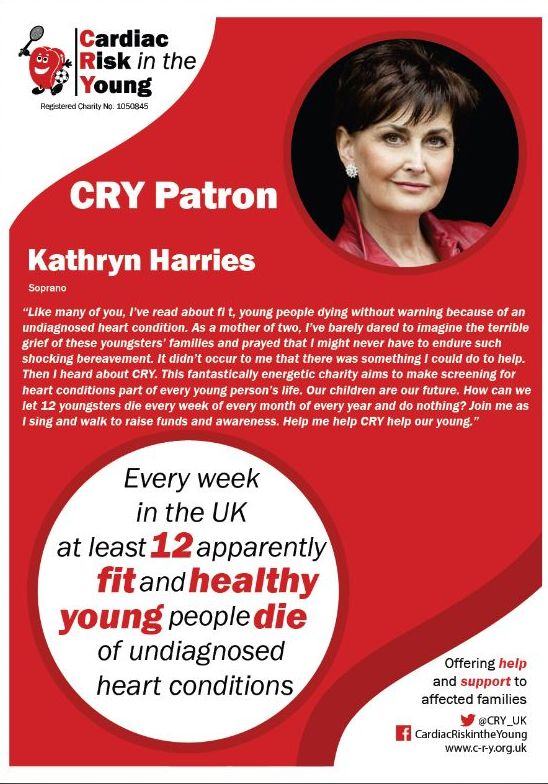 == Adapted from the biography on the Opera Prelude website