Jerry Hadley



US tenor whose great vocal facility equipped him for both operas and musicals




By Patrick Stearns,

The Guardian

July 18, 2007 [Text only - photos from other sources]


Jerry Hadley, the fresh-faced tenor from the Illinois heartland, has died from an apparent self-inflicted gunshot wound to his head at the age of 55, following treatment for depression. The incident occurred on July 10; he was taken off life support on July 16. For decades, he was a dependable lyric tenor presence in the world's great opera houses and music festivals with a particular facility for singing modern music with an Italianate lyricism, starting with his signature role, Tom Rakewell in Stravinsky's

The Rake's Progress

in a student production at the University of Illinois. With no change in technique, his clean vocal production also encompassed Broadway musical theatre.

In Hadley's best years, he was the ebullient, un-neurotic concert partner of baritone Thomas Hampson in what were playfully named the "Tom and Jerry" concerts. Hadley was married with two sons in affluent Wilton, Connecticut, and had a thriving recording career, including numerous complete opera recordings as well as highly publicised crossover albums in the 1990s for RCA.

Both Beverly Sills (obituary, July 4) and Joan Sutherland played significant roles in his early career, the former offering him his first big opera house contract with the New York City Opera in 1978, the latter casting him in his first full opera recording, Donizetti's

Anna Bolena

, in the mid-1980s.

The news of his death was, to say the least, a shock. One anonymous blogger from Boston spoke for many: "I saw Jerry Hadley [in a] master class earlier this year that rejuvenated my love of singing and brought many singers in the class to greater depths of emotional connection to their performances. I count it as a turning point in my own studies, and I cannot square that delighted, energetic man with the same person who wanted to die."

However, with last year's arrest for drink-driving (the charges were dropped because, while he had been drinking, he was not driving when apprehended), a different picture began to emerge. His voice had been less reliable and lustrous. Though a frequent presence at the Metropolitan Opera starting in 1987, he had not sung there since 2002, when he gave a performance of the John Harbison opera,

The Great Gatsby

.





The RCA crossover discs had never made much of an impact, either with critics or on the sales charts. In recent years, Hadley was divorced from his wife and singing mostly pops concerts, though a

Madam Butterfly

earlier this year in Australia apparently gave him new confidence on his operatic prowess. Though he was reportedly discussing new roles such as Mime in Wagner's

Ring

cycle, he was also considering bankruptcy. Such circumstances among world-class singers are infrequent, but hardly unheard of in a world where vocal health - not financial acumen - is a paramount consideration. Hadley always seemed to be the exception to that.

Born in Princeton, Illinois, and brought up on a farm, he discovered his talent for opera while attending Bradley University in Peoria, Illinois, before he had even seen one staged professionally. Vocal rest, he once said, came second to family duties. Though he lost his voice for months in the late 1980s - and said he learned a greater appreciation for life beyond his career - he came back, singing as effortlessly as ever.

Indeed, what floored critics about the young - and even middle-aged - Hadley was his ease. Passages in

The Rake's Progress

that caused struggle with most tenors did not for him. Why, he could not say. The music's odd intervals simply never gave him trouble. As Alfred in Johann Strauss II's

Die Fledermaus

, he playfully tossed off bits of the most troublesome tenor arias.

During his New York City Opera years (1979-89), he learned new roles quickly - the title role of Massenet's

Werther

, among them - and in a special, all-star concert version of Richard Strauss's

Capriccio

at Carnegie Hall, sang the role of Flamand. Unlike many opera singers who lost credibility in singing Broadway scores, Hadley's prestige only increased - at first - with his celebrated recording of Jerome Kern and Oscar Hammerstein II's

Show Boat

with Teresa Stratas. He was a favourite of Leonard Bernstein, who is said to have offered him the leading tenor role in his 1984 recording of

West Side Story

, which Hadley turned down. However, Hadley was featured in Bernstein recordings of the Mozart

Requiem

, Puccini's

La Bohème

and Bernstein's own

Candide

. At Bernstein's memorial at Carnegie Hall, Hadley moving sang

It Must Be So

from that score.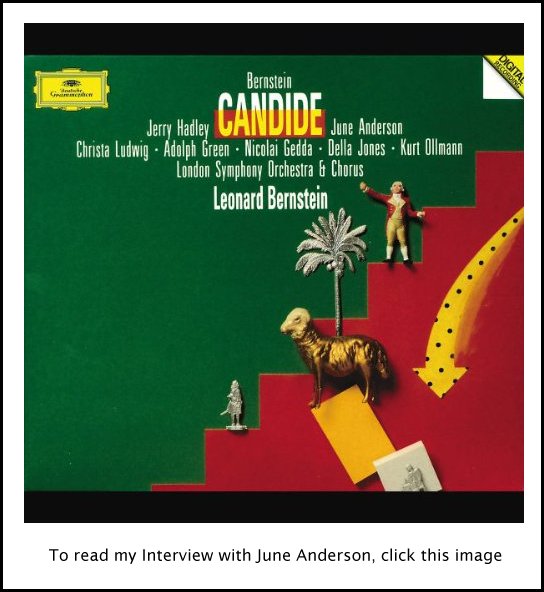 As Hadley grew more confident on stage, however, critics identified a lack of artistic taste that grew more pronounced in later years. He was featured vocalist in the RCA recording

Symphonic Music of the Rolling Stones

, specifically singing

Sympathy for the Devil

in operatic voice. The disc was one of the label's biggest failures.

Nor did his appearance in Paul McCartney's

Liverpool Oratorio

, portraying a blue-collar worker shouting for his dinner, help his artistic standing. At Cecilia Bartoli's 1996 Metropolitan Opera debut in Mozart's

Così Fan Tutte

, Hadley sang Ferrando with extravagant ornamentation that left some critics baffled. None the less, he continued to be featured in prestige projects, such as the 1996 Peter Mussbach production of

The Rake's Progress

in Salzburg and the 2002 recording of Janáček's

Jenůfa

at the Royal Opera, Covent Garden.

Even with a self-imposed conclusion to his career, Hadley had what many tenors long for - nearly 30 years of almost unbroken activity, spread over both the US and Europe, in a nearly unprecedented range of composers, from Mozart to McCartney.

· Jerry Hadley, tenor, born June 16 1952; died July 18 2007



-- Names which are links refer to my Interviews elsewhere my this website. BD