Basso Buffo Paolo Montarsolo
A Conversation with Bruce Duffie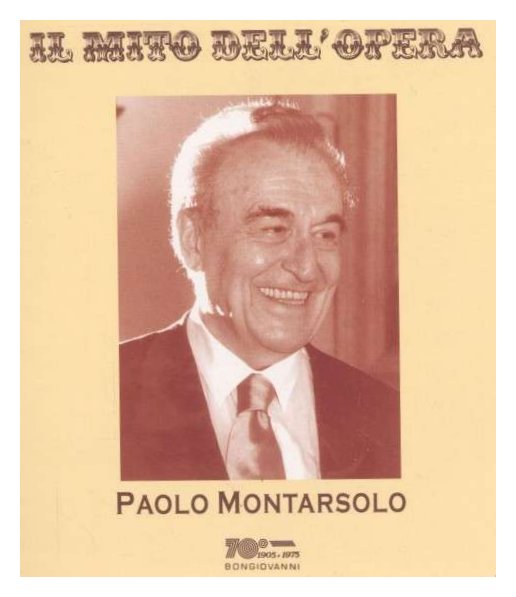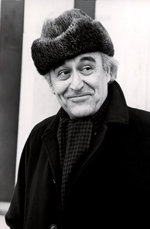 The Italian bass Paolo Montarsolo (1925 - 2006) enriched the humorous side of opera throughout the second half of the twentieth century, first with performances of "buffo" roles, and later through his direction of works he loved. He was known throughout the world from live performances, and his artistry continues to be on display in recordings and videos.

With Lyric Opera of Chicago, he made is debut in 1958 as Don Basilio in

The Barber of Seville

(with Tito Gobbi and Giulietta Simionato). [

Names which are links refer to my Interviews elsewhere on my website.

] In later seasons he returned as Don Magnifico in

Cenerentola

(with Lucia Valentini-Terrani, 1976), Geronete in

Manon Lescaut

and Basilio (this time with Richard Stilwell, directed by Gobbi, 1977), the quack Doctor Dulcamara in

L'Elisir d'Amore

(1981), and as the stage director of

Don Pasquale

in 1995.

It was during 1981 that we met on a day between performances. He was gregarious and energetic, and very enthusiastic about what he was saying. There was much laughter, but he was also concerned that his ideas were being communicated since he was speaking in English, which was, of course, excellent. He peppered his responses with a few simple Italian words which he knew I would understand, and even paid me a very nice compliment on my Italian pronunciation by saying, "You pronounce not like an American usually pronounces Italian; it is almost like an American who lived in Italy."

As is the case with boisterous and wide-ranging conversations, he often got side-tracked and mentioned ideas or details as they came to his memory. Some of these have been left in this text as they happened, and a few times I have gathered the topics together and placed the interjections at more appropriate places . . . . .




Bruce Duffie

: How much does it affect your performance when you work with colleagues that you've worked with before?



Paolo Montarsolo

: There is a great importance, especially for the character in the buffo operas of Rossini —

The Barber of Seville

,

L'Italiana in Algeri

,

Cenerentola

— and this case Donizetti,

L'Elisir d'Amore

or

Don Pasquale;

all the character things. There must be a real sympathy between the females and the males of the company. It must be a sympathy more than the usual sympathy. Otherwise, everything will stop; it will not go forward. We must like each other.



BD

: This is more important in comedy than in tragedy or drama?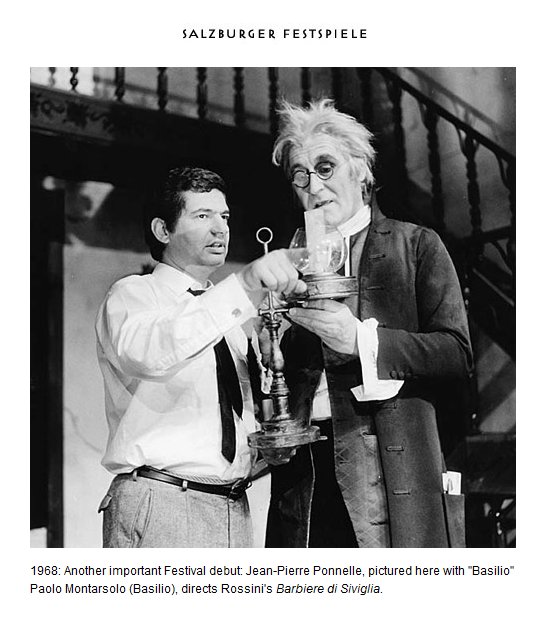 PM: Sure. In Verdi, the action on the stage is quite limited. You can stand there singing those beautiful arias; it is fantastic music, but the action is really not very, very important. In the comedies, if you have to do an action — if you run around a table, just to show an example — the partner in the opera, if she is your wife or fiancée or lover, must really act like I am going to take her. Do you understand? It's quite difficult to explain.



BD

: It's the comedic timing.



PM

: Yes, the timing! But the timing comes out strange depending on the sympathy and how much we like each other. It is better to know each other. Here in Chicago, we began the rehearsals and there is this lovely singer, Isobel Buchanan, who is doing Adina. [Also in the cast were Carlo Bergonzi, and Dale Duesing.] We were redoing the production made by Chazalettes a few years ago, and there was an assistant who was resetting everything. I thought that surely the assistant will follow all that he wrote down in the production book, but I said, "We are other singers now. This is another company with other feeling, other sympathy, other everything. I understand that it is important to follow the main movements and the main things, because the production must remain of Chazalettes. But if we feel something new — a little breathing more or less — why not?" So with this lovely girl, you know the importance to meet and to know each other. I have a terrible defect... I have everything on my tongue, as we say in Italy. It means that all what I think I must say; I'm not very clever at hiding what I think. So suddenly, while doing the duet between Dulcamara and Adina, I gave to her my hands to be taken by her! But she remained straight without taking my hands because it was not in the prepared-action. It just came out like that, but she did not reply. So I stopped the rehearsal and said, "Please, let's know each other. Understand that Paolo Montarsolo, just because he has a little gray hair does not feel to be a genius or to know everything; no! It is only that if I give to you my hands to be taken, take them even if it is not written in the production-book!" That's a kind of education. From when we are young singers, we are taught that you must follow all of what the director says, and not to do one comma more or less. One thinks and believes that this is the truth. No!



BD

: You have to be yourself and bring more to it.



PM

:

Bravo

! This is why I insist it is better to know each other and to love each other. If I knew one of the many singers with whom I have already played, they know that they must follow. For instance, the joke of the spaghetti is mine. This is really mine. I did it the first time in San Francisco and also at La Scala, and it is always quite funny because this duet is quite difficult to feel as regards the action. So the spaghetti gives the opportunity to give the impression that Nemorino is so insisting with Dulcamara that he says, "This man is ruining me!"



BD

: Then the audience is more in sympathy with you, because you're more in sympathy with the others on the stage!



PM

:

Bravissimo

!! This is the secret. Think of all the things we did at La Scala with Claudio Abbado, including the famous

Cenerentola

by Jean-Pierre Ponnelle. We have just done the film in Vienna, and it was recorded with the Orchestra of La Scala and Abbado conducting. We finished just before coming here in Chicago, and I think Ponnelle is very happy. But for

Cenerentola

,

Italiana in Algeri

,

Barber of Seville

, we were a group. There was Teresa Berganza, Luigi Alva, Graziella Sciutti, many singers, and we were all in many operas together. Someone of the audience said to me, "I saw that you were enjoying it," and they say the truth! We must enjoy. You cannot imagine how many tricks and little jokes go on during the performance.



BD

: In the

Barber

, are you Bartolo or Basilio?



PM

: Basilio. Now I always do Basilio, but I did many times also Bartolo.



BD

: Is there any problem going from one to the other — do you occasionally sing the wrong recitative?



PM

: It can happen, but I must say it's so clear now in the mind. Sometimes, especially in the

concertati

— in the ensembles — you can have the will to sing the line of the other one! [Both laugh] I remember when we did premiere of the production of

The Barber of Seville

at La Scala — also, we opened the season in '76 with

Italiana in Algeri

— and the feeling among us was not less serious. We remained serious and professional, but happy and full of joy to do this work, and to try to amuse the public.



BD

: Do you find it easier to amuse the public in Italy because you're singing in Italian, as opposed to here in Chicago where the language is going to be lost on many of us? [Note: Remember, this was before the era of Supertitles in the theater!]



PM

: [With a big smile on his face] In general when I do an interview, I know when the questions are well put. Often the questions by people who do the interview can be good, deep, and sometimes not good, not deep. This is a very nice question.



BD

: [Almost blushing]

Mille grazie.



PM

: [Patting the interviewer's hand like a proud papa]

Prego

. Let me preface my answer with this... When I give advice to young singers, especially for the foreign singers — Americans and so on — I say, "When you will be singer, you will earn money almost for 80 or 90 percent with the Italian language because almost all the operas done now in the world are Italian." So I tell them to learn Italian very early. Why? Because you can enter into the meaning of the words much better than if you know only a general meaning of what you say.



BD

: And you'll also have a better rapport with your colleagues!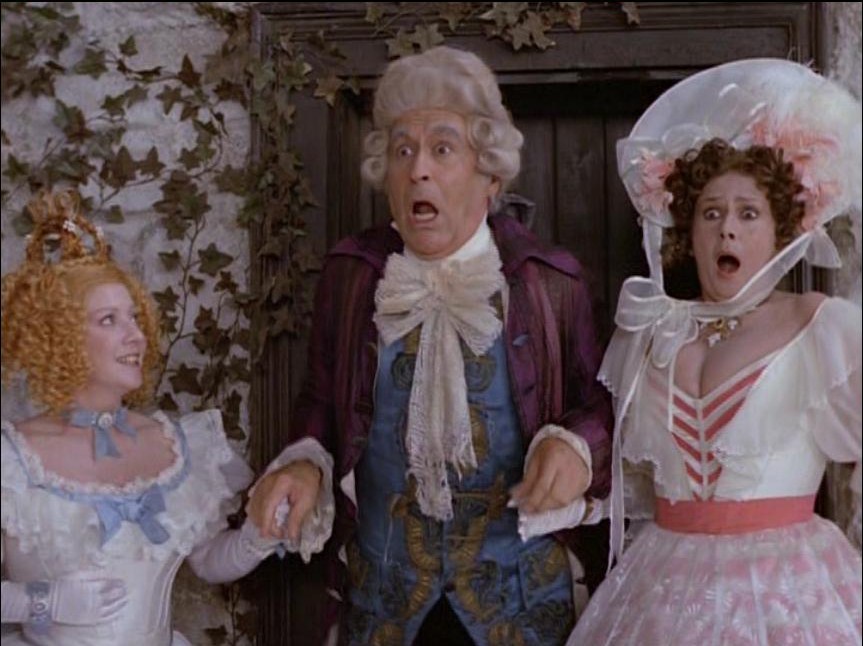 PM:

Esattamente!

So now to answer your nice question, surely you can imagine when the text jokes really on the words, in Italy they can understand better. I can tell you a famous phrase in

Cenerentola

. When the stepfather, Don Magnifico (the part I am doing) has the duet with Dandini, Dandini says to him, "I am not the prince as you thought. I am a false prince; I am only the servant." Then he goes on in an ambiguous manner, "You will see something strange." So I look aside and say, "Does he want to marry me instead of my daughter???" [Both laugh] So you can imagine how important this sentence is if it is understood or not by the audience. If it is understood, surely there will be a laugh!



BD

: Of course!



PM

: When we went on tour with La Scala — it was a beautiful tour to Moscow, Washington, London, Vienna, Edinburgh — every time we performed this

Cenerentola

, I tried to say this phrase in the language of the country. So I said this in Russian in Moscow and in English in London and in Washington because this sentence cannot be understood by people who don't know Italian.



BD

: [Raising objection] Ponnelle let you say it in the wrong language???



PM

: Ehhhh... not in the first performance! [Much laughter all around] Not in the first performance, because we give to the first performance an importance in which everything must be just right, and the critics are looking for the possibility to write something. But going on in the later performances, I did this. Abbado is here in Chicago now doing concerts with the Symphony, and I went to watch this beautiful orchestra. He reminded me of when I threw to him my wig

.

At the end of an aria, Don Magnifico is very out of spirits because something has gone wrong. So during rehearsal, I finished the aria and instead of throwing my wig on the stage, as I should do, I threw it to the conductor. He took it! He didn't put on, but he was so nice that he said, "Why don't you do it also in the performance?" So I did it in Edinburgh, and the public, as you can imagine, went [imitates the sound made by a wildly surprised audience] "Ahhhh!" [Again, much laughter all around]



BD

: You have to be careful it doesn't get caught on a bassoon or a double bass!



PM

: Right! It was passed through the professors of the orchestra! [Chuckles] But going back to the question, I must say I admire very much the foreign public — the German public, the American public, like here — because if they don't understand everything, they follow so well. I don't know how they can do it, but really they laugh in the right moment; they follow like they know Italian. This is the preparation that sometimes we, in Italy, have not done. We go to the theater to watch an opera, but we follow with our ear. Here, just because they don't know the language, maybe they read the libretto; they want to know. In this manner, they can follow better. I must say, I consider the American public one of the best publics in the world, just like the German one. First of all there is no

claque

. We have in Italy the

claque

, people who are there just to begin the applause and to take all the public with them. In Germany or here, this thing doesn't exist at all.



BD

: Is the

claque

still really bad in Italy?



PM

: Yes. I'm sorry to say so, but it depends also from the public. It is the feeling of the public, and it is the manner how the public goes to the theater to watch and hear an opera. In Italy they go and they enjoy, but often they are shy, especially at La Scala. The atmosphere which is going on at La Scala and in La Piccola Scala is a little cold because they are in this beautiful temple of art and of music. You feel this to be at La Scala. So often the public is afraid.



BD

: There's a reverence for these theaters?



PM

: Right, there is a reverence, and often they are afraid to begin an applause. I am afraid because people can look at me and think, "What are you doing? It's not a moment," and the one near me is thinking the same thing, so nobody moves. So I think it is a little necessary that someone can begin the applause. At La Piccola Scala in the '60s and '70s we did beautiful, fantastic performances of Cimarosa, Pergolesi, Scarlatti and Mozart chamber operas. I remember the cold, strange feeling because it is the manner of how one can be free in ourselves to find the courage to attack the applause. That is why in Italy it is difficult for the audience and terrible for the singers because, as you can imagine, after an aria that was well sung and you know that it was good, you don't feel any hand going on.



* * * * *





BD

: Do you only sing buffo roles?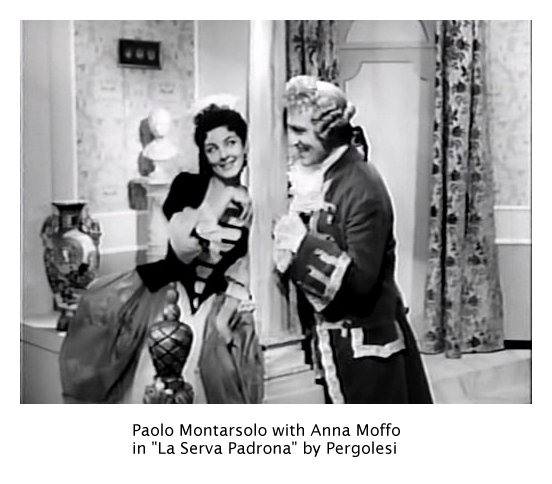 PM: Well, yes. I began when I won the national scholarship in the '50s for the La Scala School with a serious aria from

Don Carlos,

Filippo Secondo, "Ella giammai m'amò." But when we were at the school, they had the idea to do a company called

I Cadetti della Scala

(The Cadets of La Scala). We were doing all these 17th and 18th century operas of Cimarosa and others, and in general the bass is a buffo. I was in that moment the only bass at the school and they said, "Do you want to try to see if you could do this buffo?" From that moment I remember the very first time we did an opera by Cherubini,

L'osteria portoghese

(The Portuguese Inn). It has beautiful music, and we were very young and I had immediately a great success. I still remember today the compliments of the director of La Scala. At that time it was Ghiringhelli, the famous director, and he came to me and said, "Montarsolo,

complimenti vivissimi

." It was special to have these words coming from him to a pupil of the school.



BD

: Was your production in the big theater or in the Piccola Scala? [Vis-à-vis the photo shown at right, see my interview with Anna Moffo.]



PM

: [With pride] In the big theater! Yes, it was done in the big theater, and you can imagine the feeling. But from that moment, everyone said, "You were at home on the stage; you were enjoying yourself." This has followed me for all my career; it means that I enjoy. This is important, and the public understands that I enjoy my part, and they enjoy, also.



BD

: We enjoy it with you!



PM

:

Ecco

.



BD

: Would you sing any serious roles now at all? If they ask you to sing Filippo Secondo, would you do it?



PM

: I can! Why not? Really I can, but agents and theaters, when they do a cast of an opera, they like to be sure that it will be a singer who will have success in that part.



BD

: Are there fewer singers who can have success with comedy than with tragedy?



PM

: The comedy is more difficult than tragedy. Doing both is impossible. I must say, it is very important today to specialize ourselves in something. You cannot do everything well; that is impossible. You should be only something great, really great. But in general I can tell you that the passage from the buffo and the character parts to the serious parts is easier than from the serious parts to the buffo parts. This is strange because if you are an artist, a great artist inside of you, you do buffo parts but you can do also a serious thing. On the contrary, if you do serious parts... [Pauses to think how to phrase this idea]



BD

: [Picking up on his thought] ...it doesn't guarantee that you would have the comic timing!



PM

:

Bravo, bravissimo

! Often it's not sure that you are a great artist when doing the serious parts, but when they try to do a buffo part, you perceive immediately if the talent is inside or not. We have to be born with this talent of buffo. It must be inside of us; otherwise you cannot build it. You can develop it, but not really invent it.



BD

: How do you keep a buffo character from becoming slapstick?



PM

: Another fine question. This, I can tell you, depends also what you feel, or what you have inside of you. As an example, I was doing Leporello in Glyndebourne in '68 or '69, and in the meantime, very near, in Covent Garden in London, there was another

Don Giovanni

with another Leporello. So in one newspaper, the critic wrote the review for both the productions. Very modestly, I had the satisfaction because I knew what was going on with the other singer, my colleague who was doing Leporello in Covent Garden. Often, as you say, there is the danger to do things for easy laughs, to play to the gallery. The critic said, "We saw in Montarsolo how human he was." If the public laughed just because of the situation, I love this. One has to be very careful not to do gags, especially now that I am directing many productions myself. I have now and in the future many things to do including

Cenerentola

and

Don Pasquale

, but in the meantime I am singing the roles; I am not doing only directing.



BD

: Do you direct productions where you also sing?



PM

: Yes, and for the moment I must continue to sing. Directing is more difficult because the spoken language is more tiring than the singing. They are very far apart, as far as the position in the throat. For instance, now I am speaking, and this is tiring me more than if I would sing.



BD

: This is why I didn't want to meet with you before a performance.



PM

: Yes, thank you. Speaking is hard in general, and here I am forced to speak in a foreign language. My English is not so good, but at least I get me understood. No?



BD

: [Enthusiastically] Oh yes, you're doing very well!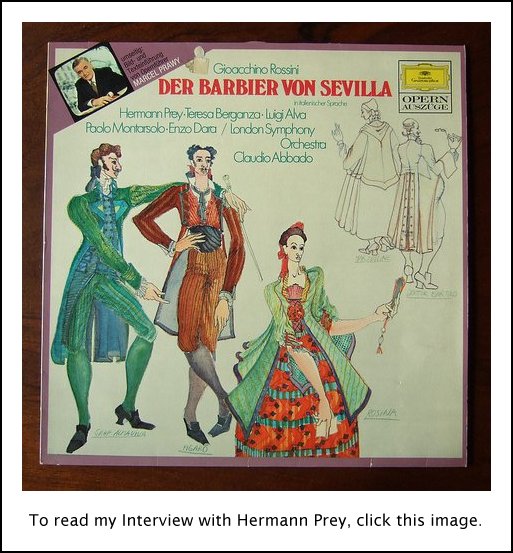 PM: But when I do my directions, I am avoiding, especially for the buffo things, all the gags invented for laughs. One of the operas in which everything has been done is

The Barber of Seville

. Everything! And just because everything has been done, now my Basilio is really straight; I don't do anything.



BD

: [Feigning sadness] No umbrella??? No nothing???



PM

: No. No umbrella because it's not necessary for this great part, and for this fantastic aria,

La calunnia

.



BD

: Do you sing that in D or in C?



PM

: In D. Yes, in the original tone. It was a little shock that Abbado gave it to me. We were doing our

Barber

in Salzburg for the first time, and had done this aria for many years one tone down, in C, when he suddenly says, "Paolo, surely you do it in D!" I said, [incredulously] "What???"



BD

: That key takes you up to an F-sharp!



PM

: Yes! For us, even to go up a quarter of a tone is something, so you can imagine one full tone! Well, he said to me, "Paolo, try," and it came out very well. The recording on Deutsche Grammophon is in D, and also the film is in D. Now I do it that way every time. Soon I am doing the

Barber

at the Metropolitan in New York. I will do only the last six performances because during the first performances I am in Naples doing

Cenerentola

, and after that I direct

Cenerentola

in the Canary Islands. There is a good season there. But right now I am waiting for a reply from the Met about doing my aria in the original tone. For me there is a great difference.



BD

: Is it better in D?



PM

: Much better, just for the tonality. That is why Rossini chose that tonality. He choose this D major which is brilliant, which is winning.



BD

: Putting it in C makes it much darker.



PM

: Yes, it is darker and a little sadder. That is why, when I direct, I like to do what was written in the libretto by the authors, by the librettist. Why? Just for this. In general, the habit is to change just to change, and I hate this.



BD

: What about the fact that Ponnelle is one that a lot of people scream about because of his changing so many things in his productions?



PM

: It's a pity, because especially for this

Cenerentola

, he did a great production. I'm very glad because really, this

Cenerentola

will be not done again forever. This is my opinion. It is something very important to say "forever."



BD

: It's the ultimate?



PM

: I think so because he really got to the center of the work.



BD

: Did he do it as it is written, with everything that is in the score?



PM

: Yes. He used the score and also he imagined the scene with so intelligent manner. I know that sometimes he changes things. In general, I hate the flashback. For instance, in

Traviata

I know that sometimes during the introduction you see Violetta already dying on the bed. I say it is useless, completely useless to fill the introductions and the overtures. I hate this; I don't know why! The author asked for the introduction and the overtures.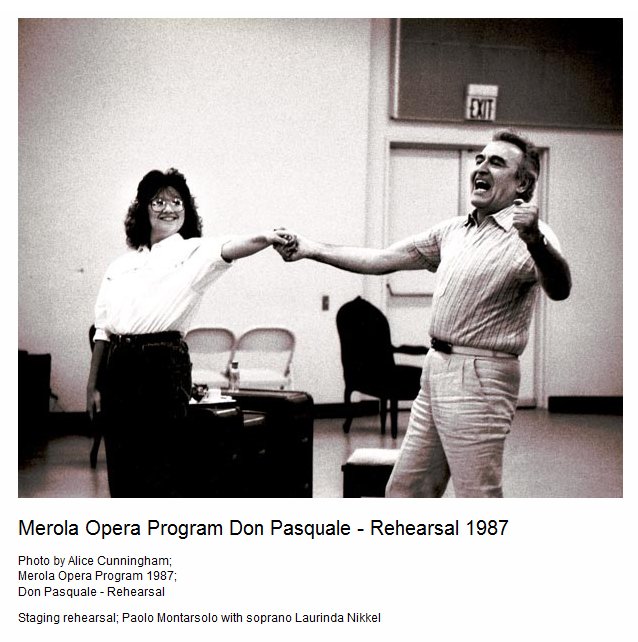 BD: It seems like the director feels there has to be something visual going on!



PM

: Yes! Maybe it is just to explain what will happen!



BD

: I wonder, is that the fault of the public expecting too much because of watching so many films and so much television?



PM

: Yes, you are right, but just for this we must be careful because the eyes and the ears of the public have become better and better. They see better; they hear better. So I say let's do something good, something which can be appreciated by them, and not to be stupid in the buffo parts just to get laughs. [Montarsolo begins musing on a very dramatic situation] In

Don Pasquale

, Norina, the girl who pretends to be a wife to Don Pasquale, gives him a terrible slap. In this moment the public immediately has a laugh. How strange is the reaction of public. I don't know why they laugh because the moment is quite dramatic. She says to him, "I am going to the theater!" He protests and she gives this slap. One second after this little laugh by the public — and this is very important — I want them to realize how this poor man is really feeling. He is about 70 years old and a lifelong bachelor, and now he wants to be happy with this woman. How sad is the situation.



BD

: There you are a dramatic actor.



PM

: Right! I must say this strange little laugh comes always and I don't know why. Maybe they imagine that the reaction of Don Pasquale could be terrible or could be funny, so they begin to laugh. No! The moment is dramatic. Right after the slap is a fantastic duet in which I say, nearly crying, "It's the finish of Don Pasquale. I will go to the river and I will throw myself in." In the audience there is a deep silence.



BD

: Everyone is startled by that, and all of a sudden they have this empty feeling. I've experienced that feeling when Lyric Opera has done this work.



PM

: Yes, yes. But as I told you, the public is getting better and better to understand everything. Going back to the buffo operas, they understand when you do things just to be funny, just to get laughs, rather than when you are real comic.



BD

: Being a real comic is an art, and you do it very well.



PM

: No, I am not saying that I am doing this, but I try. I try.



BD

: Thank you very much for all that you have given us, and for speaking with me today!



PM

: It was a pleasure.





===== ===== ===== ===== =====
-- -- -- -- -- -- --
===== ===== ===== ===== =====





© 1981 Bruce Duffie


This interview was recorded in Chicago on October 3, 1981. Portions (along with recordings) were used on WNIB in 1985, 1994, 1995, and again in 2000. This transcription was made and posted on this website in 2011.


To see a full list (with links) of interviews which have been transcribed and posted on this website, click here.

Award - winning broadcaster Bruce Duffie was with WNIB, Classical 97 in Chicago from 1975 until its final moment as a classical station in February of 2001. His interviews have also appeared in various magazines and journals since 1980, and he now continues his broadcast series on WNUR-FM, as well as on Contemporary Classical Internet Radio.

You are invited to visit his website for more information about his work, including selected transcripts of other interviews, plus a full list of his guests. He would also like to call your attention to the photos and information about his grandfather, who was a pioneer in the automotive field more than a century ago. You may also send him E-Mail with comments, questions and suggestions.