Baritone Dale Duesing
A Conversation with Bruce Duffie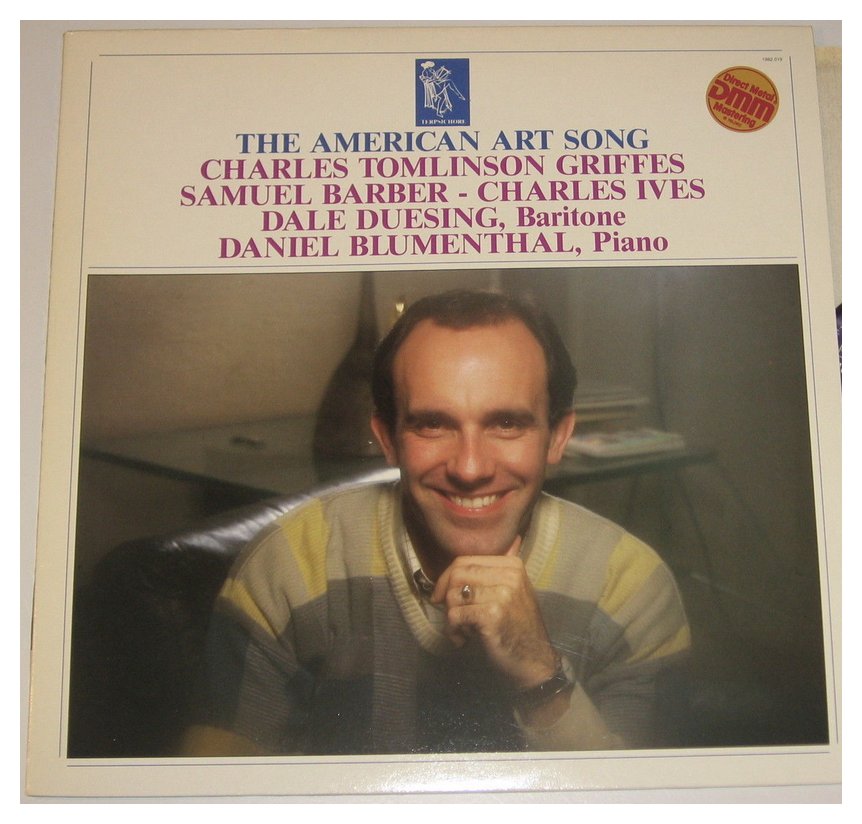 Dale Duesing (a 1967 graduate of the Lawrence Conservatory of Music) is recognized as one of the leading baritones on the international music scene, having scored musical triumphs at major opera houses throughout the world. He has performed at New York's Metropolitan Opera (in major roles including Billy Budd, Papageno, Figaro, Pelléas, Malatesta, etc.), San Francisco Opera, Chicago Lyric Opera, La Scala, Vienna State Opera, Covent Garden, Paris Opera, Hamburg Opera, The Netherlands Opera Amsterdam, Munich State Opera, Berlin Opera, and the Liceo Barcelona among many others. He has been a regular performer at the leading music festivals of the world, including Salzburg, Edinburgh, Glyndebourne, Santa Fe, and Blossom. He has appeared as soloist with the leading orchestras of the world, including the Cleveland Orchestra, the Boston Symphony, the Chicago Symphony, the New York Philharmonic, the Vienna Philharmonic, the London Philharmonic, the London Symphony, the BBC Symphony, the Los Angeles Philharmonic, the Orchestra of Paris, the Concertgebouw, the Berlin Philharmonic, the Santa Cecilia Orchestra of Rome, and the Suisse Romande Orchestra. The long list of distinguished conductors with whom he has collaborated includes Böhm, Bernstein, Levine, Giulini, Haitink, de Waart, von Karajan, and Ozawa.

Mr. Duesing received a Grammy in 1993, was designated Singer of the Year by

Opernwelt

magazine in 1994, and was described by

Le Monde de la Musique

1998 as "a singer who changed opera in the 20th century. His performances of Wozzeck were a triumph." He has most recently received the award for Best Male Performance in 2000 by the Amsterdam based

Friends of the Opera

for his performance of Beckmesser in Wagner's

Die Meistersinger

. Mr. Duesing's repertoire has always included both old familiar roles and unfamiliar new roles, and his most recent and current activities clearly continue this tradition: Johann Strauss'

Die Fledermaus

at both the Salzburg Festival and the Semper Opera in Dresden; Beckmesser with both The Netherlands Opera Amsterdam and the Frankfurt Opera; Zemlinsky's

Der Zwerg

at the Paris Opera; the world premiere of

Wintermärchen

by Phillipe Boesmans with the Royal Opera Brussels, and later again at the Liceo Barcelona; Janáček's

The Makropoulos Case

at the Netherlands Opera; and the world premiere of Nicolas Maw's

Sophie's Choice

at Covent Garden.



-- From the website of Lawrence Conservatory of Music
-- Names on this webpage which are links refer to my Interviews elsewhere on my website. BD






Dale Duesing (born September 26, 1945) has been in Chicago on a couple of occasions, once each at Lyric Opera and with the Chicago Symphony. At Lyric he appeared in 1981 as Belcore in

L'Elisir d'Amore

with Buchanan, Pavarotti, and Montarsolo, conducted by Bartoletti. A decade later, he sang and recorded

The Lovers

of Samuel Barber with the Chicago Symphony.

It was during that visit in the fall of 1991 when I had the chance to sit down between performances and have a conversation with the baritone. He was very pleased to respond to my inquiries, even complimenting me on the depth of the questions. The chat ranged over much of his repertoire, as well as his thoughts and ideas about singing and life itself.

Portions were used on WNIB, Classical 97 in Chicago on a couple of occasions, and the sections dealing with French roles were published in

The Massenet Newsletter

in January of 1992. It is with pleasure that I am now able to present the entire encounter on this webpage.

As we were setting up to record the chat, he spoke of the divisions in his career . . . . .




Dale Duesing

: Now it's about 60% opera and 40% concerts, with some recitals in Europe. In America it's more opera, and that's ideal, actually. For a few years it was about 50/50, but since I like doing new operas, that takes a bit more time for preparation. I do a little bit more modern opera than I used to do.



Bruce Duffie

: What about new operas intrigues you?



Dale

: Several things. One is that no one has done it. There is something wonderful about creating a part where there is no tradition. No one else has set any kind of an ideal of what that character has to be or do, or how to sing the role.



BD

: So no matter what, you're right!



Dale

: I might not be right, but at least I have no barriers. One can still make terrible mistakes, but you have to delve into that part. There is no one you can talk to about it. You can't go back to the old books. There is only the libretto and the music to guide you. You can talk to the composer, and that can be a harrowing experience because their ideas are often quite untheatrical — until they see it. They can also go off the deep end the other direction, such as the case with Philip Glass. But with the more conservative composers (whose music may not be conservative at all), it takes quite a bit of convincing and showing them before you prove to them that it's in their best interest. I just did an opera called

Stephen Climax

, based on James Joyce's

Ulysses

story. It was done in Belgium and is a twelve-tone piece, and is considered the most difficult opera ever written in Europe. The number of twelve-tone rows in the opera is so enormous. I counted 42 different tone rows, and I had to memorize them going forward and backward. The text is so incredibly difficult and literate. We're talking about a translation from James Joyce (which already is difficult), and making it idiomatically correct in the German language is structurally very hard. Then the story itself goes on two planes. You have the James Joyce story, and it relates to St. Simeon the Stylite, so it gets all very involved.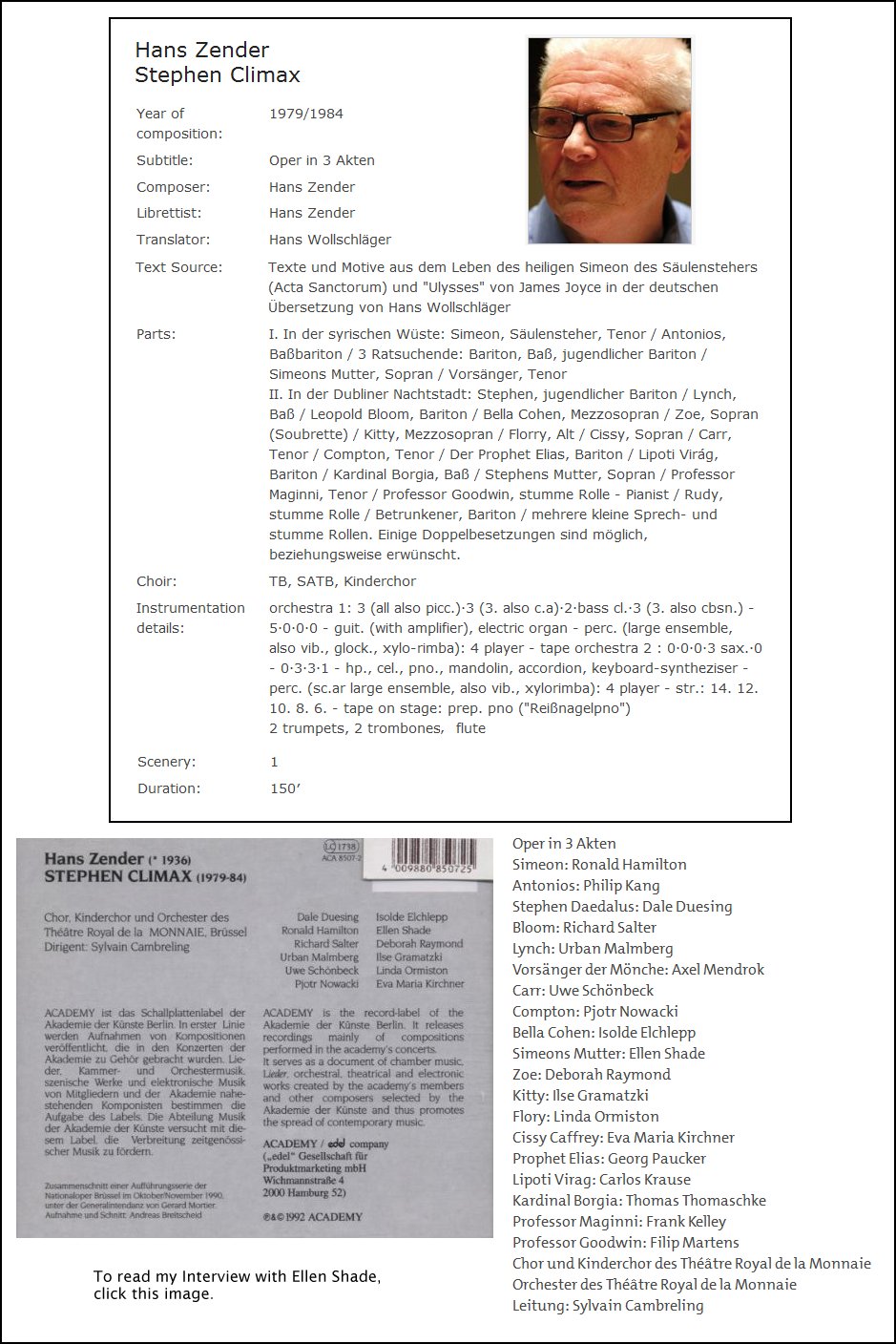 BD

: So it's layer upon layer?



Dale

: It's layer upon layer upon layer. It's certainly the most difficult piece I ever did, and I've done lots of twelve-tone music.



BD

: So why did you wade into it?



Dale

: For two reasons. First, my arm was twisted by Gerard Mortier, director of the opera there, who had hired me for several interesting works both traditional and modern. He convinced me that this was an important work. The other was that a stage director named Peter Mussbach, a real avant-garde German theater man was doing it, and I had seen some of his work and had worked with him before. I think he's one of the most important Twentieth Century stage directors, so I wanted to work with him again. Sylvain Cambreling was the conductor and he's particularly good at modern music. So the three of them approached me, and finally I agreed to do it, and I'm glad I did it. It was one of the most exciting evenings I've ever had, especially in the modern idiom.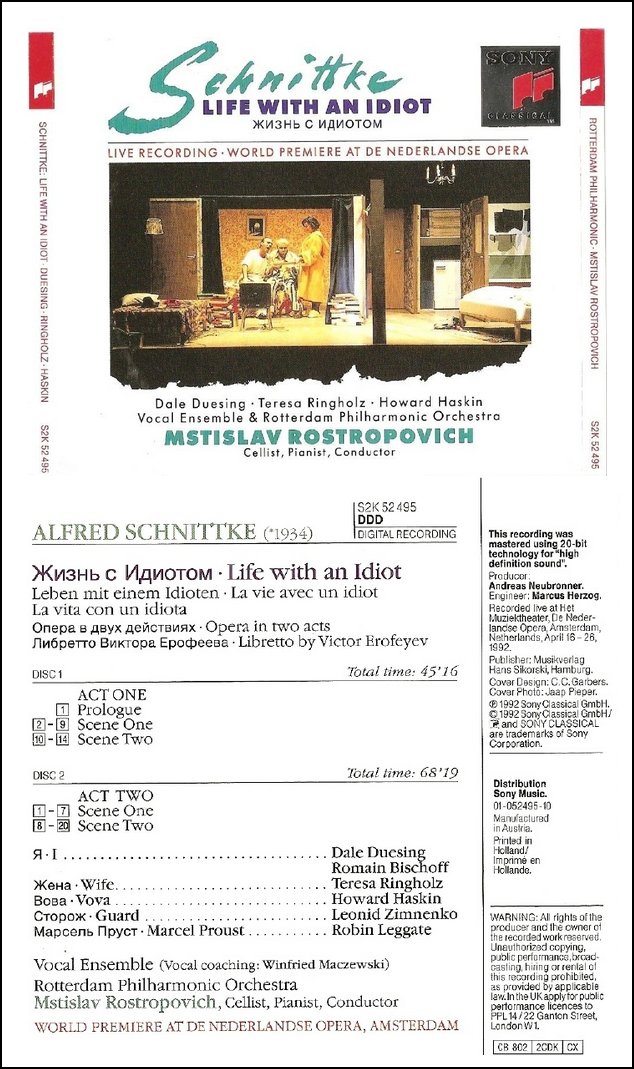 BD: Will it stay in the repertoire?



Dale

: That's always such a difficult question to answer. I can't answer that. It

should

stay in the repertoire, but whether it will I don't know. There are several wonderful operas that don't stay but keep coming back and people say, "What a wonderful opera. Why doesn't it stay?"



BD

: And then they're gone.



Dale

: And then they're gone, never to be seen again for another ten years. This piece should stay, however it has difficulties. There are two orchestras and basically two plots at the same time. It's terribly intellectual, yet it has some very beautiful music, really. It has every reason to be supported to remain in the repertoire, but I have my hunch it will only be seen at festivals and things like that. I know it is planned for a major European festival in four or five years.



BD

: Will they come back to you again to do the part?



Dale

: Yes. They have asked me, but whether I will be able to do it again is a question. I would like to.



BD

: When they originally asked you to do the part, did they give you enough time to learn it, and then enough time to learn the staging?



Dale

: [Laughs] Oh, I wish it were so nice like that. It always is that you get the music too late. I can give you another example. I'm doing a new opera this spring by Schnittke, the Russian composer who is all the rage, based on Dostoyevsky's

The Idiot

. It's a two act opera, and I have act one, and rehearsals start in three months. [Vis-à-vis the recording shown at right, see my Interview with Robin Leggate, and my Interview with Mstislav Rostropovich.] Technically that is not enough time because I'm also doing

Marriage of Figaro

before then, as well as several recitals, and

The Ballad of Baby Doe

out in Seattle in January, which is a new role for me. I fear that when January rolls around, I will be in a state of high stress. So no, you never have the music in time. When you get to rehearsals you always feel you wish you had more time, but somehow, it eventually gets into your skin.



BD

: But when you get to rehearsals, I trust you're concentrating just on that one work.



Dale

: Yes. You have those six weeks to work just on that. You work on it around the clock and your mind is only focused on that. That's always the good thing about a modern opera because it demands so much. When you're doing other operas that you've done so many times, you don't coast — that would be a terrible disservice to Mozart or Wagner — but you have them and they're so in you that you're not under this stress every single day.



BD

: There's less apprehension?



Dale

: Right.



BD

: When you're doing one of these modern operas, do you alternate nights with a Figaro or a Wagner, or do you keep the time just for that modern opera?



Dale

: If it's a modern opera, I only do that during the rehearsal and performance time. That's one of the things I'm pretty adamant about. I don't think it's good for the voice, or for me physically and psychologically to alternate. Particularly modern operas are so involved and difficult in every sense that I feel I would do a disservice to be singing Papageno or Figaro or Wolfram during that time.



BD

: Whereas you wouldn't mind alternating Papageno and Wolfram?



Dale

: No, that I would do. Puccini, Verdi, Wagner, all that I would do. Although I don't think I would alternate Beckmesser with Posa in

Don Carlos

. Those are two, big, heavy things. There's such a wonderful way of singing Mozart, and it's always wonderful to go back to that. I did Marcello just before coming here, and before that I was doing some modern music. It was so wonderful to just go back and 'sing' again. It's not that we don't 'sing' in modern opera, but it is nice to get back to a standard work where you put the voice in a different gear, open the throat and go back to what it is that we learned to do.



BD

: You've made something of a specialty of doing modern operas, so what do you say to the audience members who don't want to hear all this dissonance? They just want you to open the throat and sing.



Dale

: They really are not wrong to want that. In modern opera it is possible to give them that, however. There are too many singers who go into modern opera because they are incapable of singing Mozart, or choose to go that new route because the older operas are not offered to them. If you put all your eggs in one basket it is a disservice to the listener and to the singer. I think you can do a modern opera as beautifully as you do

The Barber of Seville

. It takes an awful lot of concentration, and you have to find out where those moments are, but if the piece is well-written for the voice, it certainly can be done. I just did Carlisle Floyd's re-writing of

The Passion of Jonathan Wade

in Houston. [

Program shown below is from later performances in Seattle

.] It's 90% new, and it's very well-written for the voice. It has very beautiful lines which can be difficult to sing with leaps and jumps and high-lying notes...



BD

: [Gently protesting] Verdi did all that in his operas!



Dale

: That's exactly my point. If you write well, you can prove to the public that it can also be sung well. Samuel Barber is another example. He writes very beautifully for the voice. It may be extremely difficult, but it's very vocal. I try not to sing music by composers who are not vocal. They might be very good pieces, but I don't know if they're very good operas.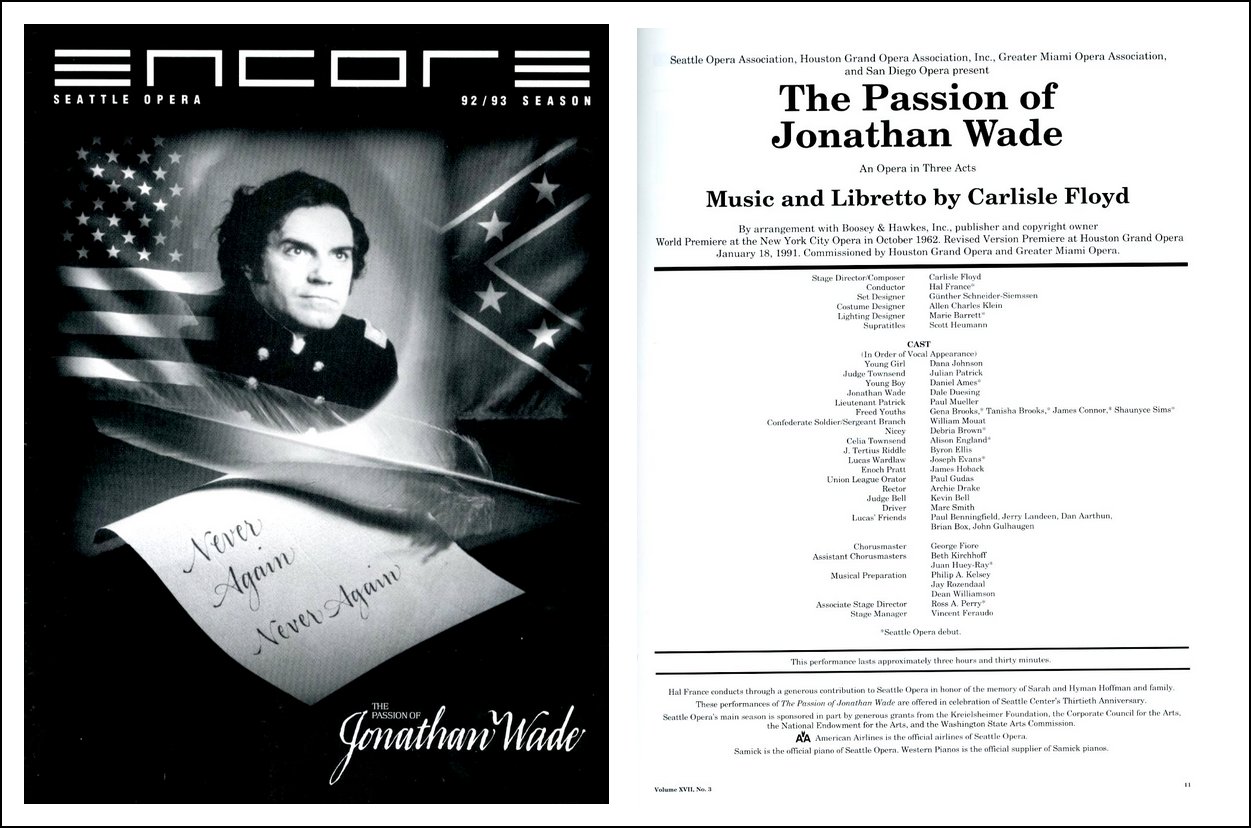 See my Interviews with

Julian Patrick

and

Archie Drake

.




BD

: OK, so especially on a work that's never been done or that you haven't seen, how do you decide whether to accept the offer or turn it down?



Dale

: You ask me questions that are very, very good, and I'm not pandering when I say that! It's very difficult to do that. Several years ago, when I decided to so some new operas, I wanted to prove that singers are intelligent and can, in fact, sing the right notes. I also wanted to show that I am an actor, a singer, and a musician, so back then I would do things sight-unseen. I did one which was such a mistake that it taught me to be much more careful. Now I try to evaluate by hearing some of the composer's other works. You can get to know the composer's language. For instance, in this new Schnittke work, I know that he writes lyrically. It can be difficult, but that's not the criteria. I don't take a piece just because it's modern and I might get good exposure. First, always, is the music. Then, the libretto needs to be up to that music. There are a lot of operas that are good — not great — but with very bad librettos, and I'm not really interested in doing any of those.



BD

: Do you have any advice for composers who want to write operas?



Dale

: [Thinks a moment] First of all, they have to consider that they are writing for the voice and not for any other instrument. They have to allow for breath. Breath is what carries us. A lyricism has to be there, and then the story has to be able to touch the audience. It doesn't have to make you cry, but it must affect the public. The reason we're on stage, whether it be concert or recital or opera, is to affect people's lives. We have to roll out a piece of the world for those three hours, and we hope the audience takes some of that home with them. When I go to a movie I feel that, and because music reaches a higher spiritual plane with the addition of lights and orchestra and all the performers perspiring and going through the agony of performing in front of you, people can be touched by that. I know I have been touched by performances, and I believe we can change people's lives with that. I do believe that there is a purpose for all of us doing what we do, and if we can't love what we do, people aren't going to love it when they hear it.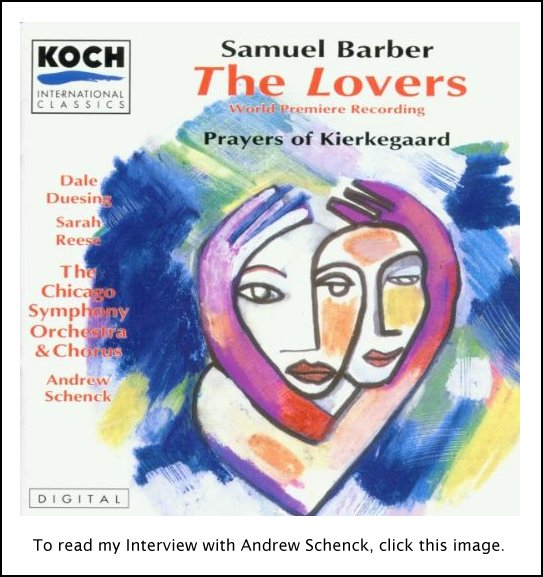 BD

: When you're onstage, are you conscious of the audience you are trying to communicate with?



Dale

: Oh, yes, I'm very aware of the audience. Sometimes it's disconcerting to me to see their reactions. Other times, I love it. Here in Chicago doing the Barber, I am aware of the wonderment. What is this all about? The words are somewhat spicy, but the public enjoys the dry wit, and then we all feel the terrible loneliness and longing of that terrible last piece. I can see individuals out there who are actually caught up in the whole thing, and it's very beautiful. It was the music and the text, and hopefully my delivery of it all together that affected them. I won't forget it, and I hope they won't either. We aren't in this just to entertain. 'Entertainment' is important, but we're there to enrich people's lives. I don't know if I would be happy just 'performing'. The beginning of my career was built on being Mr. Sunnyboy. My career began in Europe. I was a bit younger than most, and was doing roles like Papageno and Figaro, Belcore, Eisenstein — the smiling hero who would always win the girl or enamor the audience, and the critics would print that Mr. Sunnyboy was singing that night. I enjoyed those roles, and still do a few of them. Papageno is still a wonderful role for me, but after awhile I knew I didn't want to just do the comedy roles. I felt there had to be more than just being Mr. Smiley or Mr. Niceguy. There are tears and tragedies in our lives, and happy times that aren't laughing ones, so I began doing more recitals and pieces like

Billy Budd

. That role was one of the first ones I did in the US, and it kind of opened the door for me here. It's not only that those roles are masterpieces, but they touch me as I'm doing them. That makes the difference. We have to do these kinds of pieces, hoping that the audiences will love them while knowing they can be moved. Loving something isn't the same as being moved by it, and I try to do both. It is partly my mission to convince the people that are listening to it that it is worth listening to, and what I'm saying is something important.



BD

: When doing Budd, did you go to Theodor Uppman to learn from him since he created the role?



Dale

: Not then, but later. I did quite a bit of Britten in England and Germany before I ever came to the United States. Peter Pears heard me sing Sid in

Albert Herring

and several times I did Demetrius in

A Midsummer Night's Dream

. I also did a concert version of

Gloriana

and the

War Requiem

. Pears came after one performance in Glyndebourne (where I did Ned Keene in

Peter Grimes

) and said I should be singing Billy Budd. I had always wanted to sing it, but it's another thing to be offered it somewhere. Just a week after that, San Francisco offered it to me, so I came to the US to sing it. It was very successful, and gave me great opportunities to sing that role everywhere. When I did it at the Metropolitan, my cover was Ted Uppman. My Met debut two years before that was Papageno, and Uppman was my cover then, too. It wasn't that he wasn't capable of doing it; it just happened that he was in town and was the cover. I remember the slippers they gave me still had his name in them, so I knew I was stepping into some good shoes! I didn't get to talk to him before I did Budd in San Francisco, but Ande Anderson staged it, and he was with the original group that did it. The whole cast was British and David Atherton conducted. When I went to the Met, however, I was able to talk to Ted about it a lot. Ted and I have very similar personality, and there is more than one reason we did so many of the same roles. My repertoire goes a little heavier than his, but there are great similarities in the approach to performing. Also, he did the original

Passion of Jonathan Wade

, so he came to hear the new version I did in Houston. I always kept good contact with him. He's a wonderful man and a great colleague. I'm sure it is not easy to sit and watch someone do a role which you did the World Premiere, or a role you did so many times on the Met stage, but that man does it with great grace. He always says there's room for everyone, and there is room for everyone. As long as we don't forget that, we won't be so paranoid about all the other singers who keep coming along.



BD

: So you want to pattern your role, but not copy it?



Dale

: I don't intent to copy anyone in any role. I look for the quirk that can make him mine. Jeremy Irons, who is one of the great theater actors, says that his whole purpose is to make the role his, to make it so that what he says is particular to him. I try to find what the point of that opera is about, and turn it to that point, and once you reach that point to filter down past that point. Sometimes it can be very bizarre. In some modern operas it can be very bizarre. In one I had to literally walk on my hands across the stage. In

Billy Budd

it was always to get to that final scene, but up to that final scene to never be really sure of yourself. Only in that final scene I knew what it was I was doing. I know that others who do that role are very sure of themselves way sooner. I don't. There are lots of Biblical parallels to that piece — the son being sacrificed and things like that — but I like that right to the end he doesn't know quite why he's doing all this. Then all of a sudden there is an inner realization.



BD

: So he's always a victim, and at the end he realizes he's supposed to be a victim?



Dale

: Right. Realization that what it is he is, is enough for him.



* * * * *





BD

: Not just in these new roles, but in others which you do a great deal, when you're onstage, are you portraying the character or do you try to become that character?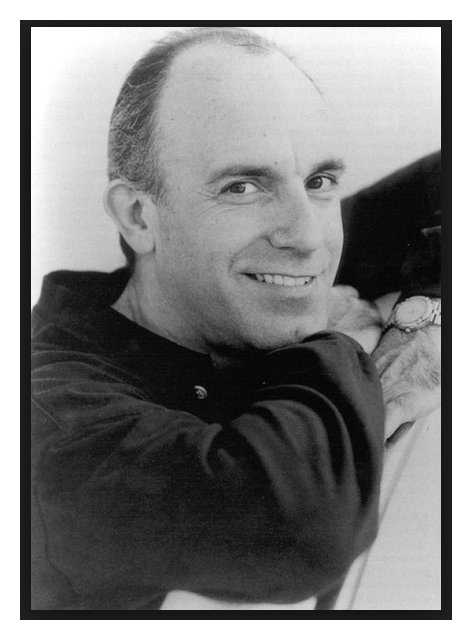 Dale: I would like to say I become the person, but on the other hand, I would like to say that I'm portraying him still. I think it is the combination of the two which is best. I know the feeling of being so totally enveloped in the character that there is no other way to be, but I am still portraying the part. A certain amount of control has to be there, otherwise a singer may lose his voice or break his neck or whatever. But you can lose yourself to a certain point so that what you're doing is the only thing you can do. For instance, I did a wonderful production of

Don Giovanni

with Christopher Alden — who will be doing it with the Chicago Symphony here soon — and it was such a bizarre reading of that opera and that role, that by the final scene there was nothing I could do but what I was doing in that scene. I was totally lost in the role, but I was also totally aware that I had to be singing and breathe correctly. So it's a little of both.



BD

: You're based in Germany, but you sing all over?



Dale

: The first thing I did back in the U.S. was a World Premiere in San Francisco —

Angle of Repose

by Andrew Imbrie. That really was a homecoming when I came back for that. When I left the U.S., I went over there to study and basically became a singer over there. I got a Fullbright Scholarship to study in Europe, then a Rockefeller Grant, and I definitely wanted to study music. Then I decided to become a singer. I always assumed I would come back and become a history teacher. I never really thought that I was going to be a singer. [Laughs] Coming from good Midwestern stock, you had to have a job! My dad was so worried that if I got too serious about this 'music' I might never have a job. I've had a job for twenty-some years now, but when I came back to San Francisco, it was one of the most exciting moments of my life — coming back in a starring role in a major opera house. It's not arrogance but simply a fact that my American debut was in San Francisco, and the second house I sang in was the Metropolitan. How many singers can claim that? And being a lyric baritone besides... there are only about ten billion of us!



BD

: Is there competition amongst you?



Dale

: There's always competition, but it's not in any sense vicious. I've never had any awkward moments when speaking with other baritones.



BD

: Of course, you don't work with other baritones. If there is a baritone part, you're the baritone.



Dale

: That's probably the reason. I know I've been in performances where there are two sopranos, and there have been problems. In

The Marriage of Figaro

there are two baritones, but it's really a baritone and a bass-baritone. In

Pagliacci

, Silvio and Tonio are baritones, but very different kinds of voices. But besides the competition for roles and places, you're always competing with yourself, too. In this Barber piece here in Chicago, every night I try to do certain lines in a different way just to see which one I like better, and then make that even better.



BD

: Why doesn't that happen in rehearsal?



Dale

: It does, but it never stops. It may just be a quirk of mine, but every night I want it to be new. I can't take great liberties. The conductor and I have agreed on certain things, but there is a certain bit of freedom.



BD

: Do you adjust your vocal technique for the size of the house?



Dale

: Technique, no, but I adjust my voice. Whether it's a big house or a small one, you have to form your words, open the throat and get those muscles working. A

forte

in a big house is always different than a

forte

in a smaller house — at least for me. Papageno at the Met needs to be sung out fully. At a small house like Glyndebourne or Zurich, you can pull back to almost nothing and become more intimate and subtle. You can be subtle in a big house, but you have to learn to gauge it differently. In that final scene of

Billy Budd

, it's very long and there is a lot of very soft singing. So even at the Met, all you have to do is have an orchestra that is also playing very softly, which in fact we did have. You can be subtle, but not as subtle as in a small house. But you can still make music, and that's what we're in this business for.



* * * * *





BD

: Tell me about doing the baritone version of

Werther

.



Dale

: I'm always asked about that because it's an interesting thing. It was a big tour-de-force. First, I had to get the music! After a lot of searching, I finally got a photocopy, so it's mine! It was written for Battistini, who sang it in Rome and St. Petersburg. Massenet thought he was the greatest singer that ever lived, so he made the changes in the score in pencil, and then had it put in a vault when he died. He rewrote the line within the harmonic scheme, but the rest stayed exactly the same.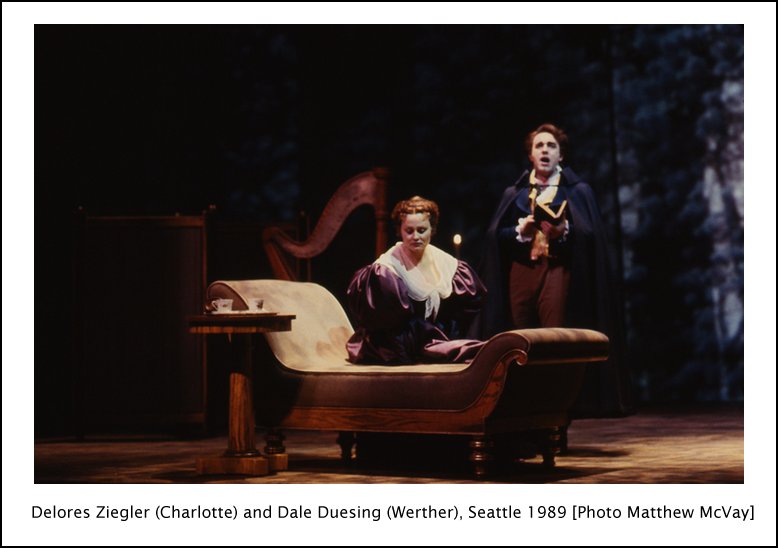 BD

: What about Albert's part?



Dale

: There are a few notes that are changed, but not too many. Charlotte also has a few minor, very minor changes. But then you do have two baritones.



BD

: And a mezzo, so it's very dark.



Dale

: Right, and that works well for the Goethe, becoming very Germanic in a wonderful way. I love the part and I love the entire score. It's never going to chase the tenor version out of the repertoire, but the production was a big success, and I'll be doing it in Hamburg in a couple of years. Opera houses can be scared of it, but with a brilliant production — such as the one of Francesca Zambello in Seattle — it can be wonderful. It was sold out every night. I am biased, but I think some portions are better in the baritone version. However, there are times when I think a tenor should be doing this or that phrase. But the end of Act Two is so enormously wonderful for the baritone that it deserves to be heard.



BD

: Let's continue talking about Werther. Do you like him?



Dale

: Yes, I do. I find him a very Germanic person and I can relate to that because my dad was German. My mother was Italian, so I have a little of everything in me.



BD

: So is Werther German from Goethe, or French from Massenet?



Dale

: He's both, but remember they called Massenet "Monsieur Wagner." Massenet had a penchant for being Germanic. It's good that

Werther

has the French touch, otherwise it would be so very heavy as to be difficult as a workable opera. Werther is extremely sensitive and extremely melancholy later on. He knows he's found something that would change his life, but he can't have that something. Ultimately, it does indeed change his life, but for the worse. That is something that any of us can relate to.



BD

: Do you see Werther-types today?



Dale

: Certainly.



BD

: With a rise in the suicide rate?



Dale

: [Smiles] Well, they don't necessarily have to go that far. In the Nineteenth Century, there was a kind of poetic sentiment that produced the rage of fainting spells and the like. It had to do with the way people lived, so duels and these other things we're talking about were part of the life they led. I don't think that today in the United States the suicide rate would go up from watching

Werther

, but even in my own family I have seen people who are so distraught from loss of love. We all know what it's like to have and then lose a first love, and know people who are going through it. Losing a first love is traumatic, and for Werther, it wasn't a first love, but rather Love, and he knew he wouldn't have another Love. People today lose their fulfillment and make choices that aren't correct. Perhaps a secondary choice gets them through their life, but whether they are really happy is another question.



BD

: You have no trouble bringing a Nineteenth Century character to life as we are almost at the Twenty-First Century?



Dale

: No, I have no trouble with that. I think the human spirit, the human condition of delving into what we are has never changed. Go back 2000 or even 4000 years and basically what we all have wanted and what we strive for hasn't changed. The baggage we carry with us changes, and the attitudes toward one another change, but they are often changed by outside means. But what we look for and want has never changed. Everybody wants comfort, love, a feeling of belonging, a knowledge that when they look at themselves they can be pleased with what they see. We want to be complete. I don't think that's ever changed, or ever will change. So if that's Werther, or Papageno who runs around in feathers, there is no basic difference. Moses was looking for that, too; also Adam and Eve. I don't think we ever have to be embarrassed to bring an Eighteenth Century or Nineteenth Century person into the Twenty-First Century. What we bring with it is something else, again... atomic and nuclear bombs, and wars and rumors of wars. That might all continue and certainly will, but mankind is mankind. We are all searching for peace of mind. That's what Werther is looking for, that's what Billy Budd is looking for, and Papageno, and Wolfram, and all these other roles that I do. That's certainly what's so very interesting. Italian opera is sensual and feeling, German opera is more philosophical, and French plops down right in the middle.



BD

: So Papageno resolves his crisis one way, and Werther the other.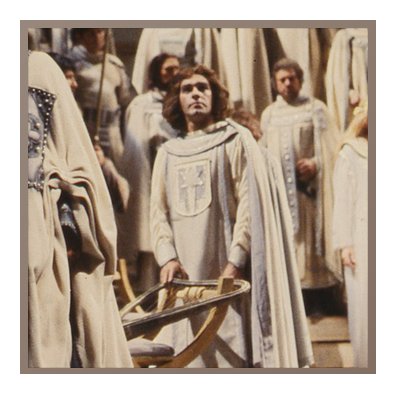 Dale: That's it. As we're talking now, I am looking at these figures which I like, thinking of my favorite roles. I don't have a favorite, but the ones I enjoy the most are Papageno, Pelléas, Billy Budd, Beckmesser, and Wolfram. All of them have a great similarity — even Beckmesser! Beckmesser leaves town; Wolfram goes off and we never know quite where. [Photo at right shows Duesing as Wolfram in his Seattle Opera debut. It was also the Seattle Opera debut for conductor Hermann Michael.] I do Beckmesser differently from most because I think he is a very sympathetic person.



BD

: If you're playing Beckmesser, don't you have to believe in him as a person?



Dale

: Yes, but the point is that normally they dress him in as silly a costume as they can, with a wig that is terribly distraught...



BD

: They make him into a buffoon.



Dale

: Right. What everyone seems to forget is that this is a man of intelligence and esteem.



BD

: He is a Master Singer.



Dale

: Exactly. He had to have all these qualities. He can't suddenly be the town buffoon. I know that Wagner did have a purpose for all of this, but a great composer cannot write bad music. A masterpiece remains a masterpiece, and Beckmesser's music is wonderful. Of course he does steal the poem from Hans Sachs, however he does not enter the shop with that purpose.



BD

: Isn't that more out of panic and insecurity?



Dale

: I think so, completely. He is totally lost, and because of that it becomes even more wonderful because out of his desperation the man thinks this is the way he has to do it to win Eva. He loves her, and we all know what that is. At that moment you're blind, and there's something really touching when he sings this absolutely ridiculous song which gets twisted, and he gets so upset. It's very very funny and at the same time very very tragic. When he leaves, I would always look at Eva as if to say, "Don't you know that I did this all for you?"



BD

: Where was this?



Dale

: In Brussels.



BD

: Was that the one with Van Dam as Sachs? [Sir John Pritchard conducted]



Dale

: Yes. It was really a wonderful production. I was asked to do it at Bayreuth right after that, and I didn't do it because I was so attached to this production that I was afraid to do it anywhere else. I'm going to do it one more time with José and then I'll start doing it around.



BD

: How badly beaten is he at the end of Act two?



Dale

: Oh, he's badly beaten. If you've ever been in Central Europe when people are really upset with people, it's pretty tragic. In that production we did it that it was pretty terrible.



BD

: Should he come on with a neck brace in the third act?



Dale

: No, but when everyone is gone, only Beckmesser was left with his broken lute, and he's in terrible pain. I think that's good because it shows that injustice is done by everyone in this piece — even Hans Sachs, who keeps hitting with the hammer when I'm trying to sing the serenade. We tend to forget that everybody is fallible, and Hans Sachs isn't the perfect hero that everybody makes him out to be. Nor is Beckmesser the most awful person everybody seems to want to make him out to be. It's much more interesting to have people be believable and real, and it's a little bit more difficult to make out what makes that person better or worse. That's what's wonderful about humanity — that we all have these qualities. This isn't the jungle. We all try to work out our lives, and everybody makes mistakes. That should be shown in the theater, too. I like the idea of showing pain and dishonesty because we have all lied somewhere in our lives. We all know what it is to lie, and we all know what it is to be caught in a lie, which is what happens to Beckmesser. That's why he does anything that comes into his head just to get out of trouble. Papageno does the same thing, too.



BD

: It's just that Papageno is a lot more cute!



Dale

: Exactly. He's so cute that everyone puts up with everything he does. I also love that about him. You can show all the dishonesty and all the crudeness and the selfishness, and still have everybody on your side. He's doing it out of sincere desperation to find what it is he wants. It's the same with Pelléas. It's interesting how this discussion is wandering! Pelléas is also someone who has found a love that is enormous for him. He's grown up in this rarefied atmosphere that he wants to leave, but he meets the girl of his dreams and doesn't know how to get out of the trouble. So he keeps going deeper and deeper until there is no turning back.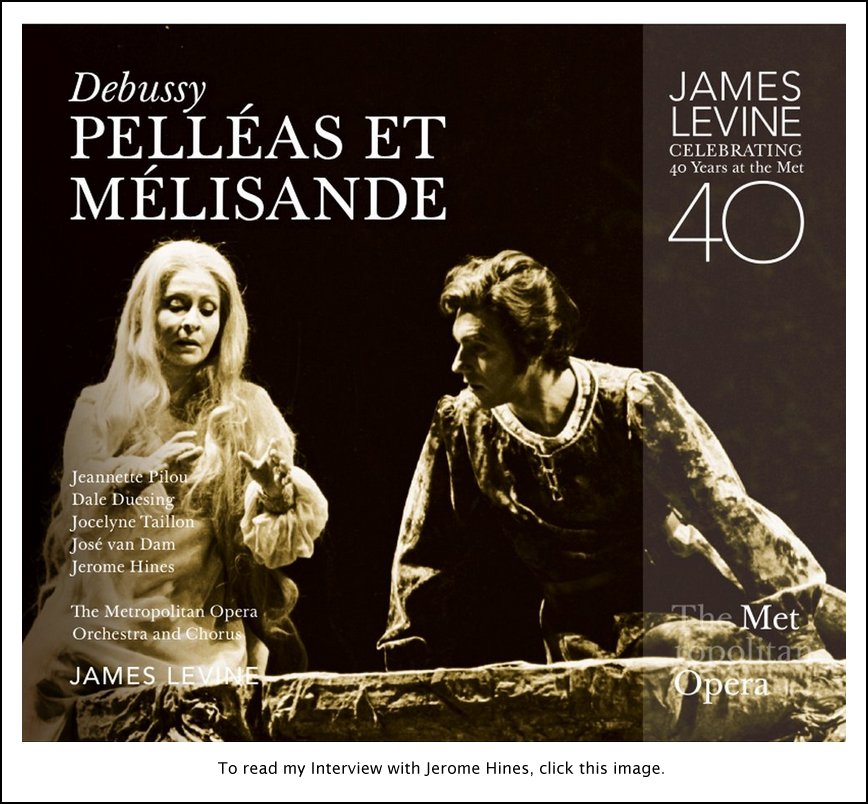 BD

: He's quite isolated being in the forest with his family.



Dale

: He wants to go visit a friend who is sick but his grandfather asks him to stay. So he does, and in the end there's no leaving. But what's interesting is that he finds total fulfillment. There are some moments in the opera where he is so full of joy that it's even worth his dying for in the end. I'm convinced, when I do the piece, that he knows perfectly well that the final meeting with Mélisande will be his last night of life on the Earth. He says to himself (and to us) that this is the last night he will see her, and I think it's a premonition. It's not only that he's leaving, he's leaving for good — he's going to die. Just as in the beginning, when he talks to his grandfather who tells him he can't leave, there's something there — fate if you will. The grandfather keeps him there; the mother introduces him to the person who will be his downfall.



BD

: Would it have worked out if Mélisande had been discovered by Pelléas instead of by Goloud?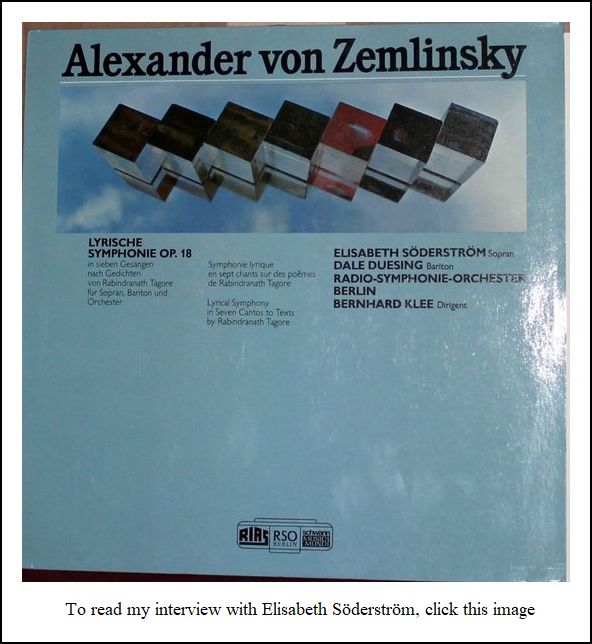 Dale: I don't know. I had a discussion about that once with a German stage director who thought it would, but I think not. Pelléas is a spontaneous but shy person. This director thought Pelléas would have allowed the spontaneousness to overcome his shyness, so he would have gone ahead and grabbed her despite her protests.



BD

: I don't think he has that kind of strength.



Dale

: I don't either. He's much too sensitive and wouldn't have wanted to hurt her in any way. Until the tower scene, he is very very careful about how he talks to her. There are many expressions of observation rather than actual confrontation. I'm convinced he would have been much too afraid to have touched her if he had found her as she was acting as we see her in the first scene, whereas Goloud is the warrior who doesn't hesitate to go after her. It's a most amazing opera, a masterpiece.



BD

: Has anyone ever explained where she has come from? I've heard that she might be one of Bluebeard's wives who had escaped.



Dale

: I've heard that, too. Some people in Europe have done it that she wasn't actually a real person, but rather a middle-spirit. I don't know, and maybe it's just as well to leave it like that.



BD

: Who is the father of Mélisande's baby? Is it Pelléas?



Dale

: It very well could be, but I think it's Goloud. The consummation of the love between Pelléas and Mélisande is the kiss just before he's killed. For me, it would be too sad for their love to have been consummated and then to have the enraptured kiss at the end of the second love duet.



BD

: So if he had not been killed, the child might have been Pelléas' a few nights later.



Dale

: Exactly, and that makes the piece even more interesting because she bears Goloud's child even though it was Pelléas she really loved. It's kind of spooky. They both just leave this world. To go back to that subject, they both find this love, and then lose it. It's really pretty tragic.



BD

: What does Golaud do in the 'sixth act' — or do you care?



Dale

: I should care, but I really don't. For me the story is Pelléas and Mélisande. Despite the character of Golaud, the love duets are central to me in that piece. What is so awful is that two people who found love lost it by losing their lives.



BD

: Returning to Werther for a moment, would they have been happy if there had been no Albert in the picture?



Dale

: I would hope so. When I'm talking to you about this, it's as if I really am Werther. My feelings when I did the piece were so clear. When she tells him at the end that the kiss touched her but she couldn't tell him because she had been promised, it's not just a tease, not just that she couldn't have him but that she loves him. He really loved her and she really loved him, and it would have worked. It would have been pretty wonderful.



BD

: He wasn't too over-the-edge?



Dale

: Sure, but she was capable of handling that. He would always remain what he was. In the novel he would be red-hot, and then just disappear into his own world. They said that was true of Goethe. He would be the life of the party, and then just turn off the switch and be not there. Charlotte would have loved him enough to have been able to take care of that. She was definitely a strong woman. All through the opera we see how strong-willed she is, and yet how distraught she is. In the final scene, when she said she really loved him and that their kiss made the difference in her life, that says it. Nothing is perfect, but the two of them were about as good as it gets.



* * * * *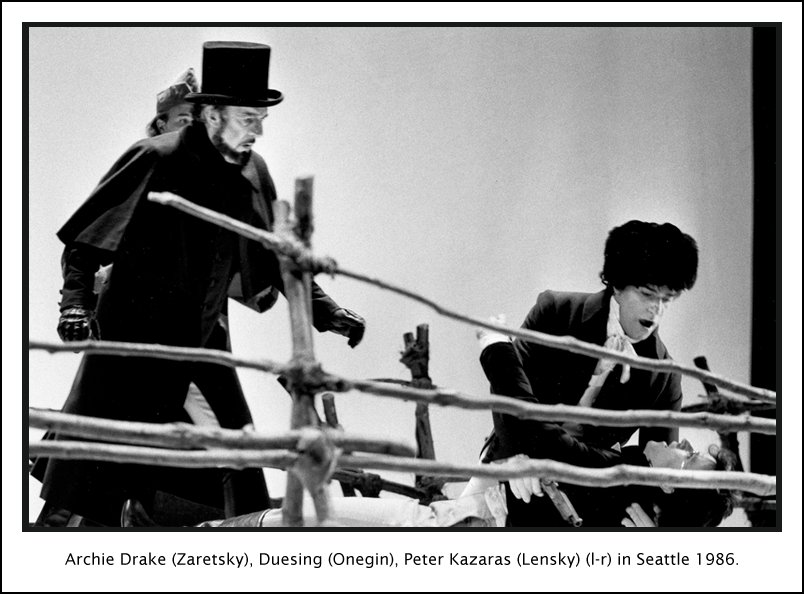 BD

: You've done

Eugene Onegin

?



Dale

: Yes, and I think that's a wonderful opera, too.



BD

: Why doesn't he call off the duel?



Dale

: I don't know. One reason is that Pushkin decided that it would be such a wonderful vignette of life in Russia at the time. Honor was everything, so that had to be the thing. Even in the United States, we had Aaron Burr killing Alexander Hamilton in a duel. If someone did slap you in the face you had to go ahead and do it.



BD

: I would probably try to pay him off someway...



Dale

: [Laughing] Oh, I'd have been out of there! I never would have taken that gun out of that box. [Returning to the historical implications] It's not a flaw considering the society of the time, but it certainly is a weakness that neither of them were man enough to just stand up and say, "We really do love each other, so there is no point to this."



BD

: You say that it's of its time. You've done a lot of new works, so is opera today of its time?



Dale

: It can be. I did just see one of the old operas and thought, "Why do we do this?" But as I listened to it, I saw that it also had its worth. Like a beautiful painting, it has its worth even if it's full of trappings, and has no story nor action, and sometimes not even brilliant vocal writing. You might have to wait quite awhile before you get to an aria which is thrilling, but what it takes always is committed singer. That transcends every flaw, and can break through and touch you. Basically what they are saying is what we have always been saying to each other. We don't have to be academy-award-winning actors, but we can be at least acceptable. You can do an opera with a table and a chair and a committed singer, but not with the greatest of scenery and costumes if the singers aren't interested. You have to be committed emotionally. To our credit, most of the American singers are really committed to what we're doing, and I think that is one reason we've been so successful in Europe. There are ways of saying, "I love You," ten billion times and make it compelling. There may be some operas that are harder to adjust to in our fast-paced life...



BD

: As life gets faster and faster, are we leaving the world of opera behind, or are we dragging it with us?



Dale

: I hope we're dragging it with us, and in some cases we are. I hate reading about this or that staging in Europe being so far-out. We need to be a bit more tolerant, and realize that if theater isn't intellectually stimulating, no one will listen. On the other hand, the European press keeps writing about the conservatism of the American opera productions. There is a place for that, too. We need to do both. I like doing a tame production that works well, and also a bizarre production that is well thought through. Sometimes we do things that are not what we are singing, just as we sometimes look out a window and still talk to someone behind us. It's good to make an audience realize that this is what we all do, but I don't think we have to do that all the time. There is room for everything, but if we don't keep performing with commitment, with love for what it is we're doing and for our audience... [pauses a moment] they are not our enemies. I might be afraid of not living up to what I intend to do, or I might not be up to snuff that night, but I am not afraid of the audience. The audience wants me to be good, and since they want us to be good, we have to be good.



BD

: That just turns the pressure right back on you again.



Dale

: [Laughing] Of course, but that should be the enjoyment of it. I love talking about this profession. It's a lot more than just singing and acting. There is a real responsibility involved, and a question life and of the purpose of why we are here.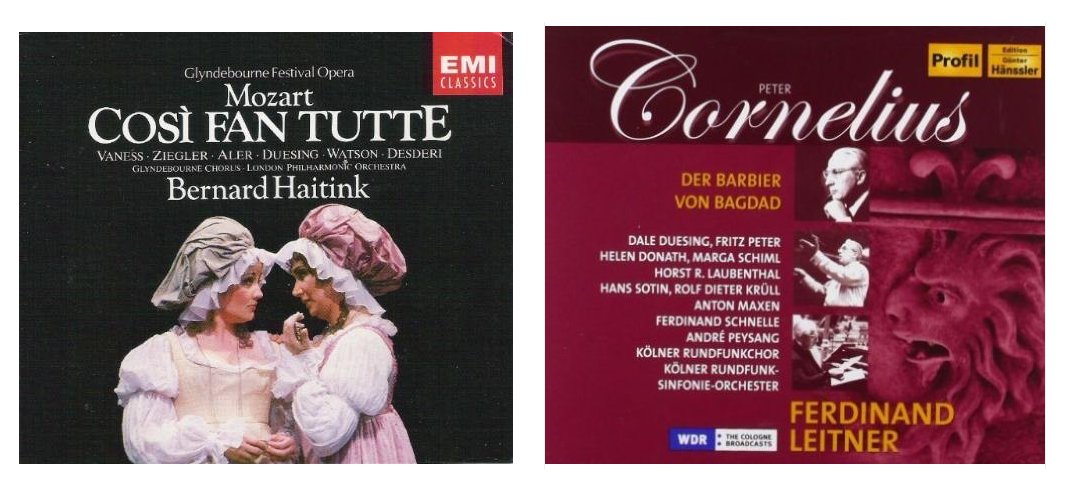 See my Interviews with
John Aler
,
Helen Donath
,
Hans Sotin
, and
Ferdinand Leitner
.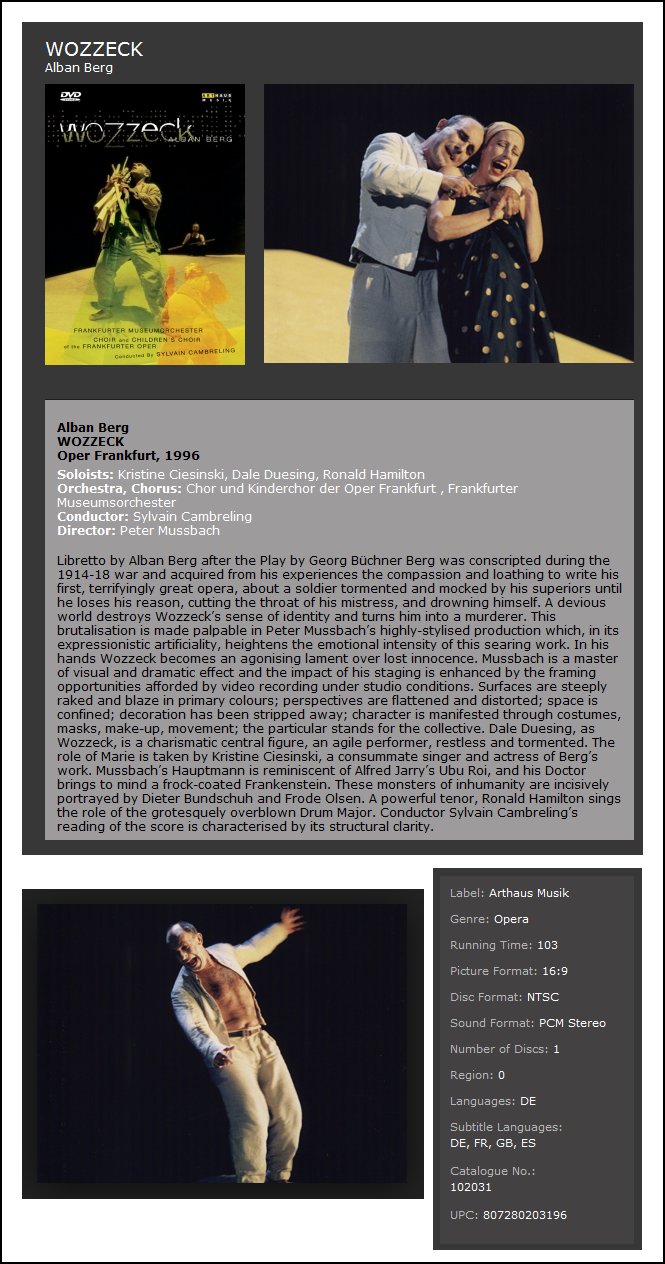 © 1991 Bruce Duffie

This conversation was recorded in Chicago on October 28, 1991. Portions were broadcast on WNIB in 1995 and 2000. The sections on French Opera were published in The Massenet Newsletter in January, 1992. The transcription was completed and re-edited, and posted on this website early in 2017.


To see a full list (with links) of interviews which have been transcribed and posted on this website, click here.

Award - winning broadcaster Bruce Duffie was with WNIB, Classical 97 in Chicago from 1975 until its final moment as a classical station in February of 2001. His interviews have also appeared in various magazines and journals since 1980, and he now continues his broadcast series on WNUR-FM, as well as on Contemporary Classical Internet Radio.


You are invited to visit his website for more information about his work, including selected transcripts of other interviews, plus a full list of his guests. He would also like to call your attention to the photos and information about his grandfather, who was a pioneer in the automotive field more than a century ago. You may also send him E-Mail with comments, questions and suggestions.