Mezzo - Soprano Alicia Nafé

A Conversation with Bruce Duffie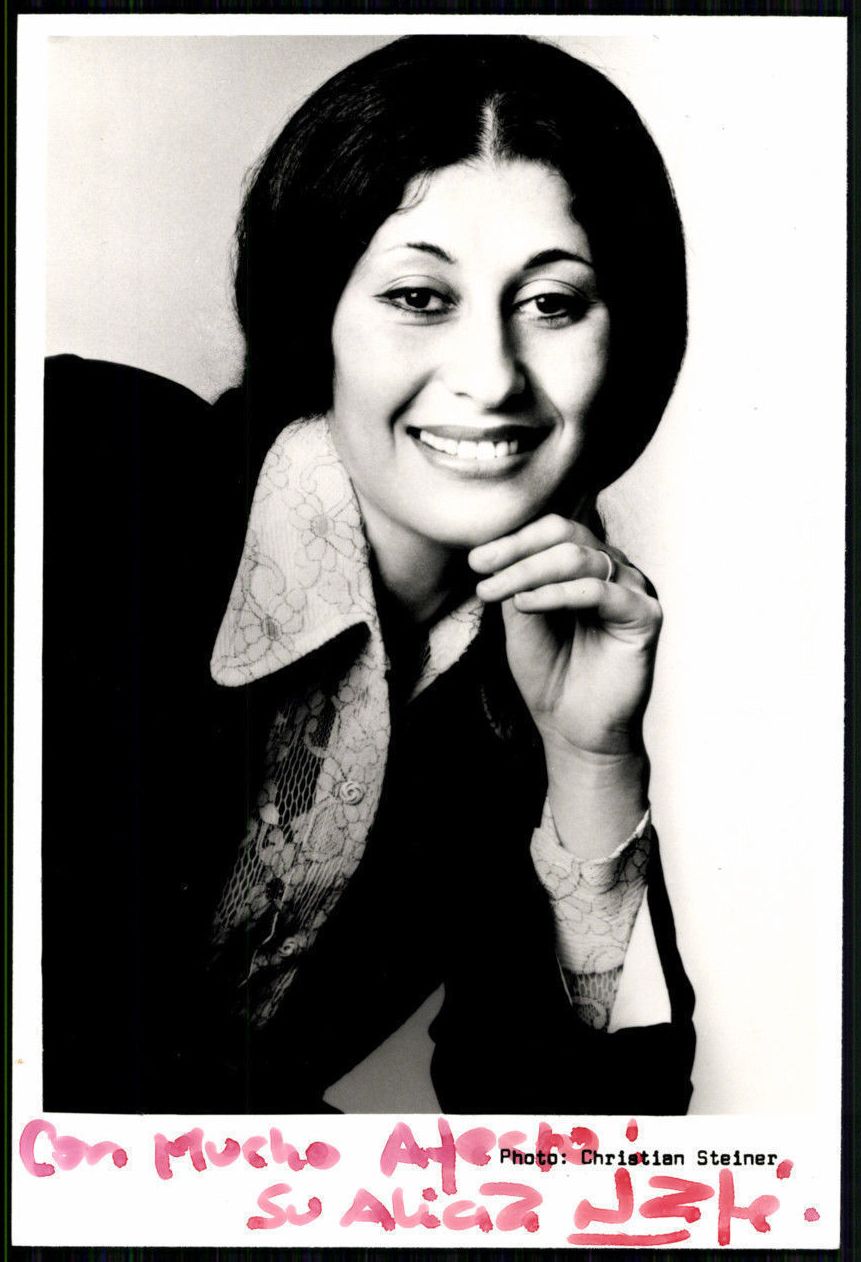 The Spanish mezzo-soprano Alicia Nafé of Argentinian origin, began her musical studies in Buenos Aires, where she won the first prize in national competitions, including Promociones Musicales, Harmonicus and the Sociedad Hebraica. A scholarship took her to Madrid to continue her studies at the Escuela Superior de Canto. Here she won the first prize in the Madrid María Ros de Lauri Volpi competition and the Francisco Viñas prize in Barcelona. She made her debut in Toledo Cathedral in Verdi's Requiem, under the direction of Rafael Frühbeck de Burgos, appearing thereafter in the same work in London, Philadelphia, the Verona Arena, Hong Kong, the Teatro Colón in Buenos Aires and in Spanish music festivals in Granada, Seville and Barcelona. She devoted her earlier career to concert and recital appearances, causing a sensation with her first Carmen at Darmstadt, followed by performances throughout Germany, and then in the United States, culminating at the Metropolitan Opera in New York. She appeared for two seasons at Bayreuth, and for five years was associated with the Hamburg Opera, singing principal French and bel canto mezzo-soprano rôles. Her highly successful international career has taken her to musical centres throughout the world. She sang La vida breve at the inaugural gala of the Teatro Real de Madrid, and the work is among her many recordings in a repertoire ranging from Monteverdi to Debussy.



-- Biography from the Naxos website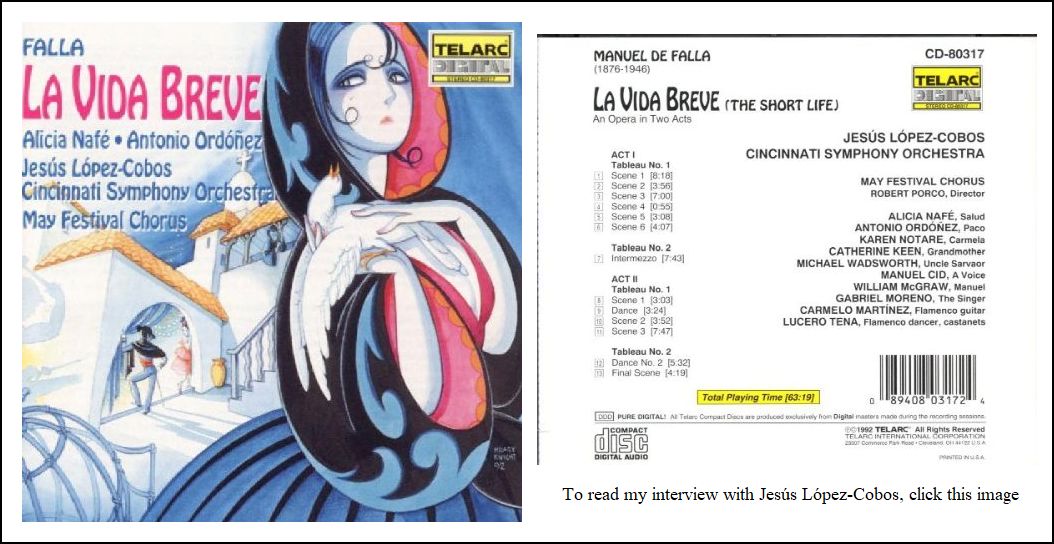 This interview was held in November of 1984 while Miss Nafé was performing the title role in Carmen at Lyric Opera of Chicago, with Plácido Domingo, conducted by Michel Plasson. [See my interview with Michel Plasson.] The transcription was originally published in the Massenet Newsletter the following July, and now (2018) has been slightly re-edited for this website presentation. Since it was originally going to be read by people specifically interested in Massenet, there is an emphasis on the character of Charlotte in Werther. However, we did talk about other roles, and it does give much insight into the mind of the artist.

My thanks to Alfred Glasser, Director of Education at Lyric Opera, for translating during the session.




===== ===== ===== =====




Alicia Nafé is a young dramatic singer from Argentina who is a real fire-brand, both offstage and on. She loves to sing and mentioned that, in her first engagements, she hated to get paid because she enjoyed it so very much. But her artistry has come a long way in just a few years, and she is now known for portrayals of several interesting roles, and perhaps her best one is the gypsy, Carmen, in Bizet's opera. But there are others in her repertoire, among them Adalgisa in Bellini's Norma, Dorabella in Mozart's Così Fan Tutte, and the florid Rossini heroines such as Rosina, Isabella, and Cenerentola. Of special interest to the Massenet Society, though, is her growing enjoyment and recognition for the role of Charlotte in Werther. In the Fall of 1984, Miss Nafé had a double dose of Carmen, first in San Francisco and then in Chicago, both times in the Jean Pierre Ponnelle production. Not only was she busy with rehearsals and performances, there was a second tenor involved, scheduled for later performances, so Miss Nafé was rehearsing much of her material twice! Since she was completely immersed in the role, our chit-chat while getting set up for the interview centered on that opera and its surprising length. We pick up the conversation at that point...


Bruce Duffie: Is Carmen too long?

Alicia Nafé: Yes.

BD: Should there be cuts in the opera?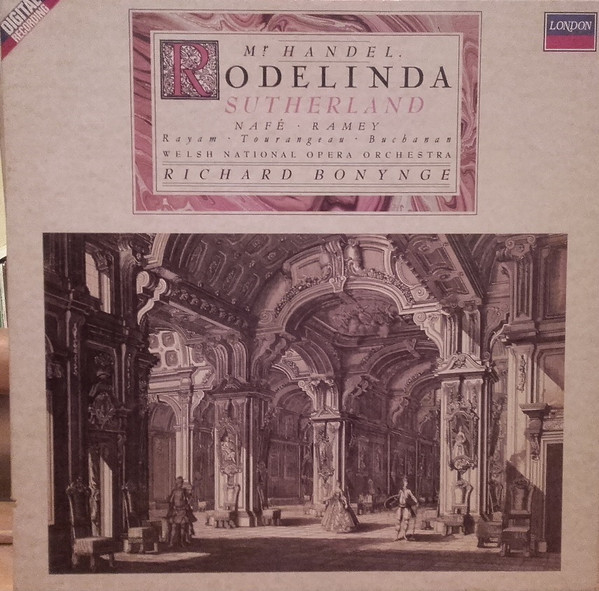 AN: No, it's not a musical problem. Many theaters put the first two acts together, then the last two together, so there is only one intermission during the evening. Here in Chicago it is not that way. We have an intermission after each act, so it's much more difficult for both the Don José and myself. We have so much tension built up in the third act that we need to go quickly to that final scene. But it's just a technical problem to get rid of the scenery.

BD: I understand that Monsieur Ponnelle was not in San Francisco but he was here in Chicago, so is it better here?

AN: Yes. The assistant who did it in San Francisco was very nice, but here Ponnelle changed a few things just for me, and I feel very good.

BD: Was this your first time working with him? [Vis-à-vis the recording shown at right, see my interviews with Joan Sutherland and Richard Bonynge, and Isobel Buchanan.]

AN: Yes. I'd been invited to be in his productions before but I had no time.

BD: Do you enjoy being so busy?

AN: No. I like to sing, but I need time to study. I like the theater very much, and I like to work hard, but not crazy work.

BD: At what point does it become crazy?

AN: When I am in one place, but thinking about another production which is coming up.

BD: Was it good to go immediately from the production in San Francisco to the one here?

AN: Yes. I had ten days after the end of that one to go home for a rest, and then I came here. That was very good for me. I'm going next to do Charlotte, then a recital, and then after that Isabella in Italiana, and Rosina, but not together. I need ten or twelve days to change. It's not so much for the voice but to change the spirit inside me.

BD: Tell me about Charlotte. Is the role as heavy as Carmen, or as light as Cenerentola?

AN: Carmen is more hard work, but she has more feelings, and is more happy. Even death does not deter her. Life and love excite her. When I sing Carmen I'm physically tired, but not spiritually tired afterwards. But when I sing Charlotte, or the Verdi Requiem, or Adalgisa, I am very spiritually tired afterwards. These roles are a profound drain. Carmen has a lot of fun, but Charlotte has a big problem. She is very sensitive.

BD: Is Charlotte too introverted?

AN: It depends on the staging. Charlotte can be extroverted or very introverted. But I enjoy singing Charlotte very much. However, my part is Carmen!

BD: Temperamentally?

AN: Yes. I have a temperament, and I am a strong character. I am very free, and so is Carmen. That makes it very natural for me, and it was my very first role when I was starting out. I still feel the same way about it. I identify with Carmen.

BD: Have you done both versions, the dialogue and the recitatives?

AN: Yes. Spoken dialogue is more difficult because you have to change the position of the voice.

BD: Which do you prefer to do?

AN: I prefer it with the spoken dialogue. It's more lively, and you can give more expression. I like very much to speak in the theater.

BD: Would you rather be known as a singer or an actress?

AN: I'd like to be both.

BD: That brings me to a favorite question. Does opera work in translation?

AN: As a general rule, I like to sing operas in their original language rather than in translation. I've thought about recording a Spanish Carmen, but only if we could get the cast together who could do it. But my first Carmen was in German.

BD: Does it bring the work closer to the audience when it's in their language?

AN: Maybe. But a lot of translations are not very good, and then it can impede the audience. They are not forced to go forward. If everything is very easy to understand, they don't bother to work at it. The text, as originally set, is so precise that you really can't change it without losing a great deal. The composer made the words sound good together with his music, and we must respect this.



* * * * *



BD: Where does the style of Massenet fit in comparison to your other roles?

AN: Massenet requires very fine work, like Mozart. All the French roles do, even Carmen. For Verdi you must have a heart, and then voice, and voice, and voice, and voice. The French operas need voice, but the style is much more refined.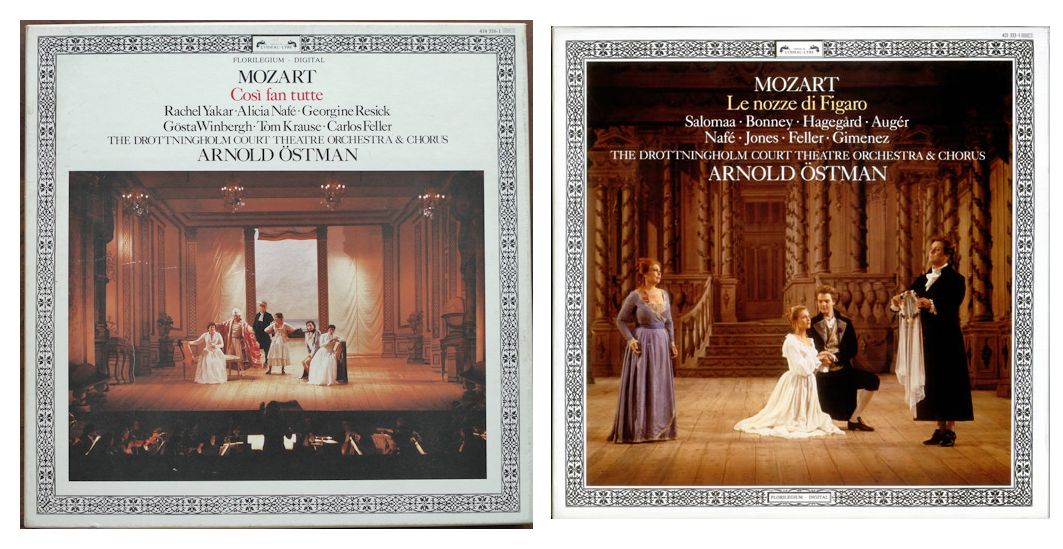 See my interviews with

Gösta Winbergh

,

Tom Krause

,

Barbara Bonney

, and

Arleen Augér



BD: Did Bizet capture the Spanish flavor of Carmen?

AN: [Wistfully] Ah, yes. It's a miracle, no?

BD: Then did Massenet capture the German spirit in Werther?

AN: I haven't thought about that. I guess so. German people are very romantic. You can't see it in their faces, but I think Massenet finds it in Werther. To do the role of Charlotte, I've read the story, of course, but also the Goethe on which it's based. I also have to apply to it my experiences. I lived for about four years in Germany as a member of the Hamburg Staatsoper, so I've been able to observe the German people. I do feel that their emotions are not visible, but they are keenly felt. They are romantic.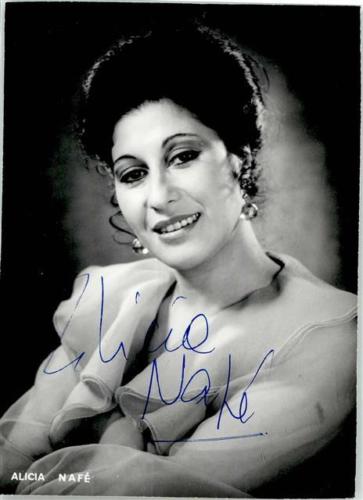 BD: For any new role, how much digging do you have to do into the character in order to come up with the right style?

AN: It takes a lot of time, but I must do a role on stage a number of times in order to understand it. Experience is the best teacher.

BD: How many times is enough?

AN: [Laughs] It really takes thirty or forty performances of a role before I can say I understand it. I can prepare a role in two weeks — learn it and memorize it, and musically control it — but to make the role a part of me where I am sensitive to all kinds of nuances takes much longer.

BD: Do you become the character, or are you playing the character?

AN: For me, it's not difficult to become the character. It's hard to separate the character from myself. I try, and now I am better about it.

BD: After the final curtain, how long does it take to become Alicia again?

AN: After Carmen, in two hours I feel okay. [Laughs] No more Carmen.

BD: So, it does take a couple of hours to shake it off?

AN: Yes, because I am very sensitive. There are other roles which are not as profound, so it's easier to release them afterwards.

BD: Where does Charlotte fit into that pattern?

AN: Charlotte is very dramatic and very melancholy. It's very hard work because all the time she feels so deeply in her heart. Carmen, on the other hand, just feels happy. She lets the problems go by her. When she is down, she just resolves to overcome it. Another thing is that she tells the truth. It's very good for the nerves to tell the truth, and Charlotte can't. Charlotte has a mother and a father and a God, and she's well educated. Carmen, on the other hand, is a free spirit. Charlotte cannot bring herself to break that promise she made to her dying mother. She will marry this man no matter what. Carmen would laugh at that kind of thing.

BD: Are you happy that the character of Carmen gets killed at the end?

AN: Oh, yes. People wait for this! Anyway, I get to end the opera. There are lots of stage directors who don't like to do Werther. They think it's out of fashion. They feel Charlotte herself is an outdated character.

BD: Is she outdated for you?

AN: No. These things do not go out of style. Today, you can find women who are just like Charlotte. There are characteristics of Charlotte that recur in modern women, and the music is very beautiful. I like the opera very much. It helps when you have a beautiful stage picture, but you must sing Charlotte with conviction to make her up-to-date.

BD: But since you are much closer in spirit to Carmen, how do you portray Charlotte with conviction?

AN: Carmen is very easy for me to portray, but I can bring the character of Charlotte to life on the stage. I have to work harder at it, though.

BD: Is opera art or entertainment?

AN: I would not separate them. They must be together. There is a lot of work that goes into a production, but it is artistic work. The end result is a combination of art and entertainment. But I like to do comic operas where, by adding things to do, you add life.

BD: So every opera has a different balance of art and entertainment?

AN: Yes, it does change.



* * * * *



BD: Are recordings good for the public?

AN: Yes, it's a good way for the audience to inform itself. They can learn from the records, and then get more out of it when they go to the live performances.

BD: So, records are stepping-stones?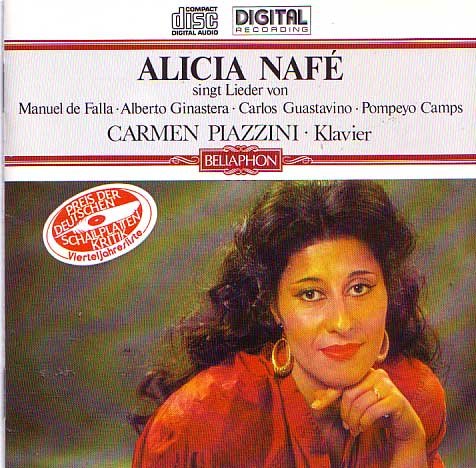 AN: Yes.

BD: Are records real?

AN: The best ones are those made during live performances. If you have a good production, and you're in the scene, a good sound engineer can capture that. But it can be interesting to do records in the studio. Then they can be perfect.

BD: Is it a good thing for records to be so very perfect?

AN: It can be a good thing because you must sing perfectly in the studio, so you must work up to that level. They can also present different versions, so it can open the mind to the various possibilities. But there can be a danger to the audience which listens to a perfect recording, and then goes to the theater because they may be disappointed. But it is a risk worth taking because of the benefits of being able to learn so much about the work.

BD: What is the role of the critic?

AN: The critic must exist. It is necessary to have people to tell the public what took place on the stage. Sometimes, though, they are mistaken, but they do maintain an equilibrium in the artistic world. As a performer, though, you reach a point in your career when you no longer pay any attention to them. You can't go on stage thinking about the critics. There are maybe four or five in the world that you should pay attention to.

BD: How do the different houses affect your vocal production — if at all?

AN: Acoustics are very important, and they change from house to house. You have to listen and figure out how to make your voice 'run' more.

BD: Can it be dangerous if the house is too big, or acoustically dead?

AN: You have to learn how to make your voice project without shouting. You must never shout.

BD: Can a house be too big?

AN: I don't like a big theater for Carmen or Mozart. The recitatives are too intimate. Those operas were written to be played in a small house. But the important thing is the acoustic. You can go in a big theater with wonderful acoustics and it's no problem. But if a small house has bad acoustics, it's a big problem.

BD: Didn't you sing a few small parts at Bayreuth?

AN: Yes. It was wonderful to sing there. There is a beautiful ambiance in that theater. I was a flower maiden, and the Parsifal was René Kollo. Then in my first Carmen, he was the Don José. So I went from flower maiden trying to seduce him, to Carmen — always with my rose — trying to seduce him. [Laughs] It is my fate! But Wagner is not for me. I haven't got the voice for it, so I stopped singing it. I was very young when I went there, and they kept asking me back, but I have said no.

BD: Is Carmen really like a flower maiden?

AN: Sure, it's seduction!

BD: Then is Charlotte the opposite?

AN: Yes, the opposite.

BD: She's not the other side of the same coin?

AN: No, she's in another world.

BD: Thank you for coming to Chicago, and for this conversation.

AN: It was very nice. Thank you.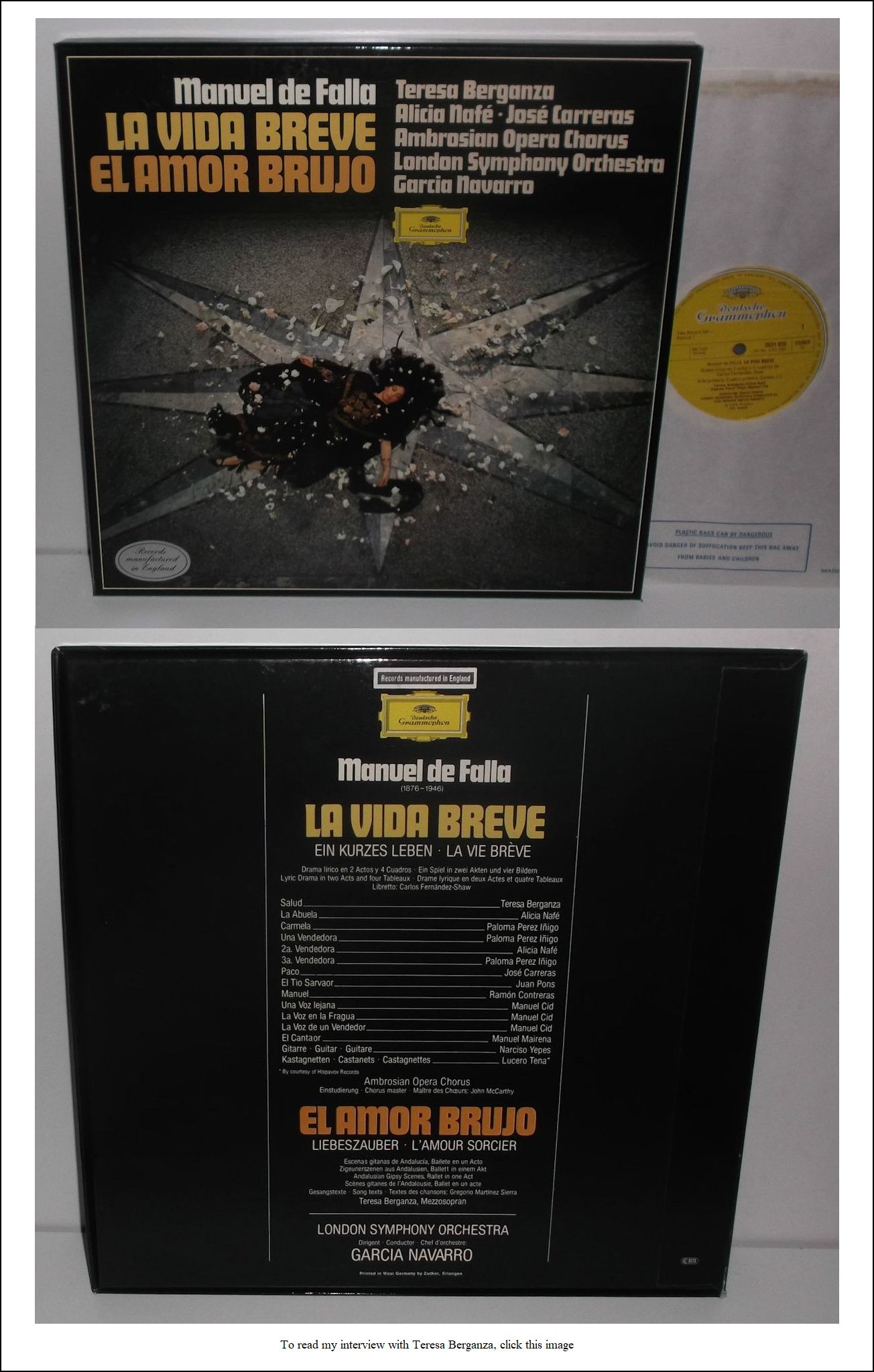 © 1985 Bruce Duffie

This conversation was recorded in Chicago on November 14, 1984. It was transcribed and published in the Massenet Newsletter in July, 1985. The transcription was slightly re-edited in 2018, and posted on this website at that time. My thanks to British soprano Una Barry for her help in preparing this website presentation.

To see a full list (with links) of interviews which have been transcribed and posted on this website, click here.

Award - winning broadcaster Bruce Duffie was with WNIB, Classical 97 in Chicago from 1975 until its final moment as a classical station in February of 2001. His interviews have also appeared in various magazines and journals since 1980, and he now continues his broadcast series on WNUR-FM.

You are invited to visit his website for more information about his work, including selected transcripts of other interviews, plus a full list of his guests. He would also like to call your attention to the photos and information about his grandfather, who was a pioneer in the automotive field more than a century ago. You may also send him E-Mail with comments, questions and suggestions.