Obituary: Arleen Auger


By Elizabeth Forbes. Published in The Independent, Friday, June 11, 1993 [Text only. Photo and link added for this website presentation.]


Arleen Joyce Auger, singer: born Los Angeles 19 September 1939; Professor of Music for Voice, University of Frankfurt 1975-87; died Leusden, The Netherlands 10 June 1993.

The soprano Arleen Auger possessed a pure-toned voice of great flexibility and absolute accuracy of intonation. She excelled in the music of Monteverdi, Bach, Gluck, Haydn, Handel and in particular of Mozart, but also sang works by 20th-century composers such as Carl Orff with great success.

Auger's voice was not large, but it was perfectly focused and so well projected that it could easily be heard in the biggest auditorium. During a career lasting 25 years, she appeared in opera and oratorio, on the concert platform and in recital both in Europe and the United States. She made a vast number of records, which included more than 90 Bach cantatas. At the wedding of Prince Andrew (later the Duke of York) and Sarah Ferguson in Westminster Abbey, in 1986, she sang two Mozart anthems with the soprano Felicity Lott during the signing of the register.

Auger was born in Los Angeles in 1939. After graduating from California State University at Long Beach, in 1963, she studied singing with Ralph Errolle in Chicago, making her professional debut in concert with the LA Philharmonic Orchestra. She won a scholarship to study in Vienna. Having auditioned for the conductor Josef Krips, she was engaged in 1967 at the Vienna State Opera, making her debut as the Queen of Night in Die Zauberflote. Her other roles in Vienna included Constanze in Die Entfuhrung aus dem Serail - which she later recorded with Karl Böhm - and Gilda in Rigoletto. At the Volksoper she sang Valencienne in Die lustige Witwe, Marie in La Fille du regiment and in 1972 created Alma in Kaufmann's Konig Nicolo.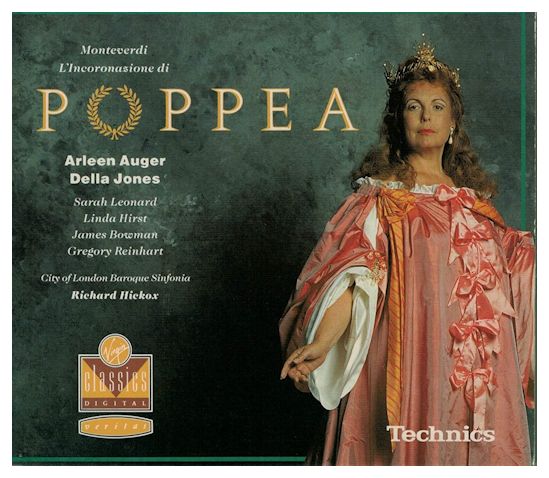 Gradually her repertory, which at first centred on spectacular coloratura roles such as the Queen of Night, which she repeated at Salzburg in 1970, Constanze and Marie, began to change. Though Sifare in Mitridate, re di Ponto, her second role at Salzburg, was extremely florid, Sandrina in Haydn's L'infedelta delusa, which she sang at the Castle of Hohenems Festival, and Servilia in La clemenza di Tito at the Theater an der Wien were more lyrical in style. As a change from Mozart, she sang Mabel in a German version of The Pirates of Penzance on Cologne Radio. In 1975, after touring Japan with a programme of music by Bach and Handel, she made her debut at La Scala, Milan, as the Fire in Ravel's L'Enfant et les sortileges, a temporary reversion to dazzling coloratura.
So far, apart from singing the Queen of Night for New York City opera in 1969, Auger had spent her career mostly in Europe. After her Metropolitan debut in 1978 as a charming Marzelline in Fidelio, she sang more frequently in the United States. During the early 198Os she appeared at the Aspen Festival and the New England Bach Festival; she gave a recital at Alice Tully Hall in New York; she sang Donna Anna, a heavier role than any she had previously attempted, for Kentucky Opera, Louisville; she took the part of Amor in a concert performance of Gluck's Orfeo ed Euridice, conducted by Riccardo Muti at Carnegie Hall, and sang in Carl Orff's Carmina Burana with the Philadelphia Orchestra.
Auger first sang the title-role of Handel's Alcina, one of her finest operatic characterisations, in a staged performance at Christ Church, Spitalfields, during the 1985 City of London Festival. Alcina, the beautiful sorceress, a part requiring great brilliance of vocal technique, as well as considerable dramatic power, remained a favourite with Auger, who recorded the opera and sang it in Los Angeles the following year. In 1990 she sang it at Geneva and then at the Theatre du Chatelet in Paris.
In 1987 Auger sang Ilia in a concert performance of Idomeneo at the Queen Elizabeth Hall, given by the Orchestra of the Age of Enlightenment, conducted by Simon Rattle; Ilia, the gentle but courageous princess, was another of the roles that she interpreted particularly well, both vocally and dramatically; the heroine of Monteverdi's L'incoronazione di Poppea, which she sang in 1988 at Spitalfields, and later recorded was, at that stage in her career, less suitable, although she sang Poppea's music very beautifully. She sang the Countess in Le nozze di Figaro at the Los Angeles Music Center in 1990, and the following year Lieder at the Hohenems Schubertiade.
Throughout the 1970s, 1980s and early 1990s, Auger was kept busy recording a wide variety of music: Gluck's Iphigenie en Aulide, Mozart's early operas Il re pastore and Ascanio in Alba, as well as the Countess and both Donna Elvira and Donna Anna; the roles of Angelica in Haydn's Orlando Paladino and in Handel's Orlando provide another interesting contrast, while the Italian Soprano in Richard Strauss's Capriccio is a very successful departure from her usual repertory. She can also be heard, together with Della Jones, frequently her 'male' partner in Handel and Monteverdi operas, as one of the two Nursemaids in Kurt Weill's Street Scene.
Her recordings - nearly 200 in number - include the St Matthew Passion and the Brahms Requiem. Among her finest recent discs is a set of Haydn arias and cantatas, with superb performances of the Scena di Berenice and Arianna a Naxos. These illustrate to perfection the elegance and stylishness of Arleen Auger's singing. [A few samples have been selected to be shown this webpage, and were chosen for their artwork, or their relevance to the conversation, or their inclusion of other interview guests of mine. No comparison of one to another, nor critical assessment is implied by the use or non-use of any of her recordings. Also, throughout this page, names which are links refer to my Interviews elsewhere on my website. BD]