Christopher Robson was born in Scotland in 1953 and is today widely regarded as one of the foremost exponents of the Countertenor voice of his generation, with a repertoire ranging from Medieval monody to the Avant-Garde. Since his debut with the English National Opera in 1981 in Monteverdi's "L'ORFEO" he has made a unique contribution to the world of Opera and Music-Theatre, being highly respected for the energy and commitment of his performances as well as his skill as an actor. Over a period of 17 years he won critical acclaim for his performances with the ENO, notably in a series of Handel operas ("XERXES" Arsamenes, "ARIODANTE" Polinesso, and the title role in "JULIUS CAESAR"), Britten's "A MIDSUMMER NIGHT'S DREAM" (Oberon) and the UK Premieres of Reimann's "LEAR" (Edgar/Mad Tom) and Philip Glass's "AKHNATEN" (title role). In 2008 he returned to ENO after a 10 year absence to play the Mystery Man in the UK premiere of Olga Neuwirth's "LOST HIGHWAY". He has also sung with the Royal Opera Covent Garden, Scottish Opera, Opera North, Glyndebourne Festival and Touring Opera, and the Opera Factory in the UK. Abroad he has appeared at Houston Grand Opera (American premiere Akhnaten & Giulio Cesare), New York City Opera (Akhnaten), Chicago Lyric Opera (Xerxes), Sao Paulo Opera (Xerxes), and Moscow's Bolshoi Theater (Xerxes) as well as many of the leading European opera companies.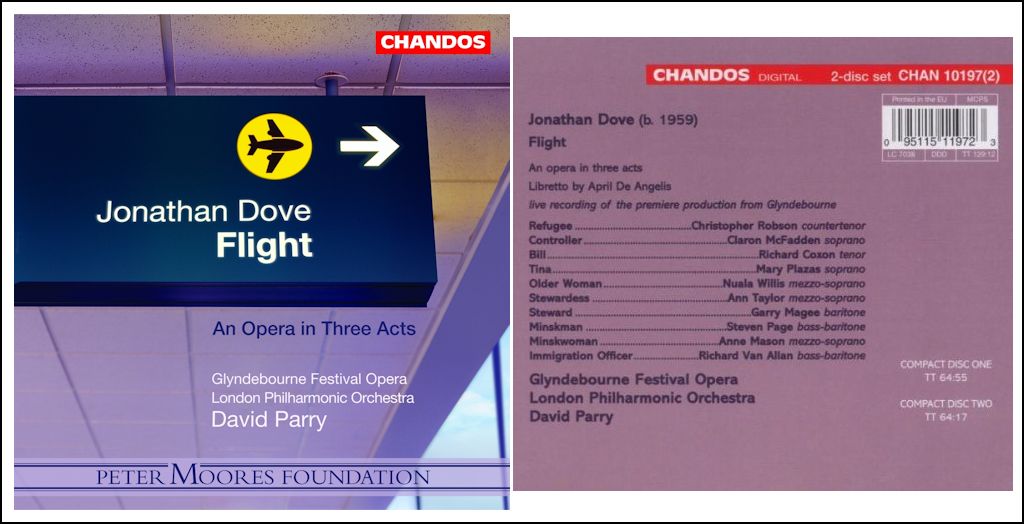 He has worked with many of the world's leading conductors and stage directors, including Claudio Abbado, Gary Bertini, Sir Charles Mackerras, Sir Roger Norrington, Nicklaus Harnoncourt, Gustav Leonhardt, Zubin Mehta, Mark Elder, Ivor Bolton, Friedrich Haider, Alexander Joel, Richard Hickox, Richard Jones, Nicholas Hytner, David Freeman, John Copley, Willy Decker, Eike Gramms, Pierre Audi, David McVicar, Robert Carsen, Leander Hausmann, Dominic Mentha, Peter Sellars, Diane Paulus, David Alden and Martin Duncan. He has also appeared with the Berlin Philharmonic, Vienna Symphony, Concerto Köln, English Chamber Orchestra, Orchestra of the Age of Enlightenment, Academy of Ancient Music, London Philharmonic, BBC Philharmonic, Münchener Rundfunk and Academy of St.Martin in the Fields orchestras at festivals in Perth, New York, Rochester, Vienna, Salzburg, Munich, Berlin, Zurich, Geneva, London, Barcelona, Madrid, Ravenna, Paris, Lyon, Athens, etc.

World Premieres have included the creation of the Angel in John Tavener's "APOCALYPSE", St Paul in Tavener's "TOTAL ECLIPSE", Claire in John Lunn's "THE MAIDS" (an adaptation of Genet's play of the same name written specially for Christopher and his brother, the tenor Nigel Robson), Ometh in John Casken's "GOLEM", and the Refugee in Jonathan Dove's "FLIGHT". In concert he has also premiered new works by Xavier Dayer, John Woolrich, Alfred Zimmerlin, Rene Clemencic, Hans-Jürgen von Bose and Hans Ulrich Lehmann.

Christopher Robson has broadcast extensively on radio and television, and his many recordings for Decca, Virgin, Chandos, Farao, EMI, Meridian, Harmonia Mundi etc. include performances of Handel's "MESSIAH", "BELSHAZZAR", "ARIODANTE" & "SERSE", Bach's "MAGNIFICAT", Arne's "ARTAXERXES", Casken's "GOLEM", Vivaldi's "NISI DOMINUS & GLORIA", and Monteverdi's "L'ORFEO". On DVD he has recorded Handel's "XERXES", "GIULIO CESARE", "ARIODANTE" & "RODELINDA", Jonathan Dove's "FLIGHT", Purcell's "St. CECILIA ODE 1692", and a compilation of Handel arias, "A NIGHT WITH HANDEL".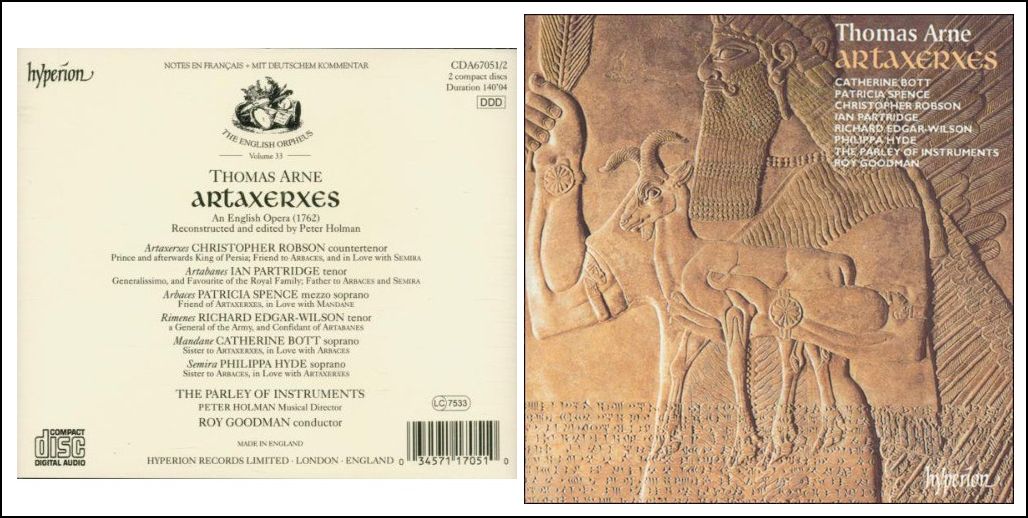 Christopher Robson's engagements between 2009 and 2014 include: the role of Sir Thomas More/Raphael in the world premiere of "UT-OP.er" (written for him by composer Alexander Strauch and director Martina Veh) at the Dresden Semperoper; Trinculo in the European premiere of Thomas Adés's "TEMPEST" with Frankfurt Oper (directed by Keith Warner); "Singer-Mephisto Shadow" in a new production of Goethe's "FAUST" for the Badisches Staatstheater Schauspielhaus in Karlsruhe (directed by Thomas Krupa); a European tour of Purcell's "THE FAIRY QUEEN" with Philip Pickett and the New London Consort; the world premiere at the Munich Gasteig of a Music-Theatre piece called "GLENN GOULD vs GLENN GOULD", a collaboration with director Gert Pfafferodt, actor Danny Exnar, and the artist Bernd Zimmer; the world premiere of Damon Albarn's "DOCTOR DEE" in which Christopher creates the role of Edward Kelley at the Manchester International Festival and later at the Coliseum for English National Opera; the world premiere of a new Music-Theatre piece "PRESIDENT JEKYLL" by Christoph Reiserer and Martina Veh at the Amerikahaus in Munich; return visits to the Frankfurt Oper for a new production of Cavalli's "LA CALISTO" (Satirino & Furie) and a revival of Thomas Adés's "TEMPEST".

From 1994-2006 Christopher Robson was a principal guest artist with the Bavarian State Opera (Bayerische Staatsoper) in Munich, taking part in productions of Handel's "GIULIO CESARE" (title role & Tolomeo), "SERSE" (Arsamenes), "ARIODANTE" (Polinesso), RINALDO (Mago Christiano), "RODELINDA" (Unulfo), Monteverdi's "L'INCORONAZIONE DI POPPEA" (Arnalta) and Strauss's "DIE FLEDERMAUS" (Orlofsky). In 2002 he played Baba the Turk in Martin Duncan's new production of Stravinky's "THE RAKE'S PROGRESS", and created a plethora of roles in the World Premiere of Hans-Jürgen von Bose's "KAFKA PROJEKT 12/14" (an adaptation of "Metamorphoses" and letters by Kafka), a "one-man" opera especially commissioned for him by the Bayerische Staatsoper to open the 2002 Opernfestspiele. At the 2005 Opernfestspiele he played the Sorceress in Andy Ammer's unique production of Purcell's "DIDO & AENEAS" at the Prinzregententheater, and later that year made his debut in Tokyo in Handel's ARIODANTE on tour to Japan with the Bayerische Staatsoper.
In 1999 with the Swiss pianist Petra Ronner he instigated a series of annual recitals at the Munich Opera Festival exploring the relationships between Old and New music, bringing to many listeners ears the riches of Medieval dramatic monody for the first time, as well as music of the Baroque & Modern eras. In 2004 he premiered a new music/theatre piece revolving around Monteverdi's character Arianna, "CORPORALITA", in collaboration with the director Martina Veh and choreographer & Butoh dancer Yvonne Pouget, further strengthening his artistic ties with Munich. In 2008 CORPORALITA was revived and performed to great critical acclaim at the Europäisches Kirchenmusik Festival in Schwäbische Gmünd.
In 1997 and 2002 Christopher Robson was awarded the Opernfestspiel Preis (the only person ever to have received the award twice in the history of the Munich Opera Festival), and in 2003 was honoured by the Bavarian Minister for Arts & Culture with the title of "Bayerischer Kammersänger" (Ks) in recognition of his achievements at the Bayerische Staatsoper and his contribution generally to music and the Arts in Munich & Bavaria. His ties to Munich were so strong that he eventually settled there, moving to Munich from his home in East Sussex in late 2007.
--From Christopher Robson's official website (2018) [Text only - photos added]
-- In the box above and throughout this page, names which are links refer to my interviews elsewhere on my website. BD