Blanche Thebom, Star at the Met and Beyond, Dies at 94



By MARGALIT FOX
Published: March 27, 2010,

The New York Times

[Text only - photos from another source]

Blanche Thebom, a mezzo-soprano who was discovered singing in a shipboard lounge as a teenager and went on to sing more than 350 performances with the Metropolitan Opera, died on Tuesday at her home in San Francisco. She was 94.

Her death was confirmed by Roger Greenberg, a longtime friend.

In a field long dominated by Europeans, Ms. Thebom (pronounced THEE-bom, with the th as in thin) was part of the first, midcentury wave of American opera singers to attain international careers. Associated with the Met from the mid-1940s to the mid-1960s, she was praised by critics for her warm voice, attentive phrasing and sensitive acting.

Ms. Thebom was best known for Wagner. She made her Metropolitan Opera debut in Philadelphia in November 1944 as Brangäne in an out-of-town production of "Tristan und Isolde"; the next month she appeared with the company in New York, singing Fricka in "Die Walküre."

Reviewing her "Walküre," a critic for

The New York Times

wrote that Ms. Thebom "scored an immediate success."

At the Met, her other roles included Ortrud in Wagner's "Lohengrin," Azucena in Verdi's "Trovatore" and Amneris in his "Aïda," and the title role in Bizet's "Carmen." She also sang at Covent Garden and the Glyndebourne festival in England.

In 1957, presented by the impresario Sol Hurok, Ms. Thebom made a three-week tour of the Soviet Union. (There, as

The Times

wrote afterward, "the singer was surprised to find that her mink coat was a traffic stopper wherever she went.") Her engagements included a Carmen with the Bolshoi Opera in Moscow.

Ms. Thebom last performed at the Met in 1967. She later directed the opera program at the University of Arkansas, Little Rock, and afterward moved to San Francisco, where she taught privately and helped create a training program for young singers.

In later years, Ms. Thebom appeared often in duo recitals with the soprano Eleanor Steber.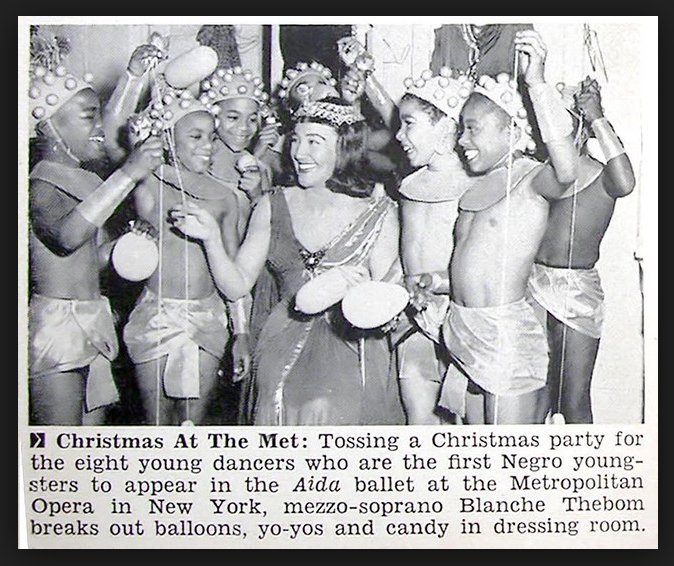 Blanche Thebom was born on Sept. 19, 1915, in Monessen, Pa., and reared in Canton, Ohio; the year of her birth is often given erroneously as 1918. Her parents immigrated from Sweden. As a girl, she sang in a church choir.

While still a teenager, Ms. Thebom traveled to Sweden with her parents in the 1930s. On the crossing, she was heard singing in the ship's lounge by Kosti Vehanen, a pianist who often accompanied the contralto Marian Anderson. Mr. Vehanen arranged for Blanche to study in New York, where her primary teacher was Edyth Walker, a former Metropolitan Opera mezzo.

Ms. Thebom's marriage, to Richard Metz, ended in divorce. No immediate family members survive.

Her recordings include Mozart's "Così Fan Tutte," in which she sings Dorabella [

shown below

], on the Sony Classical label, and albums of songs by Hugo Wolf and Robert Schumann [

also shown below

] for RCA Victor. She appeared in films, among them "Irish Eyes Are Smiling" (1944) and "The Great Caruso" (1951).


Ms. Thebom's career seemed ordained from the moment she stepped onto the New York stage. Making her recital debut at Town Hall in January 1944, she sang a program of Massenet, Handel, Mussorgsky and Brahms.

Reviewing the concert, The Times called her a "richly gifted young artist," adding, "Her work revealed a wealth of temperament and an inherent musicianship that presage a brilliant career."




[The following is from a review in
Gramophone
Magazine (June, 1994) by Alan Blyth]
These highlights, which I refer to in my Glyndebourne collection (see page 38), have often been held up as a model of how the piece should be performed, and countless have been the laments that EMI did not throw caution to the winds and record the work complete. At least they preserve the better part of Jurinac's sovereign Fiordiligi, not recorded elsewhere, thus making it a 'must' for the many lovers of her singing. Here her voice was youthfully fresh, although not quite as full and rounded as it was to become. The ease and warmth of delivery, the natural quality of tone were prized by all who heard her in the part, an apt concomitant to her beguiling presence. Hers isn't quite the commanding Fiordiligi of her predecessor and successor in the role—Souez and Vaness—in Glyndebourne recordings on disc, but a more vulnerable and lovable creature. She is aptly partnered in the duets by the lively though not particularly individual Dorabella of Thebom and the mellifluous Ferrando of Richard Lewis, then at the beginning of a 24-year stint in the house. Erich Kunz was an engaging and mellow-voiced Guglielmo—what a pity his arias weren't included at the sessions—who contributes positively to the perfect ensemble of the two quintets and sings seductively to Thebom's Dorabella in ''Il core vi dono''. Boriello brings an Italianate tang to Alfonso's contributions. For some reason the producer David Bicknell took a dislike to Noni's equally Italianate Despina, so her arias were at the time excluded. However, a few months later he had relented and she recorded both for HMV (DA1986, 7/51—nla) but not with Busch conducting. These are included here in the right order. Busch's interpretation differs little from that on his 1935 set (Pearl, 3/91) and remains a model of how to marry incisive and vital accents with the yielding phrase. The RPO, with Brain playing the horn obbligato in ''Per pieta'', perform ingratiatingly. The recording, made on early tape, has some print-through, but on the new transfer it is seldom bothersome. Testament have come up with some additional material: rehearsal takes for ''Prendero quel brunettino'', ''Per pieta'' (during which, at one point Jurinac breaks down, and, endearingly, curses herself) and ''Fra gli amplessi'', the last marginally freer than the published performance. Busch can be heard a couple of times encouraging his players. Now we must have the roughly contemporaneous extracts from Idomeneo.