Born: July 17, 1914 (not 1916) - Wheeling, West Virginia, USA
Died: October 3, 1990 - Langhorne, Pennsylvania, USA

The eminent American soprano, Eleanor Steber, grew up in a musical family. Her mother was an accomplished amateur singer and taught her voice and piano, took her to concerts, arranged for coaching, and strongly encouraged her to study and to sing in school and community shows. Eleanor later studied at the New England Conservatory in Boston, originally intending to major in piano, but her voice teacher, William Whitney, persuaded her to focus on singing, instead. She received Bachelor of Music in 1938. At the beginning she did a lot of radio, oratorio, and church work. Steber's opera debut was in 1936, appearing as Senta with the Commonwealth Opera in a WPA production of Wagner's

The Flying Dutchman

, a demanding role indeed for a 21-year-old. In 1939, she went to New York to study with Paul Althouse who had a great influence on her. In 1940 she won first prize at the Metropolitan Opera Auditions of the Air, earning a Met contract.

Steber's first role at the Met was Sophie in Strauss'

Der Rosenkavalier

on December 6, 1940. During the next years she benefited from conductors such as Bruno Walter, Sir Thomas Beecham, Erich Leinsdorf and George Szell. She was a versatile artist and appeared in Italian, French and German operas. Things began to change for her at the Met when Rudolf Bing took over the company in 1950. By this time, her career extended well beyond New York (San Francisco, Chicago and Europe). At the Met, though, she began to feel that she was being passed over for mainstream Italian roles in favour of Tebaldi and Callas. Altogether she appeared 286 times in New York and 118 times on tour. She sang 28 leading roles in an extremely large repertoire. Her easy upper range, coupled with a rich, smoothly produced lower voice made her a natural for Mozart roles, such as the Countess in

Le nozze di Figaro

, Pamina in

Die Zauberflöte

, Donna Anna in

Don Giovanni

, and even Konstanze in the

Abduction from the Seraglio

. The 1951 production of

Così fan tutte

, with Steidry conducting and Alfred Lunt directing, was a major event in the New York season and was recorded on Columbia LP records.

As her voice matured, Eleanor Steber sang some of the spinto roles in both the German and Italian repertoire. Her roles in this repertoire included Violetta, Elisabetta, Desdemona, Marguerite, Manon Lescaut, Mimì, Tosca, and the Marschallin in

Der Rosenkavalier

. In Wagner's operas she sang Eva in

Die Meistersinger von Nürnberg

and Elsa in

Lohengrin

. She was also the company's first Arabella in 1955, and in 1959 was the first to perform at the Met the challenging part of Marie in Alban Berg's opera

Wozzeck

. In January 1958 she created the title role in Samuel Barber's opera

Vanessa

, and commissioned his

Knoxville: Summer of 1915

.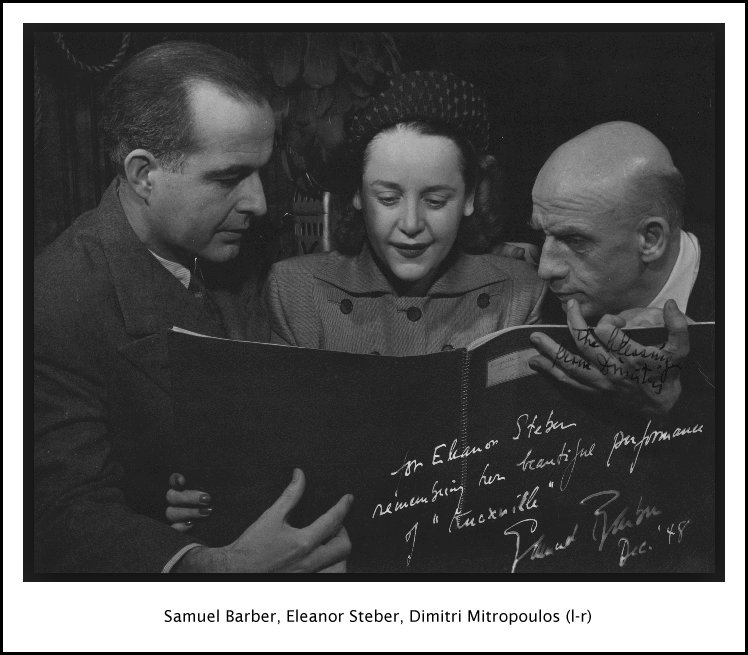 Her European engagements included appearances at Edinburgh (1947), Vienna (1953), and Glyndebourne. In 1953 she was amongst the first Americans to appear at the Bayreuth Festival after World War II. The very successful 1953 Elsa in the Bayreuth

Lohengrin

was recorded and issued by London/Decca; it is still in print on Sony CD.

In addition to opera and recitals, Eleanor Steber was a frequent guest on

The Voice of Firestone

's television broadcasts. After several years of absence from the Metropolitan Opera, she took part in the final gala performance of the old opera building in April 1966. After partial retirement in 1962, she turned her attention more and more towards recitals and concerts. She made some appearances on Broadway, mostly in supporting parts, and also gave one of the notorious bathhouse concerts in New York in 1973. She and her husband opened and managed a record label, ST/AND (combining their names)..

Steber was head of the voice department at the Cleveland Institute of Music from 1963 to 1972. She taught at the Juilliard School in New York, and at the New England Conservatory of Music (both from 1971), also at the American Institute of Music Studies in Graz (1978-1980; 1988). She established the Eleanor Steber Music Foundation in 1975 to assist young professional singers. With R. Beatie, she published the study 'Mozart Operatic Arias' (New York, 1988). Her autobiography, written in collaboration with M. Sloat was published posthumously (New Jersey 1992).



-- Throughout this page, names which are links refer to my Interviews elsewhere on this website. BD