Baritone Frank Guarrera
A Conversation with Bruce Duffie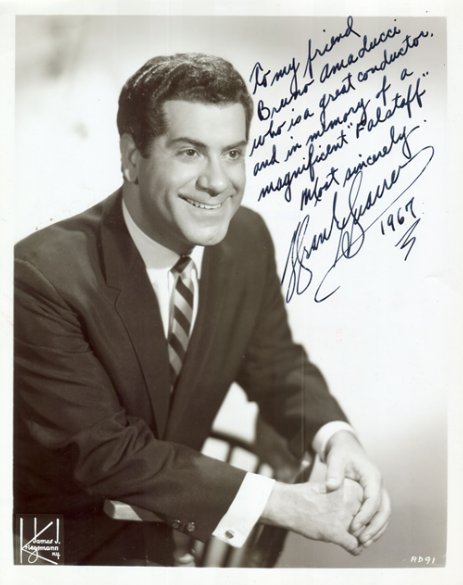 Frank Guarrera, 83, Lyric Baritone at the Met, Is Dead



By ANNE MIDGETTE
Published:

The New York Times

, November 27, 2007 [Text only; photo added for this website presentation]

Frank Guarrera, a lyric baritone who sang at the Metropolitan Opera for nearly 30 years, died on Friday at his home in Bellmawr, N.J. He was 83.

The cause was complications from diabetes, said his daughter, Valerie Bisquert.

With his slender but firm voice and winning stage presence, Mr. Guarrera was a fixture at the Met in a number of roles: Escamillo in "Carmen" (his debut role in 1948), Marcello in "La Bohème," Valentin in "Faust."

He also essayed larger, Verdian roles with honor, if not quite the vocal opulence of contemporaries like Robert Merrill, or Leonard Warren, whom he replaced as "Simon Boccanegra" a few days after Mr. Warren's death onstage in 1960. He made the most of the role, but Rudolf Bing ultimately replaced him, saying, "You're not big enough."

He was, however, big enough for Arturo Toscanini. In 1948, when the 24-year-old Mr. Guarrera was participating in the Metropolitan Opera's "Auditions of the Air" (a precursor of the current National Council Auditions), which he eventually won, Toscanini heard him on the radio singing Ford's monologue from "Falstaff" and arranged for an audition. The result was Mr. Guarrera's engagement at La Scala in Boito's "Nerone" on the 30th anniversary of Boito's death.

It was the first of several performances under Toscanini; Mr. Guarrera sang Ford on the conductor's legendary 1950 "Falstaff" broadcasts, still available on CD.

"Even now, I get an occasional royalty check," Mr. Guarrera told the critic Martin Bernheimer in 2003 for the magazine Opera News.

Frank Guarrera was born in Philadelphia on Dec. 3, 1923. After discovering his voice at the age of 15 in the high school glee club, he won entrance to the Curtis Institute of Music, but his studies were interrupted by service in the Navy during the war; a sympathetic officer, hearing his musical talent, assigned him to band duty, meaning that he had to rapidly learn to play an instrument. After the war, he finished his studies at Curtis before winning his Met contract.

His final role at the Met was Gianni Schicchi, which he last sang in 1976. After his retirement from the stage, he taught at the University of Washington in Seattle for 10 years, a stint that ended when his wife, Adelina, suffered a stroke and he brought her back to the East to care for her; she died in 2000.

In addition to his daughter, of Washingtonville, N.Y., he is survived by a son, Dennis Guarrera, of Glendale, Ariz., and two granddaughters.

His career is lavishly commemorated in Philadelphia, where, at the corner of Broad and Tasker Streets, there is a multistory mural depicting him in some of his greatest roles [

shown below

].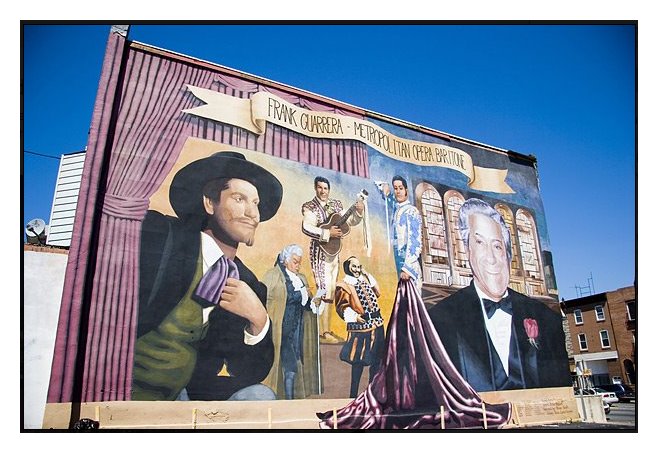 During the course of my quarter-century with WNIB, Classical 97 in Chicago, I did very little traveling. Besides a couple brief trips to New York — including once to receive the ASCAP/Deems Taylor Award from Morton Gould — I went the other direction twice to the Pacific Northwest. Each trip involved performances of Wagner in Seattle and then a pleasure cruise in Alaska. Naturally, I took my trusty cassette recorder and picked up a few interviews on each venture. [Note that names which are links on this webpage refer to my interviews posted elsewhere on my website.]

In early August of 1987, I arranged to meet with baritone Frank Guarrera. Having been a stalwart at the Met and elsewhere (as shown in the obituary above), he was then teaching at the University of Washington. He graciously agreed to come to the apartment where I was staying, and we had a wonderful conversation filled with much laughter as well as serious discussion.

Throughout, I was struck by the fact that this man, whose voice I knew from recordings and broadcasts and whose photo I had seen many times, seemed much more familiar than expected. It was not until later in the evening that I realized how very much he resembled the film actor Dana Andrews! [

See photo of the two of them below

. Incidentally, Dana Andrews starred in the 1944 film

Laura

, along with Gene Tierney, Clifton Webb, and Vincent Price. It was directed and produced by Otto Preminger, and the score was by David Raksin.]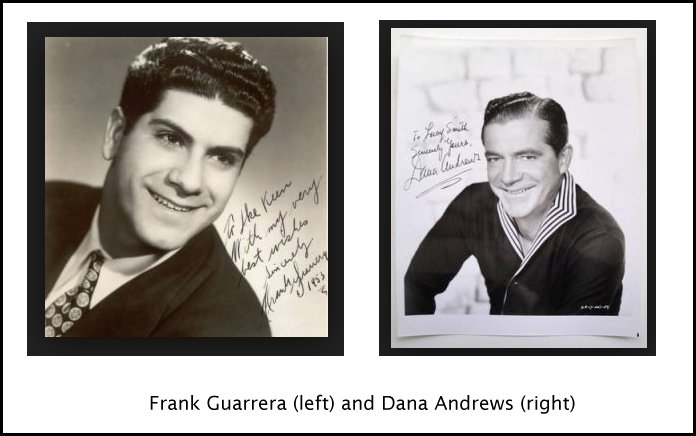 At the end of our meeting, Guarrera was surprised at how much time we had spent together, a sure sign that he was having just as much fun and interest as I was.

Here is that conversation . . . . .




Bruce Duffie

: Currently you're teaching here in Seattle at the University of Washington?



Frank Guarrera

: University of Washington, right.



BD

: You're teaching singing?



FG

: Teaching voice, yes. I also have a class in opera workshops so I'm doing some of that, which I enjoy a great deal. I primarily came out here as a voice teacher because there was opening. Leon Lishner, a wonderful bass, had been here for many years. He was about to leave, and Mary Curtis-Verna, one of my former colleagues at the Metropolitan Opera, called me out of the clear blue sky and asked what I was doing. I told her I was singing periodically at the Met, then doing some teaching in the summer at different universities. So she said that's exactly why she called. They would like to interview me out there at Seattle. So it was one of those things that I feel it was like 'La Forza del Destino'. [Both laugh] It was meant to be, this destiny, because it was just at that time that I had completed twenty-nine consecutive seasons at the Metropolitan, and the roles weren't as forthcoming as they were when you're one of the newer members or when you're career is on a big roll. I was still being used but you had to fight more to get some of the important roles that you previously had done. So I said that to my wife that we should go out there and see what they have to offer. They paid our way out here and I was interviewed, and I gave a masterclass. I really didn't know what I was doing but they said afterwards it was the most exciting thing they'd seen! It was a pleasure to work with young, aspiring and exciting singers that day, and to make a long story short, they offered me a job. We tried it out for a year, and then the following year they said they'd like to give me full professorship with tenure. So we bought a house and here we are. That was seven and a half years ago.



BD

: So you're very happy in Seattle?



FG

: Oh yes. I don't miss New York at all. I know that a lot of my New York friends won't like it when they see this, but I think I've had it with New York. I was there for thirty years and I enjoyed it, and I still think it's an exciting and vital and wonderful place.



BD

: I assume you still go back there periodically?



FG

: Oh yes. I have family there. We have grandchildren. My family and my wife's family are in Philadelphia, so there's a close relationship. My monthly telephone bill reflects the fact that we still have a close relationship. [Laughs]



BD

: Now that you've been involved in teaching for nearly a decade, are the young voices coming along today comparable to the young voices of twenty, thirty, forty years ago?



FG

: That's a very difficult question. It's a good question but a difficult one to answer because there's no set pattern. The human voice is a gift and, as you know, the great voice comes like one or two in a generation. It shouldn't be, but how many Jussi Björlings can we have, or Franco Corellis, or Mario Del Monacos or Leonard Warrens? They were monumental people in our time, in my generation, and before then it seems that the 'good old days' are always better. [Both laugh] I don't really believe that. There are good voices today, and every once in a while we hear that there's a potential great one. They may not be the same

modus operandi

for the opera singer today as they were was fifty years ago or a hundred years ago. We would have to take another three or four hour program to discuss it because we're dealing with the psychology of the times, the politics, and what is the norm as far as listening to music today and as it was then. The styles are different.



BD

: Are you optimistic about the future of opera?



FG

: Oh definitely, absolutely. We have many more opera companies today than we had twenty-five years ago, and twenty-five years ago we had many more opera companies than we had fifty years ago! There are grass root opera companies. They come and they go, but for instance, twenty-five years ago or so, the Seattle Opera was just beginning. They had opera in Seattle on a very minimal scale before then. Then that wonderful impresario, Glynn Ross, started this opera company coincidentally with Seattle World's Fair. I will never forget it because my good friend, Robert Merrill, came back to New York and saw me one day in the dressing room and said he was going to sing out in Seattle in

Aïda

. He was going to open the World's Fair. The reason why I mention it is because he was so impressed with the amount of money that was being spent for this production. He said everything was new — the costumes and the scenery and so forth. I sort of envied him. Little did I know I would eventually come and live here! [They laugh] But to get back to the opera situation, it's become one of our major opera companies, as has Miami. I remember I opened the Miami Beach Auditorium in

Carmen

with Irra Petina and Raoul Jobin. Emerson Buckley conducted. It was at the Miami Beach Auditorium. A man by the name of Arturo di Filippi used to run the opera company, and then later Bob Herman from the Met took over. Then Miami became a major opera company. Dallas is a major center, and look what happened in Houston!



BD

: True!



FG

: It is fabulous there. I remember my many years in the wonderful opera on San Francisco. I was hired there when I was very young — made my debut there with Mario del Monaco and Herva Nelli in

Il Trovatore

. I could have been all of, maybe, thirty... I had no business doing that, but it was marvelous. I was singing with these wonderful people. Gaetano Merola, the man who founded the opera company in San Francisco had hired me. He passed away that summer, so I never really worked under him although he hired me. That's very coincidental that I mention it because a young man by the name of Kurt Herbert Adler, who was his chorus master, took the opera over temporarily ...



BD

: [Laughs] ...and stayed forty years!!! [Both laugh]



FG

: He built a fabulous company! I went back year after year. I must have been there sixteen years in a row.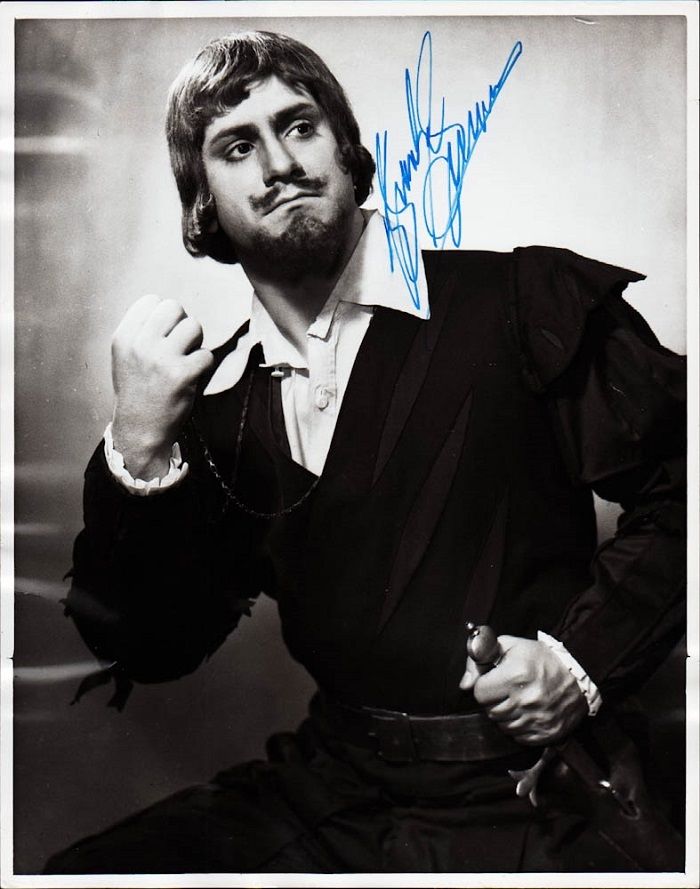 BD

: When you were singing in different auditoriums, did you use the same vocal technique?



FG

: Oh yes. The technique is the same. The only modification that comes about is the psychological modification. Sometimes you're singing in huge, huge auditoriums. When the Met used to go on tour we used to sing in the Cleveland Auditorium, and there were more seats there than Radio City Music Hall! It looked like an airplane hangar but, of course, there was amplification. The trick there was never turn away from the footlights because the voice would disappear because it was being amplified. I liked to call myself an acting singer. I used to do a great deal of three-quarter turns and almost full-turns. My wife used to be furious with me. "Why do you turn your back to the audience," she would ask, and I would say, "I think it's dramatically very strong!" Well, you never did that in places like the Cleveland Auditorium!



BD

: Wasn't there a stage director that would tell you to do this or that, and then position you in different ways?



FG

: Yes, they would remind us and say the mikes are so and so and so. But to get back to your original question, which is interesting, most of the opera houses are excellent and you just sing the way you learn to project vocally and physically. I have some favorite places, of course. I was born in Philadelphia, and I sang in the Academy of Music which is almost a replica of the European opera houses. They were going to tear it down, and the citizens got up in arms and like they did to Carnegie Hall recently, they simply refurbished it. It's a jewel; it's a gem of an opera house... not only because I'm a Philadelphian by birth but because it happens to be one of the best opera houses. The old Met was wonderful, but the old Met had a psychological element. That's what I meant before about psychological modification — fear. European singers would come and say it's too big! They were used to smaller opera houses.



BD

: I thought the old Met was twice as big as the standard opera house in Europe.



FG

: Yes, and it was shaped in an elongated horse shoe. The reason for that was that way they can place more boxes that patrons sat in. They had so many paid donors in the original building years ago that they needed X number of boxes, so they had to design it that way, rather than the semi-circle type of design. The size was there, and it was frightening from the eye when you when you stood on the stage to sing. But the acoustics were excellent and people sometimes pushed a little too much. They thought they wouldn't be heard but they really were. I will never forget Leonard Warren telling me as a young man which was the best place to stand. And it was true. The voice would project well from there. It was sort of downstage right a little bit. You felt a certain sort of feedback from the audience. Then later, the new Met was acoustically one of the best houses. I remember when they first tried it out. Everyone was so pleased that it didn't have the curse of many the other Lincoln Center buildings, like Philharmonic Hall and Alice Tully Hall. They spent a great deal of money to refurbish it acoustically, and I don't think acoustics are things one can change — although an acoustician might disagree with me. But when you build a great deal of concrete and less wood, you're not building as much acoustical potential into an auditorium. That's why the old ones were so great.



BD

: When you came here to Seattle, did you lend some of your expertise to the Seattle Opera?



FG

: Only in that I was asked to guest sing a few times when Glynn Ross was here. When Speight Jenkins came, he was very, very polite and civil to me, and I likewise to him. But he hasn't asked me and I haven't asked him! But I do go to enjoy the operas occasionally. I sing minimally now. I'm not trying to impress anyone with a career. I'm getting along in my physical years as well as my career years. I'm over sixty, but I still sing. At the age of sixty I sang Falstaff at the University of Seattle for and with the students. And I still sing occasionally! I'm going to open the Bremerton Symphony in the fall with

Belshazzar's Feast

, a huge Walton cantata, with the Seattle Youth Symphony. This will be in the opera house, and I occasionally go out and guest in different opera companies. Of course, when you're teaching you learn a great deal more about the human voice. When you're teaching any subject that is, you learn a lot more about the subject. I wished sometimes I knew as much when I was in my active career as I know now about the vocal techniques of singing. But I was always very gifted. I won my first scholarship to study singing at Curtis Institute when I was only seventeen! Then I studied for a few years, and went into World War Two, and then came back and studied for a couple more years. I wasn't even twenty-five yet. I was twenty-four and I won the Met auditions, and there I was thrust into a big career at the Metropolitan at such a young age. My gosh, I have students who are that age who are just beginning now. I was singing Escamillo, Amonasro in

Aïda

, and Ashton in

Lucia

. I had already sung at La Scala that summer with Toscanini. He heard me sing on the Met auditions, and that's another long story. But the bottom line is that I was invited to sing with him. He liked my voice and he was doing something very special at La Scala commemorating the thirty-fifth anniversary of death Boito, the famous librettist and composer. Boito was the one who wrote the libretti for Verdi's last two operas,

Falstaff

and

Otello

, and he was a friend of Toscanini. Toscanini wanted to give excerpts of two of his operas —

Nerone

and

Mefistofele

. He liked the way my voice sounded and he invited me! Imagine making your début at twenty-four at La Scala with Toscanini! That was the beginning of it all!



BD

: What was he like to work with?



FG

: Oh, he was marvelous. He was absolutely everything they say he was. You came home from a rehearsal and you loved him and hated him at the same time because he was so strict and so demanding. But you loved him because he could get more out of a musician than they thought they had in them. I always felt that way. There was a young bass in Milan at the time, who he also asked to sing in the

Mefestofele

. He was about to come to New York to make his debut at the Met, and his name was Cesare Siepi! Many afternoons Cesare's mother would cook pasta for us, and he asked me to please teach him 'Old-a Man-a Reevair'! [Both roar with laughter]



BD

: You worked with Toscanini in a number of years later on the NBC broadcast. Was he still the same conductor?



FG

: Yes, he was. My overwhelming admiration for him was his energy level because he was in his eighties. He was always on his feet, fresh as a daisy. He was always immaculate. I remember he used to wear a cologne that was called '4711', which was made in Cologne, Germany, and ever since that time I've been using the same stuff, because it's wonderful. He always doused himself with it, and he looked so clean and crisp. But his untiring knowledge, his untiring energy for his work was inspiring for everyone. He sat at the piano occasionally in rehearsals and played. He played very poorly because his instrument was cello, but his clarity as a conductor was so wonderful. He wasn't ever the tyrant in a performance as he was in a rehearsal. In the performance there was a calmness in his face and a clarity to his beat. Because he worked so hard and gave you such a hard time in rehearsal, by that time you weren't able to make any errors! [Both laugh]



BD

: So the performance was much more a collaborative effort?



FG

: Oh yes, indeed. Very much so. He was really very rigid in his ideas, rigid in that he was immobile. He knew what he wanted, and if you were smart you'd know that what he wants is correct, is right. You went along with it, and you found yourself moving in a spell within his artistic suggestion. He was not only a conductor but an accompanist. You had the sense that he was leading you and following you at the same time. That's a paradox, but it was true.



BD

: Are there other conductors that are on almost that level?



FG

: I've never seen anyone like that, and I know that it's not going to be accepted well by a lot of people who like other conductors, but I've never had any experience like Toscanini... and I have worked with Fritz Reiner. Fausto Cleva was one of the best Italian conductors after that because Toscanini was his mentor, but of all conductors, you name them and I've sung with them. Mitropoulos was a wonderful conductor. He came and conducted at the Met at the tail-end of his career, and even Stokowski learned to conduct opera at the end of his career! I was in that famous

Turandot

that he conducted.



* * * * *





BD

: You had a very wide ranging repertoire. How did you decide which roles you would sing and which roles you would say no?



FG

: "No" is the most difficult word for a young singer to learn. As a matter of fact it doesn't even exist in their vocabulary. [Both laugh] We are the victims of the managers and stage directors and the producers of opera. I wasn't too unfortunate in doing roles that weren't suited to me, although I probably was assigned more dramatic roles too soon in my life. I wouldn't tell a twenty-five year old singer to do Amonasro, for instance, but apparently I had a mature sound with a youthful robustness which fit those Verdi-type roles. I didn't assume Rigoletto and Boccanegra and

Ernani

until much later, naturally. But I did the normal things, the correct things such as Henry Ashton and Marcello, and then I fell into another category at the Met. I was their young Mozart singer. I did all the Guglielmos in

Così

. They put me in

Marriage of Figaro

as the Count Almaviva, and then later on after doing five years of Guglielmo, Rudolph Bing said to me, "You've been a young lover long enough, so now I'm going to make you an old philosopher." Bing was a marvelous impresario by the way. I have the highest respect and regard for him. So he gave me the part of Don Alfonso, which was a delight to do. So I did different roles in the same opera.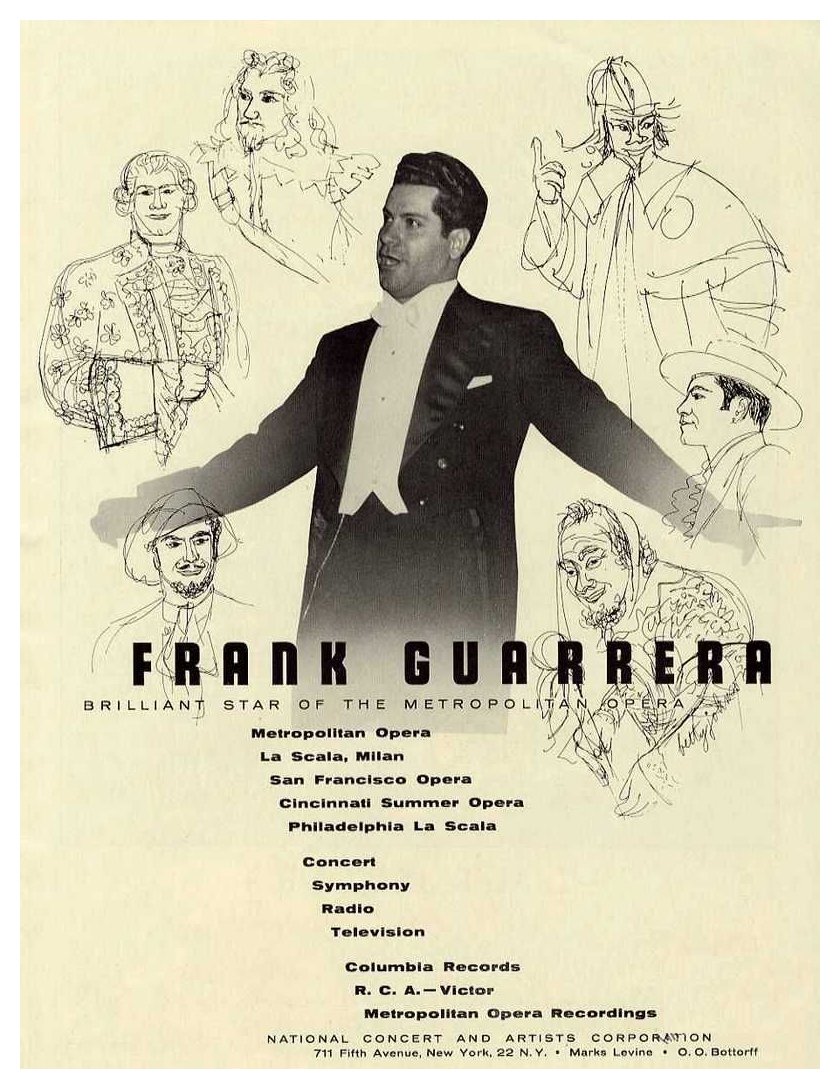 BD

: Tell me the secret of singing Mozart.



FG

: The secret of singing Mozart is to lay back and let the music do its thing without trying to change it. Be absolutely true to the printed note and the

tempo

, as closely as you can be guided by an expert who is teaching you. You don't take the '

rubati

' and liberties that you do take in Puccini — although Puccini wrote a lot of that in the score. You take one page of Puccini and there's '

ritenuto

' in one bar, '

a tempo

' in the next, '

molto ritenuto

' and '

adagio

' ... all these directions, which is wonderful. It gives you an idea of the interpretation. Very little of that exists in Mozart. It's straightforward; it's almost medicinal. It's a balm for the voice. I think all singers — young, medium, old — should always sing Mozart.



BD

: Is it also medicinal for the ear and for the public?



FG

: Oh, I think so. It's a taste. Fortunately I live in Seattle now, and it's Mozart-crazy. Anything you give them of Mozart is sold out here. I think they have good taste! Although I must admit that when I was a kid and I first started out, I used to fall asleep at

The Marriage of Figaro

.



BD

: [In mock disbelief] Really???



FG

: Yes. I didn't dig it. I didn't feel it. I wanted to be more dramatic, more Verdi! Later on, you learn ...



BD

: You finally discovered what Mozart was all about?



FG

: Actually I discovered it when I was assigned

Così Fan Tutte

. It was one of Rudolph Bing's famous revivals 'cause it hadn't been done. It was done once at the Met in the early twenties with not much of a production. Then he had been very successful with it in Glyndebourne and it became one of the big hits in the Bing era.



BD

: This opens up a new kettle of fish. It was done in English translation?



FG

: Yes.



BD

: Do you approve of opera in translation?



FG

: Oh gosh, do we have a couple of hours? [Both laugh] It's difficult to capsulize the response of that query because opera in English certainly has its place. I never thought I would be a devotee of opera in English. I'm now a devotee of opera in all languages by the way, also in English, but when I first started out I was purest to the point where I felt that if you translate it you're going to destroy the work of art. Then I was asked to do

The Barber of Seville

, which I'd done many times in Italian. My good friend, Emerson Buckley, asked me. He said they were doing it in Milwaukee or Duluth, Minnesota, and he said it would serve me for the rest of my career. I told him I would think about it, and I went home and talked about it to my wife. She looked me straight in the eye and she reminded me that I was a singer, so I should learn it and sing it. This was my first experience with opera in English, and I realized that this is really great. I can understand things which I didn't understand when singing it in Italian! And then there was the audience reaction and so forth, so there is a place for it. All the comic operas should be done in English, and a lot of Mozart should be done in English. I was engaged to sing in Central City Colorado, which was a summer music festival. We spent many summers there, and all the operas were in English! I did things like

Rigoletto

and

Pagliacci

and

Tosca

.



BD

: Did you work harder at your diction when you knew the audience was going to pick up every word?



FG

: I don't know. It's a just a technique. You try to be as honest as you can with your knowledge of singing, and hopefully it's comprehended. Being a baritone, I'm in a much more fortunate and favorable vocal category because the poor sopranos are singing those very high notes. It's difficult to articulate words up there. They do, but they have to modify their words otherwise they can't sing in the upper atmosphere. With tenors it is the same way, but for the baritones, the normal male voice, it's more easily understood. I had this little twinkle in my mind's eye when people said they can understand all my words. I said thank you, but I did not tell them that's because I'm a baritone!



BD

: I assume, though, that when you're instructing young students that you encourage them to work hard at their diction all the time whether they're singing in the original or translation?



FG

: Absolutely. To carry the subject a bit further, the coming of the supertitles has diminished the need for opera in English a great deal.



BD

: Is the use of supertitles the answer?



FG

: No, I don't think so. The supertitles are a great help to one that's very familiar with the opera and one that's heard the opera many times. But a person who comes to the opera for the first time gets dizzy looking up and down, up and down, and trying to figure out what's going on. You end up with a headache. I'm not against supertitles. I think they're good idea, but as you said, it's not the total answer. It's like subtitles in a movie. I'm never pleased with having to read those, those unintelligent translations and trying to see what the action is going on in the screen behind those big white words at the bottom of the screen. It certainly is a help to one that doesn't comprehend the language.



BD

: What about for someone who's coming to opera and is familiar with it from the television, and is used to seeing the titles on the screen?



FG

: It's a wonderful idea, wonderful. That's another thing to go back to one of our original paragraphs in this interview about the survival of opera. Television has done monumental, favorable work with the advancement of opera.



BD

: So you feel opera works well on the television?



FG

: Oh yes, absolutely, especially now with the camera techniques they have. Years ago it was hard to televise an opera from out in the house because they didn't have the lenses. Special make-up had to be used, and more light had to be used on the stage to compensate for those lenses. But now, my gosh, they can shoot anything — dark scenes, light scenes, everything.



BD

: Because the machinery has gotten better?



FG

: The machinery has gotten better, the technique is better, and so forth. Of course the ideal situation for opera on television is to make it like film. Do it where you can stop and go. However, you don't have the excitement of the performance. That's why the word 'live' at the Met is so important.



BD

: There's something special about that performance with live people being there.



FG

: It is, and that's what's so wonderful about physically going to a performance. Even if you see a live performance on TV, that's one medium of excitement because you know it's happening right then. But the next step to 'assisting' in that performance — and I choose that word very carefully — is to be in the theatre and witness opera. I use the word 'assist' because in Italian they have that phrase about a church and about opera. When you go to Mass they say, 'vado ad assistere alla messa'. You don't go to 'attend' it, you go to 'assist' the Mass because you participate in it. And when you go into the opera, it becomes 'vado ad assistere la recita' — you assist the performance of the opera. So you feel a part of it because their applause, their excitement is part of the performance.



BD

: So without the audience there would be no opera?



FG

: No



BD

: Let's talk about another medium that's a little bit more remote — gramophone records. Since opera is such a dramatic form, does it work in a purely aural medium?



FG

: It has its good points, its good qualities. It can be for people who want to sit back and just listen without having to bother going to the opera, or if they can't get to New York or Chicago or San Francisco because they live in some remote place, or even if they live right in the big city and they can't go to the opera. However, I feel the great thing about opera is that it's a complete art form. You have the picture, which is painted by the designer, and the costumes, and the lighting. You have all these artists who coincide with their talent in making a visual picture beautiful. Then you have the stage director, and you have the craft of acting, which is another of the art mediums. Then you have the symphony orchestra, which is the music that you hear as the accompaniment. Then indeed you have the singer. Notice that I put him and her last! That's different than a concert where they just walk out and perform. In the opera they have all that stuff surrounding them. So opera's a complete form, and when you hear a recording you're only getting one portion of that complete form of art. Reproduction of sound lends itself a great deal more to symphonic music, but the musicians are there and they're playing, so when it's live that makes it exciting, but that's it! The main thing is the music, so that's much more conducive to records.




Frank Guarrera appeared in several recordings of the Metropolitan Opera Record Club, a division (or branch - both terms are used on various jackets) of Book-of-the-Month Club, Inc. According to a published source, there were nineteen operas, each "abridged for home listening", or simply selections on one or two LPs. All were recorded between November of 1955 and February of 1957 in New York City. Besides Amonasro in

Aïda

(shown below), Guarrera sang Dr. Malatesta in

Don Pasquale

(with Baccaloni, Wilson, Anthony; Kozma) and Tonio in

Pagliacci

(with Amara, Da Costa, Marsh, Anthony; Cleva) which were both single discs, and two-disc sets as Count Di Luna in

Il Trovatore

(with Curtis-Verna, Baum, Elias; Rudolf), Baron Scarpia in

Tosca

(with Kirsten, Barioni, Harvuot, Baccaloni, De Paolis, Cehanovsky; Mitropoulos), and the title character in

Eugene Onegin

(in English with Amara, Elias, Tucker, Tozzi, Lipton, Cehanovsky; Mitropoulos).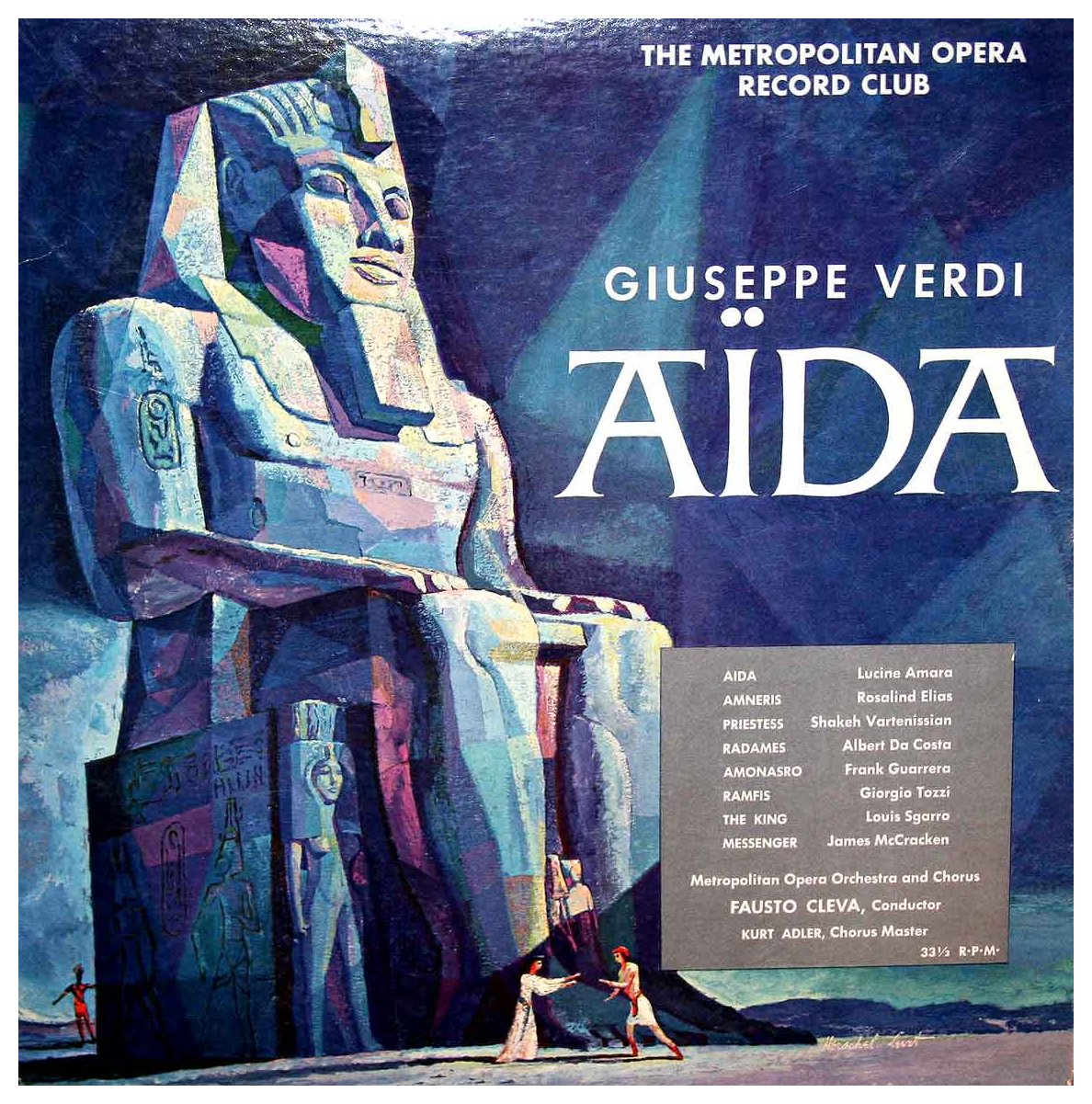 Notice that

James McCracken

sings the comprimario role of the Messenger!

He also sings Ruiz and a Messenger in

Il Trovatore

.





BD

: In an opera performance, where is the balance between the music and the drama?



FG

: The balance should be determined by the talent of the performer and the stage director and the designers and the conductor. By that I mean you can't overdo or under-do any one of these. There must be a definite balance between acting and singing. I know for a fact that a lot of times I've gotten carried away on the stage with my dramatic desire to 'chew up the scenery', but you find that it takes its toll on the long run. On the other hand you can't just stand there and sing. You've got to act. They used to just stand there and sing much more than they do now.



BD

: We seem to be in the age of the stage director right now. Have they gone a little too far?



FG

: Well, I don't want to get into that because I have definite ideas, but in a word I think yes, they have a great deal too much... although, if you interviewed a stage director, he'll say something entirely opposite!



BD

: Can I assume the pendulum will swing back?



FG

: Hopefully! [Both laugh] When you have great singers, you've got to feature them in their work, much more than the costume they're wearing or the set that they're in. But as a visual thing, everything is important. Sometimes the scenery and costumes and stage directing gets SO busy and SO fussy that you lose track of what you've come to the theater for, what you've come to the opera house for.



BD

: Then the big question... What is the purpose of opera?



FG

: The purpose of opera is to share all of those art mediums that I mentioned a few moments ago; to share them, to combine them and to have the audience partake in a visual and aural beauty. That's what I think it is! I mentioned that you're not only dealing with singing and music and pictures, you're dealing with acting too; drama, the theater. The theater itself is so great and dramatic plays are so wonderful, and that's why when you put the song in the actor's mouth and music in the pit, it becomes another medium. But it's a different technique entirely when you're doing spoken dialogue as opposed to the vocal dialogue.



* * * * *





BD

: Which role did you sing most often?



FG

: I don't have that kind of a computer mind that I can say [snaps his fingers] these are my statistics! The roles that come to my mind are Escamillo in

Carmen

, the Barber in

The Barber of Seville

. For years I was the official 'Toreador' and the official 'Figaro', and then I did all those Guglielmos. I did my share of Marcellos in

La Bohème

and I did many performances of

Don Pasquale

and

L'Elisir d'Amore

— all those lighter works. My job at the Met was more of 'Jack of all trades' rather than a specialist, and it was very exciting for me to have that kind of a career.



BD

: I would think that would make for much more satisfying career!



FG

: Very much so. I used to cover a lot of operas, and that meant I had to stand by and be prepared to go on. Well, that's exciting, and I knew that I had a great responsibility. I felt that they needed me. For years we couldn't go out to a restaurant or to anywhere in town without letting the Met know where we were! I have been called out of a restaurant or a meeting or at a social gathering of some sort and told to come right down, I've got to go on and sing!



BD

: And twenty minutes later you're walking on stage!



FG

: Twenty minutes you're on the stage, sure! In those days, if you left town you had to let them know. But if you were listed as first or second cover, that meant standing by for the artist that was singing. Part of your contract was that you couldn't leave! You had to be within twenty minutes of the opera house, which was very exciting for me. It kept me on my toes. Some of that type of responsibility was bitter-sweet for me. I was able to do it, but the bitterest one of all was when Leonard Warren died. He died on a Friday night in the most unusual situation. The opera he was singing was

La Forza del Destino

, and it was destiny that he had to die on the stage as one of the leading baritones of our time, or of any time.



BD

: They never finished that performance?



FG

: Not and only did they never finish it, he was singing his big aria, '

Urna fatale

'. The first line is '

Morir! Tremenda cosa!

' – death, what a tremendous thing it is! This is in the libretto. Little did he know that he was going to have a cerebral hemorrhage at the end of singing that aria, which was superb. The audience was clamoring with applause, and he just keeled over. That was it! The curtain went down and that was the end of that night. Everybody went home. When Mr. Bing called me that night at midnight at home, he asked if I had heard what happened. I told him that I had, and was very sad about it. He said to me that the show must go on. He wasn't being cute or anything about that. The Met was doing the opera

Simon Boccanegra

, which is one of the most monumental baritone roles in the Verdi repertoire. They were doing it in Philadelphia the following Tuesday night. Philadelphia's my home town, and it was my chore to take over the role that Leonard Warren had been scheduled to sing. Indeed, for the next two years I did that role at the Met, and that was one of the bitter parts of having to take over. I can say, anecdotally, that I was the third American to sing the role of Boccanegra in this country. First was Lawrence Tibbett, the second being Warren, and then myself. We've since had wonderful interpreters with Sherrill Milnes and Cornell MacNeil, and many, many others.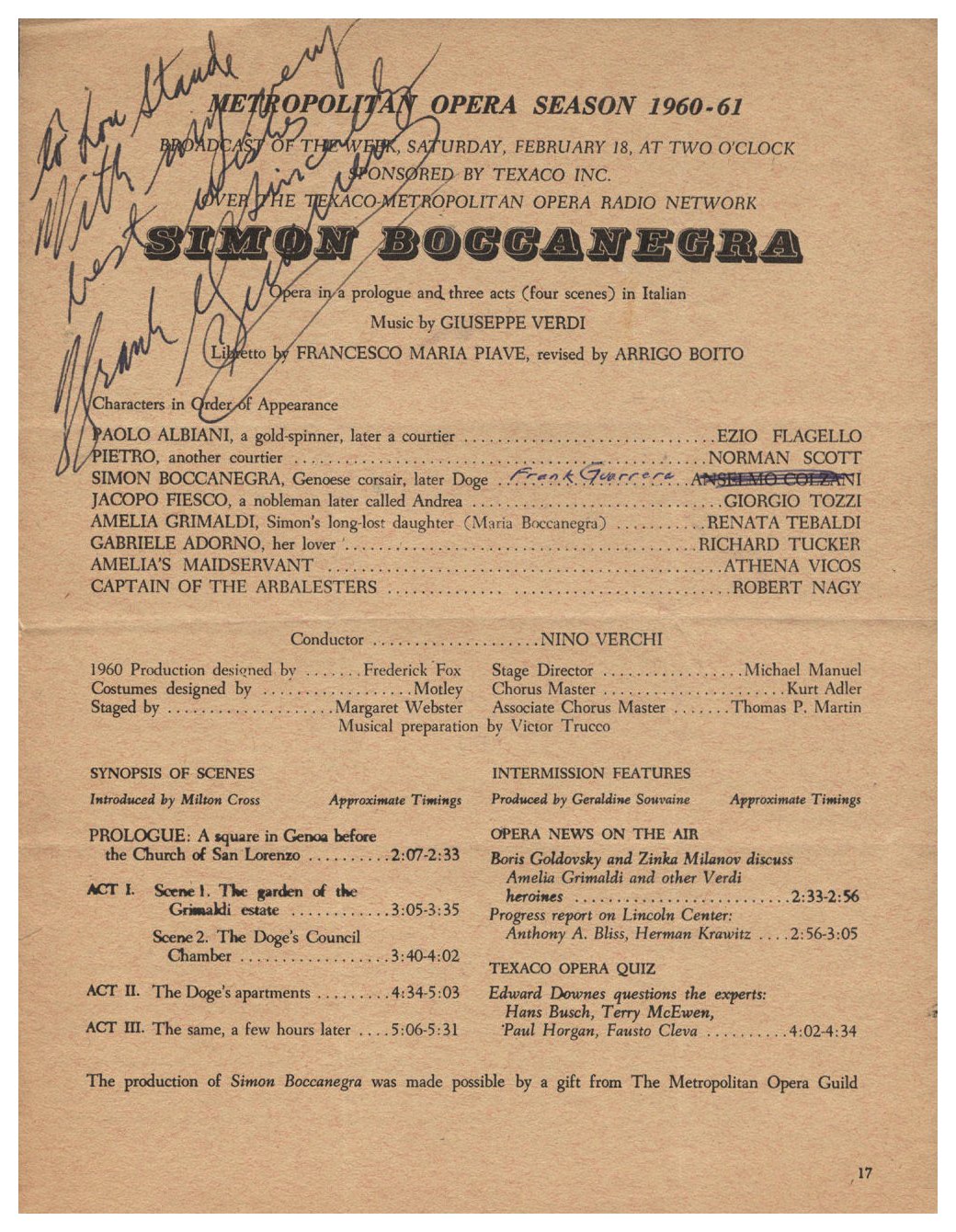 BD

: America has produced a long line of fine baritones, yourself included!



FG

: Yes. I feel in very good company!



BD

: Is there ever any competition amongst baritones?



FG

: Oh yes, a great deal of competition, but I don't feel there was the fierce dramatic competition that'll you find between 'prima donnas' or tenors. One of the big downfalls is the technique. For instance, think of a young baritone who is in the shadow of a Leonard Warren or a Robert Merrill. Merrill had a voluminous, monumental sound. It wasn't as big as Warren's but it was still a lovely, round quality. Merrill had a gorgeous sound to his voice; probably still does. But when we are talking about the big opera houses, you feel it's a big house so you have got give more in order to fill it. You feel when you are going to sing, you are going to be like Leonard Warren. You try, and you're not doing it with any mal intent. The competition is there. They're getting those roles and you want to emulate them, and you try!



BD

: You're trying to be better than your best?



FG

: Better than your best, yes! Sometimes it pays, and sometimes it doesn't because one must do the best they can with what they have to work with.



BD

: Is that the advice you have for young singers?



FG

: That is it! Take your qualities and make it the best, but don't try and use someone else's qualities. You can't do it. It's simply not possible because you end up, in the long run, trying to imitate. Then you force your voice out of focus completely. But there are lota of good examples out there, and if you can use them with what you can do, then you're in good stead with the opera and with the goals of your career.



* * * * *





BD

: Let us talk about some of the roles you recorded. You did Ford in

Falstaff

with Toscanini...



FG

: Yes, that was a very happy occasion. That was a broadcast. NBC used to broadcast the Toscanini concerts regularly. He was the conductor of the NBC Symphony. RCA and NBC were affiliated, and they taped absolutely everything that was taking place during those broadcasts. By that I mean even all the rehearsals. We had many, many rehearsals and the two performances. All the artists who were in that broadcast were approached, and we signed agreements to have RCA release it. I remember being represented by a very shrewd attorney at the time. They didn't want to offer royalties, and he said we must have royalties. But they said they were not giving royalties to anyone, but we'll give you more money! But my agent said no. The royalty was miniscule; it was less than one per cent, but now we're talking about thirty-five years later and I still get a small check twice a year because they're still selling that album of

Falstaff

! Some of the other operas I did were with Columbia. I did

Lucia di Lammermoor

with Richard Tucker and the great Lily Pons, and

Faust

with Siepi and Dorothy Kirsten, and a wonderful American tenor, Eugene Connolly, who had just flown in from La Scala when we were doing those recording sessions. He was singing

Puritani

which has lots of high Cs and high Ds, and he came in fresh as a daisy. He did that wonderful first scene where he pops out a nice big B-flat on '

Je t'aime

'.



BD

: Are you pleased with these recordings that you made?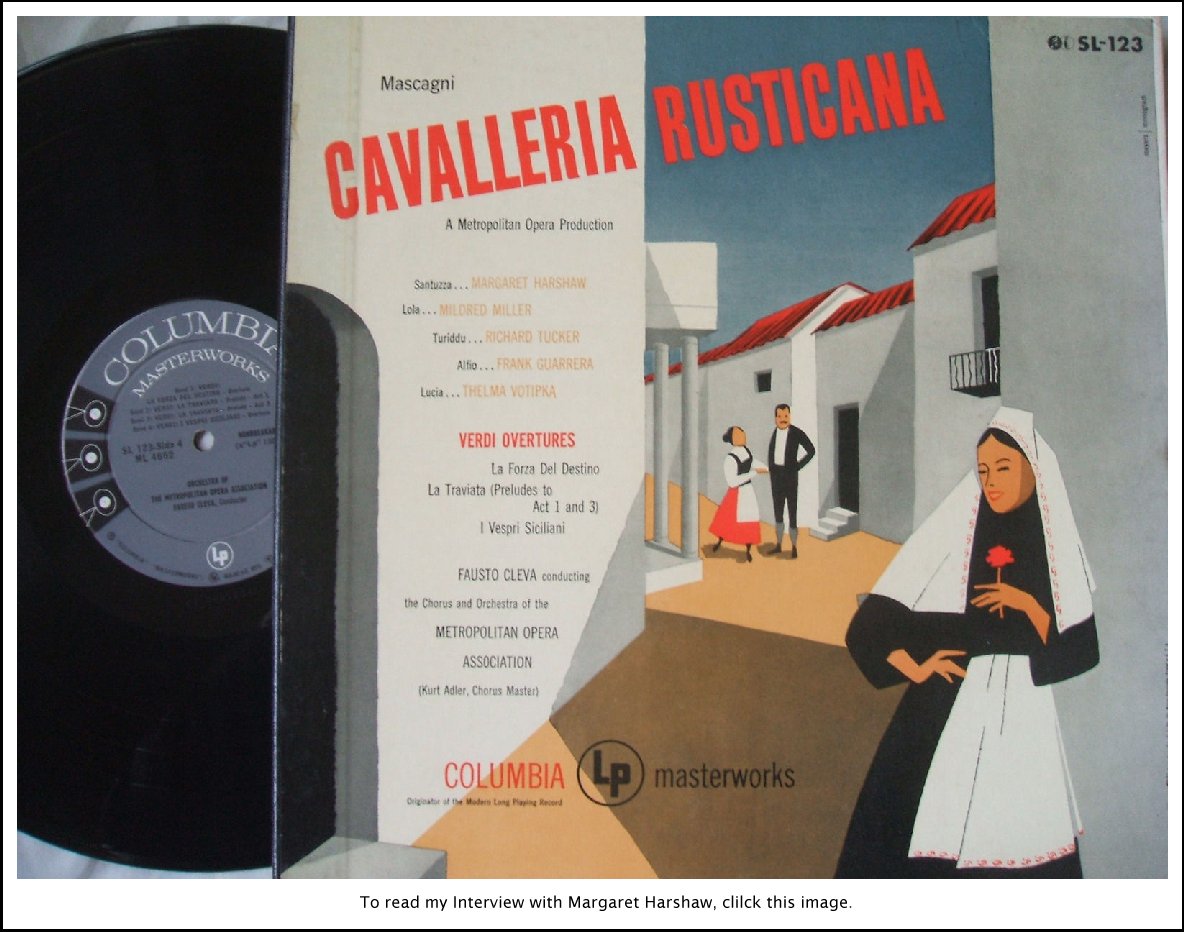 FG

: Oh, yes! I'm pleased with them. Then there was the famous

Così fan Tutte

. It wasn't the original cast, because the original cast had John Brownlee as Don Alfonso and Patrice Munsel as Despina. The other members of the cast were the same that are on the recording — Steber, Tucker, Blanche Thebom, and myself. But the other two characters — the Despina and the Alfonso — had exclusive RCA Victor contracts, so Columbia was not allowed to record them! Today people get loaned out to different opera companies. [With obvious irony...] We had to settle for Roberta Peters, who was a young star at the time, just beginning her career! She did the Despina, and we had a Hungarian colleague of mine, Lorenzo Alvary, who was a wonderful man who did the Don Alfonso. We played many, many poker games together. In those days, the tour was with two special trains. We'd have our own compartments and they were most luxurious. None of this airplane stuff! [Laughs] We had Train A and Train B. All the artists were in one train, and you take these long trips from one city to another overnight. I was a young man, and I would walk into the club car and see these older artists sitting down playing cards, and dying to be invited. Then I got invited into that little circle. There was Lorenzo Alvary and George Cehanovsky and Alessio di Paolis and Salvatore Baccaloni and a couple of others. I was sitting there and I was thinking, "My gosh, these people played cards with Gigli and Caruso, and people like that!" [Both roar with laughter] Not only did they sing but they played cards with them!



BD

: It's a tradition that extends over the generations. They touched your life and you touched other lives. Is that what makes opera what it is, this long line?



FG

: It's this very wonderful, poetic way to put it, Bruce, and I think it's true. As you say, it's a tradition. That's why my having sung with Toscanini makes me feel almost close to Verdi, because he knew Verdi and Boito, and all these people. The unfortunate thing when teaching is sometimes you walk in and mention to the students some of these names of people, like Toscanini, and they don't know who you're talking about!



BD

: Oh dear!



FG

: But you've got to tell them. Sometimes, unfortunately, they don't even know the past singers of the most recent generation, like Richard Tucker and Leonard Warren and Jussi Bjorling. This is true of a lot of our young singers today, unless they're taught carefully. I make sure that my students have a good background. I tell them to go to the library and listen to these people! There's more to it than what's happening today on the vocal scene. They need to become aware. [

Note: In this internet-age, many of these voices can be heard on YouTube

.]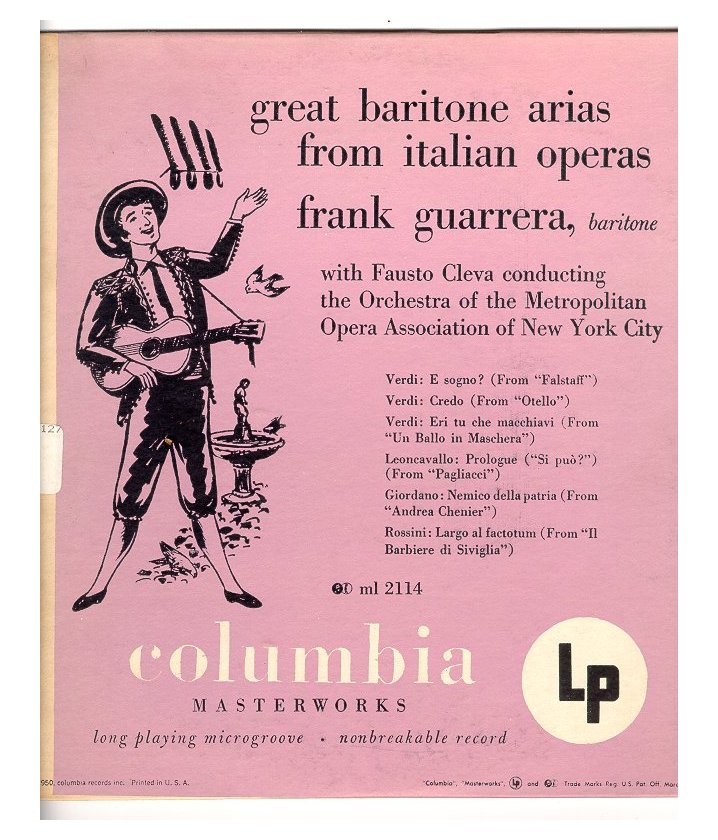 BD

: So you make use of all the recordings that have been made?



FG

: Oh, yes. There are wonderful examples of good singing. Even though the recording technique has greatly improved, it was perfected to their standards. But today we have such fantastic standards, but my gosh, even if you go back before our times... I grew up with an old phonograph you had to crank, and you'd get those old 78 recordings of Tito Schipa and Titta Ruffo, Enrico Caruso, and so forth. They don't sound that great because they were recording acoustically!



BD

: When you were growing up, did you specifically listen to the baritones like Sammarco and Stracciari and Ruffo?



FG

: I didn't know who Sammarco was when I was growing up! [Both laugh] I knew who Titta Ruffo was. I knew who Caruso was, and the reason for that is that my father used to like those people. When he brought records home it was Tito Ruffo and Caruso. I heard some Muzio, and later I learned who Sammarco was. But you mentioned my idol of all time, Stracciari! If I did any imitating at all, that was the voice I tried to emulate.



BD

: What about his voice grabbed you?



FG

: What grabbed me was the timbre, the brilliance and the rotundity at the same time. In

bel canto

there's a term called

chiaroscuro

.

Chiaro

means bright, and

scuro

means dark. I studied with a most wonderful man by the name of Richard Bonelli, who was a great baritone of his day, and Richard used to use that term. I tried to understand but I was too young and naive. He meant a tone has to be dark and light at the same time. I thought, "Oh my God, what is he talking about? How can it be dark and light?" When you think of it, Stracciari had that quality —

chiaroscuro

. It was brilliant with its focus and its resonance and round in its resonance, and, of course, that one quality that you cannot describe. It's what God gave the person, the sound of the voice.



BD

: The instrument in the throat?



FG

: Instrument in the throat which a lot of voice teachers, unfortunately, cannot comprehend. They think they can teach anybody to sing. Well, you can teach them how to sing and what to do, but to give them that extra something, nobody can give it to you. You can only be born with it



BD

: So rather than really being a voice teacher, you're a voice shaper?



FG

: I like to think of myself as that, yes. It's interesting that you bring that up because I do a great deal of judging contests now in my life. I'm on the Metropolitan Opera Council and they call me to go all over the United States to audition people. One time I was in Los Angeles picking two people to go to New York to sing in the Met auditions. They were all so good that I picked four! Risë Stevens called me the next morning and said, "What are you doing? How can you dare pick four! We only wanted two!" But I said, "Risë, they were great! They couldn't wait another year!" And all four of them are making a career today. Later on she wrote me saying, "Here, you were right! You were right." But my point in this is that nine times out of ten on these judging trips I also give a masterclass to young professionals or young people who are about to launch a career. This goes along with your terminology of 'voice shaping'. It's wonderful to see the results. There are a few times that has happened during a masterclass, and the audience burst into applause. They would say, "Yes, what he suggested is right, and you're doing it much better!" The singer is also pleased and would say, "Gee, I wished I'd known that." Of course you must be very, very careful when you're doing that because you shouldn't deal too much with vocal technique

per se

. Your suggestions must be done in a very delicate way because the person's voice teacher is sitting right out front!



BD

: In these cases you're talking about interpretation?



FG

: Interpretation, exactly! But they may be singing a vowel in a certain way, and if you give them an alternative way of thinking, they go out there and the note comes out ringing.



BD

: It opens up?



FG

: Opens it right up!



BD

: You're a very experienced set of ears that can hear some of these things.



FG

: Exactly.



BD

: When you're judging a contest, what do you look for when someone is singing?



FG

: We're really instructed by the Met to look for certain things — mostly potential, and, I'm sorry to say this, but the voice has to be big. You may have a person who has a sweet, lovely voice and who sings magnificently, and then there's a person next who sings with a bigger sound that you know can be developed. You will pick that person with the bigger sound over the other one.



BD

: Then do you go to the one with the smaller voice and say, "You might have a career, not necessarily at the Met or Chicago but in some of the smaller houses?



FG

: Yes, because we always have a question and answer session afterwards either privately or with a whole group. They can come to me ask what I think, and why I graded them the way I did. I give them my opinion, and sometimes that's very, very pleasant, and sometimes it can be unpleasant! [Laughs nervously] I had a place one time when all these young singers came up to me and asked me questions, and I answered them. Then there was one singer who didn't come but her father came and he said, [Imitating a rather pushy parent] "Why didn't my daughter win?" All I could say was, "I beg your pardon?" and he repeated his demand! [Both laugh] So the poor guy was mad because his daughter didn't win, and I had to carefully explain it to him. I said, "For one thing, her Italian was terrible!" He replied, "Okay, her Italian was terrible. We can fix that! What else was wrong with her?" [Both roaring with laughter]



BD

: Sounds like an old car... I'll put in new points and plugs, and get her on the stage! [More gales of laughter]



FG

: Right, right! Now it's more amusing than frightening, but it was frightening at the time.



BD

: [Coming back to the serious topic] So you hear all these young voices. Are you encouraged by what you hear?



FG

: Yes, I am encouraged by what I hear from some of the young singers from the Met and from the New York City Opera and all these other places that have wonderful apprentice programs like the Merola Opera Program in San Francisco and the Young Artist Program you have in Chicago. These are the bush leagues of grand opera, which we didn't have. When I was starting out, there were no such things as that.



BD

: You were thrown on immediately in the 'big time!'



FG

: Absolutely. Fortunately, as I said — I hesitate because it doesn't roll off of my tongue so easily — but I was gifted. I knew my way around the stage. I was thrown in the pool and could swim, because actually I had very little experience. But I had a natural talent for it. In those days, the National Council didn't have auditions like we have today. The National Council has brought an opportunity to the singers in the various parts of the country, in the district and regional auditions. When I auditioned it was one program each Sunday in New York. So if you lived in California, you had to go to New York... Fortunately I lived in Philadelphia, and that was the longest I traveled at that point in my life — up to New York to get in the Met auditions.



* * * * *





BD

: Let's talk about a couple of other characters. Tell me about Escamillo. What kind of a guy is he?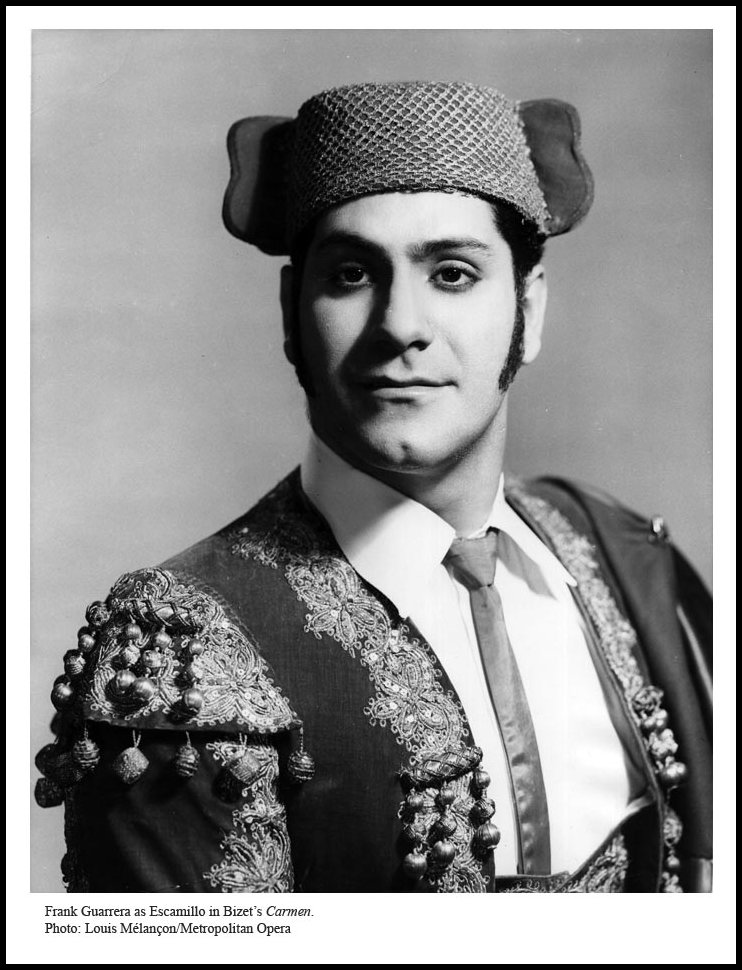 FG

: Oh, he's a big show-off! He is all of the things that personify the '

torero

', the bull-fighter in the Spanish bull ring. It's paradoxical because it's a French opera set in Spain, so you are singing in French and you have to try and act Spanish. I play him as a bragger because he does brag in his aria. He tells everybody how great he is! If you read the text, that's exactly what he is saying. He says that here comes the Toreador, and he kills the bull with dispatch, and at the end of it everyone applauds. At that point in the opera he sees Carmen, and he sashays over and says, "What's your name, kiddo?" She tells him her name and he says, "Okay, I'm going to dedicate my next bull to you when I fight next Sunday! Won't you come and enjoy the bullfight?" She walks off, and little does he know that Carmen really is going to use him. She's a much more complex and much more interesting person than Escamillo. He's really a caricature of the bullfighter, but Carmen pits one man against another. She's really a fabulous character in the opera. Of course, José has his hang-ups too. He's torn between the love of this woman and his duty. He's never seen anything like this in his life, and his Spanish blood is boiling. His passion comes up, and he's got this poor little girlfriend, Micaëla, who he tosses aside for this Carmen. He gives up his reputation because he deserts the army and joins her band. So Carmen had a tremendous influence with all of the men around her. Even with Escamillo! She manages to lure him into her clutches, although Escamillo wasn't as unfortunate as José. It's fate!



BD

: Escamillo just moved on to the next conquest!



FG

: He just moved on to the next town and the next cigarette factory! [Both laugh]



BD

: When you're on stage, did you portray the character or did you become the character?



FG

: That's difficult to answer because you're dealing with the vocal technique, and you've got to be careful. When you try to become the character, as I said earlier, you start chewing up the scenery, and then you become very 'ham-ish' and so forth. Not that becoming the character isn't a good thing. As far as operatic or any kind of acting is concerned, if a person can become the character, certainly that's the epitome of some kind of technique. I don't know Stanislavsky, but I do think that sadness in opera has to be portrayed. But you mustn't get to the point where real tears come because it will disturb the vocal mechanism. You can't [pretending to cry his eyes out] do this sort of thing because you cannot sing while doing that. You have to learn to act out your tears rather than let them be real tears. That goes to other emotions, like the dramatic part of acting. You can overdo it and use too much force, and it'll disturb the voice. This is the main thing. So you can become the character only to a certain extent. Remember what it is really all about. It's make-believe! We're living in a world of make-believe when you go on the stage. Our art is a reservoir of fantasy, and fantasy is the land in which the gifted and the infantile roam with ease! But you must believe it yourself!



BD

: You must believe the character you play?



FG

: You must believe the character, yes. When you play Valentine in

Faust

, the brother of Marguerite, he comes back from the war and finds that his sister has been bespoiled by Faust. These characters come to his house, so he pulls a sword out and challenges Faust to a dual. I used to be most robust and realistic then. I never forget the time when I sang it with Jussi Bjorling in San Francisco. He said to me, "Frank, you're wonderful to sing with because you are so real in the part!" I told him I truly enjoy it. When we were going along and he lunges at me, we had it fixed so that the sword goes under the upstage arm. I would then put my arm down and catch the sword, and he pulls it out as if he's pulling it out of my chest. Well, I had a very loose fitting shirt on, and the sword went through and tore the shirt! I could see his face got red under his make-up and with his eyes he asked, "Did I get you?" I said no, and then I gave a most glorious death scene! When doing Valentine, I used to try and find a voice that was the voice of a person who was almost dying. Then you had to sacrifice some vocal technique. The opera was written in such a way that the phrase is a monotone. It's all on one note, and you try to find an empty, hollow sound with the voice. That takes a lot of courage because somebody will wonder if there is something wrong with the voice



BD

: You still have to project it enough to get it across.



FG

: You have to, yes.



BD

: So the danger is that the public will misunderstand?



FG

: Well, if you believe it, then the applause will come at the end as you succumb!



BD

: One other character. Tell me about Enrico Ashton.



FG

: He's money-hungry and a politician. He plays one family against another, and his poor sister, Lucia, has to suffer the consequences.



BD

: Is there any redeeming quality about Ashton?



FG

: Oh yes, there is a redeeming quality about him, but it's too late when he realizes what he's done. He's forced her to marry the wrong man, the one she didn't love. There's a scene that's usually cut out of the opera when he says, "My God, what have I done? I'm sorry about it!" It's too little too late, but he's a straightforward character. I don't think there are any complexities there. He's just the older brother who is family-orientated, and 'our clan is the important one, and you must marry who I tell you to because daddy and mummy are gone and I'm the boss now.' He is that sort of stereotype. Usually the words and the music give you an insight of how to portray any character, if you look. I learnt this very early in my career from another former baritone who used to have the score of the opera with him all the time in the dressing room. I was a young, spoiled singer and I thought, "I know the music. I don't need to bring my music to the opera house anymore." That was true. I knew the part, but he taught me by that example that you never stop learning. You always can see something else in the score if you keep looking for it. From that point on, whenever I sing, I never go to the opera house without the score of that particular opera under my arm. It's on the dressing table, and I look at it before the opera and during the opera.



BD

: Is this what makes some operas great — that you can continually find new things?



FG

: You can continually find new and exciting things. That's the longevity factor involved. The fortunate thing is that you can see it with different casts and different interpreters. That's what's wonderful about it. You might lament another

Traviata

or another

Bohème

, but they'll continue to be great for another hundred and more years because you'll get different interpretations of that wonderful music.



BD

: Thank you for being a singer! It's been a wonderful conversation.



FG

: Thank you very much for asking me!





======= ======= ======= ======= =======
--- --- --- --- --- ---
======= ======= ======= ======= =======






© 1987 Bruce Duffie

This conversation was recorded in Seattle, Washington, on August 7, 1987. Portions were broadcast on WNIB the following year, and again in 1993 and 1998. This transcription was made in 2014, and posted on this website at that time. My thanks to British soprano Una Barry for her help in preparing this website presentation.

To see a full list (with links) of interviews which have been transcribed and posted on this website, click here. To read my thoughts on editing these interviews for print, as well as a few other interesting observations, click here.

Award - winning broadcaster Bruce Duffie was with WNIB, Classical 97 in Chicago from 1975 until its final moment as a classical station in February of 2001. His interviews have also appeared in various magazines and journals since 1980, and he now continues his broadcast series on WNUR-FM, as well as on Contemporary Classical Internet Radio.

You are invited to visit his website for more information about his work, including selected transcripts of other interviews, plus a full list of his guests. He would also like to call your attention to the photos and information about his grandfather, who was a pioneer in the automotive field more than a century ago. You may also send him E-Mail with comments, questions and suggestions.