Trombone concertos are relative rarities, so it's not surprising that Michael Mulcahy, one of the Chicago Symphony Orchestra's three masters of the instrument, has been heard only twice as a soloist since he began his CSO tenure in 1989. [Note: After being appointed to the CSO by Sir Georg Solti, his first solo appearance was in music of Elliott Carter, led by Pierre Boulez, and subsequent to the Vine Concerto, he would be part of the Low Brass Concerto of Jennifer Higdon.] His appearance in 2000 under then-music director Daniel Barenboim in Leopold Mozart's Concerto for Alto Trombone (1756) was so successful, however, that CSO artistic leaders offered to commission a concerto especially for Mulcahy.
The Australian trombonist was, of course, thrilled. What has turned into a 16-year process will culminate Oct. 6-8 when Mulcahy takes the Orchestra Hall stage as soloist in the world premiere of Australian composer Carl Vine's Five Hallucinations for Trombone and Orchestra. Once the offer was made, Mulcahy faced a big choice: Which composer should he select for the project? "Martha Gilmer, our previous artistic administrator, was fantastic in supporting me through that process," he said, "and I have to say that I was less fantastic, because I had trouble being decisive." He slowly whittled the list of possibilities down to two or three finalists, and he just couldn't zero in on one. "It was a little bit like being love with more than one person," he said. "It's just too complicated."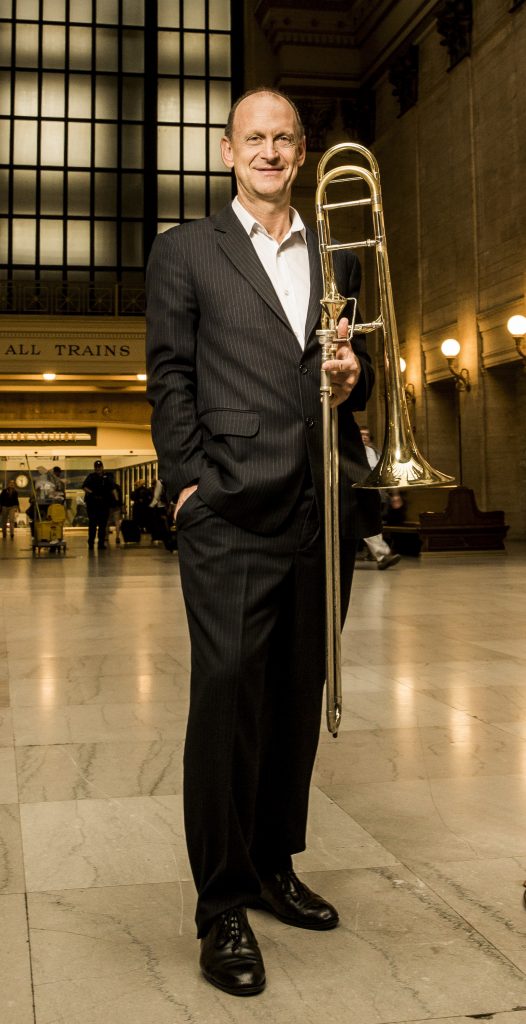 Fortunately for Mulcahy, the CSO's commitment to the commission never wavered. In the end, with the approval of Riccardo Muti, who became music director in 2010, the trombonist picked Carl Vine, one of the best-known figures on the Australian classical-music scene. In addition to his sizeable output of compositions, including seven symphonies and 11 previous concertos, Vine also serves as the artistic director of Musica Viva, a chamber-music presenter in Australia. In the United States, Vine is best known for his keyboard music, such as his Piano Sonata No. 1, which was showcased at the inaugural Ivo Pogorelich International Solo Piano Competition in 1993. Vine describes Elliott Carter as his "most influential compositional force," but he admires the esteemed American modernist's works before 1970, after which he believes they became to "too dense and intellectual."
The trombonist selected Vine in part because the composer knew his playing, and because Mulcahy thought that Vine would be able to give him a genuinely expressive "voice." "I didn't want a trombone concerto to show what the trombone as an instrument could so much, like what you might call a showpiece for the trombone," Mulcahy said. "I wanted specifically a work that had a big dramatic impact." In addition, he's a big fan of Vine's Love Song (1985), a solo work for trombone and CD accompaniment. "It's really one of the most beautiful pieces you could hear for any instrument," said Mulcahy, who recorded it as part of an album of solo and chamber trombone works titled "Full Circle."
For Vine, whose orchestral works are primarily performed in Australia, the chance to write this work, which evolved into a co-commission with the Sydney Symphony, is a fulfillment of what he called a "very significant dream." "Obviously, the Chicago Symphony is the ideal for composers everywhere — one of the very finest orchestras in the world," he said. "When Michael Mulcahy first asked me, I couldn't quite believe my luck. It's incredibly exciting. The downside was that I had this immense pressure to write a terrific piece of music."
Vine, who studied physics and mathematics at the University of Western Australia before changing his major to music, has always been interested in science. Now 61, since the age of 40 or so, he has become increasingly interested in the function of our bodies and minds, voraciously reading or watching whatever he could find on the subject. About four years ago, someone recommended that he read Musicophilia: Tales of Music and the Brain, a book by famed neurologist Oliver Sacks, which Mulcahy found to be an "eye-opener." "That's when I started my distant love affair with Sacks," he said.
In February 2015, Sacks announced in a New York Times op-ed piece that he had terminal cancer, a development that spurred Vine to return to the neurologist's book Hallucinations. As he began re-reading it, phrases popped out at him like "hexagons in pink," and he wondered if they wouldn't make ideal titles for sections of the concerto. After all, Mulcahy had wanted the concerto to have a literary allusion, and this was a way to do just that. But Vine knew it wouldn't be an easy sell.
As Mulcahy recalls it, Vine was initially thinking of the concerto as series of lieder, or art songs for trombone and orchestra, and the trombonist loved that idea. So he admits he was taken aback when the composer talked about his Sacks inspiration and proposed a piece that would be titled Five Hallucinations for Trombone and Orchestra. "I slept on that idea," Mulcahy said, "and those people close to me encouraged me to be open to following Carl's muse, because he has to create the concerto and if he is feeling strongly about something, that's a probably a good direction to follow."
In April 2015, Vine started writing the work and finished a year later, after false starts and interruptions along the way, with the most intense writing from December through March. The composer, who started on trumpet at age 5 and has had a long familiarity with brass instruments, did have to consult with Mulcahy on just how much a soloist can physically endure during a demanding work like Five Hallucinations. "Of course, it's a wonderful thing that there is very little that he is not capable of," Vine said of the trombonist. "But I did actually get to the limit of what he could physically achieve, and I had to pull it back a little bit."
The resulting work has an almost theatrical or cinematic feel and a huge expressive range. As the title suggests, the concerto is divided into five sections or "hallucinations": "I smell the unicorn," "The lemonade speaks," "Mama wants some cookies," "The doppelgänger" and "Hexagons in pink." Each has its own distinctive personality. "It's almost like one actor playing five characters in a play," Mulcahy said. Some of the sections are highly dramatic, others more playful. "And the doppelgänger movement, where I'm being followed around by the orchestra, is quite sinister and quite dark," he said.
In terms of musical language, Vine describes Hallucinations as a fresh, modern piece with a "very firm harmonic base" — not atonal in any way. He didn't want a sound that was too saccharine or too eager to please. "But I also didn't want a piece that had a language, particularly harmonically, that was so hostile to the audience that they would find it difficult to get into," he said. In preparing to write his concerto, Vine listened carefully to works such as Christopher Rouse's Trombone Concerto, which won the Pulitzer Prize for music in 1993, and he discovered similarities between their styles. Rouse never strays too far from tonality, and much of his music is marked by extremes in mood and volume, with the composer relishing in loud, clamorous moments. "I think it sounds like me," Vine said of his new concerto. "But if you wanted to give a parallel, it's bit like Christopher Rouse."
Leading the concerto's premiere will be up-and-coming guest conductor James Gaffigan, known for his affinity with new music. "I'm pretty excited to have him working on this," Mulcahy said, "because he is a younger, fresher voice, and I feel that he's very well-equipped to manage launching this thing. This a good piece for a new generation conductor to get their hands dirty with."
Mulcahy has big hopes that this concerto will have a long life after its premieres in Chicago and Sydney; already, the San Bernardino (Calif.) Symphony has scheduled it for a concert on June 30, with him as the soloist. Mulcahy is confident there will be more such concerts down the road, with the work's connection to Oliver Sacks giving it a boost. "There's a story line there," he said, "that's maybe a little more interesting than just another new piece that is being commissioned and premiered by an orchestra."
Kyle MacMillan, former classical music critic of the Denver Post, is a Chicago-based arts journalist.

-- Text from the Chicago Symphony Orchestra Website [with addition]; photo ©Todd Rosenberg (2014)
-- Links in this box, like those above on this webpage, refer to my interviews elsewhere on my website. BD