Wagner in Chicago Before Lyric

The Resident Companies
at Home and on Tour
1910 - 1946

An Exploration and Compilation
by Bruce Duffie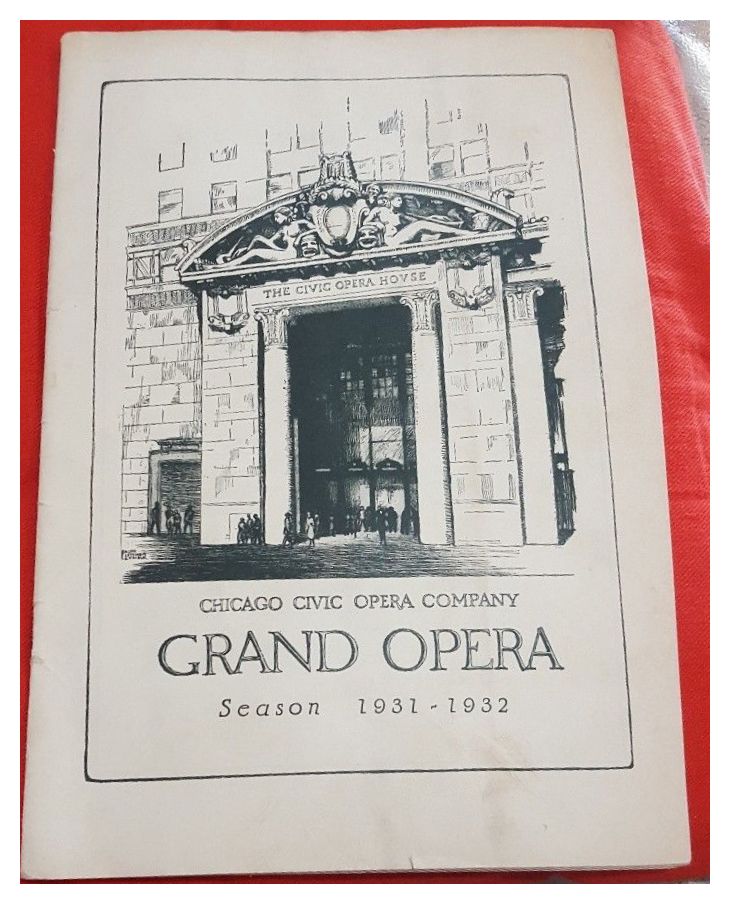 Much of what is contained on this webpage appeared in Wagner News, Volume XII, #2, March, 1985. I had been contributing interviews to their magazine for five years, and also to a similar publication of the Massenet Society. In 1984, I had written a long article, Massenet, Mary Garden, and the Chicago Opera 1910-1932. By clicking the link, you may see the updated version of that material. It also gives the very solid reasons for restricting the dates of exploration.

The Wagner article followed a similar pattern, with text and charts. There also was no need to stop at 1932, so I continued a few more years, citing (as noted) an end point just before the formation of the current company. The original has been slightly edited for this webpage, and follows this brief introduction. I have also added photos, and links which refer to my interviews elsewhere on my website.

The title of this article indicates the history of 'resident companies', and I have mostly limited myself to this area. However, I have also included a few items where the Chicago Symphony provided accompaniment for a visiting troupe (the Lohengrin of the Metroplitan Opera in 1891, which pre-dates the formation of a resident company), and the few individual performances where singers were simply assembled in 1935 and 1946-53. There are also two news items from when the Chicago Opera was on tour to Los Angeles, and three photos of programs from when they were in Boston.

For the Massenet piece on this website, I added many brief biographies and photos of the singers and conductors. Since a lot of the Wagner performers also participated in other repertoire, quite a few of those who are mentioned below can be found on the second and third pages of the Massenet presentation. Those are indicated by an asterisk (*). Other biographies and photos are included in the interview with Chicago mezzo-soprano Sonia Sharnova, and have a double asterisk (**). At some point I might add the remaining ones, but for now, what is already posted will have to suffice.

Now, to the Wagner . . . . . . . . .




===== ===== =====
--- --- --- ---
===== ===== =====









This survey of Wagner in Chicago before Lyric originally grew out of a lecture which I gave dealing with Don Quichotte by Massenet. Don't worry, it all becomes clear, and even quite logical, very soon.

In the Fall of 1981, Lyric Opera of Chicago was presenting a revival (!) of Massenet's opera Don Quichotte as part of their season. I had been asked to give a lecture about the opera before one of the performances, and so some research was called for. I remembered that the various resident Chicago opera companies before Lyric had done quite a bit of Massenet, and had shown to great advantage their star, Mary Garden*. So, I went through the annals for the resident companies and found a great proliferation of both Massenet and Mary Garden in the years 1910-1932. (There were various reasons for stopping in that particular year which I need not go into in Wagner News, but they are included in the introduction to that presentation, and can be read via the link above.) Anyway, after gathering lots of wonderful information about all of this, a lengthy article with a detailed chart was published by The Massenet Society in January, 1984. But even before it was finished, I began to wonder if the same kind of thing might be possible for Wagner and his operas, and it is the result of that research which are now reading.



* * * * *



Lyric Opera of Chicago gave its first performances in February of 1954, so all anniversaries and notices of the company premieres date from that time. Chicago, however, has enjoyed opera by resident companies since 1910, and before that there were many visits by touring companies both big and small. Opera was first heard in Chicago in July 1850. A group of singers came by boat from Milwaukee to perform La Sonnambula. The theater burned down the next night — with no loss of life — but opera had been heard and seen, and was now demanded by the public. By the 1890s, Chicago was the railway transfer point for just about everyone, and, as the hub of the nation, it heard opera in the newly-built Auditorium Theater on Congress. This historic landmark was considered by Jean de Reszke** to be the finest theater in the world for acoustics, and historians regard the opening of the Auditorium as the real beginning of opera in Chicago. [There are several color photos of both the exterior and interior of the Auditorium Theater on the webpage of the Massenet Article which is linked above.]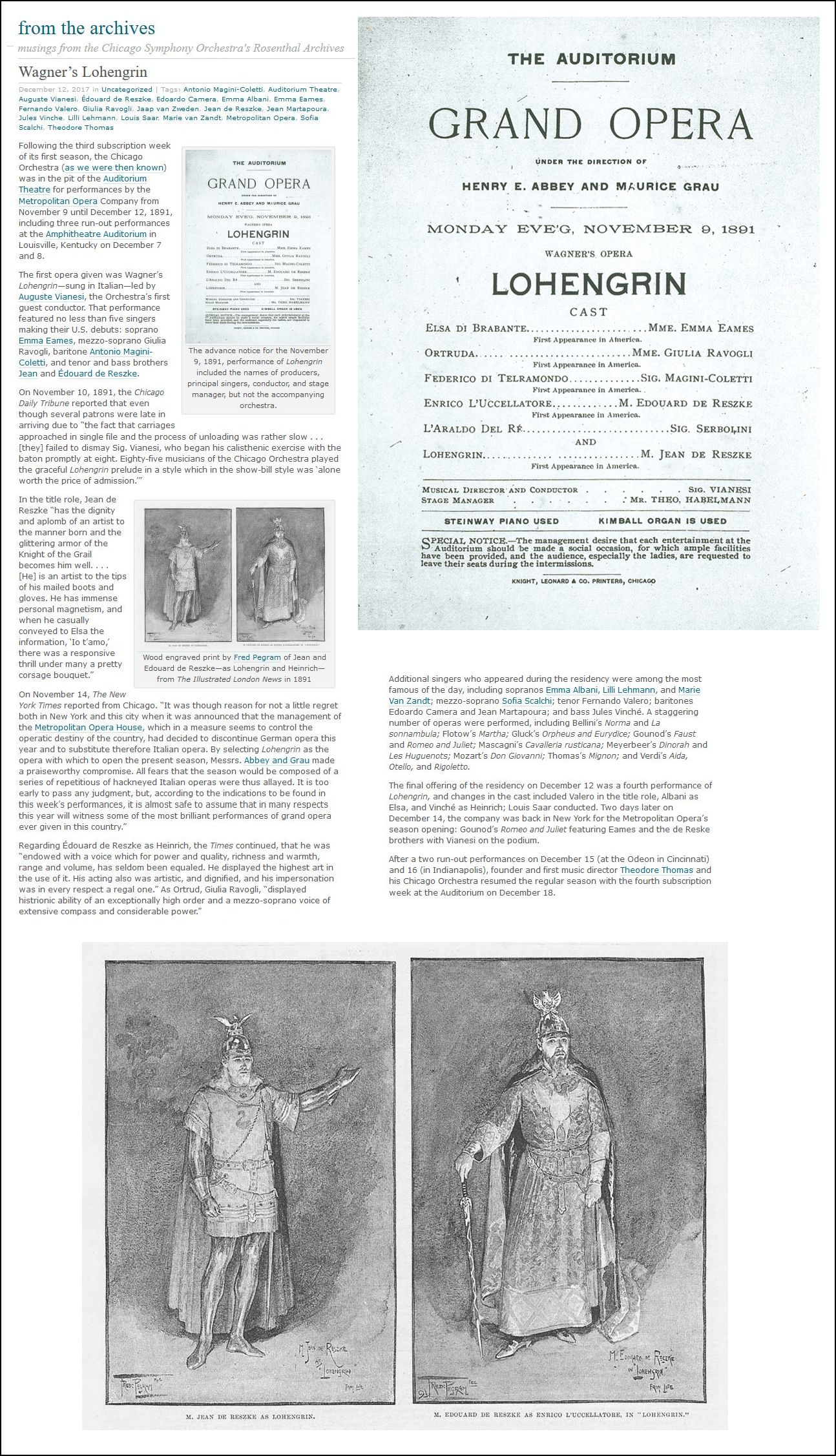 Until 1910, opera in Chicago was given by touring companies. Several companies came with varied repertoire, and the Metropolitan showed up from their first season, (1883-1884), until Chicago had its own company, and soon they dropped the 'Windy City' from their tour list. Since the Met did so much Wagner in their early days, a lot of it was taken on their tours. A few highlights include a complete Ring in 1888-89, as well as appearances by Lili Lehmann, Jean and Eduard de Reszke, David Bispham and Walter Damrosch. All ten of the standard Wagner operas were given, and there was even a performance of Rienzi. Damrosch bought his own company to Chicago in April of 1895, and among the cast was Johanna Gadski** who performed a real marathon — Sieglinde on Monday, Elsa on Tuesday, Elisabeth on Friday, and Eva on Saturday! Despite the absence of many well-known stars, according to contemporary accounts, the company, under the leadership of Damrosch, caught the spirit of Wagner. There were no star excesses or pandemonium. Audiences seemed interested in the music no matter which of the operas was being given, or who was in the cast. But not every visit was successful. Apparently the 1899 tour of the company under Abbey and Grau was a disaster, both artistically and at the box office, and ten years later the operas again were poorly attended. However, in the first decade of the new century, something was happening in New York that would change the course of opera in Chicago forever.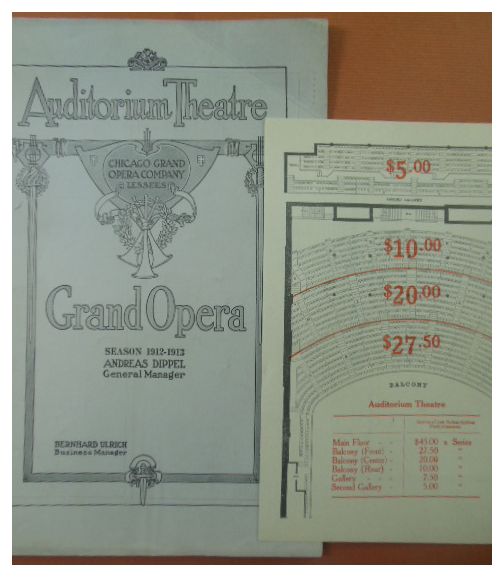 * * * * *



The story of the Hammerstein Opera Company in New York is well known, and its five seasons he presented productions which were so spectacular that the Met finally paid him to cease competing with their company. In the settlement, the Metropolitan Opera Company acquired the assets of the Hammerstein company, which included scores, sets, and the costumes for the predominantly French repertoire. At this time, the financiers and backers thought that an opera company in Chicago would not be directly competing with the Met, so the newly acquired assets were sent west to help start the Chicago Grand Opera Company. Harold McCormick* was the president of the company, Charles Dawes* (later vice-president under Coolidge) was the First Vice-President, Otto Kahn (then president of the Met) was Second Vice-President. Tenor Andreas Dippel*, who by that time was assistant to Giulio Gatti-Casazza at the Met, was named General Manager, and the leading star of the company was Mary Garden. The principal conductor was Cleofonte Campanini*, and in 1913 he became General Director — a post he held until his death in December of 1919. Aside from being a first-rate musician, he sought better and more colorful stage pictures. In a statement reminiscent of Wieland Wagner, Campanini said, "We have the greatest singers, the greatest dancers, drama, and literature, but we have forgotten that the big gift of nature is color, and we have either filled our stages with neutral tones, or we have left them bare. We have either killed the imagination of our audience, or we have over-worked it, and we have not realized that emotions can be stimulated almost as powerfully through color as through music and drama." He was concerned with all the aspects of production, and become a kind of father-figure to the company. When he passed away, his casket was taken to the Auditorium and placed center-stage amidst flowers and the sets of Parsifal.

The first season of resident opera in Chicago — 1910-1911 — heard no Wagner operas, but several of the Wagner singers appeared in non-German roles. Charles Dalmorès*, was a French tenor, but he sang several Wagner roles later in Chicago, including Lohengrin, Siegmund, Tristan, and Parsifal. He also sang Lohengrin in 1908 at Bayreuth. That first season in Chicago, he sang in Faust, The Tales of Hoffman, Carmen and Louise. Johanna Gadski appeared in Les Huguenots, and the season also had Caruso in Pagliacci and La Fanciulla del West. [An extensive article about Dalmorès can be found at the bottom of the first page of my Massenet presentation.] Farrar and Scotti appeared in Tosca and Madama Butterfly, John McCormack sang the Duke in Rigoletto, as well as appearing in Cavalleria Rusticana and La Traviata. To make things interesting, Dame Nellie Melba graced the stage in La Bohème and La Traviata. The next season saw the production of three of Wagner's works — Lohengrin and Die Walküre (each given four times), and Tristan und Isolde twice. It should be remembered that in those days, operas were not given many performances per season. That is to say, while a great number of works were heard, each opera was only done a couple of times, so the four performances of Lohengrin and Die Walküre were a goodly representation. Today it is both a blessing and curse that operas run six to nine times each season. It's great that the public has the opportunity to see them often and when it's convenient, but the management must be able to sell out those numerous performances.






But to get back to that second season of 1911-1912, Dalmorès and Clarence Whitehill were in all three Wagner operas, Ernestine Schumann-Heink was both Ortrud and Fricka, Jeanne Gerville-Réache* was both Fricka and Brangäne, and both Olive Fremstad and Minnie Saltzman-Stevens were both Brünnhilde and Isolde. [Minnie Saltzman-Stevens is shown above, and also at the bottom of this webpage, in articles from Los Angeles when the opera company was on tour.] Aladar Szendrei conducted Lohengrin and Die Walküre, and Campanini was in the pit for Tristan. The next year these same three operas were heard again with similar casts, and right up until 1917 the Wagner wing of the opera companies in Chicago expanded, and even included a complete Ring in two consecutive seasons. Lest one think that Wagner was simply tossed up on the stage to fend for itself, the company's first Parsifal in 1913 received fifteen full orchestral rehearsals — an amount unheard of in that era, or even this one! Not only did Campanini prepare the work carefully, but curtain calls were forbidden between the acts, so the audience was given the best possible presentation outside of Bayreuth. The two performances that season were on Sundays, and the next year there was no season. When the company was reformed in 1915, and renamed the Chicago Opera Association, Tristan was given on the third evening. Then there were three scattered performances of Tannhäuser in which the program proclaimed that Act One took place in the Interior of Venus! The four Ring operas were done on consecutive Sundays, and the following week was Parsifal. The next Sunday was Aïda, then the second Parsifal, and finally an extra Die Walküre with the same cast to complete the Sundays in that season. Quite a busy time for Whitehill, Francis Maclennan and Egon Pollak, but it must have been a good idea because the following year, the Sundays were the domain of Wagner once again, with the Ring, then Parsifal, Tannhäuser, a New Year's Eve matinee of Tristan, and finally a matinee of Lohengrin. Eight Sundays in a row for Wagner — and Whitehill, Maclennan and Pollak. Those three, along with Geraldine Farrar and Cyrena Van Gordon* were also giving five performances of Königskinder by Humperdinck during the same period. Incidentally, the Austrian conductor, Egon Pollak, who was born in Prague and also died there of a heart attack during a performance, was associated with the Bremen, Leipzig and Frankfurt operas, and was for a decade the General Music Director of the Hamburg Opera. He was generally regarded as the foremost interpreter of the works of Richard Strauss, so presumably all the Wagner was in capable hands during this era in Chicago.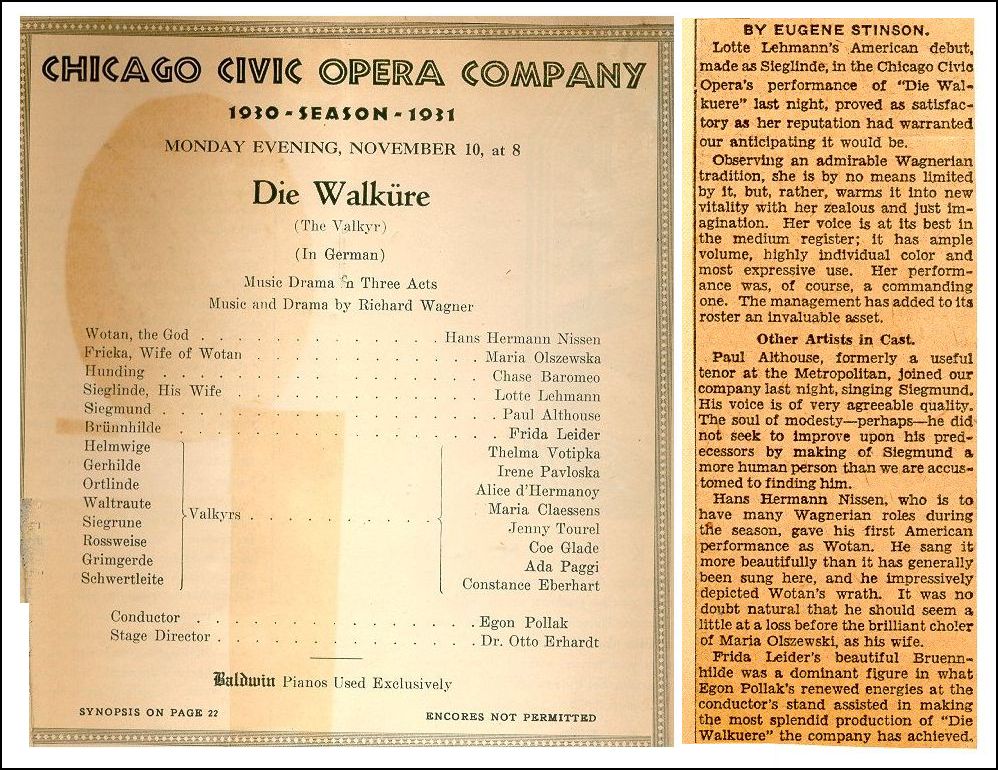 Something strange did happen in the Götterdämmerung in December, 1916. The forty-three men of the chorus went on strike, and the choral lines were sung by Octave Dua* (the resident Mime), Désiré Defrère* (the versatile baritone and stage director/manager), Constantin Nicolay* (who had been the Second Knight in the 1913 Parsifal), and a stage manager named Sam Katzman. But good, bad, or indifferent, according to various accounts, all these performances of Wagner's operas were given uncut. That fact prompted one regular critic to lobby loud and often in his column for the judicious use of the blue pencil. He also referred to Wotan's daughters as 'Valkyrettes'. On the other hand, another regular columnist, when noting that a German company offered its tour cities a choice of abridged or unabridged performances, stated, "Those who have experienced this gargantuan system of operatic pleasure will understand it is the preferable way, despite the apparent inconveniences." Wagner, however, was to suffer the same fate in Chicago that he suffered elsewhere in America. The First World War brought about a huge amount of anti-German sentiment all across the country, and Wagner was simply not given in most places for a while. Indeed, the first Ring in 1916 was well-received, but the second year Campanini steadfastly brought it back, but it played to slight houses. After that matinee of Lohengrin in January of 1917, Wagner disappeared from the boards until Christmas Eve of 1920. Five performances of Lohengrin and Die Walküre — both in English — were heard in the last few days of that season. But by the following fall, Tannhäuser, Lohengrin, and Tristan all returned in the original German language. Regarding the controversy of language, Frederick Donaghey wrote in the Chicago Tribune in December of 1918, "The thing to be done in Wagner's operas when put back on the American stage is to use English text, to cut them into humane lengths, and to prevent German singers from messing them up. The Germans among us, of course, will not go to hear the operas after such revisions, but the Germans among us never went to hear the operas when they were given in German, uncut, by German singers. Wagner, rightly edited, could easily be made as popular as Puccini, and such editing would put away all the traditions and practices when his operas are re-staged. Also, a fair one-third of the music could profitably be cut out and placed in a museum for preservation. As to the performers, most of the good Wagner singers have not been German. The four parts of the Ring, and two or three of the other operas are good, in the best conditions, for one performance a season in Chicago."



* * * * *



The season of 1921-22 was to be the final one under the auspices of Harold McCormick. He wanted to go out in style, so he had his board of directors name Mary Garden as General Director. She produced a stunning season, and ran up a deficit of just over a million dollars! In her autobiography she said simply, "It was worth it," and McCormick paid the tab. In the fall of 1922, the company was restructured and called the Chicago Civic Opera, and the man who ran the show was Samuel Insull, the utilities magnate. He tried for several years to run the company like another of his businesses — as a profit-making venture. During its decade, the company gave a few performances of one or two Wagner operas each season, and gradually the German wing was rebuilt with often successful presentations and generally distinguished casts. Henry Weber* made his debut conducting Tannhäuser at the age of just twenty-three. Over the years, he proved himself a valuable and distinguished asset to the company. A review a few years later called him, "One of the brilliant, learned, and alert conductors of this generation." He also became music director at WGN, the clear-channel Chicago radio station, and he married his Elsa, Marion Claire*.





Giorgio Polacco* was responsible for most of the Italian operas done during this period, but as you will see in the accompanying charts, he led performances of Die Walküre and Tristan. One patron remarked, "When Polacco conducted, it was as if the music were coming out of the end of his baton." Perhaps the greatest individual portrayal was Maria Olczewska** as Ortrud. A critic wrote, "Vocally, dramatically, temperamentally, she would seem to have been sent upon the earth for the purpose of playing the part."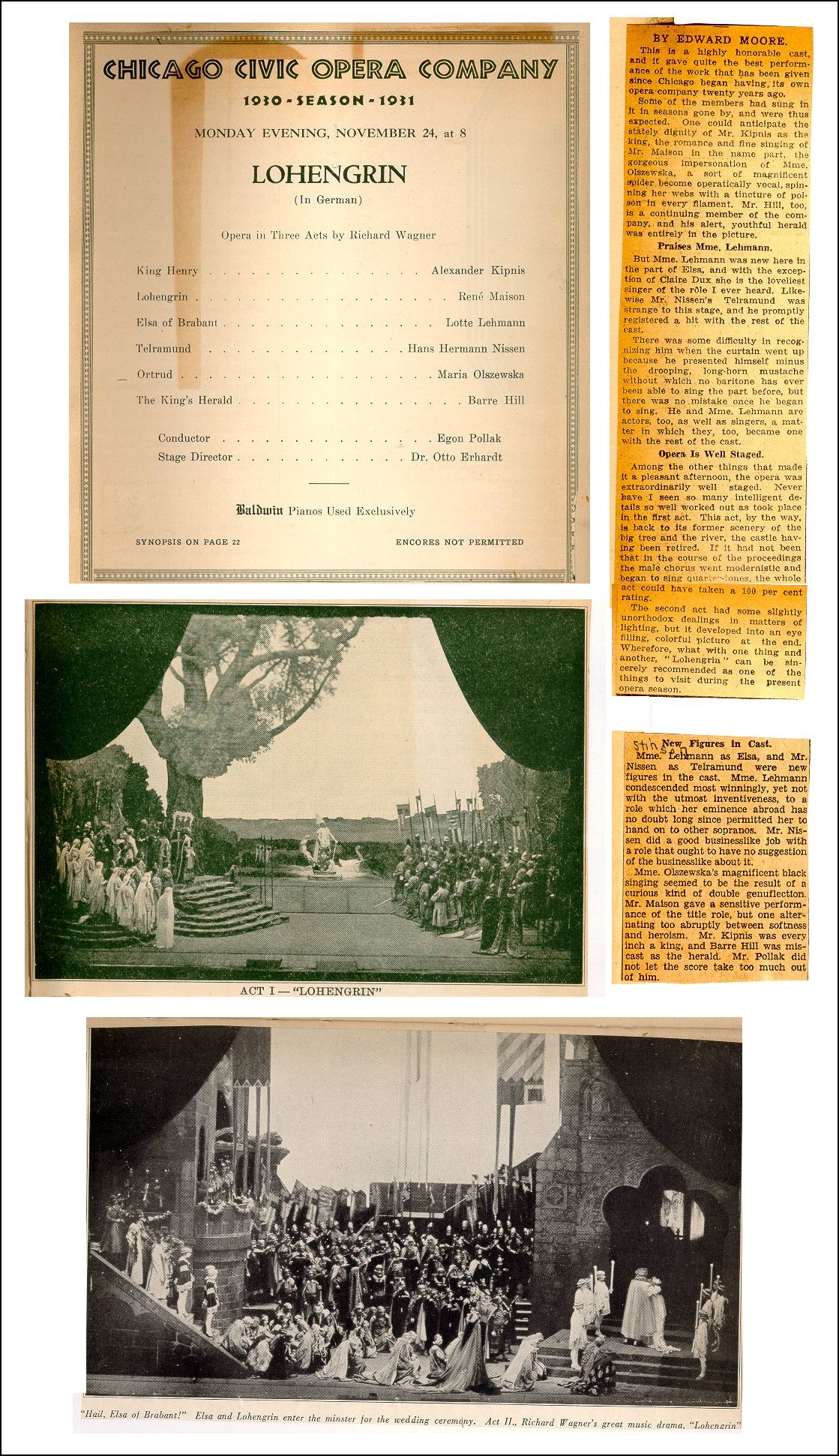 Along about this time, Insull announced his most ambitious plan for the opera company. It was to be a building housing not only the theater, but also offices. Eventually, the rent from the commercial space would support the opera company, and in November of 1929, just six days after that fateful stock market crash, the new Civic Opera House on Wacker Drive was opened. It was a thrilling occasion, and even though it didn't quite work out the way Insull envisioned it, that is where opera is given today by Lyric, and Chicago's opera house is in the Guinness Book of Records as being the tallest in the world. [As with the Auditorium, there are several color photos of the Civic Opera House on the Massenet webpages. Also, to see a painting which is a fantasy on one of the architectural details of the building, click here. ] Despite the collapse of Wall Street, the last three years of the Chicago Civic Opera Company (1929-1932) saw more Wagner done than at any other time in the city's history — forty-four performances of six operas. Although there were complaints about the length of the performances, audiences attended dutifully, and remained until the final curtain — often around 1 AM. Herbert Witherspoon, a former bass who had come to Chicago in 1925 to head the Chicago Musical College, and who would be named General Manager of the Met just a few weeks before his death, became Artistic Director of the company, replacing the ailing Polacco, and was dedicated to the idea that opera should be first-class entertainment. He "paid particular attention to the fact that, in times like these, people need the kind of entertainment that will cheer them up." In the middle of his brief but stunning period, one critic wrote, "An opera house is not equipped which lacks an adequate German department, and The Civic Opera Company has been building one, which, until now is not merely adequate, it is distinguished." One of the most significant American debuts came on the second night of the 1930-31 season. The Musical Courier called Lotte Lehmann's** Sieglinde "perfection of voice and of action." Musical America said her lovely voice had "a freedom and purity seldom discovered in German singers. Her eloquence and artistry moved the audience to a great demonstration." Later performances that same season brought further accolades. "Her Elisabeth was a spiritual figure, yet infused with reality and the charm of life."

Finally, after having postponed it for nearly a decade, Die Meistersinger was given (see program below-right), and Musical America said that, "At the end, one's thought was not of this or that individual, or detail of the performance, but solely of the colossal genius of Richard Wagner, which had been so lucidly and affectionately revealed." Besides the Wagner, there were productions of Der Rosenkavalier, Fidelio, and Die Zauberflöte, as well as Mona Lisa (by Max von Schillings) in the German wing, plus a whole host of Italian and French operas done with very distinguished casts. Mary Garden was still active as a singer, and the company managed to give several modern works and world premieres. But even though this report notes many stellar individual contributions, it is the sense of 'company' that made the various Chicago troupes special. Baritone Joseph Schwarz* (who sang Wolfram and Amfortas, as shown in program immediately below) said it best when he commented, "Opera can be judged only by the success or failure of its ensemble. To achieve success in opera individually, you must be one of the ensemble. Together everything is possible; alone, nothing." But as we know, the financial world was collapsing, and so, too, was the opera company. But what a blaze of glory brought this era to an end!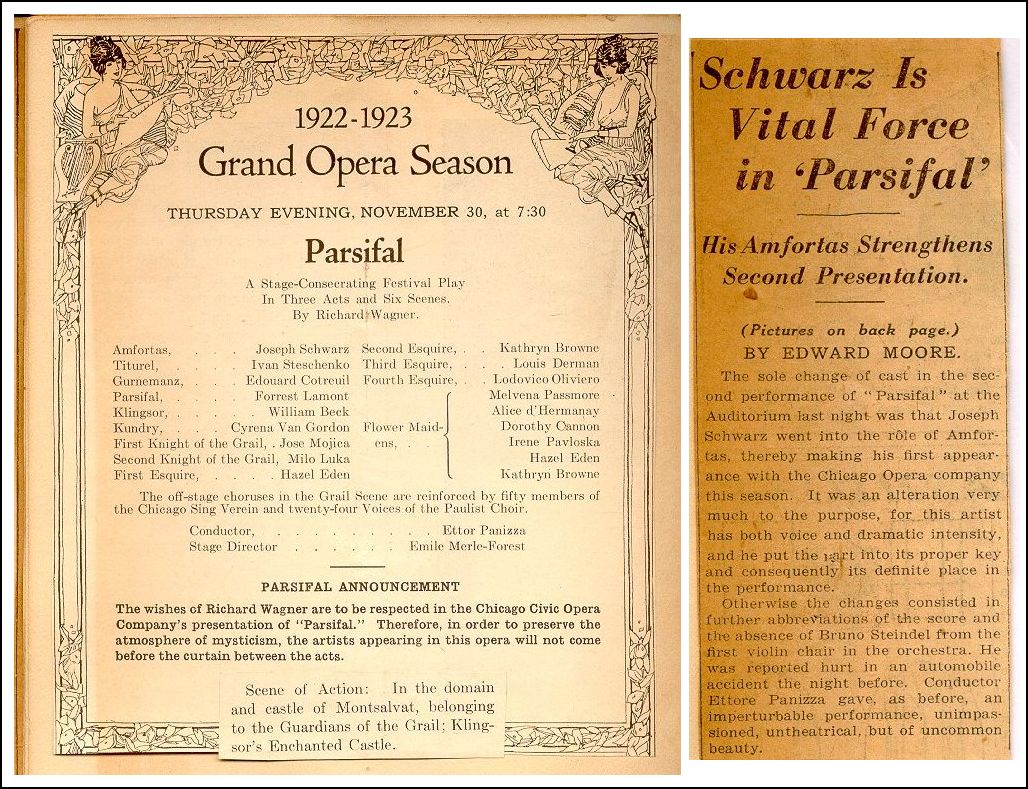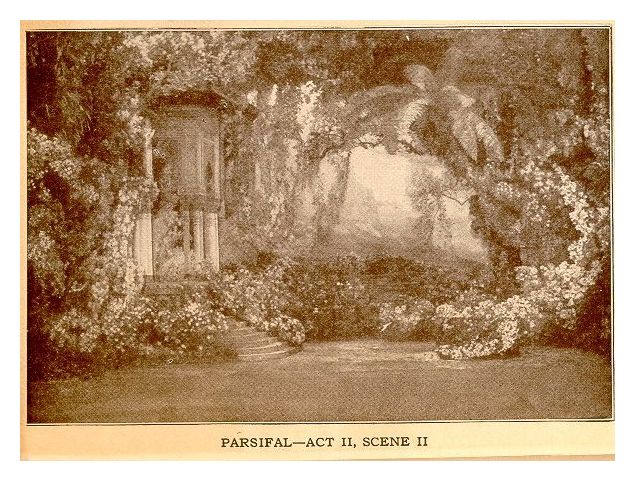 There was no resident company in 1932-33, and late that summer, Paul Longone**, a one-time associate of Campanini, and later director of a theater in Milan, was named Manager of the Chicago Grand Opera Company. Even though sentiment was high to return to the Auditorium, financial considerations made it mandatory to stay with the new opera house. There was just one Wagner performance that season, and five the next, including the debut of Lauritz Melchior**, called "the best Tristan who had ever appeared in Chicago." His debut, like his Met debut, was in an afternoon performance, with another important artist being presented for the first time that evening. In Chicago, the evening brought Ezio Pinza as Don Giovanni. After another reorganization, the Chicago City Opera Company was in place by 1935, but instead of being daring and adventurous, much of what was presented looked and sounded the same as the Metropolitan Opera in New York. Kirsten Flagstad's** performances here aroused nearly the same amount of noisy clamor that she engendered elsewhere. She "rose to heights of fury and splendor which even she had ever exceeded." The single performance she shared with Giovanni Martinelli provoked a critic to call him "the most sensational I have ever heard." Musical America said, "Martinelli was a Tristan worthy of Mme Flagstad's Isolde. His youthful appearance in the first act was captivating. Here was the young, daring knight of legendary times." It would be the only time in his life when he would sing the role.

Interest in opera was keen, and guarantors somehow were found to continue. The seasons that followed had their ups and downs, but there were many sparkling evenings, and by 1940, Henry Weber, who by that time was General Director, pushed the company to once again produce gala opera. Critics heralded the "dawn of new opera in Chicago with everything refurbished." But, as always happens, great opera means greater deficits, and when Weber resigned, Fortune Gallo — he of the itinerant, but financially sound San Carlo Opera — became manager. And in a move, reminiscent to Mary Garden's single season, Martinelli was named Artistic Director.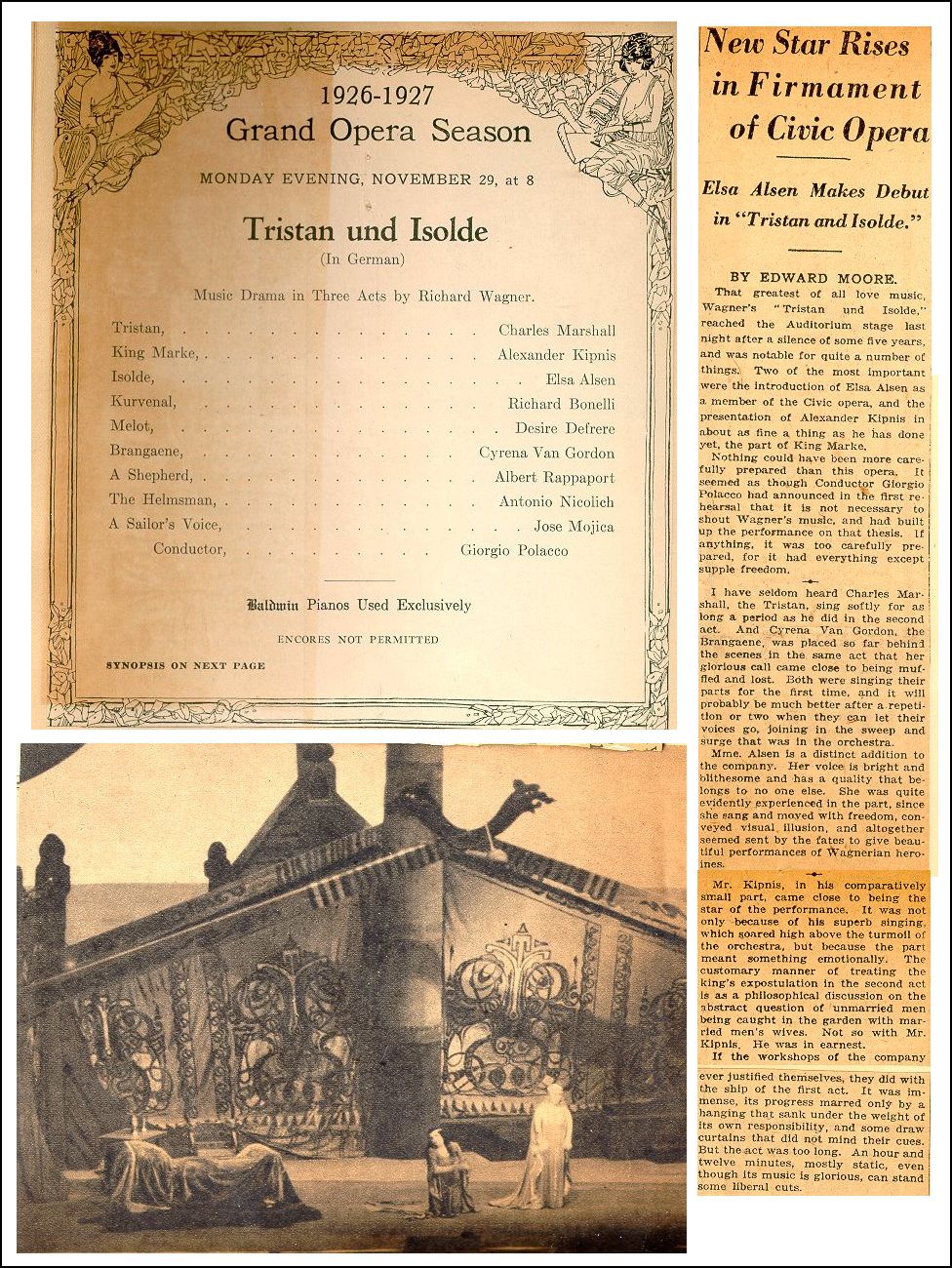 Then came the Second World War, and for some reason, the conflict actually seemed to help make people go to the opera even more. So, after years of struggling night after night with empty seats, the box office actually had to turn many would-be ticket purchasers away. Unlike the earlier World War, this time Wagner was not banned. Madame Butterfly was discreetly left out of plans by management, even though there was no great clamor to remove it from the public. Stars came, but often were singing operas between radio broadcasts — a practice that sometimes resulted in moving the starting time of the performance to accommodate the singers' needs to be at the studio for a network hook-up. In general, even though the company had 'Chicago' in its name, it was nothing like the days when artists were proud to be members of the Chicago Opera. More reorganizations of the company, and Fausto Cleva became Artistic Director and, as it had been the case under Gallo, the musical side was often first rate, but the production and the direction left a great deal to be desired. As it turned out, Wagner produced the greatest effect in the last couple of seasons of resident opera before Lyric. In 1945, despite to few rehearsals and a smallish orchestra — which caused the withdrawal of George Szell as conductor — Parsifal turned out to be a triumph, "with all the essential quality of Wagner's greatest opera preserved." The following season it was Tristan in which, "the music pulsated with exalted emotion, and the enchantment of the drama held even through the long third act, which was given uncut." But few patrons heard this one, or any of the operas that year, and the deficit for the six weeks was not paid until 1948 when General Finance Corporation — who, by that time, owned the building — paid it as an outright gift. There were plans for a new company, and a few tours came to Chicago, but after 1946, resident opera ceased in the 'Windy City' until 1954.



* * * * *



Even though it gets a bit depressing towards the end, it should be obvious that opera in general, and Wagner in particular, often flourished in Chicago during the first half of the twentieth century. It should also be obvious that to continue with a lengthy and detailed discussion of every season would require many pages of text, and result in much necessary cross-checking to enjoy the details in any kind of systematic order. So along with this article are seven pages of charts, detailing all of the operas and singers for Wagner in Chicago by the resident companies before Lyric. The first chart gives a listing of all Wagner operas done by the various companies by year. The number indicated is the number of performances of that opera in that season, followed by a number in parentheses which is the number of performances given on tour. Also on that chart are two sets of totals. The one in the right-hand column indicates the number of performances of all the Wagner operas that year. The totals at the bottom of the page are, logically, the number of times each work was played over the years. But remember, the Ring adds four operas to the number of performances, but is counted as a unit at the bottom. So there are four operas in each yearly total, but only two Rings in the bottom line. Then there are six pages of operas by season with complete casts. If in a season a role was sung by two or occasionally three singers, the names are listed one below the other. Each named singer appeared at least once in the role, but where there are several performances and only two singers listed, you will have to consult the annals if you wish to know exactly who sang with whom. In most instances, however, it should be quite apparent. At the end of each opera is a second set of year-dates, followed by a list of American cities. This shows that the opera went on tour to those cities in that particular year, and the order of the cities is the order in which the opera was toured. There were, of course, other cities where other (non-Wagner) operas were given in any year, but again, for that you must consult the annals. Since the book listing the tour cities was published in 1930, that is the reason for the abrupt end of the tour listings. One other note... There were several gala evenings and operatic concerts, and often an act, or portion of an act, from a Wagner opera was included. These items, however, are not reflected in the charts. In every case which I have found, the cast was the same a previous, or later, performance in that same season.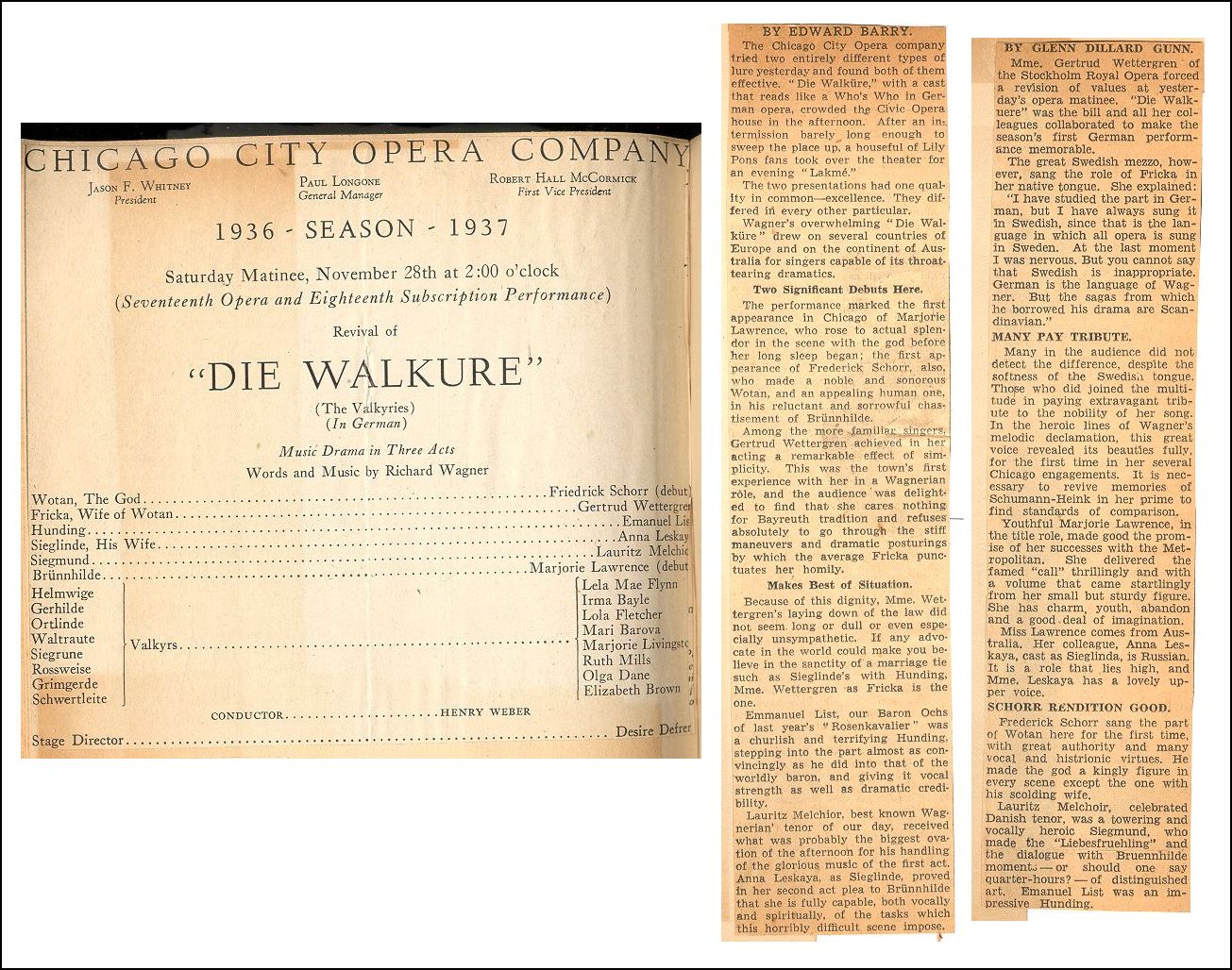 At first these charts might seem like busy record-keeping nonsense, but even if only a couple of names are familiar, you've got a place to start. The various repetitions of names give an indication of consistency and favorable impression upon the audience. Many names are certainly familiar to every Wagnerian, and lots of them are on the charts, and often listed several times. One thing that I ran across, which is not reflected in the charts, is Flagstad / McArthur 'marathon' at Thanksgiving, 1939. They came to Chicago for a week, and gave five performances of four operas. Specifically, it went like this: November 24th - Tristan; 27th - Tannhäuser; 29th – Lohengrin; December 1st – Tristan; and 2nd – Die Walküre. The reasons for this are explained in the interview I did with the conductor. For me, though, going through this kind of exercise is both joyful and frustrating — joyful to see all that was going on in town at that time, and frustrating that I did not get to any of these wonderful performances! But then the detective in me starts to hunt around for patterns. Who shows up where, and is that casting repeated or changed? If you're like me, these charts will provide a lot of interesting scanning and hopefully a lot of titillation.

A few notes... For reasons of space, occasionally I've had to abbreviate a couple of names. 'S-Heink' is obviously Ernestine Schumann-Heink. 'S-Stevens' is Minnie Saltzman-Stevens, a soprano from Bloomington, Illinois, who made at least a couple of recordings, and 'O-Hannah' is Jane Osborn-Hannah, who also appeared with the company in Butterfly, Natoma (by Victor Herbert), and Pagliacci. Don't forget that in the Walküre chart, two seasons of performances are 'missing' because they are included in the Ring chart. And that extra Walküre performance in 1915-16 had the same cast as in that season's Ring. Also, please note that the second entry in the Siegfried chart is not another year of performances, but the touring listing. You will also note that in two seasons, 1913-14 and 1921-22, Lohengrin was given on tour but not in Chicago. Since tour casts were not available to me, one can only guess at the singers who sang the operas in those years. And as happened in the early days at the Metropolitan in New York, there were seasons when no opera was given at all. The years 1914-15, 1932-33, 1943, and the bleak period of 1947-1953 saw no resident opera in Chicago. Then, in 1954, Lyric Opera was founded (under the name Lyric Theatre, and changed to its present name two seasons later), and its Wagner repertoire has already been recounted in previous issues of Wagner News.



* * * * *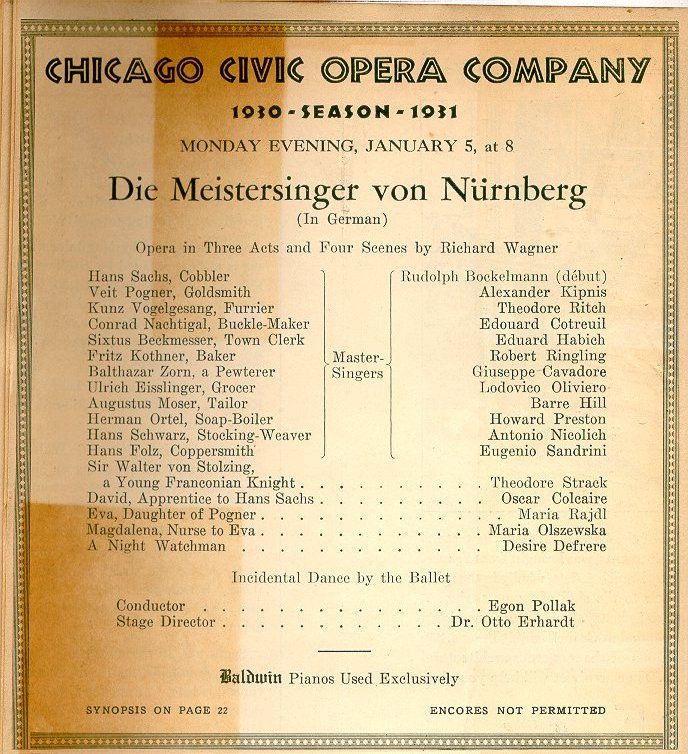 It should be noted that the great Wagner singers also sang also other operas, and a case in point might be Clarence Whitehill. Not only was he the sole Heldenbariton from 1911-17 — with the one exception that Hector Dufranne* sang one performance of Telramund in 1912-13 — Whitehill also appeared in Hoffman, Madama Butterfly, Königskinder, and Quo Vadis (by Jean Nouguès) as well as L'Amore dei Tre Re (by Italo Montemzzi). Charles Dalmorès sang in just about every opera given during one season or another, as did Dufranne and Chase Baromeo*. Georges Baklanoff* did a huge variety of roles in addition to being (according to Musical America) "without doubt the best Wotan that ever stalked the Auditorium stage." Another versatile artist was Alexander Kipnis*. Rosa Raisa** sang a tremendous number of roles in Chicago in over twenty years with several companies. She and her husband, Giacomo Rimini, ran a school for singers after their retirement from the stage. Though she did not sing a lot of Wagner roles, it was never far from at least one critic's mind. In Isabeau by Mascagni, based on the Lady Godiva legend, the famous scene was called 'The Ride of the Valkyraisa'. One of the most beloved members of the company was Cyrena van Gordon*. She made her debut as Amneris, along with Raisa, in 1913, and remained for nearly twenty years, right up to the demise of the Civic Opera Company in 1932, doing many rules including Azucena, Laura, Adalgisa (with Raisa), the Witch in Königskinder, Ulrica, Herodiade (by Massenet), Delilah, as well as appearing in Mefistofele with both Chaliapin and Kipnis, and in Boris Godunov with Chaliapin, Baklanoff, and Vanni Marcoux* as the Tsar in various seasons. Her Wagner repertoire included Ortrud, Venus, Erda, Waltraute, Brangaene, and Kundry. Then occasionally a name pops up that is completely new, such a Dimitri Onofrei. A check of the annals for 1933 reveals that not only did he sing Lohengrin, but he was also heard in Butterfly, Faust, Carmen, and Tosca. Not bad for a tenor one has not heard of before or since. Then there was Oscar Colcaire, who sang David two seasons in a row (as seen in the program at right), and was also heard as Pinkerton in Madama Butterfly. Please note that Carl Schiffeler, who sang Wolfram and Telramund in 1935 is not the late, beloved Paul Schoeffler.

Something else should be pointed out, and that is the list of other German operas given during this time. Aside from Der Rosenkavalier, which was heard in five seasons between 1925-30 with Raisa or Leider, Olczewska and Kipnis, and again in three seasons in the late '30s with Lehmann or Hussa** and List, the hit /scandal of the very first season was Salome with Mary Garden. She sang it twice in Chicago, and several times on tour that year, and then again in 1921. The opera was also heard in 1934 with Jeritza**, and in 1940 with Lawrence**, both of those years with Jagel ** and Sharnova. Hansel and Gretel was given in several seasons, including 1938 and 1940 with Sharnova as the Witch. Madama Sharnova, incidentally, lived to be 92, and continued to teach regularly in Chicago. Several of her students have won prestigious awards, and others are now themselves vocal teachers. The year 1916 saw Königskinder with Farrar, Maclennan, Whitehill, and van Gordon, and the opera with a different cast returned in 1923. 1926 brought Tiefland with Alsen, Lamont* and Kipnis, conducted by Weber. There was a Fledermaus for December 31st, 1927 with Raisa, Hackett, Rimini, Baromeo, and Lamont, also conducted by Weber. 1929 saw Fidelio with Leider, Maison*, Ringling*, and Kipnis, conducted by Pollak. Then in 1931, Mozart came to town with The Magic Flute, starring Rajdl, Kipnis, Eadie, Marion, Habich, and Dua, and the Three Ladies were Leider, Votipka and Olczewska! The conductor was Pollak, and a couple of weeks later he led Mona Lisa with Leider, Bockelmann, Rajdl, Marion, and Baromeo. One other interesting item was The Bartered Bride. It was given in two seasons (1930-32) with Rajdl, Strack, Olczewska, Boromeo, Ringling, Sharnova and Kipnis. Pollak conducted this Smetana novelty. And that, as the saying goes, was about all there was of German opera for Chicago by the resident companies during this period. However, considering all the works which were presented, audiences were treated to interesting and well-balanced seasons of opera.



* * * * *



A few notes on times that items would leap off the page at me while glancing over the charts. First, Der Fliegende Holländer somehow never got done in Chicago by the resident companies until Lyric presented it in 1959. Lohengrin gets the prize for showing up in the most seasons. And looking at the various interpreters of the Swan Knight, we have Dalmorès, whom I commented on above, Francis Maclennan (who sang Parsifal in Savage's Opera Company on a US tour in 1904, was the first foreigner to sing Tristan in Germany, and was married to Florence Easton), Edward Johnson, (who was to run the Met from 1935-50 after being appointed to the position of Assistant Manager, and then unexpectedly was almost immediately elevated to the top spot after the death of Witherspoon), René Maison, Dimitri Onofrei (who also sang the role at the Met in 1937), Mario Chamlee, Lauritz Melchoir, Carl Hartmann, and Torstan Ralf. Quite an assortment of weights, personalities and nationalities! The same can be said of the various Elsas. Rosa Raisa shows up in 1920, Lotte Lehmann in three seasons, Maria Jeritza in two, plus the usual assortment who also appeared in the role. Ditto for Ortrud. Note that Pasquale Amato once did Telramund. In Tannhäuser, notice that Heinrich Schlusnus turns up as Wolfram, and Gladys Swarthout once was the Shepherd. All the critics loved her and predicted great things for her career. Mary Garden adroitly said that she would be the next Carmen. Leider sang Venus (surprisingly), and Eva Turner was Elisabeth. William Beck*, the resident Alberich and Klingsor (who was found poisoned in his hotel on an evening he was to have sung), turned up in 1924-25 as Biterolf. Howard Preston sang it the next time Tannhäuser was presented. [More on this Beck story is, again, on the Massenet webpage.] When you look at the Tristan chart, hold it away from your eyes just a bit and see the names as they appear in blocks. This seems to be the most consistently cast work from year to year. Friedrich Schorr did the very small role of the Steersman early in his career, and Armand Crabbé* turns up as Melot, as does Mack Harrell. In the Ring, and specifically Die Walküre, notice that van Gordon, who also did Venus, and Ortrud, and Brangäne, does Brünnhilde. Minnie Saltzman-Stevens moves from Brünnhilde to Sieglinde, the reverse of the norm for a soprano. Also note that Julia Claussen* sings Brünnhilde and Fricka. (Yes, I double-checked that one!) And not only did the company give Siegfried alone in 1923-24, but it went out on tour. Apparently though, Stock cut about an hour out of the score. Sharlow*, who sang Brünnhilde, was very familiar to Chicago audiences as Micaëla in Carmen. Earlier I called attention to the spirit of the company, and that is perhaps best illustrated in many smaller roles, such as the Valkyries. In the late 1920s, Maria Claessens*, who had sung many roles with the company, including Fricka, was Waltraute. Coe Glade*, who later would be a famous Carmen, Mignon and Adalgisa, sang Rossweisse. And in 1930-31, Jennie Tourel appeared as Siegrune.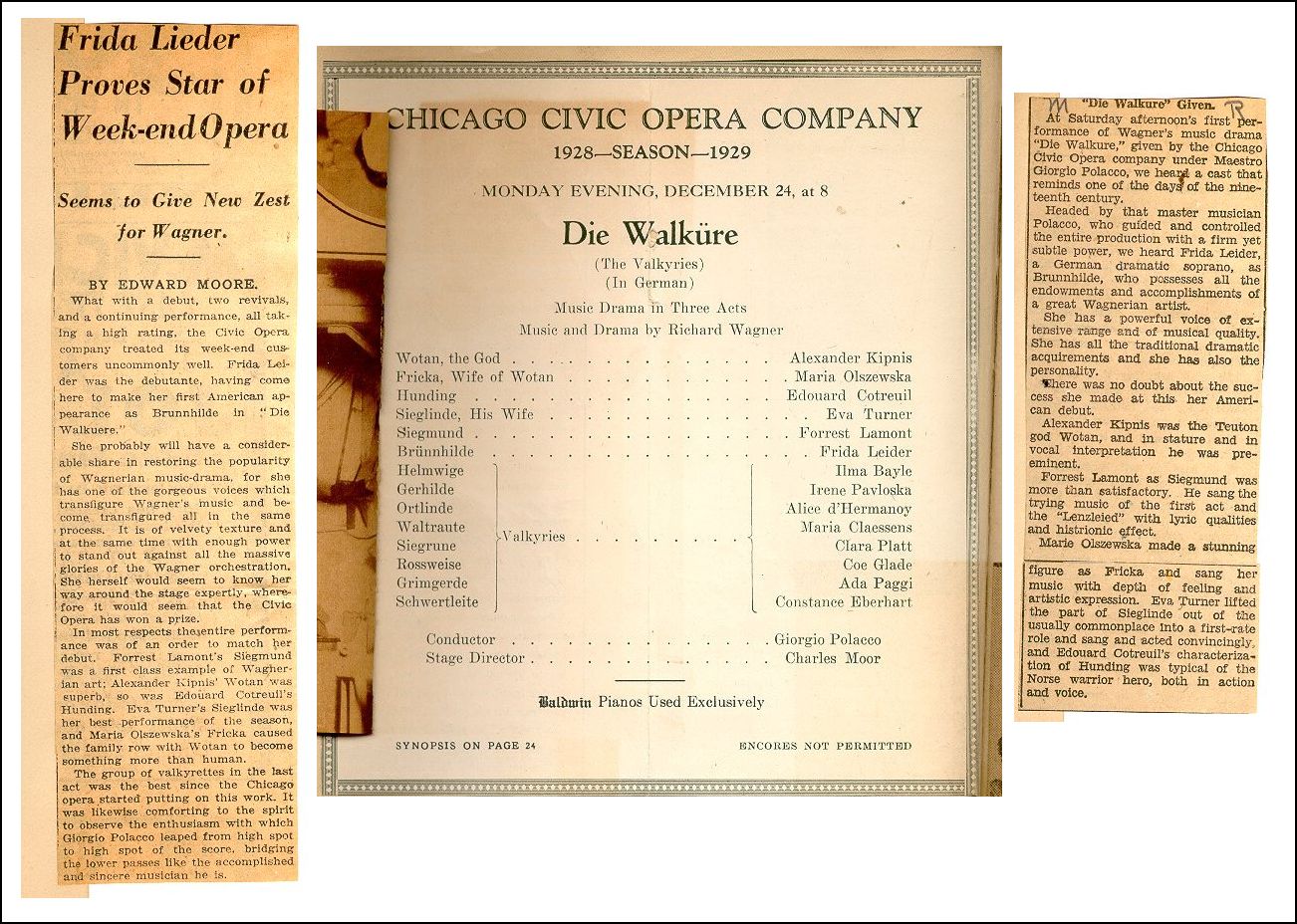 Just for the record, there were a few performances of Wagner operas given by the Chicago Symphony Orchestra. Naturally, Wagner played a huge part in their programs right from the start, but on occasion there were complete operas, and once a single act. To wit, and in order of their presentation, in November of 1935 there were four concert performances of Tristan with Dorothy Manski, Melchoir, Kathryn Meisle, Fred Patton, Baromeo and Preston, conducted by Stock. But the interesting thing was that the series happened Thursday evening, Friday afternoon, Monday evening and Tuesday afternoon. Next, in January of 1946, Désiré Defauw presented a program of Music from the four Ring dramas — orchestral music from Götterdämmerung, Siegfried, and Rheingold (in that order), then, after the intermission the complete first act of Die Walküre with Astrid Varnay, Emery Darcy and James Pease. Then came the Pension Fund Concert of November 16th, 1947 — a complete Tristan performed at the Opera House, with Flagstad, Set Svanholm, Karin Branzell, Herbert Janssen and Pease, conducted by Artur Rodzinski. Musical America said, "It was as though the fabulous days of Chicago's operatic past had returned." Finally, the famous Rafael Kubelik Parsifal in April of 1953. The cast had Svanholm, Margaret Harshaw, Sigurd Björling, Jerome Hines, Andrew Foldi and Frederick Lechner. The chorus, before Margaret Hillis, came from Northwestern University and the Evanston Public Schools. That is all in the era being considered in this survey, namely pre-Lyric. In case you hadn't guessed already, it really boggles the mind — at least my mind.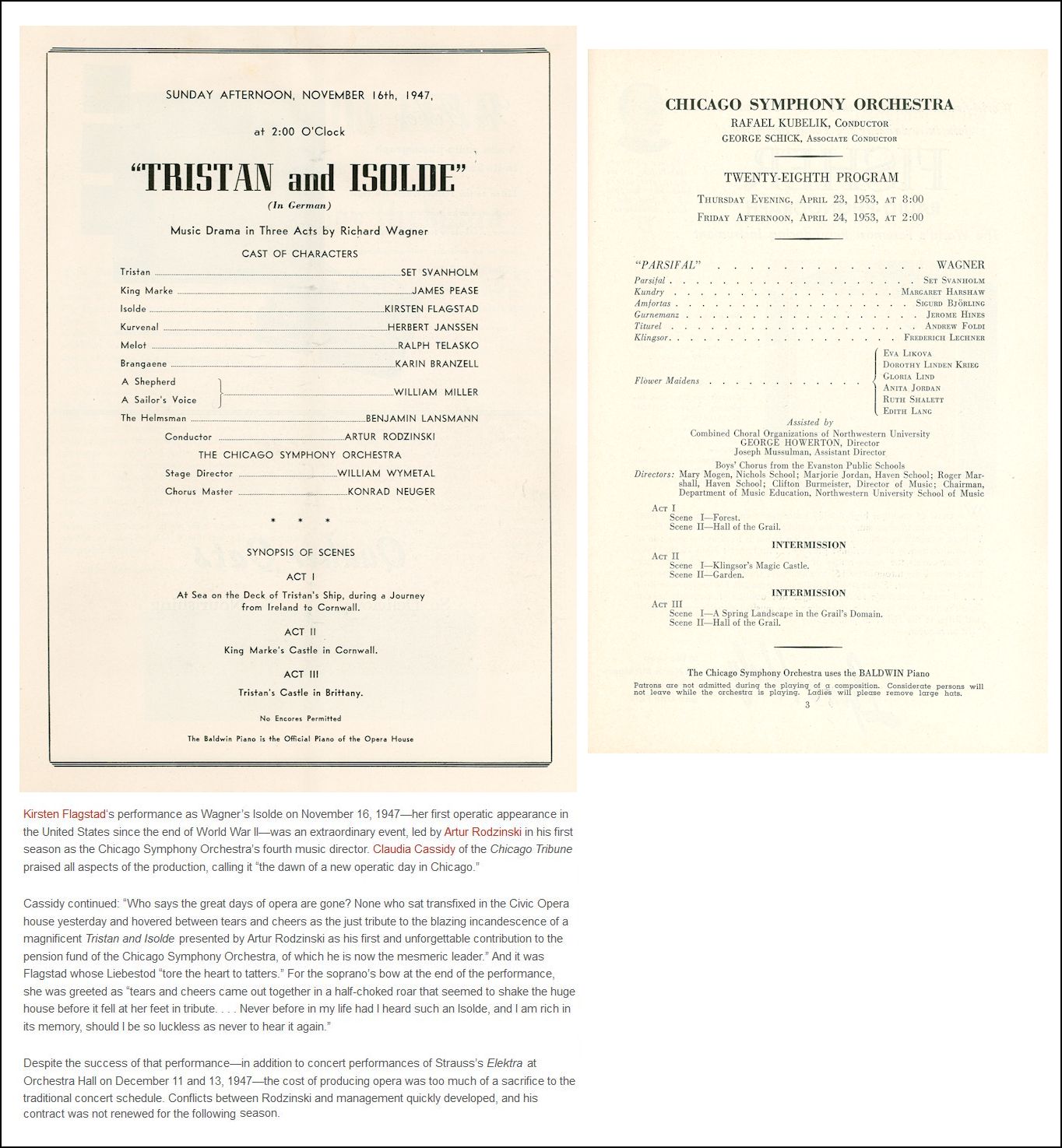 * * * * *



Much of the material in this report, especially the charts, was gathered from two very important books. The first is Opera in Chicago by Ronald L Davis. His volume, like this report, is in two sections. The first is a narrative about the opera in Chicago from the earliest days up through the end of 1965. Then there is a comprehensive listing of every performance by the resident companies from the first season (1910-11) through the fall Lyric season of 1965. The other book is Edward C Moore's work entitled Forty Years of Opera in Chicago. That volume deals with opera in the 'Windy City' up through the move to the new house in 1929. While not giving any but a very few isolated cast lists, there is a full listing at the end telling which opera was given on which date in every village and hamlet that the Chicago opera companies visited.

It was also my very great fortune a few years ago to have the opportunity to purchase a collection of programs from the Chicago opera companies for the years 1922-37. Not only was the collector of this treasure a saver of programs, but with each playbill are pictures and reviews from several of the day's newspapers. This is truly a fascinating look at the opera and its importance as seen and heard through the eyes and ears of those present at the time. I am also grateful to Jerry Zimmerman, the editor of Wagner News, for tracking down those last few pesky facts and isolated names to fill in the remaining gaps in the charts, and for encouraging my progress as this report grew to Wagnerian proportions.



* * * * *



Bruce Duffie is an announcer for radio station WNIB-FM, Classical 97 in Chicago. He has given lectures on opera for Lyric Opera of Chicago, and his interviews with leading operatic artists have appeared on WNIB, in the Journal of the Massenet Society, Opera Scene – of which he was the editor – Nit & Wit Magazine, and in many previous issues of Wagner News.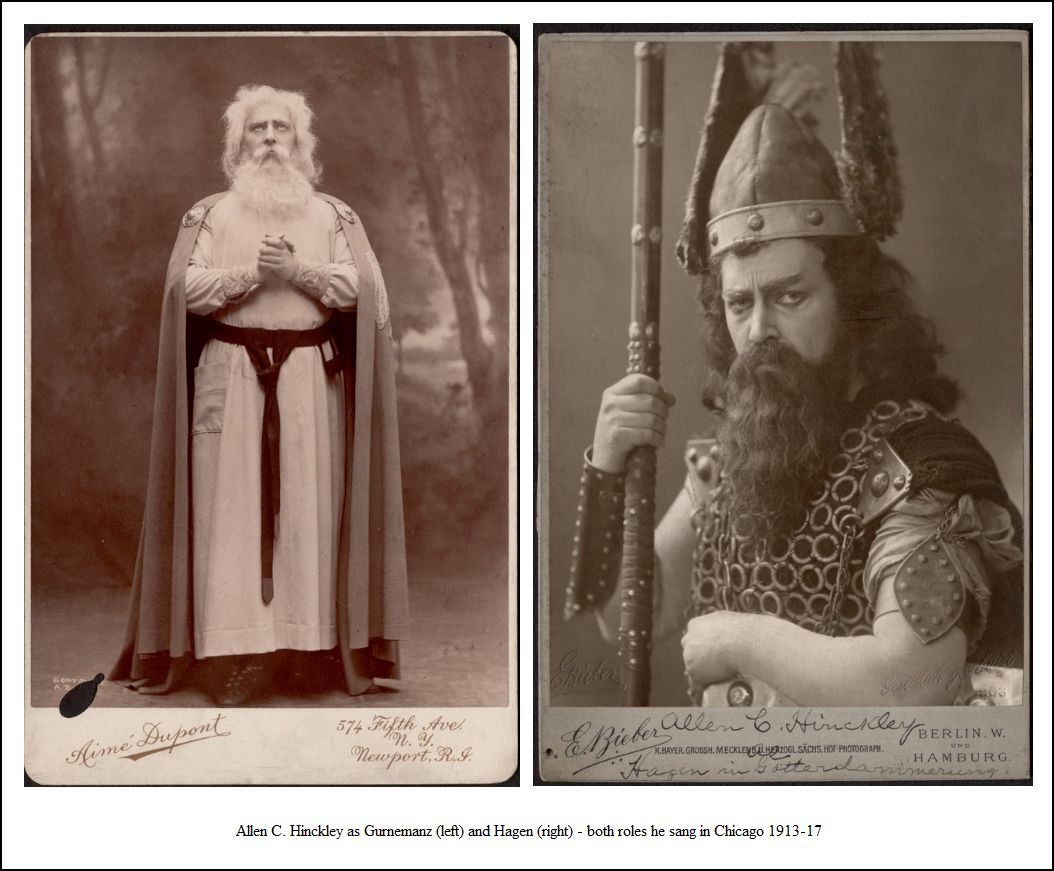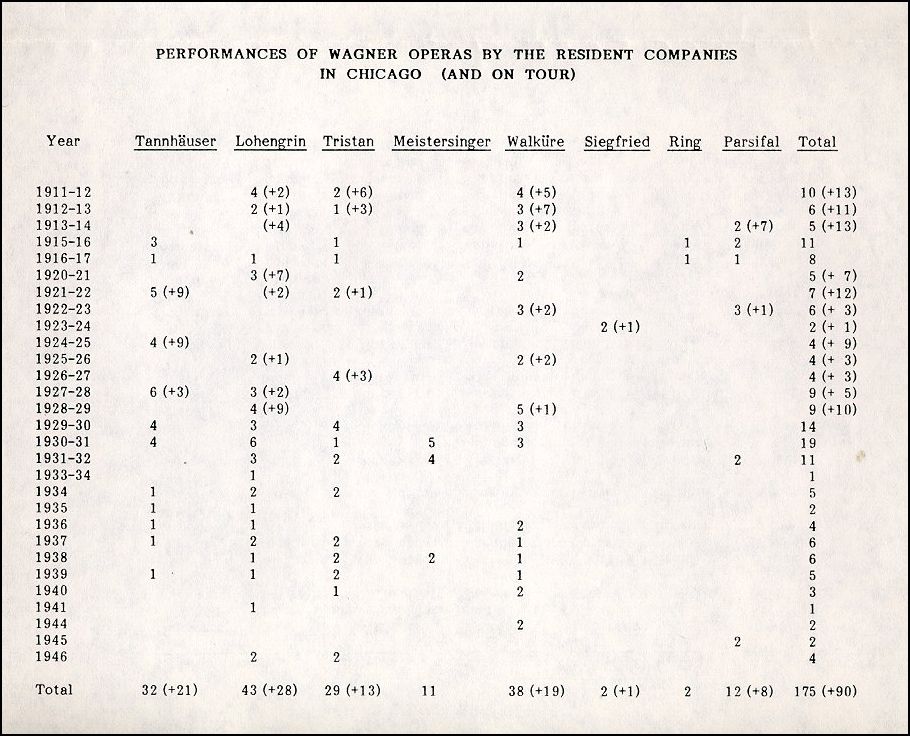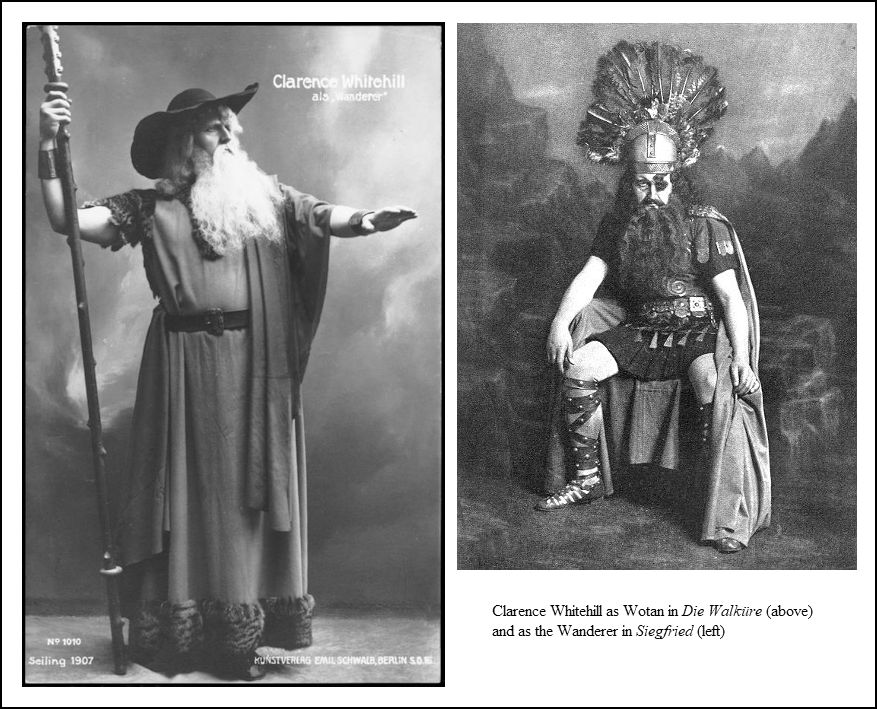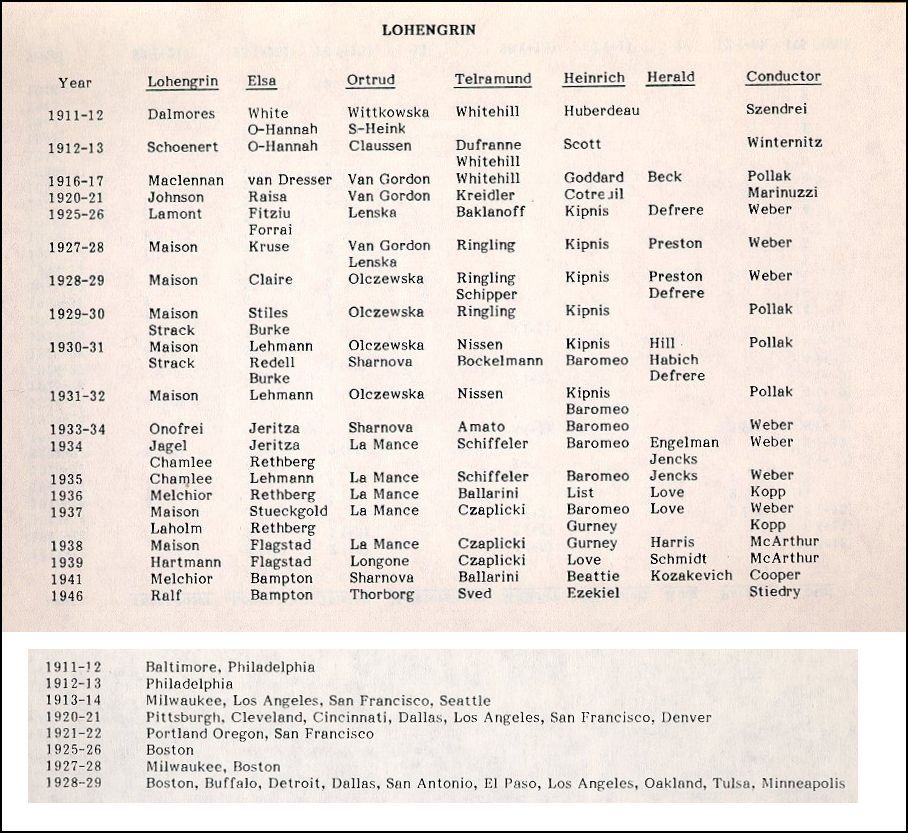 See my interview with
Rose Bampton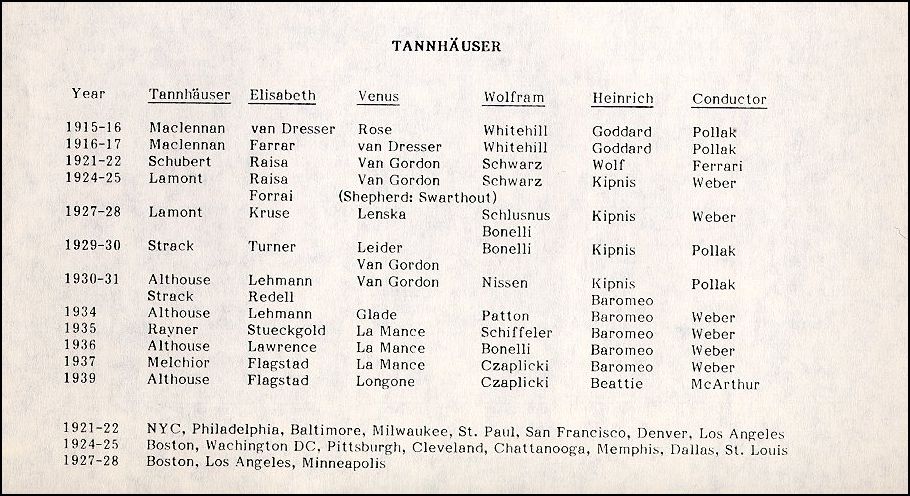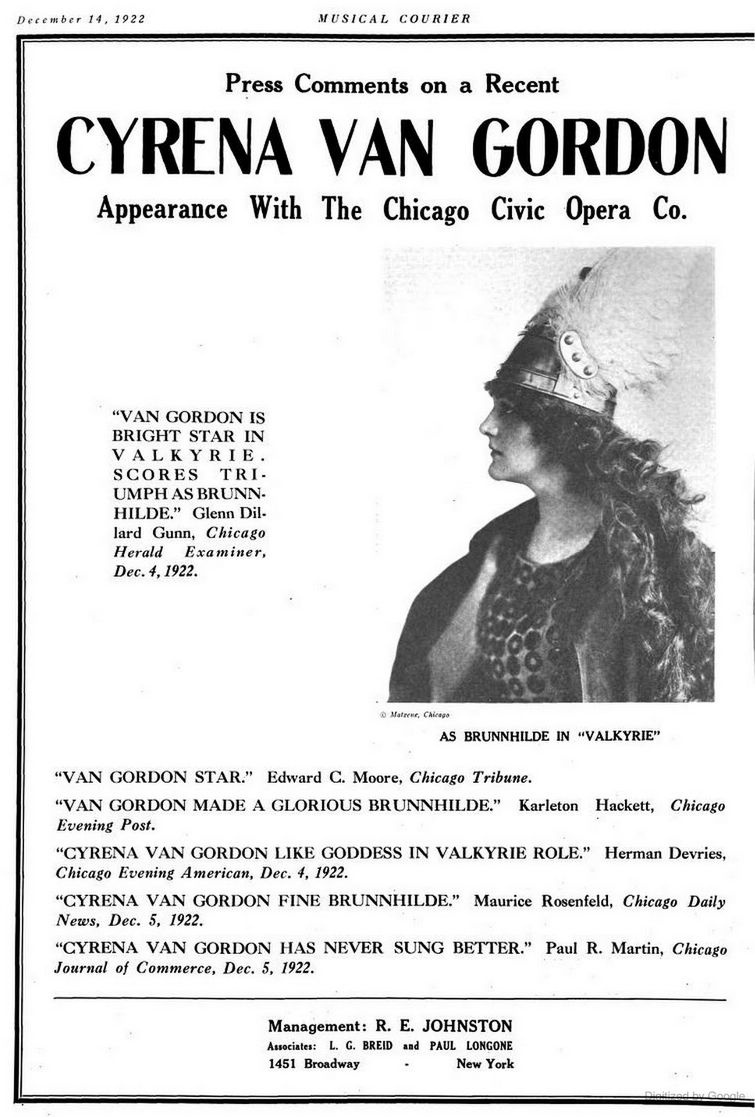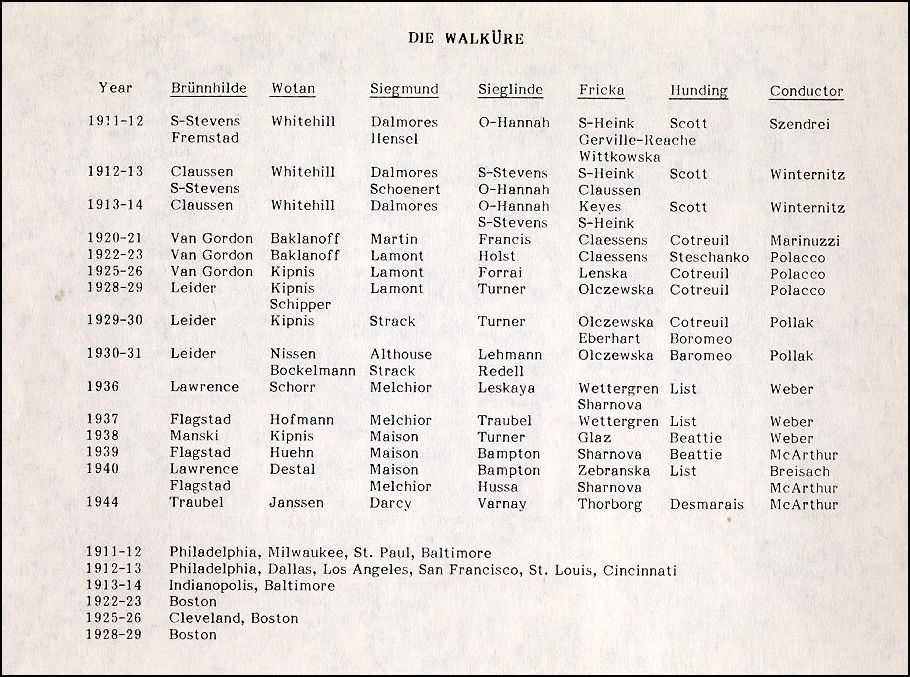 See my intervidew with
Herta Glaz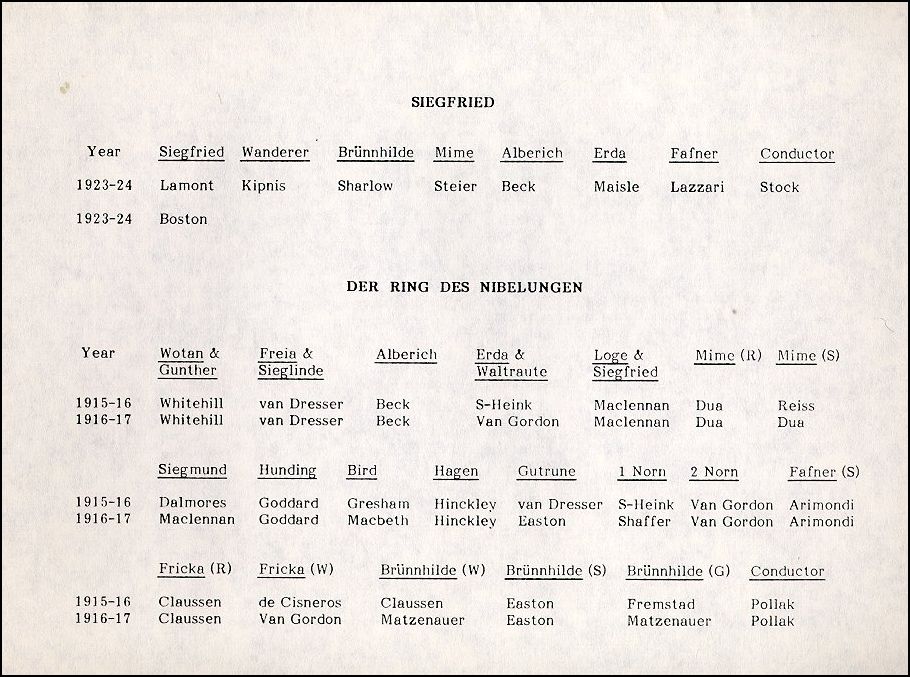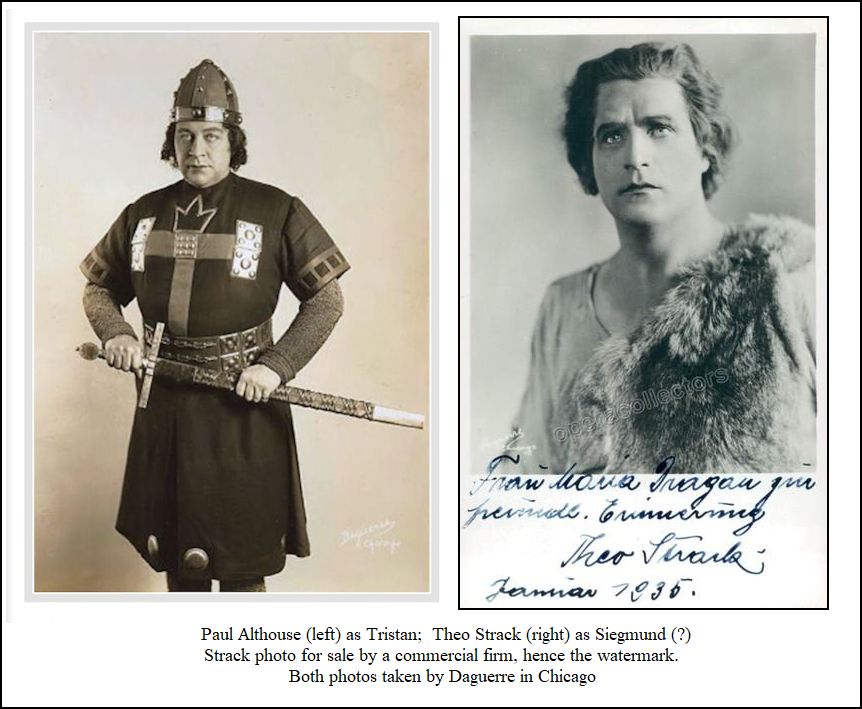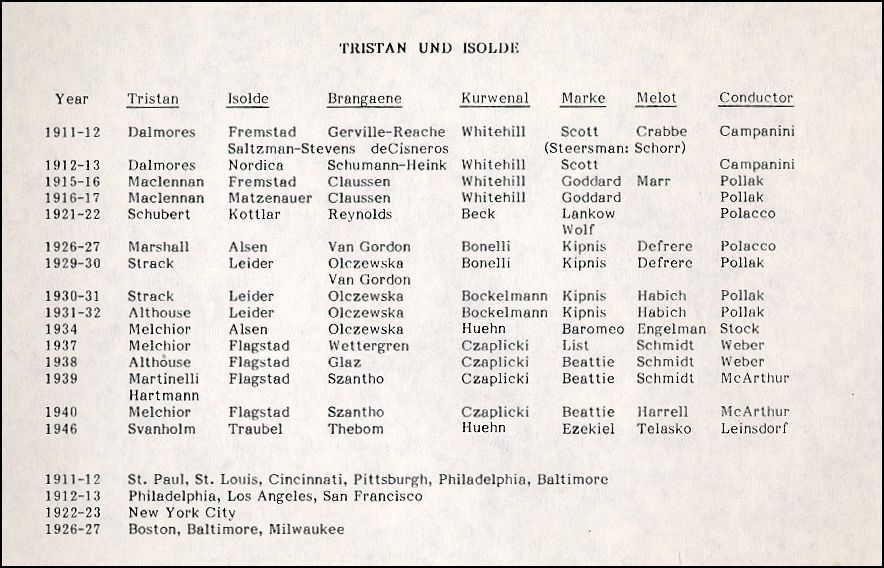 See my interviews with
Blanche Thebom
, and
Erich Leinsdorf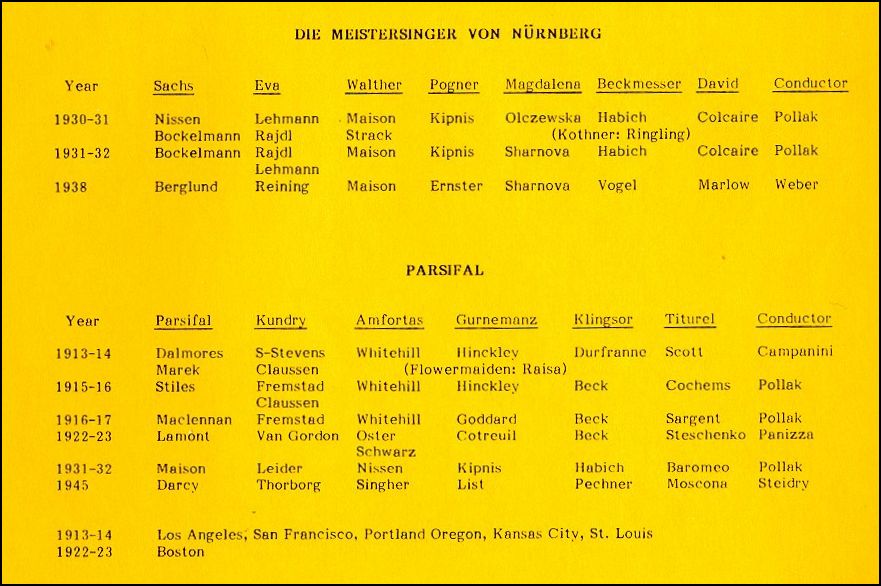 See my interview with
Martial Singher
* * * * *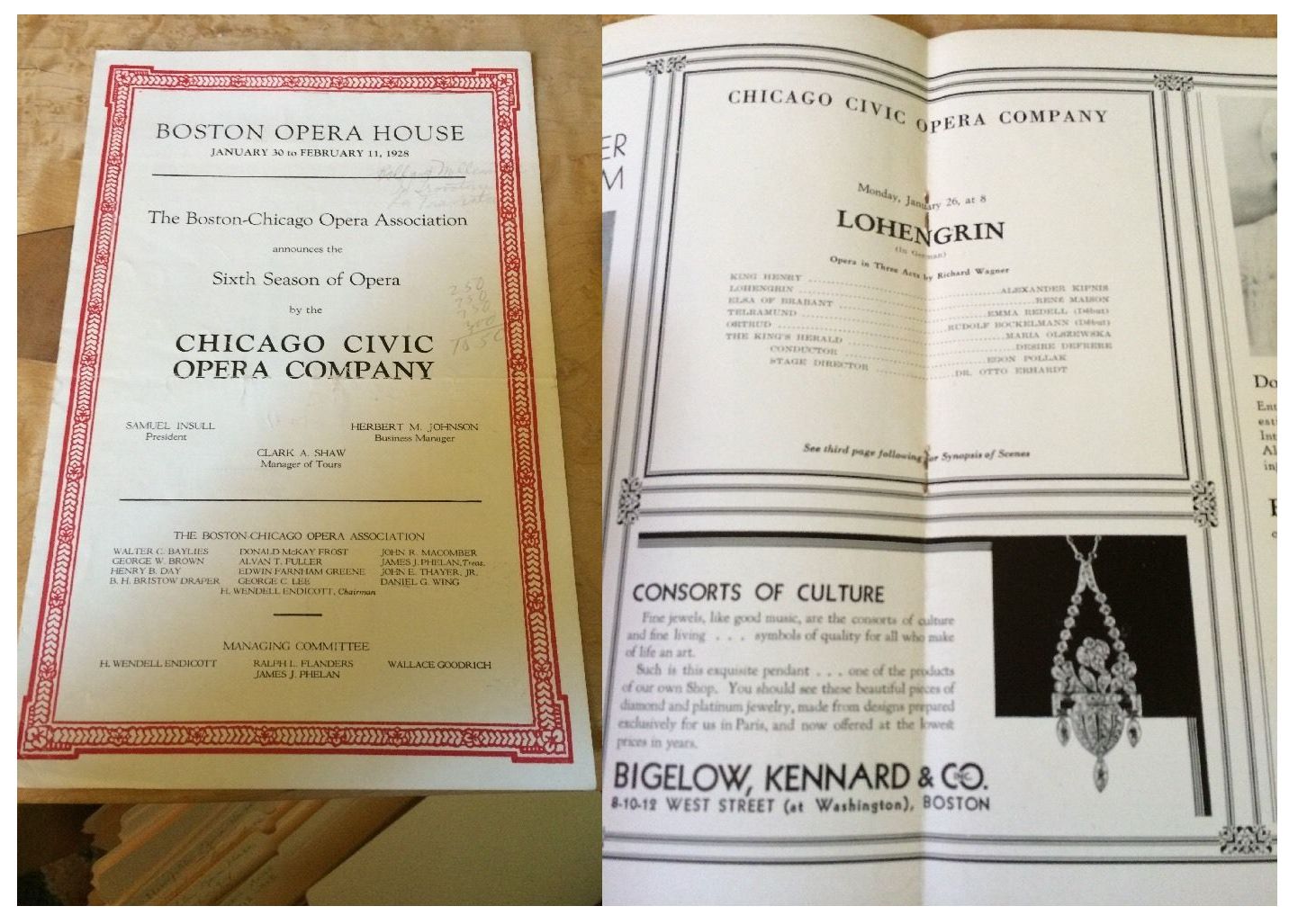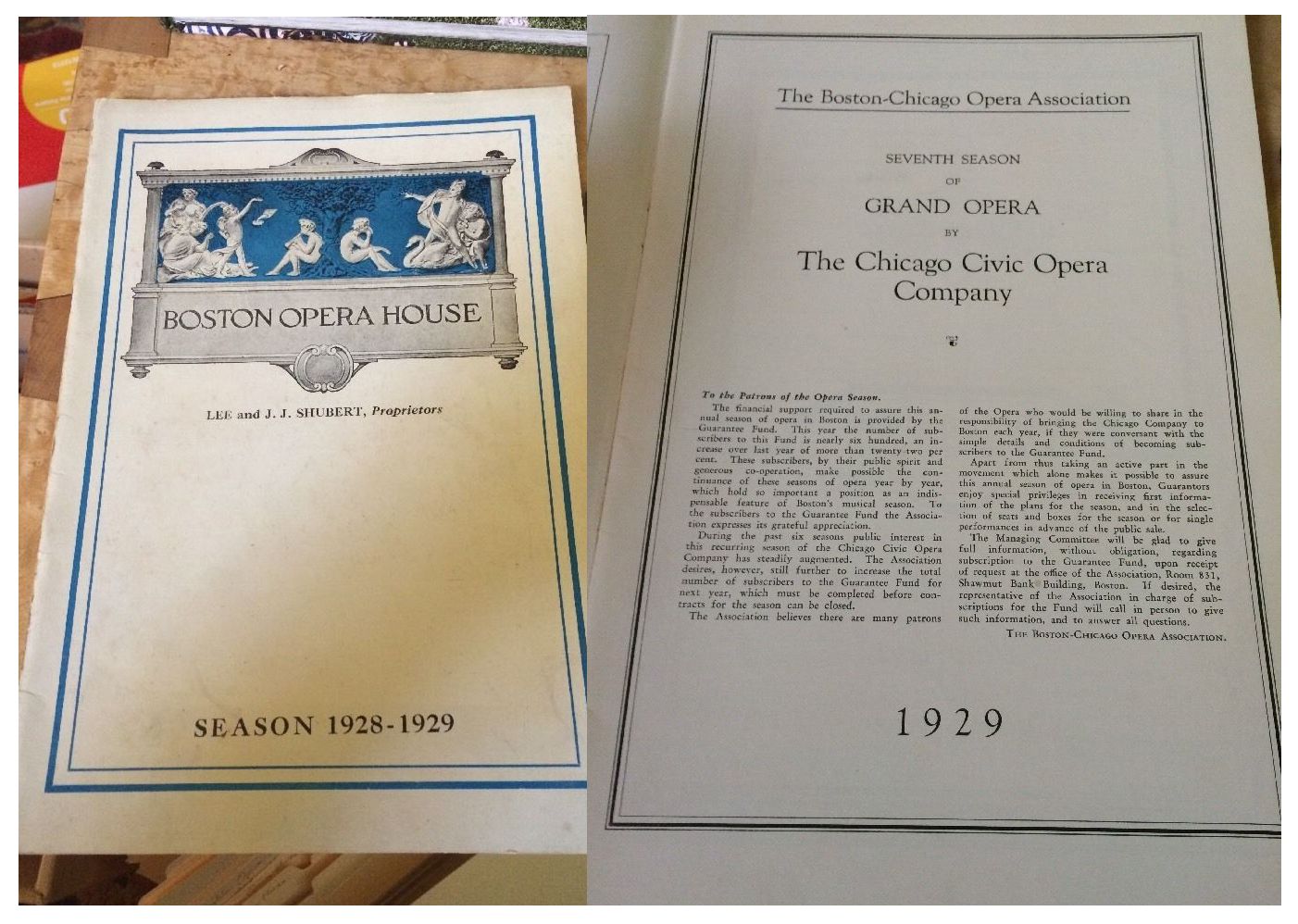 © 1985 Bruce Duffie

This article was published in Wagner News in March, 1985. This edition was made in 2018, and posted on this website at that time. My thanks to British soprano Una Barry for her help in preparing this website presentation.

To see a full list (with links) of interviews which have been transcribed and posted on this website, click here.

Award - winning broadcaster Bruce Duffie was with WNIB, Classical 97 in Chicago from 1975 until its final moment as a classical station in February of 2001. His interviews have also appeared in various magazines and journals since 1980, and he now continues his broadcast series on WNUR-FM, as well as on Contemporary Classical Internet Radio.

You are invited to visit his website for more information about his work, including selected transcripts of other interviews, plus a full list of his guests. He would also like to call your attention to the photos and information about his grandfather, who was a pioneer in the automotive field more than a century ago. You may also send him E-Mail with comments, questions and suggestions.