Mezzo - Soprano Patricia Kern
A Conversation with Bruce Duffie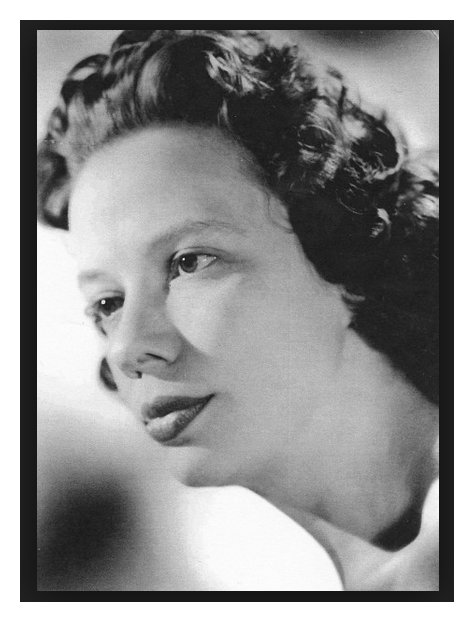 Patricia Kern (born July 14, 1927) is a British mezzo-soprano and voice teacher. She was born in Swansea, Wales.

From 1949 to 1952 she studied with Gwynn Parry Jones at the Guildhall School of Music and Drama, London. She began her career with Opera for All (1952–5). In 1959 she joined Sadler's Wells, making her début in

Rusalka

. For ten seasons she was a member of the company, her most notable achievement being her interpretations of La Cenerentola, Rosina in

The Barber of Seville

, Isolier in

Le comte Ory

and Isabella

in L'italiana in Algeri

. Her other roles included Iolanthe, Hänsel, Cherubino, Pippo in Rossini's

La gazza ladra

, and Josephine in the première of Malcolm Williamson's

The Violins of Saint-Jacques

(1966). She made her Covent Garden début in 1967 as Zerlina. Her American début was at Washington, DC, in 1969 and in 1987 she sang Marcellina in Chicago.

Kern's stage personality was described as engaging and sympathetic. She made several recordings, including

Hansel and Gretel

,

Merrie England

of Edward German, and Monteverdi's

Madrigals

with (among others) Norma Burrowes, Ryland Davies, Stafford Dean, Anne Howells, Robert Lloyd, and Benjamin Luxon, conducted by Raymond Leppard. [Names which are links both in this box and below refer to my interviews elsewhere on this website. BD]

Kern went on to teach Voice at the University of Toronto.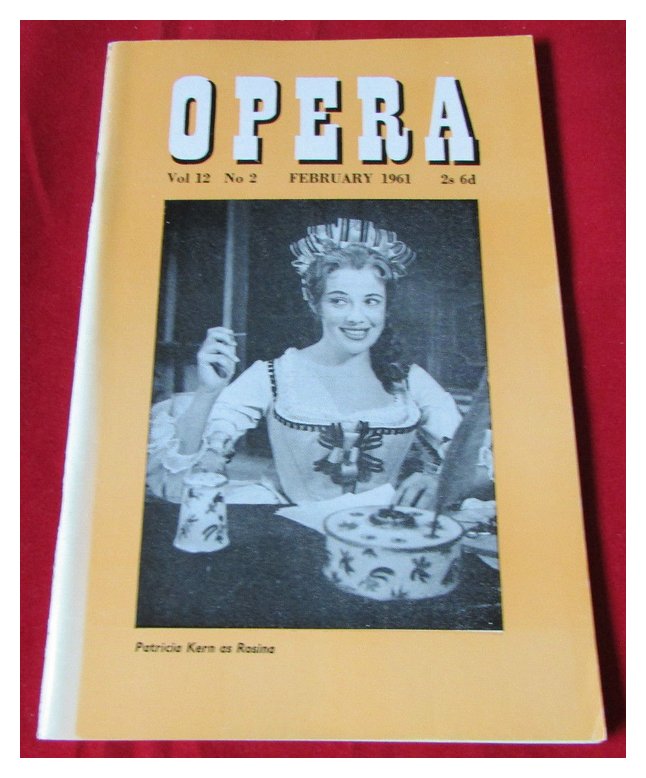 In the fall of 1987, Kern was in Chicago for Marcellina in the new production of

The Marriage of Figaro

, conducted by Sir Andrew Davis and directed by Sir Peter Hall. Also in the cast were Felicity Lott, Maria Ewing, Frederica von Stade, Samuel Ramey, Ruggiero Raimondi, Arthur Korn and Ugo Benelli.

It was a very busy time for her, but she found a few minutes for us to speak in the lobby of her hotel . . . . . . . . .




Bruce Duffie

: You spent a number of years singing Rossini coloratura parts?



Patricia Kern

: That's right.



BD

: Tell me the secret of being a coloratura mezzo.



PK

: Hard work, nothing but hard work. It doesn't come just like that. You have the facility, maybe, but it has never been tried or tested before, so you have to work at it like everything else. Then it seems to become a natural extension.



BD

: Is it fun hard work, or is it just work hard work?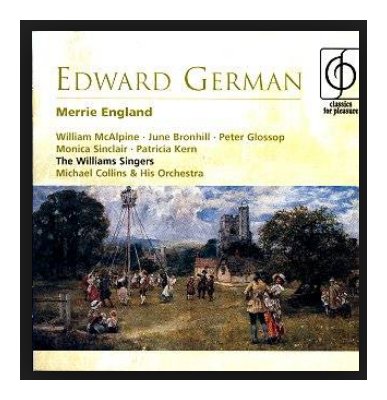 PK: I find anything to do with music eventually is fun hard work. You're leading somewhere that's most enjoyable, to do something that's most enjoyable. I've always loved theater ever since I was tiny. I was on the other side of theater... should we say I used to be in the English Variety, on stage singing and dancing before this other happened. So I wouldn't say it is work hard work, but the outcome is great fun, really.



BD

: What are the basic similarities and differences between, as you say, the 'other side' and this side? [Vis-à-vis the recording shown at right, see my interview with Peter Glossop.]



PK

: They all take a great concentration and devotion, and both are a lot of fun. I love to get fun out of everything, and once that's aside then I can concentrate, but I can still have fun. Both are a lot of hard work. There's no difference. The similarity is there with the hard work, and the communication with your audience, with your colleagues, with everyone. It's just like a general waltz, and although you are one that has it, most people have it, and it's drawing that out and using that.



BD

: Is the balance between the artistic achievement and the entertainment value different from the lighter entertainment, to the Rossini operas, to the heavier drama?



PK

: You have a different audience, so I would say it's similar. You have to work just as hard for one audience as you have to work for another audience. I would say that the balance is fairly equal. I have a teenage daughter, and occasionally she will say to me, "Would you like to come to such-and-such a concert, Mom?" It's a rock concert, naturally, so I go and I am amazed at the effort that goes into putting on these concerts — not only from the people involved, but the people behind the stage that makes it run. It's the same with us. The people behind have as much — if not more — to do as we do in front. We produce it in front, but if it doesn't happen behind, nothing happens. So I would say there's an equal balance there.



BD

: Should we try to attract the same or similar kind of audience from the rock concert to the opera house?



PK

: Very often you do. I'm only one person, but I enjoy rock, and I can appreciate it as much as I can something like Mozart or Charpentier. They work very hard and they seem to live a little harder than we do.



BD

: What do you expect of the audience that comes to the opera on any given night?



PK

: Who knows? It's very difficult. We had one audience on Saturday night and it wasn't terribly responsive until the end. Now,

The Marriage of Figaro

is an opera which practically feeds on what the audience response is. It's nice to be appreciated in between, while still for us we are being truthful up on stage. So you can never tell how an audience is going to react. Some of them concentrate so much that they don't feel that they can disturb anything by laughing or clapping. In some instances, that's not bad. If they're going to get a joke, that's fine. Obviously, there are always traditional jokes in

Figaro

that people tend to laugh at whether they're laughable on stage or not. They remember the situations or what they it should be, so they will laugh, which might give you a false impression of what the audience really thinks. It's really difficult to predict how an audience is going to react. You can't tell; you just have got to work hard. The thing is that when you don't get that warmth coming over the footlights, you tend to work harder, and therefore you maybe overdo something, which will kill it.



BD

: You've done a lot of opera in English.



PK

: Yes.



BD

: Do you feel that the communication is closer when you're speaking in the language of the audience?



PK

: Again, it depends on the audience. Some audiences are much more educated than others. For instance, here in the Lyric, you have the sur-titles which obviously helps the people in the audience a lot.



BD

: Is there a difference between singing in English, or singing in Italian with the sur-titles?



PK

: You mean for the singer?



BD

: Well, first for the singer, and then for the reaction.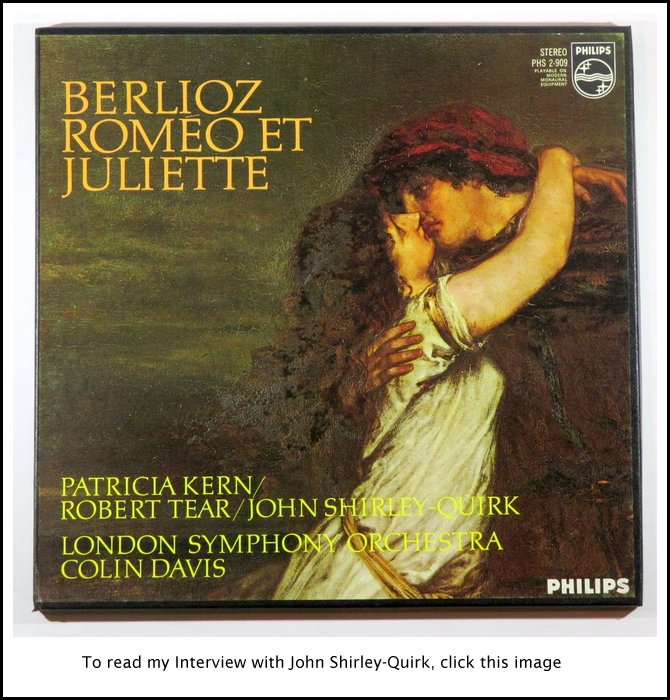 PK: For the singer, we have to understand every word we're talking about. Otherwise the communication goes out of the window. The weight of the important or key word changes from each language. The stress is in a different place. From the audience point of view, they do enjoy watching the sur-titles, unless, of course, they understand exactly what you're talking about. They seem to enjoy seeing the sur-titles up there. It isn't a deterrent. I don't think it's a deterrent at all if the translation is a good one.



BD

: Do you feel that the sur-titles are going to mean the death of opera in English?



PK

: Oh, no. They won't have sur-titles then.



BD

: How should management decide whether to do

The Marriage of Figaro

in English or in Italian with the sur-titles?



PK

: I don't know. That's up to management. I really don't know how they should decide, or what would make them decide. More often than not now,

Figaro

is done in Italian.



BD

: I'm giving you a vote. How would you vote?



PK

: It's very difficult because they both roll off the tongue very easily. I like them in either language. The trouble is to get a good English translation from the Italian, a true English translation. In order to make it more feasible for the audience to understand, very often slang is used, or some strange turn of phrase is used instead of the true translation of what's going on.



BD

: Is the true translation, then, English-English, or American-English?



PK

: Here, it's American-English. It tends to favor, naturally, the American side. If we were to put an English-English phrasing up on there, people would wonder what on earth is that? There would be question marks all over the place. You have to provide your audience with something that they understand if you're going to use sur-titles. Where I live now, in Toronto, the Canadian Opera Company was the first company that started these sur-titles, and even they tend to favor what the audience is going to be able to deal with.



BD

: How is the audience different from Europe, to America, to Canada, if at all?



PK

: That's a hard question. The star system is what you have to look at. I don't honestly believe too much in the star system because we are an ensemble up there, and if you're going to have 'great' stars, then you're going to have a separate entity on stage. You've only got to look at

Figaro

; you've only got to listen to the way we work together. We are a team. We're all 'stars' in our own right, but when we're brought together, we are all one. If one person stuck out as a prima donna, as a 'star', then for a piece like this, which is an ensemble piece, I don't think you'd have that close-knit quality. Obviously, there are stars. People make them so, and with certain people that ego tends to build, and then goes slightly overboard. It's a dangerous thing.



BD

: Has your view on this been colored at all by the fact that you sing a lot of ensemble operas, rather than star-type operas?



PK

: I have sung a lot of star-type operas. I've done the title roles in a lot of pieces.



BD

: But most seem to be the Rossini comedies with more ensembles.



PK

: They are, yes.

La Cenerentola

and even

The Barber

are big ensemble operas, but nevertheless one could come out as a star because you are capable of doing that very, very difficult music. You're singing four notes to most people's one! [Both laugh] So there's that difficulty with it. I don't think of the star system when I perform, or when I'm with my colleagues. I don't think of it in that way. Whatever opera you do, you're still part of an ensemble, from the smallest part up. Operas should be cast from the bottom up. You have strength at the bottom, therefore, the top has to be good because we're all there to make a point, to help to make a statement.



BD

: What is the statement of opera?



PK

: To tell a true story, if we can.



* * * * *





BD

: How did you go about selecting which roles you would sing and which roles you would pass by?



PK

: Trial and error. My voice is not a Wagnerian one. There are certain things I could do on a smaller scale, but I'm a high, light-ish mezzo. My voice is very light, but it's on that plane. Therefore, to begin with my main singing was done in oratorio and concert work, which I've done a great, great deal of. I really was a contralto, but I found that when you're an alto you're stuck with certain things. You're also type cast, and I didn't like that. I thought maybe I'm being lazy, so I started to exercise the voice a little more floridly, and the voice really started to travel up very easily. As a result, most of my time was spent in the higher, lighter mezzo range.



BD

: Did you enjoy those parts?



PK

: Oh yes, very much. I have enjoyed everything, and I'm enjoying everything, really, that I do. I love the theater; I love the stage. It's what I've known since I was five, so it's in the blood. As I say, I sang and danced from the age of five until about fourteen, and then I started to change over onto the other side.



BD

: You keep coming back to this idea of one side or the other side. Is there a big gulf in between, or is it really just a gradual change?



PK

: There is, obviously, a gulf. [Ponders a moment] Oh, I mustn't say that because a lot of opera singers are actually recording lighter stuff at the moment, but not vice versa. Not many rock stars are into the other side. I don't think they'd perform the opera stage too much. [Both laugh]



BD

: Let's talk about some of the roles you've sung. What recordings have you made?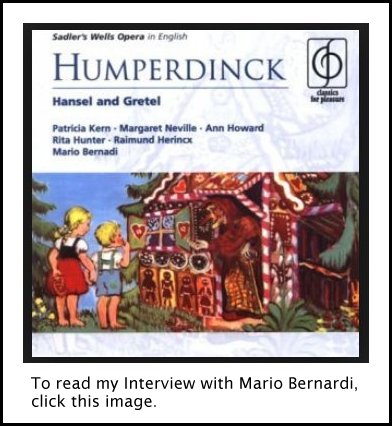 PK: I've done

Hansel and Gretel

,

Romeo and Juliet

, and I've done a lot of recordings with Sills. [The Sills sets include

Maria Stuarda

,

Anna Bolena

,

Manon

,

Thaïs

, and

Lucia

.] I loved, and still do love, the

Hansel and Gretel

recording because it sounds quite theatrical at times, and to get that on a recording is special. It was good.



BD

: That was with the Sadler's Wells Company?



PK

: Yes, that's right. I enjoyed doing that very, very much, indeed. The Berlioz is quite a different cup of tea because it is so symphonic.



BD

: Let's talk a little bit about Hansel, then. Do you like playing a boy?



PK

: I seem to have done nothing but!



BD

: [Laughs] Oh, Cenerentola and Rosina are women.



PK

: Yes, yes, but those are only two, don't forget. But I think I've done most of the major boys' roles that have been written — like Smeton, Siebel, Cherubino. I spent years in trousers or britches to begin with because I'm small. I'm small and quite nimble, and that has a lot to say for it. But also, a lot of the male roles are written for mezzo soprano.



BD

: Is there a difference between playing a young boy and a teen-ager?



PK

: By young boy, what do you mean?



BD

: Isn't Hansel considerably younger than Cherubino?



PK

: Sure, and a little more clumsy. Cherubino is not clumsy. The ardor and the emotions are quite different at those two ages — in a boy of eleven and a boy of, say, sixteen who is already into puberty and is feeling different things toward women. When you're eleven, it's a pain, really, to have sisters telling you to do, or the mum telling you to do this or that, or all the elderly ladies telling you to do this or that. There's a difference in their understanding and there's a difference in the body. There's a difference in the stance. It's very interesting to play these characters, these young boys and young men and how the emotions develop. You need to remember what you mustn't do when you're eleven, because young kids that age don't use their hands the same way and they don't stand the same way.



BD

: So, you have to lose all of your experience?



PK

: That's right. Absolutely. Watching youngsters is just wonderful. I just watch them and see how they react to certain things and what they do when they just stand. It's very, very interesting.



BD

: Did you gain any insight in watching your own daughter grow up, or is the gulf between the boy and the girl so completely different?



PK

: With this one it is different because she was never gangly, funnily enough. Boys tend to be a bit gangly. I watched my own brother and his friends to see how they reacted and how they behaved in certain company, and to see what they did with their hands and their feet.



BD

: Or what they didn't do!



PK

: Or what they didn't do, that's right. It's really very interesting. I have a boyish streak in me, anyway. I am a bit of a tomboy... maybe not quite as much now!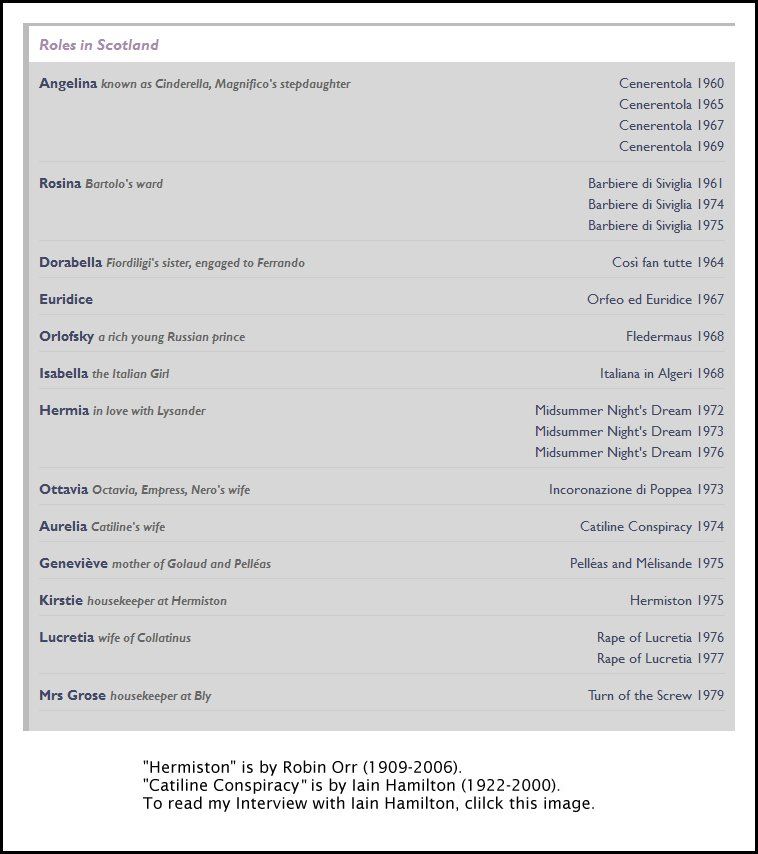 BD

: Tell me a bit about Hansel himself. Does he mature over the opera? Does he gain a lot of insight or is he basically the same before and after?



PK

: No, I think there's just a situation that happens. He might have learned not to be quite as adventurous, or maybe not quite as naughty, but I'm sure if it were a real story, in a few weeks he'd go back to doing the same thing again. It's like every child. You have to treat it very really.



BD

: So it's just a temporal change then?



PK

: Yes, absolutely, but exciting and interesting to work at.



BD

: In any of these operas, did you go from singing to speaking?



PK

: Yes,

Die Fledermaus

.



BD

: What are the special problems of going from singing an aria to then speaking dialogue?



PK

: To try to be a speaker. Generally singers make the transition more difficult than it is. You try to emulate what you do when you sing, whereas if the singing voice is free, why should it be any different when you speak? There should be no great difference, or driving sound from the throat, or anything like that in order to be heard. [Demonstrates a driving sound] We hear that very often and now it always gives me a throat ache when I listen to it. But generally most singers learn how to do it.



BD

: Do you sing differently on microphone than you do in the house?



PK

: You mean, if I were doing a broadcast?



BD

: No, for a recording.



PK

: For a recording? No. Not at all. Maybe a few less popping of Ps, and a few less crossing of Ts because they're apt to burst and catch into the microphone. But otherwise, how can we perform? On recording it has to be a performance, as if you were singing truthfully in a hall.



BD

: Do you change your technique at all from a small hall to a large hall?



PK

: No.



BD

: Not a bit?



PK

: Not really, no. You judge your distance. You can judge a distance depending on the acoustics of the hall, too, but it's almost impossible to withhold emotion — which is what you are expressing all the time, because the spoken word comes first. That came before the music, so whatever you have on your face or in your heart comes out of your mouth. It's very difficult to put a lid on that and make it smaller if the emotion is big. This doesn't mean to say that I have to sing loudly every time I want to make a big point. Very often you can make a big point by singing

pianissimo

. You can, and then people hone in and think, "By golly!" That even has more effect sometimes.



* * * * *





BD

: Do you sing much contemporary opera?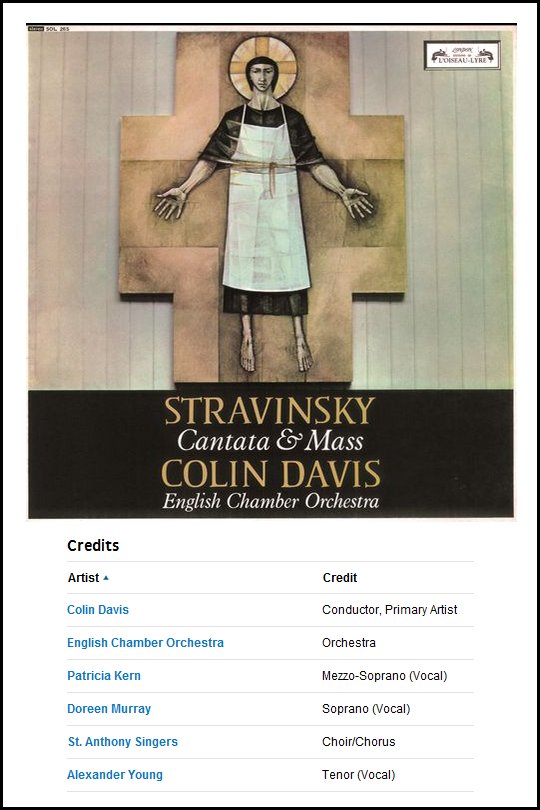 PK: No. No.



BD

: By choice?



PK

: Possibly so. I don't think I would be able to handle it from a harmonics point of view very well. I don't sing much modern opera. Stravinsky is about as far as I go.



BD

: Did you not sing some Malcolm Williamson?



PK

: Yes, but I wouldn't call that modern because his opera is very tuneful. It has a lot of tunes that one can pick up.



BD

: Would you encourage new composers, then, to write tuneful operas?



PK

: Let's face it, whoever the singer is loves to sing a line of tune. We love to. There are some of the younger people coming up who really love to sing the avant-garde stuff, where they write, "Do not sing this in tune." "Sing this out of tune."



BD

: What advice do you have for young singers?



PK

: Now, if you had four days, I would be to discuss it... [Both laugh] This is very difficult because I do a lot of teaching. What advice have I got? Well, they all work hard. Sometimes they overwork. I advise them not to be impatient, which I find most young singers are. They sing, and they want a ready result the next hour, or they want to be doing something the next week. It takes a little longer than that when you're singing.



BD

: [With a sly nudge] Two weeks?



PK

: [Laughs] You have to find the truth within yourself. You wear your heart on your sleeve when you're out there. It's like bleeding, it really is. You show your inner self to your audience through whatever character you are portraying. If you're singing the

Messiah

, it's the same thing.



BD

: You say you do a lot of teaching. Are you pleased with the voices that you hear coming along these days?



PK

: Yes. Yes, the majority, but I can't see enough work for all the voices that are coming up.



BD

: So we have too many budding young careers?



PK

: Right now, yes. The arts are always the last to have money, so something has to stand by the wayside, and that's going to be some of those young singers — unless they have incentive and the wherewithal to keep going. It's a hard line to follow, it really is. I can't call it a rat race, because it's not quite that, but it's almost that, and a lot of it can be heartbreaking. Very often there are more disappointments when you're young than there are successes. So you have to learn how to deal with them, and each person will deal with them quite differently than the next person.



BD

: Are you optimistic about the future of opera?



PK

: I'm always optimistic about opera. Oh, yes. I can't see that ever sort of dying. No. There are too many people, and too many good young people going into it. There isn't enough of it going on all over. There's a lot of it going on and there still isn't enough. I hear you have a very good young people's ensemble attached to the opera company, and they take part in the season as well. [This is the Lyric Opera Center for American Artists, now called the Ryan Center.] It would be good if more opera companies did that, but not only in bigger houses like this, in the small houses. They could have, say, two ensembles, but then you're into money. If you have two ensembles, you could use one to train singers for smaller theaters. Not everybody has a big voice to fill a big theater, but it's a very interesting idea.



BD

: I'm glad that you're singing Marcellina for us here. Do you enjoy that kind of role?



PK

: Oh, yes! She's a wonderful lady, a wonderful character, especially in this production. She really is. I just love theater, and you have to treat it as such. The spoken word, all that came before, so you think of a lot of it as a play, which this was, of course.



BD

: Then let me ask the 'Capriccio' question. Where is the balance between the music and the drama in opera?



PK

: They are knit because the composer works with the script, with the libretto, and makes a drama out of that through his music. So they are well married, in fact. There should be no separation. That's me talking. Lots of other people might have different ideas.



BD

: [Reassuringly] What I'm looking for is your opinion.



PK

: Yes. That's how I've always performed, and it's stood me in good stead. It's interesting to find out what other people's opinions about that are, but I think that the drama and music are knit. Everything is written to be together.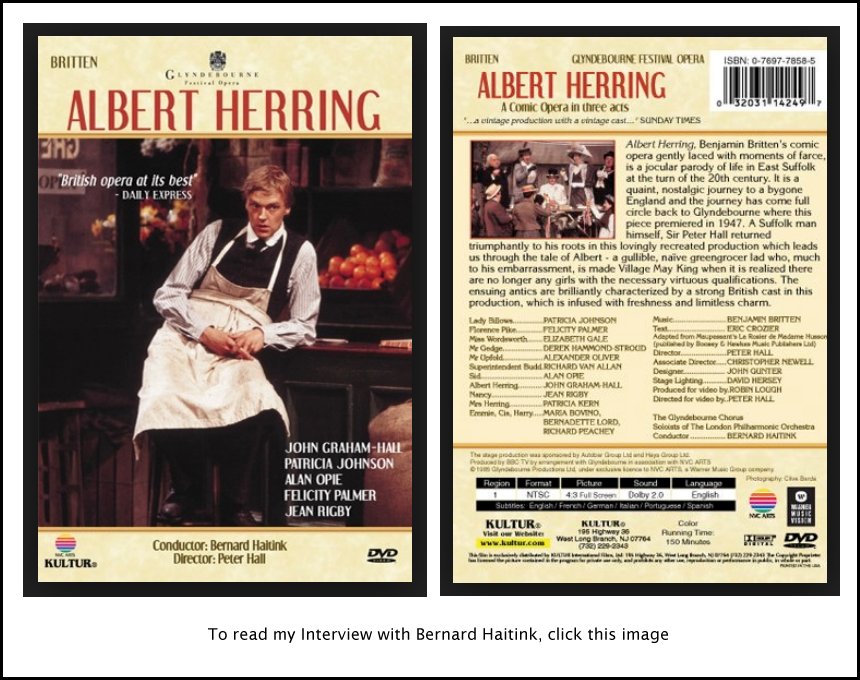 Also, see my interviews with

Felicity Palmer

, and

Richard Van Allan





BD

: Are you coming back to Chicago?



PK

: I have no idea. I hope so. It's a lovely city. It really is a lovely city; structurally and physically it's a beautiful city. I love the buildings. The architecture is very interesting and the people are very nice. It's an exciting city.



BD

: Thank you for spending a little time with me this afternoon.



PK

: Oh, it's been my pleasure.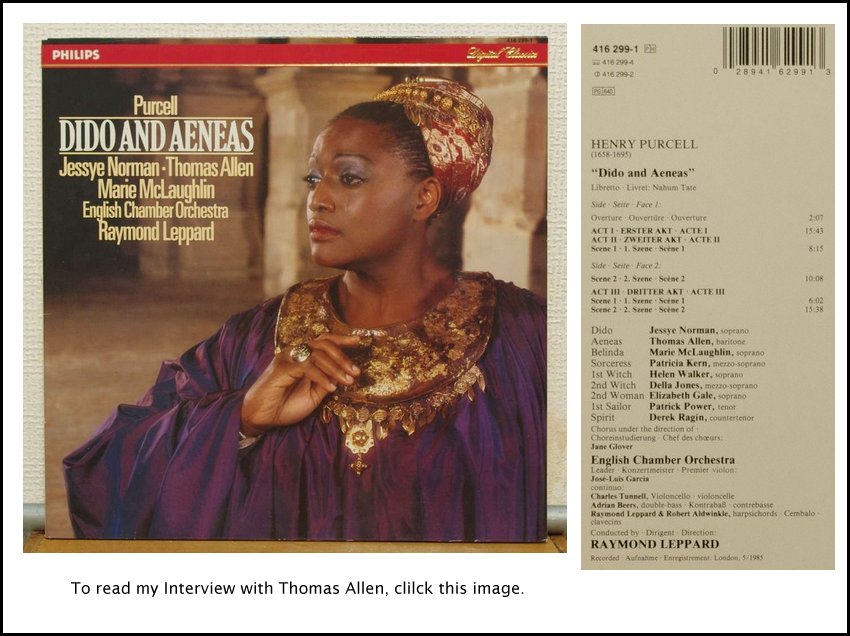 Also, see my interview with

Marie McLaughlin






© 1987 Bruce Duffie

This conversation was recorded in her hotel in Chicago on November 5, 1987. Portions were broadcast on WNIB in 1992 and 1997. This transcription was made in 2015, and posted on this website at that time.


To see a full list (with links) of interviews which have been transcribed and posted on this website, click here.

Award - winning broadcaster Bruce Duffie was with WNIB, Classical 97 in Chicago from 1975 until its final moment as a classical station in February of 2001. His interviews have also appeared in various magazines and journals since 1980, and he now continues his broadcast series on WNUR-FM, as well as on Contemporary Classical Internet Radio.

You are invited to visit his website for more information about his work, including selected transcripts of other interviews, plus a full list of his guests. He would also like to call your attention to the photos and information about his grandfather, who was a pioneer in the automotive field more than a century ago. You may also send him E-Mail with comments, questions and suggestions.