John Shirley-Quirk

, who has died at the age of 82, established a niche for himself as the bass-baritone of choice in countless performances, both live and recorded, not least in the English-language repertoire in which he excelled. A close colleague of Benjamin Britten, he sang with the English Opera Group from 1964, creating roles in a number of Britten's dramatic works. His first assignment was the Ferryman in

Curlew River

and he went on to create Ananias in

The Burning Fiery Furnace

(1966), the Father in

The Prodigal Son

(1968), Mr. Coyle in

Owen Wingrave

(BBC TV 1971, Royal Opera 1973) and the multiple baritone roles in

Death in Venice

(1973).

He also gave the premiere at Aldeburgh in 1969, accompanied by Britten, of the newly revised

Tit for Tat

cycle (five settings of Walter de la Mare), and sang in the first performance of

Journey of the Magi

(Aldeburgh, 1971), of which he was a dedicatee. The major choral works of Elgar, Walton [

in photo below

] and Delius, the songs of Vaughan Williams and the oratorios of Handel were particular strengths, but his repertoire also included Bach's

Passion

s, Brahms's

German Requiem

, and German and French song, as well as operas from Mozart to Henze.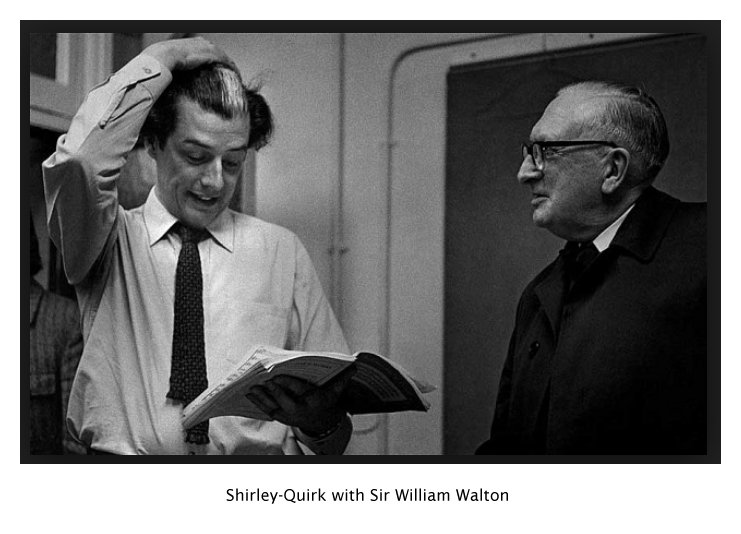 He entered the musical profession comparatively late. Born in Liverpool to Joseph and Amelia, he went to Holt school and gained a chemistry degree at Liverpool University (1952). After national service in the RAF, he taught chemistry at Acton Technical college, west London, and studied singing, first with Austen Carnegie, later with Roy Henderson. In 1961 he became a vicar choral at St Paul's Cathedral.

The following year he made his operatic debut at Glyndebourne as the Doctor in

Pelléas et Mélisande

. After a performance of Bach's

Christmas Oratorio

in Ipswich in 1963 he was congratulated by a stranger who had particularly admired his singing of "the D major aria". Unknown to him, Britten had been invited to hear him and this was effectively his audition for joining the English Opera Group, which he did the following year. That successful and creative relationship culminated in Britten's final opera,

Death in Venice

, in which he played The Traveller (who additionally takes the part of six "nemesis" roles: Elderly Fop, Old Gondolier, Hotel Manager, Hotel Barber, Leader of the Players and Voice of Dionysus).

Fashioning the latter roles – all harbingers of death – for Shirley-Quirk, Britten created a series of deft cameos with which the singer was eloquently to engage. Shortly after the composer's death he wrote affectionately of his time with Britten and his colleagues at Aldeburgh, remembering "vicious games of croquet, played to Red House rules, whirlwind table tennis which I was not quite quick enough to watch, Indian or China tea to choose from, and rich cakes for young and non-slimmers alike". The recording he took part in of Schumann's

Scenes from Faust

(1972) was the last made under Britten's baton. In 1975 Shirley-Quirk was able to offer the physically ailing composer a short holiday along the canals of Oxfordshire on his narrowboat.

His extensive discography also included many of the staples of the English repertoire: Purcell's

Dido and Aeneas

, Handel's

Messiah

, Tippett's

A Child of Our Time

, Vaughan Williams's

A Pilgrim's Progress

and Delius's

A Village Romeo and Juliet

, as well as many of Britten's works and numerous songs. Elgar too loomed large in his career. In Adrian Boult's classic 1969 recording of

The Kingdom

, he brings to the role of St. Peter an appropriately rock-like authority but blended with humanity and warmth. Elgar's earlier oratorio

The Light of Life

he recorded twice, under Charles Groves and Richard Hickox. In both, his "I am the Light of the World" is a glorious affirmation, confirmed shortly after with a ringing top G where he fearlessly takes the higher option.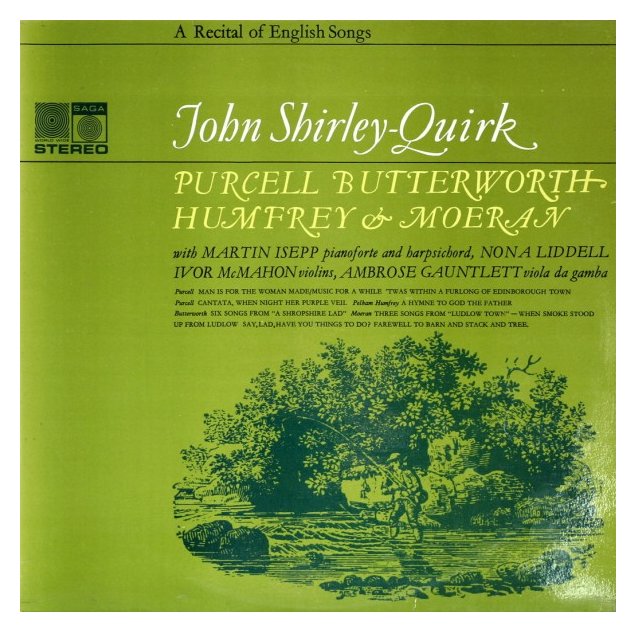 To his operatic incarnations he brought musical and dramatic intelligence. His Golaud in

Pelléas et Mélisande

, for example, explored the warmth of the character as well as his sadistic displays of jealousy. The genius figure of Gregor Mittenhofer in Henze's

Elegy for Young Lovers

he projected not as a "great man" but as an absurd, pretentious "little man". His Count in

Le Nozze di Figaro

(Scottish Opera, 1972) was curiously self-effacing, while in Basil Coleman's production for television (1974) he was less the aristocratic seducer than a thoughtful, frustrated intellectual – a portrayal that won considerable sympathy for the count. In

Fidelio

(Scottish Opera, 1977) his individual interpretation presented the prison governor Don Pizarro as neurotic rather than conventionally villainous.

His Metropolitan Opera debut came in

Death in Venice

in 1974, and three years later he created the role of Lev in Tippett's

The Ice Break

at Covent Garden. To his music-making in all genres he brought elegant phrasing and a superbly schooled tone, combining them to produce a distinctive delivery suffused with humanity. He was appointed CBE in 1975 and made associate artistic director of the Aldeburgh Festival in 1982. He taught at the Peabody Conservatory of Music in Baltimore, Maryland (1991-2012), and then at Bath Spa University.

His first wife, Patricia Hastie, died in 1981 and his second wife, Sara Van Horn Watkins, in 1997. He is survived by his third wife, Teresa May Perez (nee Cardoza), whom he married in 2009, and by two sons and two daughters. Another daughter predeceased him.

• John Stanton Shirley-Quirk, bass-baritone, born 28 August 1931; died 7 April 2014



-- Barry Millington,

The Guardian

[Photos added for this website presentation]