Bass - Baritone Ruggero Raimondi
A Conversation with Bruce Duffie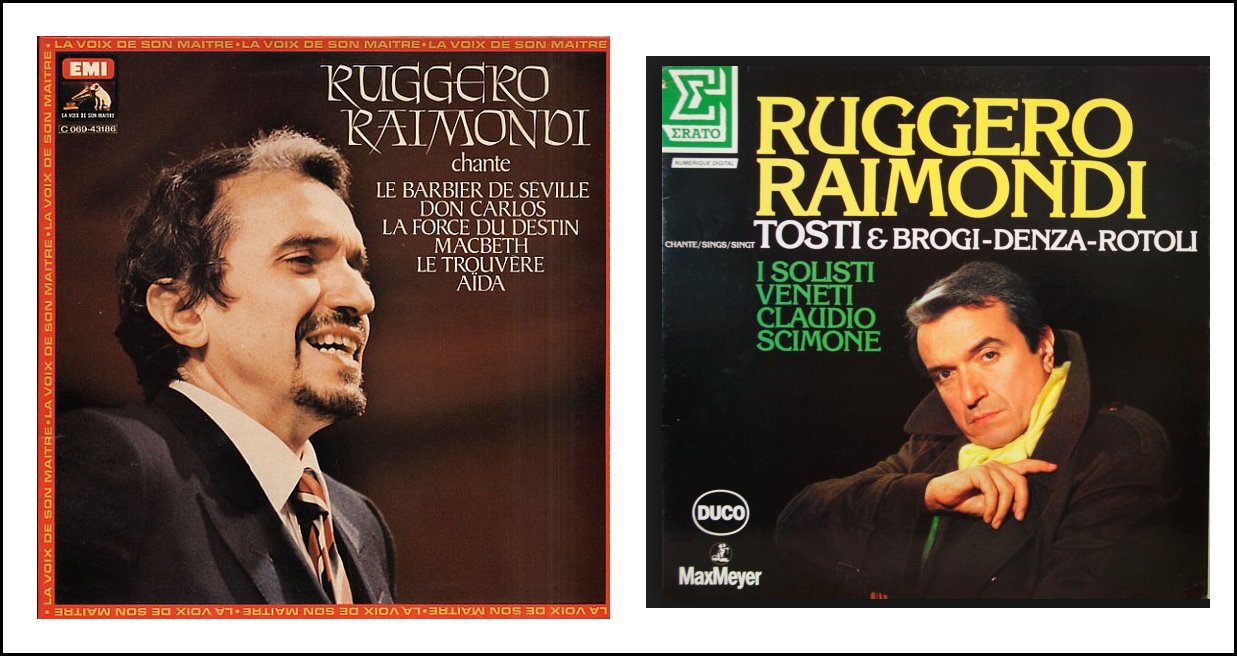 Ruggero Raimondi was born in Bologna, Italy, on October 3, 1941. His voice matured early into its adult timbre, and at the age of 15, he auditioned for conductor Francesco Molinari-Pradelli, who encouraged him to pursue an operatic career. He began vocal studies with Ettore Campogalliani, and was accepted at age 16 as a student at the Giuseppe Verdi Conservatory in Milan. He then continued his studies in Rome, under the guidance of Teresa Pediconi and Armando Piervenanzi.

After having won the National Competition for young opera singers in Spoleto, he made his debut in the same city in the role of Colline in

La Bohème

in the Festival dei Due Mondi. Subsequently an opportunity arose for him at the Teatro dell'Opera in Rome when he was called upon to substitute in the role of Procida in Giuseppe Verdi's

I Vespri Siciliani

, and he received enormous success from the public and the critics. The young singer was very shy and stiff at first, but his early directors helped him, and he was soon an accomplished opera actor.

Raimondi's career soon extended to the major opera houses in Italy, such as La Fenice in Venice, the Teatro Regio in Turin, Teatro Comunale in Florence and abroad, beginning with the Glyndebourne Festival (

Don Giovanni

in 1969). His La Scala debut was as Timur in

Turandot

in 1968, his Metropolitan Opera debut was as Silva in

Ernani

in 1970, and his Covent Garden debut was as Fiesco in

Simon Boccanegra

in 1972. In 1975, he made his Paris Opera debut as Procida, followed by the title role in

Boris Godunov

, and his Salzburg Festival debut in 1980 as the King in

Aida

. In 1986, he first directed a production of

Don Giovanni

, and decided to continue his career as a director as well.

Some of his most important roles have been King Philip in Verdi's

Don Carlos

; Fiesco; the title roles in

Boris Godunov

(including the Andrzej Żuławski film) and

Attila

; Silva; Escamillo in Bizet's

Carmen

(including the Francesco Rosi film, 1984, with Plácido Domingo and Julia Migenes); the title role in

Don Giovanni

(including the Joseph Losey film, 1979); Count Almaviva in

The Marriage of Figaro

; and Don Alfonso in

Così fan tutte

; the title role in

Don Quichotte

by Massenet; and Scarpia in a recording of

Tosca

produced by Ardermann and later filmed live from Rome, with Plácido Domingo and Catherine Malfitano, conducted by Zubin Mehta. He also made the television film

Six Characters in Search of a Singer

. In 2008 he appeared in the Mini-Series

Les Sanglot des Anges

on French TV, in which he played the role of an Italian opera singer. In July 2011 he played the role of Pagano in Verdi's

I Lombardi alla prima crociata

on the rooftop of the Duomo of Milan. The concert was organized to celebrete the 150th Anniversary of the Italian Unity by the Veneranda Fabbrica del Duomo di Milano .



-- Throughout this page, nmes which are links refer to my interviews elsewhere on this website. BD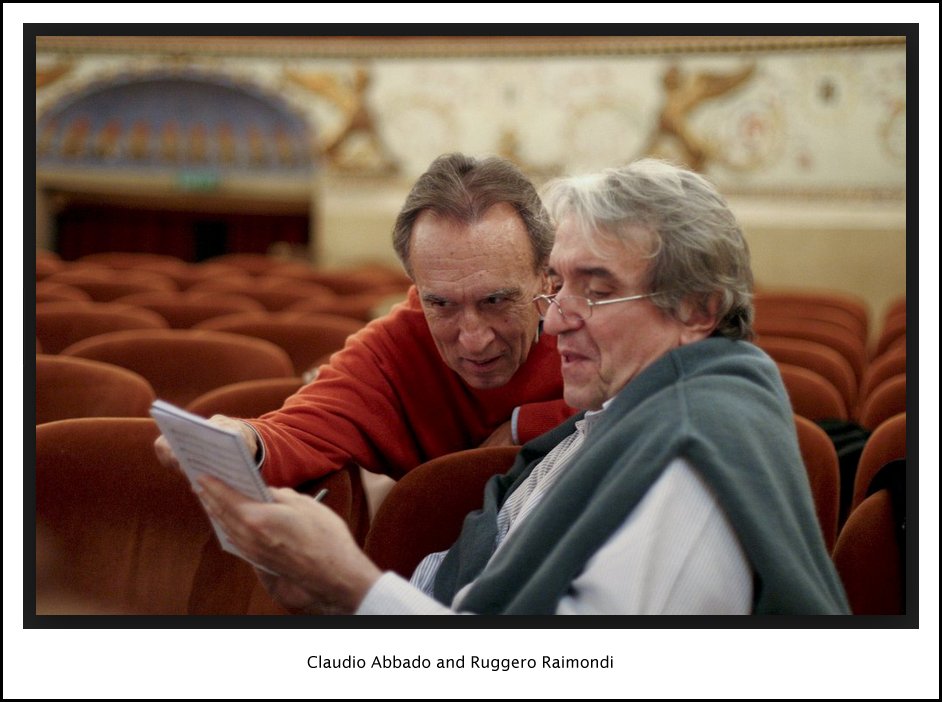 Ruggero Raimondi appeared first in the Windy City with the Chicago Symphony Orchestra in November of 1984, as the title character in a concert version of

Boris Godounov

with Claudio Abbado conducting. Also in the cast were (among others) Samuel Ramey (Pimen), Kaludi Kaludov (Pretender Dmitri), Lucia Valentini-Terrani (Marina), John Shirley-Quirk (Rangoni), Philip Langridge (Shuisky), along with the Chicago Symphony Chorus directed by Margaret Hillis.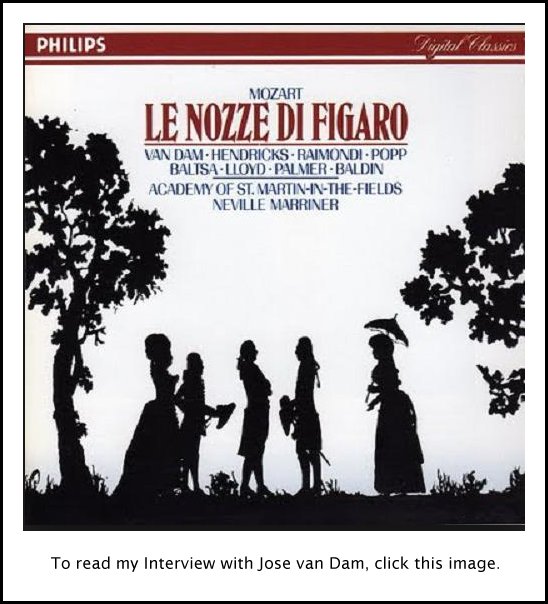 Raimondi then sang with Lyric Opera of Chicago in the 1987-88 season in the sparkling new production of

Marriage of Figaro

along with Felicity Lott (Countess), Samuel Ramey (Figaro), Maria Ewing (Susanna), Frederica von Stade (Cherubino), Arthur Korn (Bartolo) and Ugo Benelli (Basilio). Sir Andrew Davis conducted and Sir Peter Hall directed. Raimondi would only return once more to Lyric for Scarpia in

Tosca

in 2000-01, along with Daniela Dessì (Tosca), Marcello Giordani (Cavaradossi) and David Cangelosi (Spoletta), conducted by Bruno Bartoletti and staged by John Copley.

During the run of

Figaro

, I had the privilege of speaking with Sig. Raimondi. His English was quite good, but he did insist that we have a translator, Marina Vecci of Lyric Opera. She provided and few words and phrases when needed, and though she praised his English, at the end he remarked that English was difficult. In this transcription, I have tidied it up just a bit, but have left several of his quaint phrases and interesting word-adaptions.

Here is what transpired backstage that afternoon . . . . . . . . .




Bruce Duffie

: Tell me the secret of singing Mozart. [Vis-à-vis the recording shown at right, also see my interviews with Robert Lloyd, and Felicity Palmer.]



Ruggero Raimondi

: [Laughs] The secret of singing Mozart? I believe everybody thinks about Mozart like a purist. You have to sing words and notes perfectly well. This is right, but in Mozart you also have to put a lot of feeling, a lot of humanity because he's always writing music with the poetry of the Da Ponte and speaking about human feelings and human frailty. So it is a question to become involved with feeling, purity of notes, and acting.



BD

: Is there ever a case where the drama overrides the music?



RR

: No. There is a balance. I know pretty well the three operas of these two, and the balance is perfectly done. The most important thing is to sing about what Mozart knew perfectly, namely the spirit, the feeling of Italian people, like you see especially in

Così fan Tutte

. He wrote it in Italian because of the meeting with Da Ponte, but he knows perfectly well what he wanted. To sing Mozart is not just a question of music, however, or of purity or technique. It's a question to become very human and show the feeling of such different personalities. In

Figaro

I did the Count, and I did Don Giovanni, and I'm going to do Don Alfonso. All these people are deeply involved in human relations, and what the convention of these pieces are making each of their personalities is very important.



BD

: You are a bass?



RR

: A bass-baritone. That is much better, so I can do some baritone and some bass!



BD

: Then how do you decide which role you will sing?



RR

: It depends quite a lot on if I like the dramatic quality of the role. I try my baritone side first if I can do it. I would like very much to sing Iago, but it's too high for me. I'd very much like to do Simon Boccanegra and I'm still working on it, but I think it is not my kind of

fach

. But the person is fabulous.



BD

: Do the baritones tend to be much more rounded characters than the basses?



RR

: No. There are some roles like Iago and Simon — also like Falstaff, which I do [

shown below, costumed for the third act

] — that are very interesting because dramatically they offer such different portrayals as a person. It's like the Count in

Le Nozze di Figaro

.



BD

: More than Figaro?



RR

: Yes. I've done both, but I do prefer the Count because in the Count I have a lot of different possibilities of showing his feelings inside. It is also better vocally.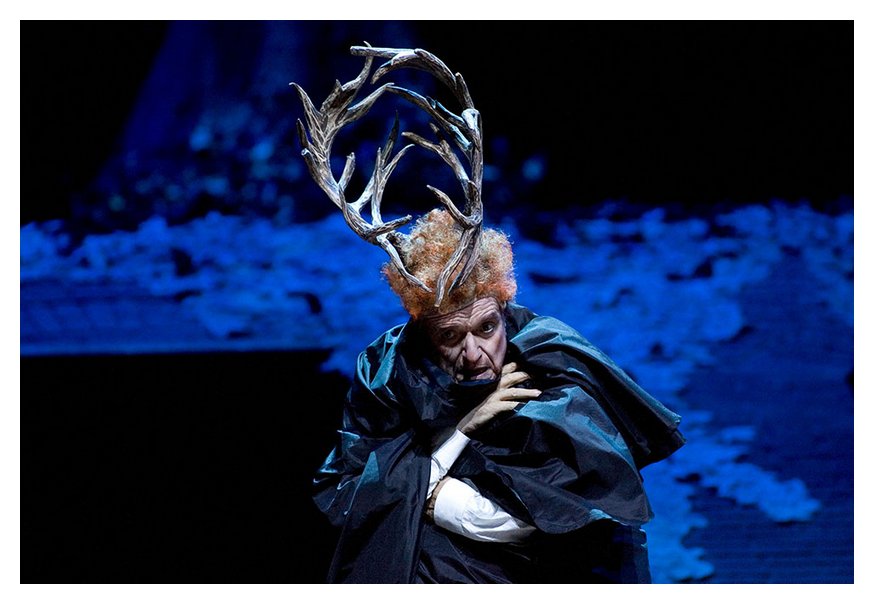 BD

: Is the Count a good man?



RR

: I think he's quite a good man. All the things that are going on around him are these mad days because after the fantastic meeting of Rosina and the Count — Almaviva in

Barbiere di Siviglia

— everything has slowed down. She gets married to him and becomes such a person. Everything is not as exciting as it was to escape Bartolo, and for him to get inside the house to meet this girl. Everything becomes normal.



BD

: He is the lord!



RR

: Yes, he is the lord, so she becomes the Dame. Everything becomes more normal for such a personality like the Count, who always wants to be a person who is going around finding some excitement. His life is too quiet, and so between them contention starts to be the most important feeling.



BD

: Is he bored?



RR

: I think so! [Both laugh] When someone sings

Dove sono i bei momenti

, it means something is lost! Also, I believe the end of the opera with such a beautiful moment as

Tutti contenti

is so false in a way, and yet so true in another way. At the finish, each one is out to hide what truly each person is feeling inside. I believe between the Count and the Countess everything is finished, but they are still the Countess and the Count, and they are still the people who everybody is looking up to. So they have to show to the others that they are still in the first days of marriage.



BD

: It's a facade?



RR

: Yes, it's a facade, but I think in all Italian Mozart operas facade is always the starting of problems... like Donna Anna with Don Giovanni, and the two in

Così fan Tutte

with Don Alfonso.



* * * * *





BD

: Tell me about Don Giovanni. Is he the devil?



RR

: I don't think so! We have to put him in his historical context, when Seville was one of the most rich harbors of Spain. All the West Indians brought all their gold and everything to Siviglia, and when the Bishop was starting to ordain priests from 6 o'clock in the morning to Midnight. So all these kinds of things were making him be a free spirit. The personality was not involved in such kinds of morality, and Don Giovanni is someone who is a law unto himself. He doesn't want to be oppressed by this kind of thinking. Also, because of this freedom of to act, he is someone who is crossing the moral prisons of the others who are out of touch, making him the catalyst of all the problems of the people who are surrounding him. So for this I say Don Giovanni can be 'Don Giovanni' only if he's surrounded by people who believe he's 'Don Giovanni'. [Both laugh]



BD

: So he does believe he is 'Don Giovanni'?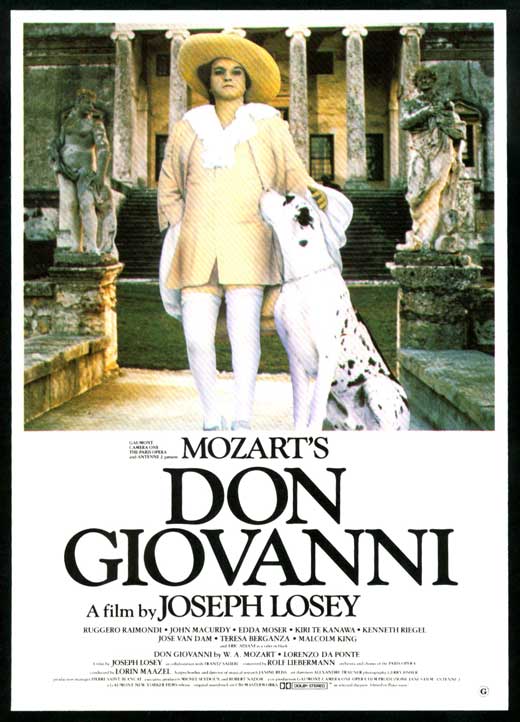 RR: I think he's willing to live the life. He's very polygamous, very different. It depends on the conjecture of the producer, the way the producer wants to make Don Giovanni. He can take us straight away and go up on this, but we can make a Don Giovanni who believes in himself. It is possible to have a Don Giovanni who doesn't believe in himself, or a Don Giovanni who is completely metaphysical, who believes in God but is fighting the thinking of this Don Giovanni. You can do a lot of things to Don Giovanni, but it is more important to put him in the

milieu

where the personality can grow up. Nowadays it would be quite difficult to believe in a 'Don Giovanni' because if you put him in our century, what can he be? We think about him now as the anti-Christ. Today it's possible for him to be a Christian even though his morality is open. You see there are more problems! Or you have to put him inside some psychiatric search. That's where it becomes difficult for him to be intellectual, and I don't think Don Giovanni is intellectual.



BD

: [Trying very hard to come to grips with all of this] Can these characters get over-analyzed?



RR

: Oh, yes. It also depends on the person who is looking at Don Giovanni. I always say that Don Giovanni for me is a kind of a psychoanalysis of the person who is doing the opera. A producer who does such a characterization for this person is already showing a lot of himself inside of this person. Everybody can put inside of this person all the problems that he himself has. Every person needs a big background. It is something you have to do in order to have a lot of things behind you.



BD

: So you do a lot of research?



RR

: Yes.



BD

: Is Giovanni a good character to perform on stage?



RR

: Yes, very much.



BD

: Is this one of the things that makes him a great role, that there are so many facets to him?



RR

: Yes, certainly. The most important is to do a personality who is not always very well described, but is always smooth. If you have 3,000 people in the theater, you will have 200 different possible ways of receiving this person the same night. This is a success.



BD

: Do you feed off the audience when you're performing?



RR

: Yes, a lot. When they follow you, you feel a kind of strength. Much strength comes from the audience to yourself, and it makes you stronger, and gives you the feeling and the will to give it back even stronger.



BD

: Is that different in a small house to a large house?



RR

: Completely different. You can imagine

Le Nozze di Figaro

, for example, doing it in La Fenice di Venezia, where there are no more than 1,200 seats. Here in Chicago there are 3,500. When you have to act and every word depends on a little changing of your eyes, on just a wink. Your eyes can become difficult.



BD

: Does your vocal technique change at all from house to house?



RR

: No. I believe the way you sing in a little house and big house must be the same because it is a question of projection of the voice, and it changes only when the house is not so acoustically well. But I think here in Chicago it's very good.



BD

: Do you also sing the role of Leporello?



RR

: No! It was my idea years ago to do it with Ghiaurov or Milnes but they were always uncertain, and now I've dropped it.



BD

: Do you like singing Don Giovanni?



RR

: Yes, but it was very interesting to change the personality. It has become very difficult to find the right way now. I have stopped singing him because other people were singing Don Giovanni like Raimondi does him! [Laughs] So I've left him behind. I'm going to do it again in Vienna in 1989 with Abbado, but other than there I don't do him anymore.



BD

: Are you pleased with the film? [See my interviews with John Macurdy, Kiri Te Kanawa, Teresa Berganza, and Lorin Maazel. The Musical Assistant and Vocal Coach on this project was Janine Reiss.]



RR

: It was a beautiful idea to put

Don Giovanni

with the classical reminding of Palladio because this music, which can be in a way so mathematical and so full of emotion, was fitting very well with the neo-classicism of Palladio.




Andrea Palladio (30 November 1508 – 19 August 1580) was an Italian architect active in the Republic of Venice. Palladio, influenced by Roman and Greek architecture, primarily by Vitruvius, is widely considered to be the most influential individual in the history of architecture. All of his buildings are located in what was the Venetian Republic, but his teachings, summarized in the architectural treatise,

The Four Books of Architecture

, gained him wide recognition. The city of Vicenza and the Palladian Villas of the Veneto are UNESCO World Heritage Sites.




The production of Joseph Losey was very, very interesting for me. It was the first time that I was doing a movie, and I had the strong feeling with Losey that it was coming out as something that would be a classic.



BD

: Do you feel this is a good representation for people coming to see

Don Giovanni

?



RR

: I think so because now in the theater, to do

Don Giovanni

could be very experimental. It could be very classical, could be baroque, or could be a different way, but in a movie you have to find the right situation. I believe also you have to make the people curious, and the way they did it with all the Palladio villas and the background of Venice was very interesting. It was interesting to see that after seeing the movie, a lot of that audience became opera fans. But this way to do a movie is not for the people who go to the opera regularly for excitement, because every night you go to the opera you think it will be okay, but things can change very fast with cold air and other things. Part of the audience is there just for the excitement because they don't know how it will go, and this makes a very interesting for them. The opera film is done for the people who have never been to the theater, or for these people who go to the theater who have a wide open mind, and to bring new people to the opera. I don't think a film is for the audience who only listen to records. These for me are the worst because records are the most false way to bring opera in the opera house. For example, here, with this

Le Nozze di Figaro

, why don't they do a record? They make eight performances, and after they get out the best segments they should do a record of

Le Nozze di Figaro

live. This is much more interesting than a record that has been done in a studio with the coldness and the false perfection of a studio.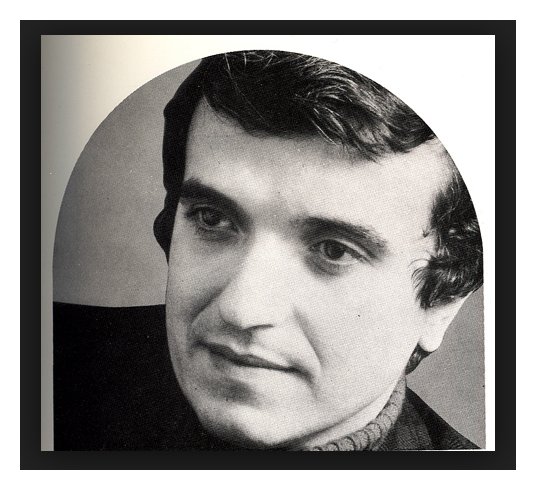 BD: But you've made a number of studio records. Are you not pleased with them?



RR

: I think they're all, or most of them, become too mechanical. You don't have the feeling that you have up on the stage.



BD

: No heart?



RR

: No heart, yes, because the moment you start, you notice the bassoon doesn't come in, so sorry, repeat it! You do bad but the bassoon can do well, so repeat it! Then when you do well and the bassoon does well, the violin didn't come in, so sorry, repeat it! Finally when you go to listen to it, you will find out that the best is for the orchestra, and for the voices they take the worst. [Much laughter]



BD

: You should fight for the voices!



RR

: Oh, no thank you! I'm too lazy! [More laughter]



BD

: Do you sing differently in the recording studio from the theater?



RR

: In the theater you have such wonderful possibilities to feel the voice going around the hall when the acoustic is good. In the studio, the acoustic is done for the microphone, so it doesn't suit your voice or your feeling very well. When you go especially to listen, your voice is always a drama for me. It's funny because there's always the danger of who is doing the recording. They never go in the studio to listen to the voice. It means they built up the voice from this machine.



BD

: They only listen through loud speakers?



RR

: Only the speakers, yes, so it's quite difficult. That's why I don't like very much to do records.



BD

: You should drag them into the studio, or drag them into the theater.



RR

: Oh, I do fight a lot of times, but it doesn't help.



BD

: Is it not better, perhaps, when you are working with a seasoned conductor like Karajan, who has spent so much time in the theater and yet understands the recording process?



RR

: Yes, Karajan in this way is a person who likes very much the beautiful sounds, but personally I don't feel very well with him because he's a person who wants things too much perfect, and I am not perfect.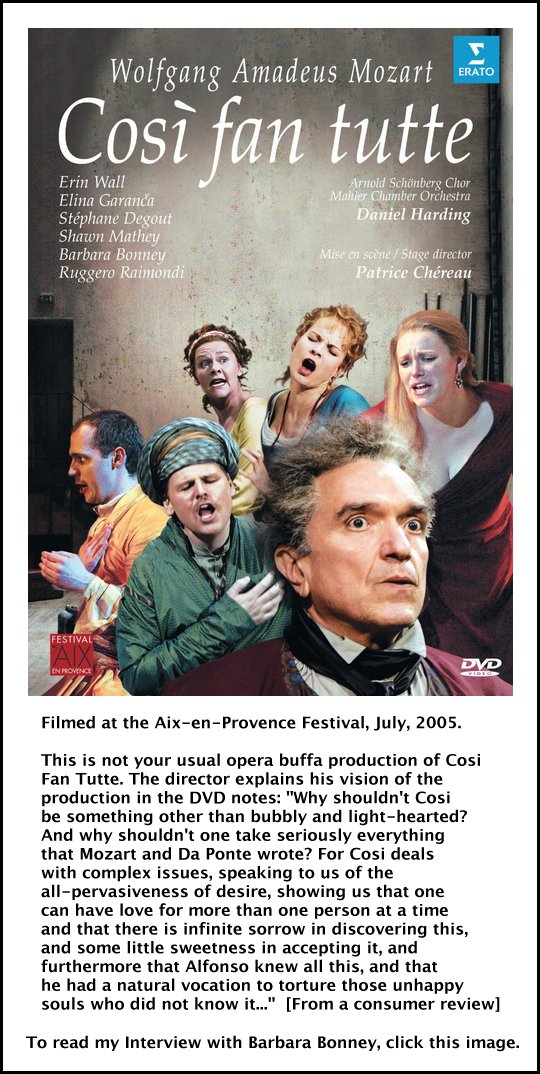 BD: [With a gentle nudge] No???



RR

: I do a lot of mistakes, and I like to do it. It makes things more alive.



BD

: Is opera for everyone?



RR

: [Contemplates the question] Opera is for all the people who have the facility to stay there three hours and listen to some crazy person who is singing instead of speaking. [Both laugh] Personally, I never go the opera. I do prefer to listen sometimes to broadcasts, but not in a theater.



BD

: But that is because you yourself are an artist.



RR

: No, it is because it's possible I become too much involved in what they have to do on the stage. Or if I don't like it, I become bored. Sometimes people become bored of me, and I become bored of the other too!



* * * * *





BD

: Do you sing any other Mozart? You've got the Count and Figaro, and you've got Don Giovanni...



RR

: ...and Don Alfonso I will do.



BD

: On stage and recording, or just on stage?



RR

: No, no, just on stage.



BD

: Is Don Alfonso the central character of

Così

?



RR

: I believe he is the master of all the situations.



BD

: The motivation?



RR

: The motivation. He's a person who is sewing up his pride, thinking about human feeling and human morality.



BD

: Is he right?



RR

: He knows the weaknesses of people! [They laugh] We can say it's right or not, who knows? But anyhow, he uses it.



BD

: Are there any of the characters that you play that are perhaps a little too close to Ruggero Raimondi?



RR

: I think Don Quichotte is very close to me. He's a dreamer and I'm a dreamer. I'm in another world. This helps me to go.



BD

: Did Massenet write well for the voice?



RR

: Yes, very well, and also the way he writes is beautiful for the poetry. The funny thing is that French people do not like very much Massenet operas like

Don Quichotte

.



BD

: Why?



RR

: I don't know... it's very strange. They think he's too easy, too simple, but I always thought that simple things are very genial, especially for a complicated singer!



BD

: Is there any other Massenet in your repertoire?



RR

: No. Don Quichotte is the role of Massenet that I do, and I love it very much.



BD

: You do a lot of operas by Verdi.



RR

: Yes.



BD

: Did Verdi write well for your particular voice?



RR

: I must say with Verdi I feel always very well. Before I came here to Chicago, I was with the Vienna State Opera doing

Simon Boccanegra

with Claudio Abbado, and it fits very well. It was beautiful, and I'm going to do

Don Carlo

and

Attila

, all operas I like very much, and for the voice they fit very well. It's okay that I will not sing in such a baritone way that I sing the Count. There will be a little more darkness and more space at the center.



BD

: More resonance?



RR

: More resonance. Not so much high resonance, but a little more deep resonance.



BD

: So you can adjust that then from role to role?



RR

: Yes.





BD

: Tell me about Attila. Is there any redeeming quality about him?



RR

: Redeeming quality? You mean the personage?



BD

: Yes.



RR

: The '

barbaro

' [barbarian]. [Both laugh] But do you know that in his youngest days he was for three years I think in the Byzantium court, and I don't think it was so barbarous. He was quite an intelligent personality historically, but in the opera of Verdi he became like a

barbaro

, someone in front of something inexplicable. They became afraid of him and so they didn't fight the wrong. But the personality is interesting because of this aria of the second act. It's a dream, and after the dream is the

Cabaletta

. He also has had the meeting with Pope Leo I, so he's a complex,

selvaggio

[wild], savage personality.



BD

: Why is that particular Verdi opera not as well-known as some of the others?



RR

: I truly don't know because I think

Attila

should be in the repertory. It would be very interesting for the audience, and the music so strong and so full of emotion. It's possible that the conductor doesn't like it very much because the most important view belongs to Attila, and the conductor is always the one who has to follow that.



BD

: So in

Attila

, then, the responsibility is more on the stage than in the pit?



RR

: Yes.



BD

: Does that balance shift in other Verdi operas, say in

Simon

and

Don Carlo

?



RR

: No,

Simon

is an ensemble.

Don Carlo

is also completely a rapport between the authority of the orchestra and conductor, singers, and production. I believe always you cannot have a success with one person. You must have all the people around to build up for one thing, that's the opera.



BD

: Is it in Verdi the same way that Mozart is ensemble?



RR

: Yes. You have to work together with the conductor and the producer and the singers to build up an ensemble. This is very difficult.



BD

: Is there any more connection between Mozart and Verdi than just this idea of ensemble performance?



RR

: It is not a question truly of Mozart and Verdi, Donizetti, Bellini, Rossini and Wagner. To make a product acceptable today for the audience, it must be in a way staged like a theater piece because the people today see television, they go to the (straight-) theater, and they observe a lot of great actors. You cannot go anymore to the opera to see someone just facing the conductor, and when he has to show God he puts the hand up and to show the land puts the hand down! Today acting is very important, and to build this up is a question of ensemble work because on stage you have to work with the other people, with your soprano, tenor, bass, everyone.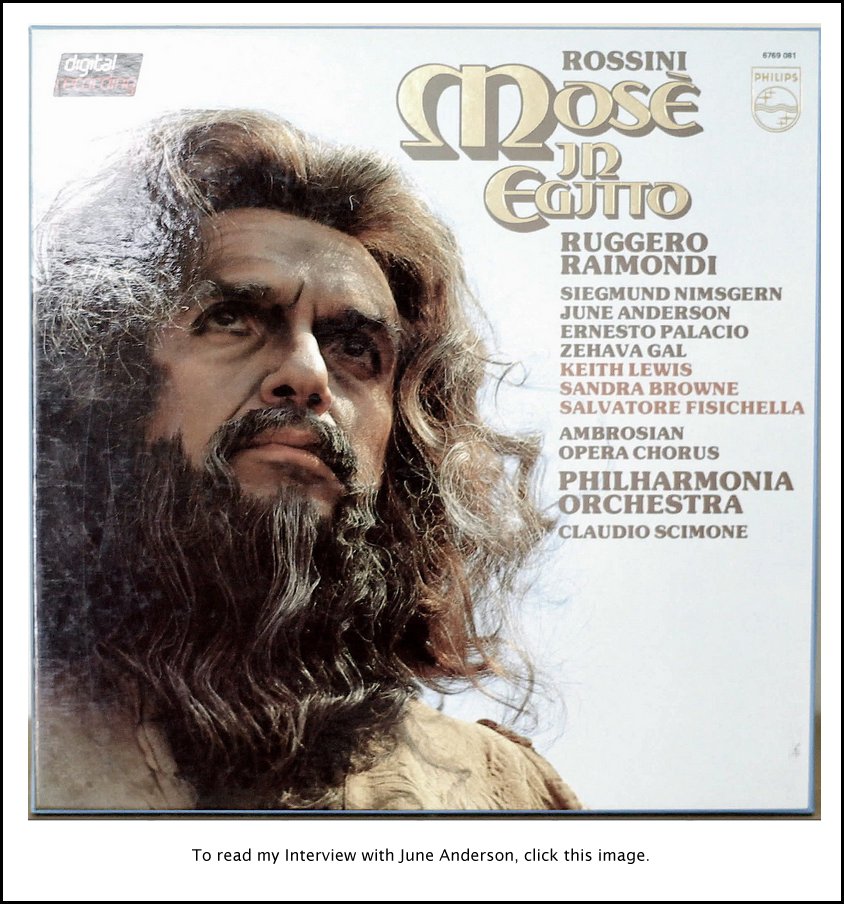 Also, see my interview with

Siegmund Nimsgern





BD

: Are there others that are on this level? You mentioned four or five composers. What about the secondary level such as Mascagni and Giordano?



RR

: Yes, we're going

verismo

more and more! Take Puccini's

Tosca

, for example. Scarpia is an incredible person, very theatrical. First theater and then the voice!



BD

: So Puccini is second, and his librettist is first?



RR

: Yes. Now who would you say such a thing!!! If you think of

La Bohème

, for example, it is such a masterpiece. If a producer wants to change it, there's a lot trouble because everything is signed by Puccini in the score, and the most intelligent thing is to follow him!



BD

: Are there producers who try to change it all around?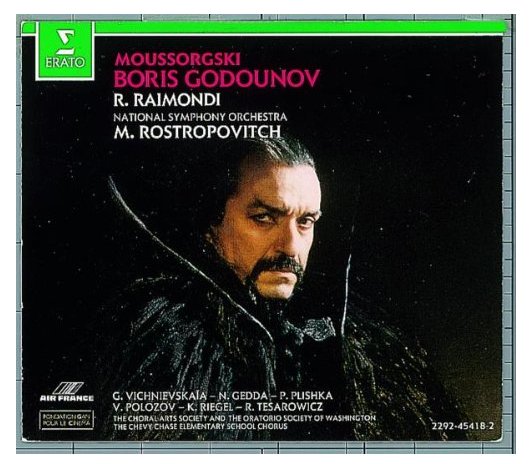 RR: Oh, a lot! This is a new way to see the opera, and they do it in such a way because they don't have ideas. It's very difficult to remain inside of a style and a century when the opera was brought about. I always try to avoid productions where they are afraid to be original.



BD

: Is Scarpia a frustrated Don Giovanni?



RR

: Scarpia is a Sicilian Baron, and he has all the big world behind him. He's a great

Signore

, very sensual, and it's possible he has both cynicism and a great deal of sadism. We must not forget that Tosca is eighteen years old! She's a beautiful woman, she's a wonderful actress, and if the things were delayed by twenty-four hours it couldn't happen. So everything has to be done in a rush. We must go back in this period where forced marriage was the norm, and all the things were very fast.



BD

: How old is Scarpia? [Vis-à-vis the recording shown at left, see my interviews with Vyacheslav Polozov, Paul Plishka, and Mstislav Rostropovich.]



RR

: In the theater piece he's around thirty or thirty-six.



BD

: He is the chief of police?



RR

: No, he's the one who has been replaced to be the chief of police. He's been called because of the situation.



BD

: Is he a crook?



RR

: No, no, no. He's

un grande Signore

.



BD

: Does his nobility ever get in the way of what he wants to do?



RR

: No, because nobility should be for him like a skin. He doesn't need to be novel. He is novel!



BD

: It's a very high part.



RR

: Yes, very much. I like it very much.



BD

: Is that the highest one you do?



RR

: Yes, it's one of the greatest people, but I've done it only in concert performance with Karajan years ago. Now I'm searching to do it, but I don't want to do it in a big theater. I want to do it in a little theater. I'm searching for a conductor and little theater because this is a piece of theater and you must feel the audience near. Everything has to be done like close-up of a camera.



* * * * *





BD

: When you go out on stage, do you become the character or are you portraying the character?



RR

: This is the dilemma of Diderot, to be the character or to drive him!




The Paradox of Acting

was written by Denis Diderot between 1773 and 1777 and was published posthumously in 1830. In the book, Diderot opposes the conventional wisdom of actors at the time who assumed that to be convincing, the actor must feel the passion being expressed. This of course is what Stanislavski went on to formulate in 'The System'. Diderot argues that these manifestations of emotions are not great acting and that the actor must show self-control to explore first these passions, and then reproduce them. The argument became between what were called the 'emotionalist' and 'anti-emotionalist' supporters.

Crucially the distinction between the emotionalists 'experiencing the role' and non-emotionalists 'representing the role' rests on their relationship with that role during performance. For Stanislavski and the emotionalists, the actor should become the character , no longer experiencing a distinction between his or her self and that character; the actor has created a 'third being', a combination of the actor's personality and the role, a ''re-incarnation' or 'metamorphosis'. However Stanislavski goes to some lengths to insist that both styles (though only these two) deserve to be regarded as 'art'. He called his own approach 'experiencing the role' and the other the 'art of representation.' Stanislavski identifies this style with the French actor Coquelin, who writes in support of Diderot, "The truth according to my mind is that in order to call forth emotion we ourselves must not feel it; and that the actor must in all circumstances remain the absolute master of himself, and leave nothing to chance." (

The Art of the Actor

1894)

Diderot was far from the first to write about acting. From the earliest Greek theater there has been recognition that on the one hand there is the need for the actor to be affected by the sensations he wishes to arouse in others, and on the other a need for a precise system of expression - the right look, tone, and gesture appropriate to every emotion of the mind. Consider what Aristotle has to say, "We mold ourselves with facility to the imitation of every form; by the other, transported out of ourselves, we become what we imagine."

In

Commedia dell 'arte

, each character became an extension of the actor's own personality, but elastic enough to respond to innumerable dramatic situations. The notion of improvisation and "being the character" were born.

What Diderot calls 'the actor's paradox' is clear in 'the art of representation' approach. While on-stage the actors experience the distinction between themselves and the roles they are playing. Coquelin refers to it and 'dualism', "One part of him is the performer, the instrumentalist; another, the instrument to be played on."




Sometimes you lose control of the character, and you become so involved that it makes problems to your voice because when you become the character, you don't think any more of the position of the voice. You have to do it not so strong, and be careful of this note and so you give of yourself inside without it being too much. The most wonderful approach is always to drive the character, but sometimes it's beautiful also to become the character. To die on the stage is wonderful. To kill is sometimes a release for all your frustrations! [Both laugh] You have the position to take out everything, and so you become the judge of your life in a way.



BD

: Which is better — to kill or be killed?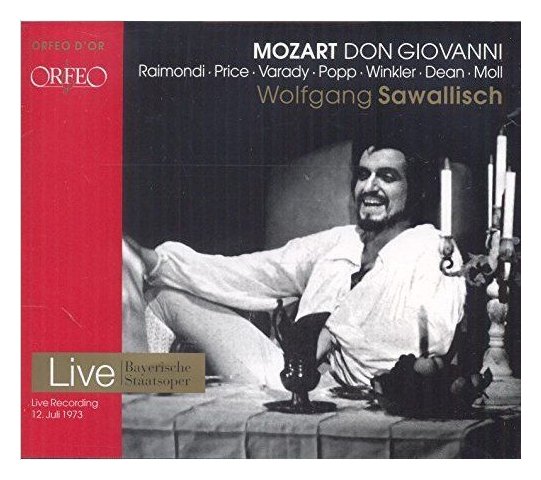 RR: Oooo! Who knows? For example, in

Boris

, when he dies is truly a moment of pain. Sometimes I feel I am a masochist because I'm doing to myself such pain that I have a heart attack. That might be one of the right solutions. But it's difficult to drive yourself in such a masterpiece because you become involved also with feelings you don't want.



BD

: Is this what happens to Don Giovanni, that he has a heart attack?




RR

: No, I don't think so. I remember I did a production in Berlin years ago where Don Giovanni was supposed to die from a heart attack, but the problem is that once the people come in, I was standing on the floor. The most important thing for Giovanni is the way he dies. The way he's finishing his life is not normal. It becomes a myth in the way he dies. He disappears with the Commendatore who takes him into hell. If you make him to die in a very normal way, the myth of Don Giovanni is finished. He doesn't have any more feeling for a person as was done back then, what today every playboy does without any problem! [Laughs] There is the challenge for him to do something which is not natural that makes him great.



BD

: When Don Giovanni arrives in hell, does he challenge the devil?



RR

: Oh, it's possible. I think he has caused a lot of problems for him. [Both laugh]



BD

: So Don Giovanni is not an agent of the devil?



RR

: No, I don't think so, no. Why does he have to be an agent of the devil?



BD

: Because it just seems that way when he is on earth.



RR

: Why?



BD

: It seems as if the devil could pick someone to do some of his dirty work, it would be a Don Giovanni.



RR

: I don't think that's dirty work because Donna Anna and Donna Elvira and Zerlina are supposed to be typical girls! [Both laugh] You think also because of the large numbers of conquests Leporello writes in his book that things may seem a little strange.



BD

: [Gently protesting] But he loves them and he leaves them! Is this not terrible for the women?



RR

: No, but this is the philosophy of Don Giovanni. We are always speaking of Don Giovanni of Da Ponte and Mozart, so there is a big, grand time and the post-grand is better than later, so we stay here until tomorrow morning! [Much laughter] According to the ways that Da Ponte makes the philosophy of Don Giovanni, in the second act he says, "I love all the women, but they don't understand this big love that I have for the women. I cannot live for someone because if I am only with one woman, the others say that I'm ungrateful. So I have to spread my great love with everyone!"



BD

: So he's doing a noble service for women!



RR

: In a way, yes!



BD

: Do you believe that?



RR

: Why not? Why do you say he's a devil? Do you have a theory I should think about?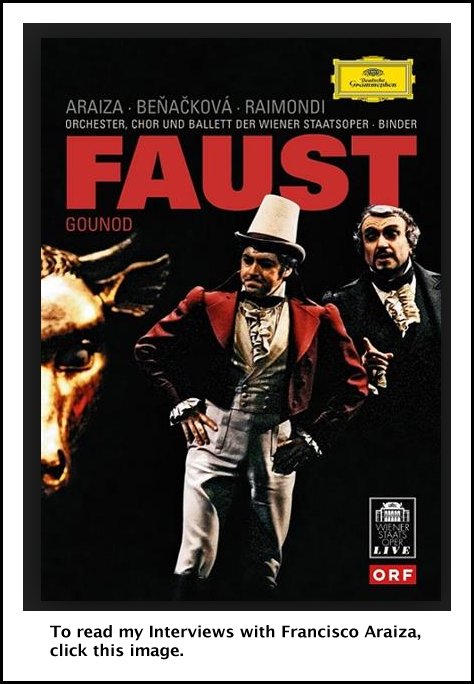 BD: No, I'm trying to find out how you see him because he's so complex.



RR

: He's diabolic because it's the way he acts. He's not so normal because other people go to the church and take the Communion, and at the same time they want to be in bed with others, and after the Communion they go to bed... but they are hiding! He's diabolic because he doesn't need to go to the church. He does what he feels without hiding what he's doing to the others.



BD

: Have you sung Méphistophélès?



RR

: Méphistophélès in

Faust

? Yes. I'm now going to do it in Rome.



BD

: Is that a good role to play?



RR

: Yes, I like it very much. It's nothing to do with Goethe, first of all! We must not speak about Goethe and

Faust

of Gounod, as they are two different personalities. The idea is the same but they are so far apart. But the most interesting thing about Méphistophélès is the irony. Such a personality can come out suddenly, and that is the key of the person. It becomes dramatic in the church. He becomes diabolic, but always with a lot of irony because Holy Water doesn't sit very well with Méphistophélès in the end.



BD

: Do you enjoy singing in French?



RR

: Yes.



BD

: Do you feel you have the French style?



RR

: I don't know. They tell me I've have quite good French. What does it mean, French style? We have also an Italian style, but what about it?



BD

: Is the Italian style perhaps more universal?



RR

: Because of Verdi, Bellini, Rossini, Donizetti, all this, it's possible since there are a lot of operas in repertory. It seems they like much more to listen to Verdi or Puccini or Bellini instead of going to listen to Wagner... not because Wagner is not so interesting, but because Wagner needs a different kind of audience. To stay there for six hours, for me it's impossible. But you must love this kind of opera.



BD

: Do you sing any Wagner?



RR

: No, but there is an idea for 1992 [laughs] if I'm still alive because we speak so far away. It's crazy!



BD

: For the Dutchman?



RR

: For Dutchman, yes. It's always the entrance role for Wagner.



BD

: Would you sing it in German?



RR

: Yes, certainly.



BD

: Do you sing any of your roles in translation?



RR

: No. Now I sing always the role in the original language. I sing

Boris

in Russian... or what is supposed to be Russian! [Huge laugh]



BD

: Are you not happy with your Russian?



RR

: Oh, I'm very happy, the others are not! [More laughter]



* * * * *





BD

: Let's talk about some of the other Verdi roles Philip II in

Don Carlos

.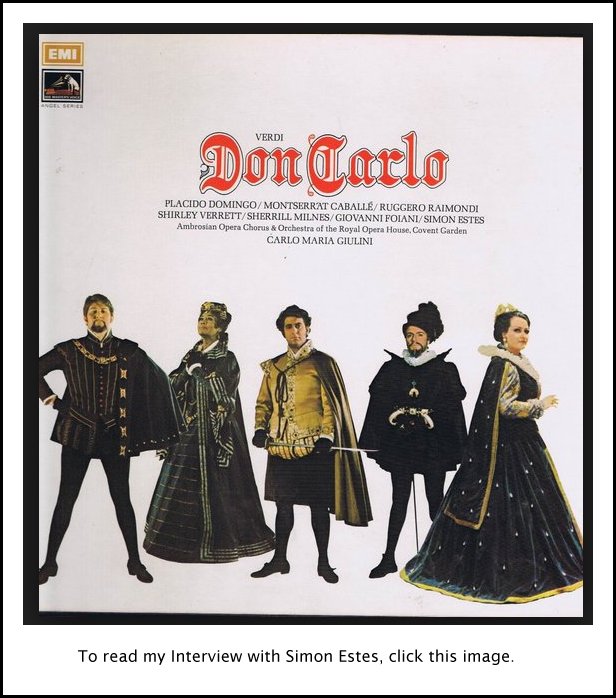 RR: Filippo II is a fantastic personality out of historical context. It's from Friedrich Schiller. The duet with Posa, who is supposed to be the man who believes in human rights and believes in sincerity, is one of the masterpieces of the theater. This duet with Posa is one of the high moments for me.



BD

: What about the duet with the Inquisitor?



RR

: Ahhhh, it's truly great. There is such instrumentation to make us feel only the deep falsity of the church in such person as the Inquisitor. For political reasons he hides himself behind the church, and gives the right to Filippo II to kill his son. At this moment his demands are shown by the music and by the words.



BD

: Is this a particularly powerful scene because it is two basses?



RR

: No, but I think the meaning of this scene is very important. The church was standing up to the king.



BD

: So it's a power play?



RR

: A power play, yes.



BD

: Is there competition amongst basses?



RR

: Competition? Do you mean jealousy between us?



BD

: Perhaps.



RR

: I think competition is always the way you try to do the best of yourself. Without competition we stay always on the same level. I think competition is a good thing.



BD

: Would you ever sing

Don Carlos

in French?



RR

: Yes, I did it. We did the record with Claudio Abbado and we did it in French. [This DG recording included material rediscovered by Andrew Porter.]



BD

: Is it better in French?



RR

: I do prefer the Italian version.



BD

: Why?



RR

: As a work, the French version should suit much better with the music. The French was done for the music, but there are some problems of breathing that I'm not very good at doing in the French version. I do prefer the version of Modena in five-acts, and when they introduced the

lacrimosa

in the prison.



BD

: Would you sing it on stage in French?



RR

: I don't think so. They were supposed to do it in Paris one or two years ago, but they wanted to do a version completely different without the final duo between Filippo and Posa. That's why I said no thank you! It does not interest me! It's possible in Vienna we're going to do a production in 1989, but I'm sure that it will be in French.



BD

: Do you like being booked two or three or four years in advance?



RR

: When they are interesting things, yes. If I'm not interested, I don't.



BD

: Is Procida

of interest to you?



RR

: Procida is a crazy political personality! [Huge laugh] I think about him like the personality of Louis Massignon, who was taking fire for feelings of freedom, and his patriotism makes him blind in front of human feelings. It's an interesting role, but he has to be acted with a lot of style.




Louis Massignon (25 July 1883 – 31 October 1962) was a Catholic scholar of Islam and a pioneer of Catholic- Muslim mutual understanding. He was an influential figure in the twentieth century with regard to the Catholic church's relationship with Islam. He focused increasingly on the work of Mahatma Gandhi, whom he considered a saint. He was also influential, among Catholics, for Islam being accepted as an Abrahamic Faith. Some scholars maintain that his research, esteem for Islam and Muslims, and cultivation of key students in Islamic studies largely prepared the way for the positive vision of Islam articulated in the

Lumen gentium

and the

Nostra aetate

at the Second Vatican Council. Although a Catholic himself, he tried to understand Islam from within and thus had a great influence on the way Islam was seen in the West; among other things, he paved the way for a greater openness inside the Catholic Church towards Islam.






BD

: Are there still some roles that you are looking forward to doing?



RR

: Yes. I'm going to do a new production of

The Tales of Hoffmann

, but the first version, the one for the bass, not for the tenor! [Both laugh]



BD

: You'll sing all four of the villains?



RR

: Yes, all four of the characters.



BD

: Are all four the same person in different guises, or are they four different souls?



RR

: It is the expression of evil in four different ways. He's always the same character who goes through the others.



BD

: Is he the devil?



RR

: You can say he is a devil! You like devils! [Both laugh] We have in ourselves a lot of these things, but we are afraid to show it because we are afraid of them, too! [More laughter] This is why theater is sometimes a kind of free psychoanalysis you make of yourself. You are showing through such different characters what you are hiding of yourself. If you see a beautiful girl passing through the street, don't tell me that you wouldn't like to make love with her!



BD

: Of course!



RR

: This is something that makes me look right away! Everybody has the same feeling, but we don't say it. So all these parts that are going on inside of us make us face the problems, and then you don't have them anymore.



* * * * *





BD

: Do you sing any modern opera?



RR

: My modernist opera was symphonic,

Number 13

of Shostakovich. From then I stopped. No, I think I'm not the right voice and I'm not the right personality to do modern opera. They are too difficult, and for my voice they make a lot of problems for me. So I don't do them.



BD

: What about old operas such as Monteverdi or Cavalli?



RR

: I haven't done any, but I think more on the side of romantic and

verismo

instead of baroque. In a sense, we can use the word 'humanism' when we speak of Mozart on that thinking!



BD

: Is opera art or is it entertainment?



RR

: This is very interesting. It's true it's supposed to be art when you are an artist, and arts could give you a wonderful feeling, and if you think this feeling is entertainment, we can say art is entertainment. But sometimes we are not artists, we are just professionals. I do not live to be a professional, but it means to arrive, to do what they want, and give the entertainment. It depends on the audience who can understand between an artist and a professional, and what they prefer.



BD

: Which do you prefer?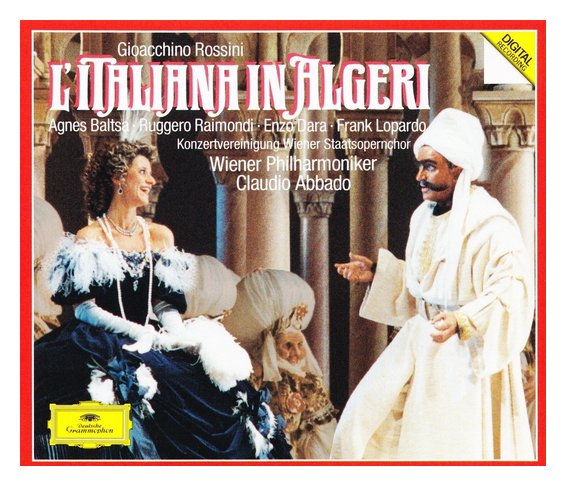 RR: I prefer being an artist, but it's difficult nowadays to be one.



BD

: Is the public different from Europe to America?



RR

: [Pauses for a moment] No, I don't think so. For example, here was this experience of the subtitles, and it was very interesting because for unusual situations I received a laugh. First it was because they were reading the subtitles, and second because they see the action! But I must say they are very fast, very strong. In Berlin we have forty-five curtain calls after

Simon

, and in Vienna also for

The Italian Girl in Algiers

. Here it was finished after five minutes. Here they seem they want to go home very fast after the end!



BD

: Do we enjoy it less so we applaud less?



RR

: I think the applause sometimes breaks a tension on stage, but if you don't have applause, it's necessary to break it yourself! So it's better to have the applause!



BD

: Are you coming back to Chicago?



RR

: I don't think so right now because I'm booked for quite a long time ahead. [As noted in the introduction at the top of this page, he would only return once more, thirteen seasons later.]



BD

: Are you over-booked?



RR

: No! Like I say, I'm booked for things that I am interested in.



BD

: Do you make sure you take time off and get some rest?



RR

: Not so much because when I sing I go on for one or two years without a break. I must take, for example, three or four months off to have a beautiful rest. I am not able to spend just one month of rest because for me it then means one month of work and one month of exercise to be ready for the month after that! [Laughs] So it's not truly a holiday.



BD

: You have to constantly keep the voice in shape?



RR

: Yes.



BD

: Thank you so very much for spending this time speaking with me today.

Mille grazie

!



RR

:

Grazie a Lei

!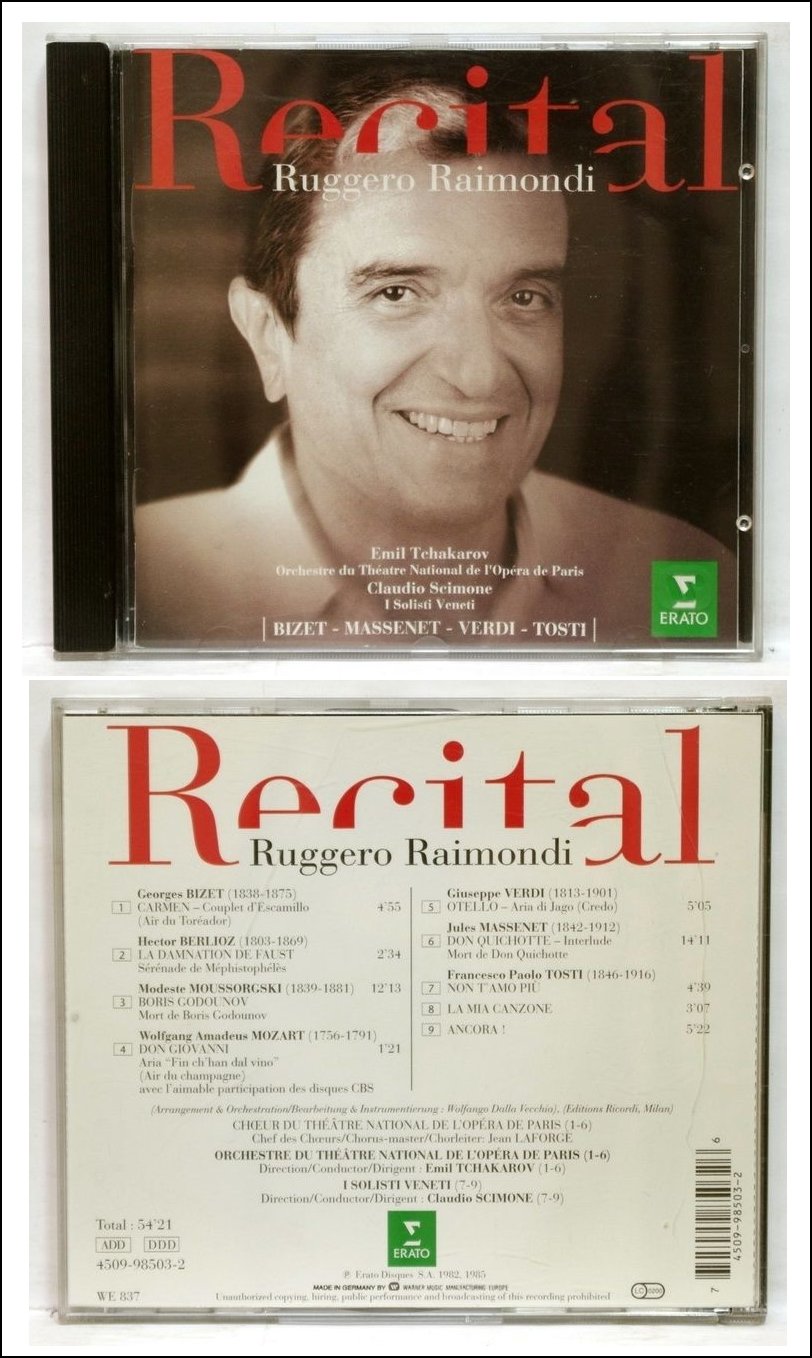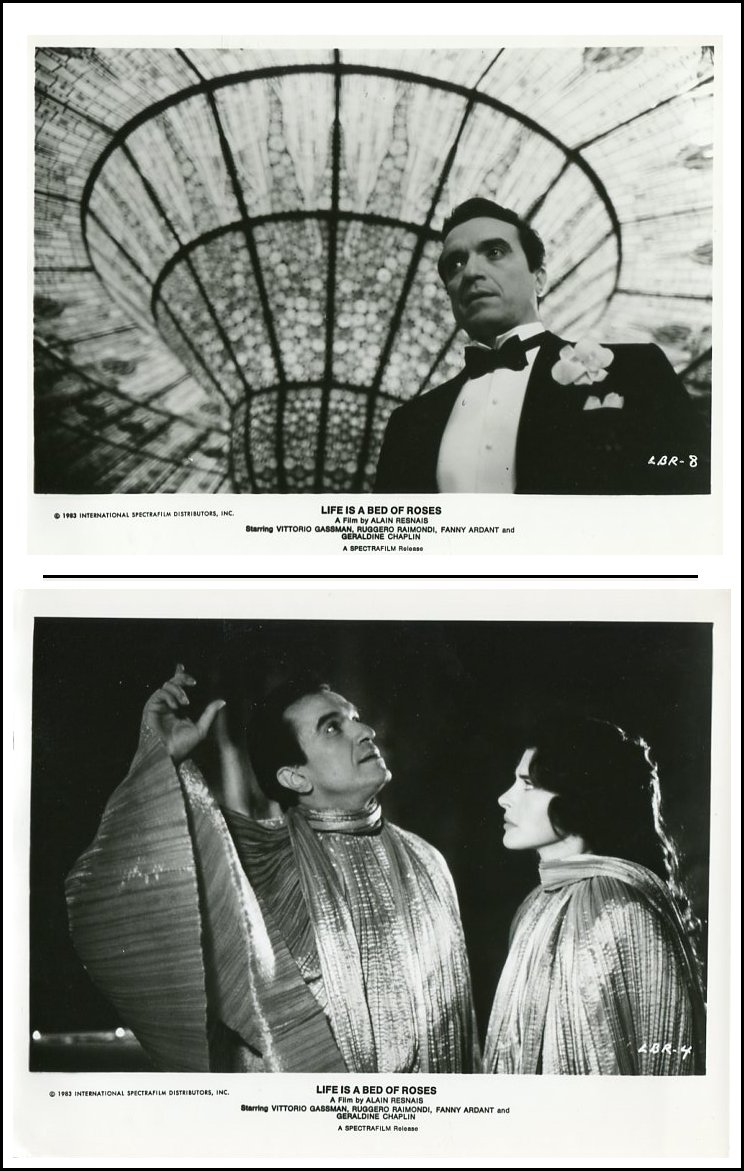 © 1987 Bruce Duffie

This conversation was recorded in a backstage dressing room of the Civic Opera House in Chicago on November 16, 1987. Portions were broadcast on WNIB about a month later, and again the following year and in 1996. This transcription was made in 2015, and posted on this website at that time. My thanks to British soprano Una Barry for her help in preparing this website presentation.

To see a full list (with links) of interviews which have been transcribed and posted on this website, click here.

Award - winning broadcaster Bruce Duffie was with WNIB, Classical 97 in Chicago from 1975 until its final moment as a classical station in February of 2001. His interviews have also appeared in various magazines and journals since 1980, and he now continues his broadcast series on WNUR-FM.

You are invited to visit his website for more information about his work, including selected transcripts of other interviews, plus a full list of his guests. He would also like to call your attention to the photos and information about his grandfather, who was a pioneer in the automotive field more than a century ago. You may also send him E-Mail with comments, questions and suggestions.