Violinist Gidon Kremer
A Conversation with Bruce Duffie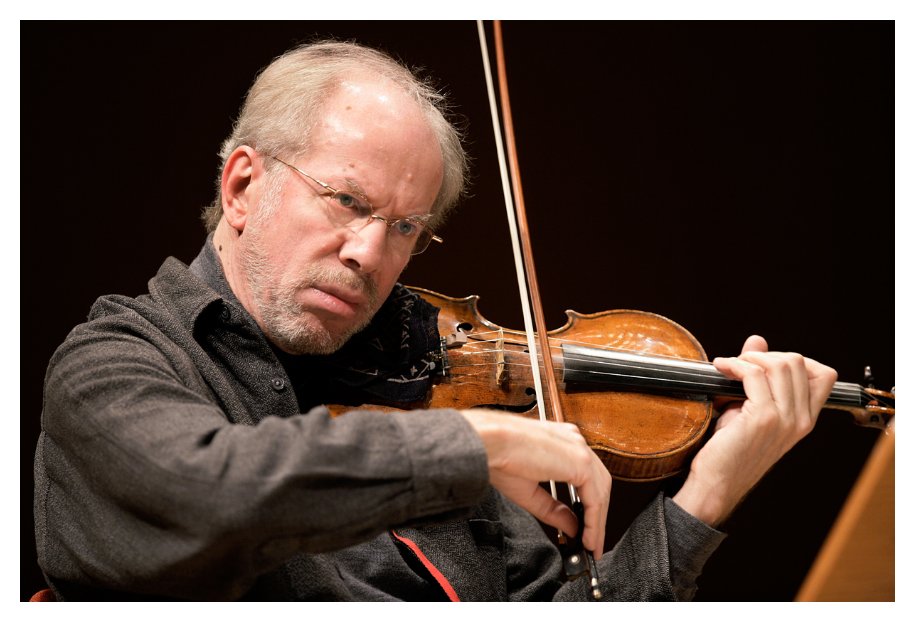 Gidon Kremer was born in Riga (Latvia) in 1947, the only child of parents of German origin. After receiving his first musical instruction at home - both father and grandfather were professional violinists - he studied at the Riga School of Music and then at the Moscow Conservatory under David Oistrakh. Kremer enjoyed notable success at competitions in Brussels (1967), Montreal and Genoa (1969), and Moscow (1970). After extended tours through the former Soviet Union, he began appearing with increasing frequency in the West. His first concert in Germany came in 1975, followed by debuts at the Salzburg Festival (1976) and in New York (1977). Gidon Kremer was also one of the artistic directors of the music festival "Art Projekt '92" in Munich.

The international chamber music festival in Lockenhaus (Austria), founded by Gidon Kremer in 1981, has been a forum for young artists to present challenging and innovative chamber music concerts - programmes which are also taken on tour. In 1992 the festival in Lockenhaus was named "KREMERata MUSICA". In 1996 Gidon Kremer founded the KREMERata BALTICA chamber orchestra to foster outstanding young musicians from the three Baltic states. He undertakes regular concert tours with this orchestra. Gidon Kremer is also Director of the Musiksommer Gstaad (Switzerland).

Gidon Kremer's repertoire ranges from the Baroque to works by Henze and Stockhausen. Composers of the former Soviet Union such as Schnittke, Pärt, Gubaidulina and Denisov have been introduced to Western audiences largely through Kremer's efforts. Martha Argerich, Valery Afanassiev, Oleg Maisenberg and Vadim Sakharov are some of his favorite musical partners. Gidon Kremer plays a Guarneri del Gesù - ex David - dating from 1730.



-- Names which are links (both in this box and below) refer to my interviews elsewhere on this website.






Kremer has been in Chicago on several occasions, and in May of 1997 he agreed to meet with me for a conversation. On that visit he was giving the world premiere of the

Violin Concerto

by Aribert Reimann, with the Chicago Symphony Orchestra conducted by Daniel Barenboim.

Having admired both his artistry and his wide selection of repertoire, I was glad he discussed the entire range of material with me that day . . . . . . .




Bruce Duffie

: I would assume that you have, perhaps, one of the largest repertoires of any violinist. How do you decide what you're going to play and what you're not going to play?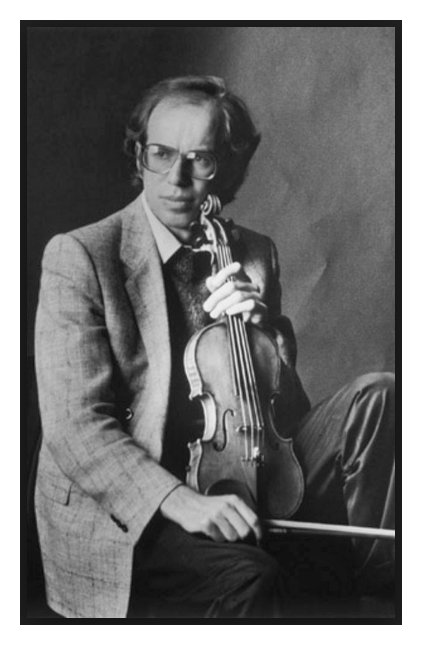 Gidon Kremer: I make decisions of that kind for a number of reasons. I have a long-standing relationship with a number of wonderful composers that come from Russia, or from the ex-Soviet Union. I should mention Alfred Schnittke, Sofia Gubaidulina, Arvo Pärt, Valentyn Sylvestrov, and Edison Denisov. Recently I got very involved playing — and enjoying in fact — the music of the Georgian composer Giya Kancheli. Beside that, I'm always open-minded to meet composers from other worlds, and so I was lucky and privileged to have cooperated with the great Luigi Nono, and with a number of American composers like Ned Rorem or Philip Glass, and most recently, John Adams, and Japanese composers like Yūji Takahashi or Tōru Takemitsu. Most of the time these are working relationships, and they help me to understand not only what an author wanted in this particular piece, but in general they help me to approach the whole area of contemporary music much better. But not only to approach better contemporary music, but also to understand here and there what the lab of the great classics was or still is. I learned a lot about music in general by playing contemporary music.



BD

: Do you advise that all violinists play some contemporary music to better understand Beethoven and Mozart?



GK

: I think Beethoven and Mozart helps also to understand which of the contemporary composers is better or worse. Beethoven, Schubert, Mozart, Bach definitely; they don't belong only to the past. They accompany us, and will accompany the future generations. I feel very strongly that music doesn't belong to a museum, and therefore, since my young days when I was an adolescent, I actually felt very interested in playing contemporary music as well. I always tried to balance things by playing a lot of the well-known pieces on one hand, and on another hand introducing something unknown. But the unknown is not always only related to contemporary music. Here and there it is also something that was forgotten or was never discovered in the past. I had big pleasures discovering composers like Erwin Schulhoff or Artur Lourié, just to give you an example.



BD

: What is it that makes you decide, "Yes, I want to spend time learning this piece," or, "No, I think I'll put this piece aside?"



GK

: Here and there it's a commission that I am encouraged to contribute to by some friends, by some colleagues, by some people that I trust. Here and there it's a visual aspect of a score that convinces me that this is a wonderful score. Because in contemporary music you can't always hear immediately what it is like, here and there you learn to see it just looking at the score. Here and there I get interested because I follow some performances or listen to some tapes of composers which I before wouldn't have known. I'm glad that in this way my repertoire really got very large. At the same time, I have to admit that I get hundred times more scores being sent to me in the hopes that I will perform. I have to disappoint so many composers that I always feel guilty. [Both laugh] But in a lifetime, you can really do just a little, and my little contribution consists of the effort to include every season two, three, four new pieces into my repertoire. It's the best I can do. Sometimes there are chamber music performances along with some concertos. Occasionally it's only chamber music. That depends, but in the year '97 I actually commissioned six pieces, so I'm over the average. But this relates to my fiftieth birthday, and also to the fact that I'm trying — as many musicians are these days — to celebrate Schubert. I'm doing a Schubert cycle consisting of six different programs — all works for violin and piano, and violin and orchestra, and selected works of chamber music. And on each of these evenings I include at least one premiere.



BD

: Schubert and something new?



GK

: Schubert and something new, yes. In January I performed with the German Chamber Orchestra, Deutsche Kammerphilharmonie, a new opus by Sofia Gubaidulina called

Impromptu

. I also played with them a piece by a wonderful Russian composer, Alexander Vustin,

Fantasy for Violin and Chamber Orchestra

, which I hope to introduce next year in this country at Carnegie Hall with the Orpheus Orchestra. I played recently a new piece by Giya Kancheli for violin and piano, which he wrote for me after I played at least fifteen times, his big

Lament for Violin, Voice and Big Orchestra

. This new piece of his is called

Time and Again

. It's a wonderful piece, which I just did in Europe during the third segment of my Schubert cycle in all big cities of Europe. And in the summer I am going to premiere a new piece by a Latvian composer, Peteris Vasks, who is just in process of writing a violin concerto for myself and the newly formed chamber orchestra, Kremerata Baltica, which consists only of members of the three Baltic states. We just played our first concert on the ninth of February in my home town of Riga.



BD

: It's an amazing schedule; I don't know how you keep it up! When you get a new score, do you know how long it will take to get into your fingers and, perhaps more importantly, into your psyche?



GK

: [Laughs] I'm trying to understand it, of course, immediately. Usually it takes some weeks, and occasionally it takes some months. For example, for this premiere of the Aribert Reimann

Concerto

, I worked probably something like three months consistently because this piece was really big challenge, not only for the fingers, but also for the ear. I'm glad that I could premiere this piece in Chicago, and I'm looking forward to play it with the Chicago Symphony in Europe.



BD

: Do you take into account the audience that's going to be listening to each new piece?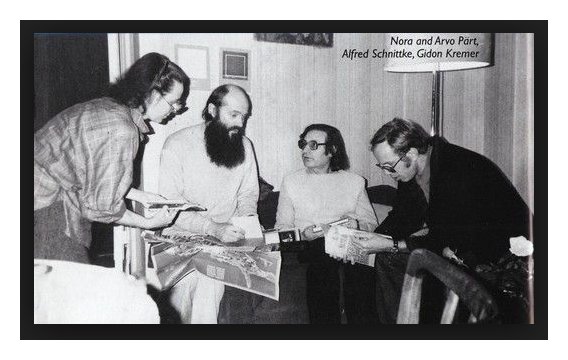 GK: Glen Gould once said, "The relationship is not the artist and the audience. It's one to one, the artist and the score." I would say I want to bring the music to the audience, but if I believe in a score, then it doesn't matter to me if one person or thousands will appreciate it. I do find there's much more positive impact if something is also liked by a large number of people, like the latest Piazzolla record which had such a big success. I feel wonderful because I love this music. I didn't do it for commercial purposes, but it was found by a large audience. But I believe as much in Piazzolla as in Kancheli, and if Kancheli is today not as well known, it doesn't matter. Some day in the future people will appreciate him more, like they learned to appreciate Alfred Schnittke within the last twenty-five years. My approach didn't change. I stayed loyal during this twenty-five years to Schnittke, even at the times when nobody wanted it to be performed. Now he seems to be a classic of the end of the century. So it's wonderful to follow it up, and to participate in this process.



BD

: You say you don't care how many people listen at any one time. Are we just eavesdropping on your relationship to this score?



GK

: No. What does it mean 'eavesdropping'?



BD

: Listening in, almost surreptitiously.



GK

: I don't know. I am very selective, after all, and I don't want to say that my repertoire represents the whole scale of good works of contemporary composers. There are other performers that pick up other scores, and I like to listen to them. I make my choices, and I make my choices for very subjective reasons. Each time I choose a piece, I really hope the audience will also like it, somehow. Unconsciously, this is one of the reasons that I'm still performing. If I wouldn't believe that I can share my emotions, if I wouldn't have the evidence that many of the performances that I gave of contemporary works would have resonance, then I would probably give up performing and traveling, because it's a very difficult kind of life.



BD

: That's what makes it all worth it?



GK

: [Laughs] Yes, somehow. If you see a happy face of a composer, or if you see someone from the audience or some of your colleagues being excited about something that you have just done for the first time, this, of course, is a big support.



BD

: Does it do your heart good when something you've premiered is then picked up by other violinists?



GK

: Of course. If a piece becomes popular with time, I feel I've somehow helped it, like

Tabula Rasa

of Arvo Pärt, which became such a popular piece, or a concerto grosso by Schnittke, a piece which was dedicated to myself and my partner Tatiana Grindenko, which also became a rather known piece of contemporary music. So I'm always in favor if pieces are picked up that I gave birth to.



* * * * *





BD

: Do you play the same for the microphone as you do for a live audience?



GK

: I think so. It's quite difficult to catch emotions in an empty studio because there are many aspects of it that interfere — especially the editing. I feel like recordings that are done from a live concert have occasionally more integrity because the editing is very minimal. While in the studio, you're giving yourself completely. You're fully engaged in the process, and you repeat the same thing for eight or ten times. I'm doing it with my full dedication, but at the same time I know that the editing is a very dangerous thing. Only if you are used to working with certain producers, then you can reach better results. If you are at the mercy of some unknown person, it's like being in a completely unknown restaurant and not knowing what kind of food you are going to be served. Occasionally you are lucky, but there are also many disappointments.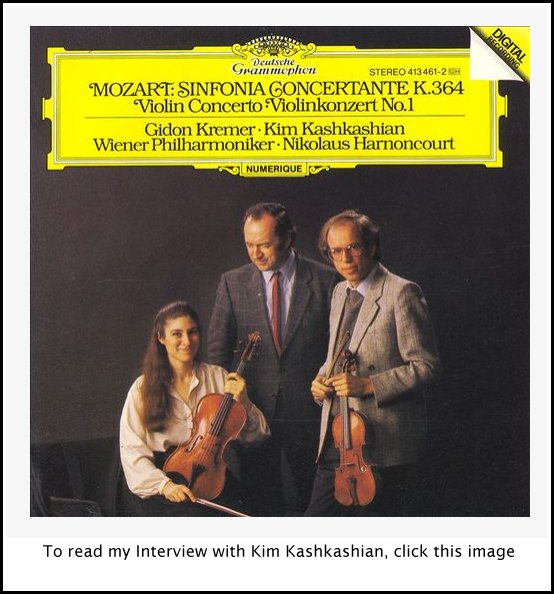 BD

: So you have to build up trust with your producer?



GK

: That's right, and after having recorded more than a hundred CDs, I feel also that I've worked with too many producers in the past. Now I am trying to concentrate on certain producers, and I feel much more comfortable. In the past there was too many distortions of what I actually tried to do in the studio — not that I was always perfect, but still this interference of some alien mind and some alien ears is a very dangerous thing. That's why I think Glen Gould found for himself the best way of editing — he did it himself!



BD

: Are you involved in the editing process, or do you leave that to others?



GK

: No, I am involved only at last stage of it. When the first edit is done, I listen to it very carefully and come up with my 187 wishes, which hopefully can be fulfilled and repaired. But this is not always the case, and sometimes I'm misunderstood as well.



BD

: Of your 187 wishes, do you get 170 of them, or do you get 32 of them?



GK

: I'm following it up, so at least a good seventy percent of it would be done.



BD

: Perhaps more in performance than in recording, but is there such a thing as a perfect performance?



GK

: No, and there shouldn't be. As Nikolaus Harnoncourt put it a couple of times, "Perfection is the worst enemy of beauty because humans can't be perfect." We can just try for perfection, but we can never be as perfect as the deep blue, for example. At the same time, fantasy and the spirit of the human being is much more interesting. Perfectionism that I was vaccinated with in my childhood and my years of study also became my enemy, because of course you want to be as precise, as correct, as possible. You want to be as loyal to the composer as possible, and these should all be ingredients of a good performance. Finally, perfection is not what matters, but something between the lines. All that is in between the lines are distortions of perfectness. I'm preparing myself now to play the Alban Berg

Concerto

with two different orchestras and two different conductors. Both of them great — the Berlin Philharmonic and Abbado, and Vienna Philharmonic and Harnoncourt. I have had this piece in my repertoire for almost twenty years, and within the next ten days I'm going to give seven performances with two different minds in front of me. I'm trying to be flexible to their wishes, and I'm trying to imagine that I will to discover new things in the concerto for myself. So I did something very unusual because normally I wouldn't listen to recordings of the concerto — neither to my own ones nor to other violinists. But there is this recording of Louis Krasner giving one of the first performances in 1936 with Anton Webern conducting, and this morning I listened to it. I thought it's wonderful because it's so personal. It's so full of expression, but it's not a performance which you can say is perfect. It's not perfect sound-wise and it's not perfect in the vertical lines, but it's perfect in a musical sense, and this perfectness, this outstanding personal interpretation, is the best one can find on records. The same holds with Astor Piazzolla. It's not his perfect playing on the bandoneon; it's the spirit that matters. When he is around, it seems like musicians play differently than without him.



BD

: So the perfection is just a technical thing, but the artistry is what makes it?



GK

: Of course. I would say for me an artist is perfect that is full of fantasy, full of challenge, and likes to take risks. Especially because you are taking risks, you are exploring a borderline, and on this razor's edge you never meet real perfection. You can see operations and you can reach out for more than perfection, but perfection kind of kills it. You could be idiomatically perfectly right or academically perfectly right, but the performance would be awful.



BD

: [Laughs] I see. It would just fall flat.



GK

: Yes, and I feel we are living in a time when this perfection is expected — especially because of the record industry. Because of the number of records existing and still being produced and being sold, we are in a dangerous time when perfection counts more than artistry. Therefore, we have fewer personalities than maybe in the past, when there was much less business going on.



BD

: Is it safe to assume that in the best performances, each one points out different aspects of the piece?



GK

: Of course, and they can be quite contrary to each other. A wonderful piece of music allows different interpretations, and I feel no composer should be satisfied with just with one way of looking at his score.



BD

: When you give a commission to someone, do you give them any pointers or any ideas, or do you just say, "Write me a piece?"



GK

: No. Here and there the piece is related to a combination of players; here and there it's related to a theme, to an occasion, to a celebration, so there are different aspects of it. I can't tell them what the impact is. I'm trying to encourage the composer to do as much as he wants to express, so I'm giving him the allowance to explore things which he never did before. But if I'm sent a score which was not discussed with me beforehand, I'm also quite open minded. I'm trying to figure out what is new to me in this particular score. Most of the time scores that were given in commission were performed by myself. There are only a couple of cases when I said, "I'm terribly sorry, but I really don't feel it's my piece." Occasionally it happens that I would say such a thing after giving it birth and playing it a couple of times and not feeling at home, but most of the times I was lucky to get pieces which actually were jewels.



* * * * *





BD

: Let me ask a real easy question. What's the purpose of music?



GK

: I think music is there as a language that can bring us closer to each other if we are allowing ourselves to open up and not just consider music as something that is a driving force like a beat in the pop music. If we can open up and look at music and at musicians as colleagues, as partners in a dialogue, music is something that can give us a lot of discovery. With music we get a companion for adventures, and therefore I feel music that is easy listening, or music that is assumed to be a convenient accompaniment to our meals or our shopping is dangerous. Like pollution in the air, there's also a pollution in the sound, and all this kind of convenient music disturbs me enormously.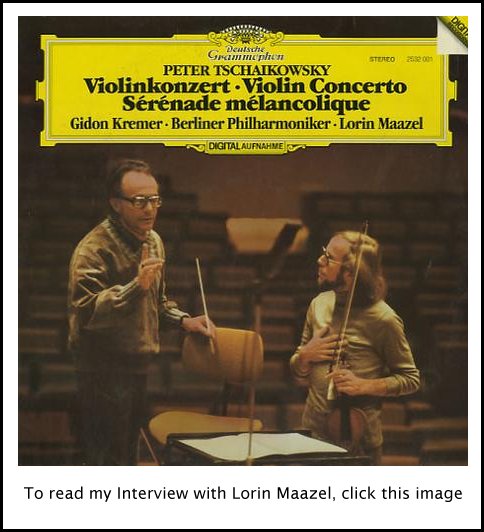 BD

: Is it convenient music, or is it simply non-music?



GK

: Yes, you would be closer to it by saying it's non-music if the pieces would be so often, for whatever reason, classics taken for that kind of use. I'm so fed up with listening to the

Four Seasons

or the Mozart concertos in hotel rooms, and I really don't believe that the spaghetti that is produced by the influence of classical music, or the milk that cows produce that listen to classical music is better. [Both laugh]



BD

: Would you be horrified to hear one of your recordings in an elevator?



GK

: Yes. If I walk into a restaurant and I hear violin music, I almost always ask the waiter to stop it, or to change the channel. I'm very seldom listening to myself, but violin sounds are something that I live so much with that if I want to have a discussion with a friend or a nice meal, I'd rather leave it out.



BD

: When you perform, where is the balance between the artistic achievement and an entertainment value?



GK

: I know that in America very often classical music is put in the leisure or entertainment department, and I feel strongly that this is wrong. I have nothing against entertainment, because in this very dangerous and troublesome world, entertainment can also be a necessary and wonderful distraction. But I don't consider my own preoccupation with music any kind of entertainment. I even don't consider playing tangoes by Astor Piazzolla an entertainment. I think it's full-value music. Piazzolla just happens to be one of the great composers of this century.



BD

: Did he not consider it entertaining?



GK

: Here and there they are lovely pieces that you could compare with waltzes by Chopin, which can also have their entertaining value in itself. But I don't think music in general should be considered as an entertainment. I feel music has much more power in it, and music can be much better than only entertaining. As I said, I have nothing against entertainment. I like to be entertained myself. Music, as a profession, for me is much more than just entertainment. So when I walk on stage, I want to share some emotions; I want to pass on some sentiments; I want to also give the idea that a certain composer could be quite witty, and I hope that here and there I am understood. Talking about entertainers, last night I went to a performance by the 88-year-old Victor Borge, and he is really an entertainer. But he is such a classy entertainer that it's also more than just entertaining. He tickles someone's mind in his audience as well, and he is a wonderful, gracious piano player. Of a whole generation, he's maybe one of the last to be around.



BD

: It seems that his entertaining and his comedy comes from a deep, genuine love of the music.



GK

: Yes, that's right. We all can have our pleasure of falling in love and meeting someone challenging, but what conducts our life is deeply felt love, and finally this is what matters. As love still is in the heart of Victor Borge, so love could be felt in every piece by Astor Piazzolla. This is love not only of the music; that is probably just love of life, and this is a sensation which in many perfect performances is lost.



BD

: Is it safe to assume that you fall in love with each piece that you play?



GK

: Walking on stage, I feel I have to be in love, even if I dismiss a certain piece afterwards or after a couple of performances. As I said, not all premieres would last for years, but I would make a fool of myself if I would walk on stage and not love music that I play.



BD

: Is the music that you play for everyone?



GK

: I don't know... maybe not for everyone. I was told by a manager in England some fifteen years ago, "Oh Gidon, you are so special! You are not for everyone, so not everyone can appreciate how special you are." [Laughs] I think that's silly. If there is something personal in what I do, someone that appreciates the meaning of this which is personal will find his way to it. This doesn't mean that every piece I play has to be liked by everybody, but the way I approach music can be a matter for a number of music lovers. I'm not trying to make myself popular, so I'm not trying to make things which audiences would necessarily like more because they are easy to access. The quantity of concerts that you play or the quantity of records that you sell doesn't speak about quality. The majority of people and majority of music lovers are consumers of something that is easy. I don't think to live is easy, but many people want to consider art or music or something that relates another to be easy rather than be challenging or adventurous or difficult. I don't want to discourage people from contemporary music because I feel there is a misunderstanding. Very often people think contemporary music is too difficult because it has to be understood. Good contemporary music doesn't have to be understood. Giya Kancheli or Leonard Bernstein or Astor Piazzolla all can be felt. Music is about feeling, but you can learn more about the piece if you actually get involved and listen to more of this composer. When you read something about music, you get much more pleasure out of it, but the easygoing thing, the 'rock' of the classical world is something I can't deal at all with. But millions do. So if my producer at Nonesuch says, "Oh, wonderful — we sold already more than a hundred thousand records of Piazzolla," I'd say, "Wait a minute... Vanessa-Mae sells millions!" [Both laugh] This is an ironic comment, but it's an ironic comment on the taste of the larger audience.



BD

: Is this what makes a piece of music great — that it exists on so many levels?



GK

: Oh, yes. But I hope that a good pieces of music is not distorted to such a degree that it becomes easy listening.



BD

: Should you try to go after the rock music audience, or the basketball audience?



GK

: No. I don't have the goal to achieve as many people as possible in this, my small single life. I'm trying to be as loyal to music as I can, and if this is appreciated, I'm happy.



* * * * *





BD

: Do you have any advice for composers who want to write contemporary music, or contemporary music for the violin?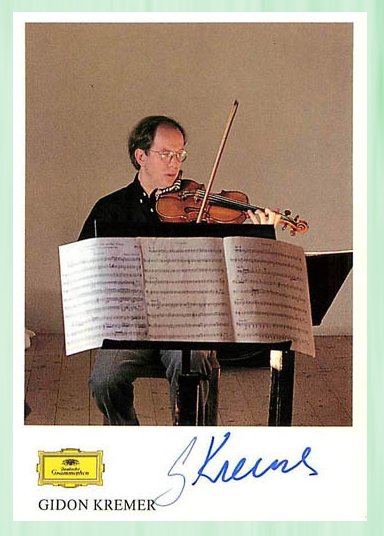 GK

: Yes, I would have one bit of advice. Mauricio Kagel, an Argentinian born German composer said that there are composers that write pieces for other composers. My advice to a composer would be not do that. After all, music is a matter of dialogue with an audience, so you need to give the audience a chance, even at the first listening, to get the desire to listen to it once more. If the impact of the piece is emotionally strong and not just rational, this desire will appear.



BD

: [With a gentle nudge] So you don't like 'academic music'?



GK

: [Smiles] I don't like academic music. I don't like academic musicians or academic composers. I have a lot of respect for knowledge, and working with such a wonderful conductor like Nikolaus Harnoncourt, who is very often, as the cliché goes, labeled — as I am here and there — 'intellectual', which is completely wrong. Working with such a musician, I learned that to know something is always an additional power. But if you know something about the tradition, that doesn't mean you have to fall on your knees and just try to be as loyal as possible to that tradition, and that's all the impact you have to give to a performance. This is just a matter of roots. Contemporary music has its roots in the past, and we have to explore this past as much as we can. But here and there we have to take off the dust that the wrong tradition got on it.



BD

: In that case, I would think it would be almost ideal to have someone like Harnoncourt, who specializes in early music and early performance, to do the Berg concerto with you.



GK

: That's right. He was a specialist in Baroque music, but in the meantime he went on. He recorded as much Mozart, Beethoven, Brahms, and Schumann as any other big conductor. I guess Alban Berg is still a novelty for him, and I'm full of expectation how he is going to face it.



BD

: Are you optimistic about the future of musical composition?



GK

: If I'm looking at the charts, no. [Both laugh] But to walk on stage and to live this troublesome, troubling life, you have to have within yourself a certain optimism. Otherwise it would be too depressing. But the future of music depends on musical education, and I'm quite worried that this musical education is reduced to a minimum these days. Where should we take new audiences if the kids would not learn that there is such a precious thing as music? If they learn only about music what is on MTV, this is a depressing thought.



BD

: Does that mean that you should be on MTV?



GK

: No, I don't think I belong there.



BD

: Why not? That's a way to grab them.



GK

: [Laughs] I'm not sure. I feel like this is also a very commercial enterprise, and even I'm glad if something that I do finds a large audience, I don't want to be commercialized.



BD

: You have just passed your fiftieth birthday. Are you at the point in your career that you want to be at this age?



GK

: In my career I have reached much more than I dreamed about in my youth. I did quite well, and I'm still curious; I'm still full of ideas. I was quite worried to reach this age of fifty, because it seemed like a mountain which you never want to climb on. But now, after I passed the peak of it, it feels a bit easier, and I hope still to enjoy music in the future.



BD

: Thank you for sharing all that you have given us so far. We look forward to even more.



GK

: Thank you.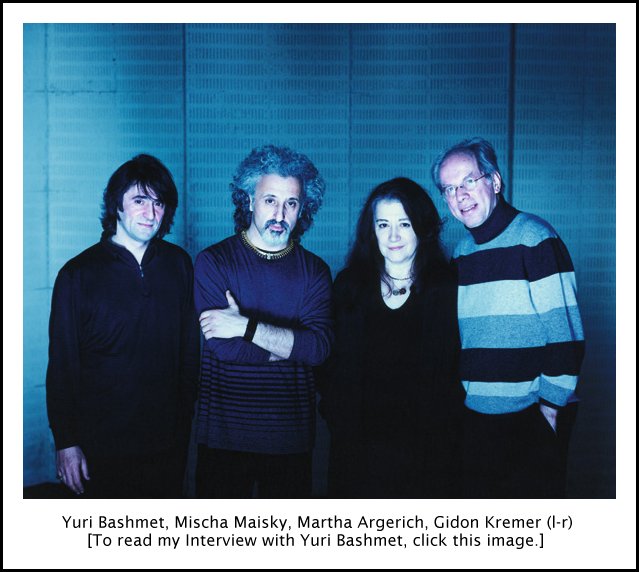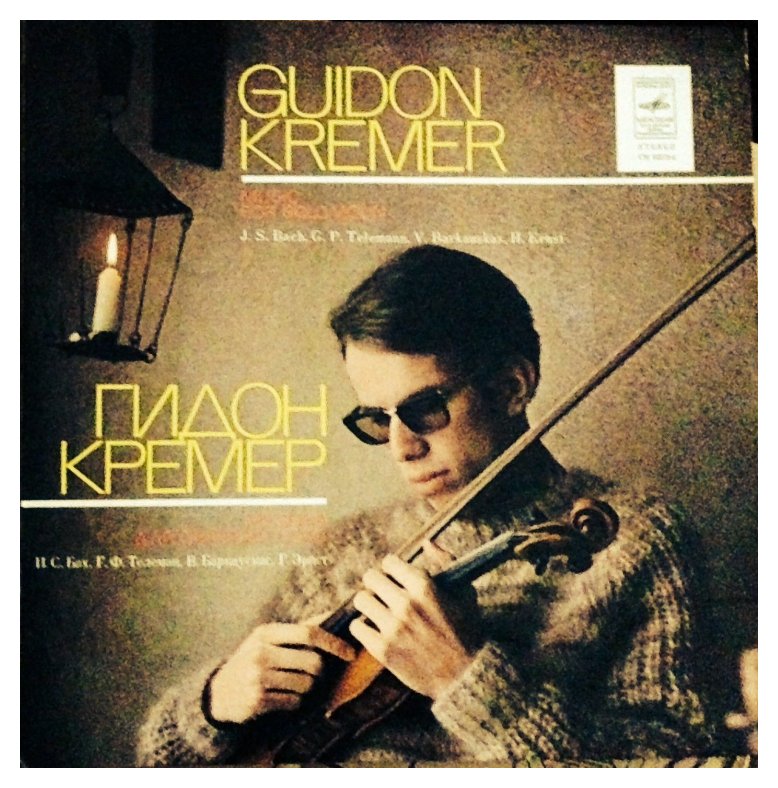 © 1997 Bruce Duffie

This conversation was recorded in Chicago on May 19, 1997. Portions were broadcast on WNIB later that year. This transcription was made in 2014, and posted on this website at that time.


To see a full list (with links) of interviews which have been transcribed and posted on this website, click here.

Award - winning broadcaster Bruce Duffie was with WNIB, Classical 97 in Chicago from 1975 until its final moment as a classical station in February of 2001. His interviews have also appeared in various magazines and journals since 1980, and he now continues his broadcast series on WNUR-FM, as well as on Contemporary Classical Internet Radio.

You are invited to visit his website for more information about his work, including selected transcripts of other interviews, plus a full list of his guests. He would also like to call your attention to the photos and information about his grandfather, who was a pioneer in the automotive field more than a century ago. You may also send him E-Mail with comments, questions and suggestions.