Vyacheslav Michailovich Polozov (Russian:

Вячеслав Михайлович Полозов

), is a Soviet-born opera singer, professor of voice, entrepreneur. He sang at many opera houses around the world, appearing in a variety of leading roles from lyric to dramatic repertoires in French, Italian, German and Russian. He was a Laureate at International Competitions, and Meritorious Artist of the Byelorussian SSR.

Polozov was born January 1, 1950, in the industrial city of Mariupol, Ukrainian SSR, where his parents, mother Ludmila Danilovna Roschina (1918-2003) and father Michael Semyonovich Polozov (1918-?), worked on the local railroad. From 1967 to 1970, Vyacheslav studied at Donetsk Music College. While studying, he sang some small roles at the Donetsk State Academic Opera Theatre. From 1970 to 1972, Polozov served his military duty in Soviet Red Army Choir, Kiev, Ukraine. From 1973-1978, he studied voice at the Tchaikovsky National Academy of Music (or Kiev Conservatory), during which time he made his successful operatic debut in 1977 in the role of Alfredo in La Traviata at the National Opera of Ukraine.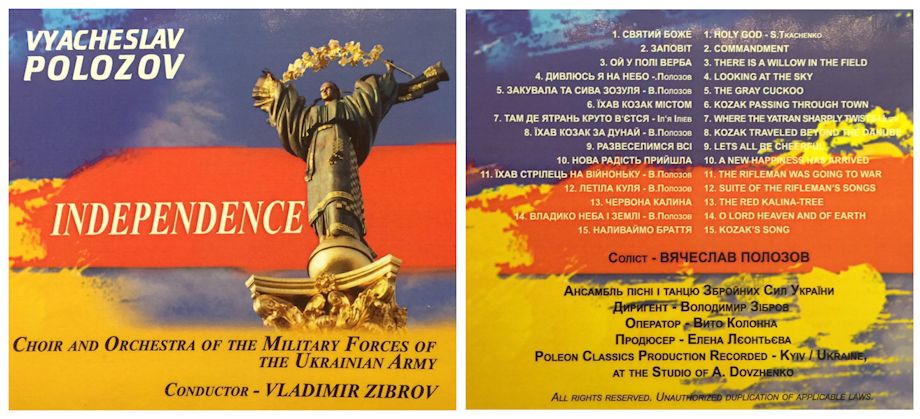 In 1978, he became the leading tenor of the Saratov Academic Opera and Ballet Theatre when he performed Vladimir Igorevich in Borodin's Prince Igor, The Prince in Dargomyzhsky's Rusalka, Lensky in Tchaikovsky's Eugene Onegin, and Lohengrin. In 1980 he became a member of the National Academic Opera and Ballet Theatre of the Republic of Belarus when he performed: Faust, Alfredo, the Duke of Mantua, Prince Kuragin in Prokofiev's War and Peace, Pinkerton, Vodemon in Tchaikovsky's Iolanta, and Tsar Berendey in Rimsky-Korsakov's The Snow Maiden. As a member of the Opera Theatre (Minsk), in 1982, Polozov made his successful debut with the Bolshoi Theatre when he performed Alfredo, and Turiddu opposite Makvala Kasrashvili and Elena Obraztsova. In 1983, he made his debut in the role of Faust at the Lithuanian National Opera, and in 1984 he sang the Duke of Mantua at the Bulgarian National Opera, and Lensky at the Novosibirsk Opera and Ballet Theatre. In 1984, he performed the role of Alfredo at the Estonian National Opera and Latvian National Opera.

In 1986, he made his debut at La Scala as Pinkerton, which, along with the role of Rodolfo, very soon became the most important in his repertoire. In May 1986 after winning the prestigious Madama Butterfly singing competition (Tokyo, Japan), Polozov announced his intention to live in the United States. Since his arrival in the USA, Polozov has appeared in Chicago, Boston, New York (Pinkerton opposite Renata Scotto), California, and Texas (with Julius Rudel). He also appeared in a concert and recording in Washington D.C. (Kennedy Center) as Dmitry in Boris Godunov, under the baton of Mstislav Rostropovich.

He appeared as Calaf in the New York City Opera, and the very same week repeated this role in Munich's Bayerische Staatsoper with Giuseppe Patane. During the 1988/89 season, he performed Enzo in La Gioconda at the San Francisco Opera opposite Eva Marton, and Cavaradossi at the Canadian Opera Company, which has been issued on video. He was also engaged in Paris, Hamburg, Barcelona, Rome, Lyon, Houston, Miami, Los Angeles, Santiago, Tokyo, and other world opera houses.



== Names which are links on this webpage refer to my interviews elsewhere on my website. BD