Van Cliburn (July 12, 1934 – February 27, 2013) was born in Shreveport, Louisiana. His father, Harvey Lavan Cliburn, was an executive with Magnolia Petroleum, now ExxonMobil. At the age of 3, he began piano studies with his mother, Rildia Bee O'Bryan Cliburn, a talented student of Arthur Friedheim, who was a pupil of Franz Liszt. He was 12 when he made his orchestral debut with the Houston Symphony Orchestra. After graduating from Kilgore High School in the spring of 1951, his mother wanted him to study with Madame Rosina Lhevinne at the famed Juilliard School in New York City.

In 1954, Van Cliburn won the Levintritt Competition, which had not awarded a first-place prize since 1949. The prestigious Levintritt Competition offered important appearances with such major orchestras as Cleveland, Denver, Indianapolis, and Pittsburgh, as well as a coveted New York Philharmonic debut with the great Dimitri Mitropoulos, which took place in Carnegie Hall on November 14, 1954.

He was hailed as one of the most persuasive ambassadors of American culture, as well as one of the greatest pianists in the history of music. With his historic 1958 victory at the first International Tchaikovsky Competition in Moscow, at the height of the Cold War, Van Cliburn tore down cultural barriers years ahead of glasnost and perestroika, transcending politics by demonstrating the universality of classical music.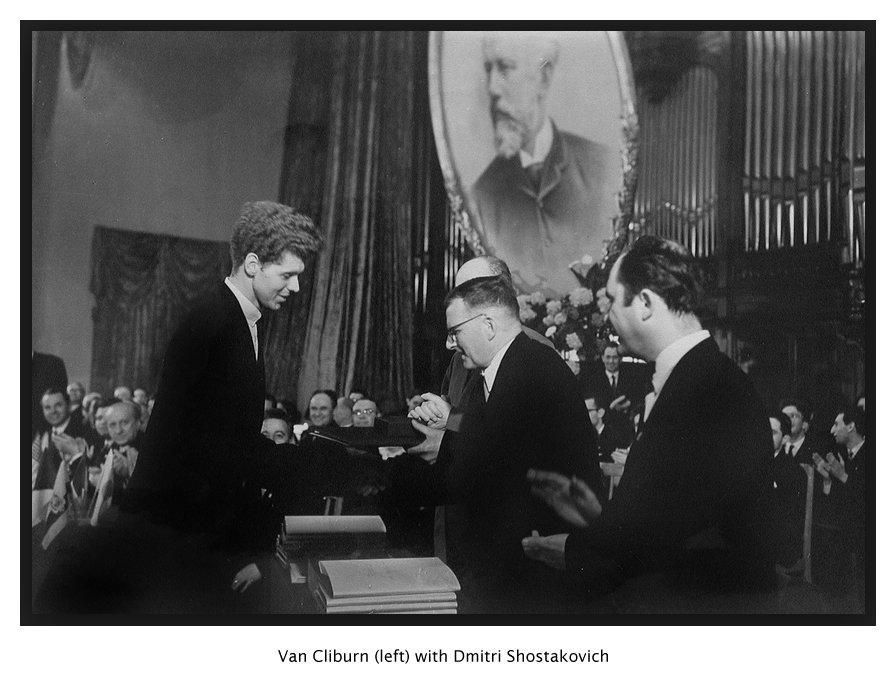 Returning home from Moscow, Mr. Cliburn received a ticker-tape parade in New York City, the only time a classical musician was ever honored with the highest tribute possible by the City of New York. Upon Mr. Cliburn's invitation, Kiril Kondrashin, the conductor with whom the pianist had played his prizewinning performances, came from Moscow to repeat the celebrated concert program with Van Cliburn at Carnegie Hall in New York, at the Academy of Music in Philadelphia, and in Washington, D.C. Their recording of Tchaikovsky's

First Piano Concerto

, made during Kondrashin's visit, was the first classical recording ever to be awarded a platinum record and has now sold well over three million copies.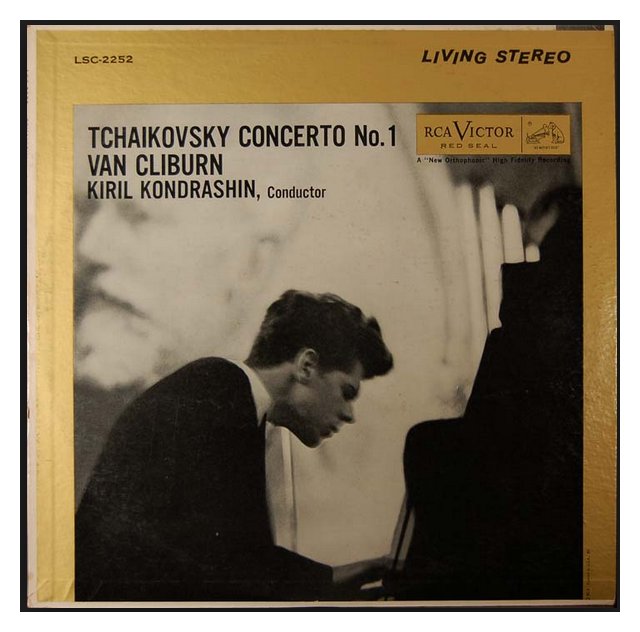 Following his triumph in Moscow, Mr. Cliburn played in several cities in the Soviet Union. From that time on, he toured widely and frequently with every important orchestra and conductor, in the most renowned international concert halls. Mr. Cliburn toured the Soviet Union many times between 1960 and 1972 for extended periods. He made numerous timeless and beloved recordings, including many major piano concerti and a wide variety of solo repertoire.

Early in his career, a group of friends and admirers began the Van Cliburn International Piano Competition as a living legacy to Mr. Cliburn's constant efforts to aid the development of young artists. The first competition was held in 1962.

In 1987, at the invitation of President Ronald Reagan, Mr. Cliburn performed a formal recital in the East Room of the White House during the State Visit honoring Mikhail Gorbachev, the Soviet Union's then general secretary [

photo below

]. Two years later, and thirty-one years after his triumph at the Tchaikovsky Competition, Mr. Cliburn returned to the Soviet Union to perform at the Great Hall of the Moscow Conservatory and in the Philharmonic Hall of Leningrad.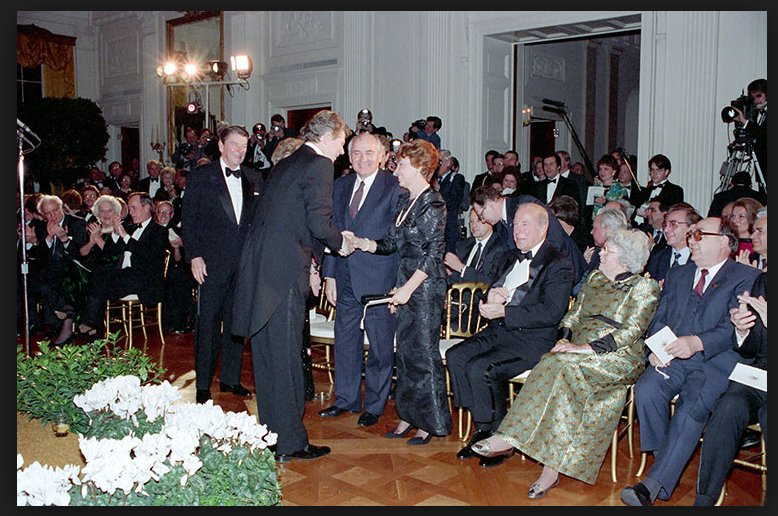 Carnegie Hall then requested that he play for its 100th anniversary season as soloist with the New York Philharmonic. Over the years, Mr. Cliburn has opened many U. S. concert halls, including the famous I. M. Pei Morton H. Meyerson Symphony Center in Dallas; the Lied Center for the Performing Arts in Lincoln, Nebraska; and the Bob Hope Cultural Center in Palm Springs, California.

Mr. Cliburn was an honorary member of the Royal Academy of Music in London. He received more than 20 honorary doctorate degrees. He provided scholarships at many schools, including Juilliard, the Cincinnati Conservatory, Texas Christian University, Louisiana State University, the Franz Liszt Academy in Budapest, the St. Petersburg Conservatory, and the Moscow Conservatory.

Mr. Cliburn performed for every President of the United States since Harry Truman and for royalty and heads of state in Europe, Asia, and South America. He received Kennedy Center Honors and the Grammy® Lifetime Achievement Award. In a 2004 Kremlin ceremony he received the Order of Friendship from President Vladimir Putin, and in 2003, President George W. Bush bestowed upon him the Presidential Medal of Freedom. President Barack Obama honored Mr. Cliburn with the National Medal of Arts in a ceremony at the White House in 2011.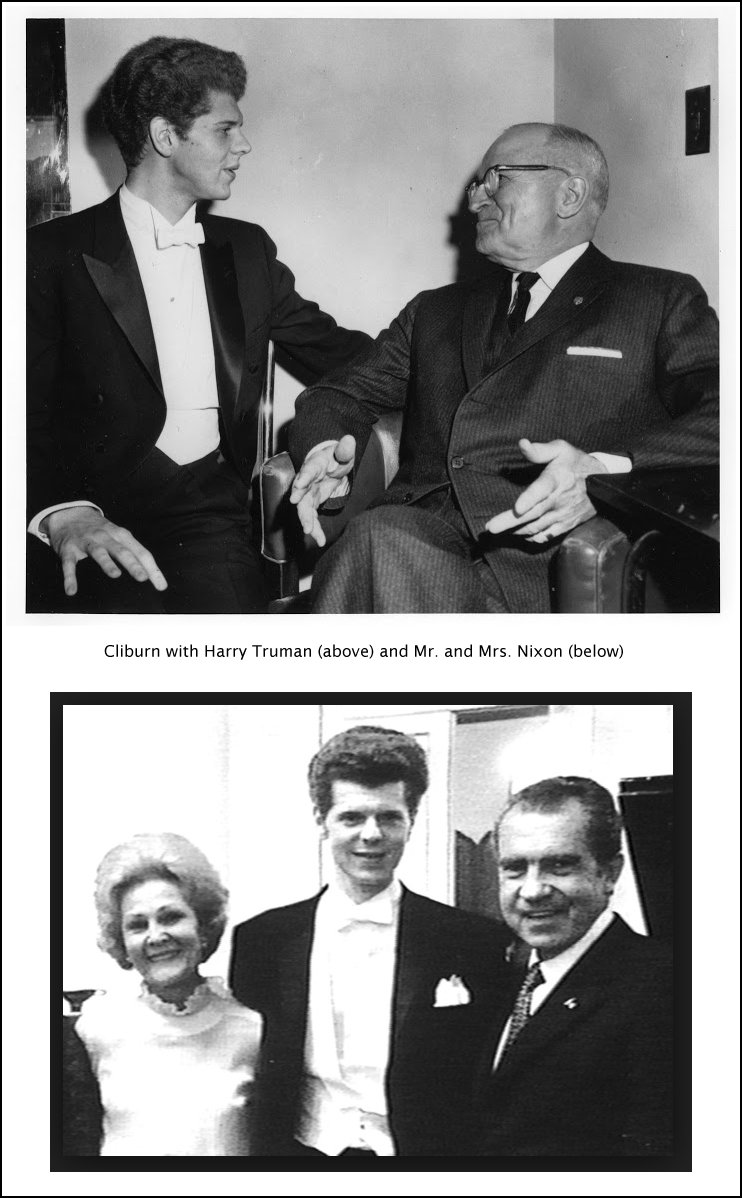 Here are a few of the highlights of his long and distinguished career . . . . . . . . .


Van Cliburn achieved international acclaim when, in 1958, he won the first Tchaikovsky International Competition in Moscow, several months after the Russian launch of Sputnik, the first earth-orbiting satellite. The cultural and musical icons of Russia, a few of which were Shostokovich, Emil Gilles, Kabalevsky, Rostropovich, and David Oistrachk, felt the time was correct to bring equal attention to great classical music as had been shown to science, math and technology. The most beloved composer of the world was Tchaikovsky, whose legacy is forever a grand treasure of the People of Russia – hence, the Tchaikovsky Competition. Premier Nikita Khrushchev himself gave permission to the Soviet judges to award the prize to the 6'4″ 23-year-old Texan. In the first round, Cliburn received an eight-minute standing ovation from the Moscow audience for his recital performance, and his subsequent rounds were given equally tumultuous responses.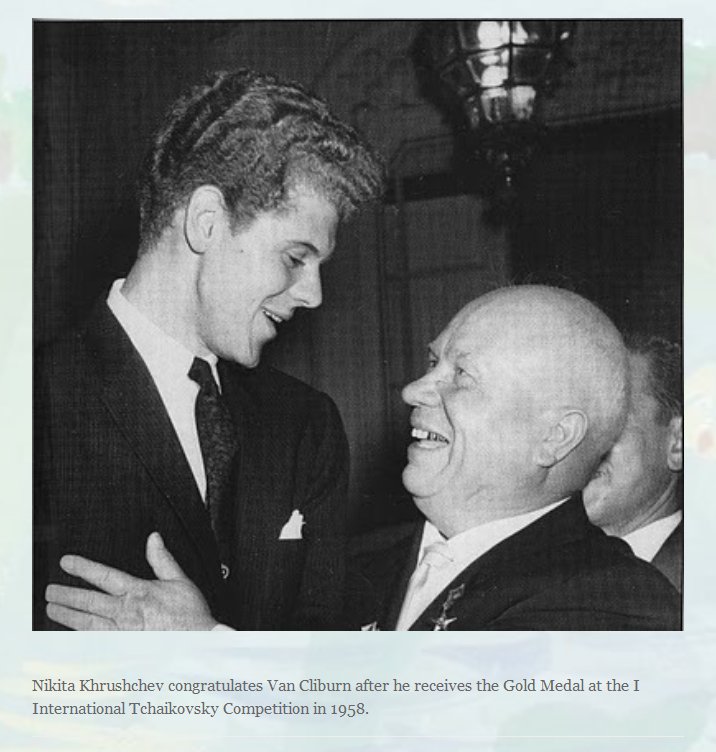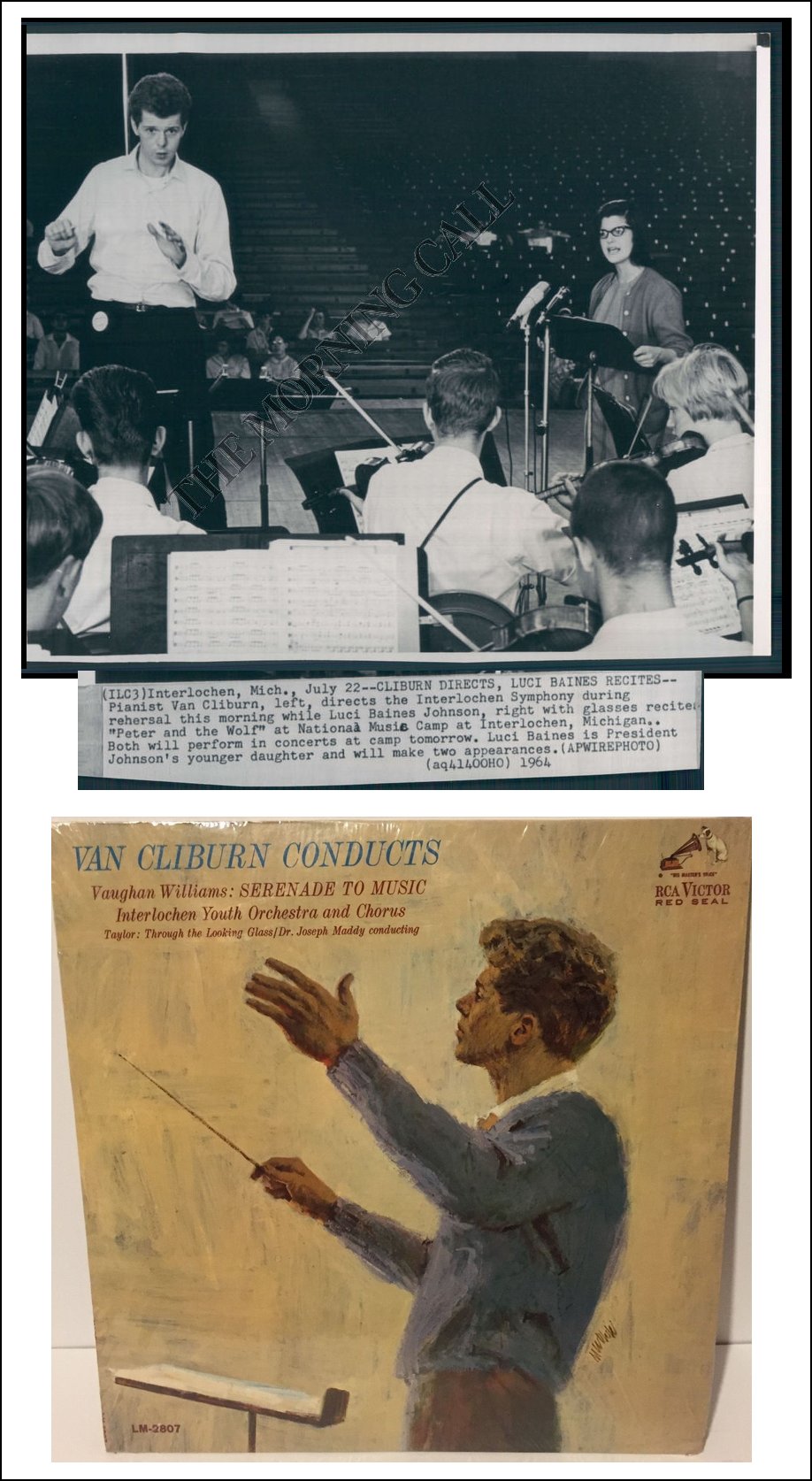 Van Cliburn's RCA Victor recording of the Tchaikovsky

Concerto

topped Billboard's chart for months, as did his album, "My Favorite Chopin," for more than 37 weeks. Cliburn's recording is the first classical LP in history to sell more than one million copies – the album eventually exceeded triple platinum. And as the newspapers heralded, Mr. Cliburn's exclusive contract with RCA Victor was the largest monetary contract ever awarded to any musician in all of the recording industry history at that time.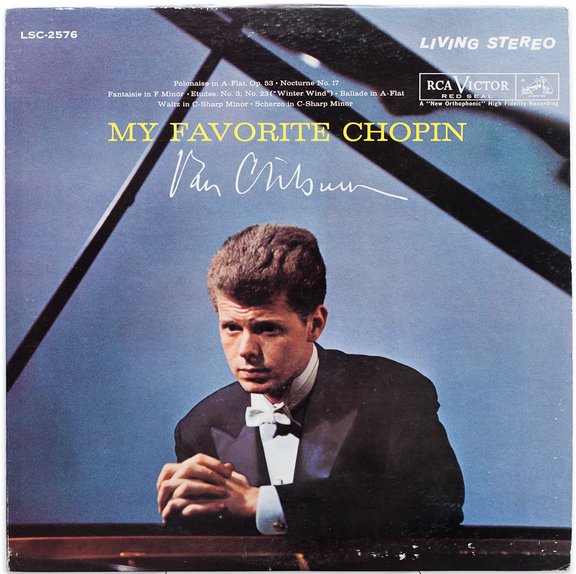 Mr. Cliburn became a worldwide cultural idol, achieving a degree of popular recognition on a level with Elvis Presley. He became a household name to people of all ages, in homes with no previous connection to classical music. Some high points:

Advance demand for tickets to Mr. Cliburn's first U.S. appearance after the Moscow victory outsold any previous events in the then sixty-seven-year history of Carnegie Hall.
There was a near riot by fans in Philadelphia when Cliburn was discovered shopping in Wannamaker's Department Store.
Cliburn played two concerts in Chicago's Grant Park to an audience of over 80,000 each evening, whereupon Chicago's Elvis Presley Fan Club changed its name to the Van Cliburn Fan Club.
In November 1958, for the first time in its seventy-seven-year history, the Boston Symphony Orchestra was forced by demand for tickets to schedule a repeat performance of a concert. With Mr. Cliburn as soloist, the repeat was promptly sold out as well.
That same year, Mr. Cliburn's concerts also set attendance records in New York at Madison Square Garden, in Pittsburgh, and in Philadelphia, in the Hollywood Bowl, and all at the highest prices ever charged for such events.
Van Cliburn turned down two Hollywood offers to star in films – one of which was about Franz Liszt.
Mr. Cliburn's fame was acknowledged in the

Peanuts

comic strip.
Mr. Cliburn's face was on a box of Soviet chocolates, the "best selling candy in the USSR."
In June, 1994, at a special concert at Grant Park with the Chicago Symphony with Maestro Leonard Slatkin, newspapers reported that according to police estimates, 350,000 people were in attendance.

Van Cliburn's superstar status in both the United States and Russia catapulted him into a decades-long role as unofficial diplomat and ambassador of art in the midst of the Cold War and beyond.
He has played for every American president since Truman. His performance in the Reagan White House also included President Mikhail Gorbachev and his wife Raisa in the audience and was part of a summit meeting between the two leaders who eventually ended the Cold War.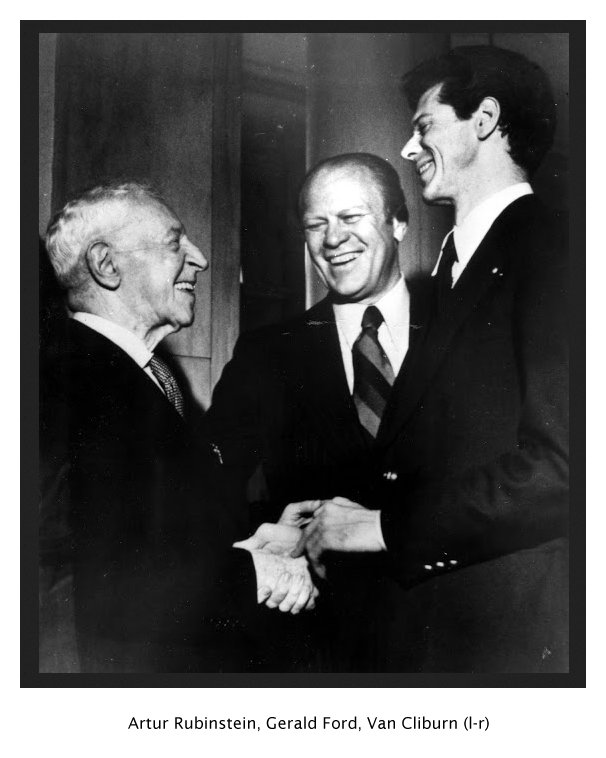 In 2001, Van Cliburn received the Kennedy Center Honors Award as "one of the most persuasive ambassadors of American culture, as well as one of the greatest pianists in the history of music."
In 2003, George W. Bush awarded Mr. Cliburn the Presidential Medal of Freedom, which recognizes individuals who have made "an especially meritorious contribution to the security or national interests of the U.S. or to world peace, or to cultural or other significant public or private endeavors."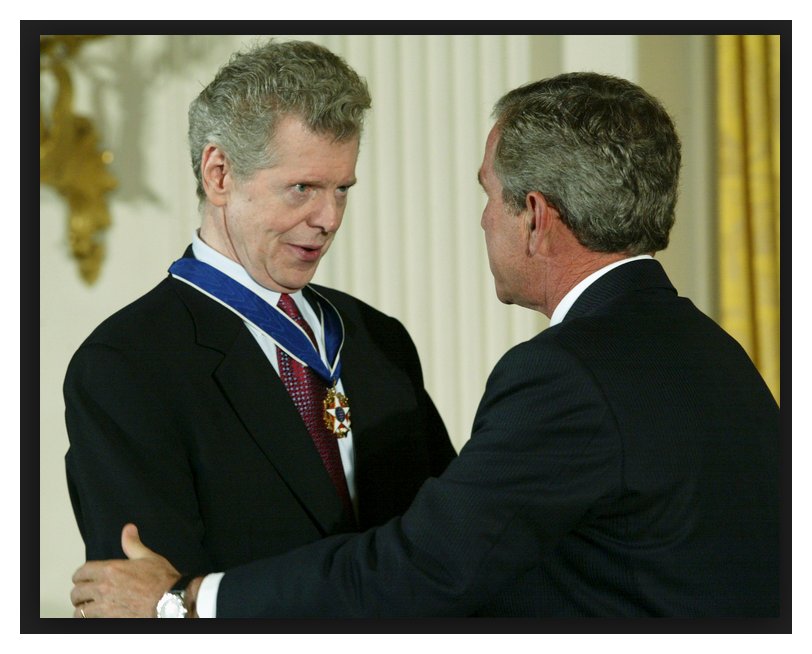 In 2004, President Vladimir Putin presented Mr. Cliburn with the Order of Friendship, a state decoration bestowed almost exclusively upon Russian citizens for "their significant contribution into the strengthening of friendship and cooperation of nations and nationalities…"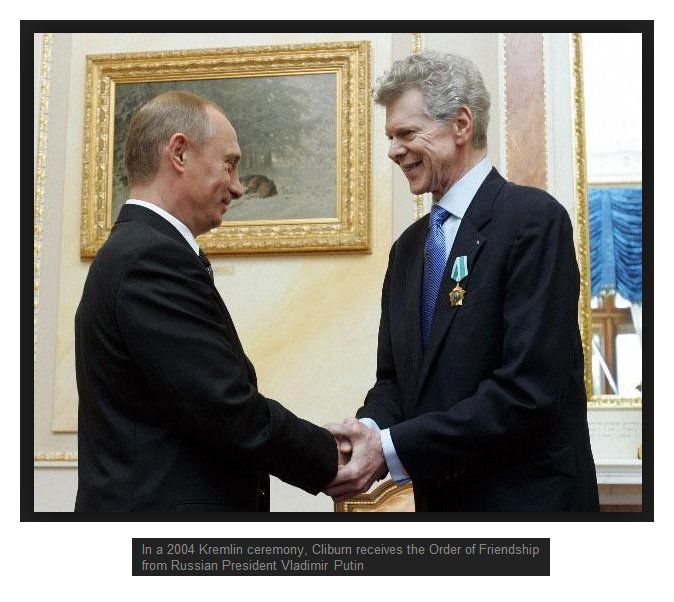 Mr. Cliburn received the Grammy Lifetime Achievement Award in 2004.
In 2011, President Barack Obama awarded Van Cliburn the National Medal of the Arts.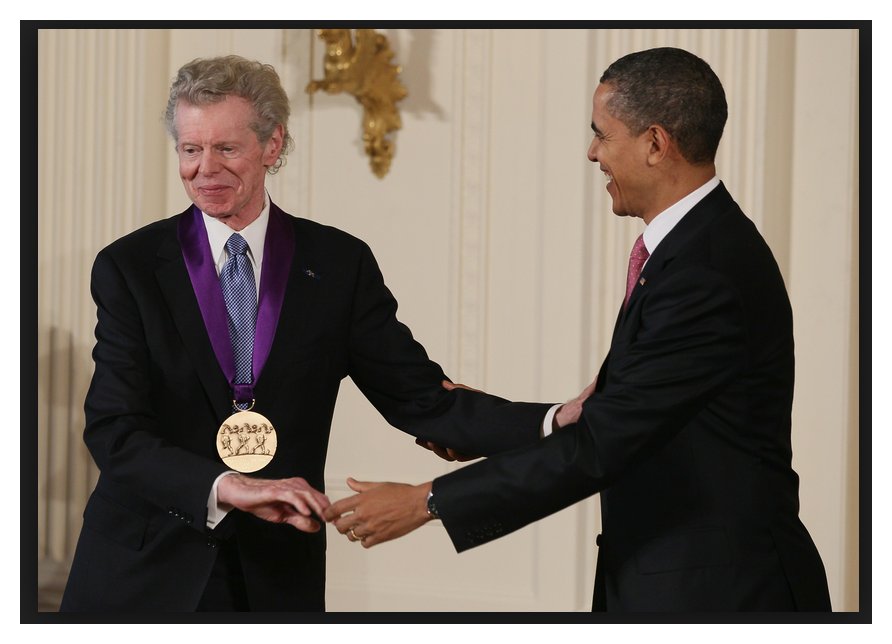 -- Text from the Cliburn Website. Photos from various sources.