Daron Aric Hagen was born November 4, 1961 in Milwaukee, Wisconsin, and grew up in New Berlin, a suburb west of Milwaukee. He began composing prolifically in 1974, when his older brother Kevin gave him a recording and score of Benjamin Britten's Billy Budd. Two years later, at the age of fifteen, he conducted the premiere of his first orchestral work, a recording and score of which came to the attention of Leonard Bernstein [shown at left in the photo below], who enthusiastically urged Hagen to attend Juilliard to study with David Diamond. He studied piano with Adam Klescewski, and composition, piano, and conducting at the Wisconsin Conservatory of Music (where his teachers included Duane Dishaw and Judy Kramer) while attending Brookfield Central High School.
After two years at the University of Wisconsin–Madison, where his teachers included Catherine Comet (conducting), Jeanette Ross (piano), and Les Thimmig and Homer Lambrecht (composition), he was invited to attend the Curtis Institute of Music in Philadelphia by Ned Rorem (with whom he developed a lifelong friendship). While a student of Rorem's at Curtis, he studied piano with Marion Zarzeczna and also studied privately with Lukas Foss. Hagen moved to New York City in 1984 to complete his formal education as a student at Juilliard, studying first for two years with Diamond, then for a semester each with Joseph Schwantner and Bernard Rands. After graduating, Hagen was a Tanglewood composition fellow before briefly living abroad, first at the Camargo Foundation in Cassis, France, and then at the Rockefeller Foundation's Villa Serbelloni in Bellagio, Italy, where he has twice been a guest. Between 1985 and 1998 Hagen was also a frequent guest at the MacDowell Colony. When he returned to the United States, Hagen studied privately with Bernstein, whose guidance during the composition of Hagen's Shining Brow (1992) — the opera that launched Hagen's career internationally — prompted him to dedicate the score to Bernstein's memory.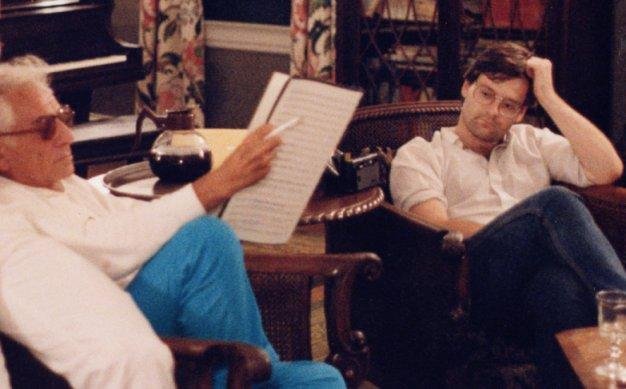 A stint as composer in residence at the Music Conservatory of the Chicago College of Performing Arts led to an invitation to join the artist faculty there in 2017 "in a multi-disciplinary position created for him that enables him to share his skills as a stage director, dramaturge, composer, and social activist with students from throughout the Roosevelt University community as they shadow him and collaborate in the development of a new Hagen opera each year." He has served as the Franz Lehár Composer in Residence at the University of Pittsburgh (2007), twice as composer in residence for the Princeton University Atelier (1998, 2004–5); as artist in residence at the University of Nevada, Las Vegas (2000–2002); Sigma Chi-William P. Huffman Composer in Residence at Miami University, Oxford, Ohio (1999–2000); artist in residence at Baylor University, Waco, Texas (1998–1999); on the musical studies faculty of the Curtis Institute of Music (1996–1998); as an associate professor at Bard College (1988–1997); as a visiting professor at the City College of New York (1997, 1993–1994); and as a lecturer in music at New York University (1988–1990).
As artistic director of the Perpetuum Mobile Concerts (1982–87) he premiered compositions by over a hundred American composers on concerts produced in Philadelphia and New York. Hagen served as president of the Lotte Lehmann Foundation (2004–07) in New York City, an international nonprofit organization dedicated to encouraging the performance and creation of opera and art song; from 2000 to 2018 he served as a trustee of the Douglas Moore Fund for American Opera, and was elected a lifetime member of the Corporation of Yaddo in 2006. He is the founding artistic director of the New Mercury Collective, "a laboratory for artistic exploration, creative risk-taking, and performance in which its members can collaborate on the creation and performance of post-genre works combining theater, music, and emerging technology for audiences of all types." Hagen has been a featured composer at the Tanglewood, Mostly Modern, Ravinia, Wintergreen, and Aspen music festivals, and has served as artistic director and head of faculty for the Seasons Fall Music Festival in Yakima, Washington (2008–2012). He has served as co-chair of Composition for the Wintergreen Summer Music Academy in Virginia since 2015.


== Names which are links in this box and below refer to my interviews elsewhere on my website. BD