Cellist / Conductor Mstislav Rostropovich
A Conversation with Bruce Duffie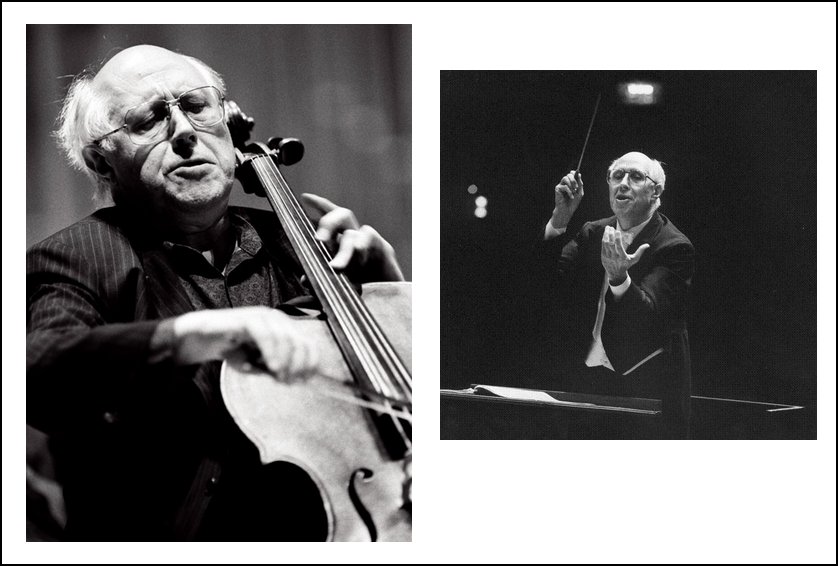 This webpage presents the transcript of a conversation I was privileged to have with cellist and conductor Mstislav Rostropovich. We met at Orchestra Hall in Chicago at the end of May, 2004.

Most of my interviews which I have presented on my websites either begin or end with a biography or obituary or appreciation of my guest. This time, however, there is simply too much to say. Any meaningful discussion of the life and accomplishments of this musician would at least double the length of this page. So for anyone wishing to read the details and statistics of his life, let me simply direct you to a Google search, which will present pages of hits from which to choose.

Just as he is onstage, in person Rostropovich was a whirlwind, all energy and exuberance. At the end of our conversation he apologized for his English, and wished he had been able to speak in Russian. But I assured him that it was fine, and that his thoughts came across. To that end, I have smoothed out much of what he said. After understanding what it was he was trying to say, I used as many of his words as possible and made it flow smoothly.

As we were settling down to begin, he emphasized that we should have, "Simple questions, and very simple responses. That's all."




Bruce Duffie

: From an ever-expanding repertoire of orchestral music, how do you decide which you will play, and which you will not play?



Mstislav Rostropovich

: For example, I don't like to play Wagner operas. I like them enormously, but I think that a very high performance standard exists for these operas. I've completely another feeling for Tchaikovsky, because his operas have been performed many, many times, but in ways so far from the ideas of Tchaikovsky, of what he painted in his score. That's why Tchaikovsky I'll make with great pleasure, by teaching the style and doing them complete. I conduct with great pleasure other operas, and I will make something very special for them. For example, I conducted

Tosca

of Puccini, and was very proud because Nadia Boulanger was at my performance, and she made many compliments to me in her book. That touched me very much. I conducted that opera because I also found it something very special for me. Of course, I perform compositions whenever a composer dedicates the score to me, such as the

Symphony Number Six

of Schnittke, for example. Also

Timbres, espace, mouvement

, the composition for orchestra that Dutilleux did for me. Lutosławski did for me another piece for orchestra, and there are many other composers. Of course, I kept in contact with these composers, so that's why I know how composers would like their performances.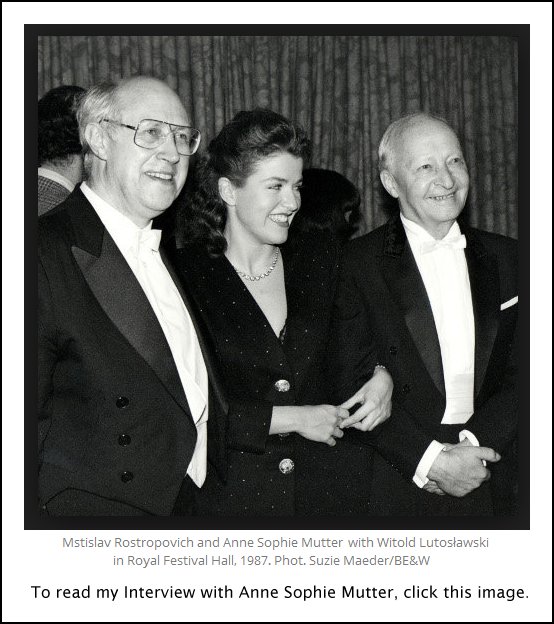 The

Second Symphony

, and

Livre pour orchestre

and the

Cello Concerto

which followed, were composed during a particularly traumatic period in Lutosławski's life. His mother died in 1967, and in 1967–70 there was a great deal of unrest in Poland. This sprang first from the suppression of the theatre production

Dziady

, which sparked a summer of protests. Later, in 1968, the use of Polish troops to suppress the liberal reforms in Czechoslovakia's Prague Spring, and the Gdańsk Shipyards strike of 1970 (which led to a violent clampdown by the authorities), both caused significant political and social tension in Poland. Lutosławski did not support the Soviet regime, and these events have been postulated as reasons for the increase in antagonistic effects in his work, particularly the

Cello Concerto

of 1968–70 for Rostropovich and the Royal Philharmonic Society. Indeed, Rostropovich's own opposition to the Soviet regime in Russia was just coming to a head. He shortly afterwards declared his support for the dissident Aleksandr Solzhenitsyn. Lutosławski himself did not hold the view that such influences had a direct effect on his music, although he acknowledged that they impinged on his creative world to some degree. In any case, the

Cello Concerto

was a great success, earning both Lutosławski and Rostropovich accolades. At the work's première with the Bournemouth Symphony Orchestra, Arthur Bliss presented Rostropovich with the Royal Philharmonic Society's gold medal.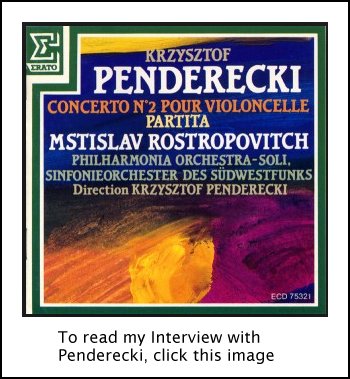 BD

: Do you always do exactly what the composer wants, or do you put in your own heart?



MR

: I'll tell you. Of course, I have enormous deep experience and connection with a collection of composers. For example, my résumé now counts 135 world premieres as cellist, and 87 as conductor. When my contact with a composers starts, I sometimes cannot sleep nights. This is because when I play his composition, he tells me, "Slava, you know, I think that this episode would be better a little bit faster, and another episode would be better if you play a little bit slower." I don't sleep because I think to myself, "Why had I not, through the music, understood this before?" When a composer gives to me music — symphonic music or cello music — I'll never play it on the cello immediately. I only see this music, and read this music into my memory.



BD

: You just read the score?



MR

: Yes, I read the score because before I play it, I would like to be sure to know about this composition, and understand what he says in this composition. Only after that, when I understand it in my mind, I take my cello. Then I already know which finger to use, and what is the sound, and which voice I must use for that. First I must know idea of composer, and secondly I come to interpretations because I want my interpretation to be coming exactly from what composer would like. For me, that music from a great composer is like a letter for me. These are also letters from Brahms or from Bach. Like a letter, he says to me, "Slava, that's very slow and very soft here. That's a very concentrated

piano

, and that's

mysterioso

, and that's

animato

," etcetera. For me, that's what composer means there, and that's the most important goal, the most important idea.



BD

: Is the letter to you, or is the letter to the orchestra, or is the letter to the audience?



MR

: Ah, that's it. This letter is coming to me. First, I must understand this letter, and after that I interpret this letter, translate it to the orchestra with gestures and with some kind of hypnosis... or even something different. [Both laugh] I tell to the orchestra what the composer would like. I have many, many contacts with composers... Not to take too much time, but among the French composers are Dutilleux first, my dear friend, and Messiaen, also Andre Jolivet, Jean Wiéner, George Auric, Henri Sauget, and many another, many others. All these composers have dedicated music to me. Then from Great Britain, I have two composers who dedicated things to me — Sir William Walton, his last composition, the one for cello and orchestra, and six compositions dictated to me by Benjamin Britten. My understanding is not only for the compositions that were dedicated to me, but also the

War Requiem

, which he composed in the period of our friendship. This is why I know exactly what he would like, what he says in this score.




For the opening performance, the

War Requiem

was intended that the soloists should be Galina Vishnevskaya (a Russian), Peter Pears (an Englishman) and Dietrich Fischer-Dieskau (a German), to demonstrate a spirit of unity. Close to the premiere, the Soviet authorities did not permit Vishnevskaya to travel to Coventry for the event, although she was later permitted to leave to make the recording in London. With only ten days' notice, Heather Harper stepped in and performed the soprano role.

Although the Coventry Cathedral Festival Committee had hoped Britten would to be the sole conductor for the work's premiere, shoulder pain forced his withdrawal from the main conducting role. He did, however, conduct the chamber orchestra, and this spawned a tradition of separate conductors that the work does not require and Britten never envisaged. The premiere took place on 30 May 1962, in the rebuilt cathedral with the City of Birmingham Symphony Orchestra, conducted by Meredith Davies (accompanying soprano and chorus), and the Melos Ensemble, conducted by the composer (accompanying tenor and baritone). At Britten's request, there was no applause following the performance. It was a triumph, and critics and audiences at this and subsequent performances in London and abroad hailed it as a contemporary masterpiece. Writing to his sister after the premiere, Britten said of his music, "I hope it'll make people think a bit."

The North American premiere was at Tanglewood, with Erich Leinsdorf conducting the Boston Symphony Orchestra with soloists Phyllis Curtin, Nicholas Di Virgilio, Tom Krause and choruses from Chorus Pro Musica and the Columbus Boychoir, featuring boy soprano Thomas Friedman. The Dutch premiere took place during the Holland Festival, in 1964. The Amsterdam Concertgebouw Orchestra and the Netherlands Radio Choir were conducted by Bernard Haitink; the chamber orchestra (consisting of Concertgebouw Orchestra instrumentalists) was conducted by Britten himself. The soloists were Vishnevskaya, Fischer-Dieskau and Pears, in their first public performance together.



-- Names which are links refer to my Interviews elsewhere on my website. BD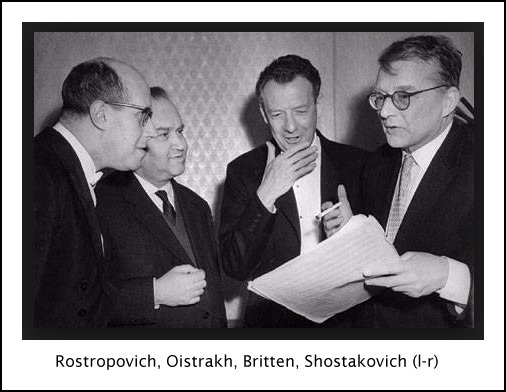 For practical reasons, performances of

War Requiem

will change. Some conductors would like to show how they think, and that's why they conduct the same way in the big orchestra and in the chamber orchestra. But that's a mistake because in the chamber orchestra they have just two soloists — tenor and baritone — who are soldiers from the war. They are each other's enemy, and that's why for first performance, the tenor was English, Peter Pears, and the baritone, Fischer-Dieskau, was German. With the chamber orchestra, that's a completely different world and it's more difficult than conducting the big orchestra. Britten himself conducted the chamber orchestra. It is a requiem for these people who have already died. They are in the hearse together, near one another. They made contact and said to each other, "I recognize you, that you killed me. Why?" That's a separate world with the chamber orchestra. When I am conducting the big orchestra with the choir and the soprano soloist — a part which was written for my wife, Galina — I always invite friends who are better conductors than I am to conduct the small orchestra. Many times it's beloved friends, such as Seiji Ozawa who conducted the small orchestra. About this

Requiem

, I did something interesting, because I start to make a great friendship between Britten and Shostakovich. I have copies of letters where Britten tells Shostakovich about me and Shostakovich tells Britten about me. After the premiere of the

Requiem

, Ben give me the tape of this performance, and a small score, and said, "Slava, maybe you give to Dmitri. I would like it if he hears it and sees the score of my new composition." So when I came to Moscow, I gave to Shostakovich the score and this tape, and I told him Ben would like you to hear this. Shostakovich, of course, was always busy composing, and I thought that maybe after a week he would call me. But he called after two days and said, "Slava, I must see you!" When I came to him, he told me, "I have heard this

War Requiem

several times, and I must tell you that it's my very strong opinion that it's one of the... no, THE greatest composition of 20th century."



BD

: My goodness!



MR

: This is Shostakovich speaking. That's why I tell you each word exactly as he told it to me.



[

Rostropovich led a three-week Shostakovich Festival with the Chicago Symphony to close the 1998-99 season. The six orchestral programs were planned, right down to the specific order of works, by the composer during the early 1960s in conversations with Rostropovich. He already has presented fuller versions of this festival in St. Petersburg, Tokyo and London, and is planning a fifth for Amsterdam next year, but this is the first time he has presented it in the U.S.

]




BD

: Is Shostakovich with you when you conduct his music?



MR

: Of course! Of course! [Musing about current circumstances] Our genius composers live a very tragic life. Mediocre composers have better life, and bad composers in the Soviet Union have fantastic lives. [Both laugh] That's absolutely sure. I will not use names, but I know.



BD

: That's all right.



MR

: Let me tell you about the official awards. During his last five summers [1948-52], I lived in the dacha of Prokofiev. On the 10th of February, 1948, there was the absolute scandal. The Soviet government, the Communist Party, Stalin, Zhdanov, railed against formalism in music, against Prokofiev, against Shostakovich. "That's very bad music; that's not music for our people." From 1948 until '51, not one of their compositions was performed. It was forbidden to perform anything from Prokofiev and Shostakovich in Soviet Union. When I lived in his dacha in that summer of '48, after this scandal, I was very, very good soldier for my idols Shostakovich and Prokofiev. When we would walk together, Prokofiev would always tell me, "Slava, I don't want to die before I hear at last my version of

War and Peace

." He made a version for one night, but before this it was for two nights. He made his version for one night, but he did not hear this in his life. That's why it's very difficult to tell that if he is completely satisfied with my performances.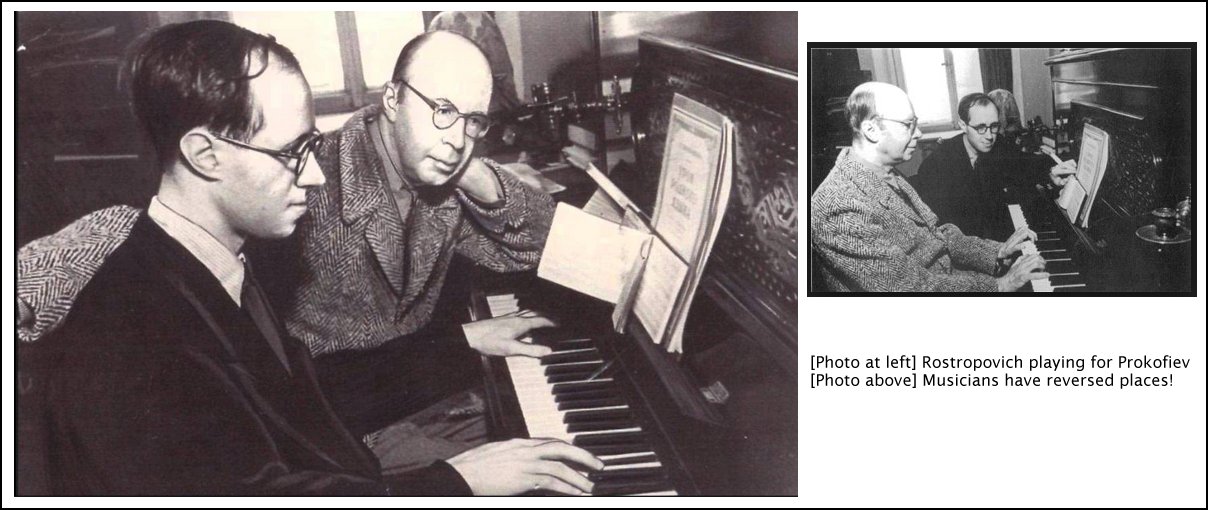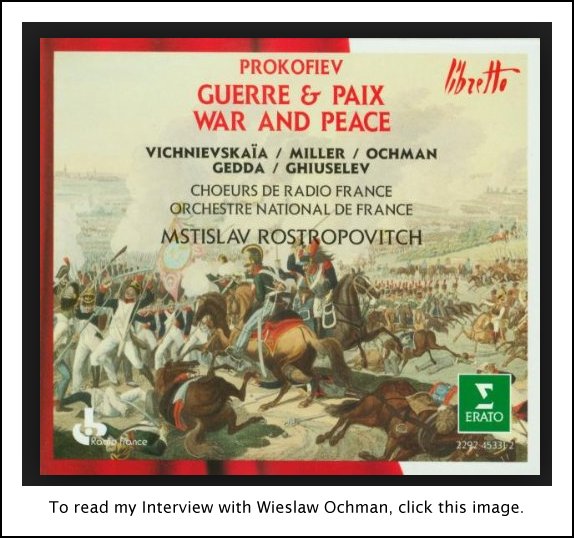 BD

: Does your recording satisfy him now that he is in Heaven?



MR

: He doesn't know my recording, because I made recording after his death. But I will ask him immediately when I see him, so meet me there. [Laughs] I would have liked to perform this version of his

War and Peace

, one of the greatest operas in century when he was still alive. [

Rostropovich would conduct the work at the Bolshoi in 1969

for the first time in the composer's original version, prompting Shostakovich to comment,

"

The opera sounded as it should sound... Here at last was a real conductor on the rostrum, a real musician and interpreter of immense talent.

"

Shostakovich would contribute his own arrangement of a bit of the music, as Rostropovich relates in the interview...

] In last scene, after Kutuzov, the Field Marshal, had won this great, great war, he came into stage in the Bolshoi Theater with a live white horse, and all of his army was in the Red Square. It's a big stage in the Bolshoi Theater, and it accommodated the Red Square scene. The orchestra in the pit played a march for this moment, and when I'm conducting, I tell regisseur, the stage director, it was such a fantastic scene, but it would be better if this march were played not by the orchestra in the pit, but by a brass band in the Red Square. The stage director says it was a fantastic idea, but how would it be possible to realize this idea? I told him that we must make a new arrangement, not for symphony orchestra, but for a brass band. All the people were very excited about my idea, and the Bolshoi Theater told me they had some musicians who could make the new orchestration. That's very good, I thought, but I also asked Shostakovich to make a new score out of this march. When I started rehearsing it, I shed tears, because it was such a phenomenal sound. Of course, that's music. After this performance he wrote an article, and for a long time no newspaper would print this article. So Shostakovich called me after ten days and said, "After your performance I could not sleep and I could not eat. I wrote a critique for the newspaper, but because the newspaper will not print it, I will give to you my new manuscript." I must tell you that this was very, very rare in my life. Never have I, as a conductor, had so high compliments as made by Shostakovich. Now I have this manuscript of this, which is his setting of Mussorgsky's

Songs and Dances of Death

.



* * * * *





BD

: What is the purpose of music?



MR

: Purpose??? There's no purpose. It's one of the greatest gifts for us from God. That's God's gift to us, one language for all lands with no need for a translator. I have difficulties explaining my ideas in English, but when I conduct or play, it is so easy to explain what I feel to the public for whom I perform. I come to practically the whole world, but that's not important. Maybe there's some audience which is not very educated in some way, far away from cities and arts centers, but in any case, people understand this message perfectly. Of course, with modern music, especially abstract music, it's more difficult understand, but music from geniuses is universal. For example, take Shostakovich. When I perform his

Tenth Symphony

, you see how emotional the public is. They understand this music. Yes, I think that music is the instrument in our life, in our land, to make our planet one family.



BD

: Are you optimistic about the future of music?



MR

: Optimistic, yes. Very optimistic because music is for people. But people have different periods for life. In this period we make enormous progress for electronics, so music is made and enjoyed differently. In older times, contact between people was very, very difficult, before the airplane and the supersonic jet. That's why, for example, in a small village in Russia, some young boy probably will only marry a girl not far away, maybe 50 kilometers from his village. Now, with modern transportation, that is all different. You get enormous contact with others so fast. That's why there are so many mixed families — we don't stay separately in one nation. But of course, that's changed life at this point. I've used the Concorde more than 100 times — maybe several hundred times — because I was music director in Washington for seventeen years. Always I take Concorde from Paris to New York, and shuttle New York to Washington. That's phenomenal! My joke, which is a little bit famous, is that I told my wife that if I died in Paris, she should immediately pay for an entire Concorde plane. Take my body in the coffin on the Concorde to New York with 100 of my dearest friends and family. Why? Because the Concorde goes out at 11 o'clock in the morning from Paris, and arrives at 8:30 in New York. I would arrive with them three hours before I died! [Both have a huge laugh]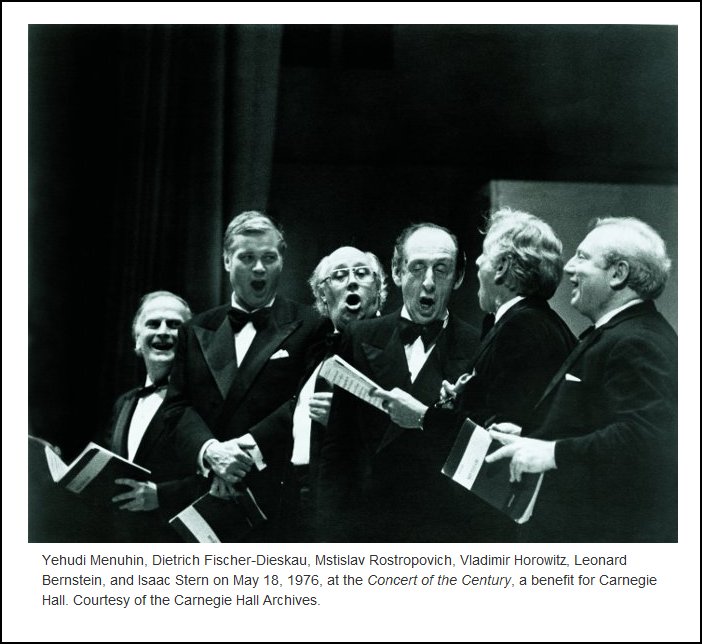 BD: Get an extra lease on life!



MR

: Yes, yes! [More laughter] Another electronic gadget now is the mobile telephone. Now everything is computer, computer, computer. I don't touch computer. I avoid it, but the computer has changed life... and not only for the better. I tell you why. Before, all that I know, all my information, I have gotten from a teacher or from friends or family. That's what you need. Now I have grandchildren, and everything is from computer, all their information. What's missing is contact, human contact. For example, before, when I had an interest for something, my friend would tell to me, "Fantastic, interesting. I appreciate this thing, so here's a contact for other people who can give you more. That's what he would give to me, and I would give something to him. Now, the gift is the computer. What can you give to computer?

[Vis-à-vis the photo at left, see my Interviews
with Yehudi Menuhin and Isaac Stern.]



BD

: Computers are artificial?



MR

: Yes.



BD

: So what you want is the human contact.



MR

: Exactly, exactly! When someone speaks to me with their voice, I want to see their eyes as they tell me about it. I need to see the emotion to appreciate what is being said. But I don't know for whom one can appreciate with a computer. For Gates, maybe. For Mr. Gates, one must appreciate.



BD

: [Laughs] Should you perform music for Mr. Gates, and get him to put more emotion into his devices?



MR

: I tell you, I watch his father very much, because his father very nice. I have correspondence with his father. He was at my concert in Seattle two years ago. He is a very, very nice person. I know him, but all the people who use computers don't know whether he is nice or isn't nice. [Both laugh]



BD

: Is the music that you play for everyone? Are your concerts for everyone?



MR

: Yes, for everyone.



BD

: Even the new music?



MR

: Even new music, yes, because I'll give my heart to these people. The people can accept my heart or not accept my heart, but my job is to get a reaction for this music. My action is that I play only compositions which I like. I have maybe four exceptions in my life when I play compositions which I not like enough, and I know that's what my mistake was.



BD

: How do you decide if you like it or not before you perform it?



MR

: I read these letters which are in the score.



BD

: What do you look for in the score?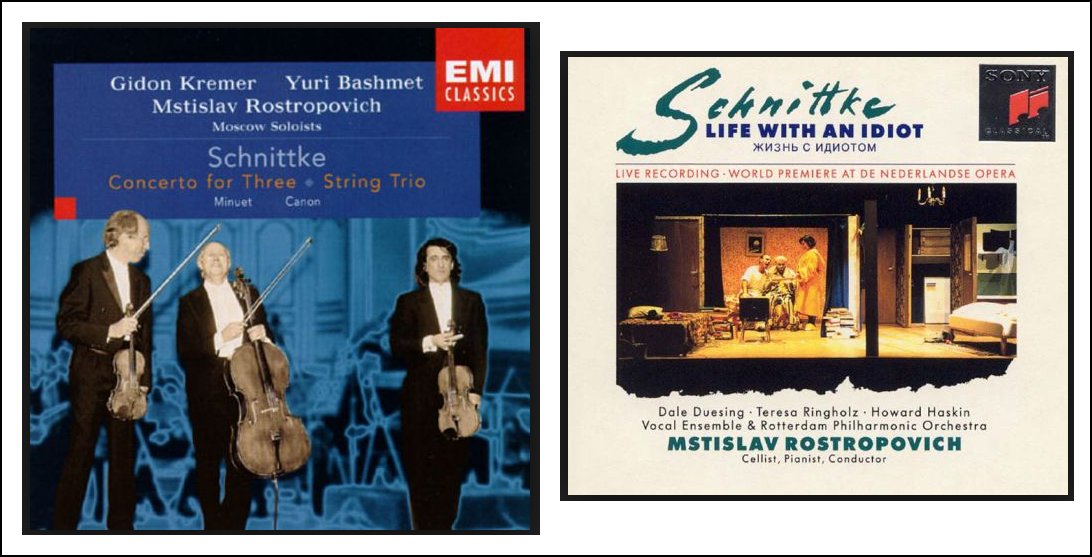 MR

: From the score, in my brain that's the sound of this music. The sound of it. I hear this music. That's why I know about what this music means. If I don't understand, it's only that some notes are without a reason. I think maybe that there is a reason, but I do not say this composition sounds for the people. I will not come on stage for that. Sometimes, of course, it is a very talented composition, but I do not recognize it immediately. Or it may be because I have no time now. I have some mountain of compositions sent to me, but I have not time to see these. There's not time, and I suffer about that. I tell my assistant to apologize for not looking at so many scores. Many years ago I made a concert in Buenos Aires, Argentina. One young composer come to me and said, "You touch my heart, and I have composed something for you." I see that it's

Grand Tango for Cello and Piano

. It was not a dance tango, but a large piece. The composer was Astor Piazzolla! [Both laugh] [

Piazzolla is actually six years older than Rostropovich!

] Many years later a friend asked me why I did not play this work. "He is a very good composer who dedicated it to you, and it's been in print for many years!" I had forgotten all about it. When I came back to Buenos Aires with the National Symphony, I was in the car which had stopped for a red traffic light. All kinds of small children came up to the car and asked for a little bit of beef to eat. They were beautiful, small children! After my concert, the sponsors give me such a dinner! I never had such dinner in my life! There was a mountain of the best caviar from Russia, fantastic! But after it, I left thinking about these small children. I told some friends that two years later I would be coming for a recital in the Teatro Colon. I asked them to help organize this. I would not take money for this concert, but I asked that they take the money and give it to children who ask for food. So I came and made my recital, and in this recital, as the last piece I played that

Tango

of Piazzolla. I changed the cello part a little bit and asked him if he approved, and he was delighted. I also apologized that I had not played his beautiful piece many years ago. But after that concert, we had much money for the children!







Rostropovich with Rodion Shchedrin.
To read my Interview with Shchedrin, click HERE.



Rostropovich with Luciano Berio.
To read my Interview with Berio, click HERE.




BD

: Does it please you when a composition which is dedicated to you is then played by other cellists?



MR

: Yes, that happens. One time a composer wrote something for me and said he would wait until I had a chance to perform it. I told him that even though it was dedicated to me, he should have another performer, a younger performer do it.



At this point I asked to hear him say his name. He obliged, and I was delighted to tell him I had been doing it correctly all during my radio career!




MR

: You know, all my life I suffer about my first and last name. How I suffer! I tell you why. I never refuse with my autograph. If someone asks me, I give, but it is so long! If many people are coming, for example, I try to make my autograph so it is possible to read, to understand that I wrote it. I'm so jealous of 'Mr. Smith' who has a short autograph! [Both laugh] I remember once being with Herbert von Karajan. He makes his signature so no one could possibly read it. I told him, "When people are asking for this, you should let them know that's your signature." He said, "Oh, I don't know. I suppose I should do that." [Both laugh] So I make it possible to read my name. [

Examples of both signatures are shown below

.]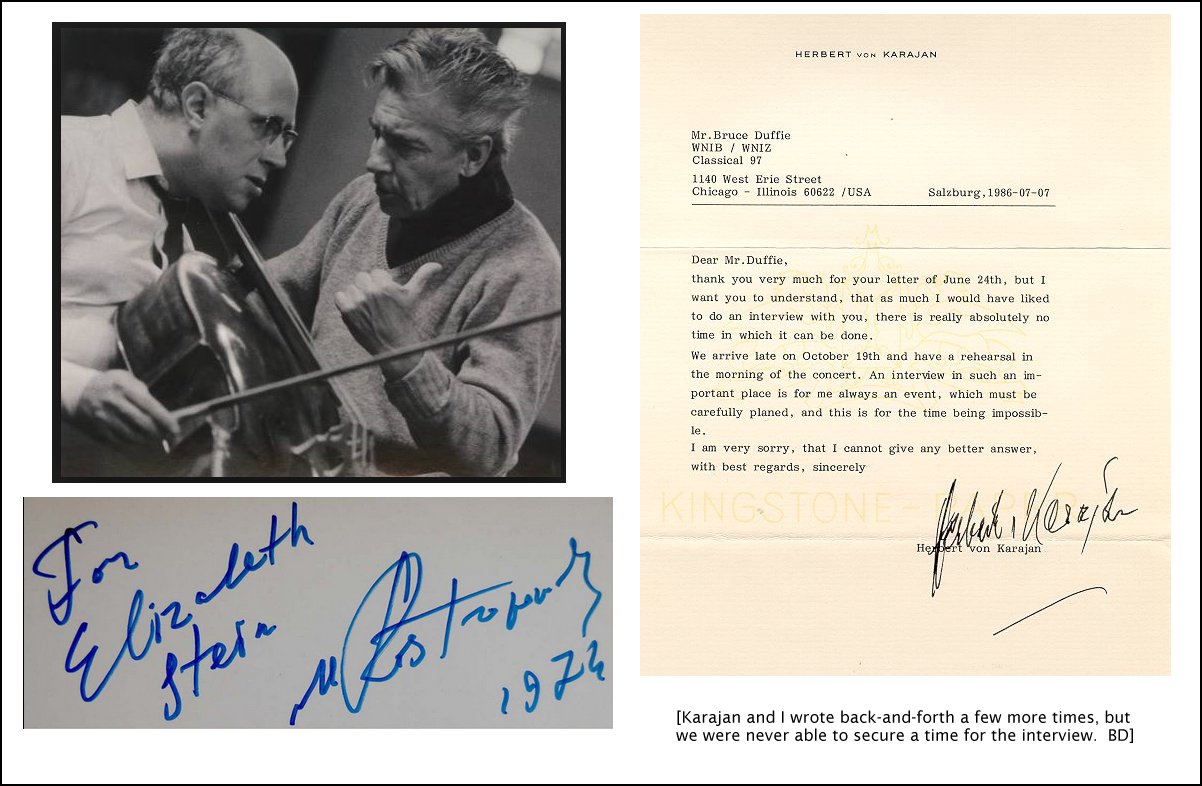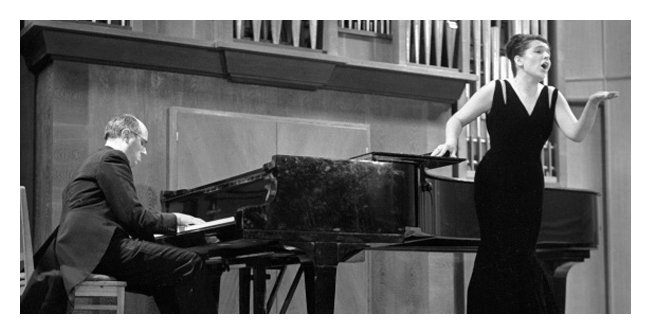 BD

: One last question. Is conducting fun?



MR

: Enormous. Enormous emotion. I tell you why, because music just comes to my soul. Old cello compositions I've already played, and the premieres. You understand how many classical parts I play, all the great repertoire of the cello. That's already my cello sound, with orchestra, or with piano, that's already full of my nature. Also, for 35 years I accompany my wife on piano. That's another kind of music which comes to my soul. Now that my wife does not sing anymore, she hears our records and asks me, "Slava, how can you play piano? I don't understand." For thirty-five years I accompanied her, but now she does not understand! [

See photo at left

.] I have a good time. For me, music, opera, symphony, that's what I needed. That's what makes me have a full satisfaction in my life.



BD

: Thank you for all that you have given us.



MR

: With great pleasure.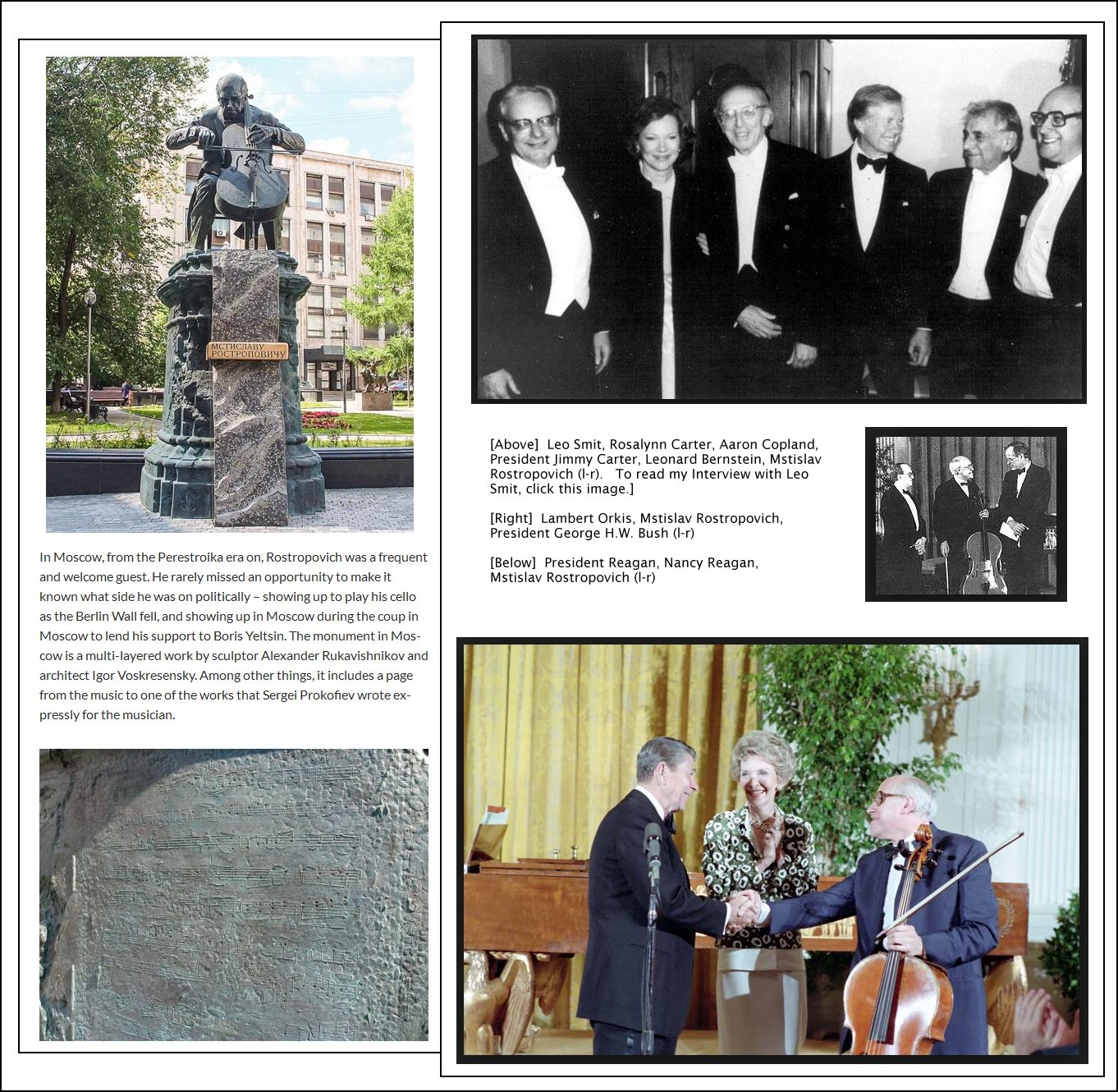 © 2004 Bruce Duffie

This conversation was recorded in his dressing room, backstage at Orchestra Hall, Chicago, on April 30, 2004. Portions were broadcast on WNUR the following year, and again in 2013, and on Contemporary Classical Internet Radio in 2005 and 2007. This transcription was made in 2017, and posted on this website at that time. My thanks to Sergey Zaks for his help in preparing this presentation.


To see a full list (with links) of interviews which have been transcribed and posted on this website, click here.

Award - winning broadcaster Bruce Duffie was with WNIB, Classical 97 in Chicago from 1975 until its final moment as a classical station in February of 2001. His interviews have also appeared in various magazines and journals since 1980, and he now continues his broadcast series on WNUR-FM, as well as on Contemporary Classical Internet Radio.

You are invited to visit his website for more information about his work, including selected transcripts of other interviews, plus a full list of his guests. He would also like to call your attention to the photos and information about his grandfather, who was a pioneer in the automotive field more than a century ago. You may also send him E-Mail with comments, questions and suggestions.