Composer Roque Cordero

A Conversation with Bruce Duffie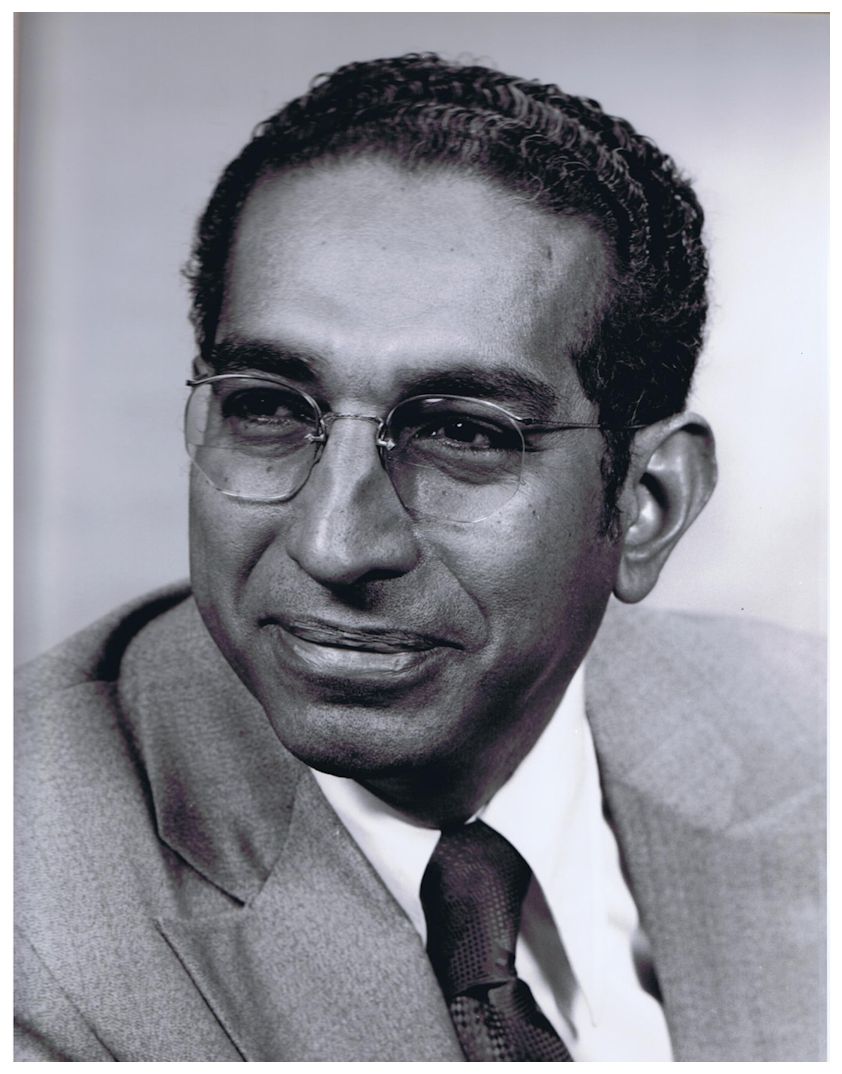 His training began in Panama, where he was writing band pieces from an early age (he played clarinet in a fire brigade band from 1933). In 1943, he won a scholarship to the University of Minnesota, where he took conducting lessons from Dimitri Mitropoulos, who was impressed by Cordero's 1939 Capricho interiorano. While in Minnesota, he studied counterpoint and composition for four years with Ernst Krenek at Hamline University, from which he graduated in 1947. It was through Mitropoulos that Cordero met Krenek and the young Panamanian regarded Mitropoulos as a father figure. It was Mitropoulos who premiered Cordero's Panamanian Overture No. 2 with the Minneapolis Symphony Orchestra in 1946. After graduation, Cordero remained in America to study conducting at the Berkshire Music Center, and then in New York with Leon Barzin. In 1949, he received a Guggenheim Fellowship for composition and conducting.

Back in Panama, he took a post as professor of composition at the National Conservatory (later called National Music Institute) from 1950 to 1964, serving as the school's director for most of that time. His work there greatly improved the quality of music instruction in Panama. The Institute granted the country's first degrees in music teaching and composition. His Curso de solfeo became the basis of music theory instruction through much of Latin America. Cordero was appointed conductor of the Panama National Orchestra in 1964, and in 1966, he returned to the United States to help run the Latin American Music Center at Indiana University (1966 - 1969), and then teach at Illinois State University in Normal (1972 - 1987).

Cordero's earliest works are basically tonal and nationalist, rather in the style of the pre-serial Ginastera, but from 1946, under Krenek's influence, he employed a modified, Bergian twelve-tone technique, starting with his Sonatina for Violin and Piano. Even then, his music could allude to Latin American rhythms, as in the outer movements of the Sonatina, and the ostinato patterns of his one-movement Symphony No. 2. Furthermore, the angularity of Panamanian folk melodies lent itself naturally to a serial environment. Over the next years, his style remained consistent, although gradually favoring more irregular phrases, more complex rhythmic layering, and greater fascination with timbral effects.

Unusually for a composer/conductor, Cordero's catalog is swollen with chamber music, especially for unusual combinations of instruments (such as his Permutaciones 7 for Clarinet, Trumpet, Timpani, Piano, Violin, Viola, and Bass). However, he produced many significant orchestral works, including four symphonies and concertos for piano, violin, and viola.


== Biography adapted from James Reel's article on the Allmusic websitte.
== Names and items which are links in this box and below refer to my interviews and articles elsewhere on my website. BD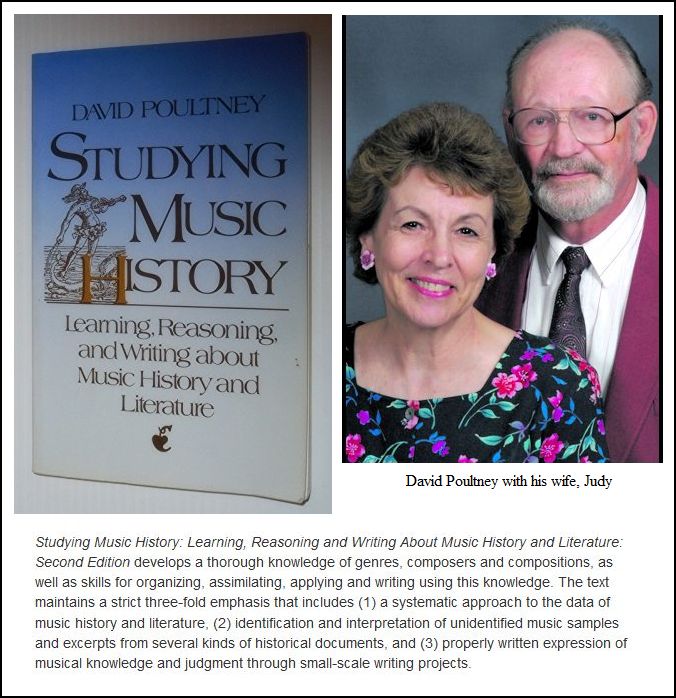 I tend not to go into detail about my own biography, but in this instance, a bit of background is in order.

Before my quarter-century tenure as announcer/producer with WNIB, Classical 97 in Chicago, I grew up in Evanston, Illinois (the first suburb north of Chicago). In High School, I participated in choral organizations (both large and small), the band, the orchestra, and chamber ensembles. I also took care of the music library. The amount of time I spent in the Music Department horrified my guidance counselor, but I was able to keep it all together and graduate on time! Next, I went to Illinois Wesleyan University in Bloomington for a Bachelor's Degree in Music Education. Then I came home to Northwestern University in Evanston, and earned a Master's Degree in Music History.

Being interested in opera beginning in junior high, as an undergrad I was told that a series of opera films were being shown at Illinois State University, which was just up the road a mile or so from IWU, in the city of Normal. After contacting them, I enjoyed many in the series, and one of the professors there was David Poultney [shown at right]. He and I became friends, and we stayed in touch over the years. This contact resulted in the interview with Roque Cordero at the end of August of 1989 . . . . . . . . .


Bruce Duffie: [While setting up the machine to record the conversation] We had a note in the Program Guide about the 75th anniversary of the opening of the Panama Canal [August, 1989], and I asked the Program Director if we had any music by a Panamanian composer. He said he thought there was something by someone named Cordero, so I went and found the piece. While reading your biography, it said that you had taught at Indiana University, and then at Illinois State University. So I immediately called my friend, Dave Poultney to ask about you, and he said, "Oh, yes, he's on one of my committees." [Laughs]

Roque Cordero: [With good humor] So, you discovered I was still alive, because many people think composers are always dead.

BD: [Laughs] Yes! Is it special to be a living composer?

Cordero: Many times, yes. People who hear my music sometimes take a second look when I am introduced, because they had always considered composers as something of the past. He is somebody who has written something, and became famous after he was dead. Traditionally, a composer had to starve to death to become famous. I am not famous, but I did not starve to death, either, [laughs] and don't expect to. I don't make my living from my compositions. Composition is a very expensive proposition.

BD: Why?

Cordero: If they decide to play it, to have something played by an orchestra you have to give them all the material, all the parts copied out, and that's expensive. The commission doesn't pay enough to pay back your expenses.

BD: Is composing worth the expense that you have to put into it?

Cordero: For me, yes. Perhaps because this is the only thing I believe that I do right. I want to create because I have the need to express myself through sound. I am not trying to make any political statement, or to relive my life experience. If a famous figure was killed today, it might move me, but I could not write something for tomorrow. It might take time, even in the case of a man to whom I was very close, because he was like a father to me, Dimitri Mitropoulos (1896-1960). He paid for all my study in this country, and when I was informed that he died, it was a very traumatic experience to me. But I could not write a piece immediately to his memory, even one year later.

BD: It had to become part of your fabric?

Cordero: Yes, perhaps because I agree with the statement by the English poet William Wordsworth, "Poetry is emotion recollected in tranquility." For me, that is my music. My music is not really biographical, but it is my life coming through sound. It is the emotions I have lived, the dreams that were fulfilled or destroyed, the essence of friendship, or love for my family, and for humanity. You don't find hate in my music. [Quietly and gently] I don't hate people. To hate is to destroy yourself. You don't find an emotion that is negative in my music. You won't find envy in my music.

BD: You only find positive statements in your music?

Cordero: I have tried to. I tried to do the best I can for humanity, because I don't find any enjoyment trying to do harm to somebody else. Even if a friend betrayed me, I try to understand why he or she acted like that, and after I understand it, I forgive and forget. There's no sense to go through life with so many bad memories that somebody did something against you. Perhaps it was done in a moment that they might regret later on, and they don't have the strength to apologize. But an apology is not needed. Simply let it go. If I had the opportunity to do something in favor of that person later on, I would do it without any hesitation. I have been always been like that.

BD: This is the way you view life. Does your music reflect that?

Cordero: [Without hesitation] Exactly.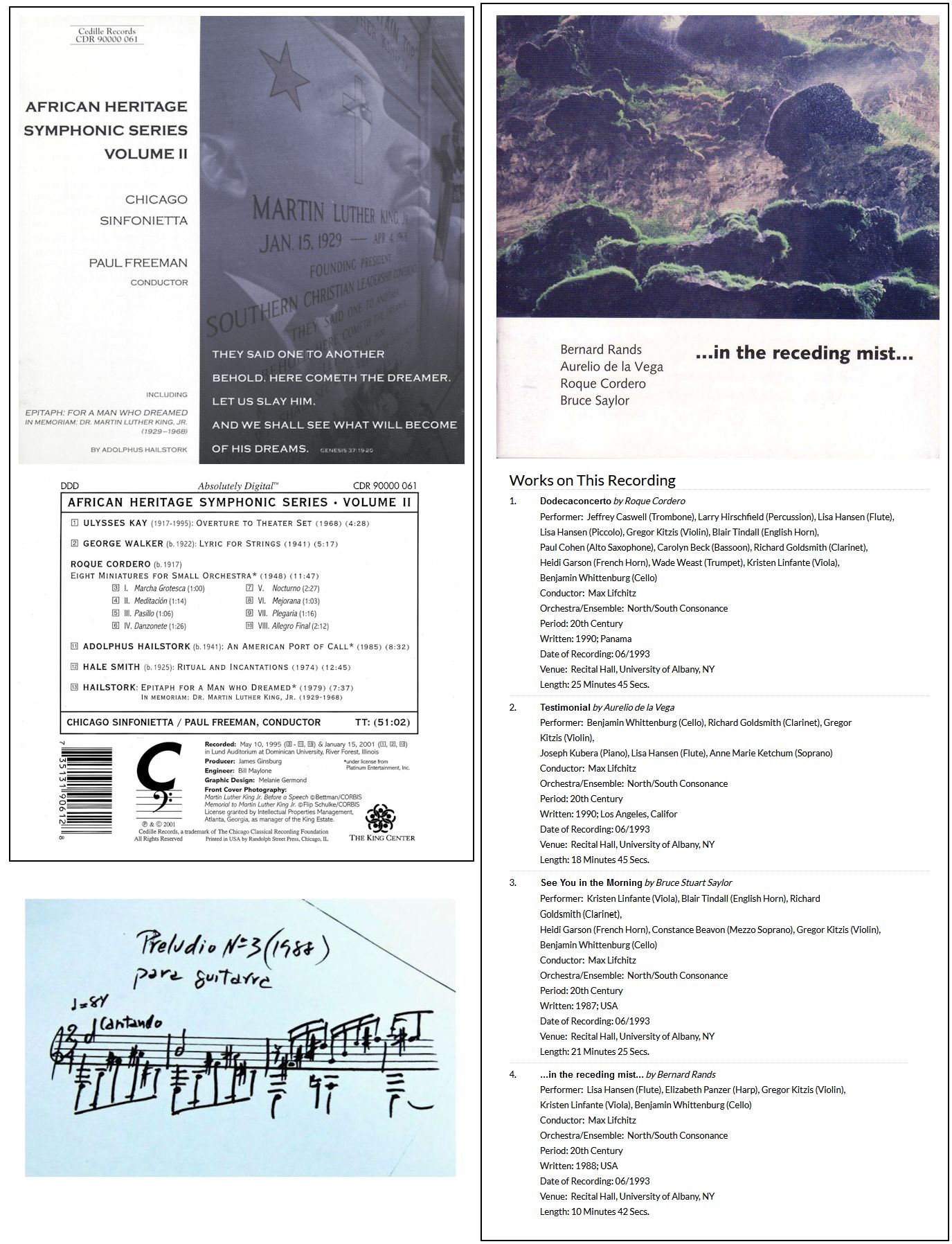 See my interviews with

Ulysses Kay

,

George Walker

,

Hale Smith

,

Paul Freeman

,

Bernard Rands

,

Aurelio de la Vega

,

Anne Marie Ketchum

, and

Max Lifchitz



BD: You say your music is not political. Is it at all nationalistic?

Cordero: It is not nationalistic in the sense of trying to exploit the music of my country. I am Panamanian. I am not an American citizen, simply because I represent something to my country. If I become an American citizen, I would be just one more composer of the United States. I am a composer from Panama. When you read about me, you will find that I am the only composer from Panama, and because I am the only one, I am called the best. If there were two, I wouldn't be the best, [laughs] and I have to be the best. Unfortunately, Panama doesn't have a musical tradition. How I became a composer is a mystery to me, and to anyone who has studied the music of Latin America.

BD: Have you ever had any regrets about being a composer?

Cordero: [With certitude] No. None whatsoever. My only regret is that I started composing too late. I started studying music too late. I was twelve when I started studying music, and I started writing at fifteen. My father wanted me to study music when I was five, and he sent me to see a teacher. Luckily, or unfortunately, I don't know why, the teacher wasn't in the room, and I saw those little figures, and got scared. I never came back.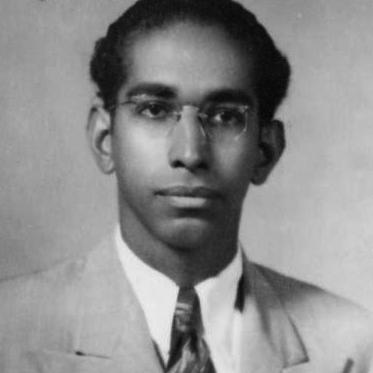 BD: You weren't ready for it!

Cordero: Exactly. There was no musical tradition in my family, or in the country. In the United States, you have music everywhere. You have orchestras in high school, in grade school, and you hear music everywhere.

BD: Is there no music in Panama?

Cordero: Although I had studied the scores of Beethoven's symphonies, I had heard the music only in my head. To be able to hear the actual performance of a Beethoven symphony, I created the National Orchestra of Panama when I was 21. Then I wrote my first orchestra piece. I had written so much music for band since I was fifteen.

BD: Concert band or jazz band?

Cordero: Concert band. It was very ambitious work. There was Napoleon, or The Dream of the Eagles, the Panamanian Overture Number 1, the Prelude in G minor.... Look at my catalog, and you will find the Panamanian Overture No. 2, but not the No. 1. This is because after I wrote that first short orchestral piece, Capricho interiorano (1939), which is about four minutes long, I realized I had to learn, and there was nobody in the country that could teach me music. I had to learn everything through books and scores, and with some local teachers... but very soon I was ahead of those teachers, including one who had studied in Paris with Albert Roussel. He was the man who opened the door to me to the 20th century, though I didn't know it at the time. Down there, I didn't even know the name of Stravinsky, much less Schoenberg, because there was no musical life, no music education, nothing to give me an incentive to go on.

BD: Then the obvious question becomes, why are you now teaching here in the United States? Why did you not establish a school in Panama?

Cordero: I was brought to this country to study music education, because I was teaching high school in Panama. After I wrote the Capricho, I didn't write any more because I knew my limitations, and I didn't want to repeat myself. The piece was being played, and everybody liked it. Everybody knew I was a young composer, the only serious composer, because everybody else was writing popular music, including my teacher. I wasn't given a scholarship to study composition, but when I had the opportunity to come to study music education, I saw my chance to learn. I came hoping that I would find a teacher to answer the many questions I had. In Panama, I had scores from Arnold Schoenberg, but I couldn't understand Pierrot lunaire. I discovered elemental structure, but I couldn't understand the language. When I came to the U.S., after looking at my orchestral piece, the teacher in Minnesota said, "I don't have anything to teach you."

BD: You had learned it all, and you didn't realize you had learned it!

Cordero: [Enthusiastically] I knew that I had to learn more, because in Panama, after six months, one of my teachers told me, "You know everything that you are supposed to know in music, because you know everything I know." But for me there is no limit to learning. Learning never ends. I always tell my students, "Before you knock on my door, look at the sign on my desk, which says 'You have to learn daily'." Sometimes you learn what not to do because you see what you are doing wrong. A piece might be atrocious, and the music might be rotten, so you learn from that what not to do. You get positive learning from a negative experience.



* * * * *



BD: Coming back to your own experience...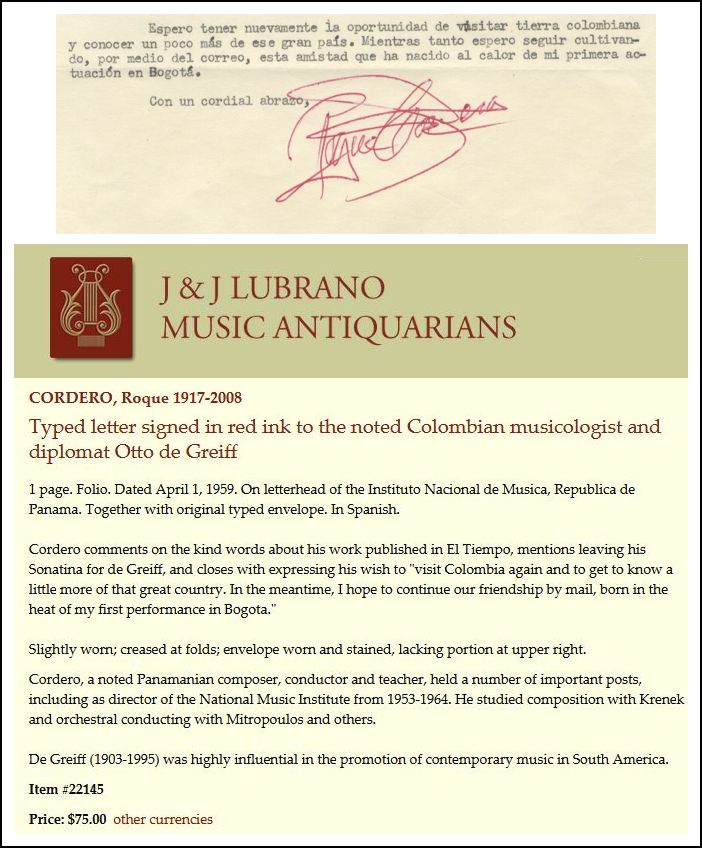 Cordero: When I came to this country, the scholarship was only for nine months. On March 18, 1943, I left my country. I was supposed to be back before Christmas, but by luck, when the school realized that I was a composer, and I also was a conductor, they invited me to conduct the concert band at the university, with a concert march that had won my prize (in 1937) in Panama [Reina de Amor]. The music critic of the Minneapolis Journal, John K. Sherman, attended the concert, and was impressed by the music, and my conducting. He came to see me, and said, "I suppose that you have shown your music to Maestro Mitropoulos?" [Dimitri Mitropoulos was Music Director of the Minneapolis Symphony (now called the Minnesota Orchestra) from 1937-1949.] I said, "No, I am not worthy. He's a big man. He won't pay attention to me knocking at the door. If somebody introduced me to him, perhaps he will look at my music." So, Sherman said, "I will introduce you to him." That was April 19, 1943. I had been in this country for less than one month. It was not until October 11 of the same year that he arranged a meeting, a dinner with Mitropoulos in downtown Minneapolis. I brought my Capricho and showed it to him, and that changed my life. He asked me many questions about the piece. He praised the orchestration, and said, "You must have very good teacher." I said, "Yes, I study the music of Beethoven, and Brahms, and Tchaikovsky." He said, "Those are the best teachers." I had learned orchestration by myself. I taught myself how to read music, too. When I started composing, I didn't know how to read music, although I was playing violin in the high school orchestra. You could play it, and not read music. If you had a good ear, you believe you are reading. [Laughs] Honestly, you believe you are reading, but when I tried to write something, I could play it myself, but my teacher could not read it. Then I taught myself harmony so I could write the piano part. Yes, I am mostly self-taught. Although I had some teachers later on tell me some things, they could not push me as far as I wanted. Then Mitropoulos, knowing that I was supposed to be going back in December, knew I really wanted to be a composer. I was only 26. He said, "You have four more years to become your own master. After that, if you are not your own master, you should stop." So, if you are willing to stay here, and work for four years, I am willing to pay all your expenses. You're going to study with Ernst Krenek... if he accepts you."

BD: Where was Krenek at this time?

Cordero: In St. Paul, Minnesota. I was living in Minneapolis, and he was teaching in St. Paul. I kept studying both in Minneapolis, and at Hamline University with him. Living in Minneapolis, I was commuting every day one hour by streetcar. [Laughs] That was not a problem, because the main thing for me was to learn. My ambition was to go back to Panama, to give to the youth of my country what I didn't have before — musical knowledge. By the time I left Panama, they already founded the conservatory. [Instituto Nacional de Música (National Institute of Music)] They invited me to be on the faculty, teaching solfege, but I refused.

BD: Why?

Cordero: I said, "I have to learn, so bring somebody who can teach me." So, when I had the chance to study with Krenek, I spent the next four years getting the best that I could out of him. I remained here in the U.S. three more years, so the nine months became seven years away from home. I only went home once, because my mother was dying. I was at the Berkshire Music Center in Tanglewood at that time, where I was studying conducting.

BD: Then after seven years' study here in America, you went back to Panama in 1950?

Cordero: Yes. I went to teach at the conservatory and discovered that everything had to be changed. They didn't think much of professional music. It was just a pastime. It was a conservatory with eleven hundred students, and twenty-seven faculty who only taught from 3 PM to 7 PM. [Laughs] What can be learned in that time? Nobody was learning anything, so I accepted to be Assistant Director in the Conservatory with authority to clean the house. [Sighs] But they didn't allow me to do that. Everybody was afraid because I wanted to change everything. I was accused of being too professional. Finally, after the new government came in, the first lady, who used to be head of the ballet school, was the first person who gave me support. I was arranging music for the ballet school so I could eat, because the salary at the conservatory was very, very low. The cleaning lady had a higher salary than I had, and yet I stayed there.

BD: Because music was so important?

Cordero: Yes, and I wanted to change that conservatory into something serious.

BD: Did you succeed?

Cordero: In part, yes. You have to remember that my wife, who is from Minnesota, went down there for two years so I could do some work for my country. Then we were to come back. She didn't complain. She knew that I needed to be there, and we stayed for sixteen years. [1950-1966] After three years, the First Lady talked to her husband, the President, and told him that things had to be changed, and that we needed a clean slate to do this. So I became Director of the Conservatory [in 1953] and cleaned. I got a broom, and reduced the student body to 400. I did create a serious thing. I have many students who are professionals right now, here in the United States. I owe so much to Mitropoulos because he spent so much money on my education. But he said once, "You never have to think about paying me back. Someday you might be able to do that for somebody else." I don't personally have the money to do it for somebody else, but in Panama I started a foundation who offered money to send students. Some went to Juilliard, or to Chicago, or to Vienna, or to Chile, but before going there they had to be well-prepared.

BD: They had to be ready for the experience?

Cordero: Yes! I could not send anybody that was going to fail. My idea was that they would come back to Panama to help me create that high status I wanted.

BD: Did they come back to Panama and help you?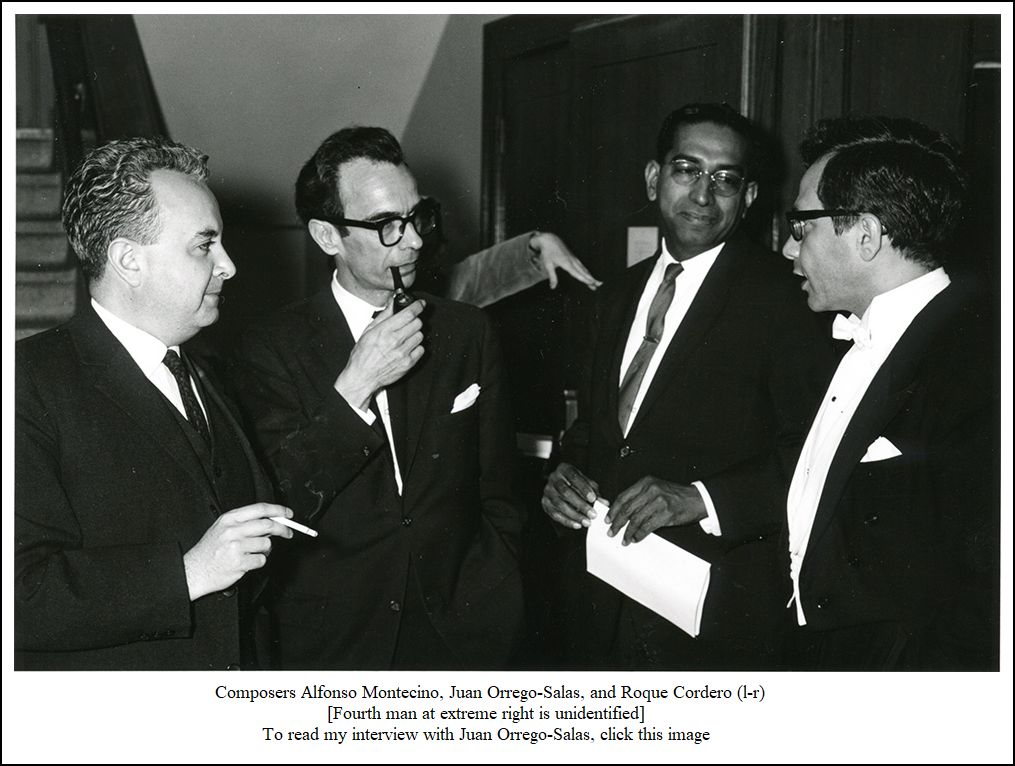 Cordero: Some came back, but by that time I was out. When I was 21 and created an orchestra, my dream was to create a professional organization that would help me celebrate the second centennial of the [spoken reverently] Great Beethoven, with a festival of his music. So, although I was director of the Conservatory for eleven years, I left to take over the National Orchestra. That was during a very bad time, so I received even less salary. But money, for me, is not too important. If I have enough to eat, and to feed my children, that's enough. I don't need to live in a palace, or have luxurious things. You don't take that with you when you die, so why accumulate many impractical things?

BD: Do you think that you will take your music with you when you die?

Cordero: No, but while I am here I want to live in a place where somebody could come and try to see what it was I was trying to do in my music. Perhaps it might be some source of inspiration for somebody else to create, without expecting to be rich with music. I recall when I wrote my first piece which was popular, my father said, "Roque, you know that all the composers starve to death." I said, "One more doesn't mean anything." [Laughs] When have I starved to death? Right now I am 72, and I am not concerned about starving to death tomorrow.



* * * * *



BD: You've supplemented your income by teaching.

Cordero: Yes, by teaching, and as a boy I supplemented my income by copying music, and arranging things for nightclubs. But composition doesn't pay. The first thing that I say when a new student comes is, "If you are expecting to be rich from composition, this is not the place to go. Learn how to write jazz, or rock and roll, or whatever because this doesn't pay."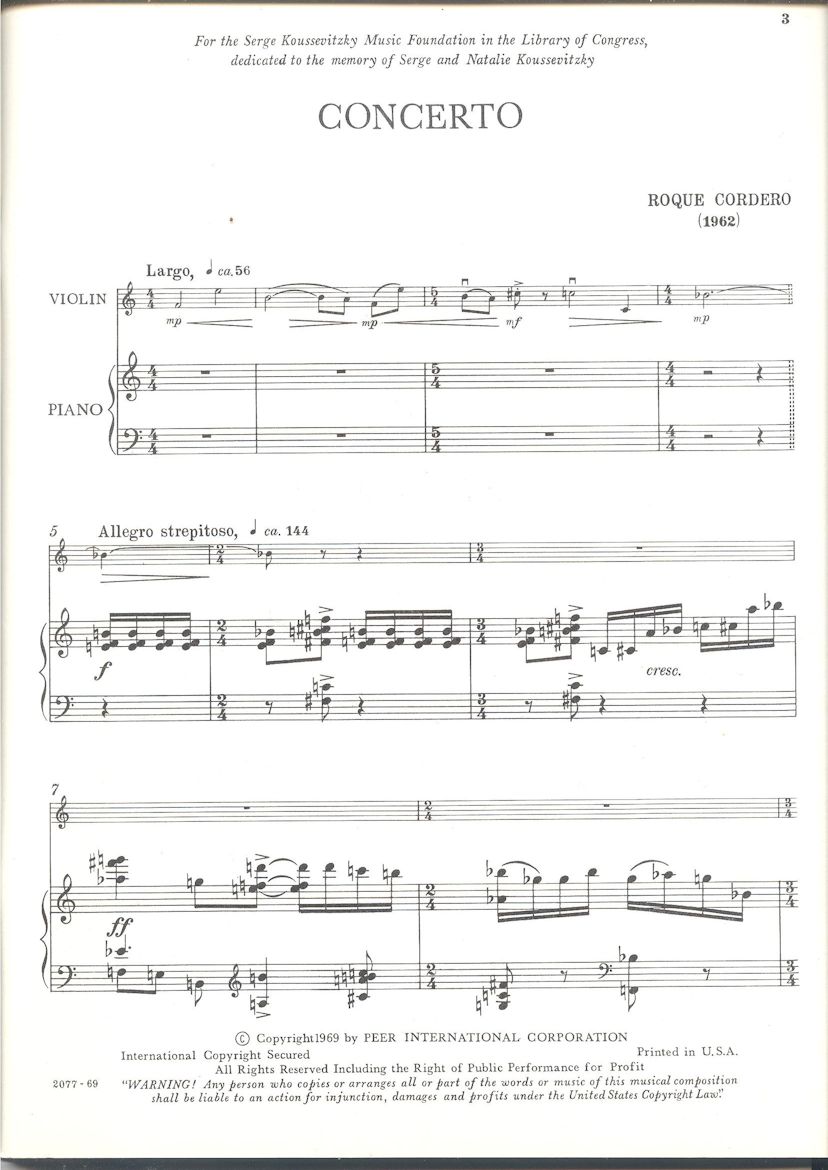 BD: You have to have the burning desire in the heart.

Cordero: Yes, and that's why I don't rush any piece. The Violin Concerto [1962] took me several years to write.

BD: Did you put it aside for a while, and come back to it?

Cordero: No! I destroyed what I had done. I finished the sketch of the first movement, and went to the second, which I orchestrated for a chamber orchestra. But when I went to the last movement, I thought about it from the beginning, trying to hear it, and I didn't like what I had written the first time. It took me several years to write the first movement.

BD: When you're writing the work, and you're destroying pieces of it, eventually you get it the way you want it. How do you know when to put the pen down and say, "This is what I want to present to the world"?

Cordero: It very hard to say, really. I am very critical. Every little thing takes me a long time. I look, and if I find that it's not exactly what I intended to do, I don't give the piece to you to play. There's only one piece that I would like to revise someday. It was not exactly what I wanted to do, but I was under so much pressure at that moment. I was director of the orchestra, and I was fighting to get financial help for the orchestra, and to get enough money to bring musicians from outside Panama to help me to create that orchestra to celebrate the Beethoven year in 1970. That was 1965, and I had to finish this piece by January 1st, because I had a commission for a festival in April. So I was teaching, I was conducting, I was fighting for the orchestra, and I was composing. It is the only piece which I know that I have been planning to revise since 1965. I never have found time, because when I intend to revise, I get new ideas, and I prefer to write something new. Finally, this last summer I told my wife, "I have to do this. I am going to make it work," and I started working on it. I revised the whole first movement of the piece. From there I could go forward, and I intended to, but I was running to a festival in Costa Rica. The pianist who played my Sonata had conducted some of my music with a chamber music in New York, and he said, "Roque, I want you to write something for me and the group. If you finish by April, I will premiere it in Germany. If you finish a little later, we'll premiere it in New York." So, when I came back, I put aside that revision.

BD: [Reassuringly] You'll get to it eventually.

Cordero: I think so much about the music before I write it. I try to hear the sound that I make.

BD: Do you hear it complete, or do you hear it in pieces?

Cordero: Sometimes I can hear it complete. For a piano piece, Five Preludes, I had already written two or three of them, and I had the sound in my head when we were flying from Chicago to Portland, Oregon. Usually I just close my eyes and think about something else, but this time, when I got to Portland, I had the whole piano piece written in my head.

BD: So writing is essentially just transcribing what is there?

Cordero: Exactly. I don't use piano for it. I didn't have a piano as a boy. The first piano I bought was with the money I got for the award of the Second Symphony [1956]. So, if I depended on the piano, I could not have written anything.

BD: When someone offers you a commission, how do you decide if you will accept it, or decline it?

Cordero: If they give me enough time, I will accept it. If you commission me for something right now to be finished in just a couple of weeks, I would say, "Thank you, but no, and it doesn't matter how much money you can offer, because I know that I could not write anything so quickly. I take my time."

BD: What if I commissioned you for something for a year from now?

Cordero: Then I would possibly accept. When this man said to me last June to have it ready for April, I said I would try. He also said that if it's not ready, it doesn't matter. He would have the premiere in New York whenever it was ready. That kind of commission I accept. You have to give me time. Of course, I could splash something down quickly. I could do that, but if it's not something that I am feeling, then I know that I am not putting out my best.

BD: Where is there a balance between the inspiration that you have in your heart, and the simple technique of writing it down, and getting the orchestration and the harmonies correct?

Cordero: The inspiration is simply the concept of what you want, what kind of piece you want to write. Is it for this ensemble, or for one instrument, or for several. You then decide if you're going to write it in one movement or more. The hard work is trying to get the sound that will represent exactly what you wanted. To shape the motive is the secret of the art. To change the motive will make it your personal expression, and not simply imitation of somebody else. I tell my students not to try to imitate Boulez and Stockhausen and Nono. Imitation in any form is false. You have to be yourself. When I was in high school and I started composing, the other kids called me 'Beethoven'. [Both laugh] I protested, and said, "I'd rather be a bad Cordero than a second Beethoven." I don't like imitation of Beethoven or anybody else.



* * * * *



BD: Have you basically been pleased with the works that you have turned out, and have been published?

Cordero: Oh, yes. I have been pleased because I know what they are going to sound like. I have heard many of my pieces later. After having premiere, they send me a tape or something, and then I hear it. There was a very interesting experience after I won the award with the Second Symphony. After I was back in Panama, a former fellow student from Hamline University who had the Minneapolis Civic Orchestra, commissioned me to write something for the orchestra. So I wrote Five Short Messages for Orchestra [Cinco Mensajes Breves]. I sent the score to him, and the piece was premiered in 1959. He sent me clipping from the press, but never sent me a tape. Then I moved back to this country, and was teaching in Indiana. A few months before coming to Indiana, I went to Hamline University to receive an honorary doctorate degree [1966]. They mentioned that they were going on a Latin American tour the following year, and would be happy if I could write something for the choir. I had known that choir very well, and it was excellent. So I said, "Yes, we'll try something". So when I came to Indiana, one day they called me up and said, "Roque we are applying for funds from the State Department, and we have to put in the name of the piece, and how long it is." I hadn't started writing the piece yet, and didn't have idea what I wanted to do! I had long ago wanted to use some poems of Stella Sierra (1917-1997). A Panamanian girl had given me her Third Book of Poetry. It was very short poetry, and was so musical. I told her, "Someday I will use that for a composition." It was in 1946 that I told her that, and I am now talking about 1966!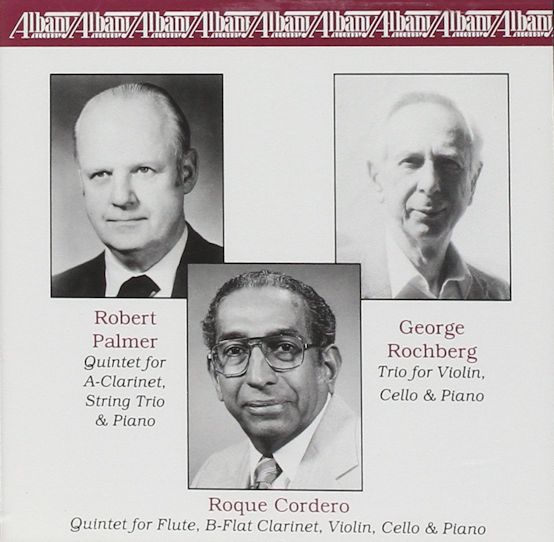 BD: Twenty years later.

Cordero: Exactly. I had the book with me at that moment, and since I wanted a title, I got the book, and I saw two that really attracted me. So I said, "Yes, it's called Two Short Choral Pieces, and will last five minutes." Then, I started reading the poems, and getting the rhythm, and then I wrote the piece. It lasted five minutes minus 15 seconds. [Both laugh] That was simply intuition, not that I was trying to do it like that. But the poems were so beautiful and so musical that the structure of the music, and the rhythm of the piece came out of that. So the following year (1967), they invited me to go to St. Paul to hear the premiere at Hamline University. I arrived on a Saturday evening to attend the rehearsal on Sunday evening and the concert on Monday. Early on Sunday, somebody called me up and said, "Are you going to hear your piece this afternoon?" I said, "No, the rehearsal is tonight." He said, "No, not the rehearsal. The Civic Orchestra is playing your Five Short Messages for Orchestra." I had not heard the piece when it was premiered a year earlier, and I hadn't seen the score for many years, because I don't study my music. I couldn't remember how the piece started. The only thing that I remembered was the second movement, with a single melody for violin and viola without any accompaniment. There was also a part of the slow movement, in which the piano played four notes with the pedal on, all through the first section, but I could not remember how the piece started. Yet, when the orchestra started, everything came back to me. I was finally hearing my music. However, at the end there was something strange, because the ending was not exactly what I had in mind. Something might have been wrong. So, when I went back to Bloomington, Indiana, I found the score, and looked at the last page. The conductor had misunderstood my indication. Instead of slowing everything down, he kept going fast.

BD: He missed something that you had put in the score? [Vis-à-vis the recording shown at right, see my interviews with Robert Palmer, and George Rochberg.]

Cordero: Exactly. I had never heard the piece, only in my head.

BD: You mention that you hear the piece in your head, and it's exactly how you want it. Is there only one way to perform a piece of music that you have written, or is there any latitude for interpretation on the part of the performers?

Cordero: Oh, there is latitude for interpretation, but still you have to feel my music. The performers of a piece of music are always different. You don't hear the same performance twice even by the same person or the same group, and the more the group or the person plays the piece, the deeper they are going to get into the meaning of the music. It will not be just as played by the composer, but they feel the music. What the composer imagined is very hard to achieve. In my life, I heard only twice my music played exactly in the way I conceived it, in such a way that I forgot that I wrote the music. Those two times, the musical message I put in that music came back to me. The first time was in New York. A young girl, an excellent violinist, was supposed to play my Sonatina for Violin and Piano (1946) in a concert. She memorized that piece even before she met me, but the pianist, whom I used to please her and her husband, had played some of my music. She knew much about me, so she spoke to the violinist about me. She felt the music. On the night of the concert, before the concert, her mother and I were in the concert hall, and she played that piece in such a way that I forgot I wrote the music. She played it that beautifully in the concert, but it was not the same. [Pauses a moment to reflect] The second time I encountered such inspiration was in Bogotá, rehearsing my Second Symphony with the orchestra. They knew, because I told them, that it was the first time that the piece was going to be played under my direction. It had been premiered by Chávez, and later was played in Washington by National Symphony Orchestra with Howard Mitchell. But that was the first time that I was going to conduct the piece. They worked so intensely that in the fourth rehearsal we went from the first note to the last without stopping. They were giving me every ounce of emotion and passion. There was nothing to be changed. I was so moved that I could not continue rehearsing. I had twenty-five more minutes to go over the music, but I could not move my arm. So I told the members of the orchestra, "Gentlemen, perhaps you don't know what you have done, but thank you. That is all for tonight." But they knew what they had done. Normally, during a rehearsal, when the conductor finishes a piece, everybody keeps playing short phrases or difficult passages, and it is very noisy. This time, there was complete silence in that hall.

BD: They had all been moved by your music, just the way you had been.

Cordero: Yes, and they were trying to give that to me. It was so impressive that for five minutes there was complete silence. Nobody moved from their seat. I stayed there, standing on that podium waiting for them to go. Finally, the conductor of the orchestra came from the hall, and he said, "Maestro, it is first time I've seen somebody conducting with so much emotion." That broke the silence, and they started moving. In those two weeks I had been in Bogotá, a few had become close friends, and they came and sat in a circle around me. Those are the only two times I have heard my music just the way I conceived it. [Pauses again momentarily] I have heard my music performed very well by good orchestras, good conductors, good performers... and I have also had lousy performances sometimes, [laughs] but I won't go into all that. In concert, though, I have never heard anything that emotional.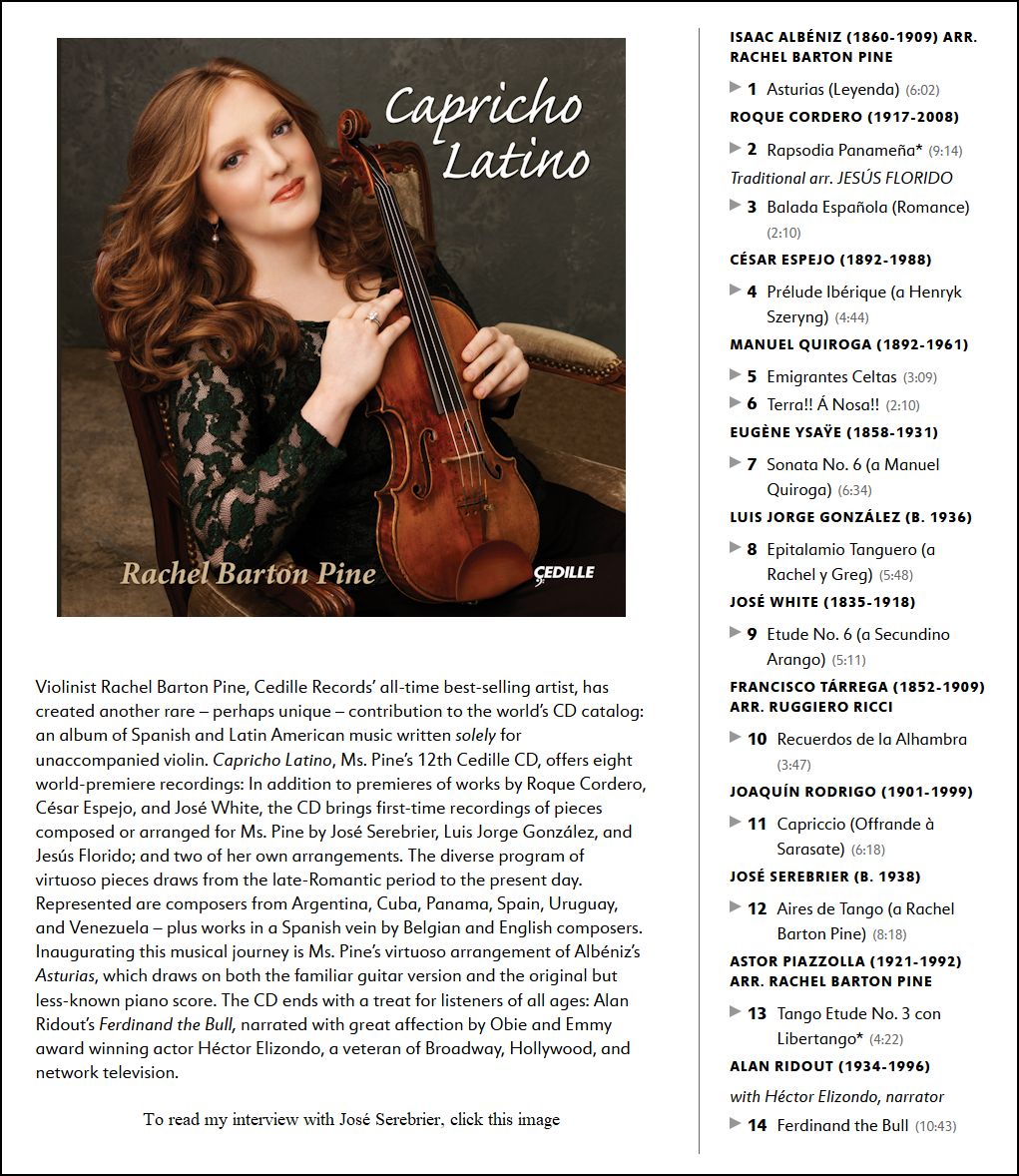 BD: I hope you get that at least once more.

Cordero: Many composers will never have it even once in their life. I have been privileged to have it twice. I would have been happy having it only once, but twice? Perhaps if I live to be one hundred, I might find that two or three times more, I don't know.


[At this point, I turned over the cassette to continue recording our conversation.]


Cordero: My wife told me not to talk so much, but when I start talking about music, I just can't stop.

BD: [Re-assuringly] No, this is great! This is just exactly what I want — your ideas about music. [Continuing the interview] Let me ask you about audiences. What do you expect of an audience that comes and listens to a piece of your music?

Cordero: I hope they try understand what I am trying to tell them without any words. Music is really the international language. You speak through musical sound, without any word connotation. Even titles are misleading. When they write their exercises, I tell my students, "Try to make your music emotional." I also quote Victor Hugo, who said, "Music is something that cannot be said, but cannot remain silent." This means you could not say it with words. If I could express my thoughts by writing, I would be a poet, or a playwright. But I could not do that, so I do it through the only medium that I know, and can control, which is musical sound. Besides, if I wrote a poem in English, you and I would understand it. But they won't understand it in China, or in Russia.

BD: But the music they will understand everywhere.

Cordero: Exactly.

BD: Is the music that you write, for everyone on the face of the earth?

Cordero: I expect my music to be like that. You see, I don't write for musicians. I am not interested in writing so that somebody can analyze and see all the technical details.

BD: You don't want that?

Cordero: No. I apply technique in order to express myself the best I can. I might analyze the technical devices of my music for my students, but not for the audience. My program notes are not technical. They might be anecdotal, or they might tell you that I wrote for this work for this occasion, but I don't have to tell you the motive which goes from here to there. I don't have to tell you that I am using a twelve-tone technique, because people don't know what twelve-tone technique is. Ninety-five percent of the people who go to a concert don't know anything about technique.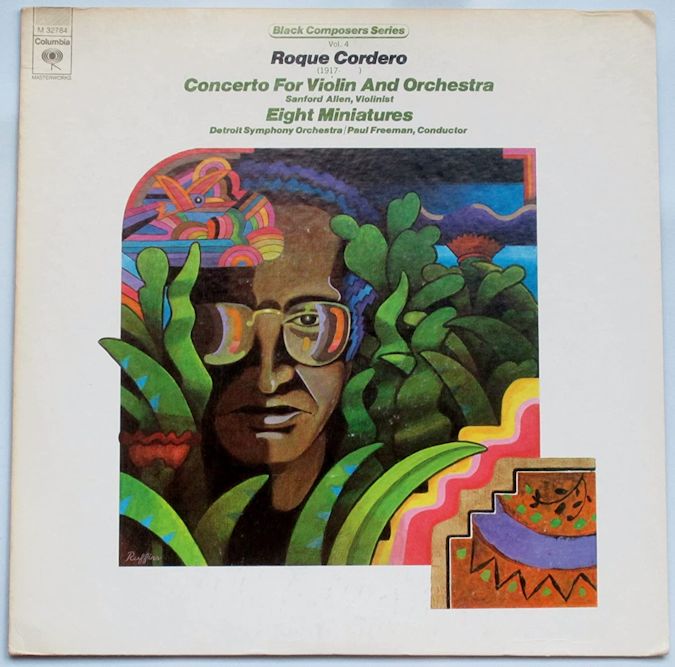 BD: But they don't have to.

Cordero: They don't have to! That is exactly the point. They just have to go and listen to the music. If they like it, good. If they don't like it, I have no way to change it. If the critic writes something against the piece, OK. If they write something good, yes. I think it is always good to say something positive, but it doesn't make me change anything.

BD: We've been dancing around this a little bit, so let me ask the direct question. What is the purpose of music?

Cordero: [Pauses for a moment] To give you my emotional message. I am a man from Panama. I represent my country. I am very proud of being a Panamanian. I resent it when somebody writes and says 'Afro-Panamanian'. I am not Afro-Panamanian, I am Panamanian. It is if you were going to say that I am Hindu-Panamanian. I don't want to have that said about me. Although my great-grandmother was Colombian, I am not a Colombian composer, either. My father was from Colombia, but not me. I have studied the music of Panama, so I can feel the emotion of that music. I know the technical element that I could draw from there, to make my language universal, and yet Panamanian. I speak with an accent, and I have to. Even if I could speak English without any accent, I would refuse to be taken as an American. I am not American, I am Panamanian, and I always sign my letters as a Panamanian composer. That is why I resented it when I was brought into the Black Composers Series [nine LPs released by Columbia Records between 1974 and 1978]. It was not because I requested that, and not because they considered me a black American composer. The honest truth is that many black composers resented me being in that collection. When I went to get the record made in New York, I told them I am not American. I even insisted that I am not Afro-Panamanian, either. I am a Panamanian composer. But my publisher told me the series needed something strong, and that was the Violin Concerto. Even the head of the project later told me they were using me. After all, I was very well known by that time. I had won another international prize, and was recognized around the world as THE Panamanian composer. My music's played in many Latin American festivals. He said, "We have been using you, and we apologize." I said, "Well, I am using you, too, because you recorded that work, and I got the Koussevitzky Award [the 1974 Koussevitzky International Recording Award] for it. If you hadn't recorded my concerto, it wouldn't be known, so we are even."

BD: So you're glad that it was put in that series?

Cordero: Oh, yes, I am glad. It was because my publisher wanted people to know my music.

BD: Do you want your music to be known all over the world?

Cordero: When you write, you want people to hear what you have created. When you write a book, you expect people to read it. The only thing is that I don't publish much of my music.

BD: [Genuinely surprised] Why not???

Cordero: First, it's expensive. I would have to be giving it away, because nobody's going to buy it. Many pieces of mine are not published, because they are not solid. My publisher decided to do something with my Second Symphony. It is very strong piece, and very, very personal. It's a unique structure that I haven't found before or after. It's a two-sonata form, one inside the other, in a one single-movement piece. It's a piece that moved the audience when it was premiered in Caracas. Gilbert Chase wrote that I was proof that a so-called 'forbidden' twelve-tone technique wasn't an obstacle between something that a man wants to say, and an audience avid to hear it. They didn't have to know there was twelve-tone technique. They were just hearing music. It doesn't have the conventional closing on a perfect cadence. It ended on a dissonant chord, and yet it doesn't disturb anybody, because it's handled with such refinement that you feel satisfied.

BD: That is what is supposed to be there.

Cordero: I had put in the program note that I wanted the world to know I was alive. With all the knowledge I had, I was living in Panama, which was not considered a musical center, and ignored by everybody... although my music had been already played in the United States, and I had friends in this country like Henry Cowell (1897-1965), Edgard Varèse (1883-1965), Aaron Copland (1900-1990), and Wallingford Riegger (1885-1961), all of whom knew my music. Both Varèse and Cowell championed my music. But I was in Panama, and unknown to the world. So I wrote this symphony in fifty-five nights, because it was a contest. I did it not so much for the money, but for the opportunity to say, "Here I am." I got the second prize, but the first prize was divided, so there were four equal prizes. [The contest was sponsored by the Second Festival of Latin American Music, held in Caracas, Venezuela in 1957. The jury included Carlos Chávez, Alberto Ginastera, and Aaron Copland.] But the jury realized, after they heard the first rehearsal, that the strongest piece was my symphony. The critic of The New York Times, Howard Taubman, went to Caracas, and wrote a beautiful review. One year later, that piece opened the first Inter-American Music Festival, in Washington, DC, and it got an excellent review by Taubman. He commented that it was surprising that it took one year to come from Caracas to Washington. I never had a chance to see him after that, because I would have said, "Mr. Taubman, the piece is crawling to New York!" It has never been played in New York. After the first Inter-American Festival, to celebrate the twentieth anniversary of the festival, they brought it back from the first festival for the opening of the anniversary concert.

BD: This is the piece that is on the Louisville record?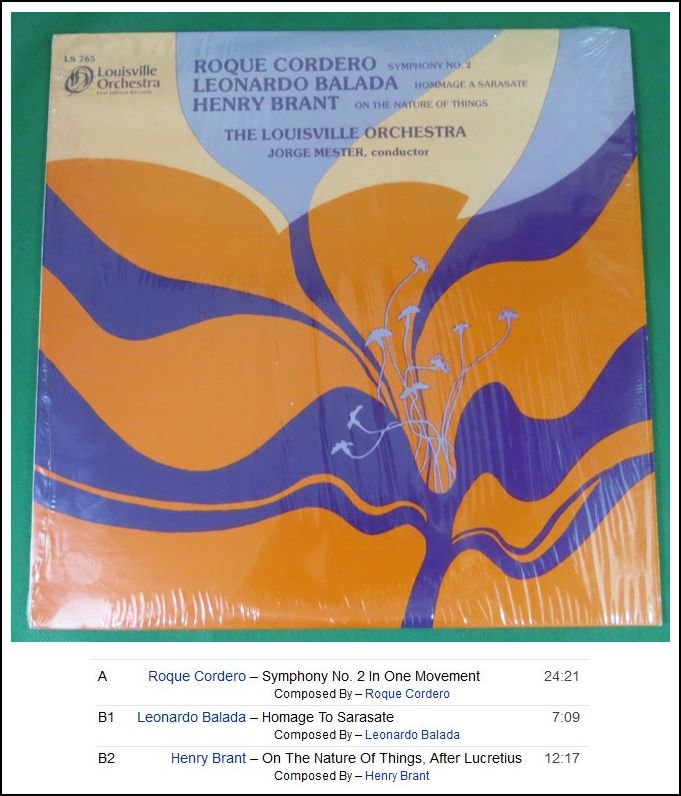 Cordero: Yes. The Louisville Orchestra played it at that time, and then they decided to record it. Before that, my publisher decided to publish the score, knowing that he wasn't going to make any money with it, because of expenses. Just the engraving alone is $2,000. But he had some extra money at that moment, and said to me, "Roque, I am going to publish this, and I will send it to all the orchestras of the land." He sent that to all the orchestras with a letter of presentation. This was not only to the big orchestras, because when I came to Illinois State in 1972, I went to a concert of the Bloomington-Normal Symphony. I introduced myself to the conductor [Bernard Goodman, who conducted the Bloomington-Normal Symphony from 1971 to 1974], and he was surprised. "What are you doing here?" he asked, and I said, "I just moved here." "I thought you were in New York because I just received your symphony." But he never played it. It's in the library of all the orchestras, even small ones like that, but no conductors have ever looked at it, because the name 'Cordero' doesn't mean anything to them. So, the piece hasn't been played. [Pauses a moment] I tried to get Mr. Solti [Music Director of the Chicago Symphony Orchestra from 1969 to 1991] interested in my music. They arranged a meeting, so I went to Chicago. That night they were playing a clarinet concerto by Mr. Corigliano, who had just been appointed as composer-in-residence. The concerto was excellent, and when I was going down to meet Maestro Solti, I stopped Mr. Corigliano, and congratulated him. Then I was taken to meet Maestro Solti. We spoke for thirty seconds, and we had to leave. He said I could send the music to him. I don't like to be sending music that I know is going to be put in a corner. So I wrote back to him later on, reminding him that we had met. My idea was to show him my most ambitious work, the Cantata for Peace [Cantata para la Paz (1979)], which was one of the Bicentennial Commissions of the National Endowment for the Arts. It was written to the memory of four men who spoke of peace, and were victims of violence — Abraham Lincoln, Mahatma Gandhi, John F. Kennedy, and Martin Luther King, Jr. It is really in the memory of all men, women and children who die in the name of peace. I wrote my own text. I didn't want to quote from any of the four men, although I read their writings, and I found that we have the ideal of peace in common. So I created my own text in Spanish, but there is also an English setting done by my wife. She's a musician, so she could really get the music, and write the English translation to fit the music.

BD: So it's more than just a translation, it's really a setting, a creation. [Vis-à-vis the recording shown at right, see my interviews with Leonardo Balada, and Jorge Mester.]

Cordero: A creation, yes. The piece was finished March 26, 1979, just ten minutes before Menachem Begin and Sadat signed the peace treaty between Israel and Egypt. I hoped it was an omen that my music would also be played, but perhaps we have to wait until there is real peace between those countries, which is very hard to find. It would be so wonderful to have peace in that part of the world. So my music is sitting there.

BD: Has it not been performed at all?

Cordero: Not yet. I could have tried to make it here when they had a festival of my music, but I want it to be in a city where the critic will say something good or bad about the piece. There are no music critics in this town. The Pantagraph [the daily newspaper serving Bloomington-Normal, Illinois, along with 60 communities and eight counties in the Central Illinois area] doesn't write about music, so it doesn't make any sense to me. It is a very difficult piece. Maestro Solti said that Mr. Corigliano would get in touch with me, to see the music and pass his judgment on to him. That was two years ago, and I have written to Mr. Corigliano on several occasions and still haven't had any answer about that. I heard him on the radio once, saying, "I have one hundred and forty scores from people sending me music." I don't know when to send number one-forty-one! [Chuckles] It's as simple as that. I understand, because he has to spend time looking at all that music, so he doesn't have time to write his own music. I understand that. That is the same reason why I didn't want to see Mitropoulos. Right now, the co-concertmaster of the (Chicago Symphony) orchestra is Mr. González, who is an excellent performer, and he has my concerto. I introduced myself to him when they came, and right away he said, "I have your concerto, and I want to play it someday." I got a letter from him not long ago saying that he is still trying.

BD: [Being optimistic] As long as he is still trying, there's hope!

Cordero: Yes, perhaps. I don't feel so frustrated when my music's not played. If it were simply that my music had to be played for me to survive, emotionally, I would be dead by now. I only know that I have written a piece that can be played any time they want to. I won't apologize for one single note. I do that with all my music. I won't give a piece to you to play until I am satisfied that I have put everything I wanted to put in that piece. I don't want to put more, because whatever is more is for another piece. I used to tell my students in Panama, "I don't really finish a piece. I stop my musical discourse to rest and continue with the next one. I close this moment of my emotional life to recharge my battery, so I can bring out other emotions. I love my life. I keep living with more and more emotion. It is not that I am looking for a specific emotion, but the music is being shaped by the subconscious, bringing elements into those motives. I don't have to be quoting Panamanian music, but my music has an element that is Panamanian. I have given the Symphony No. 4 the subtitle Panamanian, because it was at that moment when I decided not to go back to Panama to live. I always thought about retiring, and then going back to Panama, but the last few years when I have been there, I saw that everything I had built — both in the orchestra and conservatory — had been destroyed. If I were to go back there, I wouldn't be attending concerts because I don't like to hear bad music. And I would be suffering so much to see that my child had been neglected, or even murdered. I didn't want that. I have my own house, built through commissions. My awards and commission went into that house. It was a roof for my children... the roof that I didn't have as a child. But none of the three boys [Dimitri ('D.J.'), Rogelio, and Ricardo] want to go back to live in Panama, and I understand. Their professions are here. The older one is an aerospace engineer, and all of them have their own families right here, For me, to go to live there, and be away from my children and grandchildren would be too traumatic.

BD: Just as you are not Afro-Panamanian, or Colombian-Panamanian, are your children now American?

Cordero: They have both nationalities. They are American citizens, and they travel with American passports. But I will always remain Panamanian.

BD: You travel with a musical passport!

Cordero: [Laughs] Exactly.

BD: Thank you for being a composer.

Cordero: You're welcome. Thank you for allowing me to express myself.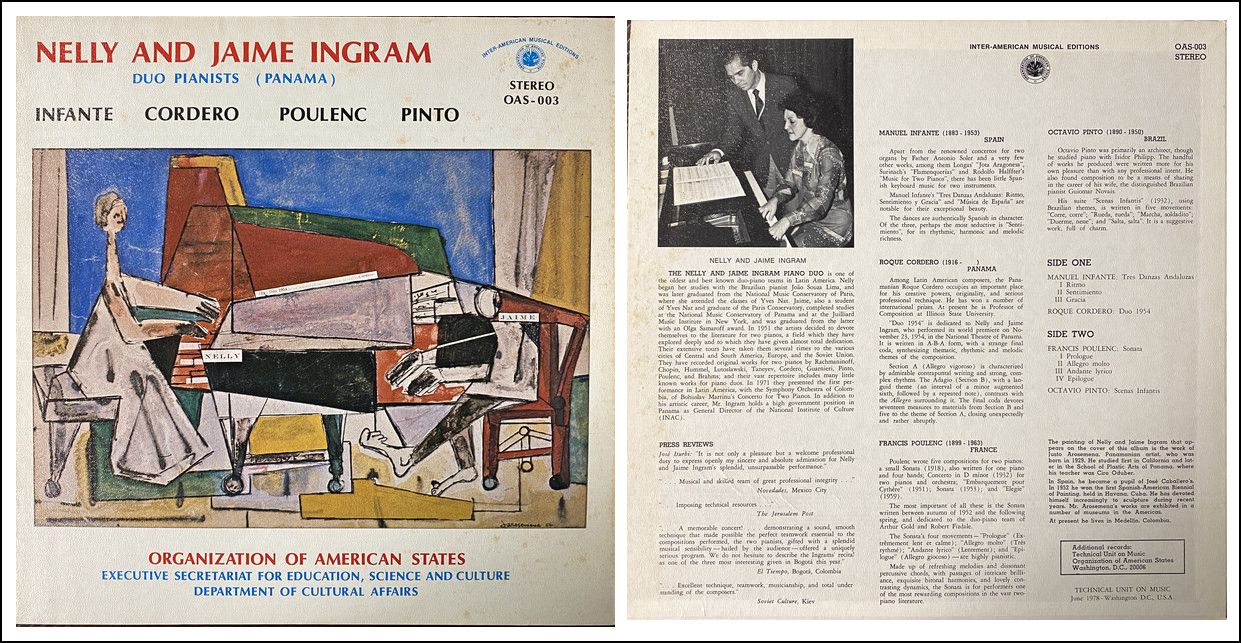 © 1989 Bruce Duffie

This conversation was recorded at Illinois State University in Normal, Illinois, on August 30, 1989. Portions were broadcast on WNIB the following November. This transcription was made in 2020, and posted on this website at that time. My thanks to David Badagnani for his help in preparing this website presentation.

To see a full list (with links) of interviews which have been transcribed and posted on this website, click here.

Award - winning broadcaster Bruce Duffie was with WNIB, Classical 97 in Chicago from 1975 until its final moment as a classical station in February of 2001. His interviews have also appeared in various magazines and journals since 1980, and he now continues his broadcast series on WNUR-FM, as well as on Contemporary Classical Internet Radio.

You are invited to visit his website for more information about his work, including selected transcripts of other interviews, plus a full list of his guests. He would also like to call your attention to the photos and information about his grandfather, who was a pioneer in the automotive field more than a century ago. You may also send him E-Mail with comments, questions and suggestions.