Oboist Ray Still

A Conversation with Bruce Duffie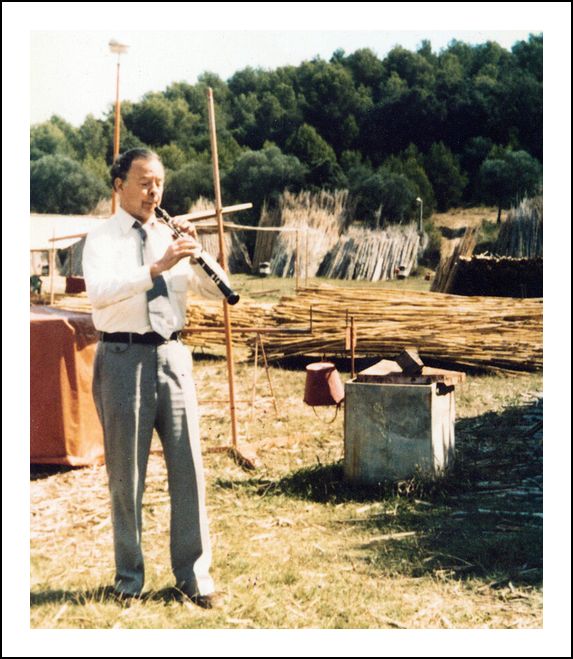 Ray Still (March 12, 1920 - March 12, 2014), was the first oboist of the Chicago Symphony for forty years. He enjoyed a long and distinguished career in orchestral, solo, and chamber music. He played under almost all the major conductors of the last half of the 20th century, and recorded much of the repertoire for oboe solo and ensemble. The many students he taught in graduate and undergraduate programs and international clinics and master classes now staff symphonies and universities around the world.

After his retirement, he toured in Europe, Ireland, Canada, and Japan and taught at Northwestern University, and the University of Maryland.

His distinctive tone and musical style have influenced and inspired musicians throughout the world. Naturally, being brought up in Evanston (home of Northwestern University), I had become used to the fact that the Chicago Symphony was at the top of the orchestral world, and that included the sound Still produced in performance and on records.

While I was with WNIB Classical 97 as Announcer/Producer, I hosted a long series of programs which included interviews with the composer and/or the featured performers. Having studied bassoon and contrabassoon with Wilbur Simpson, who played Second Bassoon in the CSO for forty-five years, he, as well as several other CSO musicians graciously allowed me to chat with them for these broadcasts. Names which are links on this page refer to transcripts of my interviews which are posted on this website.

In May of 1994, Still had recently retired from the Symphony, and he invited me to his home to do the interview . . . . .


Bruce Duffie: Thank you very much for inviting me to this lovely environment!

Ray Still: Thank you for coming. You should see our garden. It's really gorgeous out in the back yard. We will go out and see it later. It's my wife's pride and joy. She loves gardening.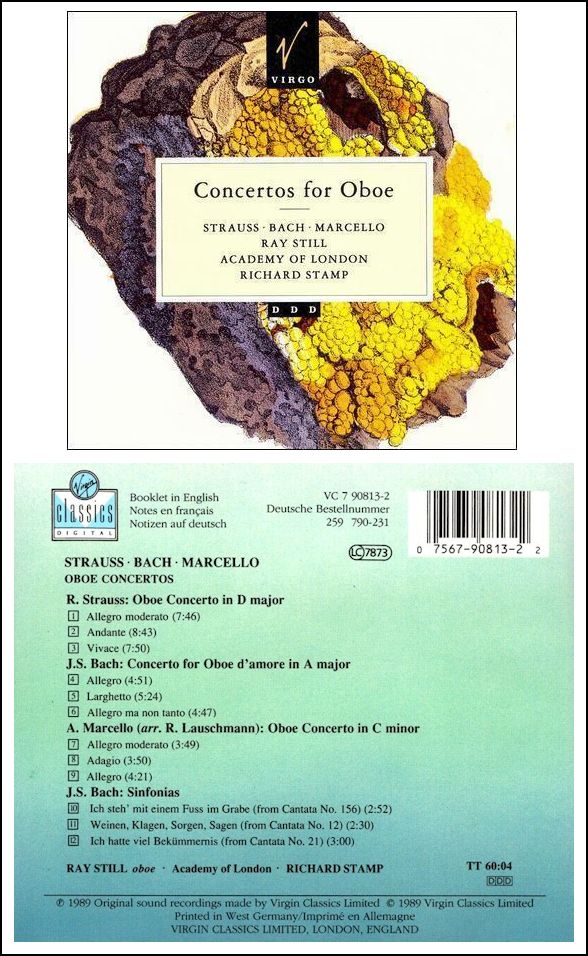 BD: Does she like oboe playing?

Still: Yes, she likes oboe playing, but she gets a little sick of it sometimes. I'm on a big practicing kick right now — long hours every day getting ready to make some new recordings. So, it gets a little monotonous. She was asking me if I wanted to go to our daughter's place in Springfield, Ohio, for the weekend for Mother's Day, and I said, "No, I'm on a roll right now." Then she came into the studio and saw me with the Knicks & Nets [basketball] game on. Luckily, I was also putting my hi-fi together, because the Nets & Knicks in the next room were in the background.

BD: [With mock disgust] Are you not a Bulls fan???

Still: [Laughs] I'm a Nets fan right now because I want them to beat the Knicks. I want all the top contenders to be knocked off so that the Bulls have a chance! [Much laughter]

BD: Without Jordan it's a little harder for them. [This was when Michael Jordan was playing baseball, between stints with the Bulls.]

Still: Yes, they're having a tough time of it.

BD: They just beat somebody three in a row...

Still: Yes, but it was the Cleveland Cavaliers without three of their best players.

BD: Well, it's Chicago without their best player, so it evens out a little bit.

Still: Yes. They've still got Pippen, and Grant, and Armstrong, so they've got three damn good players. It's just that they don't have their Superman! [More laughter] Did you notice in the paper that they're putting a Jordan-Watch on every day? They say what he did each day in baseball. Every day they show just his eyes, and note that he struck out twice.

BD: Yesterday he got a hit, and a bloop single.

Still: Yes, something like that. It's so silly! Here's a guy down in a Double-A minor league — which is third-class — and they're riding around in a first-class bus that he bought them for $350,000! Those guys don't want him to be promoted.

BD: [Re-assuringly] Oh, they'll get to keep the bus.

Still: Yes, maybe. [Laughter continues]

BD: That was a classy thing to do, rather than have the team be in an ordinary bus, while he was riding in his Porsche.

Still: Oh, sure, sure!

BD: There seems to be a connection between music and sports. A lot of the composers follow baseball, and a lot of other musicians follow baseball and basketball. Is there a special connection with all this?

Still: I don't know that there is. The guys in the Symphony used to talk sports, but that was probably the same percentage of sports fanatics that there are as there in the average population. A lot of the guys would not be interested at all.

BD: It would be the same as if you went into any ordinary business office?

Still: Yes, probably. Some of us were fanatics. The year the Cubs were winning there was a piece in the paper about my having a radio on stage at Ravinia. It was funny, because the conductor was Kurt Masur. He was from an East German orchestra, and at that time it was Communist, where they could have all the time they want. They didn't dare protest about overtime, or playing long hours, so he had all the time he wanted in the world. But at Ravinia you have to be very thrifty with your time. He was doing the Beethoven Ninth, and the Choral Fantasy, and he just was wasting a lot of time, and all the guys were asking me, "What the hell are the Cubs doing?" This was the game that could make or lose the season, so I had this radio in my briefcase, and a little earphone in my ear. I wasn't supposed to be playing. I was just supposed to be sitting there watching him explain bowings to the fiddles, and the guys on either side of me were saying, "What's the score?" and I'd say, "Still the same thing!" I didn't notice Masur him coming up to me. Suddenly, he was standing right over my music stand, and he said, "Is that a radio you're listening to?" I said, "Oh, no, Maestro! I was just checking the pitch!" [Gales of laughter]

BD: A constant 440 in your ear!

Still: Yes! Anyway, that made the newspaper. In some ways, we're pretty fanatical sports fans. I've never done this, but some guys sitting in the back in brass or percussion, have come with little portable TVs to use when they're not playing for a movement. [Continuous laughter throughout all of this story]

BD: There are occasionally pictures of guys who play in pit orchestras that have a crossword puzzle on their stand.

Still: Oh, they do. Dale Clevenger, the horn player, was constantly doing crossword puzzles on the stage. He had his nose in it all the time...

BD: ...but he never missed an entrance!

Still: Ah... I wouldn't say that! If his assistant nudges him in time, he doesn't miss an entrance!

BD: There are sports fanatics everywhere. Is it good that there are Symphony fanatics?

Still: Oh, yes! We appreciate the fact that there are Symphony fanatics and Symphony groupies, and people that follow the Symphony very closely. Those are our public, and we know that it's a much smaller public than the sports audience.

BD: Would you want your audience to be as big as the sports public?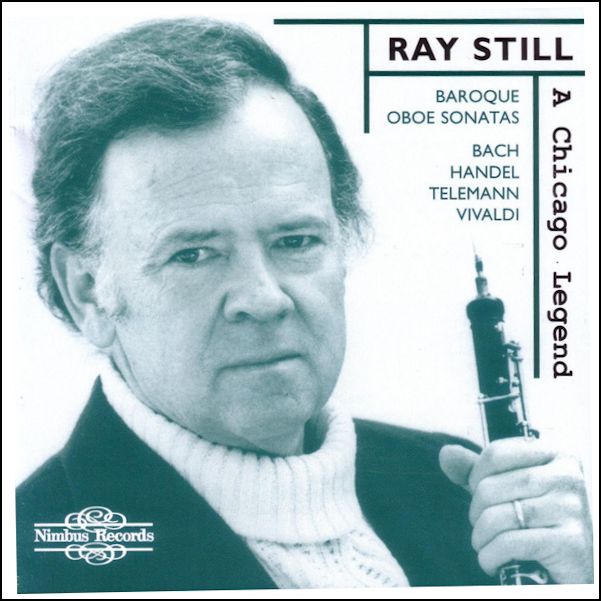 Still: I don't know. I don't think the audience for great art — the kind of art in great museums, or the great poetry, or Shakespearian plays, or serious drama of any kind, or chamber music, or symphonic music — is ever going to be as large as the popular things. It's never going to be as great as an audience for the rock groups, and the popular groups, and so forth, but that's the way it is. The majority probably are people who will never dig below the surface in any field. They never really put out the effort to become fanatics.

BD: Is this one of the things that we should let people know — that classical music can be enjoyed superficially as well as in great depth?

Still: Sure. I once made an album with Robert Russell Bennett called Classical Music For People Who Don't Know Anything About Classical Music! It was just a bunch of favorite easy, catchy tunes that anybody could like immediately. There was a little bit from 'Morning' of the Peer Gynt Suite, and the opening theme from Brahms's Haydn Variations...

BD: Just the big hits?

Still: Yes, the hits. Anybody could listen to those and say, "I don't think classical music is so bad. I can hear some tunes, and even that's not bad." [This LP, with its very interesting visual design, is shown at the bottom of this webpage.] You can draw people in with Beethoven's Greatest Hits, or Bach's Greatest Hits. Real music-lovers look down on that sort of thing, but if they drag anybody in, fine! Even the picture Amadeus — which I despise, personally. I didn't despise every part of it. I liked that one little speech that Salieri made, where he talked about Mozart's Gran Partita, and this simple little bit he put into third movement with the horns, and then this little syncopated beat comes in. Salieri says that's all very ordinary, but then, in the fourth bar, suddenly comes this oboe from heaven! [Both laugh] I didn't mind that part! It is a heavenly oboe part. It's a part that once you play it, you never forget it, and once you hear it played really well, you never forget the theme. Salieri was just dumbfounded by the genius of introducing the theme in that way, so that's the part I didn't mind. However, I just hated the distortion at the end. It is not facts, it's fantasy.

BD: But at least now we don't have to explain who Amadeus is. Most people now know Mozart, at least a little bit.

Still: Right.

BD: Is it your responsibility, as an oboe player, to make sure that any phrase is indeed heavenly?

Still: It depends on your own taste, as an oboe player, what you think is heavenly. What some oboe players think is heavenly might include an extremely wobbly heavy vibrato, but then another oboe player might have a very thin kind of a shaky tone, and both might say that they are imitating a singer. In fact, all instrumentalists without exception say, "I'm imitating a singer when I play my instrument."

BD: Do you encourage this idea when you're teaching, to have a singing tone?

Still: Of course, but it all depends. I encourage my oboe players not to listen to the oboe very much, but to listen to singers, or violinists, or cellists much more than the oboe.

BD: Specific singers or just singers?

Still: Very specific singers. I say not to listen to ordinary singers. Don't listen to Beverly Sills in her declining days, where she vibrated a major third on either side of the pitch. Do listen to anything that Fritz Wunderlich recorded. Listen to him for a singing tone. Listen to Elly Ameling, who has one of the truest pitches of any singer that ever lived. She just has a flawless pitch, and a flawless center to her tone. Also, Fischer-Dieskau, and Jorma Hynninen, the Finish bass, who has infallible pitch and a beautiful, beautiful vibrato. I also encourage them to hear Christa Ludwig in her prime. I often play for them a record that we made with Reiner of the Soliloquy and the Recognition Scene from Elektra with Inge Borkh. Nobody could sing any greater than that. I heard another record of Elektra recently, and it turned out to be Birgit Nilsson with the Vienna Philharmonic and Solti conducting. That was pretty great too, but Inge Borkh just happened to be with us at that time, and I don't think we ever made it any more exciting a record than that. Two scenes from Elektra, and the final scene from Salome. It was incredible.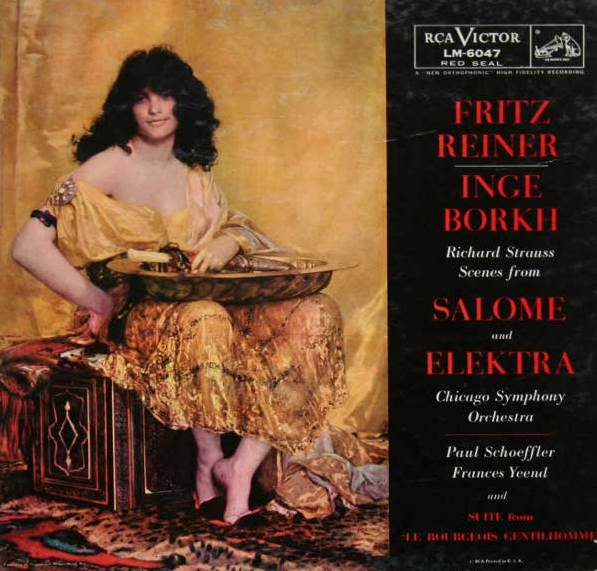 To close the Orchestra's sixty-fifth season, music director Fritz Reiner chose Strauss's Elektra. "This was a monumental performance superbly cast, and scaled to the full grandeur of Inge Borkh's magnificent singing in the title role," wrote Claudia Cassidy in the Chicago Tribune. "I for one have heard nothing like the outpouring of that amazing voice since the days of Kirsten Flagstad. . . . This is a huge soprano, glistening in timbre, most beautiful when it mounts the high tessitura and welcomes the merciless orchestra of the still fabulous Strauss. She can ride the whirlwinds, or she can touch, surprisingly, the heart."

Borkh committed excerpts from Strauss's Elektra and Salome to disc shortly after her performances. With Reiner and the Orchestra, she recorded Salome on December 10, 1955, and Elektra on April 16, 1956, both in Orchestra Hall.



== From the CSO Archives


Later CD re-issues of this material in "Living Stereo" would also include Reiner's Dance of the Seven Veils.

On a related note, Solti would conduct Borkh in her U.S. opera debut as Elektra in San Francisco in September of 1953, and as Salome at Lyric Opera of Chicago in October of 1956. She was also Sieglinde in Die Walküre with Solti in both theaters in those same seasons.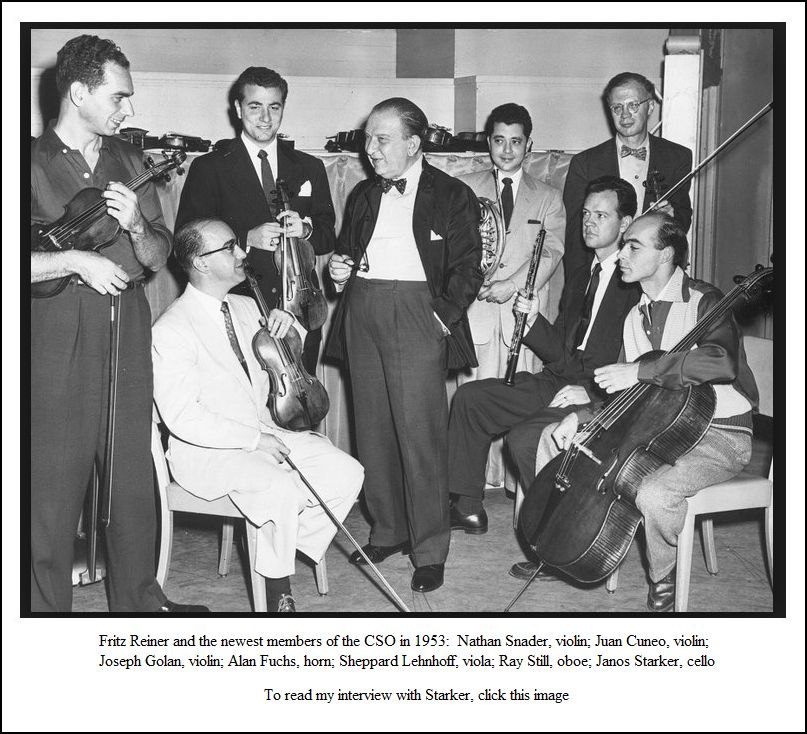 [Still continues] I'm so fortunate that I was in the orchestra for those two great eras — Reiner's and Solti's. The rest I could gladly skip, but...

BD: Even when the conducting was perhaps not as great, you didn't feel that your playing would help to raise the standard of the orchestra?

Still: It's funny, because one of the complaints that the French conductor, Martinon, made about me was that he felt that I was sabotaging his concerts. 'Sabotage' is a French word. We pointed that out in the hearing that I had afterwards, where I got my job back. He didn't understand that no musician worth his salt could ever do less than his best. It's like the short story of the knife thrower. The guy was a knife thrower, and his wife was the one that he'd outlined with the knives every night at the circus. He found out that she was cheating on him, and he was dying to just make a mistake on purpose, and put a knife right through her heart. But his art was at stake. She'd stand there laughing at him, because she knew he was the victim of doing his best all the time. He couldn't just throw the knives badly on purpose.

BD: That was her life insurance policy?

Still: Yes. Any good musician can't purposely play badly. There's just too much of a reflection on your art. You can't do it in order, as he said, to try to sabotage the conductor's concert. You would sabotage your own career. They don't hear the notes coming out of the baton, they hear them coming out of you. So, that was a particularly dismal era for me, but then Solti came in and made everything right. Solti was a real Mensch, like Reiner was, too. I was going to leave about the same time that Solti did, but it was thirty-seven years, and I thought I'd stick around three more years and make it forty, a nice round number. But I really probably should have left at thirty-seven years. It was the end of a magical era, and things didn't seem the same after Solti left.

BD: [At the time of this interview in May of 1994, the new Principal Oboe had not yet been selected. Alex Klein would win the position in 1995.] They're still working on trying to fill your position. Is there any correlation between trying to fill this position in the Symphony, and the Bulls trying to fill the position now that Michael Jordan has left?

Still: That's a very flattering comparison. I would certainly love to be called the Michael Jordan of the oboe. In fact, somebody sent in a very humorous piece from a suburban newspaper. It was written as a satirical thing, supposedly about the year 2001. Michael Jordan had just finished ten years of a successful baseball career, and gotten three World Series rings, so he's decided to become a symphonic oboe player. [Much laughter] The guy that wrote it was very, very clever, and said he's having truck-loads of cane for reeds delivered to his house, in anticipation of going into the Symphony. After all, he's only 41, so there's no reason why he couldn't become a great symphonic oboe player. It was a great article.



* * * * *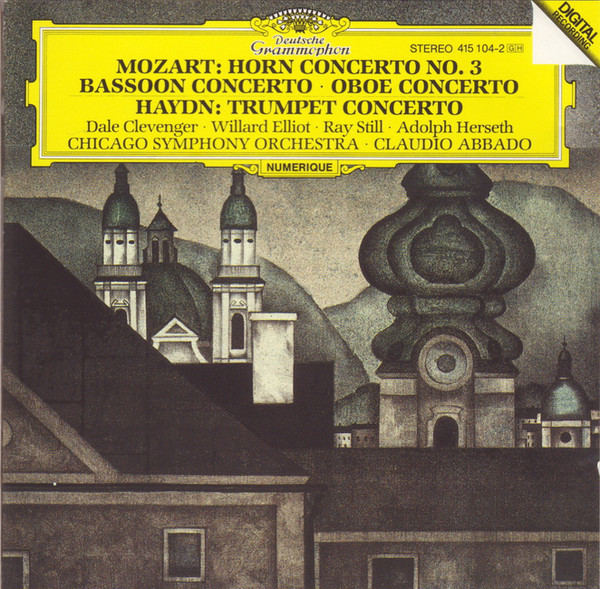 BD: Is it satisfying to be Principal Oboe in the Symphony, and still have a solo career? Also, how did you balance those two?

Still: When Solti first came to the Chicago Symphony, I was really aching to go more into a solo career. That was, after all, twenty-five years ago. I was fifty years old, and I'd figured I'd had quite a lot of symphonic oboe playing. I told him I was thinking of leaving because I wanted to make a lot of solo recordings, and he was very upset. He said, "My dear, you should not worry about that because I'm sure we can make some solo recordings here with you." A couple of years later I said, "Do you remember the bit about the solo recordings?" He said, "I didn't realize that it's such an expensive proposition to record with this orchestra. When you record with the Chicago Symphony, you have to pay the whole orchestra. So, if you do a Mozart concerto," — which I was very interested in doing at that time — "you have to pay the whole orchestra!" The whole orchestra means 110 people, even though you're only using twenty-five of them. That's one of the reasons we don't record much small stuff. It wasn't until I was about 65 years old that Claudio Abbado decided to record four concertos with first chair men — Adolph Herseth, Willard Elliot, Dale Clavenger, and myself, on Deutsche Grammaphon. That was the first and only solo recording I ever made with the Chicago Symphony. Of course, and made a lot of orchestral recordings with big incidental solos, but my name was never on them as a solo player. The next year after that, I made a solo recording in London, in which I did the Strauss Concerto, and the J.S. Bach Oboe d'Amore concerto. All this was after I was 65 years old. In fact, I think I'm the only oboe player that ever played the Strauss concerto live in person after 70! [Laughs] I did that with Klaus Tennstedt four years ago. Actually, in a way, I'm glad that I didn't do my solo recordings earlier. I did some chamber music recordings, like the one with Itzhak Perlman, and another with Pinchas Zukerman and Lynn Harrell, plus the oboe quartet records.

BD: Wasn't there one with the Fine Arts Quartet?

Still: Yes, that was about thirty-eight years ago, when I first came here. Then I did the Bach Double with Itzhak in Israel, and a few other things, but generally I haven't made a great number of solo recordings. But I recorded the things that I really wanted to record the most, the best pieces of music. The two best oboe concertos by far are the Strauss, and the Mozart. The others are way behind those, so I'm glad that I waited until I was mature. By that time, I had done those pieces many times with the Chicago Symphony. In fact, I did the Strauss Concerto every ten years with the Symphony — with Reiner, with Martinon, with Solti, and finally with Tennstedt, all ten years apart over a forty-year-period. So, by the time I finally recorded it, I really knew what I wanted to do with it, because I had heard all the radio tapes. We had discussed it so many times, and hated the results, so when I finally got a chance to record it, I knew what I wanted to do. Incidentally, the reason we were able to do the Mozart with Abbado was because we put it on the tail end of another recording session by Schlomo Mintz. His Prokofiev gave us a half-hour to record the Mozart, after four hours of recording with him.

BD: An Anhang [appendix]!

Still: Yes, right! [Much laughter]

BD: Are you pleased with these solo recordings now that do exist?

Still: Oh, yeah! I'm very pleased with the Mozart. It is probably the best thing I've ever done, and one of the best things about it was that it was basically made in thirty-five minutes. From the take that we did the first day, we threw it all out except the first page, because I didn't like the reed that I had. It just wasn't satisfactory, and I didn't even hear the results because the recording director was sick, and he just didn't want to play anything for me. The following day, Abbado forgot to come upstairs. I was supposed to have forty-minutes, so we had just thirty-five minutes. This was just enough time to go through it once, and in fact we started with the second movement. Then we did the third movement with no stops. We had five minutes left, and I said, "Quick, let's go to the first movement, and take the second page." We just had barely enough time to go from that second page to the cadenza — which I had pre-recorded — so basically the whole thing is like direct-to-disc! I'm very, very happy with it. I think it's one of my best. The Strauss, on the other hand, took six hours to record.

BD: When you make a record, which is presumably technically perfect, do you set up an impossible standard for yourself and for others?

Still: [Thinks a moment] I don't think so, because there'll be plenty of other oboe players. Even though I'm pleased with it, there'll be plenty of other oboe players of other 'schools' of oboe playing. They will pick holes in it and say, "Oh, my God! Did you hear the way he played that appoggiatura?" or "Listen how sharp that high D was!" You can take anybody's recording, and pick it apart. But just in general, I like it. It represents the best of my playing. It's the kind of thing that I want people to hear if it is still around and can be heard fifty or a hundred years from today.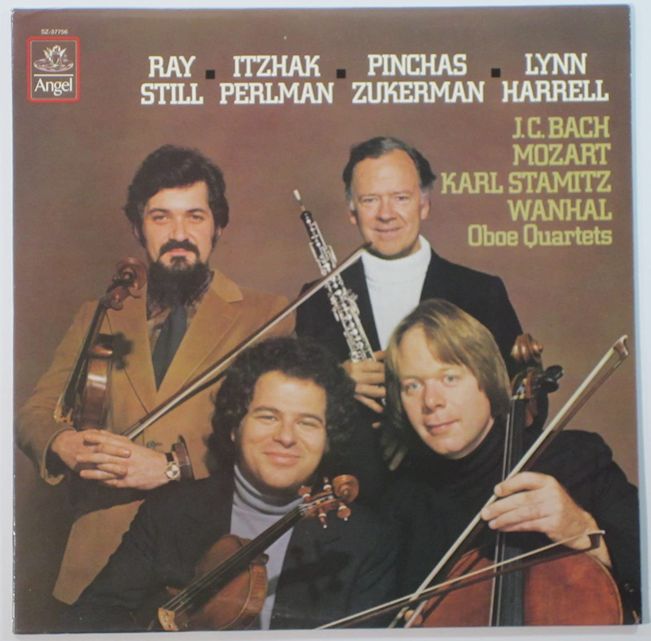 BD: It's in plastic. Do you not feel that it will be around in a hundred years from now???

Still: I don't know. You can't tell how those things are going to hold up.

BD: Well, is there such a thing as a musical perfection?

Still: There is, but sometimes it's very boring. I made a record of the Bach big G Minor Sonata for the Swedish Radio with my son, Tom, which is almost as near as I would probably ever come to perfection. But even there, I can always hear those little imperfections in it. However, I would say this one is not boring. This is probably the best record that I've ever made, but none of my records that I've made are ever perfect. There's always something that I'm taking a chance with to make it better musically, and if you are taking a chance, you're bound to have some little flaws, and I don't mind those flaws.

BD: It's good to have little flaws and a big sweep?

Still: Yes. It's not necessary to have the flaws, and these days with these splicing techniques that are used, you can hear absolutely apparently flawless records. But you and I know that those would not really be so flawless if they were live performances.

BD: Then at what point does this cut-and-splice become a fraud?

Still: As Herseth said to me many times, the whole recording business is a swindle. In a way it's a swindle if it's infinitely spliced, but it's still an art to be able to play well enough so that you can splice the takes together, or take the best of the takes, and make it sound continuous as though it's perfect.

BD: [Gently protesting] But that's an engineering art.

Still: Yes, but it's partly the artist, too, because people with a lot of experience in recording know how to build the continuity in there. They know how to keep the same feeling, even when they're interrupted several times. When I was rehearsing with Itzhak Perlman and Pinchas Zukerman and Lynn Harrell in Itzhak's apartment in New York, they were always pulling jokes on each other. Itzhak said, "Pinkie, come here. I want you to hear something." So, he took him into the other room, and he played for him the tape of a new recording that was about to be issued. It was a Sinding piece that was made famous by Heifetz, and it was just incredible. It was so spectacular. It just took your breath away. It was absolutely flawless. Itzhak said, "How do you like it?" and Zukerman said, "It's fantastic. I bet you wish you could play like that!" [Much laughter] Actually, Itzhak can play with that perfection on occasion, but even with Heifetz, who was known for perfection, you can hear lots of places in his records where he's a little out of tune.

BD: He was supposed to be a machine.

Still: Yes, he was a machine. He was pretty damn perfect, but even so, he was exciting. I haven't said he was boring in his perfection.



* * * * *



BD: Has the standard of playing — either violin or oboe — risen over the last forty years?

Still: Oh, very much so. In the movie Fantasia, I was the stand-in for Marcel Tabuteau. I was seventeen years old, and I was the stand-in for him on the set as Fantasia was being photographed. My silhouette was being photographed, but not my sound. It was Tabuteau's recorded sound. He was the famous oboe player who has taught so many oboe players in the United States. Now, if you listen to his playing in that movie, and if you listen to any of his other records that he made at that time, there are many students around today who can play much better than that. Any number of professional players can play better than he played, but he was a pioneer in developing a new way of playing, and developing a new kind of sound on the oboe. It was a new approach.

BD: This is about technical perfection, and being able to play the notes. Has the musical ability and musical concentration also gotten better over forty years?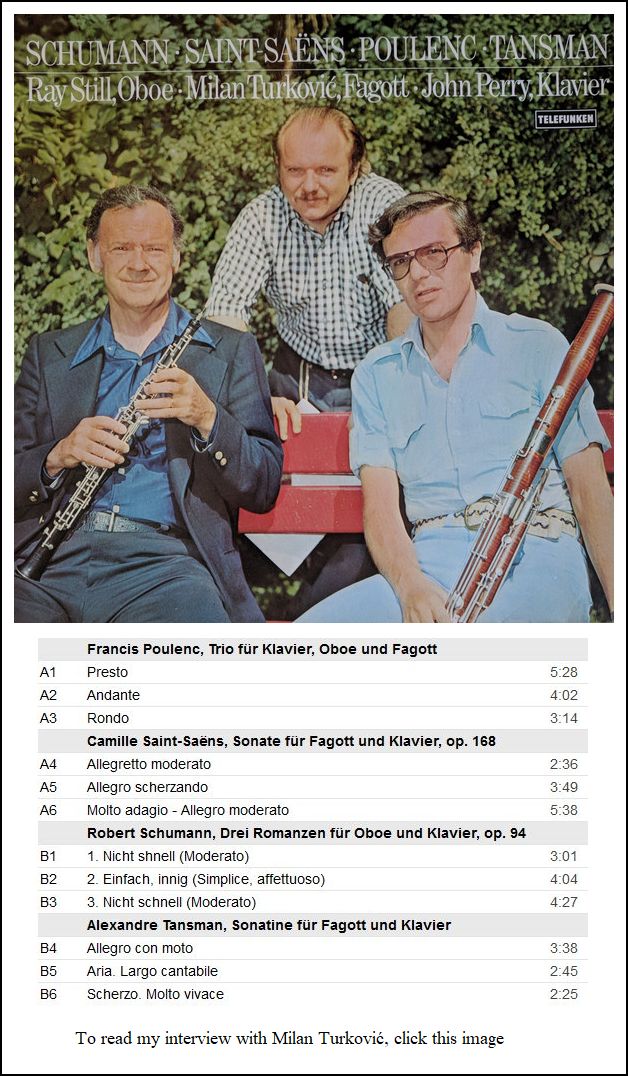 Still: [Thinks a moment] Yes, but the percentage is about the same of people who are good, journeyman players that you'd listen to in an audience, and you'd say, "Well, they are good. That's a good flute player, or that's good bassoon playing," as opposed to someone whom you listen to and say, "Oh, my God, this is a great music lesson. Listen to this guy or girl play! It's just miraculous. It's pure musical inspiration coming out of that instrument." Now when you can say that, you can also say it has a musical personality with it. One can talk about how you shouldn't individualize the music too much, but the very process of playing is subjective. You react to the music in your own particular way, and then you play it the way you feel it, governed, to a certain extent, by the conductor. If the conductor doesn't like it, he can always say, "We want it a little less Schmaltzy there." In the very seductive solo in the last part of Afternoon of a Faun, I started to play it and Reiner stopped me. He said, "Ray, you don't play with enough color at this point. I heard Tabuteau play this solo, and he played it..." I don't remember whether he said 'so sexy' or 'so voluptuously'. I hadn't heard Tabuteau play it, but I took up the challenge, and played it with more Schmaltz. I don't know whether that satisfied him or not, but you sometimes err on the side of not putting enough personality into it for certain kinds of music, and then at other times, the conductor will ask for more. I asked Reiner at that time if I had to go with a glissando downward, and he said, "No!!!"

BD: This is one of the big complaints that we hear about pianists these days, that they're all sounding alike, and they lack individuality.

Still: Yes, that's true.

BD: With your students, do you try to encourage their individuality?

Still: Not individuality just to be different. I encourage them to listen to an awful lot of music, and then follow their musical instincts, especially, as I said before, not listening so much to oboe players, but to listen to other instruments. If you listen to oboe players, you're listening to the limitations of an oboe. But if you listen to a really great singer, or a great pianist, or a great violinist, or a great cellist, you're hearing the best musical results by some of the top artists of the world, not just oboe players. So, I encourage them to go for it. You're going to be influenced by your teacher to a certain extent, but I always say that I'm trying not to tell them how to play the oboe. I'm trying to free them up physically, and to improve their efficiency in the way they use their body, so that they can play any way they want. They can play any style, with any kind of vibrato, any get the sound that they want. That's my job is as an 'oboe doctor', or an 'oboe analyst' — to analyze what is wrong with the way they're doing it physically. So many of them end up with so much tension in their bodies that they end up doing most of the work against their own glottis. [Demonstrates a tight, gripped throat] You hear even when they talk.

BD: That's not just the result of the small bit of breath that has to go into the oboe?

Still: No. When playing the oboe, you have to fool yourself into thinking that it takes more than a tuba takes. You actually psyche yourself into believing that you're blowing more air through the oboe than you would have to on a low note of a tuba. By doing that, you keep the blowing muscles free, and then when all that breath encounters the reed, it sets up a natural pressure behind the reed. Then your ear tells you exactly how much to use, and not 1,000th of an ounce more of pressure, or not 1,000th of a erg more energy.

BD: Have you consulted with Arnold Jacobs [Principal Tuba with the Chicago Symphony 1944-88] about this?

Still: Oh yes! Jacobs has been my principal teacher for years.

BD: For breath support?

Still: Or just general use of the body efficiently. I've always said that I really studied with Jacobs, because I would pick his brain at every opportunity. We actually made some tests when we were both playing in a band out in Colorado together. He did some tests, and he checked the way I was using my breath, and found out that I was using it wrong. He said he talked to some of my students, and was disturbed by the fact that I was telling them things that he thought were exactly the opposite of the way they should be done. I was kind of shocked by that, but then I started talking to him, and I realized he was right! So, every time I got into any kind of difficulty through the years, I'd go to Arnold, and he'd get me straightened out.

BD: It's a great tribute to a great colleague.

Still: Oh, yes, he's very unselfish that way, but I don't just pass it on. I'm constantly experimenting on myself, and on my students with the information to prove that it works. I use myself as a guinea pig, and I use my students as guinea pigs. Students who come to me might be fairly advanced in their technical way of playing the oboe, but their tones are very constricted and very shallow, because they're blowing backwards. They're blowing by locking the muscles down here below the ribs. These are the muscles which are for the expelling the air, and they're the most efficient at emptying your lungs in the quickest way. So, these students lock those muscles so that they are immobilized. The fact is that the oboe takes such an incredibly tiny amount of air, they're able to play the oboe just by compressing their chests, You might say it's like trying to get the toothpaste out of the tube in one swoop, but only squeezing it at the top. You have to start from the bottom to get a continuous flow. Oboe players sometimes take a little time to develop the maturity of sound, the bigness of sound, like singers do. Singers reach a certain age of maturity when their sound is at its best, and oboe players tend to do that, too.

BD: Then does it level off, or is there a decline, and can you maintain it?

Still: It all depends. Like singers, there are stories of some tenors who sang beautifully until they were seventy-five years old, and still had very clear voices. Then you have people who sang beautifully, and suddenly stop at about forty. Many singers seem to hit their peaks around forty-five or fifty, and then start declining. The strange thing is that in Europe, everybody was always so amazed that I was still playing the oboe in the Chicago Symphony at the age of seventy-three, or seventy-four. Over there, there's a stipulation that they retire from the First Chair when they're sixty.

BD: Can they stay in the section, but stop being Principal?

Still: Yes. In some places, they don't have that anymore. They can stay but they choose not to. It's too hard on brass players especially. They're astounded that Bud Herseth can still play all the high trumpet parts, and he's just six months younger than I am. He's also seventy-four. [Herseth was Principal Trumpet in the CSO from 1948-2001, and continued in the section until 2004.]

BD: The voice is a muscle that can deteriorate with age. With the oboe, you have the embouchure that's a muscle, but it's not actually what is producing so much of the sound. It's controlling the sound.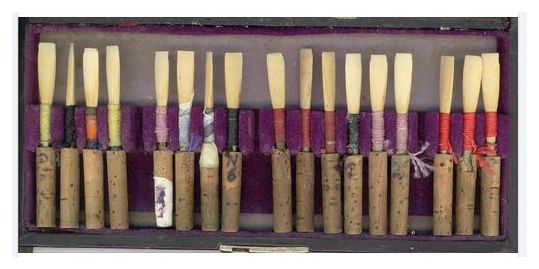 Still: It's controlling the sound, but the main thing that's controlling the sound is the breath, and that's the main thing that's controlling the voice also. I heard Hans Hotter sing an incredible song recital in Aspen. At a party afterwards, some woman asked him, "How do you get that incredible control all through your upper range, and through your lower range?" He said, "It's the breath. Once you learn the breath, that's everything." Now, that isn't exactly true, any more than somebody who would tell you that baseball is all pitching. That's an oversimplification. Somebody's got to catch the ball, and you have to have several other players out there besides the pitcher and the catcher who are pretty damn good, because you can't strike out every batter. Then it would be a hundred per cent of the game. But in brass or woodwind playing, the efficiency with which you use the breath is such a huge part of it. Of course, in oboe playing the reed is important, too. You have to have a pretty good reed, and it takes an awful long time to develop the ability to make these reeds. You're really making the major part of your instrument every day.

BD: How long should a reed last?

Still: I had one amazing reed last summer that I kept 'babying', and not playing on it for anything that was unimportant. I played it for mostly the important solos, and it lasted me something like five weeks. I was so happy with it. I played the big solos in the Brahms Violin Concerto, which started the season, and Romeo and Juliet of Berlioz, and the Shostakovich First. I just saved it for those, and I didn't play it in rehearsals at all. [Laughs]

BD: Generally, though, how long do they last — maybe a week?

Still: Probably a week. Maybe you can coax two weeks out them, but you have to rotate them. If you play six hours a day with really brutal treatment, you're going to have a wet dish rag on your hands. They just can't take that continuous blowing.

BD: Do you ever envy the flute players that don't have to tinker with reeds at all?

Still: Yes... but they envy us because we have our excuses for playing badly. [Big burst of laughter]



* * * * *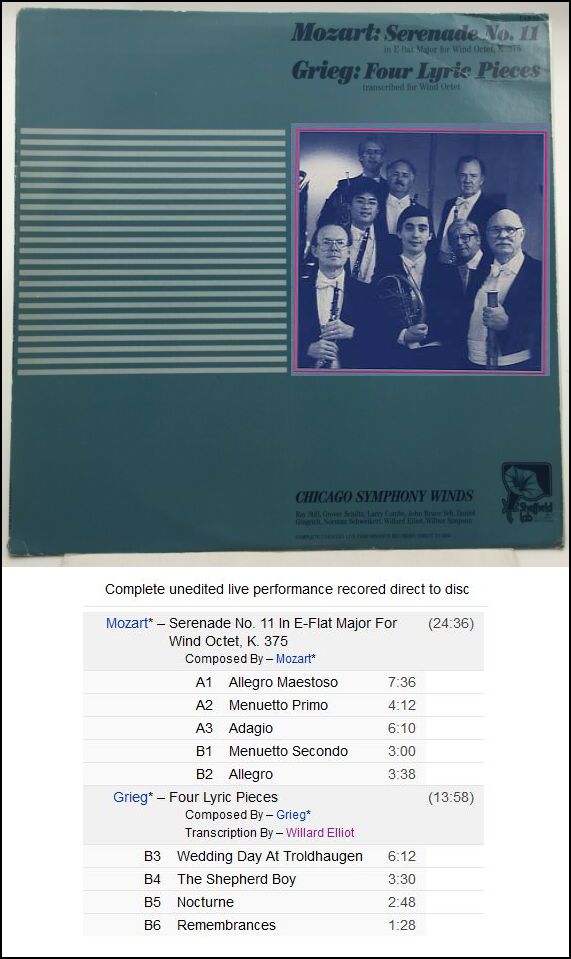 BD: Let me ask the big philosophical question. What's the purpose of music?

Still: Hmmm... You're talking generally for the world's population?

BD: Yes. [Vis-à-vis the photo on the record cover at right, the performers are Williard Elliot (also the transcriber of the Grieg) at far right, immediately left of him is Wilbur Simpson, and behind Wilbur is Ray Still. Others shown (l-r) are Grover Schiltz, oboe, John Bruce Yeh, clarinet, Norman Schweikert (top), horn, Larry Combs, clarinet, and Daniel Gingrich, horn.]

Still: I don't know. It seems to be a necessity. People have always had music, even if it's only been rhythmic. They've had some kind of music since the beginning of time. The oboe goes back to ancient Egypt, and maybe before that as some sort of double-reed instrument. There's some kind of a need for music. Whether it's for playing an instrument, or for singing, there seems to be a basic psychological need for release of emotion through musical sound. It all depends. There are so many different kinds of music. I have a grandson who's mostly interested in rock, and the stuff that he's interested in absolutely puzzles me that he can listen to stuff that is monotonous and simplistic. My second love, besides symphonic and chamber music and so forth, is jazz. I listen to jazz quite a lot, to the point that my wife says, "Will you stop playing that stuff and listen to something else. You're beating a dead horse by playing that stuff so much!" I play things mostly from the late '30s through the early '50s.

BD: Isn't that when it was the most complex?

Still: Not necessarily the most complex. It got complex in the middle '40s when Dizzy Gillespie and Bird (Charlie Parker) were combining to start the Bop era. It got pretty complicated with the chord structures of Lenny Tristano, and a lot of the music of that period began to get quite complex harmonically. I'm not over-enamored of the Bop school, and in its early form it didn't really last very well. I'm interested a lot in early recordings of what I would call chamber music — the small recordings of Billie Holiday, and Lester Young, with the all-star groups that were behind them. I have three CDs that include all the Columbia recordings that I listen to an awful lot, and I listen to the 1928-1930 records of Louis Armstrong, and Ben Webster, and Coleman Hawkins. I also listen to a lot of records of the Duke Ellington Band and the Count Basie Band.

BD: Does all of this make you a better musician, and in turn a better oboe player?

Still: It certainly has an effect on my playing, and on my expressiveness on my instrument. For instance, I've developed a philosophy which is, in some ways, influenced by Johnny Hodges, the great alto player with the Duke Ellington Band for many years, and Lester Young. Most jazz players are not worthy of their salt if they can't make a glissando between notes on the instrument like the human voice. There have been so-called jazz oboe players, but they're completely unable to imitate the jazz glissando. I make it part of the training of my students that the glissando is a must. They must be able to glissando.

BD: It that, maybe, why Reiner didn't want it, because he'd never heard it? Maybe he should have heard you do it!

Still: [Laughs] No, he had heard me do it. There's a place in Rhapsodie Espagnole of Ravel where there's a little melody in the cellos [sings it with a glissando semitone]. It's a beautiful little glissando. It's just a half-tone glissando, and then the oboe has it later, and I would do the same. Frank would always look over at me and laugh because an oboe is not supposed to do that.

BD: On a string instrument it's easy, but on the oboe it's very difficult?

Still: It's just the ability to do it. Herseth can do it on the trumpet very well, and Peck does it on the flute. Most people can do it. [Reiner appointed Donald Peck as Assistant Principal, then promoted him to Principal the following year. He remained with the Orchestra until 1999.]

BD: Of course, the clarinet player has to do it to open Rhapsody In Blue.

Still: Yes, they have tricky ways of doing that. They do partly finger-glissando by half-holing the fingers and gradually lifting them, but my God, if you'd listened to Barney Bigard of the old Duke Ellington Band, it was such a supple instrument. He glissandoed from anything to anything. It was just like a voice. That's one of the things which makes playing flexible, and allows you to play more expressively, and make it more like a human voice. A human voice doesn't have any keys that you can press. With the human voice, you have to make the notes, and it's almost impossible to go from one note to another in the voice without some sort of little transition between them, unless you stop the tone, and make it staccato.

BD: I was always amazed at Birgit Nilsson when she would sing Brünnhilde's Ho-Yo-To-Ho in Die Walküre. It sounded almost like a clarinet hitting the register key for the octave skips. There was no glissando there, nothing in between those notes. It wasn't smeared, and it wasn't a slide.

Still: Right, but if you slowed it down to about one-fourth the speed, you'd hear that she does it so cleverly that it's integrated. It's totally smooth. String players treat that as part of their expressiveness on their instruments. I believe in that kind of flexibility.



* * * * *



BD: I want to ask you now about new music. Are there some new concertos being written for the oboe?

Still: Yes there are, but I don't play them. I leave that to the younger players. There are plenty of players who don't feel comfortable with Mozart, and don't feel quite at home with Bach and Strauss, so they become specialists at newer music.

BD: Would you advise someone who's writing a work for the oboe, to include these glissandos that we're talking about?

Still: They do now. They have them written in. I was showing a student how to do these half-tone glissandos when they were written into the music just recently.

BD: Without mentioning specific names, are there any concertos or solos being written today that will take their place alongside the Strauss and the Mozart?

Still: I really wouldn't know because I'm not that interested. Don't get me wrong... I am interested in contemporary music. I heard a recital just two days ago with Easley Blackwood and a very good violinist, Sharon Polifrone. She was excellent, and they played one of Blackwood's sonatas for violin and piano. They also played an Ives sonata, a Beethoven sonata, and another piece at the end. I actually enjoyed Easley's piece more than the Beethoven sonata. The Beethoven sonata was good, but maybe it was just the fact that the Blackwood sonata was more unusual, or maybe it could have had something to do with their playing in the Beethoven.

BD: Was the Blackwood a new work, or an old work? He has recently come back to the tonal system.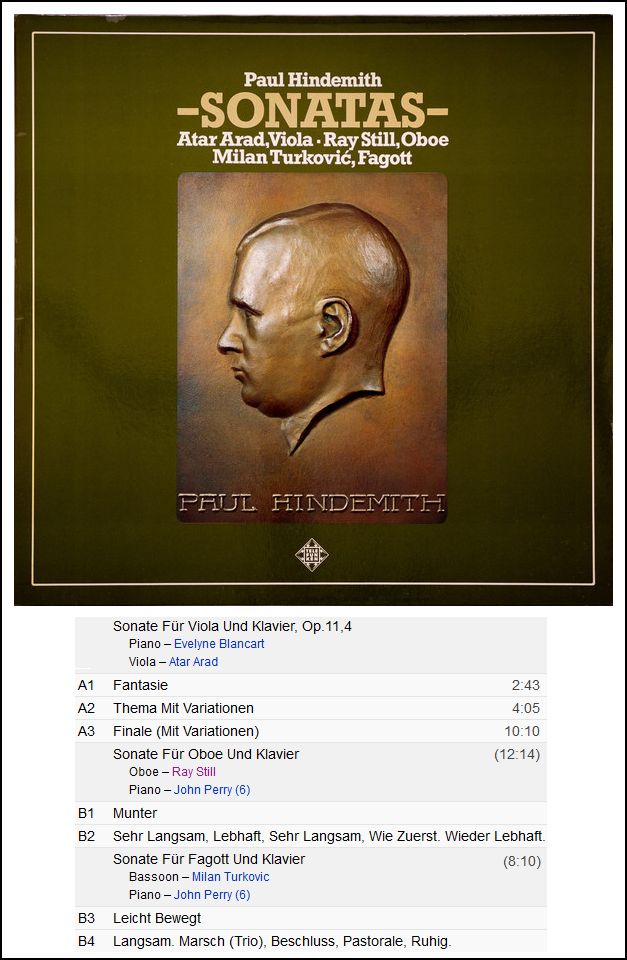 Still: Yes he has, and he says that this work is not the kind of work that he really is very much enamored with these days, but he still doesn't mind it being played. But today he's writing totally different music. The Fifth Symphony that the Orchestra played is almost like Sibelius. Like Somerset Maughan said once, "When ten new books come out, I read an old one!" [Both laugh] I've enjoyed playing some of the contemporary stuff, but I enjoy listening to it in the audience much more than playing it. Some of the things I used to hate to play, because it made you feel so stupid as a player. It didn't require any of the techniques that you studied so hard all your life to produce a beautiful sound. It just said, "Play all these notes, and you can play any notes you want, and just make some general sounds." They didn't show whether it was ugly or pretty.

BD: [Indicating a bright idea] But if it says to play any notes you want, you can select Telemann's!

Still: Yes! In one piece maybe by John Cage, he said, "You can sit anywhere you want in the orchestra, and you can play any instrument you want!" The music was in little frames, and didn't have any notes. It just told you whether to go up or down. [Laughing] Imagine a fiddle player there trying to go up and down on a flute...

BD: We're back to Michael Jordan again, when he starts playing oboe after being a baseball player!

Still: Yes!

BD: Are you optimistic about the whole future of music, and of oboe playing?

Still: Oh, sure! The way things are happening now, there's so many young virtuosos on the oboe that they're going to take it to much greater heights. There are going to be ten skillful technicians, and ten very good oboe players for every unusual oboe player — somebody who has really something to say. They don't often have that much to say musically, any more than you'd say that of ten fiddle players that you hear around today.

BD: Will many of these good technicians fill slots in orchestras, and do very well for themselves?

Still: Oh yes! But the ones who will really put the art ahead are those with a super-imagination. They will carry the expressiveness of the instrument further, and the technique, too. But there's so many technicians on the oboe. I served on the jury in Munich at one time. There were sixty oboe players there, and every one of them had fabulous fingers. Every one of them was able to finger the passage, so you have to come to the conclusion that the fingering part of the oboe is by far the easiest part, because so many people can do it well.

BD: You get that down, and that's the beginning? From there you take off?

Still: Yes, but you keep improving. You keep practicing your fingering technique. Some people are obsessed with it, and they go through all these études books. They think the more complicated études they play, the better they're going to get, not realizing what the really difficult thing is to do on the instrument. If I would write a resumé on these people, I'd say "Fantastic fingers!" That would be my first comment, and then I'd say, "Tone very boring, spread, dull. Intonation very inaccurate." They would always start out with fantastic fingers, and after a while, I'd start writing "Fantastic fingers... so what?" Everybody had fantastic fingers. If the fingers were everything, you could teach a very dexterous stenographer to play Daphnis and Chloé on the oboe in about six months.

BD: It's also got to be musicianship?

Still: As Hans Hotter said, it's first the breath, and after that comes nothing for a long time. Then comes the embouchure. Next after that in importance comes the tongue, and after that come the fingers.

BD: We haven't talked at all about baroque and other early instruments. What are your thoughts on these?

Still: For a long time I didn't like the sound they were getting on recordings of baroque instruments, but recently I've heard a lot of players who do very, very well. Some of the players from a group in Cologne, for instance, do very well, as do The London Consort with Trevor Pinnock. They had one fellow who was an American, who died recently, and now there's Richard Goodwin who plays very well. They play in tune, and there's something about the sound of a baroque instrument for certain kinds of music which is better than certain kinds of modern instruments, especially where you get the hard thin tone on the modern instrument.

BD: Have you ever played the older instruments yourself?

Still: No, I haven't. We have a player in the orchestra, Grover Schiltz, the English Horn player, who likes to play around with them. He also plays the classical oboe, and so forth.

BD: He had a little solo for oboe d'amore not too long ago. It was just part of the instrumentation that called for it.

Still: Yes. When I was playing, usually the one who played the oboe d'amore was Michael Henoch, who is the Assistant Principal. He would play the oboe d'amore when it was called for in a Debussy piece, for instance, or in the Ravel's Bolero. In the Domestic Symphony of Strauss he would stick to the English horn, but now that they have only have a three-men section, I'm not sure who does which.

BD: Grover played it a couple of weeks ago. They've had to shuffle a little bit, and Grover has even played Principal a couple of times. They're trying to uphold the section while you're not there. They're trying to find someone to fill your shoes, and those will be very difficult shoes to fill!

Still: Thank you very much!

BD: Thank you for being such a fine musician, and giving your talent to the Chicago Symphony for forty years.

Still: Thank you! I enjoy listening to your station. I listen to it all the time.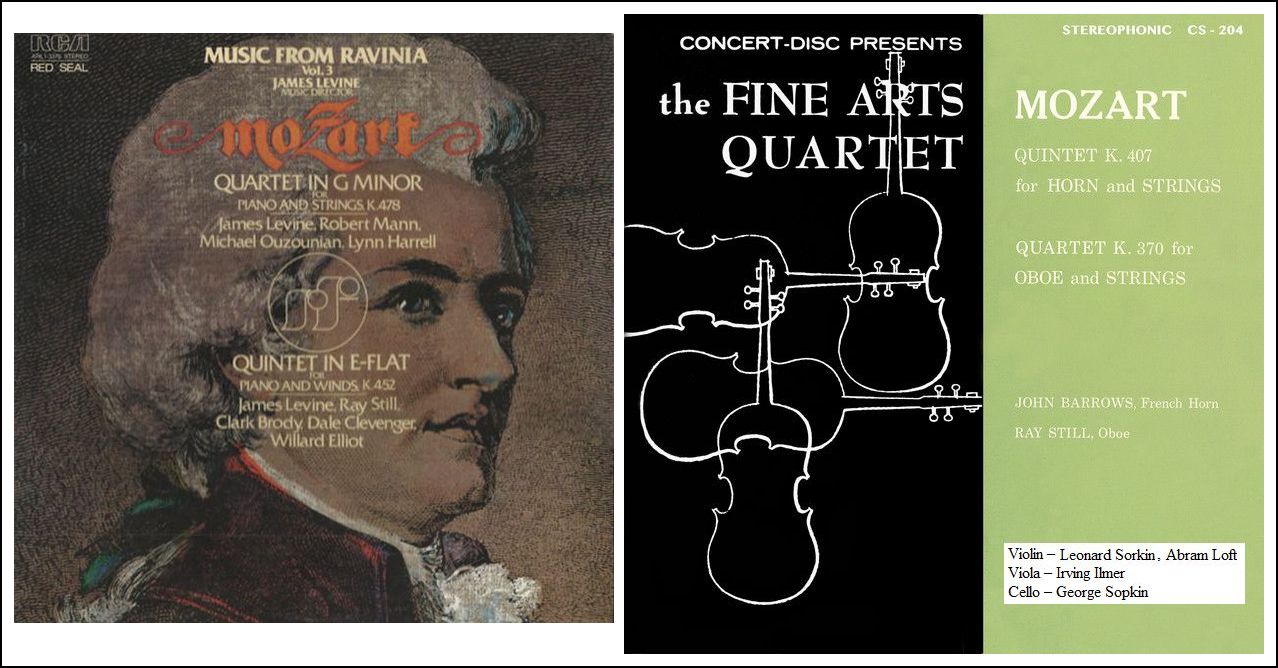 See my interviews with
James Levine
, and
Irving Ilmer









© 1994 Bruce Duffie

This conversation was recorded at the home of Ray Still in suburban Chicago on May 6, 1994. Portions were broadcast on WNIB the following year, and again in 2000. This transcription was made in 2022, and posted on this website at that time. My thanks to British soprano Una Barry for her help in preparing this website presentation.

To see a full list (with links) of interviews which have been transcribed and posted on this website, click here. To read my thoughts on editing these interviews for print, as well as a few other interesting observations, click here.

Award - winning broadcaster Bruce Duffie was with WNIB, Classical 97 in Chicago from 1975 until its final moment as a classical station in February of 2001. His interviews have also appeared in various magazines and journals since 1980, and he now continues his broadcast series on WNUR-FM, as well as on Contemporary Classical Internet Radio.

You are invited to visit his website for more information about his work, including selected transcripts of other interviews, plus a full list of his guests. He would also like to call your attention to the photos and information about his grandfather, who was a pioneer in the automotive field more than a century ago. You may also send him E-Mail with comments, questions and suggestions.