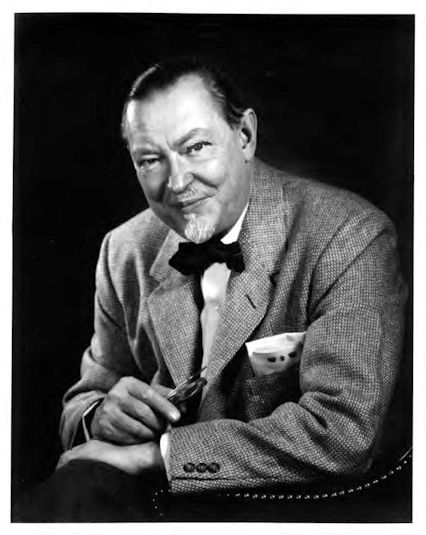 Born in Wahoo, Nebraska, on October 28, 1896, to Swedish-American parents who had settled in the Midwest, Howard Hanson was a child prodigy whose music lessons were begun with his mother. He continued his professional training at Lutheran College (Wahoo), the University of Nebraska School of Music (Lincoln), the Institute of Music Art (New York), and the School of Music, Northwestern University (Evanston), earning his Bachelor's degree in 1916. That year he was appointed to the faculty of the College of the Pacific in San Jose, California, where three years later he became Dean of the School of Fine Arts.

A declared neo-Romanticist, Hanson wrote music at once tuneful, vigorous, and accessible. Hanson's earliest compositions, dating from around 1914, included songs, piano pieces, and two symphonic works, and culminated in his music for the California Forest Play of 1920. In 1923 he won the Prix de Rome with which he took up residence in Italy as the first American composer to be named a Rome Fellow. While there he completed his first symphony ("Nordic"), whose first performance by the Augusteo Orchestra he conducted in Rome, and wrote his great choral piece, The Lament for Beowulf, his String Quartet, and his two symphonic poems, North and West and Lux Aeterna.

Early in 1924 Hanson returned to the United States to lead the New York Symphony Orchestra in his North and West and to conduct the Rochester Philharmonic Orchestra in the American premiere of his Nordic Symphony. Upon the invitation of President Rush Rhees and George Eastman, he became the second director of the recently established Eastman School of Music, taking office shortly before his 28th birthday. During the ensuing decades Hanson became one of the country's most influential music educators. The Eastman School under his leadership developed into an institution in which students could receive a well-rounded education while concentrating upon their professional studies.

Perhaps his greatest overall influence upon music was as protagonist of American culture. During the early decades of the century, music in America was dominated by European music and Old-World influences. As an American composer striving to be heard, Hanson was fired with zeal to bring native music to the fore. In 1925, in a daring move for those years, he initiated the American Composers Concerts, during which works by our own writers were performed, many for the first time, by professional musicians from the Rochester Philharmonic Orchestra, assisted by the School's artist faculty and advanced students. In 1930 he began an even more ambitious project: the annual Festivals of American Music, which continued through 1971, by which time more than 200 compositions had been given their first performance, with the composers being present for the rehearsals and the public concerts. While it may appear that the greatest emphasis was upon orchestral music, each Festival also featured a ballet, opera, chamber and choral music. Hanson's inclusion of American works at symphony concerts he offered as guest conductor with major symphonies throughout the country and his national radio broadcasts over the NBC network during the 1930s and 1940s helped to create a large audience for contemporary works by our own composers. He was justly called the Dean of American Composers and spokesman for music in America.

The outward signs of recognition accorded him by the public took the form of citations for his contributions to the quality of American life and culture, 34 honorary doctorates, election into the most prestigious national and international organizations, and buildings named in his honor. He died on February 26, 1981.




--- --- --- --- --- --- --- --- --- --- --- --- ---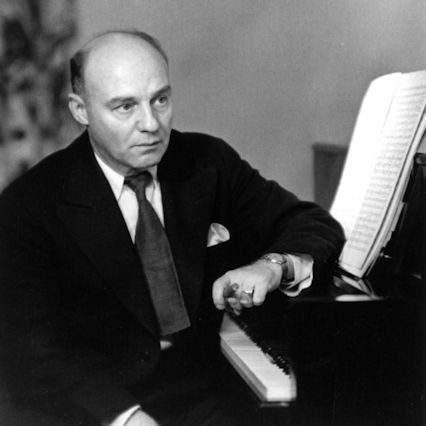 Bernard Rogers (b February 4, 1893, New York; d May 24, 1968, Rochester, NY) received his first instruction in composition with Arthur Farwell; when Farwell left New York, he continued his studies with Hans van den Berg. His first significant accolades as a composer were for his first orchestral work, the symphonic elegy To the Fallen, which was performed by the New York Philharmonic in 1919. For this piece, Rogers was awarded a Pulitzer Traveling Scholarship to fund study in Europe (1920–21). When he returned to the US, he began working as a reporter for Musical America while continuing his composition studies with Ernest Bloch. In 1921, Rogers enrolled at the Institute of Musical Art (now the Juilliard School of Music), where he studied theory with Percy Goetschius; later (from 1922–23), he studied for a year at the Cleveland Institute of Music.
In 1926, Rogers accepted a teaching position at the Hartt School of Music in Connecticut. The next year, he received a Guggenheim Fellowship (1927–1929), which enabled him to study with Frank Bridge in London and Nadia Boulanger in Paris. When he returned to the United States in 1929, he was invited by Howard Hanson to join the faculty at the Eastman School of Music; he would spend the duration of his career at Eastman serving as professor of composition and chair of the composition department (1930–1967) until his retirement in 1967. Many of his students enjoyed distinguished and prominent careers as composers and educators themselves; this number includes Mary Jeanne van Appledorn, Dominick Argento, Jack Beeson, William Bergsma, David Diamond, Kenneth Gaburo, Ulysses Kay, John La Montaine, Burrill Phillips, Gardner Read, Vladimor Ussachevsky, Robert Ward, and many others.
Prof. Rogers's output as a composer included more than 25 large orchestral works, including five symphonies; five operas; three cantatas and several other large-scale choral works; and numerous works of chamber music. He received commissions from the Ford Foundation, the Koussevitzky Music Foundation, the Louisville Orchestra, the String Foundation of Cleveland, and several other organizations. Among his numerous awards are the Loeb Composition Prize (1923), the David Bispham Medal (for the opera The Marriage of Aude, completed 1931), election to the National Institute of Arts and Letters (1947), the Alice M. Ditson Award for opera (for The Warrior, 1947), and a Fulbright Award (1953), in addition to the aforementioned Pulitzer Traveling Scholarship and Guggenheim Fellowship. He was also awarded honorary degrees from Valparaiso University (1959) and Wayne University (1962). His compositions have been performed by the Metropolitan Opera, New York Philharmonic, Chicago Symphony, Rochester Philharmonic Orchestra, Philadelphia Sinfonietta, Cincinnati Symphony, and other major orchestras in the United States and Europe. Additionally, Rogers's treatise The Art of Orchestration (1951) was long regarded as an essential reference for students of composition.