William Parker, Baritone, Dies; Specialist in Art Songs Was 49



By ALLAN KOZINN
Published in

The New York Times

March 30, 1993


William Parker, a lyric baritone who was one of his generation's most eloquent interpreters of art songs and a champion of new American music, died yesterday at his home in Manhattan. He was 49.

His press agent, Philip Caggiano, said the cause was AIDS.

Mr. Parker filled his recitals with songs woven around particularly poetic or descriptive texts, and illuminated those works with a warm, flexible timbre and a thoughtful approach to phrasing. In the English, German and French songs with which he was most closely associated, his diction was remarkably clear. And his personality consistently created the illusion that he was sharing a confidence with his listeners.

Although he had been making his way in the music world steadily since the early 1970's, Mr. Parker seemed to burst onto the music scene in 1979, when he won first prize at the Kennedy Center-Rockefeller Foundation International Competition for Excellence in the Performance of American Music. That competition established him as a singer who was not only willing to sing American music, but was enthusiastic about it.

He gave the premieres of many works, including Ned Rorem's "Santa Fe Songs" and Ernest Bacon's "Last Invocation." His recordings of works by Copland, Ives, Griffes and Mr. Rorem convey much of the persuasive spirit one heard in his recitals.

"I've been fortunate, because composers keep bringing me compositions," he recalled in a 1987 interview. "It's important to be open to new things. On the other hand, I don't want to be thought of as a specialist. People tend to pigeonhole us, and we get stuck there."

Actually, by the time he won the Kennedy Center contest Mr. Parker had a wide repertory of traditional opera roles and European art songs. He had also won first prize at the Toulouse International Competition and both first prize and a special Poulenc prize at the Paris International Singing Competition.

Mr. Parker was born on Aug. 5, 1943, in Butler, Pa., near Pittsburgh. He was a boy soprano in a local choir, but his first love was language, not music. He completed high school as an exchange student in Germany, and received a bachelor's degree in German language and literature at Princeton University in 1965. It was not until the late 1960's, after five years in the United States Army Chorus in Washington, that he began to consider a career in music and started to study voice seriously. His teachers included Pierre Bernac and Rosa Ponselle.

Although he was best known for recitals, he appeared with many opera companies in the United States and in Europe. He made his New York City Opera debut as Pandolphe in Massenet's "Cendrillon" in 1984 and gave a highly regarded portrayal of Papageno in Mozart's "Magic Flute" the same season. He sang frequently at the Santa Fe Opera and with companies in Houston, Pittsburgh and Miami. He also performed regularly as a soloist in music by Bach and Handel.

Mr. Parker's last project was putting together "The AIDS Quilt Songbook," a collection of new works about the physical and emotional devastation of AIDS. Inspired by the AIDS Quilt, in which each panel commemorates someone who died of the disease, Mr. Parker asked many of the composers with whom he had worked to write songs to be sung as a cycle. Among those who responded were Mr. Rorem, John Harbison, Lee Hoiby, William Bolcom, Chris deBlasio and David Krakauer. In June, Mr. Parker and the baritones Kurt Ollman, William Sharp and Sanford Sylvan performed the cycle at Alice Tully Hall.

"In Santa Fe last summer," Mr. Parker said in a May interview in The New York Times, "I was thinking about what we sing about all the time in opera and song -- grief, separation, death, fear of death, traumatic events in life -- and I had to ask, 'Why are we not singing about AIDS?' For singers, we are being pretty unvocal about this. Something left me unsatisfied about AIDS benefits where the music is all Mozart and Puccini and the word AIDS never gets said."

Mr. Parker continued to add new works to the collection after the June concert and sang the cycle in several cities. His last public performance was on Jan. 1, at the Walker Arts Center in Minneapolis.

He is survived by a sister, Amy Doty of Rochester, and a brother, John Parker of Del Mar, Calif.



-- Names which are links on this webpage refer to my interviews elsewhere on this website. BD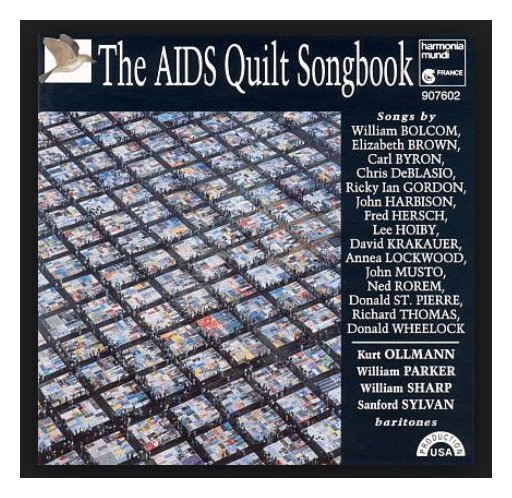 (Additional details from the Bach-Cantatas website)

The American baritone, William K. Parker, saw his first opera when he was a 17-year-old AFS exchange student in West Germany. The experience changed his life. Returning to the USA, he entered Princeton University where he earned a degree in Germanic languages and literature. He was a college senior before he took his first voice lesson. He learned the vocal arts with two master singers, Rosa Ponselle and Pierre Bernac. He won major singing competitions in France, Germany, and Canada, but the turning point in his career came in 1980 when he won first prize in the Kennedy Center- Rockefeller Foundation International Competition for Excellence in the Performance of American Music.

The New York City Opera baritone was one of America's most versatile singers, equally at home on the opera stage, as soloist with major orchestras, and as a song recitalist. He has appeared in major roles with the New York City Opera and the opera companies of Pittsburgh, Tulsa, Miami, Boston, Washington (D.C.), Baltimore, and Santa Fe. Orchestral engagements have included the New York Philharmonic Orchestra, San Francisco Symphony Orchestra, Minnesota Orchestra, Detroit Symphony Orchestra, among others. Widely recognized as one of the finest song recitalist of his generation, William Parker has concertized throughout the USA and brought American Art Song to Canada, England, Portugal, France, Holland, Germany, Iceland, and the former Soviet Union. He was best known for his comedy roles in opera. He performed several times at the Baldwin-Wallace College Bach Festival several times (1987-1988).

Wiiliam Parker was honored by the Butler Rotary Club and the Butler Symphony Association as a "native son." He wore the medal he received on a ribbon around his neck during concert performances.