Nancy Van de Vate was born in Plainfield, New Jersey December 30, 1930. She studied piano at Eastman School of Music and music theory at Wellesley College and completed graduate degrees in music composition at the University of Mississippi and Florida State University. She later pursued further studies in electronic music at Dartmouth College and the University of New Hampshire and is known worldwide for her music in the large forms. Her first professional performance (1958) was of the Adagio for orchestra. During the early part of her career she taught at various North American universities and worked as a violist and pianist.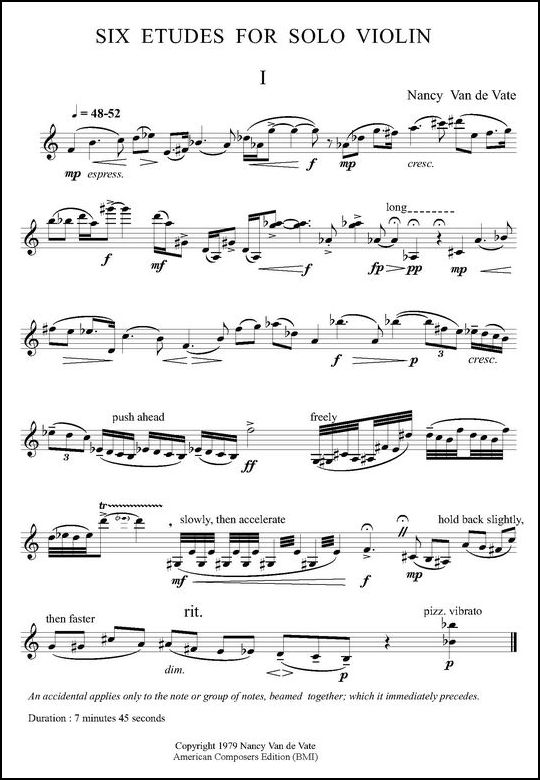 She taught at Memphis State University (1964–66), the University of Tennessee (1967), Knoxville College (1968–69; 1971–72), Maryville College (1973–74), the University of Hawaii (1975-76), and Hawaii Loa College (1977–80).
In 1975, Van de Vate founded the League of Women Composers and served as chairperson until 1982. It was later renamed the International League of Women Composers, now part of the International Alliance for Women in Music.

Her music has appeared frequently on major international music festivals including the WINTER MUSIC NIGHTS in Bulgaria (1996), SORO MUSIC FESTIVAL in Denmark (1994), VIENNA MUSIC SUMMER (1992), ULTIMA 92 in Norway (1992), JAPAN SOCIETY FOR CONTEMPORARY MUSIC (1991), WRATISLAVIA CANTANS in Wroclaw, Poland (1990), ASPEKTE in Salzburg (1989 and 1990), MUSICA VIVA in Munich (1989), and POZNAN SPRING in Poland (1984), among others.

She gives frequent guest lectures about her music in German and English in Austria, Germany, Poland, Slovakia, and the United States. In 1997 she presented master classes and guest lectures at Sichuan, Xian, and Central Conservatories in China. She also travelled to Tibet, where she met with leading Tibetan classical musicians. She previously lectured in Indonesian on her music in Jakarta, where she lived four years. Her music has been heard in at least thirty-seven countries on five continents, and is especially widely heard in radio broadcasts internationally.

She has received commissions and awards from the National Endowment for the Arts, the Maryland State Arts Council, the American Association of University Women, Meet the Composer, the Money for Women Fund, the Austrian Foreign Ministry, the City of Vienna, and others. She has been a Resident Fellow at Yaddo, the MacDowell Colony, and Ossabaw Island in the US, the Tyrone Guthrie Centre at Annaghmakerrig (Ireland), the Brahmshaus (Baden-Baden, Germany), and the Kunstlerhaus Boswil (Switzerland).

In eight years after issuing its first CD, Vienna Modern Masters, the nonprofit contemporary music CD company she co-founded in 1990, has achieved under her artistic leadership a catalog of 83 CDs, with 8 to 10 new additions annually. As VMM's Vice-President and Artistic Director, she has directly supervised the recording in Eastern Europe, with numerous orchestras and conductors, of 130 orchestral and orchestral-choral works, has been principal executive producer for all recordings in the VMM catalog, and has edited and designed all VMM CD booklets to date.
With 26 orchestral and orchestral-choral works recorded to date, Van de Vate is one of the most recorded living composers of orchestral music in the world. Her discography also includes many recordings of chamber and solo works. Her entries in the Schwann Opus and Bielefelder catalogs identify her as the world's most recorded woman composer, living or dead. Chernobyl was nominated for the 1989 Koussevitsky International-Recording Award for the best new work by a living composer in its first recording, and for the Pulitzer Prize in 1998.

Van de Vate now lives permanently in Vienna, Austria and teaches composition at the Institute for European Studies in Vienna. In 2010 the IES named her Composer-in-Residence.
== Biography compiled from different sources