Jay Friedman joined the Chicago Symphony Orchestra as assistant principal trombone in 1962 under Fritz Reiner and was appointed principal in 1965 by Jean Martinon. He attended Yale University on a scholarship and later majored in composition at Roosevelt University. Prior to joining the CSO, he spent four years as a member of the Civic Orchestra of Chicago and two years with the Florida Symphony. He has been a soloist with the CSO on several occasions, starting in 1969 with Bloch's Symphony for Trombone and Orchestra, and Creston's Fantasy for Trombone and Orchestra in 1976 with Sir Georg Solti conducting (shown in the recording below). In 1991, he performed the world premiere with Solti and the CSO of Ellen Taaffe Zwilich's Trombone Concerto, written especially for him and commissioned by the Edward Schmidt Family Foundation. In 2018, Friedman, along with his fellow section members, gave world premiere performances of Jennifer Higdon's Low Brass Concerto with Riccardo Muti at Orchestra Hall and in tour performances at Carnegie Hall and several other venues.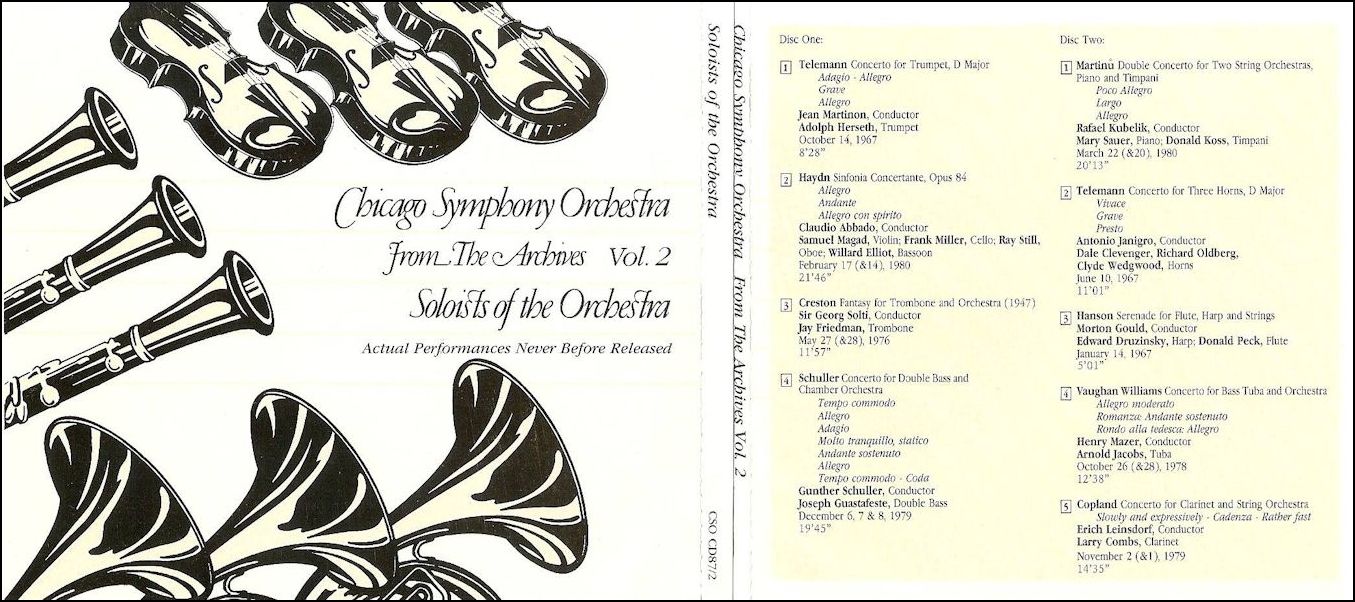 See my interviews with Claudio Abbado, Ray Still, Gunther Schuller, Dale Clevenger, Morton Gould, Donald Peck, Erich Leinsdorf, and Larry Combs

An active conductor, Friedman was named music director of the Symphony of Oak Park and River Forest in 1995. In 2002, he was chosen Conductor of the Year by the Illinois Council of Orchestras. Friedman's conducting career has included guest appearances with orchestras around the world, including the Orchestra of the Italian Radio (RAI), Malmö Symphony and Chicago Symphony Orchestra's annual donor concerts. In 2010, Friedman conducted Mahler's Eighth Symphony (Symphony of a Thousand) at Symphony Center, with the Symphony of Oak Park and River Forest, the choirs of the Symphony of Oak Park and River Forest, Chicago Concert Chorale, Concordia University and the Oak Park Children's Choir. Other guest conducting appearances include those with the Louisiana Philharmonic, Berlin Staatskapelle, Zurich Opera, and National Orchestra of Mexico, among others. At the invitation of Riccardo Muti, he conducted Glière's monumental Symphony No. 3 (Ilya Murometz) in 2016 with the Civic Orchestra of Chicago, and in 2017 Mozart's Haffner Symphony and Bruckner Symphony No. 7. In 2018, he conducted the Civic Orchestra Brass in Wagner's Ring Cycle, and in 2019, led Sibelius's Lemminkäinen Suite and Wagner's preludes to Lohengrin, Tristan and Isolde, and Parsifal with the Civic Orchestra of Chicago.