Born on January 26, 1930, in Yakima, Washington, Donald Peck received his early musical training in Seattle, where he played in the Seattle Youth Symphony Orchestra and the Seattle Philharmonic Orchestra. As a teenager, he performed with his first teacher, Frank Horsfall, in the Seattle Symphony. He was a scholarship student at the Curtis Institute in Philadelphia, where he studied with William Kincaid. Peck performed with the National Symphony Orchestra in Washington, D.C., and spent three years in the U.S. Marine Band. He was Principal flute of the Kansas City Philharmonic Orchestra for two years before Fritz Reiner invited him to join the Chicago Symphony Orchestra in 1957 as Assistant Principal flute. The following year, Reiner promoted Peck to Principal flute, a chair he would hold for over forty years until his retirement in 1999.

Peck first appeared as soloist with the Orchestra at the Ravinia Festival in August 1959, in Bach's Fifth Brandenburg Concerto, and on subscription concerts in Orchestra Hall in November 1960, in Bach's Second Orchestral Suite, both with Walter Hendl conducting. During his tenure, he appeared as soloist on more than 120 concerts directed by twenty-five conductors — including music directors Reiner, Jean Martinon, Sir Georg Solti, and Daniel Barenboim — in Orchestra Hall, at the Ravinia Festival, and on tour.

On April 18, 1985, Solti led the Orchestra in the

world premiere

of

Morton Gould's Flute Concerto, commissioned for Peck. [The flutist speaks about this work during the interview. His performance was issued on one of the Radiothon CDs, and is shown below. Also see my interviews with Alex Klein, Christoph Eschenbach, Larry Combs, Mariss Jansons, Miklós Rózsa, Victor Aitay, and Pierre Boulez.]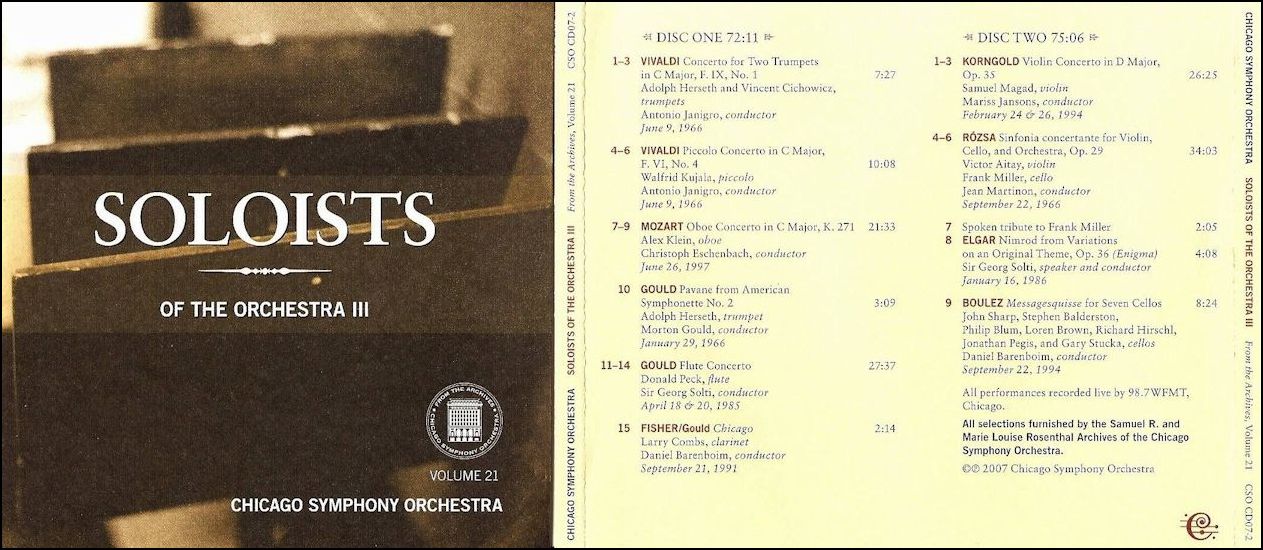 Also for Peck, William Ferris wrote his Flute Sonata [recording shown farther down on this webpage] and Lee Hoiby dedicated his Pastorale Dances for Flute and Orchestra. He regularly performed as a guest artist with other orchestras, including appearances at the Pablo Casals Festival with concerts in Puerto Rico, the Dominican Republic, and in Carnegie Hall. In Australia, Peck recorded Mozart's flute concertos for the Australian Broadcasting Corporation, and he regularly appeared at the Carmel Bach Festival in California, the Victoria International Festival in Canada, the Grand Teton Music Festival in Wyoming, and the Tanglewood Music Festival in Massachusetts, along with numerous other orchestras from coast to coast.
As Principal flute of the Chicago Symphony Orchestra, Peck performed on over three hundred recordings under twenty-two conductors for twelve labels. In his retirement, he recorded works for flute and piano with Melody Lord for the Boston label. Peck also was a longtime member of the Chicago Symphony Orchestra Alumni Association.
Peck served on the faculties of DePaul and Roosevelt universities, where he taught flute and woodwind ensemble. A frequent lecturer and guest teacher, he gave master classes at the Juilliard School and the Manhattan School of Music in New York, at the Rotterdam Conservatory in Holland, for the Osaka Flute Club in Japan, at the Sydney Flute Association in Australia, and at over thirty universities and music groups throughout the United States and Canada. For many years, Peck played a flute — fashioned in platinum-iridium — handmade for him by Powell Flutes of Boston.
In 1997, the National Flute Association honored Peck with a lifetime achievement award. Indiana University Press published Peck's memoir, The Right Place, The Right Time! Tales of Chicago Symphony Days in 2007, and the Chicago Flute Club's biennial international flute competition is named in his honor. Peck died on April 29, 2022 at his home in Chicago.


== From a tribute article by Frank Villella, posted on the CSO website.
== Names which are links in this box and below refer to my interviews elsewhere on my website. BD