Contralto Bernadette Manca di Nissa

A Conversation with Bruce Duffie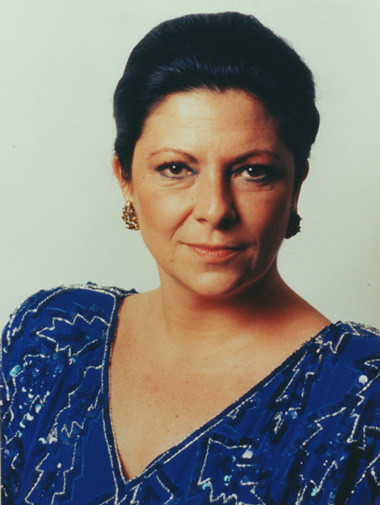 Bernadette Manca di Nissa (born 27 September 1954) is an Italian operatic contralto who has sung leading roles in the principal opera houses of Italy as well as internationally. She has appeared at La Scala in Milan, La Fenice in Venice, Teatro San Carlo in Naples, and the Maggio Musicale Fiorentino in Florence as well as at the Royal Opera House, Covent Garden and Gran Teatre del Liceu in Barcelona.

Born in Cagliari and a descendant of a noble family, she studied singing privately and later at the Mozarteum University of Salzburg. Initially specializing in Baroque music and Rossini's works (Tancredi, Semiramide, L'Italiana in Algeri, La gazza ladra), she developed a wide-ranging repertoire that includes works by Monteverdi, Handel, Jommelli, Mozart, Gluck (Orfeo ed Euridice), Salieri, Donizetti, Verdi (Falstaff), Puccini, Stravinsky and the 20th-century composer Luigi Nono. She has appeared in the world premières of several of Nono's works, including Quando stanno morendo (1982), Guai ai gelidi mostri (1983), and Prometeo, Tragedia dell'ascolto (1984).

During the later years of her stage career, she also taught singing in master classes and courses at the Maggio Musicale Fiorentino, Lyric Opera of Chicago, Associazione Musicale Scaligera and the Accademia Musicale Chigiana, amongst others. She retired from the stage in 2007, after which she has devoted herself to her teaching career. Nowadays, she is professor of Singing at Conservatorio di Cagliari.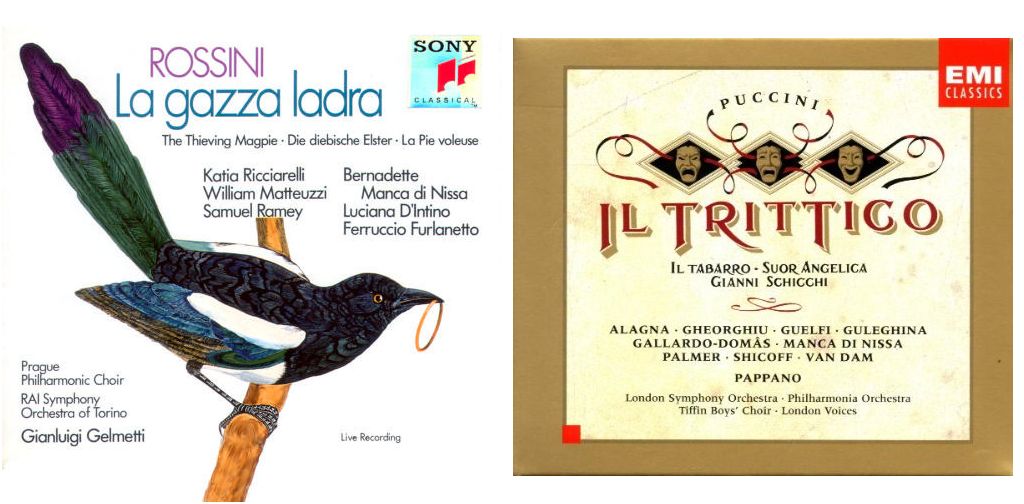 See my interviews with

Felicity Palmer

,

Neil Shicoff

,

José van Dam

, and

Antonio Pappano





Bernadette Manca di Nissa appeared with Lyric Opera of Chicago in the fall of 1996 as the Princess (Angelica's Aunt) in Suor Angelica, the middle opera of Puccini's Trittico. Bruno Bartoletti conducted all three operas, and Catherine Malfitano appeared in each. This production also saw the long-awaited debut of Rolando Panerai as Gianni Schicchi. The contralto would return to Chicago to open the 1999-2000 season as Mistress Quickly in Falstaff, with Bryn Terfel as the fat knight. [Throughout this page, names which are links refer to my interviews elsewhere on my website.]

On her first visit, she graciously agreed to take time for an interview. Her English was quite good, but as we concluded our conversation, she asked me to cut any mistakes. So, in a few places I have smoothed things out where her grammar or syntax simply got in the way of easy understanding in this context.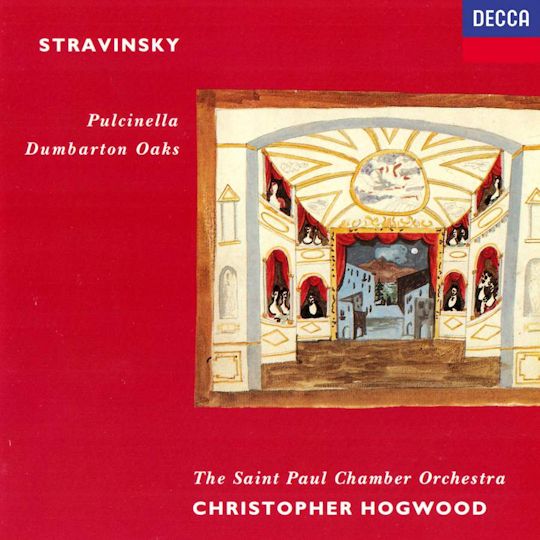 Here is that chat . . . . . . . . .


Bruce Duffie: Thank you for coming to Chicago. This is your first visit here?

Bernadette Manca di Nissa: Yes, but I have been to St. Paul in 1989 for Pulcinella of Stravinsky with Christopher Hogwood. We made two concerts and the record. [The recording (shown at right) also features tenor David Gordon, one of the early members of the Lyric Opera School, and bass-baritone John Ostendorf, who studied with Margaret Harshaw.]

BD: Is that the best way to make a record — during, or immediately after concerts?

BMdiN: I prefer much more the live records.

BD: Even though there might be a slight imperfection that you could correct?

BMdiN: Ideally, yes, but it's more real. We are not angels.

BD: [With mock horror] You're not???

BMdiN: [Laughs] I'm not perfect, so people must know that we are not perfect.

BD: Is there such a thing as a perfect performance?

BMdiN: Sometimes it happens, but it's not so often. Sometimes because we are imperfect, or the orchestra has something wrong, or another singer has something wrong, all is not perfect. If you mean only for me, yes, sometimes it happens, but it's very rare.

BD: Very rare, but you always strive for it?

BMdiN: Yes, always, all the time. We strive for that. We prepare for that during the day, minding to be charged up for it. It's all going to be perfect if we can and when we can. [Laughs]

BD: After a performance that you feel has been perfect, do you have an extra feeling of satisfaction?

BMdiN: Yes, but we are self-critical. Generally, when I do a very good performance, when I feel it to be very good, I wait for a recording. I wait two months before I hear that recording because I prefer to stay with that feeling. Then, when I hear the record, if I am not correct I study and correct it for the next time.

BD: Is there a secret to singing Rossini?

BMdiN: No! There is no secret. It depends on the quality and agility of the voice. A singer without agility can study it a long time, but it may not be coming. Marilyn Horne was born with that agility. Of course, she studied it, but it's not a secret. It's a philosophy. There is something about him that you must feel. If you feel Rossini's music, if you can joke with it, it's what probably what Rossini's music needs if you can do it.

BD: Even though it's a 150 or more years later?

BMdiN: Oh, yes, of course. He writes so clearly all the things he wants. It really is so clear. He was a mechanical kind of writer. He writes accents, he writes a point, he writes a closed accent. There are all different kinds of marks, but all are written to be used with your phrasing. If you can do correctly what he means, you can enter into Rossini's ambiance.

BD: Was he too precise in all that he was asking you?

BMdiN: No, it's not too precise, but it helps you very much if you do it. When you study it and when you can do it, you understand what he means.





BD: When you're doing this, how much is Rossini, and how much is your interpretation and your expression?

BMdiN: That is what it is for all musicians. It's the same for Brahms or Beethoven. We are the vehicles. The singers are the means. We can have a good voice, or a not so good but nice voice, or a not very nice voice but one which can handle things technically. Of course, we say something that is us, and this must come up. But interpretation is the same for all. We are not the ones who write the music. We're just interpreters, and the means through which the music goes. The singing-part and the composer-part come together, so it's hard to say which one weighs heavier than the other. One cannot speak of percentages.



* * * * *



BD: Your voice dictates what kind of music you will sing. Do you like the music that is imposed upon you?

BMdiN: [Laughs] It's not imposed at all. No, it's chosen. I choose my repertoire. I don't sing music I don't like, because I cannot be convincing.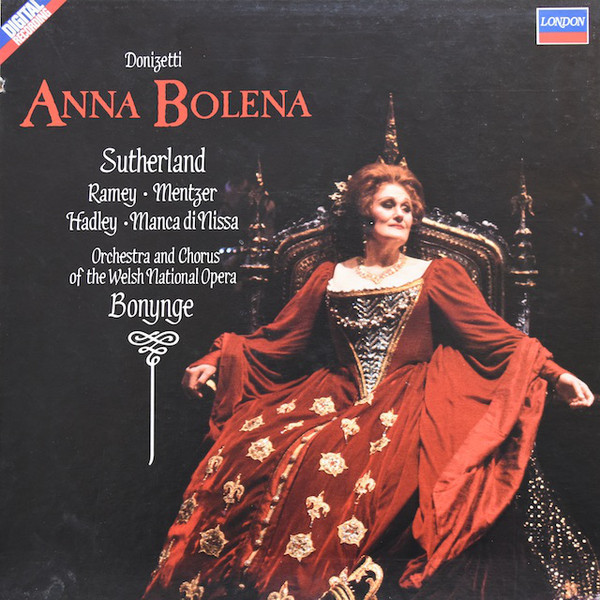 BD: You must be convincing to the audience?

BMdiN: Yes. That's our role — to say something to the people who are sitting in the audience. We are telling them a tale, and we must be convincing.

BD: Do you like this idea of the supertitles above the stage so that the audience can understand the words?

BMdiN: I would prefer to have a little more light in the auditorium so they can read the libretto. When I go to the theater and I see the words going above, it's a distraction. I don't like it very much. I would prefer to have a very clear libretto so I can read the translations with a light that is not harsh, but enough.

BD: Do you work harder at your diction when you're singing in Italy so that everyone understands all of your words?

BMdiN: Yes. I've worked very much at that, and the reason is that people must understand all of what we are saying. The text is the base, and the music is at the same level.

BD: The music and the words are on the same level? [Vis-à-vis the recording shown at left, see my interviews with Joan Sutherland and Richard Bonynge, Susanne Mentzer, and Jerry Hadley.]

BMdiN: Yes, and when they go together, then something special happens.

BD: So, it's unified. It's a totality?

BMdiN: Yes. People can say she has a marvelous voice, but they cannot understand anything. They must understand! It is not necessary only to know the story of the opera. They must know what they are saying, so they can feel with her in that moment.

BD: Your voice dictates what kinds of roles you will sing, and you say you select them. Do you like the characters that you sing?

BMdiN: Yes. I'm very different from the characters because I'm a contralto, so very often I sing 'travesty roles' that were written for the castrato singers.

BD: Do you like playing a boy?

BMdiN: [Laughs] It's so funny and so amusing. When I am playing a male, there are different characters, such as Tancredi, the soldier in the Rossini opera, or Ottone in Handel's Agrippina, the Roman Emperor. Some operas are more about the war, and in others the character is so young, about fourteen or fifteen. So these are completely different male characters.

BD: Does playing a boy or a man on stage help you in your personal relationship with your husband?

BMdiN: [Laughs] It doesn't matter! When I go back home, I am a woman. [More laughter] I come back as a woman. I don't stay as a man.

BD: But does it help you understand his foibles?

BMdiN: Why not? Sometimes yes. It's a point of view that is completely different, so rather than never think about it, I will think about it. [More laughter] It's a very good question, really!



* * * * *



BD: When you're on stage, are you portraying a character, or do you become that character?

BMdiN: Portraying! The theater is theater. If we are completely into a character, it could be very dangerous for us and for our nerves, so we must choose. We must look from outside to inside, but don't be so inside. It's so dangerous because emotion is very big. You must control it, and the only way to control it is to be a little bit detached. That means not to be too cold, but not too warm.

BD: Do you search out how far you can go then in rehearsal?

BMdiN: Yes, yes.

BD: Now you rehearse, and you rehearse, and you rehearse, and then you do the first performance. Does the second performance get a little better, and the third performance a little better?

BMdiN: No. Generally, in the first one you are a bit nervous. The second one is a little bit relaxed, but it's very dangerous because everyone is relaxed, including the orchestra, because the first one is done. So generally the best one is the third. The second is completely empty.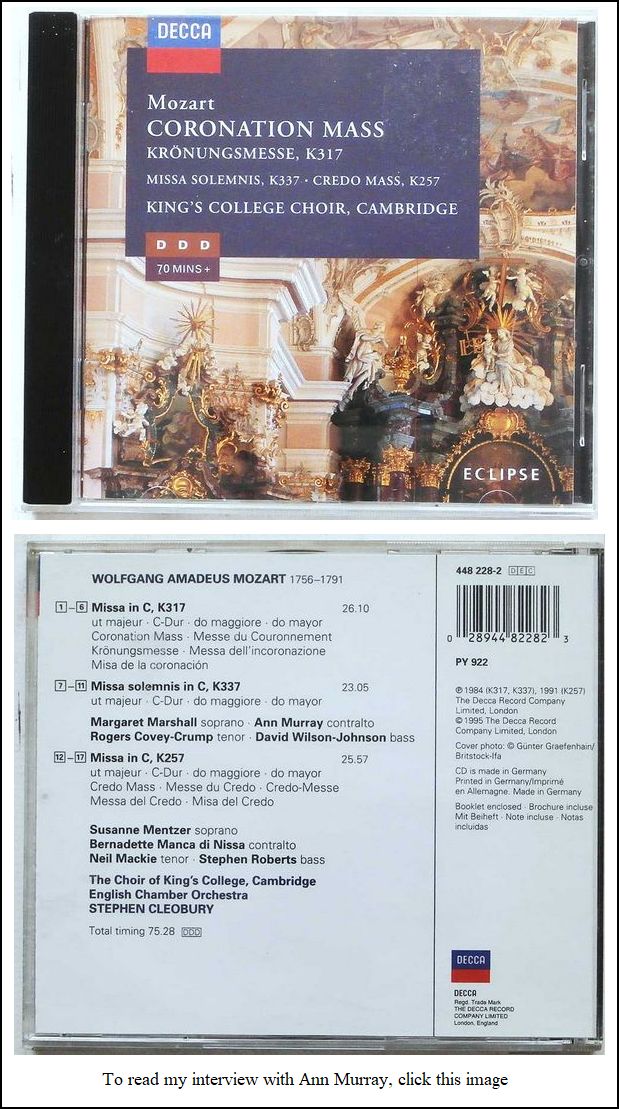 BD: What about number seven, or eight, or nine?

BMdiN: Ah! They're good for study, because you discover that every time something is changing. It's never the same thing while you're singing or playing, so the third and the fourth is more to establish what you already know. Then you can begin to re-study the whole role another time.

BD: When you come to a new production of that same role, do you re-study it from the beginning?

BMdiN: Yes, why not? The music is the same and the words are the same, but the staging is different, the conducting is different, the orchestra is different, so why not choose another way to interpret that role, or change something of the sound to make it more light, or more heavy, or more strong, or more clear, or more dark?

BD: You're always looking for these things?

BMdiN: Oh, yes. We cannot stop our study, never! [Laughs]

BD: What if you discover something important in the seventh or eighth performance? Do you incorporate it immediately?

BMdiN: Yes, you can, or you can use that new feeling in another production. It's an experiment.

BD: Without mentioning any specific productions, have you been involved in some crazy stagings?

BMdiN: Crazy? No. They're interesting, or very different from what was in my mind, but it was so convincing that I felt good.

BD: So the stage director must first convince you?

BMdiN: Yes, when I think one way about a role, and the director wants something completely different, he must convince me with very valid arguments.

BD: Has there ever been anything asked of you that's inappropriate?

BMdiN: Inappropriate? Yes.

BD: How do you handle that?

BMdiN: [Sighs] I try to negotiate.

BD: Who wins?

BMdiN: Me! [Both laugh] After the first performance, the director goes back home, so I can change something.

BD: Do you adjust your vocal technique for the size of the house?

BMdiN: Not at all, no. It's the same.

BD: You sing the way you sing?

BMdiN: Yes. It's the same, because if you use a technique, you believe it's right at all places. If you use a technique and you use your voice in a particular point of your mouth, it's the same when you sing piano or when you sing forte. Whether you sing at the Pergola Theater in Florence, or La Scala in Milan, it's the same.

BD: Those are very different theaters!

BMdiN: I look carefully at theaters that don't have a very good acoustic, and I choose not to sing in them. It's not for me to adapt. I don't want to adapt my voice to a theater, so I don't go to that theater. I also don't sing in an open space. Just one time I did an outdoor concert, but I was young.

BD: There are too many distractions?

BMdiN: Yes. There are planes, and the sound is blown in the wind, and nobody can hear you. So why bother? I don't go there, that's all. If you know the problems to open-air theaters, you go there for popularity and money, not for music. Money is not my life.

BD: Then what is your life?

BMdiN: Music!

BD: Artistry?

BMdiN: Yes, of course.

BD: Are audiences different from Italy to the United States, or South America, or wherever else you have sung?

BMdiN: Not very much. The only very strong difference I have found is in Japan, in Tokyo. They are so precisely prepared. They know all the words of the opera. I've done Falstaff in Tokyo, and they laugh when it's the moment to laugh. They all laugh at the same time! Yes, at the right moment they all laugh together, absolutely.

BD: [With a gentle nudge] Like they've been programmed?

BMdiN: No, not programmed, but very well prepared in what they're going to see.

BD: Are they too well prepared, so that they lose the spontaneity?

BMdiN: Probably yes, but it depends on their world, which is so different from ours. They are so calm. The audience here at Lyric Opera is very warm, and they begin now to understand. For us, the Japanese reaction would be as if we would go to the Noh Theater. We would say it's very nice, it's very good, but we cannot understand it all, and Western opera is the same for them. So they study very much to be prepared. It's not something to be programmed into them.

BD: It's a tribute to them and to you that they took the trouble to study.

BMdiN: They know all the things about us. People gave me the record sleeve to write my autograph, and it was La Morte di San Giuseppe [The Death of St. Joseph] by Pergolesi (shown below), which is so rare in Italy.

BD: Yes, for us it's just a name in the history book, but they know it because you've brought it back with your recording.

BMdiN: Yes, I brought it back. I gave it to them, and I'm often very proud to perform these rare pieces.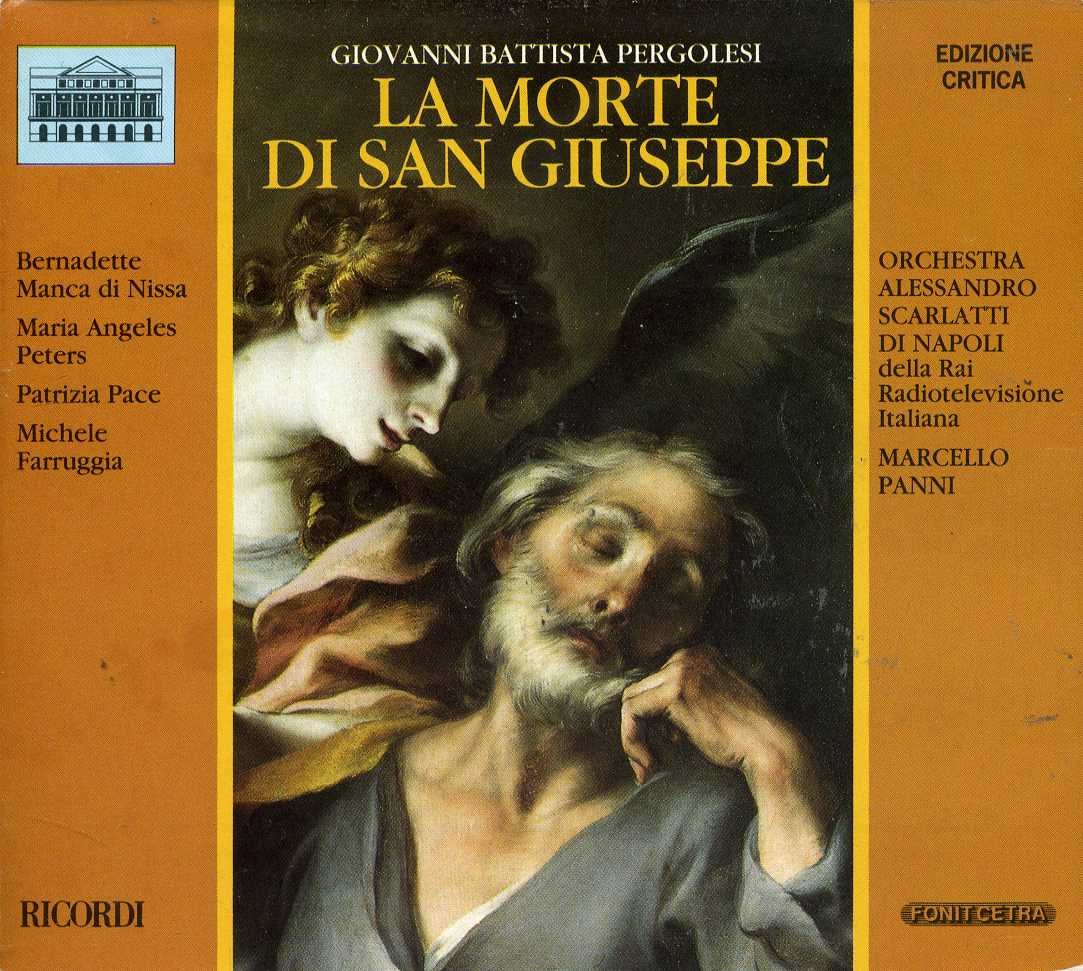 BD: How do you balance your career between serious roles and comic roles?

BMdiN: I do more serious roles, but I enjoy myself very much when I can play Mistress Quickly in Falstaff, or something lighter.

BD: Is there a special line that you don't cross to make sure a comic role does not become slapstick?

BMdiN: I don't like being slapstick very much. Music dominates for me. You can play some Rossini operas, and the funny business is written in the music. If you just feel the music, it's funny. There is no need to force it, and it's much more funny if you let the spirit of Rossini's music speak for itself.

BD: Trust the composer!

BMdiN: Yes!



* * * * *



BD: Do you like traveling all over the world to sing?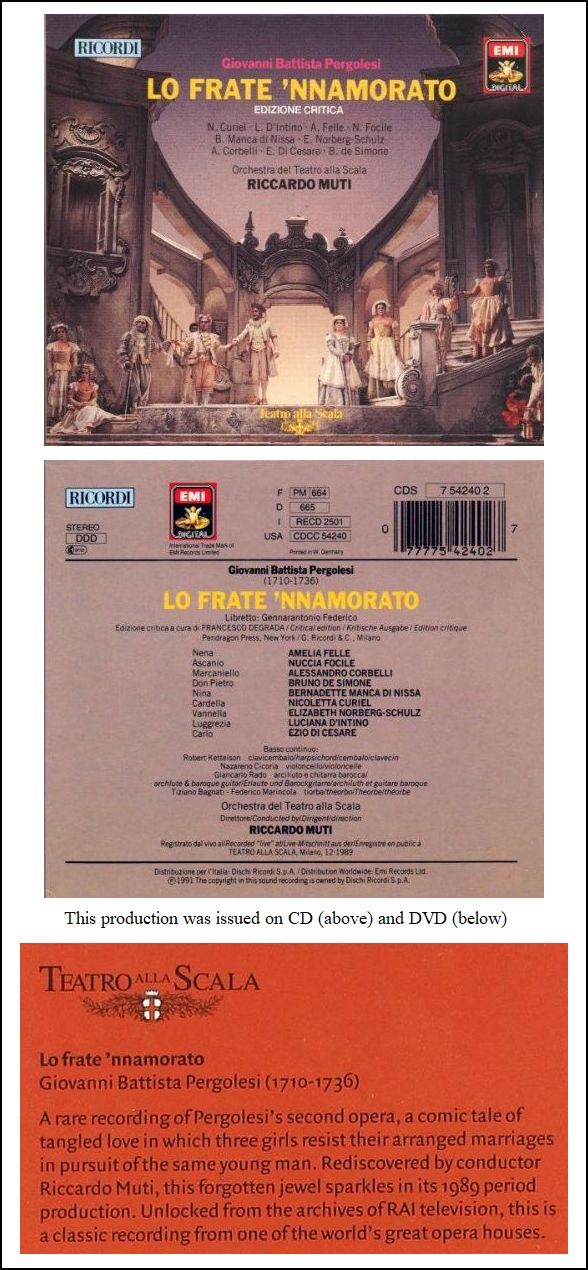 BMdiN: Yes. It's so interesting to meet a lot of different people every time. I really don't like to travel when it means trains, planes, and luggage. That's not my thing, but when you can stay at least ten or fifteen days, you can have normal relationships with other people. You meet some new people, and I think it's very good.

BD: Do you get to enjoy the city?

BMdiN: Yes. I have gone around in Chicago. We are walking around every day, and now we are widening our horizons. We've seen all the usual sights, and now we're going beyond those. We are very curious.

BD: Good. I hope we have made you feel welcome.

BMdiN: Very much so, really. All the staff at the theater is like I have known all of them all my life. That's very good for your serenity.

BD: Do you have some advice for younger singers coming along?

BMdiN: [Sighs] I have much, but when I speak to young people who sing, I say there is one technique, not two or three or four, or something in between. There's just one technique, and it's to sing in the mask and on the breath. They must study that very well.

BD: Is there one technique for everyone, or is there one technique for each person?

BMdiN: No, no, for everyone. Everyone who sings must use it. There is just one way to put out the sound, so they must work very much to find this way, and they must choose their repertoire carefully. That's all.

BD: Is it too much to ask a young singer to choose wisely?

BMdiN: Oh, I know it's very hard. They need someone who can teach them, but to find a wrong person is terrible. You lose a lot of time doing something that is not necessary, and there is a danger there, too.

BD: How do they know it is the wrong teacher?

BMdiN: [Sighs again] I don't know. They must hear the great singers, looking to catch everything which is good. They must work very much with the tape recorder when they study, so they can hear themselves when they do vocalises. The taste you have for the music and from the music is can show you where to go in an instant. If you hear yourself when you are singing, you can hear when something that's not good, or is wrong. The pitch is not correct, or is not nice, so you must choose the way to do that pitch. It depends from having studied, obviously, and you can find that it takes a very long time. It's not immediate that you know where to go.

BD: But eventually you discover it?

BMdiN: Yes. Every day you're changing something in your body and in your mind. Every day you can discover a new idea. I've been singing for fifteen years, and I am still studying.

BD: Are you continuing to learn?

BMdiN: Yes, every time.

BD: Again, without any names, are you pleased with some of the young singers that are coming along?

BMdiN: Yes, a lot of them. Sometimes they are not perfect, but the way they are developing is good. Probably one more year and it will be all right.

BD: So, they're on the right path?

BMdiN: Yes.

BD: Good. Do you also sing some new music?

BMdiN: I have sung some, yes, but not now. It's interesting when you can see it being created, but I am not that keen on it.

BD: Do you have any advice for composers who want to write for the human voice?

BMdiN: Yes, to respect and pay attention every time to the tessitura. If you write something for a special person, you must know her or him very well. But generally, the old composers know very well what the voice can do, whether it would be a lyric soprano, or a light tenor, or a dramatic voice. They knew very well what to do. Sometimes now it's not so clear. I have seen a lot of scores where it's written for a contralto or mezzo, and they must sing a high C.

BD: Are you a mezzo soprano or a contralto?

BMdiN: I'm more a contralto because I go all the way down with the head voice. Only in the very low notes do I use the chest voice. I can go down to C! I've used it. I've sung it.

BD: [Slightly amazed] In public???

BMdiN: In public!

BD: Where do you feel most comfortable?

BMdiN: Between F below Middle C to F. Two octaves is really the better range, the most comfortable for me. I do well when I sing Rossini. I have to sing up, but not down very much.

[At this point we stopped for a moment to take care of a few technical matters, including a Station Break for WNIB, Classical 97, and she mentioned that she had spent her birthday a month before while in Chicago.]

BD: Are you at the point in your career that you want to be at this age?

BMdiN: [Thinks a moment] I am in the middle. In Italy it's not possible to retire too soon. [Much laughter] I must wait until I am 55, so that is thirteen years more.

BD: [With mock horror] You're not looking forward to retiring, are you???

BMdiN: Yes, but it's the freedom which is the maximum for a woman.

BD: [Knowing that she would return to Lyric Opera for Falstaff] Tell me about Mistress Quickly.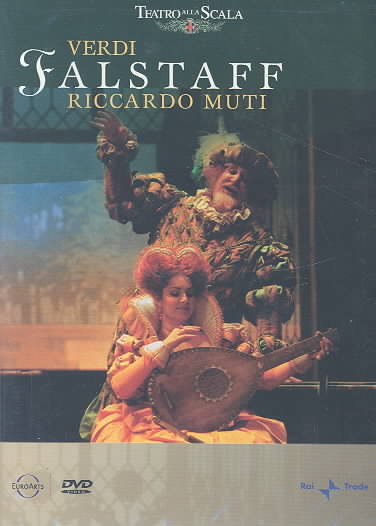 [Editorial review] The present recording was made at a performance in Busseto, Verdi's birthplace, in the Emilia Romagna region. There, in 2001, a whole series of events marked the 100th anniversary of the composer's death. The small, 328-seat Teatro Verdi, built in Verdi's lifetime, provided the ensemble of La Scala, Milan, under its principal conductor Riccardo Muti, with a particularly captivating backdrop, and the mainly young singers -- including 31-year-old shooting star Ambrogio Maestri in the title role, exciting young tenor Juan Diego Flórez as Fenton and internationally acclaimed Barbara Frittoli as Alice -- gave superb performances. The special appeal of this production lies, however, not only in the excellent quality of the music; there is also the fact that the scenery and costumes were recreated from a historical performance of 1913. Back then, Arturo Toscanini had performed the work in the same location to mark Verdi's 100th birthday. The orchestra at that performance was similarly reduced in forces, which means that this performance follows an altogether highly regarded tradition. What is more, this "chamber opera" version complies with the composer's wish for the work to be staged in Sant'Agata (just a few miles from Busseto), and the intimacy of the theatre in Busseto certainly does correspond to the personal character of the work. The lively and witty direction of the young Italian Ruggero Cappuccio combines the historical backdrop with the vitality of modern direction.



[Customer review] I loved this production. It was lively and colorful. The costumes were copies of the 1913 production. The singers were the best, starting with the principal singer Ambroglio Maestri. Barbara Frittoli, Frontali, Mula and Antonacci were absolutely fantastic. Bernadette Manca di Nissa was a great Mrs. Quickly. Although the stage was small, the singers were able to make the best of space. The stereo surround sound was really wonderful. The Met production cannot compare to this one. Costumes were simpler and sets not too appealing. The best of this Falstaff was the clarity of the Italian. Every singer's Italian was crisp and clear for anyone who understands Italian to catch every nuance. Bravo Verdi!






BMdiN: [Laughs] Oh, it's such a funny character. She is doing all these things. It's she that is going to convince Alice to go to Falstaff and tell him Alice and Meg are both in love with him, and it's so funny. It really is.

BD: Is she running the show?

BMdiN: Yes, a little bit yes. It's not so evident. It is subtle. She is the subtle runner of the show.

BD: Thank you for coming to Chicago.

BMdiN: Thank you for the interview. I hope my English was good enough.






========== ========== ==========

--- --- --- --- ---

========== ========== ==========






© 1996 Bruce Duffie

This conversation was recorded in Chicago on October 28, 1996. Portions were broadcast on WNIB when she returned in 1999. This transcription was made in 2019, and posted on this website at that time. My thanks to British soprano Una Barry for her help in preparing this website presentation.

To see a full list (with links) of interviews which have been transcribed and posted on this website, click here.

Award - winning broadcaster Bruce Duffie was with WNIB, Classical 97 in Chicago from 1975 until its final moment as a classical station in February of 2001. His interviews have also appeared in various magazines and journals since 1980, and he now continues his broadcast series on WNUR-FM.

You are invited to visit his website for more information about his work, including selected transcripts of other interviews, plus a full list of his guests. He would also like to call your attention to the photos and information about his grandfather, who was a pioneer in the automotive field more than a century ago. You may also send him E-Mail with comments, questions and suggestions.