Mezzo - Soprano Ann Murray

A Conversation with Bruce Duffie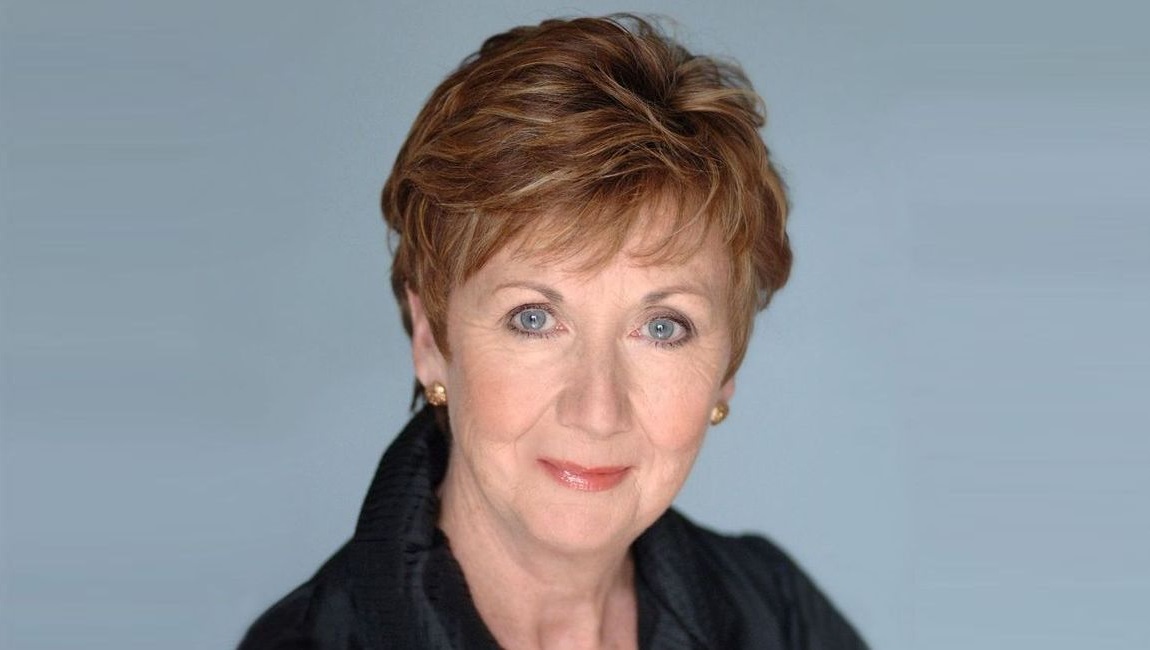 Mezzo-Soprano Ann Murray was born August 27, 1949, in Dublin. Having won a number of prizes at the Feis Ceoil, she studied singing at the College of Music (now the DIT Conservatory of Music and Drama, Dublin) with Nancy Calthorpe, as well as arts and music at University College Dublin. In 1968, she made her Irish opera debut performing the shepherd role in a concert performance of Tosca. She pursued further studies with Frederic Cox at the Royal Manchester College of Music and made her stage debut as Alcestis in Christoph Willibald Gluck's Alceste in 1974. She has since sung at all major opera houses and is particularly noted for her performances in works by George Frideric Handel, Wolfgang Amadeus Mozart, and Richard Strauss.

Murray performs mainly at Covent Garden, the English National Opera, and the Bavarian State Opera (where she was made Kammersängerin in 1998). In 2012, she was made an Honorary Dame Commander of the Order of the British Empire in the Diamond Jubilee Honours for her services to music. She has received an honorary doctorate in music from the National University of Ireland in 1997, and the Bavarian Order of Merit in 2004.

She maintains her links with Ireland and is a patron of the Young Associate Artists Programme of Dublin's Opera Theatre Company. In September 2010, she was appointed professor of singing at the Royal Academy of Music in London, where she was previously (since 1999) an honorary fellow.






Mezzo-Soprano Ann Murray (not to be confused with the pop singer Anne Murray) has graced Chicago at both Orchestra Hall and the Opera House. With the Chicago Symphony, she was here twice in 1985, first for Mistress Page in concert performances of Falstaff by Verdi, conducted by Sir Georg Solti, with Guillermo Sarabia as the fat knight, Wolfgang Brendel as Ford, Katia Ricciarelli as Mistress Ford, Kathleen Battle as Nanetta, Christa Ludwig as Mistress Quickly, Yordi Ramiro as Fenton, Aage Haugland as Pistol, Francis Egerton as Bardolph, and Heinz Zednik as Dr. Caius. Later that year, Murray was here for Octavian in excerpts of Der Rosenkavalier conducted by Erich Leinsdorf, with Mechthild Gesendorf as the Marschallin, and Barbara Hendricks as Sophie. A decade later, in September of 1995, she returned when Lyric Opera of Chicago presented Xerxes by Handel. The cast was headed by Ann Murray in the title role, Christopher Robson as Arsamenes, Elisabeth Futral as Romilda, Alison Hagley as Atalanta, Kathleen Kuhlmann as Amastris, Kevin Langan as Ariodates, and George Hogan as Elviro. John Nelson conducted the production by David Fielding, with direction by Nicholas Hytner and lighting by Duane Schuler. The production was a resounding success, with both critics and audiences. [Throughout this page, names which are links refer to my interviews elsewhere on my website.]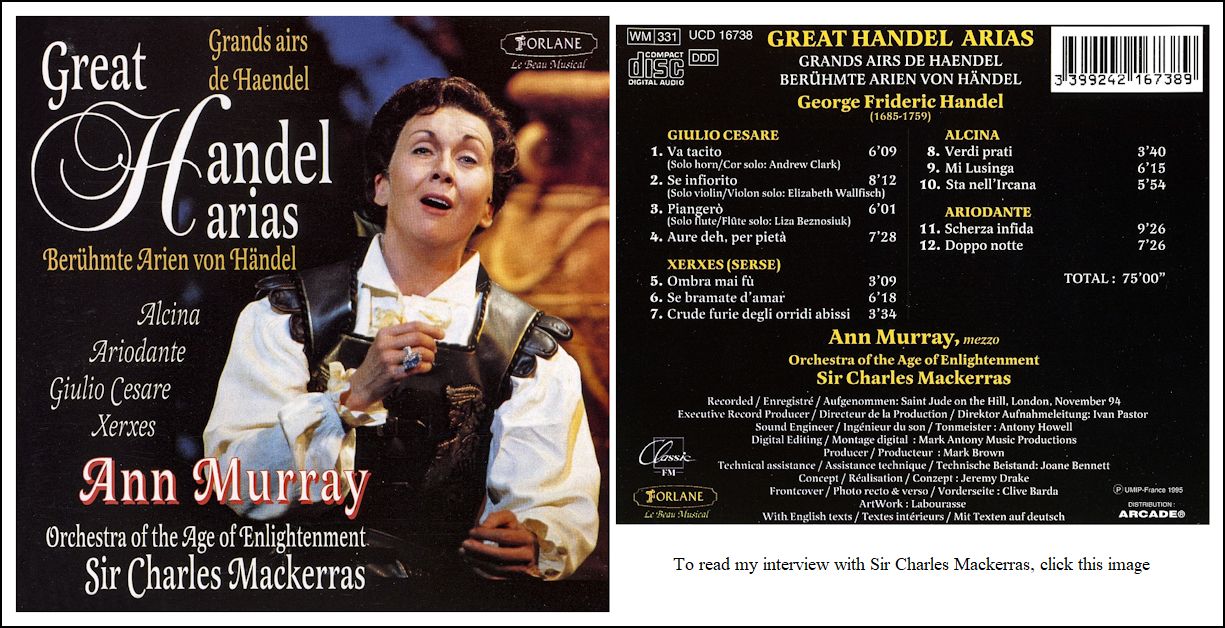 Having looked forward to their visit since it had been announced, I made arrangements to interview Ann Murray and Christopher Robson. We met during the rehearsal period, a week before the opera opened. On the day of the interview, I first met with countertenor Christopher Robson, and then proceeded to visit Murray. This provided a jumping-off point for the conversation . . . . .


Bruce Duffie: Since I've just come from chatting with a countertenor, is there any difference for you, working with a countertenor in the cast, or is it just another voice to work with?

Ann Murray: For me it's another voice to work with. It's the overall character that counts for me. Whether he sings with a bass voice, a soprano voice, or countertenor voice, it doesn't really matter as long as there's a good rapport, and there's a good spirit coming from the person. It's very important that the character comes alive, whether it's sung by a tenor or a countertenor.

BD: You voice blends well with both tenors and countertenors?

AM: I hope so, yes. I haven't had any problem. Once I get on stage, and quite honestly once we get to the performance, I don't look on any of us as singers. I seem to feel we have entered into a situation that is being played out for real or for fantasy, but it is not, and should not be for the audience, to hear group of singers putting something together. We should, in a way, have lifted the 'fourth wall', so that the public is perhaps a 'voyeur' rather than a participant.

BD: Are you portraying the character, or do you actually become the character?


AM: That I don't know. That's also a difficult one. I try to portray the character, but all these characters that one portrays have elements of one's own personality. It is either in the piece, or you bring that to the piece, so it's intermingled or intertwined. I really couldn't say which becomes which.

BD: You sing early music, and you sing new music, and Romantic music. Is it difficult on the voice to change from Baroque style to Romantic style?

AM: No, I don't think so. One is guided by the feeling of the music, the musicians who play it, and the conductor. But generally speaking, the works are self-explanatory, and one can easily mold to a particular performance.

BD: When you're offered a role, or concert work, how do you decide if you'll accept it, or turn it aside?

AM: I'll obviously look at the vocal line first, if I don't know it. I also look at the orchestration to see if it's too heavy, because it's fruitless trying to battle against an orchestra if somebody else can do it better. It's better to let that somebody else do it. I couldn't sing a lot of Verdi, for example, and I couldn't sing (the role of) Carmen because I find the orchestration, particularly in Acts two and three, really quite heavy.

BD: Even if the conductor swears he will keep it down?

AM: (The opera) Carmen is Carmen, I'm sorry. It's like Fidelio is Fidelio. Yes, we'll do the early version, or we'll do the chamber version, but I'm sorry, there's an idea in everybody's head. If they want to hear Fidelio, they want to hear Fidelio. There's perhaps one exception. If I ever got to do Fidelio, or something like that, I'd do it with Nikolaus Harnoncourt, because I feel that it would work with him, perhaps.

BD: He approaches it the same way that you would want to approach it?

AM: I hope so, yes, but, that's just a wild example.

BD: But you sing Mahler songs, and there's heavy orchestration at times.

AM: Yes, but music for voice and orchestra is slightly easier in concert than it is on the stage. People expect something different.

BD: [Surprised] Really??? Why?

AM: Because they are used to hearing the music through big recordings. These pieces are thought of as Heldentenor, Dramatic Soprano pieces, and that's what an audience is ready to hear.

BD: Is there a major difference because of the fact you're in front of the audience right next to the conductor instead of several yards away beyond the pit?

AM: That also perhaps would be a reason, yes.

BD: How do you divide your career between operas and concerts?

AM: In practical terms, I try to spend as much time in Europe as I can, so that I can get home at the weekend, as I have family commitments to fulfill. Concerts usually come in a later than opera, so one has to balance it, generally speaking, if concerts come in rehearsal times of operas. The Intendants (directors of opera houses) are generally flexible, and will permit one to come back, or to go two or three days to do a concert. But mainly, while I don't say the opera side of my career is more important, I do slightly more opera simply for that reason, because it comes in block-bookings. I take special time to do recitals, and maybe give myself five or six weeks in which I will only do a recital tour. I don't pop them in between opera performances.

BD: Is the voice in a different condition for singing a long recital, as opposed to a short or long operatic role?

AM: No, I don't think so. Your voice has got to be fresh, fit, and finally honed — or whatever you want to call it — in order to sing. You've got to be healthy to sing. You've done your practice, your preparation at home, and what you sing hopefully comes to life through what you are portraying — be it a miniature opera, as Lied, or an extended Lied, as in opera. It should be the same. It should be ready.

BD: So songs are mini-operas, and operas are great big songs?

AM: Yes, in my opinion.



* * * * *



BD: Do you change your technique at all for the size of the house, if you're singing in a small recital hall, or a great big house like here in Chicago?

AM: Yes. One has a feeling that one has to project further, one has to try harder, particularly with diction. That will be a big problem. I was interested, and relieved — shocked to start with, but I must say mightily relieved afterwards — to see that there are surtitles, because even for an opera which has been translated into the English language, I cannot see how, at the very back of this enormous theater, people could hear it clearly. Perhaps I'm wrong, and one tries one's best, but...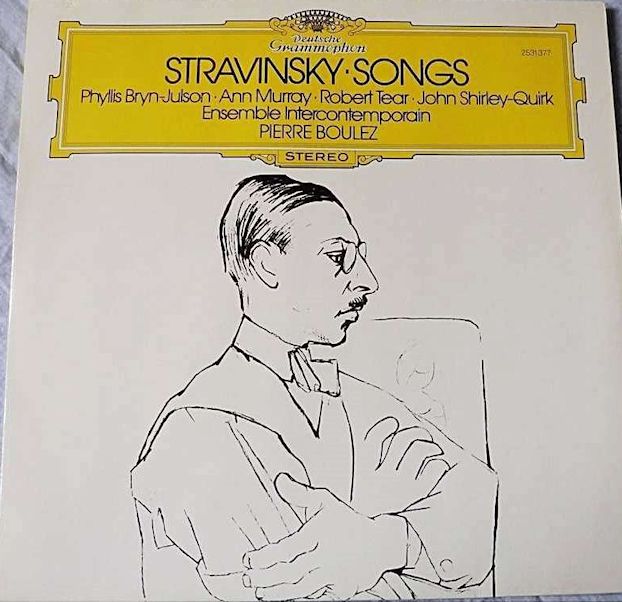 BD: We do have really good acoustics, here.

AM: Yes, it's a wonderful acoustic. It's a healthy acoustic in which to sing, and I've listened to my colleagues in piano rehearsals, and it's an amazing theater, goodness, gracious.

BD: Now you're working on this opera which you've done a number of times. Is it good to bring this opera to new audiences?

AM: Yes. I think it's really a great, fresh look at Handel. It's an extremely witty production. The designs are refreshingly clean and crisp, and the translation of Nicholas Hytner is also very clever, and deserves to be seen. That's why the management of the Lyric Opera of Chicago decided to bring it over here. It's a lightly sophisticated, touching look at Handel. It's fun!

BD: [With mock horror] Opera is fun???

AM: [Laughs] Oh, yes! [Vis-à-vis the recording shown at left, see my interviews with Phyllis Bryn-Julson, John Shirley-Quirk, and Pierre Boulez.]

BD: In opera, where is the balance between the artistic achievement and the entertainment value?

AM: The artistic achievement is the entertainment value, in the sense that you have brought your audience to a point when they have seen an opera they can go out and say, "I thought that was absolutely awful," and have a valid reason for it. If you bring an audience to think, to have their own opinions, to say what they would perhaps like to have changed and what they would like to keep, that's very important. This is different than feeling an audience goes to an opera, hears the tunes, thinks, "Oh, yes, that's fine," and perhaps it's a concert on costume rather than a drama set to music. For us, the achievement is that.

BD: So you want to move the audience?

AM: Yes, you want to move the audience, to bring them with you. You want to challenge them, tease them, entertain them, anger them, bring out their sympathetic side, bring out their anger and their tears, their laughter. Yes, it is the whole lot.

BD: All in one evening, or over several operas?

AM: In one evening if you can, because the music goes through such things, and in this particular piece it does. The music does go through these emotions.

BD: In this opera, or in any of the operas that you do, how much of this responsibility is on the composer, how much is on the librettist, and how much is it the stage director, and the conductor, and even perhaps the performer on stage?

AM: Absolutely, a great percentage of the responsibility is that of the performer. As I said earlier, you've done your homework, you've done your research, you've done your rehearsals, and it's got to be sufficiently solid that if something new happens, if somebody has a different idea, that one is sufficiently flexible to adapt, or to react, or to embellish that particular idea of another colleague. For that reason, the composer has done what the composer can do. I'm afraid that unless he's a living composer, that's it. Our responsibility is to breathe new musical air into a piece of music, and that's why there are so many productions of any one opera. Take Don Giovanni, for example, because there are so many different ways of looking at it. We've all been in these particular situations, say the situation of Donna Elvira. We've all been told by mothers, "Don't you go out with person! You're going to regret it!" But do we listen? No, until we find out for ourselves. Then there's Cherubino. We've all been through puberty. All these things are there, and that's what the audience should see. They should see themselves as that character when they were perhaps younger, or when they are that particular time. They should relate to the character because it should waken something either past or present in their memory.

BD: So, every character must do this, even futuristic characters, perhaps?

AM: There'll have to be some part of our present day in futuristic characters. Otherwise, the people could not play them.

BD: Is it easier to bring characters that are close to you, or is it a special challenge to bring characters you don't have much of an affinity for?

AM: Generally speaking, over all it is a challenge. If one stops, that's what worries me. As I sit here talking about it, you start to get frightened because these are things I don't ever think about. I'm very much a person who, on stage, goes with their emotions, goes with the action of the piece, and lets the piece flow. So, I really can't answer your question directly, because I like to get out and, for better or worse, give my all. If it goes well, that's marvelous. If it doesn't go so well, I haven't done it on purpose. One is always there to do one's best, and it's not always the same every night. It's not always as good perhaps, or you don't feel a particular rush that was exciting, or maybe there was something different. You might feel a little bit flat one evening, but it could be anything. It could be the air pressure, it could be anything.

BD: On a night that you feel is not going well, does it surprise you that the audience comes back and says it was wonderful?

AM: Yes, that happens quite a lot.

BD: Even from colleagues who know the performance?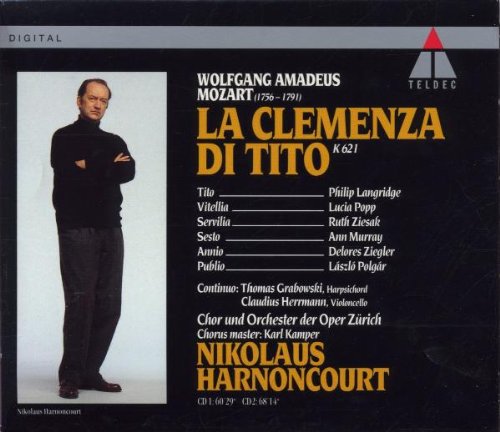 AM: Yes, that also happens quite a lot. You think, "Gosh, I didn't get that feeling. I wasn't as highly strung. I wasn't as tense. I wasn't as concentrated this evening," and then you hear from people that it was even better than the dress rehearsal.

BD: Does that gives you an inner confidence?

AM: Perhaps, yes.

BD: Maybe this is a dangerous question, but is there any character that you portray that's perhaps a little too close to the real Ann Murray?

AM: [Laughs] Oh, Lordy! I don't know. I can't really say there's a character that's particularly too close to me, but through my career, perhaps my favorite character in the past has been... well, there are many, that's the problem! But my favorite, which I don't sing anymore, was Cherubino, because of what I said about the idea awakening to manhood, womanhood, wherever you want to put it. It has the whole idea of not knowing what it's all about, and yet it's fantastic. But at the same time, not having a clue, being rather frightened of adult life is terribly touching. It's a wonderful role, and very difficult to sing well. You can sing it, but very difficult to sing well.

BD: Is there a secret to singing any Mozart?

AM: Sing with your heart, not with your technique. Just go out and sing. Tell the truth.

BD: Your truth, or Mozart's truth, or Da Ponte's truth?

AM: Your truth! Your reading of what Da Ponte and Mozart intended.

BD: You've played both boys and girls on stage. Do you like going back and forth over the gender line?

AM: I never really thought about it. Over the years I've played more boys than girls. There are some girls that I've enjoyed... I've enjoyed Dorabella. I did my first Despina just recently in Così, and I've enjoyed her. Of the girls, I've really enjoyed Charlotte in Werther the most. In a particular production I did, I sang with Neil Shicoff, and that was really quite extraordinary. He was wonderful, and that was great because she was a gutsy girl. I'm not desperately keen on Rosina, I'm sorry to have to tell you! [They laugh] I just find her slightly too 'cootie-coo', and that aria at the very beginning, I'm sorry to say, I think is silly. It should go in the second act, and something else should go at the beginning. I understand why it's there, but it's just showing off, and I'm not terribly good at showing off. I prefer being more subtle, and having a different sort of demand on me. I am perhaps a bit shy, but I feel uncomfortable singing the aria, although I've sung it, and I've done many performances. When I get going, I'm fine, but that first scene I just wonder why.

BD: You need a little time to warm up?

AM: No, that doesn't bother me. That's not it. It's the feeling of the curtain opening and it goes [sings] Dah-dah, dah-dah.

BD: Are you glad that mezzos have recaptured that role, rather than letting the sopranos take it all the time?

AM: In all honesty, I'm not bothered for that particular role, no. It's wonderful to hear vocal acrobatics for high sopranos. They're fantastic at it.

BD: [With a gentle nudge] Aren't mezzos fantastic at it too?

AM: It's a different view of it. Mezzos are very different from high sopranos.

BD: How so?

AM: I don't know. Maybe it's the altitude. Their silvery, bell-like quality goes with Rosina better than a darker, lower voice.

BD: [With a gentle nudge] So Rossini should have had a better choice in wives???

AM: Oh, I don't know... [Gales of laughter]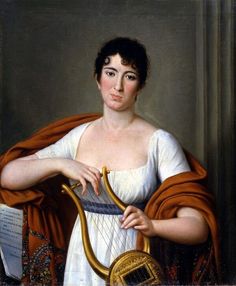 Isabella Angela Colbran (2 February 1785 – 7 October 1845) was a Spanish opera singer known in her native country as Isabel Colbrandt . Many sources note her as a dramatic coloratura soprano but some believe that she was a mezzo-soprano with a high extension, a soprano sfogato. She collaborated with opera composer Gioachino Rossini in the creation of a number of roles that remain in the repertory to this day. They were married on 22 March 1822.

All his life Rossini credited Colbran as being the greatest interpreter of his music. Descriptions of Colbran's voice characterise the timbre as "sweet, mellow" with a rich middle register. Rossini's music for her suggests perfect mastery of trills, half-trills, staccato, legato, ascending and descending scales, and octave leaps. Her vocal range extended from F-sharp below the staff to E above, with a high F sometimes available.






* * * * *



BD: Let's move to another character, Charlotte. Tell me about her.

AM: She is passionate, dutiful to a degree, but with something knocking at the back of her head the whole time. It's just wonderful. It's a wave of passion, and a fantastic piece of music.

BD: Could she possibly have been happy if she had met Werther first, or if Albert had not been in the picture?

AM: [Thinks a moment] She had to conform. It's like any affair — when it's secret, it's terribly exciting, and when it's no secret anymore, maybe some of the gloss may go off it, and the excitement may diminish. But the relationship between herself and Werther is so desperate, and that's what makes it exciting and so urgent. Maybe if she'd met Werther first, they'd be at home with their slippers.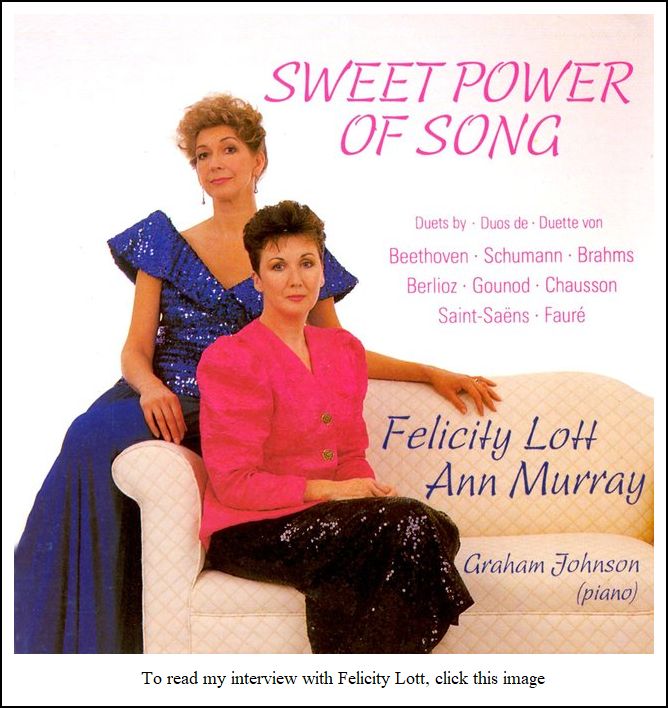 BD: I wonder if he would have calmed down at all.

AM: No! He'd have done it all somewhere else. [Both laugh]

BD: Would she have been happier with Albert if there had been no Werther?

AM: Probably, yes.

BD: Would she have felt she had missed something, or maybe live vicariously through her neighbor who has an affair?

AM: Maybe just that, but this is like soap operas, and it's not that. [Much laughter]

BD: In thinking of your repertoire, you don't get killed all that often, do you?

AM: No.

BD: Mezzos tend not to get killed, but sopranos get killed all the time. Are there roles where you get killed?

AM: [Thinks a moment] No, I've only shot myself once in a performance of Ariadne, where the composer shoots himself at the end, but that's it. I don't think I've died, either. No, no, I haven't!

BD: Do you like doing the French repertoire?

AM: Yes, in a way, but it's very limited. I sing quite a lot in German-speaking houses, and the French repertoire is not so tremendously popular from what I have seen. It's not played so often, so that must indicate some lesser popularity. As I haven't sung in France for a long time in opera, I haven't sung so many French performances recently.

BD: Is it special to sing in the language of the audience, whether it be the original or the right translation?

AM: Yes, I do think that's important. One notices in London the differences between the English National Opera and Covent Garden. It's a different audience, so perhaps that makes a difference. It's more an international audience at the Opera House, but when singing in English at the English National Opera, I heard many people say it made a great impression on the audience. Perhaps then they go on to see the piece in its original language if it's played at the Opera House.

BD: So there is not so much crossover audience? It's more separate audiences?

AM: Yes, they generally have their own particular following.

BD: I would think that would almost be the ideal situation in a city — to have the international cast at Covent Garden, and the English cast at English National Opera, and go to both.

AM: Yes, but certainly in the last years they've had a very loyal and staunch band of supporters at the English National Opera.

BD: Is one better than the other, or are they just different?

AM: No, they're different.

BD: So, they both should exist side by side?

AM: Oh, yes, yes, indeed. Yes, it's very important.

BD: What about singing an opera that's not in English, but in the language of the audience — a French opera in France, or an Italian opera in Italy?

AM: That's all right. That's no problem, generally speaking.

BD: Do you work harder at your diction when the audience will understand the text?

AM: I still work at my diction, yes. You've got to try your best.



* * * * *



BD: Let me ask the Capriccio question. In opera where's the balance between the music and the drama?

AM: I think they're certainly fifty-fifty. There shouldn't be a balance in that sense. They should go hand-in-glove. There shouldn't be a thought that the music is more important than the drama. The music is the drama, and the drama is the music, particularly nowadays where more is demanded of a singer. The audience is more demanding. They don't just want to see a pageant, they want to enter into a piece, and they react favorably when they're brought into a production. For that reason, when people go to opera they should go to a drama-set-to-music, or a musical drama, or whichever way you want to put it. But the balance should be fifty-fifty. You should get a whole rather than a part of this and more of that.

BD: Have the surtitles in theaters around the world helped this or hindered this?

AM: I don't know. I haven't had many situations with surtitles. They haven't got surtitles at the Met, yet.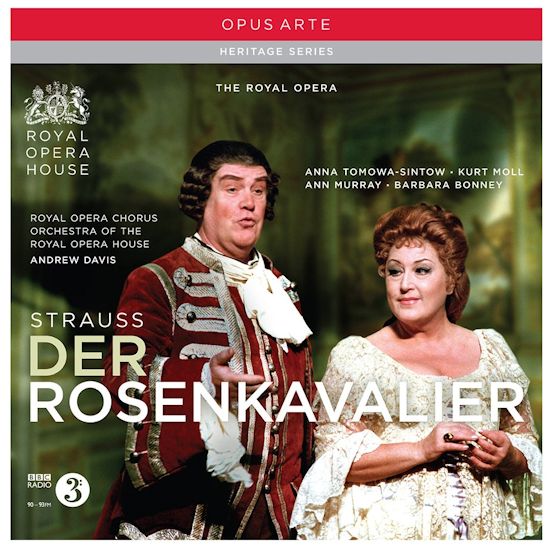 BD: Do they have them at Covent Garden?

AM: Covent Garden started a few years ago, but they didn't do every performance. When I did Rosenkavalier originally, they did the first, third, and fifth performances. But one noticed the difference in the audience between those performances. They laughed more, they entered more into the comedy of the first act, particularly, with the surtitles.

BD: Tell me a bit about Octavian. Is he at all like Cherubino, or perhaps like Cherubino's older brother?

AM: Yes, I suppose there must be a similarity. He starts off being something of a prankster, with that sort of exuberance of youth, and grows up, somehow, through the evening. His progression, his maturity comes on at a greater pace than that of Cherubino. He becomes a protector in Act Two, and he is sufficiently imaginative to set up this trap of Ochs in Act Three. At the end, what they all realize is that it is time for him to go on to somebody of his own age. He has become more peaceful, and more sincere, and less boisterous a person by the end of the evening.

BD: What happens in [the non-existent] Act Four? [Vis-à-vis the recording shown at left, see my interviews with Anna Tomowa-Sintow, Kurt Moll, Barbara Bonney, and Sir Andrew Davis.]

AM: I think that in Act Four he settles down, and lives happily ever after!

BD: He doesn't go off and have dalliances?

AM: No, I don't think so. Not if one takes the sincerity of the last duet. He's had his flings. Maybe the Marschallin was the first, but he's had time to sow his wild oats, and that's it.

BD: Has the Marschallin been his only love?

AM: I don't know. Maybe she hasn't. I've done two readings of the first act, one where he's the one who's quite cocky and quite sure of himself at the end of Act One, and she's the one who has been talking about time, and worrying about her age, and worrying about life passing her by. She's the one who becomes slightly frenzied and rather anxious about him. When she says, "Off you go," he thinks she'll be around tomorrow, and she'll send for him. He has that air of a young man about town. All this is shown in her wave to him. The other reading is that he's the one who's desperate, and she's the one who's cold. I found this very interesting, but he doesn't really mind. She's going on. He doesn't know what she's talking about, but once she's got this out of her system, she'll call him. In the meantime, he'll just take this rose to Miss Sophie.

BD: [In a sly whisper] He has no idea what he's going to plunge into.

AM: Correct, correct!

BD: Is it especially difficult being a woman playing a boy, and playing a girl in Act Three?

AM: No.

BD: You have to alter the boy a little bit, but you can't go back to being really feminine.

AM: That's right, but it's so strange anyway. Just do it! [Both laugh]

BD: So that's your motto, 'just do it'?

AM: Yes.

BD: Is that the advice you have for younger singers — just do it?

AM: Prepare it on your own, look into it when you're working, do your homework properly, have somebody you trust — not only a singing teacher. I had a repetiteur the whole way through my career who I've trusted, but I've also got the advantage and the luxury that my husband is also a singer [Philip Langridge], and he has been a very good barometer for me. So, that's a great help. But once you get on stage, you shouldn't be standing there thinking about your voice, or thinking about what you should be doing. That's all done.



* * * * *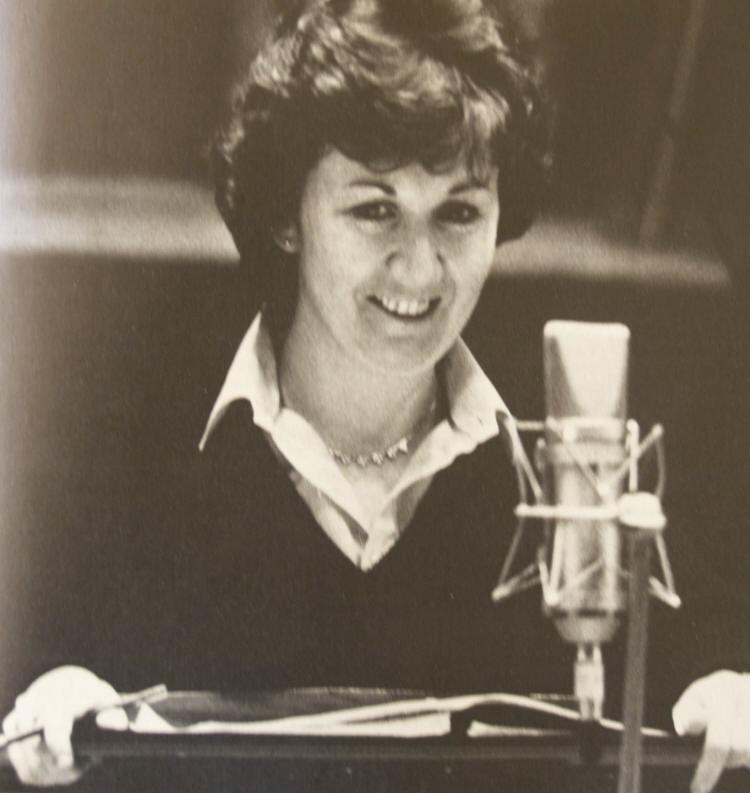 BD: You've made some recordings. Do you sing differently for the microphone than you do for the live audience?

AM: Generally not, and sometimes it doesn't really matter. I don't have a particular recording technique, but there is an art to recording. There is as particular technique which I, unfortunately, have never learned.

BD: [Re-assuringly] You've never needed to. It sounds fine.

AM: Well, I don't know. Perhaps I should work on it. At times I've thought I should have sung less, but if a thing is emotional or dramatic, it's very difficult to couch it in some sort of cotton wool, so that the recording engineers can do their work as well. There are particularly wonderful recording-voices, but no, I don't generally change.

BD: Are you pleased with the recordings you've made so far?

AM: Some of them. Not generally because of my singing, but because of the atmosphere that was created while doing them. One has a happy memory of particular recordings that usually transfers itself to the record, funnily enough. There are some that I think are absolutely awful, but there are a few that I'm happy with because it was a good time.

BD: I'm sure at least some of the ones you think are awful the people say, "It's just wonderful!"

AM: [Laughs] Oh I don't know.... Yes, it would be nice.

BD: Is there a major difference recording a complete role as opposed a song recital?

AM: [Thinks a moment] Yes, in a way. In a song recital, or an orchestra-and-voice piece, you can create your own theater, but if you're doing an opera in recording, one has to be very clever in that you have to work out whatever everybody else is doing. You've got to develop the opera, rather than just sing a string of recitatives and arias. People generally come from different productions, and you may not know some of them. I find that's rather tricky because you're not sure what concept they have of their character. It's all sort of condensed.

BD: Isn't that worked out in the rehearsal sessions?

AM: Yes, musically, but you don't know what the characters are.

BD: I would think that the character would come through in the music, but obviously you need the stage trappings and costumes.

AM: What you need is more than five minutes to get to know the people you're singing with.

BD: [With mock horror] You mean, you don't want to do it superficially???

AM: [Laughs] No! No!

BD: Is there ever a chance that you can work either a song or an opera, and go too far and get too deep into it?

AM: Yes, I think you're absolutely right. In opera it can go stale, and you can addle yourself with ideas and different motives and different interpretations of words, and the spontaneity goes. I feel as if I've kind of contradicted myself with the opera bit, but I haven't. It's difficult for me to describe exactly what I mean by that feeling that you've got to know what type of character the other people are playing. If you're recording one aria here, and a duet there, it hasn't got a sequence, and I find that rather tricky. Of course, I can go in and sing my own role in my interpretation, but it may not suit somebody else's. They're singing an aria to me that I haven't heard. That's what I mean.

BD: Is it really bothersome to record out of sequence, or is it just like doing a series of rehearsals where today you're doing this scene, and tomorrow you're working on another scene?

AM: Yes, it's just like that. You prepare it the evening before, generally speaking, and record it the next day.



* * * * *



BD: Let me ask you about another boy character. Tell me about Hansel.

AM: [Laughs] I've never played it on stage, and that was one of the happiest recordings I've ever been in. I so enjoyed it, and not just because of me. It was a marvelously clever feat of casting, whoever did it, to have Dame Gwyneth [Jones], Frau Kammersänger [Christa] Ludwig, as well as Franz Grundheber, Barbara Bonney, Christiane Oelze, and the most wonderful Edita Gruberová. She was just superb. It was great, great fun. It was wonderful, particularly in the first scene. It was a riot, I just loved it.

BD: It sounds like you were a real Hansel — everything was a discovery, and everyone was just fun to be with.

AM: It was fun. It was fun learning it, and it was fun singing it with Miss Gruberová. I've sung a number of times with her, and it's always been a joy. But it was just such a giggle, and Sir Colin [Davis] was in great form. I don't work so very much with him, or very often, but I was really thrilled to have been involved in it. Funnily enough, that was one of the ones I really enjoyed and am pleased with, and, if I may be honest, it's the only record in which I am involved that I've ever listened to the whole way though — mainly because we also got the jigsaw puzzle! [Both laugh]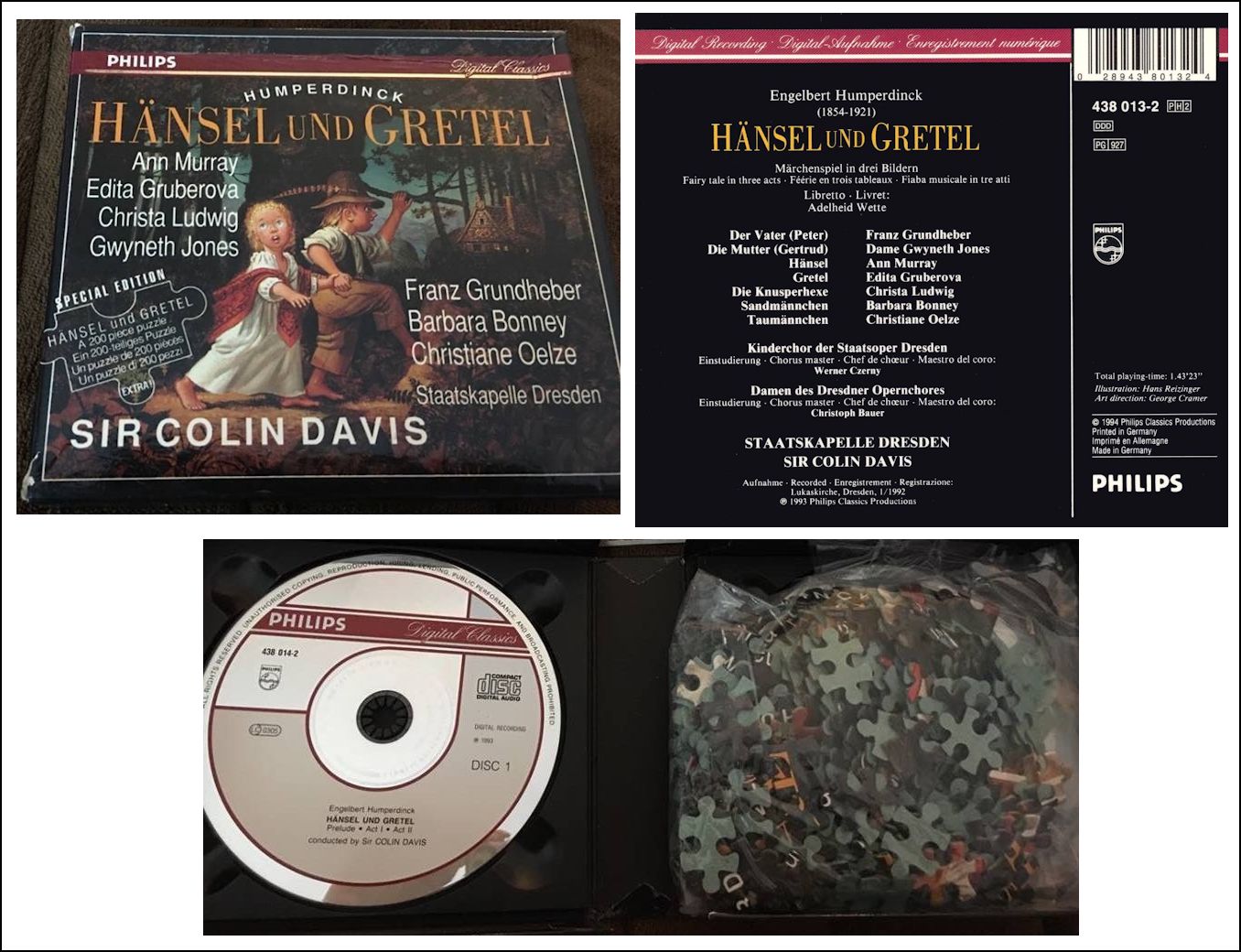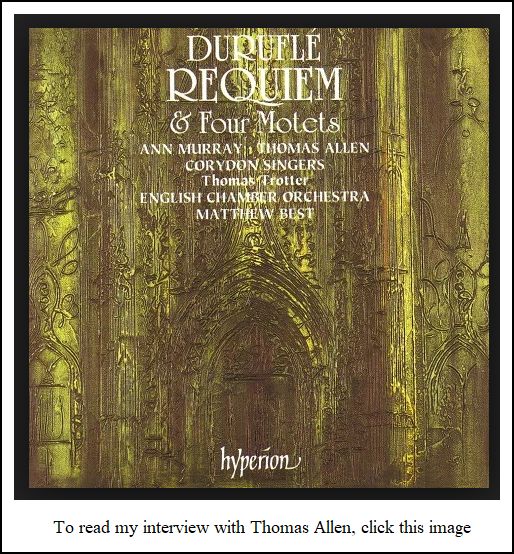 BD: [With a gentle nudge] So it took you the length of the opera to put the puzzle together?

AM: [More laughter] Just about, yes, because there were ambiguous pieces in it, and it did take just that little extra time. But, oh, it was so sweet, such a sweet piece. It's a lovely, lovely recording, with the orchestra, just everything! The producer was wonderful. She was a young girl who saw to it that everything was just right. It was like a party, and they had my vision where Hansel and Gretel lived. Although I'd never ever sung it on stage, I had worked out my own little scene.

BD: Maybe this was because you hadn't sung it on stage, so it wasn't spoiled for you.

AM: Perhaps so, because it's a heck of a sing on stage, I should have thought. The orchestra is really quite heavy.

BD: It's a Wagner orchestra, essentially. Would that encourage you, then, perhaps to record other works that you haven't sung on stage?

AM: It would very much depend on what they are, and who was conducting. All that sort of thing is very important to me. I need to have a pal in the pit. I'm not very good at dealing with people I don't know so very well, musically. I like to get to know them first.

BD: You want to be led by the conductor, rather than pull the conductor along?

AM: Not only that, but I want the conductor to know me, not just as a voice. I like to get to know somebody as a personality, to know how they feel about music, rather than just standing up and doing as I'm told. I can follow a beat — that's no problem, but there's more to it than that.

BD: There has to be a sympathetic ear?

AM: Yes, a little. Generally speaking, and quite honestly, people are so talented and the really big conductors are so gracious. You think they're going to be awful, or they have reputations, and people think he's very tough, but it turns out they're really generally speaking for the music.

BD: Might that partly be a tribute to you and your musicianship that they're comfortable with you?

AM: [Modestly] Oh, I don't know about that, but it's nice to sing it at all, I must say.

BD: Are there more recordings coming out?

AM: I'm taking part in a recording of Così Fan Tutte when I go back in October.

BD: As which role?

AM: As Despina! [Laughs] So that should be fun.

BD: Is it particularly difficult to sing a new role in an opera you have already done?

AM: No, I didn't find it so hard. When I did it on stage, in the recitatives with Dorabella and Fiordiligi, in the rehearsals there were a couple of times [slaps herself on the forehead] I had really to stop. I was just about to sing poor Dorabella's line. [Laughs] But no, in the performances I was okay.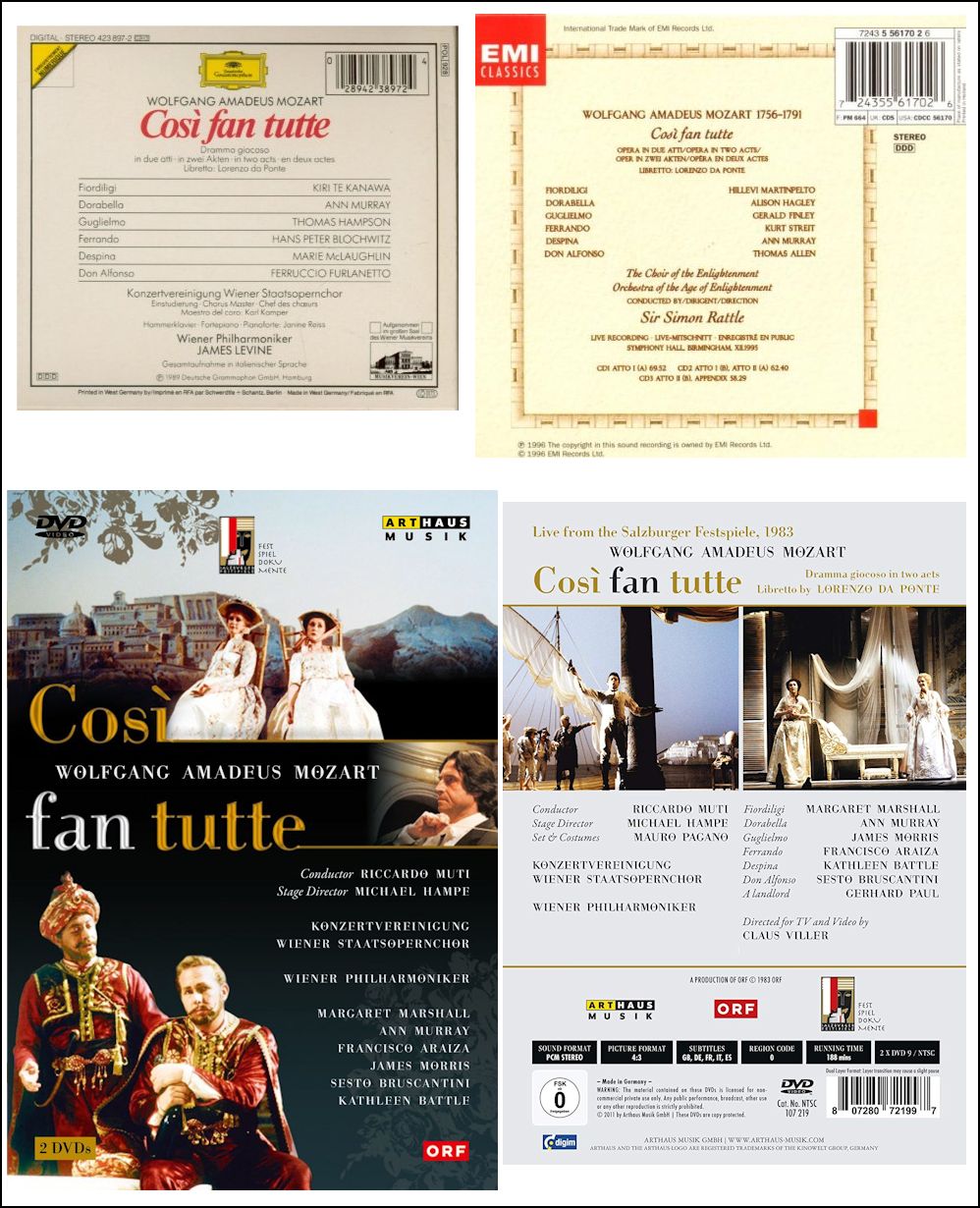 See my interviews with

Kiri Te Kanawa

,

Thomas Hampson

,

James Levine

,

Francisco Araiza

, and

Sesto Bruscantini



BD: You made a wonderful record of Schubert songs [shown at the end of this interview]. Is there a special way of singing Schubert?

AM: Gosh, isn't Schubert a frightening composer? He's terrifying!

BD: [Genuinely surprised] Really??? Why?

AM: Because he's like the Mozart of Lied. The simplicity of the line is really terrifying. That's why I was saying Cherubino is not easy sing. Anybody can sing it, but to sing it well is really very difficult. Schubert I approach with great reverence and a lot of care. But, that's a while back, now. It was part of Graham Johnson's Schubert series.

BD: He seems to have selected the right songs for the right singers.

AM: Yes, he was very specific about the singers he wanted. He worked with us all individually, and knew our personalities, and knew what we were capable of. He then chose music to suit out particular voices and talent.



* * * * *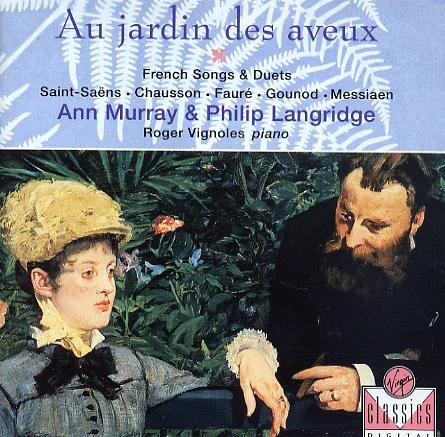 BD: Is singing fun?

AM: Yes! The travelling's not fun, but the singing's fun.

BD: You don't like being a wandering minstrel?

AM: No. I don't wander very often.

BD: So we're lucky to have you!

AM: I don't know if you're lucky or not. You'll have to wait and see. [Both laugh] But yes, I find it very hard, particularly being this far away. In Europe I can get home at weekends, but I find this [being in Chicago] hard.

BD: I assume you're very careful in arranging your diary.

AM: My agent is extremely good about that, but my husband, Philip Langridge, is based at home at the moment, which means that I could come away. One of us is always at home. He goes to Paris in October for Moses and Aron, but I'll be home, and he can get home at weekends, but it's hard.

BD: Do you ever fight about who gets to go away at any particular time?

AM: No, he's very gracious, and very careful, also. We talk things out two or three years in advance, or whenever they come up, and hope that our decision is right so far in advance. That's hard to know, as well.

BD: Can you sing together enough, or at all?

AM: We don't sing together very much, no.

BD: By design or by default?

AM: By design. Philip sings a very different repertoire from mine, and if we were to sing together, it negates the decision we have made that one of us should be at home. If it's something like the Salzburg Festival and we can take our son with us, then we both go. But we're not generally in the same operas, so it doesn't really come up. We've done Beatrice and Benedict together a couple of times, and we've been involved in a Così, but not in the same cast. That was years ago at the Met, but other than that it's easier to go our own ways. Then we can also help one another from outside, rather than trying to look at things from inside.

BD: I would think the way you've set it up is almost the ideal.

AM: Please, God, I hope so! We're doing our best, and it's important if you've got a family. You've got a responsibility that if you've gone to the trouble of having a family, you can't just dump it. You've got responsibility to the young people.

BD: Is there a responsibility to bring opera to young people?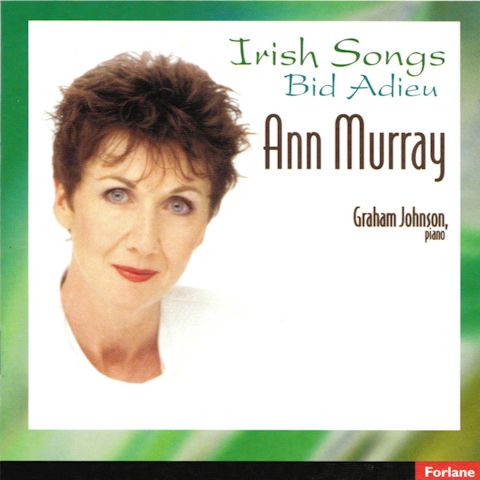 AM: There's a responsibility to bring music and the arts in general to young people. We take out son from time to time to art galleries. He's only little, but he has his opinions. He thinks some things are dreadful, and some other things are very beautiful. He loves music. He goes to the opera a lot when he's not at school. He loves orchestral music. Yes, I think it's very important. His absolute hero at this moment is Wynton Marsalis. He thinks he's never heard anything like it, so he started the trumpet the day before yesterday because he saw Wynton Marsalis's masterclass being broadcast from Tanglewood. He was just so taken with this man's musical personality that he said he would love to learn the trumpet. So, he started.

BD: Marsalis is about the only one who makes a complete transition from being a superb musician in the jazz field to being a superb musician in the classical field. He doesn't just dabble in one or the other.

AM: It's unbelievable! He is amazing. I have not ever heard him live, unfortunately, but he was on television last night with Sarah Vaughan, and it was truly amazing!

BD: Does your son recognize you if he hears you or his father on the radio or records?

AM: Yes. They played something of mine on the radio the other night, and when he came onto the telephone he said, "I had a bit of cry tonight because you're not here. I just heard you singing 'On Wings of Song,'" which happened to be broadcast on Classic FM. He recognized me immediately. He's got a good ear, and he also has a good ear for good voices and not so good voices.

BD: Is it a special joy for you to sing Irish songs?

AM: Yes, it is, and it's only recently. It's so funny to in sing cultural centers of the world. I've been fortunate enough to be invited for many years now to sing recitals in Vienna, for example. It doesn't matter that it's Vienna, but you sing your Schubert, Brahms, Haydn, whatever it is, and then not on the first occasion, but on subsequent occasions, they've always asked for Irish folksongs at the end. The people are so concentrated for what one might call 'the serious music', that they sit there, and then as soon as Graham plays the first chord of an Irish song, it's as though they've all had six bottles of Guinness. It's as though they're rejuvenated. They relax. There are some sweet songs, and they don't concentrate in that serious sense anymore, and you think, "Maybe I should have sung these from the beginning!" [Both laugh]

BD: Have you ever thought about that — turning the recital on its head and putting the Irish songs first and the heavy stuff later?

AM: They'd have left! [Both laugh] One has got to keep them there. Yes, it's nice to sing them, really nice.

BD: Thank you for coming back to Chicago.

AM: That's very kind of you. Thank you.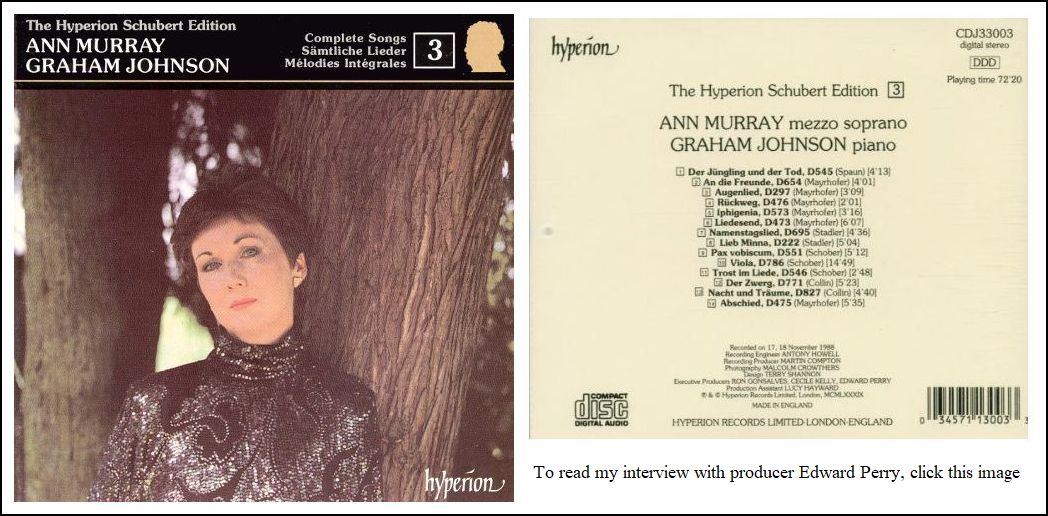 © 1995 Bruce Duffie

This conversation was recorded in Chicago on September 15, 1995. Portions were broadcast on WNIB three months later, and again in 1997 and 1999. This transcription was made in 2019, and posted on this website at that time. My thanks to British soprano Una Barry for her help in preparing this website presentation.

To see a full list (with links) of interviews which have been transcribed and posted on this website, click here.

Award - winning broadcaster Bruce Duffie was with WNIB, Classical 97 in Chicago from 1975 until its final moment as a classical station in February of 2001. His interviews have also appeared in various magazines and journals since 1980, and he now continues his broadcast series on WNUR-FM.

You are invited to visit his website for more information about his work, including selected transcripts of other interviews, plus a full list of his guests. He would also like to call your attention to the photos and information about his grandfather, who was a pioneer in the automotive field more than a century ago. You may also send him E-Mail with comments, questions and suggestions.