Russell Patterson, Former Opera And Symphony Director, Dies At 85
Updated: Friday, October 4, 11:15 a.m.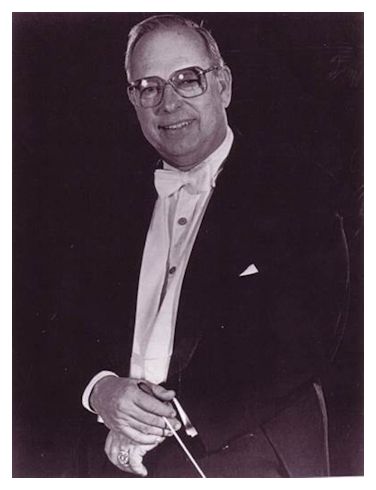 Russell Patterson, general artistic director of the Lyric Opera of Kansas City for four decades, as well as one of its founders, died Wednesday; he was 85. Patterson was also the first music director for the Kansas City Symphony.
From 1957 to 1998, Patterson served as the Lyric's artistic director. In a history of the company posted on its website, he's credited with sparking the idea:
In the fall of 1957, a young conductor, Russell Patterson proposed to transplant the European opera-theater pattern to a more or less typical American setting. A number of local opera buffs welcomed the idea, but there were many qualms...
Patterson described these early days in his 1987 book, A View from the Pit: "When we formed the Lyric, we called it The Kansas City Lyric Theater. We wanted a place for those who love theater and those who love music. They discovered that opera was fun – not a cultural castor oil."
The Lyric's general director and CEO, Deborah Sandler, said in a statement, "His legacy to Lyric Opera of Kansas City and the Kansas City community cannot be overstated...without his ceaseless energy and imagination which created a strong opera and arts foundation in Kansas City, we would not be here today."
A native of Mississippi, Patterson earned a bachelor's degree from Southeast Louisiana University in 1950 and went on to earn a master's in music in 1952 from the Conservatory of Music at the University of Missouri-Kansas City. After graduation, he studied opera in Germany, and later taught at the Conservatory. He played with the Kansas City Philharmonic from 1951 to 1959. When this organization dissolved in 1982, Patterson served as the first music conductor for the Kansas City Symphony, from 1982 to 1986.
"It would be impossible to imagine where the Symphony stands today, or to dream about our future, without understanding from where we came," said current music director Michael Stern in a statement. "Russell Patterson is part of the DNA of our orchestra, and he was and always will be part of the lifeblood and the history of The Kansas City Symphony."
In 1982, Patterson received the Ditson Conductor's Award, a recognition given to conductors for "distinguished contributions to American music." Others who have received this distinction include conductors such as James Levine, Christoph von Dohnanyi, Leonard Slatkin, and Leonard Bernstein.
After retiring from the Lyric Opera of Kansas City, Patterson moved to Cape Cod, Mass. and he continued to conduct.
Patterson was the founding artistic director and conductor of the Buzzards Bay Musicfest, a summer classical concert series, in Marion, Mass., from 1997 until his retirement this year due to health issues. He also co-founded the Sunflower Music Festival in Topeka, Kan. in 1987; he returned in 2011 to conduct in honor of its silver anniversary.