Born in modern day Lvov, Poland, on June 8, 1949, Emanuel Ax moved to Winnipeg, Canada, with his family when he was a young boy. His studies at the Juilliard School were supported by the sponsorship of the Epstein Scholarship Program of the Boys Clubs of America, and he subsequently won the Young Concert Artists Award. Additionally, he attended Columbia University where he majored in French. Mr. Ax made his New York debut in the Young Concert Artists Series, and captured public attention in 1974 when he won the first Arthur Rubinstein International Piano Competition in Tel Aviv. In 1975 he won the Michaels Award of Young Concert Artists followed four years later by the coveted Avery Fisher Prize. He has been on the Juilliard faculty since 1990.
Always a committed exponent of contemporary composers, with works written for him by John Adams, Christopher Rouse, Krzysztof Penderecki, Bright Sheng, and Melinda Wagner already in his repertoire, most recently he has added HK Gruber's Piano Concerto, and Samuel Adams' Impromptus.
A Sony Classical exclusive recording artist since 1987, recent releases include Mendelssohn Trios with Yo-Yo Ma and Itzhak Perlman, Strauss' Enoch Arden narrated by Patrick Stewart, and discs of two-piano music by Brahms and Rachmaninoff with Yefim Bronfman. In 2015 Deutche Grammophon released a duo recording with Mr. Perlman of Sonatas by Faure and Strauss, which the two artists presented on tour during the 2015/2016 season. Mr. Ax has received GRAMMY® Awards for the second and third volumes of his cycle of Haydn's piano sonatas. He has also made a series of Grammy-winning recordings with cellist Yo-Yo Ma of the Beethoven and Brahms sonatas for cello and piano [recording booklet cover shown below]. His other recordings include the concertos of Liszt and Schoenberg, three solo Brahms albums, an album of tangos by Astor Piazzolla, and the premiere recording of John Adams's Century Rolls with the Cleveland Orchestra for Nonesuch.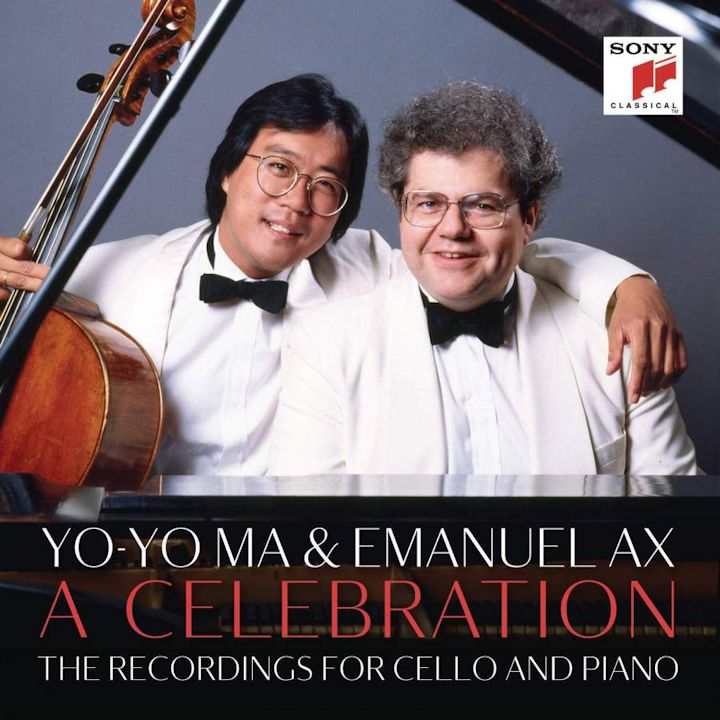 In the 2004/05 season Mr. Ax contributed to an International EMMY® Award-Winning BBC documentary commemorating the Holocaust that aired on the 60th anniversary of the liberation of Auschwitz. In 2013, Mr. Ax's recording Variations received the Echo Klassik Award for Solo Recording of the Year (19th century music/Piano).
A frequent partner for chamber music, he has worked regularly with such artists as Young Uck Kim, Cho-Liang Lin, Mr. Ma, Edgar Meyer, Peter Serkin, Jaime Laredo, and the late Isaac Stern.
Mr. Ax resides in New York City with his wife, pianist Yoko Nozaki. They have two children together, Joseph and Sarah. He is a Fellow of the American Academy of Arts and Sciences and holds honorary doctorates of music from Skidmore College, Yale University, and Columbia University.

-- Names which are links refer to my interviews elsewhere on my website. BD