Some 10 years later, when she made her debut at the Royal Opera House in the role, with Sir Colin Davis conducting, The Daily Telegraph concluded that she had "all the tonal splendour, the prowess and amplitude, to conquer even its most daunting challenges, all the burnished, finely honed steel in her voice to cut through the grandest orchestral climaxes and most exactingly charged ensembles". It was in the same part that she first appeared, in 1987, at New York's Metropolitan Opera, when the Wall Street Journal announced: "She is a wonder."
From 1974, she travelled widely, making her debuts in France and Spain, appearing for five seasons at the Teatro Colon, Buenos Aires and, in 1978, making her debut at the Staatsoper in Vienna. During this period, she took on the major lyrical soprano roles; in Aïda, Trovatore, Cavalleria rusticana, Manon Lescaut, La Fanciulla del West, Macbeth and Otello.
In 1980, she proved a sensation opposite Pavarotti in La Gioconda at the Arena di Verona; she became a regular, and a favourite, there, returning the next year in Nabucco and the year after in Macbeth. Turandot and Aïda were regular roles (in the latter opera she also played Amneris, and at La Scala, opposite Pavarotti, she alternated the parts). [DVD (where she sings Amneris) is shown at right. See my Interview with Nicolai Ghiaurov.]

Her debut in Milan had been as Turandot in the Zeffirelli production, under Lorin Maazel in 1983, and in 1986 she appeared in Nabucco, Riccardo Muti's debut opera as musical director there.
In London, she garnered praise with an electrifying Gioconda (opposite Domingo) at the Barbican in 1985, and was hauled from her box in the audience to step in for Grace Bumbry in 1988, when the latter had to withdraw from Aïda at Earls Court at the end of the first act, suffering from tonsillitis and hay fever. The critics were of the view Ghena Dimitrova injected some much-needed zip into the largest opera spectacle which had ever been staged in Britain (and which they did not, on the whole, much like).
Among her lesser-known roles, she can be heard to advantage as Leonora, the wronged daughter in a recording of Verdi's Oberto, under Lamberto Gardelli.
Ghena Dimitrova was not particularly gifted as an actress, but she never held back in vocal performance. Set beside many modern performers, she seemed reassuringly old-fashioned in her insistence that every register of her voice be worked equally.
"Remember, there are many divas," she once said, "but only someone with a voice can be a prima donna."


[Obituary published in
The Guardian
, June 26, 2005, by Alan Blyth] [Text only; photo and links added for this website presentation]
Ghena Dimitrova, who has died aged 64, had one of the most formidably dramatic voices among sopranos of the past 25 years. As such, she was ideally cast in roles that other prima donnas think twice about undertaking, such as Turandot, Abigaille (in Verdi's
Nabucco
) and the title part of Ponchielli's
Gioconda
. She was not the subtlest of performers, but her basic style of acting had its own validity, and her stage presence was almost as arresting as her voice.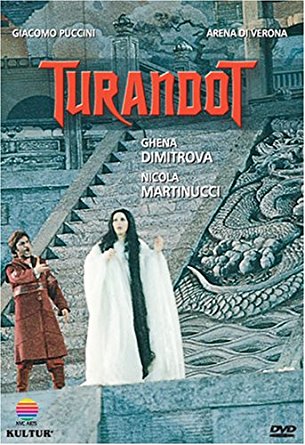 When she first appeared, as Turandot, at the Metropolitan in New York in 1987, one eminent critic simply described her as "a wonder", and her Turandot at Covent Garden in 1983 provoked the same sort of reaction. I recall her a little earlier the same year, at her British debut, singing Gioconda in a concert performance of Ponchielli's work at the Barbican, opposite Domingo's Enzo, and being mesmerised by her trenchant yet not unsympathetic characterisation of that tragic heroine. It was a portrayal in the old, grand scale of operatic performance that was already rather out of fashion. She sang Lady Macbeth with Covent Garden on tour in Greece in 1986.
Dimitrova studied singing at Bulgaria's Sofia Music Academy, and made her professional debut in 1965 at Sofia's National Opera as Abigaille. Success in a singing competition in the capital in 1970 brought her to international attention, and she sang her first Turandot at Treviso in 1975. That year she first sang at the Colón in Buenos Aires, where she appeared for the next five seasons. The Vienna State Opera welcomed her in 1978.
Her first American appearance was at Dallas in 1981 as Elvira in Verdi's Ernani, another role that suited her forthright style. A notable appearance was as Aïda on site at Luxor in 1987. Other roles for which she was noted include Leonora (Il Trovatore), Desdemona, Manon Lescaut, Tosca and Santuzza (Cavalleria Rusticana).
Dimitrova's short but significant career is quite well documented on CD and video. In a 1989 La Scala set of Aïda, she sings Amneris rather than the title role, and gives a vital portrait of the jealous princess. Her impressive Turandot was taken on film at Verona in 1983 [shown at left], when she was at the peak of her career, with Nicola Martinucci as her equally stentorian Calaf [shown at left; see my Interviews with Cecilia Gasdia (Liù), and Ivo Vinco (Timur)]. They are also partners in a CD version recorded at Genoa in 1989. Her Abigaille was caught at Verona in 1981, a suitable antagonist to Bruson's tortured Nabucco, and a striking assumption in its own right. Her Giselda in Verdi's Lombardi, filmed at La Scala in 1984, is a more rudimentary reading of a part that calls for more subtlety.
In Bulgaria Dimitrova was something of a national hero. On hearing of her death the country's culture minister declared that: "Bulgaria has lost a great voice and a great Bulgarian, who had promoted her country and its culture around the world." [She is depicted on a plaque and a postage stamp (shown below), and a coin (shown at the bottom of this webpage.]
She was undoubtedly an artist who gave her all to any role she attempted, and was a larger-than-life performer in an operatic world now rather short of such beings.
·
Ghena Dimitrova, singer, born May 6 1941; died June 11 2005
-- Names which are links refer to my Interviews elsewhere on my website. BD