Piero Cappuccilli
Piero Cappuccilli, who has died aged 78, was the leading Italian baritone between 1960 and 1990, and a singer of full-blooded vigour in the tradition of his kind.
His firm, wide-ranging tone and incisive delivery made him an ideal interpreter of all the major roles suited to his voice in Verdi operas, and he undertook no fewer than 17 of them during his career. Cappuccilli's only rival when he was in his prime was Renato Bruson, a subtler but less imposing baritone.
Piero Cappuccilli was born on November 9 1926 at Trieste, where he also trained. He sang small parts in his native city before making his official debut as Tonio in Pagliacci at the Teatro Nuovo, Milan, in 1957. Walter Legge, who was EMI's recording mogul at the time, knew a good voice when he heard one, and he summoned Cappuccilli to London in 1959 to sing Masetto in Don Giovanni, part of the starry cast Legge was assembling under Giulini's baton.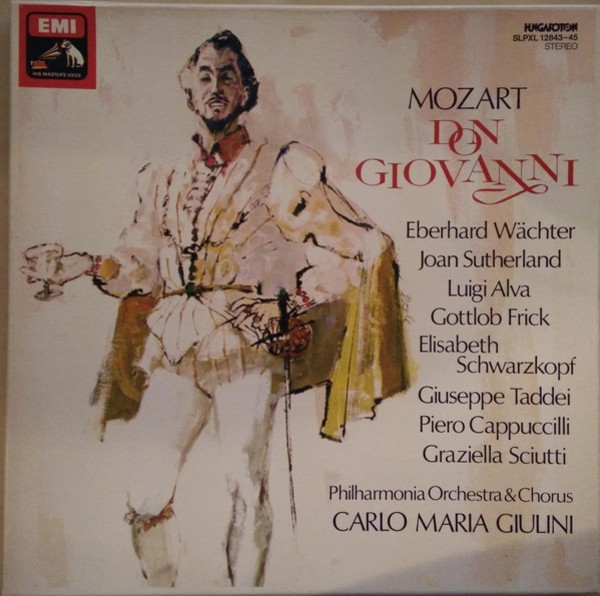 See my Interviews with
Joan Sutherland
, and
Graziela Sciutti
Cappuccilli then undertook Lord Henry Ashton in Callas's second recording of Lucia di Lammermoor, also for EMI. He made his debut at La Scala in the same part in 1964, following it with impressive appearances as Amonasro in Aïda and Don Carlos in La forza del destino by Verdi.
His debut at Covent Garden came with Visconti's black-and-white, fin de siècle production in 1967 of La traviata, in which Cappuccilli made an imposing Father Germont. [Photo of the main participants is shown at the bottom of this webpage.] But his most celebrated appearance in the house came in 1976, when La Scala came to Covent Garden for a now famous visit. He was seen and heard as an ideal exponent of the title part in Giorgio Strehler's striking staging of Verdi's Simon Boccanegra, with Claudio Abbado in the pit. That staging was first seen in Milan in 1971, and Strehler and Abbado were again in charge when the company put on Verdi's Macbeth. Cappuccilli assumed a role that once more ideally suited his gifts for a refined legato and long-breathed phrasing.
By this time he was exhibiting his skill in all the major opera-houses and festivals. Karajan called him to the Salzburg Festival to take the part of Rodrigo in Verdi's Don Carlos in 1975, and when, four years later, Karajan returned in triumph to the Vienna State Opera, Cappuccilli was his Count of Luna in Il trovatore. A vivid memento of that occasion is now available on DVD, and discloses Cappuccilli's artistry at its most potent. [Besides the insert-sheet from the DVD shown immediately below, a photo of the baritone with the conductor appears farther down on this webpage.]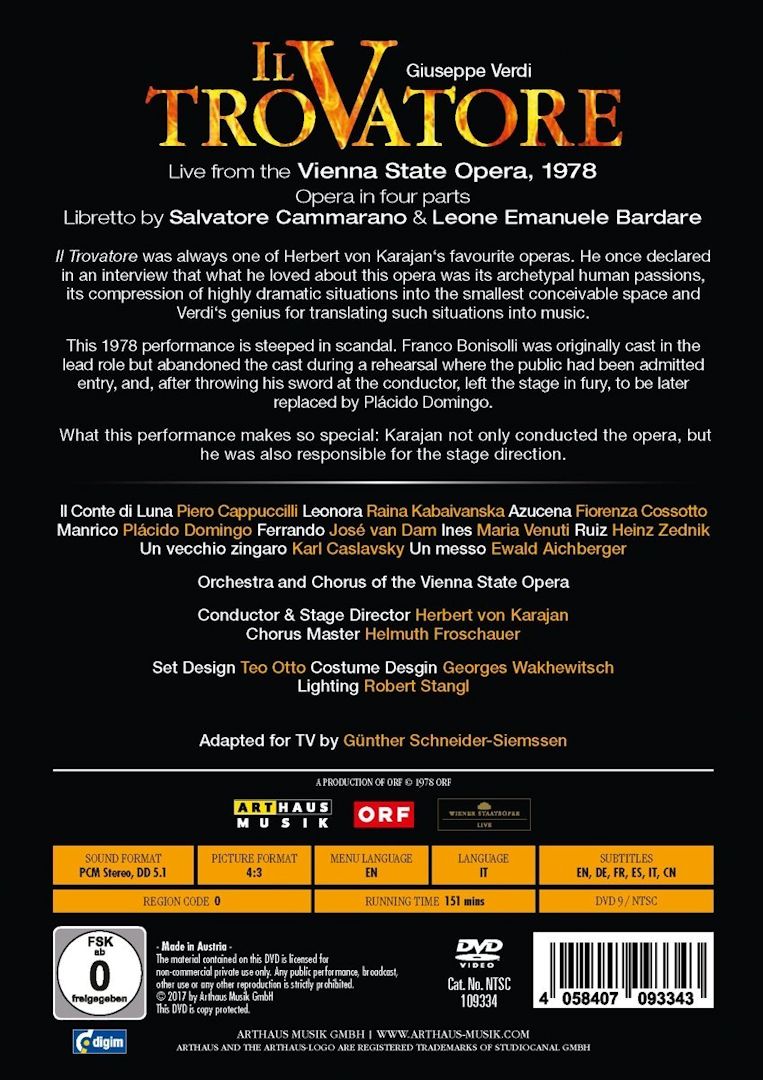 See my Interviews with
Fiorenza Cossotto
, and
José van Dam

Among his other most noted Verdian parts were Rigoletto, which he recorded with Giulini, and Iago, which he sang to great effect at Covent Garden and sings on a video from the Verona Arena (1982). His final appearance at the Royal Opera House came as Tonio in 1989.
Cappuccilli did not simply confine himself to Verdi. He was a vital and nasty Scarpia, the role in which he bade farewell to La Scala in 1989. He helped in revivals of Donizetti's Robert Devereux and Il pirata by Bellini.
He was Gérard, the French revolutionary in Giordano's melodrama Andrea Chénier, and fairly early in his career sang the part in an Italian Radio production which is now available on DVD - it evinces all those characteristics of dramatic power and vital utterance that were so much Cappuccilli's hallmark, as does his portrayal on CD of the evil Barnaba in La Gioconda by Ponchielli.
Cappuccilli's career ended when he was involved in a serious motor car accident in 1992, after he had sung the title part in Verdi's Nabucco at the Verona Arena.
He had been adored by his public, and would respond with an ever more energetic performance when he received generous applause. He loved playing to the gallery, and was not shy about inserting high notes uncalled for by the composer. This confident manner was justified by his vocal prowess, and no Italian baritone since has, as yet, achieved his preeminence.

Cappuccilli died July 12, 2005