Mezzo - Soprano Ruža Pospiš - Baldani
A Conversation with Bruce Duffie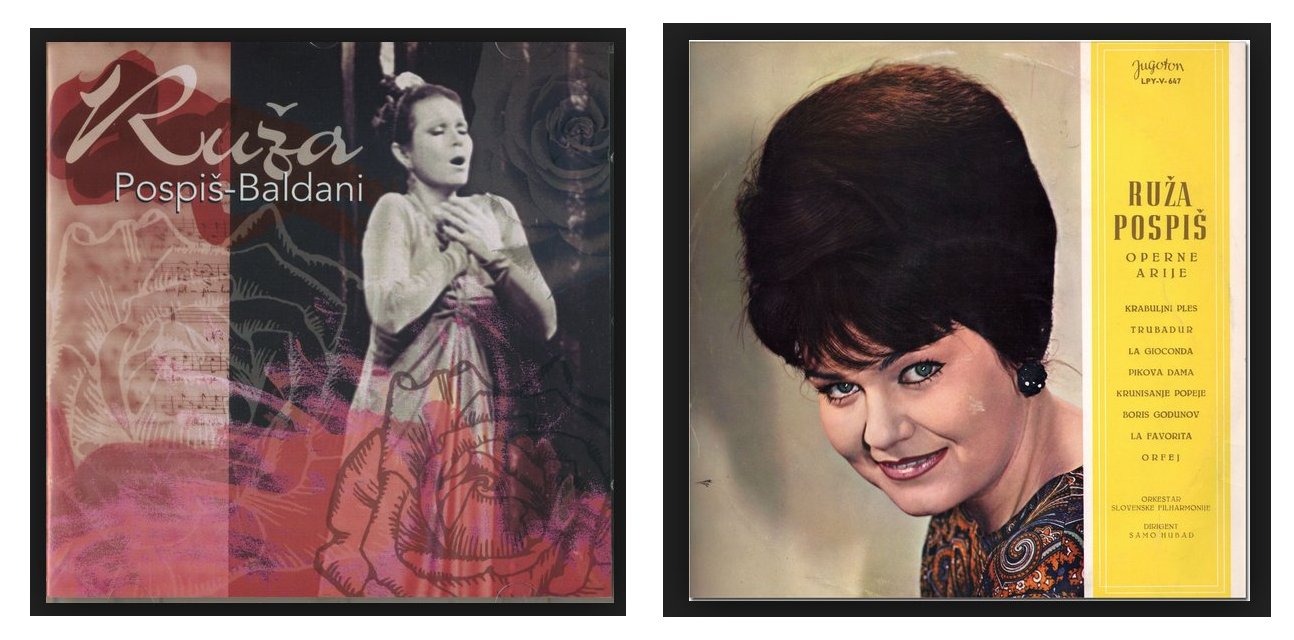 Born: July 25, 1942 - Varaždinske Toplice, Croatia (former Yugoslavia)

The Croatian mezzo-soprano, Ruža Pospiš-Baldani, made her professional opera debut in 1961 at the Croatian National Theatre in Zagreb as Konchakovna in Alexander Borodin's

Prince Igor

. She remained active at that theatre and at the National Theatre in Belgrade throughout the 1960's. In 1965 she made her debut at the Metropolitan Opera in New York City as Maddalena in Giuseppe Verdi's

Rigoletto

. From 1970-1978 she was committed to the Bavarian State Opera. Between 1973 and 1987 she was a frequent guest artist at the Wiener Staatsoper; drawing particular acclaim there as Brangäne in Richard Wagner's

Tristan und Isolde

. In 1976 she made her debut at the Paris Opera as Amneris in Verdi's

Aida

, and made her first appearance at the Opéra de Monte-Carlo in the title role of Georges Bizet's

Carmen

. She has since appeared as a guest artist at the Cologne Opera. the Edinburgh Festival, the Greek National Opera, the Hamburg State Opera, the Houston Grand Opera, the Hungarian State Opera House, La Scala, the Liceu, the Lyric Opera of Chicago, the National Opera of Sofia, the Salzburg Festival, the San Francisco Opera, the Savonlinna Opera Festival, the Teatro dell'Opera di Roma, the Teatro di San Carlo, and the Teatro Municipal in Rio de Janeiro among others.






Formally, this mezzo-soprano has been known by different combinations of her three names. She has appeared at Lyric Opera of Chicago in four seasons (three opening nights) in three different operas. Her first, as Ruža Pospinov, was Marina in

Boris Godounov

which opened the 1966 season. The cast included Nicolai Ghiaurov, Carlo Cossutta, William Wildermann, Margaret Roggero, Milen Paunov, and Lorna Haywood in various roles, with Bruno Bartoletti conducting the Nocola Benois production. She returned as Ruža Baldani (which name she would continue to use) to open the 1969 season as Marfa in

Khovanshchina

again with Ghiaurov and Bartoletti in the Benois production, and Harry Theyard, Norman Mittelmann, Boris Shtokolov and Florindo Andreolli in other roles. Then in 1972 she was Ulrica in

Un Ballo in Maschera

with Martina Arroyo, Franco Tagliavini, Sherrill Milnes, Urszula Koszut, and Arnold Voketaitis, with Christoph von Dohnáanyi conducting the Robert Darling production staged by Tito Gobbi. Finally, Marina again in the 1980 opening night of the new production of

Boris

by Ming Cho Lee with costumes by Peter J. Hall, conducted by Bartoletti, with Ghiaurov, Hans Sotin, Wiesław Ochman, Jacque Trussel, Noel Tyl, and David Gordon. Maria Tallchief was credited as the Ballet Director. It was during this last visit in 1980 that she graciously agreed to sit down with me for a conversation. [

Note: Names which are links refer to my interviews elsewhere on this website

.]

Her English was a bit rough, but she made her thoughts very clear. In this transcript, I have smoothed out many of the problem areas, but I have also left in some of the flavor of her mannerisms.

Since the first use of the material was to be in

Wagner News

, we started out with those roles. Naturally, however, the conversation did range through more of her repertoire. Because I knew her as Ruža Baldani, that is how I have identified her in this presentation.

Here is what was said at that time . . . . . . . . .




Bruce Duffie

: You are about to undertake the role of Brangäne in San Francisco?



Ruža Baldani

: Yes, in a new production with Gwynneth Jones and Spas Wenkoff, with Maestro Adler conducting. This is a role I've sung many times in many cities in Europe, even Vienna. During the 200th anniversary season of La Scala I did the role with Wenkoff and Ligendza, and there was a production in Buenos Aires a few years ago. In that one I sang the

Warning

from another room behind the audience, through a hole in the wall. It was good, but I don't have enough contact with the maestro.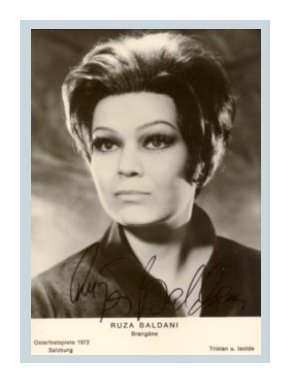 BD: Did you have a TV monitor?



RB

: Yes, but it's too difficult that way. I prefer singing it on the stage. I've also sung Brangäne with Zubin Mehta in Berlin, and in Dusseldorf, also at the Salzburg Festival with Karajan [

shown in photo at right

], and in Munich with Sawallisch.



BD

: Have you sung it in Yugoslavia?



RB

: Yes, but it was just a concert version. In my country we don't have so many great tenors; for Tristan especially it's difficult to find them.



BD

: That problem is not peculiar to Yugoslavia!



RB

: That's true. This season I'm going to do it again in Rome with Matačić. I sing a great deal of Wagner and I enjoy it because it is different. He wrote differently for the voice. It's different from Russian or French operas, but I don't sing it differently! I sing Wagner like I sing Carmen. Many people believe that you must sing these roles in a different way, but there is just one way of producing the voice, and I can find no other way.



BD

: Do you enjoy these parts you sing, or would you rather sing, say, Isolde?



RB

: No, that would be no good for my voice. I prefer to stay in my own register, my own tessitura. If I were to start with other parts like Venus or Ortrud, I am sure that I would lose my middle register. It would not be good for me to go into these higher parts.



BD

: When you sing the heavy Wagner parts, do you find you need a bit of rest before you can sing Bach again?



RB

: I need two days rest in between performances. I can sing Brangäne, and with just one day in between do the

St. Matthew Passion

. I don't like to do it that quickly, but I can if it is absolutely necessary. But I prefer to have a little rest. I've canceled some

Carmen

s because they would have come too soon after the

Tristan

s in San Francisco.

[

Note: Later I asked Miss Baldani about shifting her schedule when traveling, and like so many others, she said it was easier when going from Europe to America

— from East to West —

than when returning east again. She mentioned having sung in Tokyo with Karajan, and I suggested that she should just continue on around the world in a westward direction, and that brought a hearty laugh!

]



BD

: Tell us about your other Wagner parts.



RB

: He didn't write so much for the mezzo-soprano. I've done Waltraute before and will do it again this year in Rome. It is very low, but I like it very much. It's just the one scene, but very lovely. Something like Fricka, which is all together in that one scene, is much shorter than Brangäne. I have sung Erda in

Siegfried

at the Met with Leinsdorf, and I also do Ulrica in

Ballo

. My voice is still really good down low, but that part is for a contralto.



BD

: Do you find that parts like Fricka and Waltraute can be sung more often because of their shorter duration?



RB

: Yes, I could sing Waltraute every day!



* * * * *





BD

: Do you prefer doing staged opera or concerts?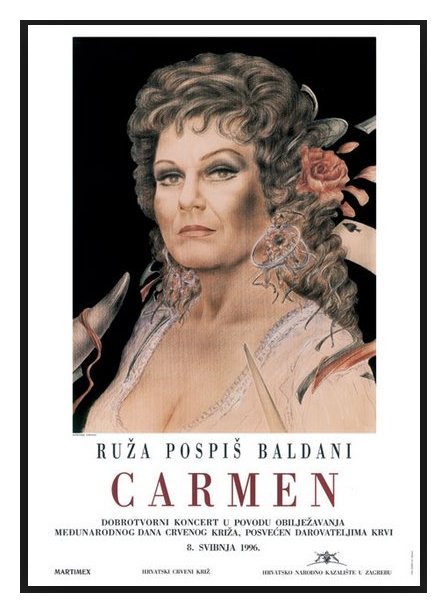 RB: That's very difficult. Maybe I prefer stage, but also I like very much concerts and oratorio. Mahler lieder is beautiful for voice. I sing

Das Lied von der Erde

and it's very nice, also the

Second Symphony

. It's really difficult to tell what is best. I like to do

Carmen

and during the anniversary year in '75, I sang forty performances in just that one season. Now I can't hear it anymore. You cannot play every day

Carmen

, because you must live with Carmen. It is not like Fricka. You can sing Fricka, maybe, seven times in a row because Fricka is not going so much through your heart as Carmen does for me.



BD

: Carmen takes more out of you?



RB

: Yes, that's true.



BD

: Do you identify with Fricka, or do you just come out and sing the part?



RB

: I try identifying with her, but that's not good because we Slavic people always live too much with the part which we're going to sing. So you are always drained physically and emotionally. This becomes especially true with parts like

Carmen

.



BD

: It's too taxing to do very often?



RB

: Yes, that's true.



BD

: So now you will leave

Carmen

for two or three years, and then perhaps come back to it?



RB

: Oh, no. I am not leaving for two or three years, just for a few months.



BD

: When you sing

Carmen

, do you always sing it in French?



RB

: In French and in German. In Munich I sing it in German, and in Yugoslavia I sing it in Croatian, in our language.



BD

: Do you prefer singing it in original?



RB

: Yes, I do. I think opera is no good in translation because it sounds different. Wagner in Italian is also terrible.



BD

: What about comic opera?



RB

: That's not for me, comic opera. I'm not the type for the comic opera.

[

Note: Later I asked Miss Baldani if there were to be a production in America of

Ero the Joker

(the "national" opera of Yugoslavia by Gotovac), would it be better in the original or in English translation, and she agreed that it would be better in English. She said it would lose something, but because it is so unknown here, and that a first production should be understood by the audience.

]



BD

: Have you played with partners you don't like?



RB

: Yes, but I will not name names.



BD

: I understand, but what can you do as a performer to overcome this particular problem?



RB

: That's very difficult. I play Carmen very often with a tenor I don't like, and especially in Carmen it's very important to have contact with someone like Jon Vickers. He's just wonderful! I like singing Carmen with him, and also with Domingo. Marina is nice part. You can really have something to play.



BD

: Do you like playing it with Wiesław Ochman?



RB

: Yes. He's nice. He's a very nice partner.



BD

: Besides

Boris

, what other Russian operas do you sing?



RB

: I do

Khovanshchina

,

Onegin

,

Prince Igor

... I do every Russian opera which has a mezzo soprano role for my voice.



BD

: What about working with the different conductors?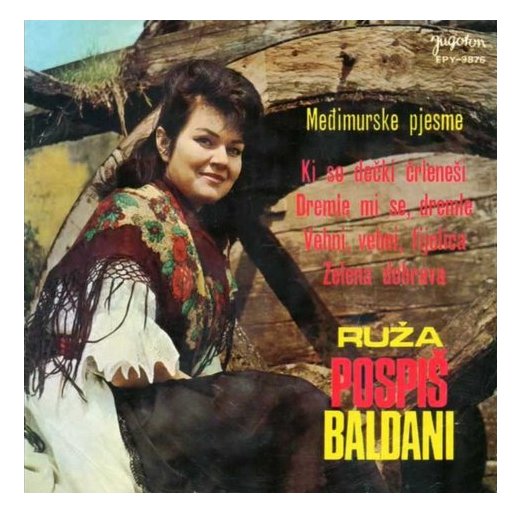 RB: I like working very much with Karajan because he feels the singer on the stage and follows you. But there are others I enjoy including Zubin Mehta, Sawallisch, and Carlos Kleiber is very good! I like very much to work with Richter because he's a very beautiful conductor for Bach and this kind of music. We'll do every year maybe ten concerts. [

Note: Richter has some very complimentary things to say about Miss Baldani on her recording of Bach arias which is shown at the bottom of this page

.]



BD

: What if you must sing with a conductor you don't particularly care for?



RB

: That's very difficult. With the conductor there must be that something between the pit and the stage. Whenever I am asked to sing, I ask who is conducting, and if I don't like him it is better that I do not accept the engagement.



BD

: What about stagings and productions — do you like the more modern ones?



RB

: If they are good, yes. But I think that the modern stage directors make too many experiments, and I don't like that. I sang Fricka at La Scala a few years ago in a production by Ranconi. He's very talented, but I didn't like this one. Fricka was dressed like something else, and arrived in a large chariot. But, they did not try the machinery, and at the general rehearsal the chariot did not fit through the door! So they stopped the rehearsal for a half hour, and I ended up just walking onto the stage!



BD

: Would you be willing to try being in a way-out production?



RB

: I don't know. You have to try and rehearse it to see how it feels, and to see how you feel about it.



BD

: Do you rely on the prompter at all?



RB

: Yes, they can help sometimes. They can help very much, but if it's not good, better don't have it. One time I sang an opera in Zagreb with Matačić in Croatian language, and I always before sing it in original language. We don't have the prompter in the front of the stage, because it's a small stage, so the prompter was on the side of the stage. You can hear him very well. If it's prompted down in the middle front of the stage, they can help you. But this time I made a mistake and he started to talk, "No, no! Please don't sing this. Don't sing this!" It would have been better for him to just be quiet. [Both laugh]



BD

: How do you prepare for your new roles?



RB

: I take a look at some books. I read something about it first, and I think about the character of what I have to play. Then I go to music. I start with the score and then I go with my professor, my teacher. I work with her together in Zagreb on the technical ideas.



BD

: You still study all the time?



RB

: Yes. When I am at home, I study... when I have time. That's good for the voice. It's helped me and has been a good thing because you do not hear yourself exactly. Maybe you think something sounds nice, but it's very important to have the control.



BD

: It's good to have another person listening and then telling you what it sounds like?



RB

: Yes. That's true.



BD

: Do you help other singers?



RB

: If I can, I try. I would like to, yes.



BD

: Have you done any teaching?



RB

: Not yet.



BD

: Do you think you'd like to?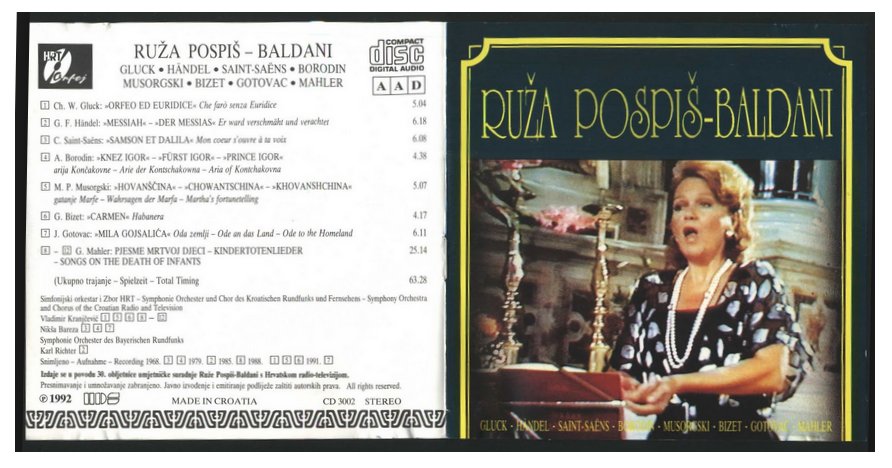 RB

: Maybe later. It's very interesting, but you have to know the person you are going to teach very well because everyone has some differences in the throat. Each voice is different. For me this might be good, and for another maybe it's not so good this way to sing.



BD

: When you study, do you study with a man or with a woman?



RB

: My voice coach, it's a woman. She's professor in Academia Zagreb, but my literature coach professor is a man.



BD

: Do you think a woman should study with a woman or does it not matter?



RB

: No, I think that's not a difference.



BD

: Some singers prefer one or the other.



RB

: Yes. I don't know, because my first teacher was also a woman, a very good teacher, and now the second is also a woman. Maybe. I never think about it. I just think about producing the voice.



* * * * *





BD

: You've made some recordings?



RB

: Yes. Recording is very difficult. I made with Karajan last year a video cassette of the

Missa Solemnis

.






BD

: Do you think they recordings have helped the public, and brought more people into the opera?



RB

: Yes, I think so. They buy many records in Yugoslavia. Many people like to hear them. We have all the big labels there.



BD

: Is there a young group of singers coming out of Yugoslavia?



RB

: Yes, they have very good young singers, but you have that in every larger city. Yugoslavia is very small, but in Zagreb, Belgrade, Sarajevo, Osijek, Ljubljana, they have an opera house in every city. And it's not

stagione

; it's open all year. They work, they have some ensembles, chorus, orchestra, always stable.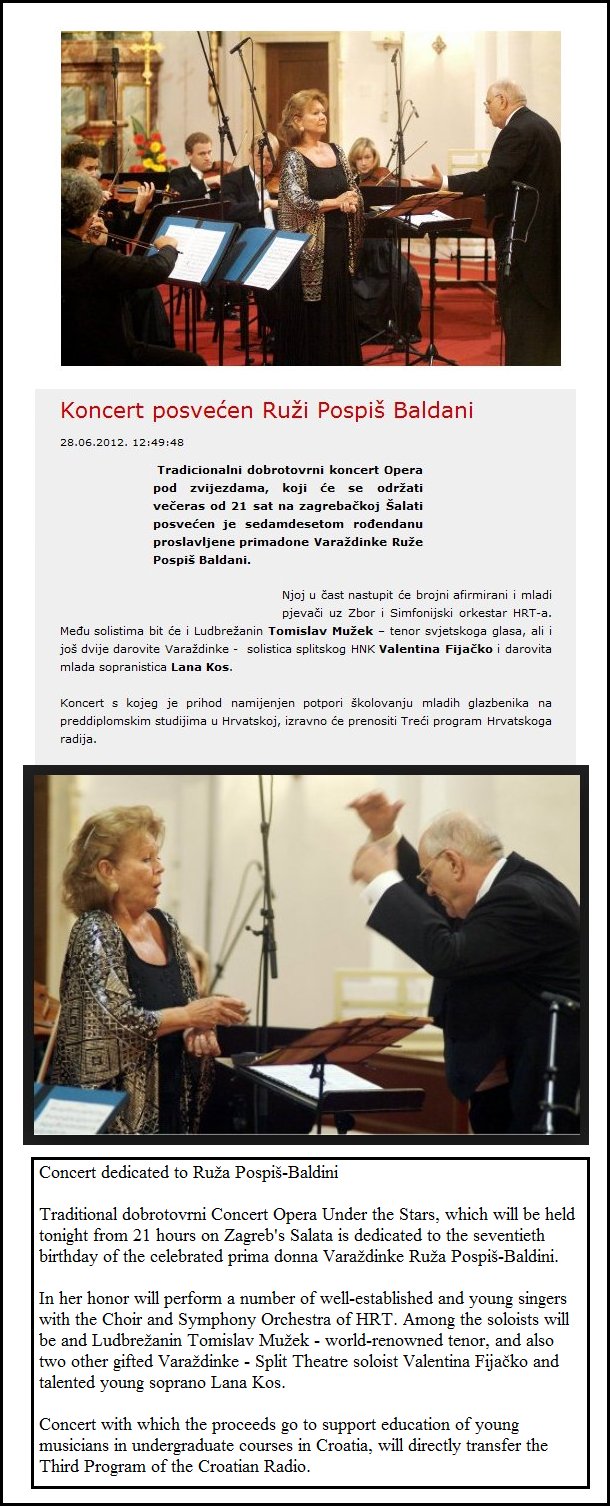 BD: Then do they bring in some international stars?



RB

: Yes, they bring some from Italy as guests for some performance, also from Germany and Austria.



BD

: Do you go to performances when you're not singing as part of the audience?



RB

: Sometimes, yes.



BD

: If you go to a performance where someone else is singing a role you sing, what goes through your mind?



RB

: I like to hear it. Maybe I can study something. You can always study something, bad or good. Yes, that's true.



BD

: You enjoy singing!



RB

: I enjoy. I like to sing, but I don't like to travel too much. It's together, though. You can't sing without the travel. [Laughs]



BD

: Would you rather stay in Zagreb and sing there all year 'round?



RB

: No, no, no. That's not possible.



BD

: Would you rather stay in Vienna and sing there all year around?



RB

: Yes and no. Vienna is different. Zagreb is a good house, but if you are a good singer, you have to travel around. People have to hear you.



BD

: What about modern music? Have you done some very new operas?



RB

: Not so much. I have not done them because when people are tired after work, if they go to theater they would like to hear something nice to relax. You don't want to go out of the theater more tired than after work. So I prefer the normal music. Also, I like blues and I like the jazz very much.



BD

: What about a jazz opera?



RB

: Oh, that's interesting. We have in Yugoslavia also some jazz opera. That's very interesting, but not to just do something with very, very much noise.



BD

: It can be too loud?



RB

: Too loud. [Laughs]



BD

: Do you like disco?



RB

: No. It's too loud. I am too old for this. [Laughs] Years ago I went to disco, but I like to talk if I am with somebody to dance. I would like to talk, and not just to hear this loud music.



BD

: Is your husband supportive of everything you're doing in your career?



RB

: Yes. He gives me support, but he is not musician. He is professor at the Universitate in Zagreb. He likes music, he like opera, but he has other interests, too, and it's better that way. I can't talk always about the music. If my husband was a musician, we would have to talk always about the music, and that would be terrible. It would be too much. [Laughs]



BD

: So, you try to keep separate your career and your home life?



RB

: Yes.



BD

: Does he travel with you at all?



RB

: Yes, he travels with me enough, but now it's a little difficult because we have another child who is six years old, so we cannot both be away. One of the parents must be with them. We both can go away for one week, but not for one month. We can do it, but I think it's not good for the children. We have at home a governess, but that's not the same.

[

Note: During our conversation, we had a guest

—

her son, whom she says she will not pressure into a performing career.

]



BD

: He looks tired.



RB

: Because he watches too much television. I can do nothing with him! He stays up until twelve o'clock and watches television. He likes it.



BD

: Do you like television?



RB

: I watch television here, but I never watch in Zagreb or in Europe, when I am at home. I don't have time. I always have something else to do, but here I have more time, and I watch. I like these old movies, and that's interesting, so I watch. You have so many of these channels, so you can find what you like it.



BD

: [Coming back to our musical topic] What about early music such as Monteverdi or Cavalli?



RB

: I like it. I like it to sing.



BD

: Do you have some parts that you enjoy of Monteverdi or Cavalli?



RB

: I haven't sung any yet, but I love it. It's beautiful. I like to sing

Orpheus

of Gluck. I sing that very much and I love it. It's very good for voice. It must be very, very technically perfect, because you hear everything in this kind of music, not like Marina. [Both laugh]



BD

: Do you sing any Mozart?



RB

: I never sang Mozart. I like it, but nobody asks me for Mozart. Everybody ask me for

Trovatore

, for

Aïda

, for Brangäne, but they never asked me for Mozart. That's funny, no? If you start with the kind of music like Amneris and Brangäne, they don't ask you for Mozart. I don't know why.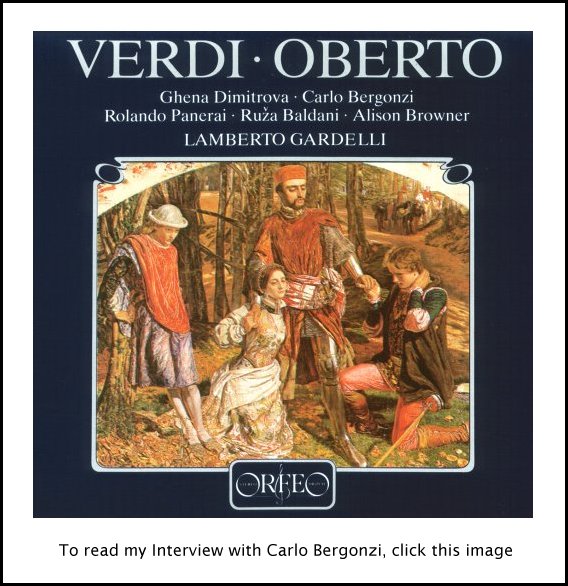 BD: Would you enjoy singing it?



RB

: I like Cherubino, but I don't sing it.



BD

: Tell me about the Verdi operas. Do you enjoy singing those? [Vis-à-vis the recording shown at right, see my interviews with Ghena Dimitrova and Rolando Panerai.]



RB

: Yes. I like Verdi operas. This summer I was singing

Aïda

with Karajan in the Salzburg Festival, with Mirella Freni and José Carreras.



BD

: Do you like having the lighter voices for those roles?



RB

: Yes, but they sound beautiful. Mirella made it really beautiful.



BD

: Does Karajan keep the orchestra down enough so that they can be heard?



RB

: Yes. He kept it down. He likes very much Mirella Freni, and they work together just perfectly. They breathe together, and that's the important thing. I love the Aïda of Mirella Freni. Why must it be always the heavier voices?



BD

: That's interesting, because we are used to hearing a big voiced Aïda.



RB

: I know, like Zinka Milanov. She was beautiful. She is also from my country.



BD

: One of her greatest roles was Gioconda. Have you sung in that opera?



RB

: Yes, I have. I sang Cieca, but now I'm going to sing Laura. For me, I think it's better as Cieca because she has more to sing. Cieca has the beautiful aria to sing.



BD

: Do you prefer longer roles or shorter roles?



RB

: Longer. When I sing

Boris

here, after performance I felt I don't have enough to sing. I would like something larger, something more to sing.



BD

: We will write another act just for you.



RB

: Yes. [Laughs] That's nice, then we finish at five o'clock in the morning. [Much laughter]



BD

: Thank you for coming back to Chicago this season.



RB

: Thank you. I like Chicago, and it's nice to talk with you.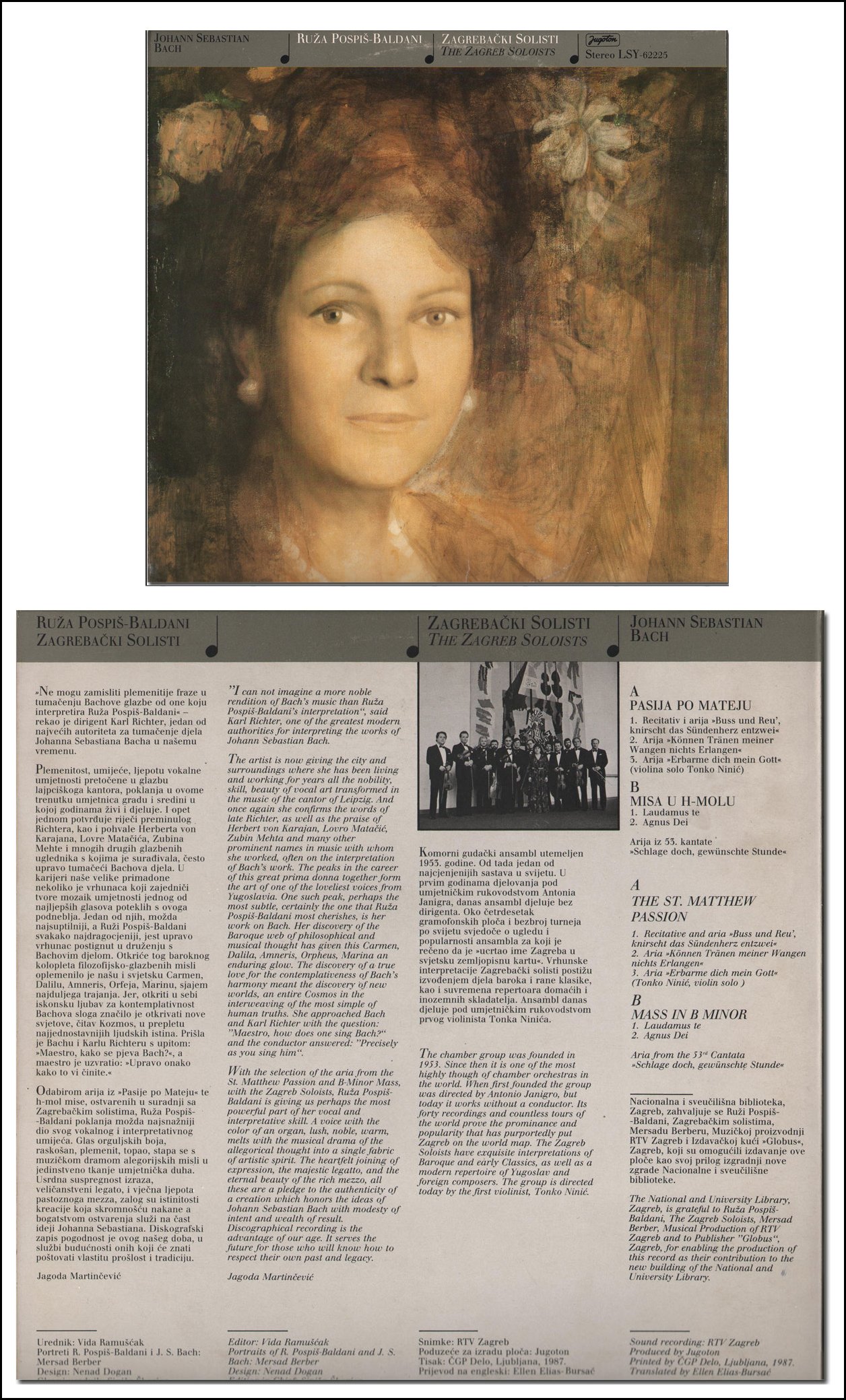 © 1980 Bruce Duffie

This conversation was recorded in Chicago on October 13, 1980. Portions were broadcast on WNIB in 1997. About half was transcribed and published in Wagner News in December of 1980. This full transcription was made in 2015, and posted on this website at that time.


To see a full list (with links) of interviews which have been transcribed and posted on this website, click here.

Award - winning broadcaster Bruce Duffie was with WNIB, Classical 97 in Chicago from 1975 until its final moment as a classical station in February of 2001. His interviews have also appeared in various magazines and journals since 1980, and he now continues his broadcast series on WNUR-FM, as well as on Contemporary Classical Internet Radio.

You are invited to visit his website for more information about his work, including selected transcripts of other interviews, plus a full list of his guests. He would also like to call your attention to the photos and information about his grandfather, who was a pioneer in the automotive field more than a century ago. You may also send him E-Mail with comments, questions and suggestions.