Soprano Carol Vaness
A Conversation with Bruce Duffie
Carol Vaness at Lyric Opera of Chicago



May, 1984 -

Rinaldo

(Armida) with Horne, Valente, Ramey, Doss; Bernardi

[The rest of these performances were in the fall seasons]

1988 -

Don Giovanni

(Donna Anna*) with Ramey, Mattila, Desderi, McLaughlin, Winbergh, Macurdy; Bychkov, Ponnelle

1989 -

Clemenza di Tito

(Vitellia) with Winbergh, Troyanos/Mentzer, Graham, Doss; Davis, Rochaix, Toffolutti

1993-94 -

Così fan tutte

(Fiordiligi) with Ziegler, Lewis, Black, Rolandi, Desderi; Davis, Hall

1995-96 -

Don Giovanni

(Donna Elvira*) with Morris, Orgonasova, Terfel/Held, Lopardo, Mentzer, Stabell; Kreizberg, Ponnelle

1996-97 [Opening Night] -

Don Carlo

(Elisabetta) with Sylvester, Chernov, Ramey, Zajick, Halfvarson; Gatti, Frisell, Quaranta
- Ardis Krainik Gala with Anderson, Malfitano, Zajick, von Stade, Domingo, Sylvester,Chernov, Nolen, Hagegård, Ramey;
Bartoletti, R. Buckley; Barenboim (piano)

1997-98 -

Idomeneo

(Elettra) with Cole/Domingo, Kasarova, Devia, Aceto; Nelson, Copley, Conklin
- 6th Annual

Jubilate AIDS Benefit

(at the Field Museum) with Mentzer, Ramey, others

*Notice that Vaness sings two different roles in

Don Giovanni

, just as she does in two recordings shown below.
Also, in the recording shown above, she sings arias of two different characters in

Idomeneo

.



-- Name which are links on this webpage refer to my Interviews elsewhere on my websites. BD






A versatile singer who is known especially for Mozart, Carol Vaness was born in San Diego and launched her career in San Francisco. She sang major roles all over the world, and now (2017) teaches at Indiana University.

As seen in the chart above, she visited Chicago on several occasions, and I was priviliged to have this interview with her in mid-November of 1988, on the day after the first performance of

Don Giovanni

.

She was generous with her opinions, and provided much insight into both her roles and the nuts-and-bolts of a singing career.

Here is what was said that afternoon . . . . . . . . .




Bruce Duffie

: This is the second time you've been in Chicago?



Carol Vaness

: Yes... well actually the third time. The first time I was in Chicago was to audition for a grant, and it was the first time I was ever in the opera house.



BD

: [With a gentle nudge] That doesn't count because we didn't see you.



CV

: That's right. No, nobody did. [Laughs] I didn't get any jobs out of it either. I didn't get any work whatsoever, and as a matter of fact I didn't get a grant either. But that's OK. That's how it is in the beginning of your career. Then for the Handel (May, 1984) we were here only three days for the one performance. It was really fast. It was a quick concert and all my memories of Chicago were great. I just loved it so much I could hardly wait to get back.



BD

: I hope we've fulfilled all of your expectations.



CV

: Oh, I love Chicago. I really love it, and if it wasn't so freezing cold one could really live here.



BD

: You're here early in the season (November). Wait until you get a contract that spills into January.



CV

: I can imagine. I'm from Southern California, and to me cold is like 65 degrees. That's what we think cold is. But it's beautiful here, and now that the show has opened I have much more of a chance to see Chicago. We're going to take in the museum which I did the first time. That was a fantastic memory, so I'm going to go back, and we will really just do Chicago this time because we've got almost a month.



BD

: That's why I try to contact singers to get the interviews after the show's open because rehearsal period is always tight and hard.



CV

: Yes, it really was very hard, and it got to be very hard towards the end because everything packs in. It all gets very compacted with a lot of orchestra towards the end which you really do have to sing for. That makes your voice tired.



BD

: Do you ever feel that you rehearse too much, and that opening night is really not the best?



CV

: Not in this case, no, but it can happen especially in a festival situation. But it all depends. Generally, if you have a long rehearsal period you spend the beginning of it doing a lot of staging, and then musically you start to work closer to the opening. Then it's a question of superimposing one upon the other so you can do both. It's rare that you are really spend four weeks doing musical and doing staging. It's just not possible.



BD

: You come prepared. You know the role and you understand what's going on. How much molding is done in that rehearsal time?



CV

: A great deal can be done. It depends upon the conception of the conductor, and it also depends a great deal on your colleagues. For example, I've worked a lot with a baritone Don Giovanni, Tom Allen, who has a completely different approach than Sam Ramey's very noble bass, which is very dark. This really can change your interpretation a great deal, more than you think. Of course, I spend a great deal of time with the other soprano and the tenor, as we are the masked trio that wants vengeance on the Don, so if you have another soprano who is either very calm or very nervous, it can affect how you are, too. I'm really grateful this time. Karita Mattila, is one of the best Donna Elviras I've ever worked with. She has a beautiful voice, and she's a really nice lady. We can actually make very good music together. As to Gösta Winbergh, I've worked with him from the beginning of my career, practically. I've known him longer than I've known my husband, and I think he's known me longer than he's known his wife, as well. So when you know someone personally so well as a friend, it's wonderful to watch them grow. I hope he feels the same way about me, but it's terrific to continuously perform with that person because you really know what they're going to do. It's like a marriage, almost.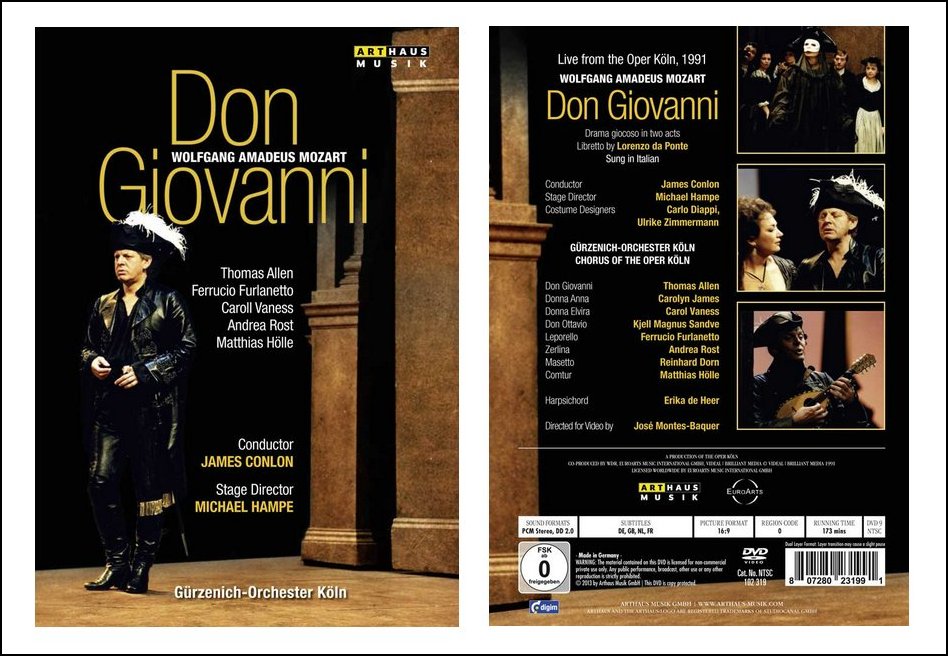 BD

: Is it like an anchor to come to a production knowing that there is an old friend in the cast even if you don't know anyone else?



CV

: Yes. I was very lucky in this cast. The only two people I didn't know were the Masetto and Miss Mattila, the Elvira. We had three weeks of rehearsal, so you get to know them very well. It's personally a very, very, tight cast. We're very friendly and we all get along. There's not a diva among us, in the bad sense of the word. I don't think you could hope for a better cast, you know, in terms of singing actors.



BD

: Will this continue to grow performance after performance?



CV

: We can only hope. That's the good thing about doing so many. We have nine altogether. The wonderful thing is that you're probably going to perform under any circumstance — when you're a little tired, when you're really rested, when you're really happy, when you're not feeling so good, maybe if you have a little flu. When you have that many performances spread over a month a lot can happen to you, and in that way it's great because you can find ways to perform under any circumstances. Your colleagues go through a lot, too.



BD

: How do you overcome the little bit of flu or the little bit of tiredness?



CV

: That's what makes you grow! Besides the theatrical benefits of working in a place like Glyndebourne, when doing sixteen performances of

Don Giovanni

you really will perform it under every circumstance possible. You will rarely come into a situation as a singer that's a hundred percent ideal. There's always something. We carry our instruments around not in a little box, but in something that you use every day. It's like they say, the hardest thing in the world to do is to diet. If you're a smoker, you can take the smoke away. Yes, you go through a lot of pain and its horrible and it's very difficult, but after you've gotten over the addictive part you don't have to do it. But for dieting, you have to eat to live. Singing is the same way.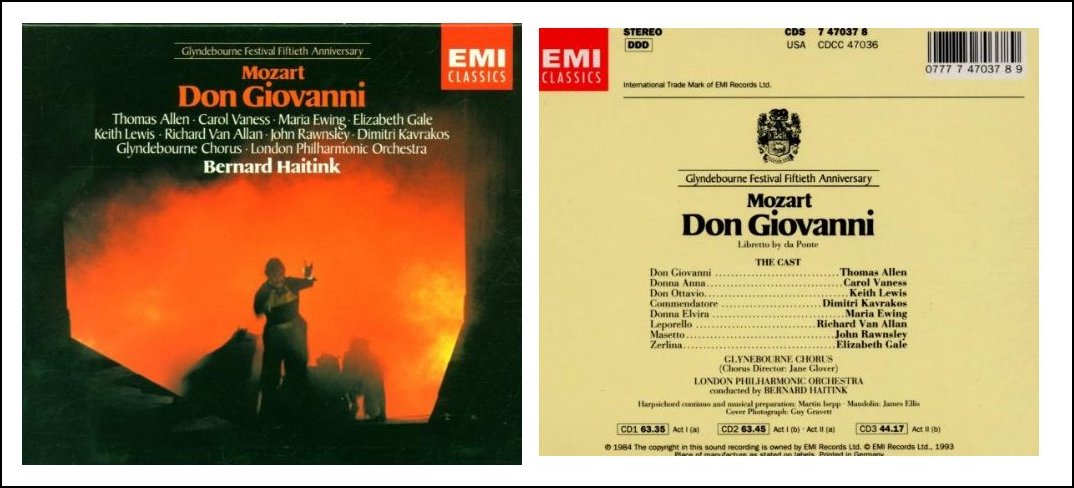 BD

: Do you have to sing to live?



CV

: I do. I've always been so fulfilled as a person by singing that I really do have to sing. Nothing could keep me from it except for grave illness. I love it so much. It really is so much a part of me.



* * * * *





BD

: You brought up the fact that you sing at Glyndebourne. That's such a small theater. Do you adjust your technique now to sing in this huge house here in Chicago?



CV

: No, my technique is my technique all the time. Even though Glyndebourne is very small, the acoustics are horrible. That's just how it is. It's strange but that's what we have to work with.



BD

: Is it real dead?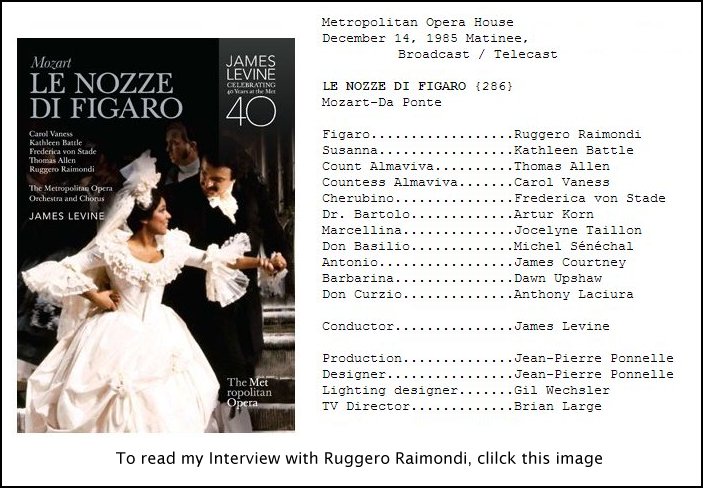 CV: It's very dead, shockingly so. You do have to sing, but I never adjusted my volume level or anything. Occasionally they would say this section was a little bit too big and I could pull back a little bit, but I always find it necessary to sing with my full voice. The only difference possibly in a house this size is that instead of singing more I don't turn upstage to address a fellow performer. I can simply refer to the person being behind me. But the Met is also a very big house and I've worked there quite a bit, so you get used to a big-house feel. It's nice. It's a beautiful theater and wonderful to sing in as well.



BD

: Is the response from the audience different from the little tiny theater to the great big theater? [Vis-à-vis the recording shown at right, also see my interviews with Dawn Upshaw, and James Levine.]



CV

: There's a great benefit here that the audiences have, which are the surtitles. They really help. Everyone can really understand what's happening at all times. I only occasionally wish that they could time the jokes a little better so they really laugh when we say something funny. That's a very hard thing, and the more sophisticated the titles become, the better that will be. The audience was very responsive for an opening night audience. Not to be cynical, but you get sort of funny about opening night audiences because you always think that these are the people who come all dressed up and really want to go to the opening night because it's very sociable. But this was a really warm audience, really, really nice. [

This was the opening night of the production, but not the opening night of the season. As shown in the chart above, she would return a few years later for the opening night of the season

.] In a small house like Glyndebourne and in other small European houses, when it comes to Mozart, probably every single person could get up and sing all the arias with you. Their tradition is hundreds and hundreds of years older than ours, so that's normal. I would expect it.



BD

: Do you feel you're competing against the memories that they have of all the of the sopranos who have gone before?



CV

: Nowadays, if you want to look at the business that way it could be that way anywhere... more so probably in American because you fight the media and you fight the video tape and you fight the CD. I myself, try not to think about it because what we have to give now is so different from what the great singers gave before. We simply have to stick to what we're doing, and just try to improve ourselves as individuals. I have always treated my career and my voice as an individual, and tried not to conform to what people thought. I've done a lot of very odd literature. I'm known as a Mozart singer but I've also done

Rigoletto

, and

Manon

of Massenet, and I've also done

Forza del Destino

and

Ballo in Maschera

as well. So in terms of those things, I feel that if I sing it well and I love to do it and someone hires me for it, I will give them a hundred percent of what I can do as an artist. I don't believe that I have to go out and sing

Ballo

like Callas. I don't believe that that's necessary. What she did was untouchable and I don't want to touch it. I want her to remain who she was. All these people who come up and say this singer or that singer is the next Callas, or he's the next Ghiaurov, I'd rather just be the only Carol Vaness. I am just me and I like my voice a lot. I enjoy it. I feel very sorry for the extremists, the ones who will go and can't hear other singers because they say it's not Gobbi, it's not Gigli. Well, that's true. They're dead.



BD

: Those people who only long for the past will miss a lot.



CV

: Yes, and they miss a lot of what's happening now. People say there aren't any more great singers, and these are all people my age! The reason you can't hear them is because you can never hear the singers of the age you're in. Hindsight is 20/20 in all things, including singing, and when you get to a certain point, people look back and say, "Now there was a great Verdi singer!" Or, "That was the greatest Mozart soprano of that time!" Meanwhile, that soprano is now 55 and really would just like to go home, but of course you love singing and so you keep doing it.



BD

: [With a gentle nudge] Even beyond when you should stop?



CV

: Well, no. I don't know. If people pay to hear it, it gives all those people something to talk about even if she's really past her prime! [Laughs] They can talk about that the way they said, "She's too young to sing that!" Then right when you're in the middle they go, "God, she's really in the best voice I ever heard!" So it's the life-cycle of the singer, and people expect it.



BD

: I hope that most of your career is the best voice they've ever heard.



CV

: Oh yes. Me too! I hope so, but it's like life. You have to take everything the way it comes, and try to enjoy every bit of it because it's a rich life. It has its problems as well, but it really is a wonderful life.



* * * * *





BD

: You get offers now for all kinds of roles. How do you decide which of these offers you will accept and which of the offers you will postpone and which you'll just say no?



CV

: Basically you have to feel where you are vocally. I've had a long history of being offered things that were way too heavy for me. I'm thirty-six now, and even ten years ago I was being offered Isoldes and Sieglindes and Lady Macbeths. Probably any major part you could name I've been offered in terms of the big heavy things. I don't happen to have a big, heavy voice. I have a good size voice that cuts through, and could do them if I wanted to sing a lot of those things. I'm not singing Isolde because I really don't want to sing that. I have absolutely no interest. But if I wanted to sing Lady Macbeth, I feel technically I could do it. When I get to the point where I feel I would be really comfortable enough to make the audience comfortable, then I would do it. I would do it my way. I wouldn't try to do it like Shirley Verrett, or like Callas, or any of those people. I would try to do it my way. Whether that would be satisfying for those people who really prefer other voices, I don't know. But if I did it, I'd do it because I really wanted to. As you go through your career, you learn when it's time.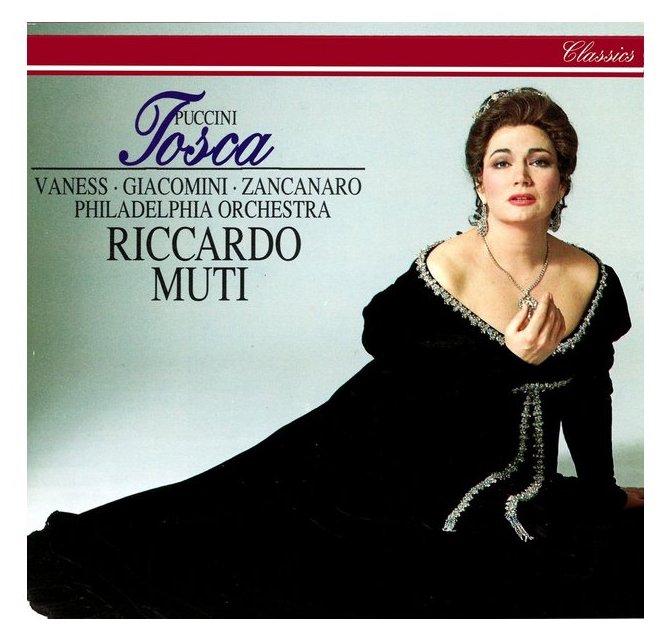 BD: How difficult is it for you to say no to these intriguing parts like Lady Macbeth or Isolde?



CV

: It's easy to say no to Isolde. It's a very, very hard role and everyone wants to do it, but if you look at it, you will see what it is. I just now started to really do

Traviata

the way I want to do it. I believe she is a young-voice part... I don't mean into your twenties, but you have to be in full strength to do it. When you hit 55 it's not something that is easy enough to be comfortable so you can enjoy it. You have to be in your full physical power and vocal power to do it. I feel like I have another 15 years, hopefully, to sing it and enjoy it and to grow. There is so much in a part like that. I would have to give up something like

Traviata

to go to Lady Macbeth, which I'm just not mentally ready for. Technically I can probably sing it — though I might not think so by the time I got to the middle of the second act — but you never know until you're actually doing it. In a studio anybody can do it. That's different than singing it in front of 3,000 people. Then you go, "Uh-oh."



BD

: It takes understanding to know when that 'uh-oh' is going to come before you get in that position.



CV

: Yes. My career was always based on elimination of pain. When studying voice, if it felt bad it couldn't be right. Also, if the thought of singing something like Tosca in front of 3,000 people makes me nervous, then it's really not right yet. It's better just to wait... but you can wait too long. [

The recording shown at right was made during performances a little more than two years later

.] I had a long talk with Leonie Rysanek, who is in her 60s and can still sing amazingly well today, and she says there are some parts you must do, but you mustn't wait too long. It's a careful balance when you reach 36. You're edging towards 40, and I want to be sure that between 30 and 45 are really are my good years. I want them to remain my good years, and I don't want to blow it. These are danger years, and I've heard a lot of really great, great voices reach these years and just go because everything feels so good. Your experience is much more vast so your nerves are down. Your body is strong and your voice feels great, so you think you can sing anything... and you probably could for four years. After that, though, what about your pension? We don't get pensions in the states. You have to save money.



BD

: Are you today where you expected to be and where you want to be in your career?



CV

: Yes, absolutely. I'm doing very well. I'm working with the people I want to work with, and more often than not I have to fight to find time to do things. I'm traveling now with my husband. I've been married a year. I never actually expected to be married. That was an added bonus! I travel to great places and I'm working with the great conductors in great opera houses with my friends.



BD

: So you like being a wandering minstrel.



CV

: [Wistfully] Actually this week I'm sort of homesick, but most of the time, yes, I really do enjoy it. Every now and then I miss going to the drawer that I know the scissors are in, or going to my closet and pulling out a blouse I know I've got. I'm the kind of person. I get on the road and I think, "Oh my gosh, I don't have a black silk blouse. I'd better go get one," and I come home and find five of them sitting in my closet. I'm going, "Oh my gosh, oh no, not another one!" That's the hardest part. But if I didn't travel, if my husband and I didn't travel we'd never see our friends. So that's a great thing. In what other business can you see as much of the world? Granted, you're not in your own apartment but recently I got to go to Los Angeles and sing

Così

and live in the house that I own for three whole weeks. It was fantastic! I got to see my parents; I got to see my sisters; it was wonderful. I had to leave, but how much time can you spend with your parents when you're 36? The traveling is good most of the time... not when you get stuck in airports, but you try not to get too upset and my husband helps a lot. He's very calm.



BD

: Every singer should have a calm spouse.



CV

: Thank God for that.



* * * * *





BD

: Tell me the secret of singing Mozart.



CV

: What part of the secret do you want? The actual technique, or the other details?



BD

: Is there a way to psych yourself up that's different for Mozart than for anyone else?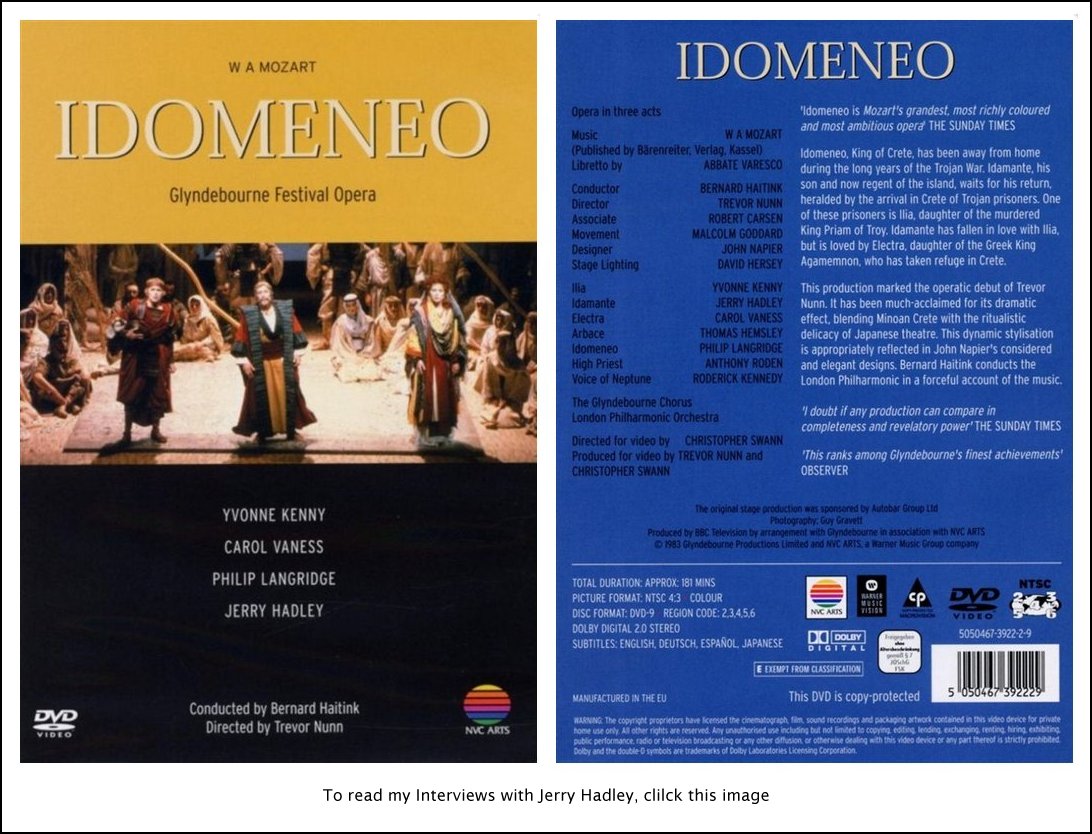 CV

: No, you can't, at least for me and for my voice. A lot of people try to approach Mozart very delicately and with a great deal of art. I'm not saying you shouldn't be artistic, but I believe that when it comes to the sensuality and the physicality and the feeling of it, the emotion that he put in each piece is written already in the style. I don't believe in slurping around in Mozart. I don't think you can do that even when it is much more acceptable in Verdi and especially Puccini. You need to sing it full but not loudly. Young singers who approach Mozart are always so afraid of it, when the truth is that he is the most emotional of composers and really gives you everything. It's very freeing to me to do Mozart. I find the technique fits me very well. You have to know your technique. It's not something you can just throw yourself into, whereas you can throw yourself into Puccini and actually get lost in the orchestra... not lost where they can't hear you, but the fact that some things don't work in your voice can be disguised. In Mozart you can't do that, but that's a very good thing. It means that you really must work very hard on your technique.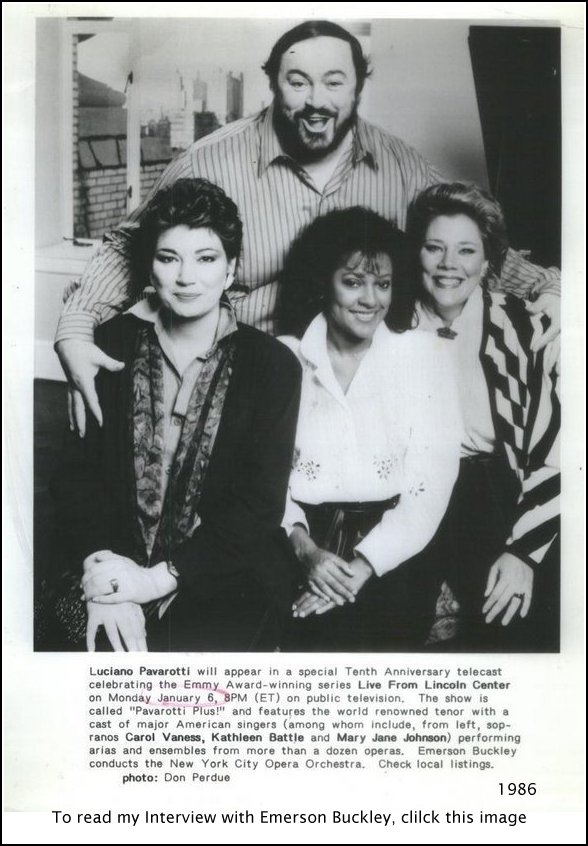 BD

: It sounds like you have to be a more honest singer.



CV

: I think you have to, yes. I've always been an honest singer because I'm too afraid to be anything else. For me, nerves and the calming of fear were great problems until I realized that I knew what my voice was doing, what my technique was doing. Then I was calm because I could be in control all the time.



BD

: I take it your husband is a big help and support in your career?



CV

: Fantastic! He really is. Everybody's said since I've gotten married that I've been completely calm and much more easy going. Of course, when you travel all the time as a single woman it's very, very difficult. You're all the time worried about this and worried about that, and I just don't worry as much anymore. There are more important things in the world.



BD

: And that of course makes you a better singer and actress onstage, too.



CV

: Yes. It relieves the pressure so that I can do more. I've always found singing to be a great help to me in terms of my nerves. It's a funny thing... when I actually get to the theater, it calms me down because regardless of what's happened, this is what I know.



BD

: It's your home.



CV

: This is my home. This is what I understand. I understand everything that goes on here. It's a great comfort.



BD

: When you're on stage do you become the character or are you always portraying a character?



CV

: In Mozart or anything else?



BD

: A and B.



CV

: It's all of the above, actually. On one level you have to become the character, but it would be literally impossible to become Traviata and die at the end. [Laughs] It's really not worth it to me. I really love it, but I do draw the line. I find that when I'm on the stage the mind works quickly because you have so much adrenaline and it's a spectacular experience. I really wish you could feel it because it becomes like a seven-layer cake. On one level you have the technical part where you've got this costume on, you've got the hair and you've got the hat or whatever it is you have to think about, and you have to think about that because if you don't you could get lost. If something gets stuck, you have to be aware of it. Then you have the next layer, which is the musical layer. That has everything from, 'I can't see the conductor' to 'was that the upbeat?', to your other colleagues 'I'm sorry he seems so nervous'. All these things are going on in your head. Then you have your own little cheering squad. "Yes, that was very good. That was good... no, no, a little higher... no, no, lower. That's it, that's it... hold on, hold on, don't be nervous. That's fine, that's good." I talk to myself that way. Then on the other level you have to become the character, but it's great. It sounds very confusing, but the truth is it's the greatest high in the world because all of those things are completely separate and amazingly clear.



BD

: Are they all working at once, or do they all kick in at slightly different times?



CV

: Most of the time they're all there. It depends on where you are. If something happens and your partner drops a measure, all of a sudden that part of your brain clicks in really big. You'll try to drop this for a minute and you fix it, or you catch up, or you see what you need to do to fix it. For example, as happened the other night, I ended up sitting on Giovanni's cape at the end of the duet when we're supposed to go down and he's starting to ravish me... which is very enjoyable for me! We have a lot of physical things to think about, and as he comes down on top of me right before my father, the Commendatore, comes out, I'm sitting his cape. Giovanni was supposed to jump up, but I was on his cape. Still, I couldn't jump up because that would look silly. So you try to work it into your character, and I did by hunching over to cover myself as somebody would if they'd just been attacked. All that worked instantaneously, and he could move immediately because I was off his cape. So, in terms of that, yes, things click in on different levels all the time.



BD

: So, you're always responding to what's going on around you?



CV

: Yes, you have to. [Sighs] Although, I've actually worked with people who you're lucky if they work on one level.



BD

: There must be some directors who say you must do exactly their ideas every night — move two steps, then turn just a little — where everything is all mapped out.



CV

: Yes, you work with those, but the truth is they can't change what's in your brain. Anybody can work with, "You must move these two steps." All you have to do is walk two steps. That's no compromise at all, so you walk those two steps. You can motivate those two steps yourself, and they are happy because they're getting their two steps and you're happy because you are motivating it. I don't really have a lot of problems with that unless they ask you to do something really stupid.



BD

: [Seizing the opportunity] At what point does it become really stupid?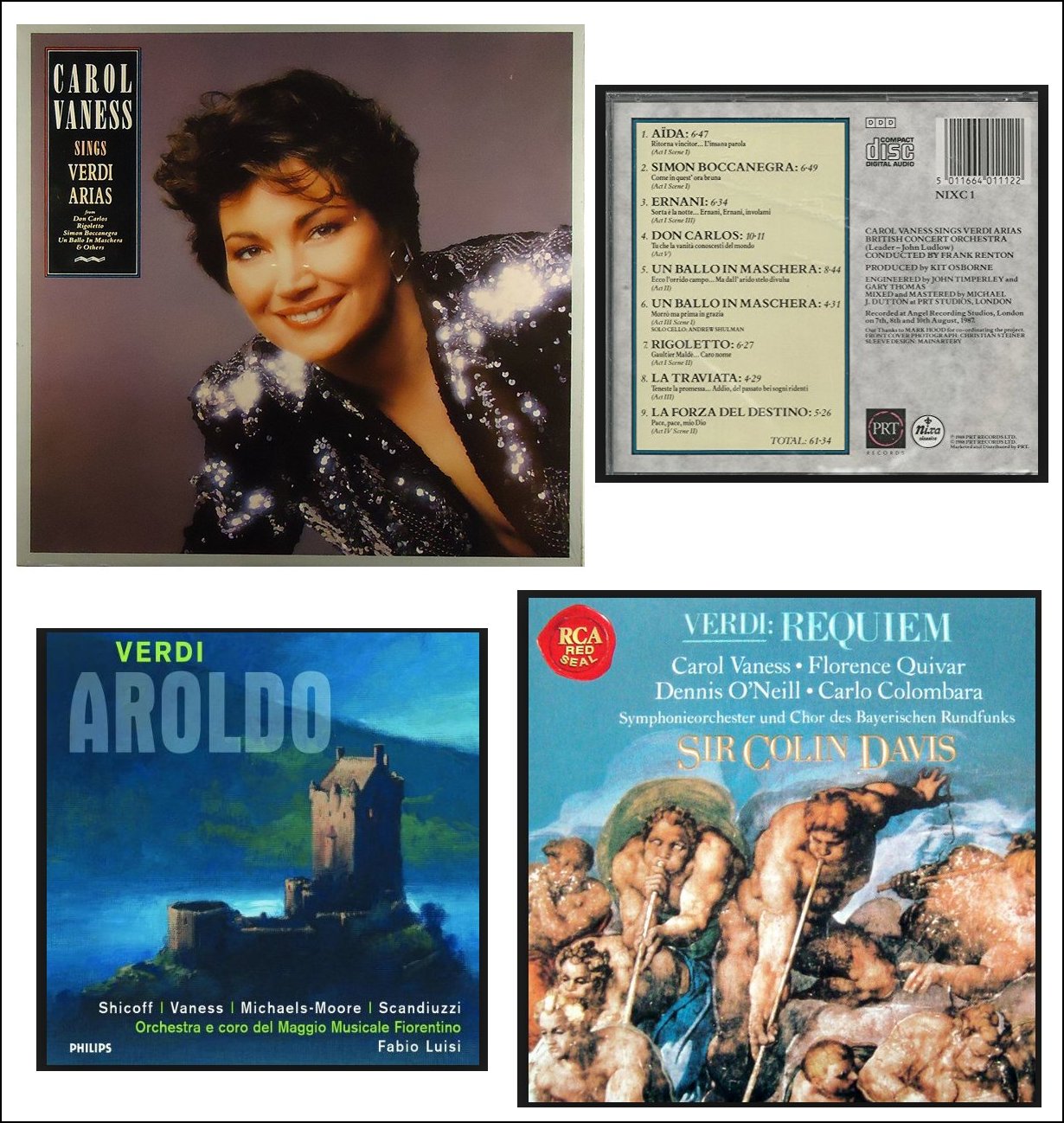 CV

: Let me tell you a story. I don't know if you can put this on the radio, but I actually had a director come back after I had sung

Caro Nome

. He said that it was great, but really he wanted me to masturbate while while sang this aria. I said that I was not going to do that. I don't think that Gilda is really into that at that moment in the opera. I absolutely refused. [Both laugh] It's a terrible thing, but I've been in such situations. Way at the beginning of my career in San Francisco, I was covering Ileana Cotrubas, and she refused to be on the stage if the Marcelo in

Bohème

came out in the third act and urinated on a tree. She refused to do this, and I would, too. I said, this is ridiculous. What does this have to do with

Bohème

?



BD

: [Going for the obvious pun] That really pissed her off, didn't it?



CV

: [Laughs] It pissed her off, yes. There are a lot of things like that which are just wrong.



BD

: Have stage directors gone too far too often and made opera too much of a circus?



CV

: Sometimes, yes. You always need to keep an open mind for something different. I don't think it ever hurts to do something with class. The main choice there is class, and that is always someone's opinion. I don't believe

Don Giovanni

should be set in a toilet — which has been done in Europe! I also don't think it's very interesting to do it all in black leather, but there are some places that like to see that. I myself simply wouldn't do it.



BD

: So then, if you get an offer to do it in that house with that production, you'd say no?



CV

: Of course, I'd say no because I wouldn't have anything to gain from that. I don't care about that sort of thing.



BD

: When you're offered a new production, how much do you get involved in seeing the sets beforehand, and talking with the director to know where he's going before you accept?



CV

: Generally, if you know the director you know some sort of concept. For example, I did

Traviata

directed by Patrick Bakman [

obituary shown in box below

]. He didn't do anything wild, but he did stage the overture, which, when we first talked about it, was something I did not want to do. But I agreed to try it because I trusted him, and I knew that what he does works. It's sometimes a little different. The

Sempre Libera

was the biggest mad scene you've ever seen, and it worked spectacularly well for me as well as for the audience. It made me very free, and I feel like I could sing

Sempre Libera

anywhere now because it freed me so much to do it. Actually, staging the overture made the audience able to see that Violetta hated where she was, that she wasn't a happy woman. Occasionally she looked sad at the party, but I never looked sad at the party. I always looked great at the party, but I could be sad because the overture had been set so that I really could look sad. I could look really sick, and I could look really upset and really show I was hating to be there.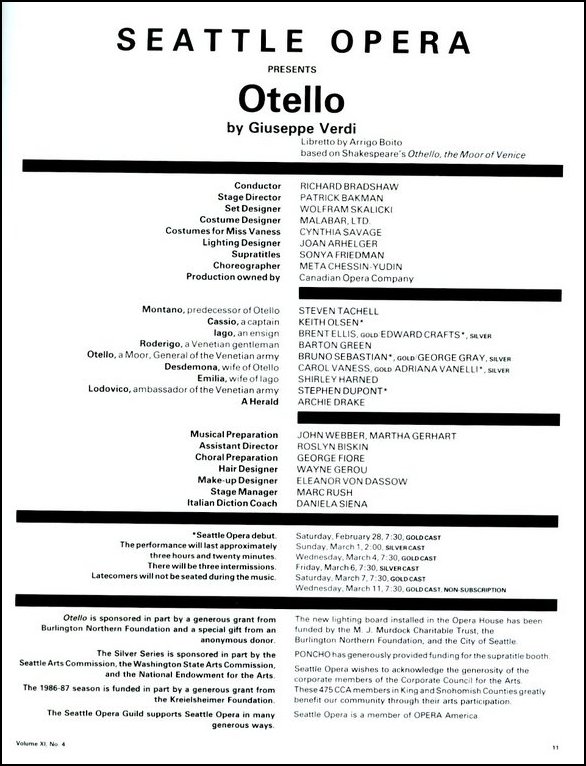 Patrick T. Bakman, Opera Director, 46


Published: December 19, 1990 in

The New York Times




Patrick T. Bakman, a stage director of the New York City Opera, died at Roosevelt Hospital on Sunday. He was 46 years old and lived in Manhattan.

He died of a brain tumor, his mother, Virginia A. Bakman, said.

Mr. Bakman's most recent productions were in regional theaters. He staged "The Bartered Bride" in Hawaii and "Faust" in Chautauqua, N.Y.

Last season Mr. Bakman staged "La Boheme" for the New York City Opera National Touring Company. He began working with City Opera in 1972, when he staged Carlisle Floyd's "Susannah"; his subsequent credits included "Carmen," "La Traviata," "The Magic Flute" and "A Village Romeo and Juliet." He also directed the production of "The Ballad of Baby Doe" that was broadcast in 1976 in the "Live From Lincoln Center" television series.

Mr. Bakman taught theater as a visiting professor and stage director at the University of Michigan State, the State University at Albany, the University of Houston and Virginia Commonwealth University. For two years he directed dramatic studies at the Houston Opera Studio.

Surviving, in addition to his mother, are his father, Richard L. Bakman; a sister, Jane Anne, and a brother, Richard Timothy, all of Fresno, Calif.



* * * * *

Photo below is from the 1987 production shown in the Seattle Program at left.

See my Interview with

Archie Drake

.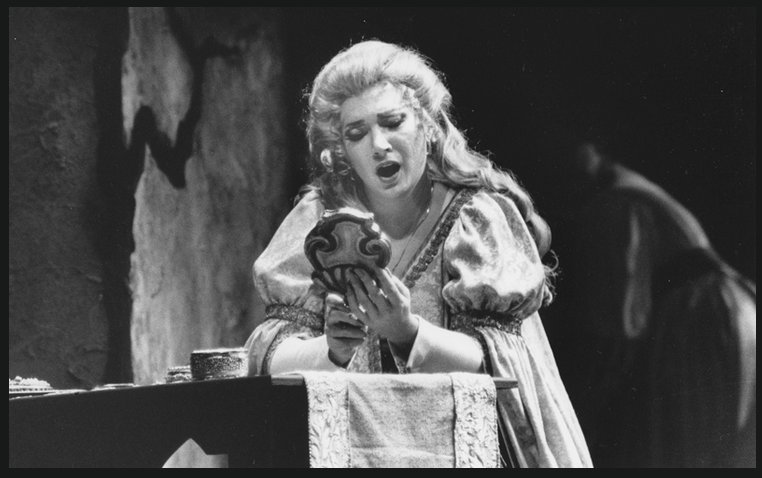 BD

: So it was a motivational device for the whole opera.



CV

: Yes, and it worked fantastically well.



BD

: Are you then disappointed when the overture is not staged the next time you do the opera?



CV

: No, because I experienced it. I have done things where I thought it's a shame they don't do it this way. It really would make a difference, but then you have to just work things out in your own mind. There are a lot directors who I don't really agree with, but I can see why he wants me to do it. If I really, really don't agree, well... [Muses on a memory] I had a problem this summer in Salzburg with one staging where I really didn't agree. I thought it was completely wrong, so I simply did 'the singer's trick'. I said yes, and I did it in every rehearsal, but I never did it in a performance. I'm sorry, I couldn't do it, and the man simply wouldn't listen to me. He was a German director. It might have been wrong of me, but I still am the artist that gets judged, and I'm the artist that has to give her performance. So I simply changed it. This can happen. This is the greatest thing for singers because after the first performance the director goes away.



BD

: So you had to do it for the first show, when he was there?



CV

: No, I didn't do it the first show either.



BD

: Did you get screamed at?



CV

: No, because what can he say? It's done. I suppose he could have been very upset, but too bad.



BD

: What will happen next time you work with him — if you ever do?



CV

: Oh, I will because when you do a production in Salzburg they come back.



BD

: It's a five-year contract?



CV

: It's three years, and they sign each contract differently, but you have to go back and the original director comes back. So he'll come back and we'll have the same discussion, and I'll say I won't do it and he'll say I must do it, and I'll say OK and then I won't do it. The truth is we are not puppets. Not all of them, but some directors really say, "This is my production, and you're mine, too." It's really community property in my opinion. Yes, they have a right to 80 percent of it, but I reserve my 20 percent right of veto, and when I decide that something is really horrible, I really won't do it. I'm very stubborn that way, and the truth is that most of the time if something looks bad or makes me feel bad, then I perform badly, and I'm not going to cheat my audience. I owe my audience a great performance, and I'm not going to go into a performance feeling bad. Not that I just stand there, either. Anyone can tell you that I do argue, but I don't argue ridiculously. I only argue if I have a strong opinion, and then if somebody else has an equally strong opinion that I respect, it's not that I will change mine, but I will try to fit their idea in my idea, and I will try whatever anybody wants at least once.



BD

: Give it a shot?



CV

: Yes, you have to because otherwise you don't grow. You really need to hear different ideas. The first time I meet with a conductor, they might say that it must be this way. OK, I'll try it, and who knows? It may be even better for me. You never know. I've gone in thinking this is the worst thing I've ever done — it's too fast or it's too slow or it's too high — and I come out thinking that I learned something there. It was a good experience. Even if they didn't agree with me or I didn't agree with him, I gained something, and that way we had a great deal of respect. You need to respect the people you work with in this business.



BD

: I assume that most of the times are happy experiences rather than difficult experiences.



CV

: Yes, nearly all the time because I try to make them that way. I hardly ever feel horrible about anything. If it gets to feeling really, really horrible and I have a terrible time, I go to the opera house and I ask for some help, or at least some advice, and eventually it works itself out. I've never, ever had to leave. I know a lot of singers leave, but I think that's silly. That's running away. I'd rather face my problems and try to work them out.



* * * * *





BD

: I want to ask about your recordings. You've made several of them lately?



CV

: I've been really lucky lately, yes. The

Don Giovanni

, and also

Così fan Tutte

are on EMI from the Glyndebourne productions. We actually never sang the

Così

with the cast that recorded it. I did do it with Dolores Ziegler, who was the Dorabella, and with Claudio Desderdi who's also here in Chicago doing Leporello, but the rest of the cast was completely different.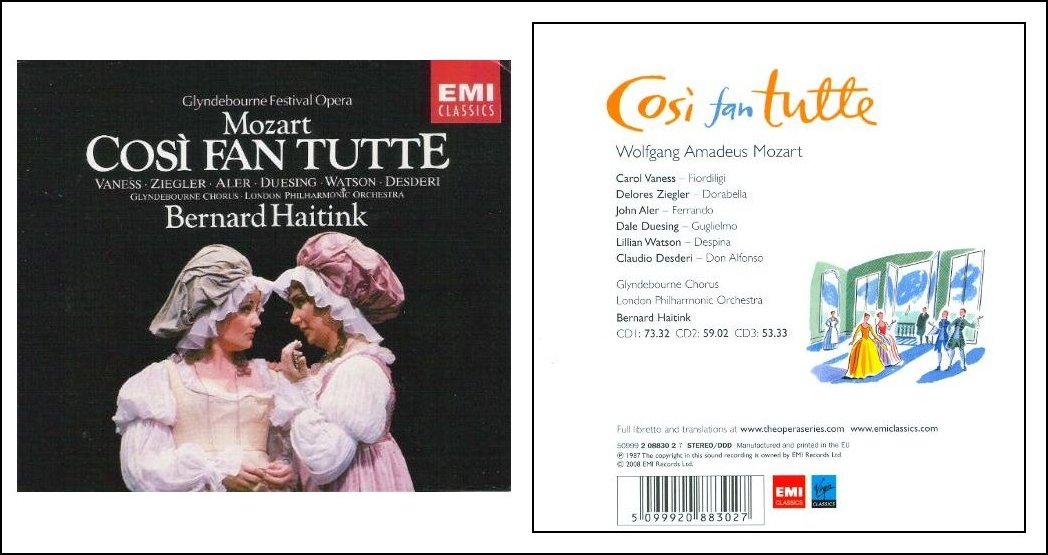 BD

: But they had all sung the works at Glyndebourne, so they assembled their dream casts?



CV

: Yes, they assembled the casts, but it didn't matter. It came off very well.



BD

: Do you sing differently in front of the microphone than you do in front of the audience?



CV

: A little bit. For one thing, you have to be more careful. EMI has just now started to get the sound of my top voice. All voices record differently, so you have to take a little responsibility on yourself and not leave it all to the engineers because sometimes they just don't get the space around my voice. The first thing they recorded me, every time I came to a high note they gave me way too much space. I would compare myself to her vocally at all, but it's like they used to do to Sutherland in the early days. They made her sound like she was in a cavern. That happens because they're not quite sure what to do. Should they give her a lot of space on the mic? Should they give her a little less? Should they give her those overtones etc. It's a very interesting thing. I tend to just try different techniques, but you can never tell. Sometimes you lean a little forward for an effect, or you add a little bit more air for the drama of it. I tend to try to sing a little more perfectly for a microphone. I don't know why, but I guess it's because recording is so difficult and it takes so much time you really want to try and get it right the first time. It's really tiring. In a three-hour session you probably sing at least a full hour, and that's really a lot of heavy singing because you continuously repeat things and try to get them right. You just want it to be really good if people are going to have it forever.



BD

: Is there any chance that it can become too technically perfect?



CV

: It's already too technically perfect! We were discussing the other day that it's almost a different art form than what you go to the theater to see. You buy the recordings to hear how it would be done if everything could be perfect, but you go to the theater for the excitement of the performance. I actually believe that they should do more recordings of live performances. They have so many fantastic microphone abilities now that I think it's an ideal answer. It would be fantastic.



BD

: Do you think that the public really understands the difference, and separates the recordings they hear at home and the performances they see in the theater?



CV

: I think quite a few of them do. You couldn't not. You put something on that's a CD, and it's perfect. Beverly Sills used to say if a performance wasn't perfect, if you didn't like it, go buy the record. It's a hard way to say it, but it sort of is the truth. You do come to the theater for the human element, and in human elements there's always a chance of some sort of failure — stage failure, vocal failure, mental failure — you never know what's going to happen.



BD

: But there's an equal chance of a special brilliance!



CV

: Yes, of it being the best thing you ever heard and you would never hear it that way again. That's the excitement of it. Last night when I sang

Or Sai Chi L'onore

, I thought that's the best I ever sang it in public, and I hope you guys realize that I've never sung it like this! I don't know why, but I'm really grateful, and thank you God because there are just some nights you have an on-night. I've had plenty of off-nights too, and that is what makes a career is that the difference. The gap between off and on isn't very great.



BD

: Are you pleased with the way your recordings have turned out?



CV

: Yes, pretty much. I'm grateful just to have them. You always look back and say yes, you could probably do that better now, or do this better now, but if I remember the person I was then and how I was singing then, I'm very proud of everything I've done. You could always say you could have done it better, but that's how life is.



BD

: If you couldn't do it better now you wouldn't be an artist.



CV

: Yes, that's exactly right... or I wouldn't be growing growing as an artist. I'm happy with them. Like I said, there's a lot that could be better, but that's ok. At least people will have heard me in the beginning and have something to compare it to. My dad has some albums with pictures of me on the front, and that's enough.



* * * * *




BD

: Let me ask one question about

Così

and Fiordiligi. Whom should she wind up with at the end?



[

Vis-à-vis the recording shown at right, see my Interview with Leopold Hager

]




CV

: [With a huge laugh] It changes nearly every performance... at least that is how I feel about it. The concept for the

Così

that we just did in Los Angeles had completely changed from the first time I'd done the production. The director, Sir Peter Hall, just changed his mind. The first time we did it, he believed that with your real love — my real love being the tenor — I reluctantly went back to the baritone, but after the opera ended I probably didn't stay with him. Now his concept changed, and I can understand it. He believed that in the beginning we were always with the right partner because opposites attract. Fiordiligi, being very idealistic and very romantic, was attracted to the macho man of Guglielmo, and Dorabella being very sensual and crazy was attracted to the romantic idealism of Ferrando. But because they were not experienced and they hadn't experienced the world, they were then attracted to their likes. Fiordiligi was attracted to an idealistic man. In a way they were almost too idealistic for each other, whereas Dorabella and Guglielmo were really too earthy for each other. You could see where their relationships could almost be empty because they didn't have the benefit of the opposite point of view.



BD

: So you can argue it either way.



CV

: Oh well, of course. But that's the glory of Mozart. When it comes down to

Così

, or

Don Giovanni

, you can talk them into the ground and you can still be right. Everybody can be right!



BD

: Is that what makes these operas great — that there's so much depth to plumb?



CV

: Oh yes. I don't think you could ever touch it. Between Mozart and Da Ponte there's no way to get close to what it could ultimately be. It's like one of those little numbers that you put into a calculator and it just goes off — 3333333333 — and will never end. That's what made Mozart a genius. It's like humanity, really. Our capabilities as human beings are limitless. We have so many positive and great things that we can do if we just continue on our way. That's why sometimes people get frustrated because life. Even if you live to be 80 years old, is just not long enough to do all the good things, to be with the great people of the world, to have your great friends. It's limitless what you can do. That's the glory of it and the frustration of it, and that's why you can talk about it so much.



BD

: You find all of this limitlessness in the great operas. Do you find it in even the less great operas?



CV

: [Thinks a moment] Well, in a different way. You mean like Verdi and Puccini?



BD

: More like Giordano or Mascagni.



CV

: All of those composers have their place in your emotional makeup. Perhaps you're the type of person who needs Verdi, or who needs glorification of the voice from the

bel canto

operas. Let's face it,

Puritani

is a very dumb story, but there has hardly ever been written such incredible glorification of the human voice. Just to listen to a voice singing that music, and to hear all the capabilities in the voice has its place. It can be limitless in its way, but I don't think there's anything as complete as the Mozart operas.



BD

: Let's move over to the French roles. You've sung Marguerite and you've sung Manon. Have you done any other French operas?



CV

: Yes, I did Leila in

Pêcheurs

, and also Antonia and Giulietta in

Tales of Hoffmann

.



BD

: Is the French style completely different from the Italian style we've been talking about?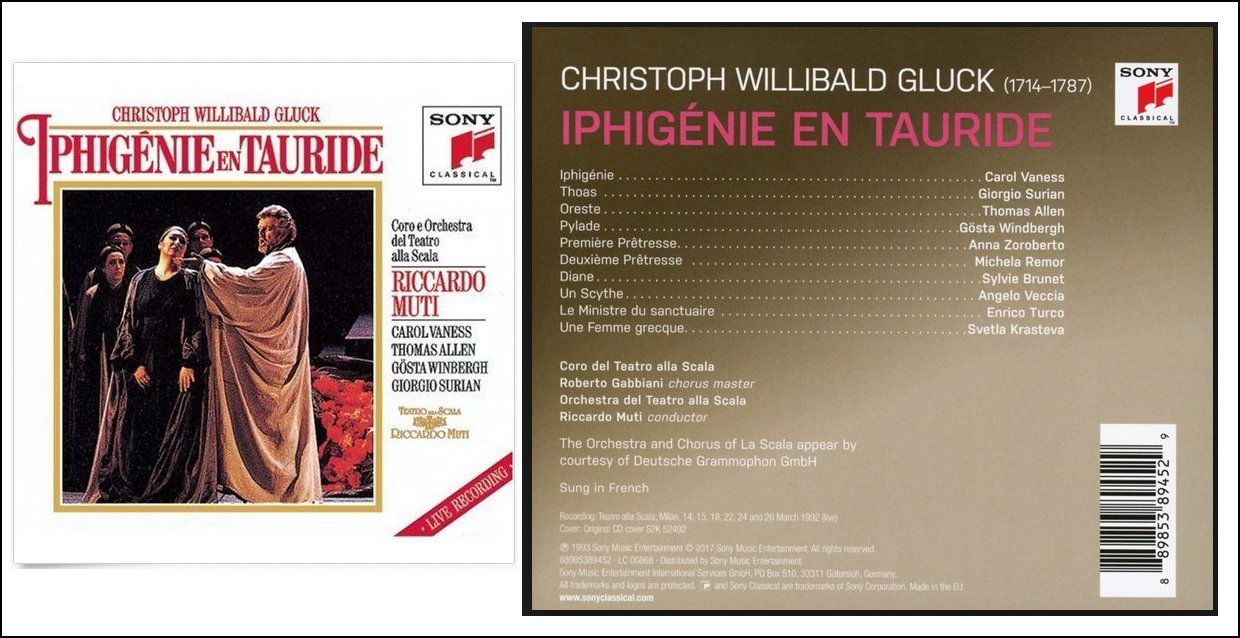 CV

: It's different, but just the way the music is written makes you sing in the style. You really can't put as much weight in it. For one thing it doesn't sound very good. You can hear it yourself — at least I can. You have to look at what the part is. For example, even in a short a role such as Antonia, I can't start off just singing as big as I want because you've got that big trio at the end. It's short but it's compact, and you have to sing the whole time. You really have to stay on top of it. In a way, it's sort of similar to Mozart. You really can't blow it all out in the beginning, and yet it's like Verdi. You pick your moment. You pick the moment where you make your effect. The moment for Antonia is at the top of the trio. It doesn't have to be the greatest note in the world — the C# at the end — but the build up to it does have to be exciting for the audience. It has to be exciting for yourself, too, so it's a question of pacing. The same goes for Manon of Massenet. You do have to sing the first act lightly. First of all, you're 15 or 16 years old, and even though I'm five-foot ten, you have to give the audience the feeling of youth, and that feeling is there in the music. You have to keep the brilliance in your voice and the height in it for the big

Cours-la-Reine

, and then you have to keep all the high notes for the

Transylvanie

, because that's very serious, and this is after four hours of singing when you've sung the whole time. Then you still have to do the death scene which just goes on and on. It's fantastic music but it is long.



BD

: So, you have to pace yourself.



CV

: Yes. Manon is by far the longest part. I think Beverly Sills calls it the French Brünnhilde, and I believe it. Everything is very difficult, but in that way it is very satisfying if you do it well.



BD

: Is it a role you enjoy?



CV

: Yes, I do. I love it. I love a challenge, anyway, and the music is so beautiful, really beautiful, and completely different from Mozart. It's nice; it's a good change for me.



BD

: Where do you go to look for the role models for the different phases of Manon — in yourself, in other people, in readings?



CV

: Manon is the hardest. She's a very hard nut to crack because if you look at what she does, she's not really a very nice person. So the question is, do you make her amoral, or do you make her knowing? Is she someone who is completely amoral and aware of it? If so, could she help it? Those are the things you have to decide. I do try to play her honestly, and a bit confused when it comes time to leaving her lover. After all, she hasn't been with him very long.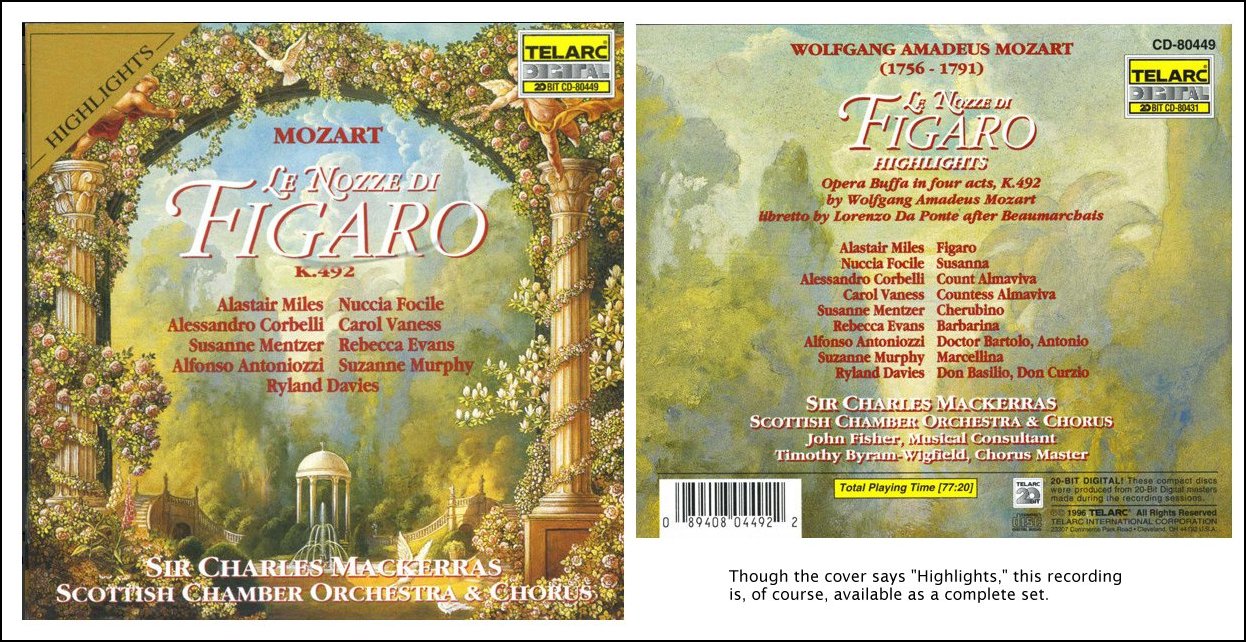 BD

: Is she a virgin when we meet her in the first act?



CV

: [Thinks a moment] Well, she does say that. She does tell the tenor that she's being sent away because she enjoys fun too much, however it's not very clear what she means by 'fun'. She does go living with the tenor, right away, and it doesn't seem to bother her, so I guess I would say she probably isn't a virgin. But I don't think she would even take it as seriously as I would take the question. I don't think that she believes it's that big of a deal. There's something of that French decadence that would be like having a roll in the hay. It was lovely, and the convent would be so boring! It sounds a little ditzy, but when it comes down to it, she's a young girl. You've all seen women at that age that are somehow aware of their powers of sensuality, but they are still young and still want what they want. Some people can stay like that a long time, and Manon dies young, anyway. She's not past 17 or 18 at the most, so she's always remained a childlike figure but with a woman's sensuality that she can handle. It's the 'pretty baby' syndrome, the Lolita type who really uses all this sensuality, and yet at the same time is still a child and very spoiled.



BD

: She enjoys being with DeGrieux. Does she feel that she's going to enjoy being with Bretigny more?



CV

: First she was at home, then she's going to meet her cousin, then she meets this tenor and she runs off with him having seen some of these dancing girls and Bretigny in the first scene. Then she goes and lives there and that's fun for a while. Then Bretigny has been sending her flowers, and she thinks that's kind of fun because it is flattering. Of course, at the age, for a young girl it's just special that he sends flowers! So she sees him, and what's wrong with that? I haven't done anything wrong... Then he comes and offers her something new — diamonds — then she looks around, and the most adult thing she does is the aria,

Adieu, notre petite table

, because for one instant she looks at it and doesn't know if this is a good idea. Immediately he comes back in and they come and kidnap him, so she lets the decision be taken out of her hands just like a child would. So it's decided even before she's really is old enough to know.



BD

: That relieves her of the responsibility.



CV

: No child wants that kind of responsibility. They really don't. Children want to be children. I always felt very sorry for Manon. I tried because, like I said, I'm five-foot-ten, so how much can you believe... although when I was fifteen, I was five-foot-ten. But a lot of people think you have to be five-foot-two. Anyway, too bad for them.



BD

: It's all right if you get a six-foot tenor!



CV

: I had Alfredo Kraus, who's a spectacular singer, but he's certainly not six foot. He was a wonderful man and I really loved working with him. We had some really good laughs. It was very funny. But in terms of the character, I just tried to play her so interested in everything. Everything that caught her eye was neat, and that continues all the way through. By the time she gets to the

Cours-la-Reine

, she's at the top of whatever it was she wanted. It's not until she hears that she's lost her boyfriend to the church that she feels if she's not going to have him, God's not going to have him either. She's got all this money and now she can have him, too. She's driven by her honest desires, but I don't think she has an ounce of prudence. She never thinks ahead. She reacts immediately.



BD

: Do you view it as a kind of morality play?



CV

: [Thinks a moment] Mmmmmm...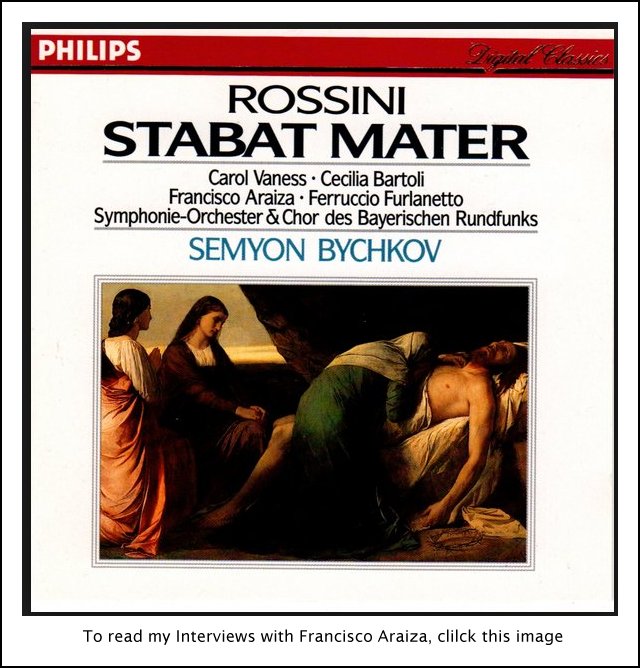 BD: She dies in the end, so she gets what's coming to her, supposedly.



CV

: Yes, she does, but that's up to the audience to decide. It's not for me to say. The audience must decide if they view it as a French comedy, because it's always been played in Paris in the Opéra-Comique. [

Premiered there in 1884, it received its 1000th performance there in 1919, its 1500th in 1931, and its 2000th in 1952.

] It was never considered really a serious work because of the dialogue (

which was later set as recitative by Massenet

). When I'm in it, I'm just so grateful to get to the end. When I die, I could not care less if it's moral or not. I'm dead and I get to go home after five hours of singing!



BD

: So for you the death scene really is a little more poignant than it should be!



CV

: It always meant a great deal to me … [laughter] … it really was … it was really … to me it's also very sad, because at the end she gets a last half hour of adulthood. She says, "Now I know what you meant. I know it's too late, but I'm so happy because even if I only knew it for a half hour, I knew it." It's a very full opera. It's similar to

Traviata

in that it requires as much thought, but at the same time, once you reach the stage you can't think about it anymore. I can't pound home the points I'm trying to make to people anymore. I don't want to. I want people to make their decisions. It's just as satisfying in terms of performance.



BD

: Do you have a knack for the French style and the French language?



CV

: I don't know, but I enjoy it.



BD

: It seems like whenever there's a production of a French opera, the critics always start harping on diction and the style of the language, more so than the Italian which may or may not be as good.



CV

: You go through phases. I was always highly criticized years ago for my diction because I made vocal decisions. I thought rather than really try and squeeze out this "eee" vowel on an F — I didn't have that ability yet — I'm going to try and expand it from "eee" to "ay." Maybe the vowel wouldn't be so clear for them, and they couldn't understand a word here and there, but now that I've done it a lot more and I'm much more comfortable with the languages, it's not as much a problem for me. I'm rarely criticized any more for my languages and my diction. I work very hard at it. Diction is important to me now because I've reached the point technically that I can do it. Of course, critics don't sit out there and think that this is a young singer, and maybe this is something they're trying to work out. It's not their job to think about what I'm doing with my technique. It's their job to criticize what I do, and that's fine, but that doesn't mean I have to like them for it.



BD

: What is the audience's job when it comes to the theater?



CV

: The audience's job is just to listen and enjoy it if they can. That's all. I always think it would be better for them if they had the chance and the time to either listen to highlights of what they are going to hear, or pick up a libretto and skim through it to see what's going on just for their own enjoyment. But I always go into a theater and go into each part believing that I'm going to treat my audiences as if they understand everything I'm doing and saying. In that way, more often than not they do get it. You can't treat an audience as if it's stupid, and point to yourself when you're singing the word

mio

. I think that's silly. But I always enjoy watching an opera more if I have the time to do a little research on it. For entertainment, though, people don't seem to want to do a lot of research.



BD

: Where's the balance, then, between the artistic achievement and the entertainment value in the performances you give?



CV

: It's up to me to decide within myself how much of an artistic performance I want to give. That's my responsibility. It's not up to the audience. To the audience, we are entertainment. That's the field we're in. It's entertainment, and I'm not belittling it in any way. It's a spectacular art form. There are those people who put it on a pedestal, and that's fine for them, but I'm also not going to belittle the people who believe that it is entertainment. I'd be just as happy if someone came away just as entertained as if they watched

Biloxi Blues

. That would really make me very pleased, and I'd feel like I'd really done my job if somebody said, "I had so much fun, and I just loved the entertainment of it." That's fine. I don't have to have people coming out of the theater going, "Now that really made me think." But that's OK too because to a lot of people, sitting around really thinking dark thoughts is very entertaining. It can be so many things to a lot of different people. That's the glory of opera.



BD

: Do you think that opera is for everyone?



CV

: It's a matter of taste. I hated opera when I first heard it. I thought it was a just lot of shrieking and caterwauling. I remember my first chorus teacher when I was in high school. Every time she opened her mouth I thought, "Oh my God, that's the ugliest thing I've ever heard!" But she really had quite a nice voice. When my little nieces hear me sing and I ask them if they liked it, they go, "Well, sort of, but it's not like U2," [

the Irish rock band formed in 1976, with Bono as the lead vocalist and guitar

]. That's true, it's not like U2. It depends on the education you give them. A lot of the outreach programs for children really help build an audience slowly. It's just a question of putting it out to them and saying, "This is an option." Some kids like it and some kids don't. Like anything else, it's just a question of taste.



BD

: Thank you so much for your artistry, and for spending this time with me today.



CV

: Thank you.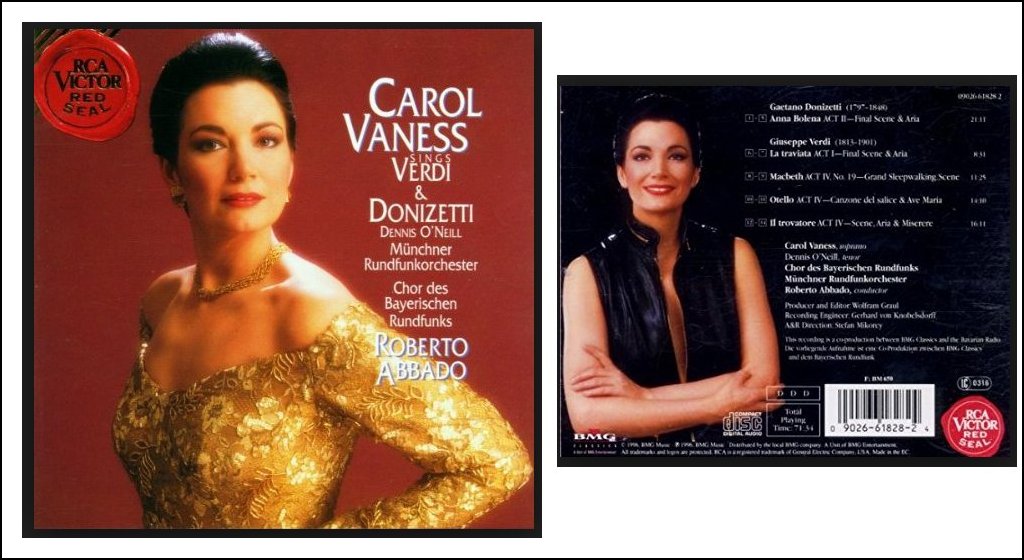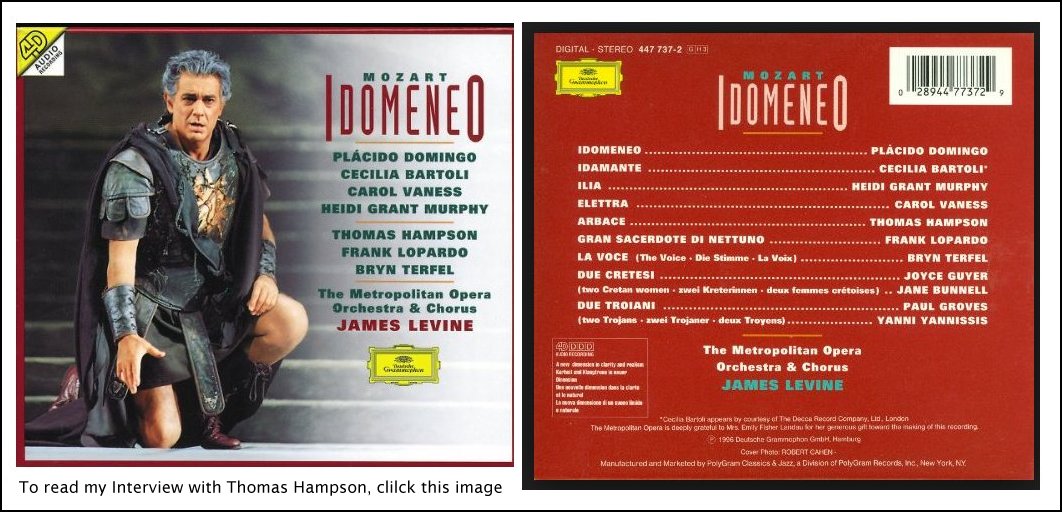 Also, see my interview with
Paul Groves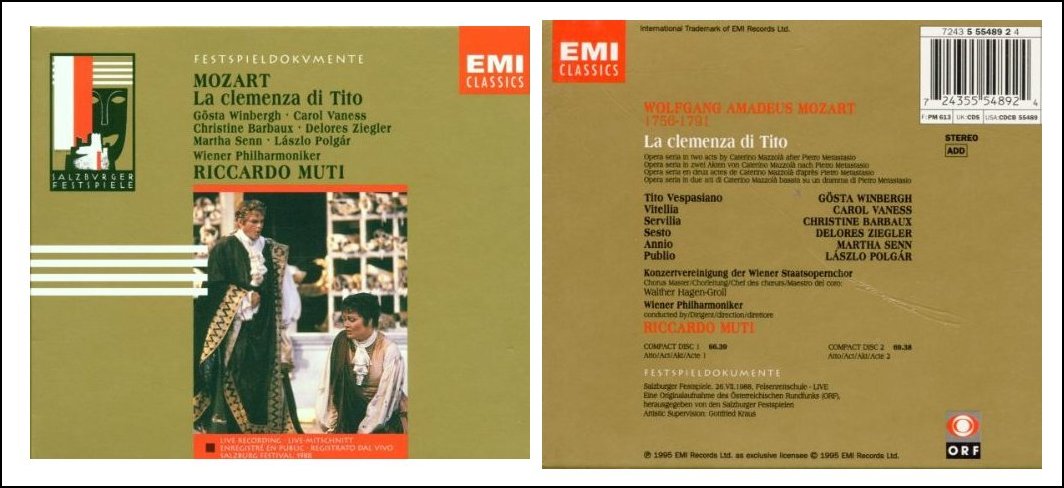 © 1988 Bruce Duffie

This conversation was recorded in Chicago on November 13, 1988. Portions were broadcast on WNIB nine days later, and again the following year, as well as in 1994, 1995, and 1996. This transcription was made in 2017, and posted on this website at that time.


To see a full list (with links) of interviews which have been transcribed and posted on this website, click here.

Award - winning broadcaster Bruce Duffie was with WNIB, Classical 97 in Chicago from 1975 until its final moment as a classical station in February of 2001. His interviews have also appeared in various magazines and journals since 1980, and he now continues his broadcast series on WNUR-FM, as well as on Contemporary Classical Internet Radio.


You are invited to visit his website for more information about his work, including selected transcripts of other interviews, plus a full list of his guests. He would also like to call your attention to the photos and information about his grandfather, who was a pioneer in the automotive field more than a century ago. You may also send him E-Mail with comments, questions and suggestions.