Leonard Hokanson (August 13, 1931 – March 21, 2003) was an American pianist who achieved prominence in Europe as a soloist and chamber musician. Born in Vinalhaven, Maine, he attended Clark University in Worcester, Massachusetts and Bennington College in Vermont, where he received a master of arts degree with a major in music. He made his concert debut with the Philadelphia Orchestra at the age of eighteen. Drafted into the U.S. Army after graduate school, he was posted to Augsburg, Germany. He achieved early recognition as a performer in Europe, serving as a soloist with such orchestras as the Berlin Philharmonic, the Rotterdam Philharmonic, and the Vienna Symphony. He was awarded the Steinway Prize of Boston, and was a prizewinner at the Busoni International Piano Competition in Bolzano, Italy. His numerous international music festival appearances included Aldeburgh, Berlin, Echternach, Lucerne, Prague, Ravinia, Salzburg, Schleswig-Holstein, Tanglewood, and Vienna.
One of the last pupils of Artur Schnabel, Hokanson also studied with Karl-Ulrich Schnabel, Claude Frank, and Julian DeGray. He was professor of piano at the Frankfurt University of Music and Performing Arts for ten years before taking a position as professor of piano at the Indiana University Jacobs School of Music in Bloomington in 1986. He was also a permanent guest professor at the Tokyo College of Music.
He was a founding member of the Odeon Trio [shown below], and as a chamber musician performed with such ensembles as the Vermeer Quartet, the St. Lawrence Quartet, the Ensemble Villa Musica, and the Wind Soloists of the Berlin Philharmonic. He frequently performed duo recitals with the violinist Miriam Fried, the clarinetist James Campbell, and the horn player Hermann Baumann. As a pianist for song recitals, he played with numerous singers, including Martina Arroyo, Grace Bumbry, Melanie Diener, Edith Mathis, Edda Moser, and Hermann Prey. His collaboration with Prey extended over 25 years. He was also resident pianist with Bay Chamber Concerts in Rockport, Maine.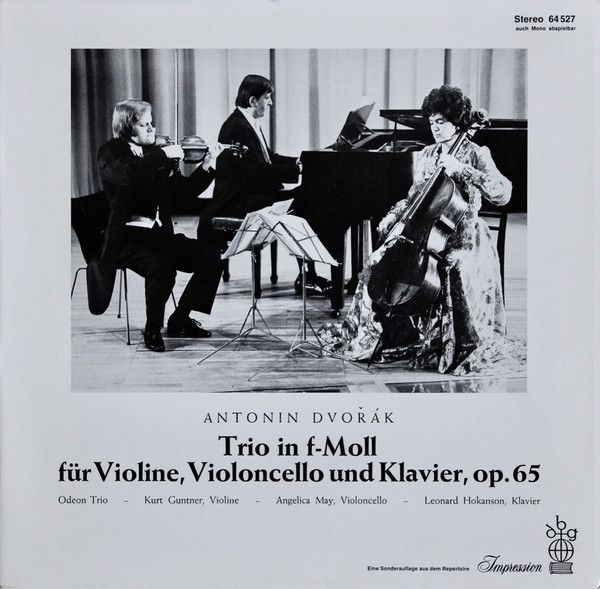 Hokanson's many recordings include the complete piano works of Walter Piston, Haydn sonatas, Mozart concertos, and Brahms intermezzi, as well as Schubert's complete works for violin and piano with Edith Peinemann, Brahms' sonatas for clarinet and piano with James Campbell, Beethoven's complete songs with Hermann Prey and Pamela Coburn, the complete piano trios of Brahms, Dvořák, and Schubert (Odeon Trio), previously unrecorded early piano works of Schubert, and Norbert Burgmüller's Concerto for Piano and Orchestra.


In 2001 Hokanson became professor emeritus at Indiana University but continued teaching solo piano, chamber music, and a German art song class at the school until his death in Bloomington, Indiana, from pancreatic cancer on March 21, 2003