Tenor Kurt Streit, born October 14, 1959 in Fukuoka, Japan, is an Austrian-American tenor. He played guitar as a teenager, and later studied singing with Marilyn Tyler at the University of New Mexico. He went on to become a member of apprentice programs in San Francisco and Santa Fe. He has since performed for leading companies and houses around the world.
Considered one of the world's best Mozart interpreters throughout his career, Streit has performed Die Zauberflöte in 23 different productions around the world (over 150 performances) and Idomeneo in eight different productions—in the opera houses of Naples, Vienna, Madrid, London, San Francisco and others. Performing in numerous productions of Don Giovanni, Così fan tutte and Die Entführung aus dem Serail, Streit has also featured in these and earlier works of Mozart in opera houses such as The Metropolitan Opera in New York, The Vienna State Opera, The Royal Opera House, Covent Garden in London, La Scala in Milan, both the Bastille and the Grand Opera in Paris, Teatro Real and the Zarzuela in Madrid, and on the prestigious stages of San Francisco, Tokyo, Aix-en-Provence, Chicago, Munich, Berlin, Rome and Salzburg.
Streit's renown has, in recent years, led him to further success in his broadening repertoire, encompassing works from composers such as Berg (Lulu at the Paris Opera), Britten (Death in Venice at Theater an der Wien), Pfitzner (title role in Palestrina in Frankfurt), Janáček (Kat'a Kabanova in London, Amsterdam and Brussels, both tenor roles in Jenufa in Amsterdam, From the House of the Dead at the Met), Wagner (Erik in Der Fliegende Hollaender in Barcelona and Munich, and Loge in Das Rheingold in Frankfurt, Dresden and Barcelona), Hindemith (Mathis der Maler), Berlioz (Les Troyens in Geneva, La Damnation de Faust in Madrid), Bizet (Carmen with Nikolaus Harnoncourt at the Styriarte Fesitval in Graz), Weber (Euryanthe in Brussels) and Beethoven (Fidelio in Vienna), all the while keeping his Mozart interpretations alive with the title roles in La Clemenza di Tito, Lucio Silla, and Idomeneo. His specialities also include Handel (Semele and Tamerlano) at the Royal Opera, Covent Garden, Jephtha and Theodora with Concentus Musicus in Vienna's Musikverein, Rodelinda in Paris, Vienna and Glyndebourne, Partenope in Chicago and in Vienna, (recorded for Chandos) and Monteverdi — both Ulysse and Poppea with appearances in Berlin, Zurich and Los Angeles (shown in photo below).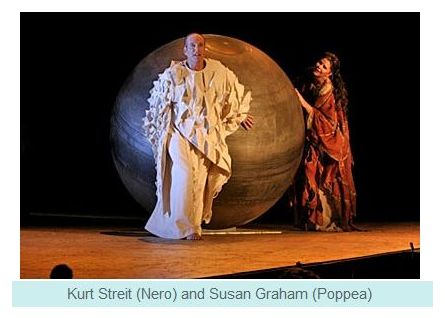 Streit has appeared with the world's foremost conductors including Harnoncourt, Pappano, Muti, Rattle, Christie, Bolton, Ozawa, Mehta, Maazel, and with the noted symphony orchestras of Boston, Chicago, Los Angeles, St. Petersburg, Berlin, Vienna, Paris, Boston, Florence, Stockholm, and all four of London's major orchestras.
A two-time Grammy nominee (Brahms Liebeslieder-Walzer with EMI, and Bach: Cantatas with Harmonia Mundi), Streit can be seen and heard on Warner Music's DVD of Rodelinda from Glyndebourne and Dynamic's DVD of Idomeneo from Naples. His discography includes two complete recordings of Così fan tutte with Barenboim (Erato) and with Sir Simon Rattle (EMI) (shown below), Die Zauberflöte (L'Oiseau-Lyre), Die Entführung aus dem Serail (Sony Classical), as well as Cherubini's Mass in D-minor with Muti (EMI) and Franz Schmidt's Das Buch mit Sieben Siegeln with Harnoncourt conducting the Vienna Philharmonic (Teldec). More recently he recorded Beethoven's Ninth Symphony with Rattle and the Vienna Philharmonic Orchestra (EMI) and the Mozart Requiem with Harnoncourt and Concentus Musicus (BMG).
[The information above is mostly taken from the website of his agency, IMG Artists, dated 2018. The following is part of his biography from Covent Garden, and shows a few more of his recent roles.]
Streit made his Royal Opera debut in 1992 as Ferrando (Così fan tutte) and has since sung Tamino (Die Zauberflöte), Belmonte (Die Entführung aus dem Serail), Johnny Inkslinger (Paul Bunyan), Cassio (Otello), David (Die Meistersinger von Nürnberg), Jupiter (Semele), Prunier (La rondine), Don Anchise (La finta giardiniera), Boris Grigorjevic (Kát'a Kabanová), the Marquis (The Gambler), Bajazet (Tamerlano - photo below) and Jimmy McIntyre (Rise and Fall of the City of Mahagonny).
Streit's repertory includes Alwa (Lulu), Gabriel von Eisenstein (Die Fledermaus), Hoffmann (Les Contes d'Hoffmann), Enée (Les Troyens), Loge (Das Rheingold), Jeník (The Bartered Bride), Albrecht von Brandenburg (Mathis der Maler), Prince Vasili Golitsyn (Khovanshchina) and the title role in Palestrina. He has won acclaim for his Mozart and Handel roles, including Tito (La clemenza di Tito), Idomeneo, Grimoaldo (Rodelinda) and Jephtha. He performs regularly in concert, and has recorded for many leading labels.


Streit would appear with Lyric Opera of Chicago on four occasions...

1994-95 - Capriccio (Flamand) with Lott, Gilfrey, Rootering, Golden, Bottone; Davis, Cox, Tallchief, Schuler
2002-03 - Partenope (Emilio) with Futral, B.Mehta, D.Daniels, Doss, Bardon; Bicket, Negrin, Conklin
2004-05 [Opening Night] - Don Giovanni (Ottavio) with Terfel, D'Arcangelo, Mattila, Graham, Bayrakdarian, Silvestrelli; Eschenbach/Davis, Stein, Schuler
2005-06 - Midsummer Marriage (Jack) with Watson, Kaiser, Rose, Langan, Wyn-Rogers; Davis, Hall, Tallchief

In March of 2001, Streit would perform the Serenade for Tenor, Horn, and Strings of Britten with the Chicago Symphony Orchestra, and Dale Clevenger (Principal Horn of the CSO), conducted by Sir Andrew Davis. Also on that program were the Symphony #104 of Haydn, the Symphony in Three Movements by Stravinsky, and the Lyric for Strings by George Walker.

-- Links in this box and below refer to my interviews elsewhere on my website. BD