Mezzo - Contralto Geraldine Decker
A Conversation with Bruce Duffie
Geraldine Decker (March 11, 1931, New York City — June 14, 2013, Oxnard, California) was an American mezzo-contralto and voice teacher who had active singing career in operas and concerts from 1971 through 2010. She was particularly active with the Metropolitan Opera and the Seattle Opera, and is best remembered for her annual performances in Seattle of Richard Wagner's

Ring

cycle from 1974-1987. She taught on the voice faculty of Pepperdine University.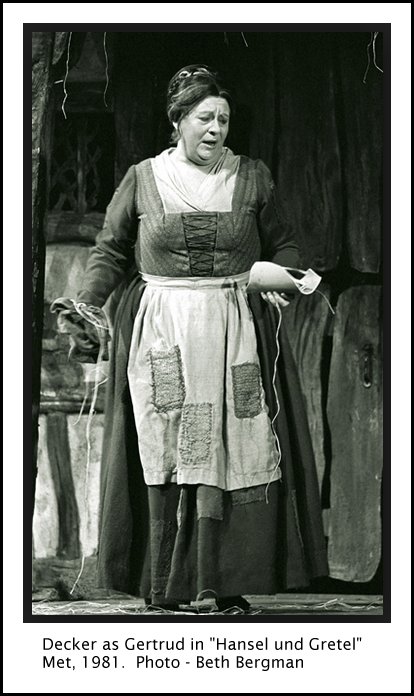 Born Geraldine Helen Rice in the Bronx, Decker moved with her family to California in her youth. She attended Corvallis High School in Studio City, California from 1945 to 1949. She soon after married her husband of 55 years, Howard Decker, with whom she had two sons, Wayne and Dirk Decker. While raising her children she pursued studies in voice with Dr. Nandor Domokos in Los Angeles. She later studied with Luisa Franceschi and her husband, baritone Ellae Verna, in New York City.

After her sons were grown and had moved out of the family home, Decker began pursuing a career in opera, devoting the next two decades of her life to it. She first drew critical notice in 1974 at the Seattle Opera where she appeared as Erda in both

Das Rheingold

and

Siegfried

, Schwertleite in

Die Walküre

, and the First Norn

Götterdämmerung

. She portrayed those roles again in Seattle every summer through 1987, as well as many other roles at the Seattle Opera, including Albine in Massenet's

Thaïs

, Azucena in Verdi's

Il trovatore

, Filippyevna in Tchaikovsky's

Eugene Onegin

, Grandmother Burja in Janáček's

Jenůfa

, Herodias in Strauss'

Salome

, Klytämnestra in Strauss'

Elektra

, Mama McCourt in Moore's

The Ballad of Baby Doe

, Marthe Schwerlein in Gounod's

Faust

, Mistress Quickly in Verdi's

Falstaff

, Mother Jeanne in Poulenc's

Dialogues of the Carmelites

, and the Nurse/Innkeeper in Mussorgsky's

Boris Godunov

.

Decker made her debut at the Lyric Opera of Chicago in 1978 as Mamma Lucia in Mascagni's

Cavalleria rusticana

. On December 17, 1980 she sang the same role for her debut at the Metropolitan Opera with Grace Bumbry as Santuzza and David Stivender conducting. She was a regular presence on the Met stage for six seasons, portraying such roles as Gertrud in Humperdinck's

Hansel and Gretel

, Gertrude in Gounod's

Roméo et Juliette

(with Placido Domingo conducting), Grandmother Burja in

Jenůfa

, and Schwertleite in

Die Walküre

among others. In 1981 she portrayed the Large Woman in the Met premiere of

Les Mamelles de Tirésias

, and was also seen that year as Annina in the premiere of the Colin Graham staging of Verdi's

La traviata

; a production which was broadcast nationally on Live from the Met. Her last performance at the Met was as the Nurse in

Boris Godunov

on March 23, 1987 with Paul Plishka in the title role and James Conlon conducting.

In 1982 Decker created the role of Nelly Dean in the world premiere of Bernard Herrmann's

Wuthering Heights

at the Portland Opera. That same year she appeared in Franco Zeffirelli's film version of

La Traviata

. Other companies she performed roles with during her career included Cabrillo Music Theatre, Hawaii Opera Theater, the Long Beach Opera, the Los Angeles Civic Light Opera, and Opera San José. In 1990 she portrayed Mrs. Beemer in the Disney film

Polly: Comin' Home!

. She also appeared as a maid in the 1976 film

Harry and Walter Go to New York

.

Decker lived in Oxnard, California for over 50 years. She died there in 2013 at the age 82 from complications of diabetes.





[

Much of the following introduction is as it appeared in

Wagner News

in the Summer of 1981

.]

Geraldine Decker is the Seattle Erda, having sung that role since the beginning of the Wagner Festival in 1975. In addition to the Earth-Mother, she also sings the First Norn, and the lowest of the Valkyrie maidens, and thus has the distinction of being the only vocal performer to have appeared in every performance of every

Ring

in Seattle!

Her youthful appearance and bounding enthusiasm belie the fact that she is a wife and mother. Now that her sons are grown she has embarked on a most interesting career as an opera singer. Her other roles include Quickly in Verdi's

Falstaff

, the Witch in

Hansel and Gretel

, Ulrica in

The Masked Ball

, and Herodias in

Salome

by Richard Strauss.

In the fall of 1979, she appeared in Chicago as Martha in

Faust

, [with Mirella Freni, Alfredo Kraus, Nicolai Ghiaurov, Richard Stilwell, and Katherine Ciesinski, conducted by Georges Prêtre] which was later televised both in the United States and in Europe. She had previously appeared with the Lyric Opera as Mamma Lucia in

Cavalleria Rusticana

, a role which she later took to the Metropolitan Opera in New York. [The Chicago cast included Olivia Stapp, Giorgio Merighi, Matteo Manuguerra, conducted by Riccardo Chailly. She would later return as Katisha in

The Mikado

, in a cast which included Gualtiero Negrini.] [

Names which are links refer to my interviews elsewhere on this website

.] She has since done several roles at the Met, and continues her work with the various companies on the west coast.

I had been to Seattle for the

Ring

in 1979, and opted for the English language cycle to hear the translation by Andrew Porter. It was a wonderful experience, and when Decker came to Chicago that fall to appear in

Faust

, she graciously took time to come to the studios of WNIB, Classical 97 for an interview. We spoke quite a bit about her Wagner roles, and those remarks were soon published in

Wagner News

. Now I am pleased to present the complete conversation . . . . .




Bruce Duffie

: Tell me a bit about the various roles you sing in the

Ring

.





Geraldine Decker

: The two Erdas are very different. In the first opera, she appears to Wotan and tries to persuade him to return the gold to the Rhein. But when she is summoned by him in the third act of

Siegfried

, look at all that has happened! The balance of nature has been upset because of his actions, and she has born him nine daughters! So this confrontation is between two individuals who were lovers! There has to be that spirit conveyed to the audience even though I cannot really move around on the stage. It's a very important part in the drama, as are the Norns. You have to understand, the three voices singing the Norns must be solid. The First Norn must be capable of also singing Erda; the Second Norn must be able to sing Waltraute; and the Third Norn has to be a Gutrune type. The Norn roles are a natural progression to the other roles. Also, the Valkyries have some of the heaviest singing in the entire Ring!



BD

: I was very glad to see everyone moving so much in the "Ride."



GD

: Yes, we all try to move, but it's very difficult because the music itself is tricky. The harmonies are very difficult. At one point all of us are singing totally different lines that really almost have no relation to each other, but in the end they all feed into one another. This year the whole cycle was completely uncut, but the year before Henry had opened all the Valkyrie cuts, which we loved because that one section is the most glorious mélange of interwoven voices that there is anywhere. But it's very difficult, and there are some places in it where it's impossible to move a lot and sing. You just have to plant yourself so that you can sing with the requisite amount of power.



BD

: Everyone seemed to come through very well.



GD

: All of those girls have big voices. I think there's only one who's voice is relatively light in the scheme of the ensemble. It's one of the most exciting combinations of sound anywhere in the world today. I truly believe that. I have listened to the recordings of the various Valkyrie sounds and I have listened to the recordings of our sound out there, and I don't think that we are put in the shade by any of them. That's why I don't mind doing a Valkyrie maiden because the others are all of a very fine quality. Besides, Henry needs the weight of my voice on the bottom line. Usually that bottom line gets lost, and the lower part of my voice is so heavy and so full that I can balance the other voices.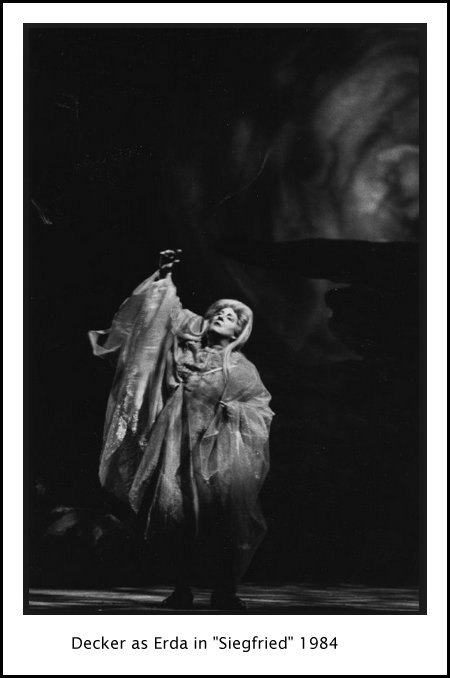 BD

: I was amazed at how many of the words I understood in the theater. I assume that everyone works very hard on articulation?



GD

: Very definitely. We articulate as cleanly as we possibly can. We over-articulate — explode the consonants and ride on the vowels and really work at it. Women's voices are always going to be more difficult to understand than men's voices as we get into the upper-middle and upper ranges. The ear simply cannot pick it up as well. When a soprano sings in the top of her range, you will get some of the words, but you will not get all of them, ever.



BD

: You enjoy doing the

Ring

?



GD

: I love it! It is so satisfying. It satisfies my soul as well as my artistic sense of good music. It's just marvelous.



BD

: Are there any other roles in it that you would like to sing — what about Waltraute?



GD

: Eventually I'd love to do Waltratue. I can sing it. It's in my repertoire and it's prepared, but I know that Maestro Holt wants to keep me in the roles of Erda as long as possible because there are not that many contraltos around.



BD

: Your low G came out very well!



GD

: [Extremely pleased] Good! I don't know whether you realize or not, but Maestro Holt always allows me a split second of preparation for that. I'm sinking an octave down into that low G, and you just have to have a split second of time to prepare the back of the throat to accept that low sound. He understands this completely, and always broadens that phrase out just enough so that I can adjust the muscles of my throat from the position that they've been in for the octave above.



BD

: Does he do that in both cycles?



GD

: Oh yes, absolutely.



BD

: How does he change from the German cycle to the English cycle?



GD

: The English cycle this year (1979) was broadened out completely. It takes him just a bit longer, and the operas in English ran longer in time. As Henry explained to us, we are dealing with opera in the language of this country, and he wants to make those words come across to the audience as much as he possibly can.



BD

: That doesn't mean any less emphasis on the German diction does it?



GD

: Oh, no, no, no! But the German words fit the music more easily than the English words do.



BD

: Even in this Porter translation?



GD

: This is the best translation of any. Andrew Porter deserves a gold medal and a star in his crown in Heaven. I truly believe that, but still the music was composed for the German words, or the words were composed for the music. You know, Wagner made up words that did not exist in German in order to get a certain vocal coloration that he particularly wanted. A certain combination of sound was what he wanted, and so that in itself changes the sound of the music slightly. Now when that goes into English, there is naturally going to be a slight difference, and we have to work a little harder in the English than we do in the German.



BD

: Are there any bad compromises for you in the English translation?



GD

: I had to change a couple of words in the first year which were difficult for me to sing on certain low notes. Singing a low G is as hard as singing a high C for a soprano. You have to make adjustments in sound in order to get the quality of tone, to get the fullness and richness.



BD

: The throat has to be completely open?



GD

: Completely, and if you have a closed vowel sound, you are going to have an edge on that tone. The line in the translation read, "My waking leaves me confused." The ooo sound in the word 'confused' is difficult to sing a low G, so I changed the line — with the blessing of the directors — to, "My waking leaves me distraught." There, the aww sound in 'distraught' can be rounded out so it sounds full and rich. But that was all. I think Porter is a genius, and it's the same in his other translations. I've sung Mistress Quickly in his English

Falstaff

, and that is a sheer joy to sing.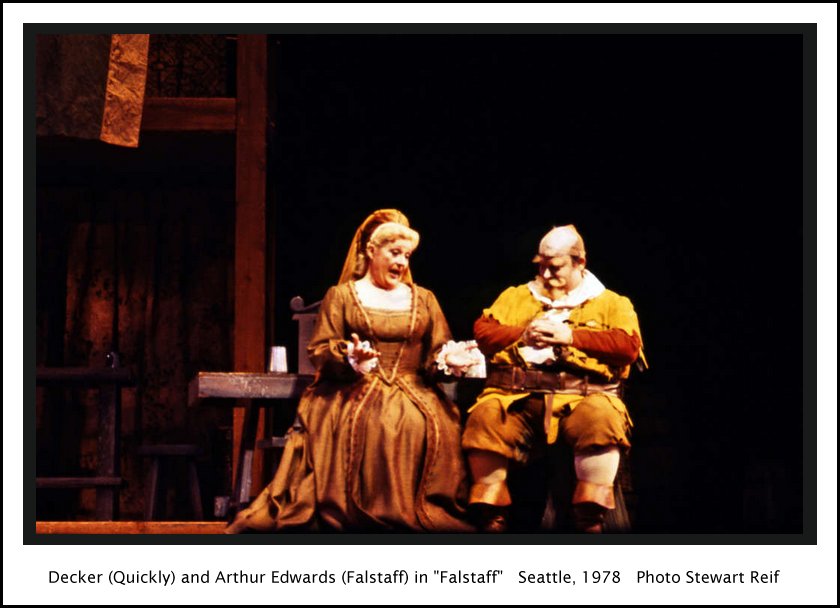 BD

: Will you be back in Seattle for the next

Ring

?



GD

: I was talking with Mr. Ross here in Chicago after the

Faust

, and a man next to us asked me that, and Glynn leaned over and said, "Yes, and for the next hundred years if I have my way!" Now there's another genius — Glynn Ross. He created this festival out of absolutely nothing. It's breathtaking! There's just so much dedication and love and work that has gone into this. No one believed it could be done, least of all we the singers. I remember after the closing night of the first cycle in 1975, we stood around at a party with our drinks in our hands, and we were so amazed that it had come off. The backstage crew were totally new to the idea of bringing four complete operas to life in less than a week's time.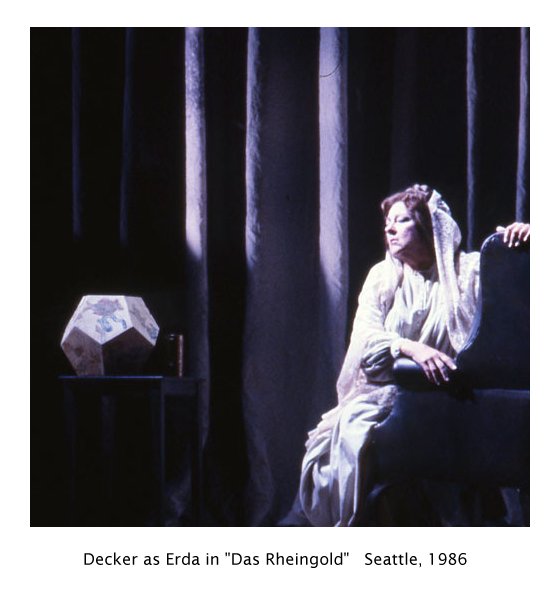 BD

: Does everyone get that involved with the experience of Wagner — even the guys who pound nails backstage?



GD

: Oh yes, very definitely. We're all part of the festival family and we love it!



BD

: I remember being very impressed with the dragon – it moved very convincingly.



GD

: Oh, I love the dragon, I think he's wonderful.



BD

: It must take several people to operate it.



GD

: Yes, and one of them is a girl! She comes up and shares my dressing room on dragon nights. I think she's the left-front paw! We also had a new snake this year, built buy a man who has a master's degree and left a Midwestern university to go into stagecraft. There are so many wonderful people involved in this. Oh, you get crazy after awhile in Wagner, but I love the craziness and I love working there, and I'm extremely fond of the people involved.



BD

: You've done other operas there, such as

Falstaff

. How does that differ from a cycle of the

Ring

?



GD

: It's a totally different psychological atmosphere, a totally different feeling. It's very difficult to explain. I think it all has to do with the Wagner music. The music itself and the concepts are so Earth-shattering.



BD

: Does it cast a spell over everything?



GD

: Yes, it does. The first year they billed it as 'The Wagner Orgy', and many people complained about that because they immediately equated that phrase with a sexual orgy, not realizing that one can have an orgy of sound and feeling, and a spirituality. This is what happens. You just get totally involved physically, mentally, emotionally, spiritually. It very definitely is an emotional climax. I find that I can't work on other things. I can't study many other operas during that time. I can study Strauss, but not many others.



BD

: Could you study another Wagner such as Brangäne?



GD

: Yes, but Brangäne lies too high for me as a total role. I have no desire to kill myself! I want to sing for another ten or fifteen years, so I see no reason why I should go outside of my own

fach

.



BD

: What other Wagner roles are there for you?



GD

: I love the little role of Mary in the

Flying Dutchman

, and perhaps I might do Magdalene in

Meistersinger

.



BD

: If Seattle does

Parsifal

, would there be the same kind of camaraderie that there is with the Valkyries?



GD

: One would hope so. It depends on the personalities involved and the degree of maturity involved.



BD

: Even though it's a completely different atmosphere?



GD

: It would work just the same if we had the same women as we do in the

Ring

. Most of us have worked with each other for three or four or even five years, and we have a great deal of admiration and respect and just plain love for each other. On the opening night of

Faust

here in Chicago, I ran into Simon Estes. He and I had done the

Ring

two years ago when he did Hagen, and we just fell into each other's arms even though we hadn't seen each other since that time. It engenders that kind of a feeling, which is kind of nice.



* * * * *





BD

: Tell me a little about working with Henry Holt.



GD

: How does one talk about the maestro that one reveres above all else? We have the closest working relationship with him that anyone could possibly have. If he told me to sing Erda standing on my ear in a corner upside down, I'd say, "OK, boss!" I have that kind of trust in the man, and so do we all. He's one of the great conductors that we have today, and I think he's vastly under-rated by the music world. He never lets us down. He sings every word with us. We don't have a prompter, and Henry not only conducts the orchestra and cues the singers, but speaks every single word that we're singing right along with us. He's never gotten so carried away with the orchestral sound that he forgets the primary purpose of the music, which is to accompany the singers. Only when the orchestra is playing by itself — like the

Rhein Journey

or the

Funeral March

— does he bring the orchestral sound up to its full level. He always supports us and never covers us.


BD: A lot of the orchestra is back, under the stage and that helps the balance.



GD

: Yes, and the players are not too thrilled about that because it is rather cramped. Wagner calls for about 110 and I think we have had about 96. [

The pit in Seattle has now been expanded to accommodate the full Wagnerian complement of musicians!

] I remember doing a production of

Siegfried

down in San Diego with Kenneth Schermerhorn conducting, and he only had about 82 because that's all the pit could handle. That was very difficult for him.



BD

: How is the opera house in San Diego? Is it easy to sing in?



GD

: Oh it's lovely; very easy to sing in. It's well-constructed and acoustically very good. It's relatively new. Our

Ring

in Seattle is well-established now. We have people coming from all over the world. I met some people from New Zealand and Hong Kong, and I was told there was somebody from Tahiti who had just come for the

Ring

.



BD

: Have you been Bayreuth?



GD

: Yes, but not to sing; just to watch. I went there after my first

Ring

cycle in 1975.



BD

: Were you impressed with the Bayreuth sound?



GD

: With the sound, yes, but not always with the singing. The sound in the theater is tremendous. But they lock the doors behind you, and you sit on wooden benches with your knees up under your chin if you have long legs! That really bothered me to know that once I was in there I was really locked in. I asked why this was, and was looked at as if I was an idiot-child, and told that it was so that the performance is not disturbed!



BD

: What did you see there?



GD

: I saw the

Ring

— the old one, not the Chereau which I have no desire to see — and

Tristan

, and the wonderful Wolfgang Wagner production of

Meistersinger

which I loved. It was thoroughly romantic.



BD

: Was it difficult for you to watch another person singing "your" parts?



GD

: I remember during the

Götterdämmerung

performances, the singer doing "my" role was late on two cues. I was on the edge of my seat trying to sing the thing for her, and was enraged that she was late and not with the orchestra. But those things happen...



BD

: If you were asked to sing there, would you?



GD

: Of course! No matter what I think about the individual performances, that is still the ultimate goal of any Wagnerian singer.



BD

: Do you think the whole Seattle

Ring

could simply be transported and performed at Bayreuth?



GD

: There's a whole nationalistic pride there which would prevent that from happening. I could be wrong, but that's the feeling I have inside. It's very difficult to move; the physical production is very heavy. It's neo-realistic, and we're scheduled to get a new production in a couple of years.



BD

: Going the other way, could the Bayreuth

Ring

ever be brought to Seattle?



GD

: I don't think Glynn Ross ever closes his eyes to anything that is of value.



* * * * *





BD

: Tell me about some of your non-Wagner parts.



GD

: I am doing Martha in

Faust

here, and I also did it in Seattle. I did my first Herodias in Hawaii and will repeat it in Tulsa in 81 or 82. I also do Azucena in

Trovatore

, and

Daughter of the Regiment

.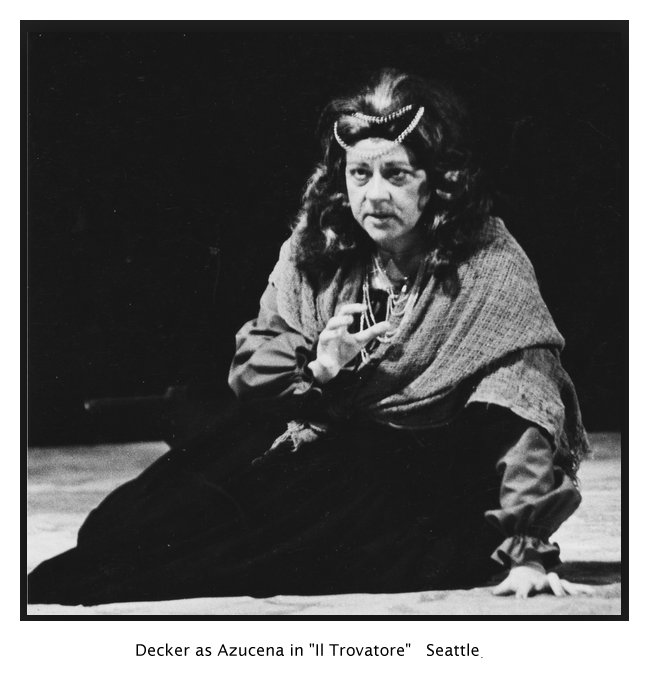 BD: How do you find shifting from Herodias to Azucena?



GD

: I don't find it difficult at all because I'm primarily a singing-actress. I come at it from the drama, and the music then falls into place. I'm an internalized performer. I start out with everything slowly building inside, and then gradually it comes out.



BD

: How did the audience in Hawaii react to

Salome

?



GD

: It was very interesting. They had no idea of what they were going to get [laughs] and there was a great deal of shock involved. When the head of John the Baptist was brought up out of the cistern, there was a concerted gasp. There were individuals who thought it was vulgar in that it dealt with unbridled passion, but on the whole it was remarkably well-received.



BD

: How has the advent of radio, television, and recordings impacted the opera-going public?



GD

: It's a two-fold impact. First, it has engendered great interest, more so than had ever been displayed. When stations like yours play beautiful recordings of full operas regularly, interest is definitely piqued. On the other hand, people are so used to hearing the perfection of a recording — where an aria might have been recorded six times and cut and spliced to produce that perfection — they then come into the theater expecting to hear that same kind of sound. Many of the recordings are enhanced electronically. The man in the control room is the one who is in charge. He can make a small voice sound huge. He can add the bass sound to a voice that doesn't really have that sound, so it appears totally different. Then when that listener comes to hear that work in an opera house — maybe even with some of the same cast — he will be invariably disappointed.



BD

: They are two different things.



GD

: Exactly. You're dealing with human beings in a human situation night after night onstage, when God only knows what could have gone wrong backstage... Just last night, when my make-up person was brushing the powder off my face, she flicked my left eye and my contact lens flew out. I can't see the conductor without my contact lenses and I went into a state of panic for a few minutes. They sent someone off to my hotel to get my spare pair. In the meantime, I told the woman to go ahead with the make-up while my dresser was on her hands and knees with a flashlight! She did find the lens, but it took me a number of minutes of just being alone to pull my emotions and my nerves together before I went onstage. Those are the things that happen in a real life situation that don't appear on a finished recording. They can let you take an hour off to cool down while they record someone else's sections, and get back to you later. You can't do that in the theater.



BD

: Of course, if the recording is working against the clock and against the budget, you HAVE to get it done NOW, and get it PERFECT.



GD

: That's also true. Sometimes those recording sessions can be terribly demanding on the singers. Now these are things I have heard about from colleagues. I've only been doing opera since 1975. Before that I was raising my family. Then I did two years of musical comedy in 1972 and '73, then took a year off to expand the voice in 1974, and started in opera in February of 1975.



BD

: When you moved into opera from musical comedy, were there any big shocks?



GD

: No, but if I'd been twenty years younger there might have been.



BD

: Were you disillusioned about anything, or excited about it all?



GD

: I'm always excited. When you can be on the same stage with Alfredo Kraus, how can you not be excited? I can't be blasé about that.



BD

: I wonder how many women are jealous of you being fondled and chucked under the chin by Nicolai Ghiaurov!



GD

: Oh, many of them are. He's an incredible performer. He and Mirella Freni and Richard Stilwell and Kathy Ciesinski and superb colleagues, and are wonderful to work with. I like working here in Chicago. I find people much more friendly and helpful than I ever expected.



* * * * *





BD

: You have a large vocal range, so what do you call yourself?



GD

: I love it when they call me a singing-actress, but there's a very strange classification of voice which is very rare, called a mezzo-contralto. It's a mezzo with the top, including the high C, but with the quality of sound and roundness of sound and the low notes of the contralto. There has to be the weight in the bottom of the voice, which I have. People say it's not a real classification, but in Robert Rich's book on the art of singing, he talks about the mezzo-contralto. I recently met the manager of the Baltimore Opera and he said he hadn't met such a good mezzo-contralto in years, and I thought, "Finally, somebody who understands me!" [Both laugh] I've been compared to Lily Chookasian, both vocally and for the fact that she also started her career later in life after having raised a family. That comparison gives me great joy because I've admired and respected her for a long time. I don't mind being classified as a mezzo or as a contralto because I can do either role.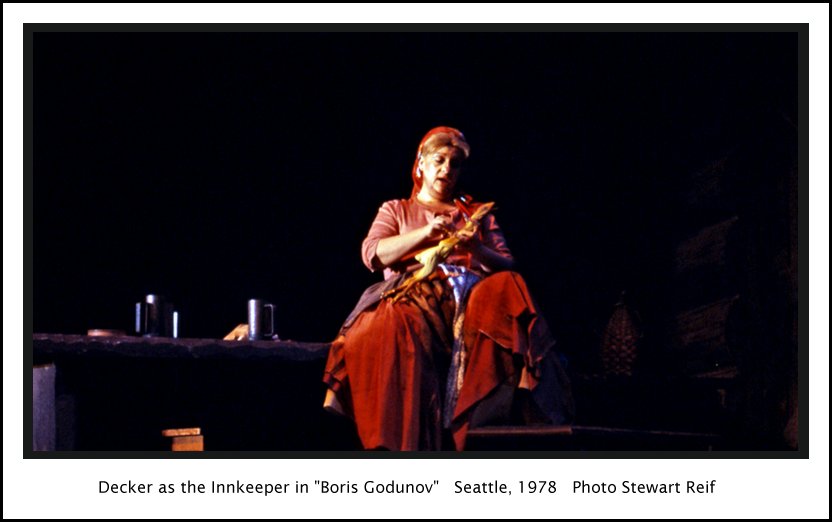 BD

: Is your family supportive of your career?



GD

: Oh, yes. My sons think it's super-keen! They are grown and out of the house now, and my husband arranges his vacations to be with me when he can, but I try not to take back-to-back engagements. So I am home for good chunks of time. When my children were small, I could not make the compromise that others have to with their families. I had to be a full-time mother for them, and now that the children are grown I can be a full-time singer for me. And, of course, lower voices often take a bit longer to mature. I sang as a youngster, but then didn't open my mouth for seventeen years! It was always in the back of my mind, but my husband was in the navy for twenty-five years, so the children's only security was in me. The navy-kind of life has changed a bit in the last ten years, but we were used to being apart for long periods, so that helps now. I am used to being on my own and it doesn't bother me to be alone. I have my books and my scores to study, and my radio and my needlepoint, so I can be happy. I don't go to movies...



BD

: Do you go to other people's performances?



GD

: Oh, yes. If it's a role I do or will do, I look at it from a critical standpoint. You can't help but do that. I also learn, perhaps, something you can do with the role, something you can adapt that will make your interpretation a little different. You also look at it for things you don't like, that you would never incorporate in your own interpretation. So it can be very analytical, which sometimes spoils your enjoyment of the performance. I love to go to operas where there is no possibility of my ever singing... for instance,

Tosca

! Then I can sit back and just wallow in the sound.



BD

: Do you like the roles that you sing?



GD

: I do. I really do.



BD

: Would you sing a role that you didn't particularly like?



GD

: Probably, if the challenge were great enough. But I find that in my repertoire, most of the roles are very interesting, very intriguing and challenging. I haven't yet found any role that I didn't like once I really got into the singing of it. I'm working right now on Klytämnestra in

Elektra

. I can't say that I love the sounds all the time, but they're getting more and more familiar in my head. It is so difficult to learn, and you can only digest small amounts of it at a time. You pray that you've got it because there seldom is any relationship of your part to what's going on in the orchestra.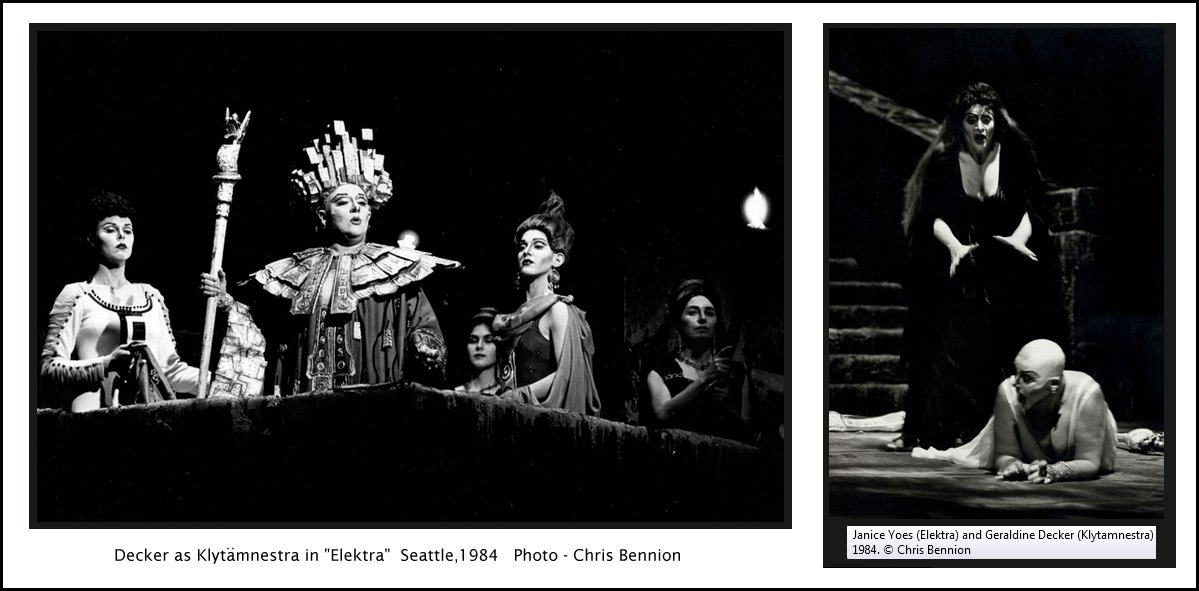 BD

: What else are you working on now?



GD

: I'm doing the world premiere of

Wuthering Heights

in Portland in 1982, and it's exciting to get to create a role. Bernard Herrmann wrote the score after having done many motion pictures, including

Citizen Kane

.



BD

: It's been recorded, though...



GD

: Yes, it was recorded in England, but it was never performed onstage. I will be Nelly Dean, the nurse, and there are some marvelous dramatic moments in it.



BD

: Going the other way, might there be parts for you in Handel?



GD

: Oh yes. The thing about Handel for me is the declamatory style. It's almost like singing a concert.



BD

: Just plant your feet and sing?






GD

: Exactly. That's the style, and that bothers me because I love moving and projecting myself into the scene. But vocally it's very rewarding, with beautiful music to sing, so it's a trade-off! But as far as doing concerts, I adore singing Mahler. It's some of the most difficult music to sing because of its utter simplicity. I did my first

Kindertotenlieder

this past year and it was a total success. It took me a year and a half to learn those five songs because it took me a year to stop crying long enough to sing them objectively. There were too many mental images in my head of relating them to my own children.



BD

: What happens to a performer when you are singing these and you know the audience is simply not getting the full impact?



GD

: Then you have to dismiss them and just go inside your own head.



BD

: What if they are literally crying with each word?



GD

: Then it becomes too much and you still have to go inside your own head. You always have to stay outside what you're doing just a little bit in order to have the tiny degree of objectivity which is necessary so that the voice doesn't get choked up. It's a fine line to walk.



BD

: Are you conscious of the audience when you are singing?



GD

: Sometimes, if there isn't a scrim between us. I'm not fond of working behind a scrim. It's a barrier between me and the audience. I am a people-person and I want to reach out and touch people with my voice. I want to get inside their hearts, and somehow when the scrim is down I don't feel the vibrations coming back to me from the audience that I want to feel. Then you have to play it for your own self, enjoying it for its own sake and for the others on the stage. There are some roles which are more fun to play than others. Quickly is just the most wonderful role in the world.



BD

: Have you done her in Italian or English or both?



GD

: I've done it only in English, but I know it in Italian. When you learn a role for an English-language production, it's very wise to learn it in the original first. Otherwise you don't know where the emphasis is on the sound and the words. Most of my roles I have in both the original language and in English. That sometimes leads to a problem... I remember the very first

Götterdämmerung

I did in Seattle during the season prior to the first full cycle. We had done three performances in German before we did one in English, and I got to about the fifth line from the end and my mind totally blanked out and refused to continue in English. The computer we have inside our head took over and the next line came out in German. Maestro Holt looked at me from the pit with an astonished expression as if to say, "What are you doing up there?" Then the next line came out in English, and he nodded because he understood what had happened.



BD

: I'm glad to know you enjoy performing.



GD

: Oh, I love it. Some of the roles I sing are known as

comprimario

roles, and that's true, but if you have a weak link in an otherwise strong cast, it weakens the entire production. Lyric Opera here in Chicago is so brilliant in that they hire people like me to do the smaller roles so that the quality level of the performance stays high. I love doing those kinds of roles. I flew up to Seattle to sing the role of Albine in

Thaïs

in 1976 [

shown in photo below

]. It's only two and a half pages of music, but they wanted my sound, my dramatic sense and my physical presence in those two and half pages of music. It's a great compliment to me because they could have cast it with any local mezzo that they have there. It's very difficult with a small role because you don't have time to build the character. It has to come out full-blown, totally prepared. As long as I can reach out and touch someone with my voice, then all the work is worthwhile. Perhaps I wouldn't feel this way if I were twenty years younger, but I bring all my life experiences as well as my musicianship to every role and every performance; the heartbreak, the joy, the difficulty, the desperation — all of it is incorporated. What else can I tell you? I love it!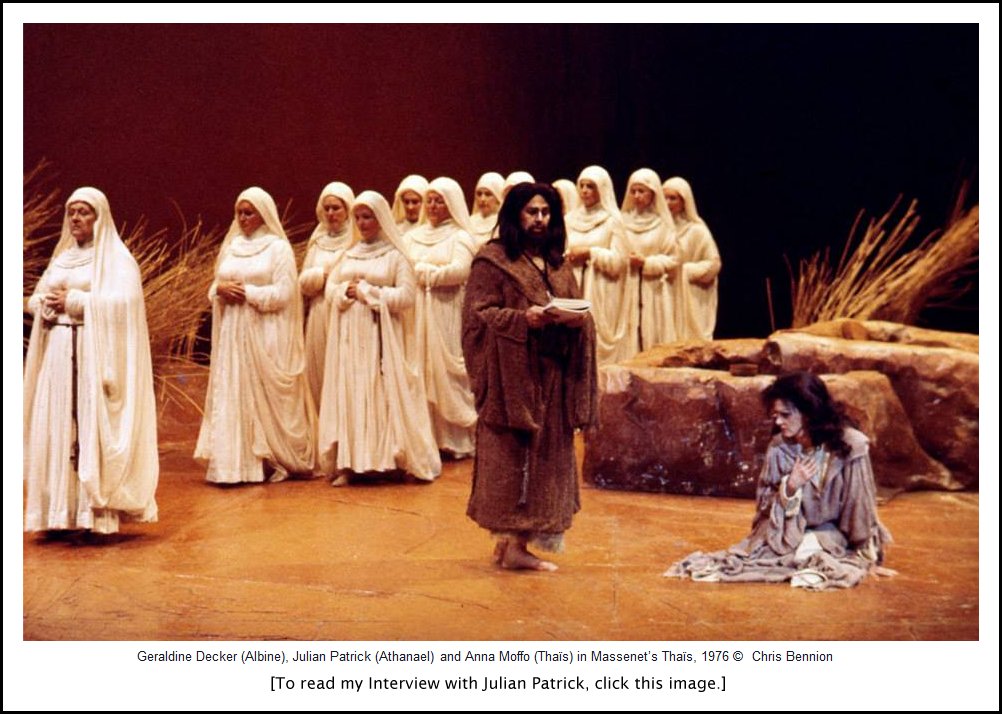 © 1979 Bruce Duffie

This conversation was recorded in her hotel in Chicago in October, 1979. It was partially transcribed, and the Wagner portions were published in Wagner News in the Summer Issue of 1981. The transcript was completed and re-edited, the bio, photos and links were added and it was posted on this website early in 2016.


To see a full list (with links) of interviews which have been transcribed and posted on this website, click here.

Award - winning broadcaster Bruce Duffie was with WNIB, Classical 97 in Chicago from 1975 until its final moment as a classical station in February of 2001. His interviews have also appeared in various magazines and journals since 1980, and he now continues his broadcast series on WNUR-FM, as well as on Contemporary Classical Internet Radio.

You are invited to visit his website for more information about his work, including selected transcripts of other interviews, plus a full list of his guests. He would also like to call your attention to the photos and information about his grandfather, who was a pioneer in the automotive field more than a century ago. You may also send him E-Mail with comments, questions and suggestions.