Maestro Russell Theodore Stanger
Norfolk - Maestro Russell Theodore Stanger, founding conductor of the Virginia Symphony Orchestra and internationally noted composer and conductor, passed away peacefully on January 7, 2015, in Norfolk. He was born May 8, 1924, in Arlington, MA, to Herbert Theophilus Stanger and Millicent Caroline Stemler Stanger. He acquired an early interest in music and was playing the piano with his twin brother, Herbert, at the age of six and studying violin at eight. He organized his first orchestra of neighborhood children in Newton, MA, at twelve and was regularly conducting music at fifteen. Upon graduating from high school, he received a scholarship to study violin at the New England Conservatory of Music in Boston.
His education was interrupted by the entry of the United States in World War II. He and his brother Herb enlisted in the Navy and served as aviation radiomen on naval aircraft in the Pacific, where they spent time on the Solomon Islands and participated in the liberation of the Philippines. At the end of the war, Maestro Stanger returned to the New England Conservatory to complete his undergraduate degree in music. He spent three summers at Tanglewood, the summer venue of the Boston Symphony, in Lenox, MA. There he sharpened his skills under the tutelage of many well-known conductors, including Leonard Bernstein, who ultimately became a mentor and close friend.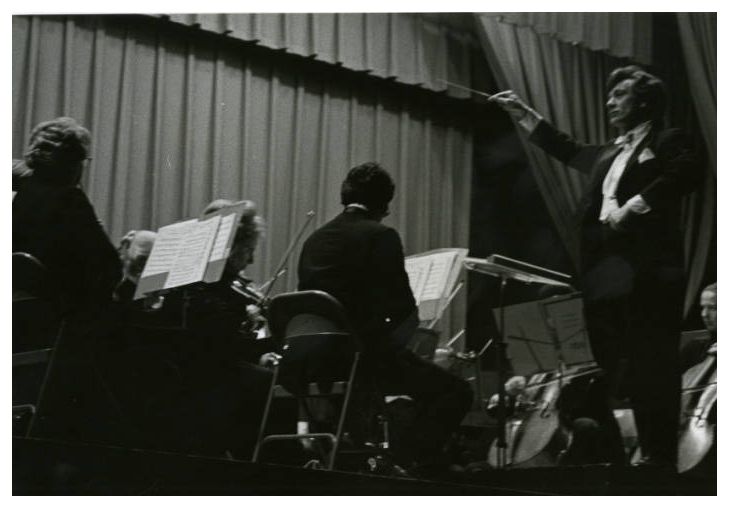 He earned a master's degree from the New England Conservatory in 1952 and began his professional career as director of the Harvard-Radcliffe Orchestra, followed by three years at the Boston University Symphony Orchestra. During that time, he conducted the Boston Pops as a fill-in for Arthur Fiedler. In 1956, he was selected from 120 contestants as the winner of the Eugene Ormandy National Conductors Competition in Philadelphia. He organized the Boston Little Orchestra in 1958 and served as Associate Conductor of the New York Philharmonic from 1960 to 1962 under Leonard Bernstein. From 1964 to 1966 he was Associate Conductor of the Minneapolis Symphony (now the Minnesota Orchestra).
In 1966, he came to Virginia as the music director and conductor of the Norfolk Symphony (now the Virginia Symphony), and upon his retirement in 1980 was named conductor laureate. Under his leadership the Symphony held its first open auditions and hired its first African-American musicians. He nurtured and inspired the Virginia Symphony to a new level of excellence. His extraordinary talent and warm character strengthened the orchestra and won the support of the entire region. Maestro Stanger conducted the orchestra at the 1972 opening of Chrysler Hall and at the first Harborfest outdoor celebration on the Norfolk waterfront in 1979 with "Boom Boom" Zambelli's fireworks in the background. He was an incomparable orchestra builder and a deeply beloved maestro.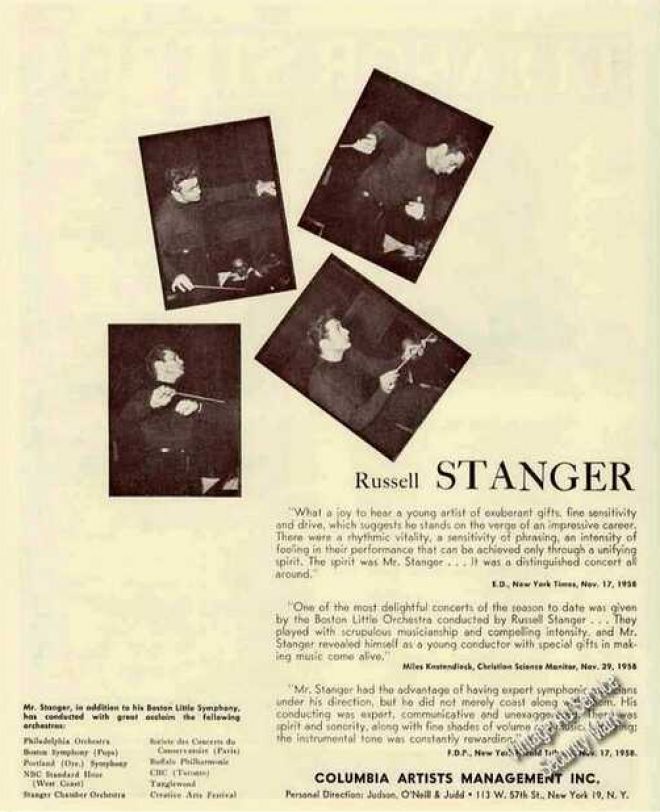 Not one to rest on laurels, Russell traveled to Saratoga Springs, NY, in 1982 as guest conductor of the New York State Summer School of the Arts (NYSSSA) School of Orchestral Studies (SOS) full and string orchestras. NYSSSA SOS is a program for gifted and talented high school musicians whom Russell brought to high levels of achievement during the many years of his tutelage. From 1983 until 2007 Russell was the Artistic Director and Principal Conductor of the program. He led over 50 outstanding concerts, inspired over 2,500 young musicians and successfully collaborated with many of the Philadelphia Orchestra's members to provide excellent music experiences for performers and audiences alike. Upon his retirement in 2008 he was named Artistic Director Emeritus for the School of Orchestral Studies.
[
Image at left is from a commercial site, thus their watermark
]
Maestro Stanger served as guest conductor with some of the leading orchestras in North American and Europe, including the Philadelphia Orchestra, New York Philharmonic, Canadian Broadcasting Company Symphony, National Broadcasting Corporation Orchestra, Bilbao (Spain) Symphony, Jalapa (Mexico) Symphony Orchestra, Buffalo Philharmonic, Oslo Philharmonic, Bergen (Norway) Philharmonic, Royal Philharmonic, London Philharmonic, Orchestre Symphonique de Reims, and Societe des Concerts du Conservatoire, Paris. He also conducted for Benny Goodman,
Isaac Stern
, Newport News native Ella Fitzgerald and famed cellist Yo-Yo Ma. During his time in Minneapolis he met and collaborated with the Russian composer Igor Stravinsky.
As president of the Norfolk Sister Cities Association in the mid-1980s, Maestro Stanger developed a long friendship with the musical community of Norfolk's sister city Kitakyushu, Japan. He made a number of trips to Japan, and in 1989 he was commissioned to compose a piece for the celebration of the fiftieth anniversary of Mukogawa Gauquin, the largest women's university in Japan. He was artistic advisor of the Miyazaki Symphony Orchestra and conducted the Kyushu (Japan) Orchestra in the performance of two of his own works.
In addition to conducting, Stanger composed several works, including Buffoons; A Merry Overture [1963]; Childhood Images [1968]; Rock Opus (for symphony orchestra and optional rock group) [1970]; Episodes '76 [1976]; Symphony No.1, Op.10 ("Kitakyushu") [1989]; Commemorative Celebration[1989]; and Miyazaki, Op.12 [1994].
Maestro Stanger was a long-time friend of F. Ludwig Diehn and a promoter of Diehn's music. Upon Diehn's death and generous bequest to Old Dominion University, Stanger was named an advisor to the F. Ludwig Diehn Fund under the purview of the Hampton Roads Community Foundation. Stanger donated his own collection of photographs, recordings, music notations, original scores and other memorabilia, including letters from Leonard Bernstein, to the F. Ludwig Diehn Composers Room at ODU. In May of 2009, the university awarded Maestro Stanger an honorary doctorate and named the Russell Stanger String Quartet in his honor.
Russell met his wife, Mildred ("Millie") Lanier Sheffield Stanger, a Norfolk native and accomplished interior designer, soon after arriving in Norfolk. They enjoyed travel, entertaining, mentoring, and encouraging each other in their respective professions during their marriage of thirty-two years. He dearly loved and cherished Millie and cared for her compassionately until her death in 2003. In addition to Millie, Maestro Stanger was preceded in death by his brother William Nathaniel Stanger and his nephew, Scott Stanger, both of Spokane, WA. He is survived by his twin brother, Herbert C. Stanger, and wife, Donna, of San Mateo, CA, and two nieces, Dawn Graves of Belmont, CA, and Sheri Hockaday of Redwood City, CA.
Russell Stanger is fondly remembered by his friends around the world as a kind, nurturing individual with exceptional manners and an uplifting spirit. He is remembered by former students and musicians as an energetic director who inspired them to rise to their best. He was cared for and respected as "Maestro" at the Ballentine Home, where he had resided since 2009. His family extends their appreciation for the love shown by his personal caregivers Virginia, Gloria, Shakeena, and Brian, and close friends who visited him often at the Ballentine.
A celebration of life service will be held on Saturday, January 31, 2015, at 11:00 a.m. at Chandler Recital Hall in the Diehn Center for the Performing Arts, 49th Street and Elkhorn Ave., Old Dominion University, Norfolk, VA. For details, contact H.D. Oliver Funeral Apartments in Norfolk at 622-7353 or HDOliver.com.
Memorial donations may be made to Old Dominion University earmarked for the Russell Stanger String Quartet, addressed to the Department of Music, Room 2123 Diehn Center for the Performing Arts, 4810 Elkhorn Ave., Norfolk, VA, 23529.