The American conductor Eve Queler is the Music Director of the Opera Orchestra of New York who perform mainly rare operas in concert version in Carnegie Hall. In 1995-96 the renowned institution celebrated its 25th anniversary, where Queler has conducted more than 60 operas. The four to five performances each season are broadcast on National Public Radio, some of them were live-recorded, including Massenet's Le Cid with Plácido Domingo, Donizetti's Gemma di Vergy and Verdi's Aroldo with Moserrat Caballé, Puccini's Edgar with Renata Scotto and Carlo Bergonzi. All of them are the only existing CDs of these works. Queler's recording of Janáček's Jenůfa (shown below) with Gabriela Beňačková and Leonie Rysanek belongs to the archive of historically important releases. She has also made studio recordings of opera rarities Guntram by Richard Strauss and Nerone by Arrigo Boito.
Queler also conducts the symphonic repertory, and has worked with the Philadelphia Orchestra, Cleveland Orchestra, Montreal Orchestra, San Antonio Orchestra, Orchestra of the Rome Opera, the Edmonton Orchestra and many other American orchestras.
She has guest conducted at the opera of Nice, Teatro Liceu in Barcelona (I Vespri Siciliani with Caballé and Domingo), Austalian National Opera in Sydney (Die Entführung aus dem Serail), New York City Opera (Le Nozze di Figaro with Samuel Ramey), in Las Palmas (Elisir d'Amore with Leo Nucci), at the Marklinski Theater/Kirov Opera in St. Petersburg (Mazeppa), at the National Theater Brno (Jenůfa), the Hamburg Staatoper (Don Pasquale), Der Fliegende Hollander at the Kessel Opera, the Smetana Divaldo in Prague (Carmen and Rigoletto) and at the Bonn opera (Jenůfa, La Traviata and Fidelio). She also conducted concert version performances at the Salle Pleyel in Paris, a gala performance of Bellini's I Puritani with Alfredo Kraus with the Philharmonic Orchestra at the Royal Festival Hall in London, and Giordano's Fedora for the French Radio ORTF in Paris.
Queler has conducted at the Pretoria Arts Center for a production of Les Contes d'Hoffmann, and also conducted an opera gala for the South African TV, as well as Orff's Carmina Burana and the Sibelius Violin Concerto. In Canada she led Il Barbiere di Seviglia with Opera Hamilton. Gala Verdi concerts in Mannheim and Wiesbaden in January 1996 were extremely successful. In June of 96, she was a guest at the "Las Palmas Opera Festival" with Fidelio which gained excellent public and critical success.
During the "Silver Jubilee" 95/96 of the Opera Orchestra of New York, Eve Queler conducted Bellini's Norma (with Jane Eaglen), Armida by Rossini (with Renée Fleming) as well as Giovanna d'Arco by Verdi (with June Anderson). In 1997 there were concert opera performances at Carnegie Hall of La Cenerentola, Tristan und Isolde and Ernani.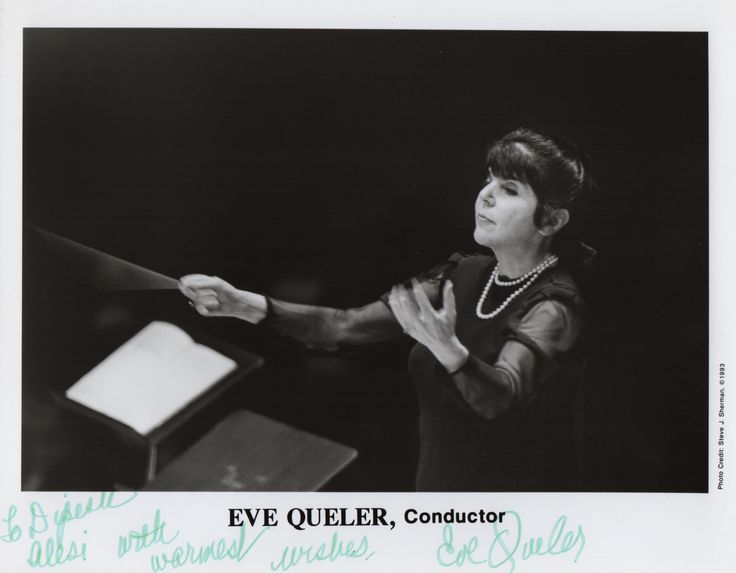 In May 1997 Queler made her debut at the Frankfurt Opera conducting performances of Rossini's Tancredi.
Eve Queler has worked with many famous singers, the list includes to the already mentioned ones also Behrens, Borodina, Cappuccilli, Chernov, Devia, Dimitrova, Gedda, Hvorostovsky, Leech, Millio, Ricciarelli, Sabbatini and Vaness.
Eve Queler has many distinctions including two honorary doctorates. In March 1995 she was honored by New York University for a Leading Woman in the Arts while in September of that year, the "Butterfly Award" of the Licia Albanese-Puccini Foundation was presented to her for her outstanding work with performances of Puccini's lesser known works.
A native of New York City, Ms. Queler studied at the Mannes College in New York and followed master classes with famous conductors like Igor Merkevich and Walter Suskind. She has made a name for herself also with various publications on rare operas and made critical editions of three of Donizetti operas.

== Text of biography (slightly edited) from the agent's website
== Names which are links in this box and below refer to my interviews elsewhere on my website. BD