This interview was held in September of 1988, and portions were used a few days later to promote performances at Lyric Opera of Chicago.
The transcription was made late in 1993, and published in The Opera Journal in December of that year.
The transcript was slightly re-edited, and the photos and material in the boxes were added in June of 2020, when it was posted on this website.





Director Sandro Sequi

A Conversation with Bruce Duffie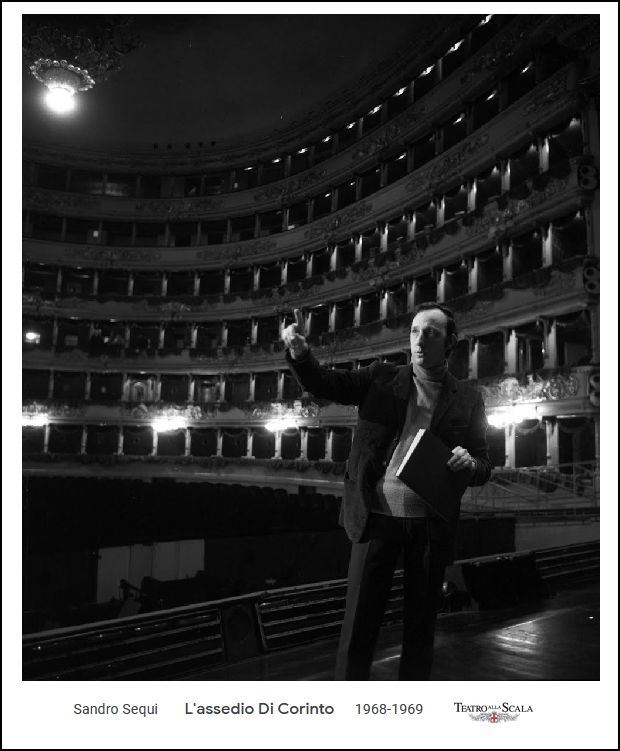 Italian Director Sandro Sequi Dies, April 14, 1998


By Stefano Curti, published in Playbill.



Italian theatre and film director Sandro Sequi died Tuesday, Apr. 14, in a car accident in Konya, Turkey.

Rome born Sequi, 65, was one of Italy's most prolific and best known theatre directors. His credits include memorable productions of Goldoni's Il Campiello, Shakespeare's As You Like It, Strindberg's The Dance of Death and Marivaux's The Surprise of Love. He worked with many popular Italian actors, including Gian Maria Volonte, Gigi Proietti, Remo Girone, Ottavia Piccolo and Paolo Poli.

Between 1989 and 1996 he directed Brescia's Teatro Stabile. His latest production was a mounting of Melville's Billy Budd last summer at San Miniato Festival.

Sequi also worked extensively at the opera, directing at London's Convent Garden, New York's Metropolitan, Milan's La Scala and Paris' Opera.

His death occured on the same day of his mother's, herself a victim of a car crash, back in 1957.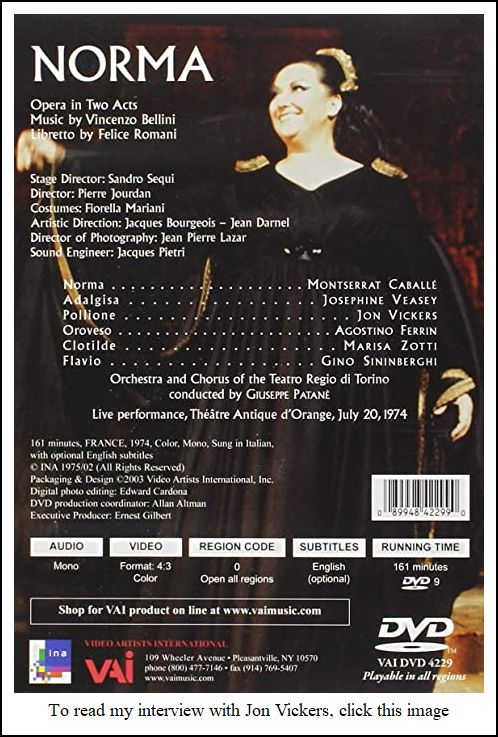 In November [1993], the Italian stage director, Sandro Sequi, celebrates his sixtieth birthday. He was born in Rome and graduated from the university there. After being a dance critic, he turned to directing both operas and dramas, and has enjoyed success all over the world in the major theaters.

His style is unique, and he says he doesn't like the so-called 'pure theater'. It should be, "Just pleasure for the eyes. There must be some literary quality. There is always a writer under the drama. It's not my world. Theater must be a part of literature as far as drama is concerned." Among his favorite productions is Monteverdi's Orfeo which has been done all over the world including at the Juilliard School in New York City. He noted that Monteverdi is not so different from Verdi. "Different epochs, but the passion, and fire, and vision that is under their music, is quite the same."

Sequi has directed productions in Chicago on several occasions [see the box below for details], including the famous Semiramide in 1971 with Joan Sutherland and Marilyn Horne. On a more recent visit [1988], when he was staging Sonnambula, I had the pleasure of chatting with him backstage before a rehearsal. Here is much of what was said that afternoon . . . . .


Bruce Duffie: Let's start out with an easy question. In opera, where is the balance between the music and the drama?

Sandro Sequi: This is a great problem for us — the directors — because there are several different ways of setting the stage of operas. Being a pupil of Luchino Visconti and that school, I believe that music is first, and drama is along with that, but a bit second because the drama should never disturb the music. It should go strictly with the music, so sometimes I feel it is better to sacrifice your personality to help the overall importance and expression of the music. That's why the collaboration with the conductor is extremely important to me. I've met some conductors who are not interested in the theater. They don't look at what happens on stage, and this is very bad because the director might do one thing and the conductor could do something else.

BD: When the conductor ignores the stage, isn't he the one who complains at the dress rehearsal that something isn't working?

Sequi: Yes, and that happens, you know! There is also the style of the opera to consider. For instance, Il Trovatore can be done in two completely different ways. It can be done in a fire and explosive way, or with a moonlight quality to it. So if a director takes one path, he should meet with the conductor to decide and agree. If the stage has a very nocturnal quality, the music should not be so ebullient. Both approaches can be very good in their own way, but together the whole thing won't come out. The public might not understand what was happening, but they'd know something was wrong. The final result would lack strength and power.

BD: Are the best operas to direct those where the music is unified with the drama?

Sequi: I think so. They are also the easiest! I don't mean to say that Wagner is easy, but Wagner is easier to stage than Bellini, because in Bellini the drama is very, very weak, and very old fashioned. Now we have to struggle to do something that is traditional and shows what theater was in those times, and, at the same time, to do something that has expression and emotion to the modern audience.

BD: When doing an opera that has a weak drama, do you try to strengthen the drama as much as you can?

Sequi: Not always. Sometimes it's wrong. I did one here in Chicago many years ago — Semiramide. There is no drama there. It is pure bel canto opera, so I tried to do a beautiful frame for the singing and the music. If I had tried to stress the drama, I could show that the drama is not there, and that it's very weak, and that would be dangerous, in my opinion. Even in this production of La Sonnambula, which is certainly not great theater or great drama, there is a sort of emotion. You can try to have some sort of human beings on the stage. They are old fashioned people, but still they are human people.




Sandro Sequi at Lyric Opera of Chicago

1968

Manon Lescaut

with Maragliano, Domingo/Molese, Rinaldi,

Andreolli

; Bartoletti

1971 [Opening Night]

Semiramide

with

Sutherland

,

Horne

, Malas, Ferrin,

Estes

;

Bonynge Rigoletto

with

Cappuccilli

, Robinson,

Kraus

,

Vinco

; Bartoletti, Pizzi

1973

Fille du Régiment

with Sutherland, Kraus, Malas,

Resnik

, Tourel/Chookasian, Andreolli; Bonynge

1975

Orfeo

[Gluck] with

Stilwell

,

Cotrubas

,

Zilio

;

Fournet

, Samaritani,

Tallchief

, Balanchine

1976

Rigoletto

with Mittelmann/Manuguerra,

Mauti-Nunziata

, Kraus, Casarini,

Kuhlmann

;

Chailly

, Pizzi

1977

Orfeo

[Same as 1975, except

Shade

for Cotrubas]

1979

Rigoletto

with Manuguerra/

Elvira

/Salvadori,

Blegen

, Pavarotti, Gill, Kuhlmann,

Sharon Graham

/

Wendy White

; Chailly, Pizzi,

Schuler

[Photo of this production can be seen with my interview of

Ken Recu

, Captain of Supers 1977-83]

1988-89 [Opening Night]

Sonnambula

with

Gasdia

/

Welting

, Lopardo, Kavrakos;

Renzetti

, Schuler, Tallchief




-- Links refer to my interviews elsewhere on my website. BD






BD: So it's more than just text to hang the music on?

Sequi: Certainly. The text was written by a very good librettist, Felice Romani, who knew how to write for the stage. The early Verdi librettos are pretty bad. Those of Camarano and Piave are very weak. The music is very strong, and full of imagination and power and life, but sometimes what happens on stage is weak, and risks being ridiculous. I always say that when we stage early Italian opera of the romantic period, if the director succeeded in avoiding things that are ridiculous, it is a success before starting to do anything. Just avoiding being clumsy or routine is very difficult. It's like restoring an old painting, to put to life into something which is old.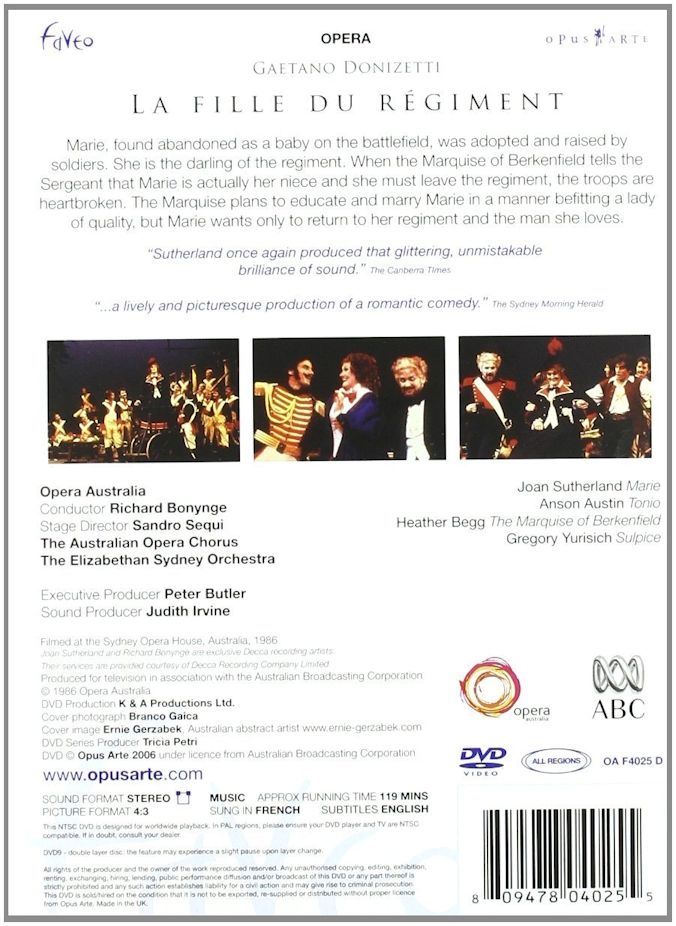 BD: Do these operas from the early to the mid-nineteenth century speak to audiences in the late twentieth century?

Sequi: I think there is a way. They speak through the music first, and people love the restoration of the bel canto style, which began with Maria Callas and La Sonnambula at La Scala in Visconti's production. They loved this music, and today, part of the education of modern audiences is an eye to the historical past. In all the arts, people know about and are interested in many minor figures of past centuries. They want to know about life and art of past ages, so these operas speak to modern audiences, but always with cultural eyes. I don't think the plot of La Sonnambula can say anything to modern audiences, but it can to a certain educated audience. The opera public is elite when compared to the public of Television and, perhaps to a degree, the public of movies. This audience knows history, and wants to see things through the channel of a past epoch. People want old furniture in their houses even though we have much more comfortable piece available today.

BD: So an opera house with old operas us like a home with old furniture, and an opera house with old and new operas is like a home with old furniture and a computer and a television.

Sequi: I would say so. Even in old operas, you can find something very strong for today's theater. In Mozart, there is the complete range of human passions, so it's not modern, but rather eternal. Even the great operas of Verdi, such as La Traviata, is a great drama of passion and of love, which is eternal.

BD: Should the opera houses only do the great masterpieces?

Sequi: I don't think so, because the opera-goer is a member of a specialized public, and will be always so. There are only 2,000 or 3,000 seats in an opera house for the millions and millions of people. Still, opera has gained more of a public just in the last twenty years. But my point is that even a minor but interesting opera can be done if it's well performed. It's part of our culture. If you go to the Art Institute here in Chicago, or any other world class museum, you see exhibitions of exquisite minor painters along with the most important creators. They, too, can present something interesting and enchanting, and very much alive today. So, too, the opera house should do lesser works, not forgetting the basis of the repertoire is masterpieces.



* * * * *



BD: You're invited to direct operas all over the world. How do you decide whether to accept or turn down each offer?

Sequi: When I was younger, everything was an experience so I liked to do everything. Now, I'm considered a specialist of bel canto, and I don't know why. I don't think I am a specialist. My passion is Mozart, Gluck, and that age. I'd like very much to do Wagner, but nobody has asked me. I have done many bel canto operas, and now I'm saying "no" to many of the usual ones. Musically they may be different, but dramatically they are just the same from production to production. The work, I'm doing now, La Sonnambula, is different. It's a charming, enchanting, lyric opera with pure poetry, an old story, and lovely music. Remember that it was written not for the big public, but rather for the aristocracy. So, my idea is to place it not in Switzerland, but in a grand palace. The whole opera is a show for the marriage of the daughter of the important family. It is made clear at the end, when the villagers take off their costumes and show that they are members of the household. When I did this production in Germany, the excellent reviews all spoke of the opera as being like a society game. This is the idea, with certain ironic touches, and it comes through the character, especially Adina with her sense of love, and faith, and freshness of sentiment, which is typical of Bellini.

BD: Are you moving it closer to the drama of Figaro in a way?

Sequi: No, not really. It's something different. It is not really a game of society, but a silly plot, because it's a story done for a society that doesn't want to have to commit too much of themselves in terms of politics, or social life, or religious ideas, or philosophy. It's a subtle story done with simple and enchanting music, but done for the amusement as a divertimento, or diversion of the elegant audience. Today's audience isn't what it was 150 years ago, but it's still an elite and special group.

BD: So, you're not trying to create a special heavy message out of all of this?

Sequi: No. Sometimes I do, but certainly not here. The music of this work, being exquisite, is also fragile, so if you put strong message, it can become somewhat totally different.

BD: How early in the discussions of a new production do you and the designer get together, and decide on an approach?

Sequi: Always it's very important for the director to work closely with the designer. The two have to really think together. In olden times, there was no director. There was a designer, and the stage movements were done by the conductor, even as late as the 1920s and 1930s. Usually designers were asked to do some lovely drawings, and they were realized.

BD: But they were mostly just flats — backdrops and such?

Sequi: Of course. But the visual part of the show is very important, especially in Italian opera where the tradition of Baroque grandeur makes the joy of the eye very important. Even in a modern production, it's necessary to have a good designer who realizes your own idea, and one you can work with to get the desired result. That's why now every good director wants to have a good designer for himself. A good designer follows the pattern of a good director, if he has good ideas, and a good feeling for the music and the drama.

BD: So is the designer also a creator, or just a realizer of your ideas?

Sequi: He's a creative force. In a good production, you shouldn't understand who is the designer and who is the director.



* * * * *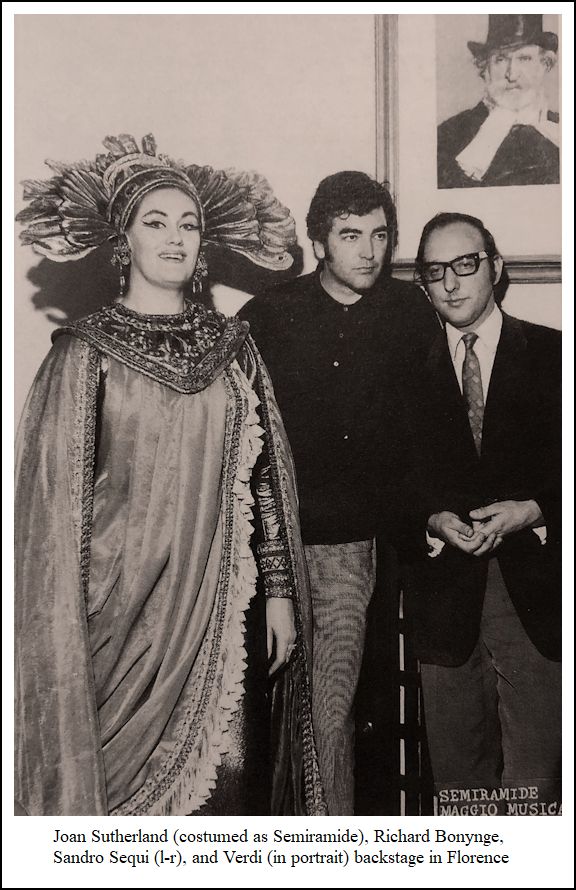 BD: You mentioned that you also do plays. Aside from the obvious, what are the differences of doing an opera and a play?

Sequi: As much as I love music, and I studied the piano as a youngster, I feel more creative doing plays. I am really the conductor and director in a play. In opera, the conductor does what he wants, and does the music in a certain way, so there is something wrong if the director doesn't adapt to the conductor's way. It can be good or bad, but if the director does something different, it's wrong. There must not be a schizophrenic split between the visual and the aural.

BD: Is all your work done during rehearsals, or is there anything you leave for the performers during the run?

Sequi: No, nothing is left. Everything is done during rehearsals. The performers have to enjoy what they have done during rehearsal, which means everything becomes more alive. Some small details can be added later, because every performance has more fluency, and that makes the performer more imaginative. But a director knows what he does, and even when a performer adds something during rehearsal, it will be in the right style. I might see the tenth performance, and if there is something new that I did not give them, if it's from the original idea, and comes down the right path, then I accept it. When the performers feel alive on stage, they can do something not to change the intention of the design, but in small details.

BD: Can you help to keep it alive in the third, eighth, and twelfth performance of a run?

Sequi: Not me, because I'm never there!

BD: Is it at all frustrating to leave after the opening night?

Sequi: No. In a way, I'm embarrassed to see more performances, because what you've done has become theirs on the stage. It's your creation, and at the same you've lost it. Many painters and sculptors have said the same thing. When they see a piece of their work in someone's house, it's not a joy for them. They've lost something of their own, even if they see it in a beautiful house. I doesn't belong to them anymore, and I understand this feeling very well.

BD: Do you always get enough time to rehearse?

Sequi: Now, yes, because I have much more authority than when I was younger. Then I had to struggle sometimes.

BD: [With a gentle nudge] You can't stage a big opera in two rehearsals???

Sequi: [Laughs] Of course not! But here in Chicago, they give me a good time to rehearse, and the schedule is very well done. I'm pleased to come to this theater for that reason. In Italy, sometimes we work very fast. Often it works out well, but the risk is that you lose your ideas or your style because the rehearsals are frantic.

BD: Is there ever a chance that a piece can get over-rehearsed?

Sequi: That's a good question. It happens sometimes. When I see that we've done enough, I cancel some rehearsals. I like to have more than is needed in case they are needed. You need not only have enough, but more than enough. But if you over-rehearse, there is a certain lack of life, and people get annoyed and mechanical. In Italy, some people do go on the stage unprepared, and that is very bad.

BD: Do you shoot for perfection on the opening night, or a bit later in the run?

Sequi: No, the opening should be perfect. The best performances are never the openings, but rather the third, fourth, or fifth. But as far as my work is concerned, the opening is the target. Then the performances may get warmer. This happens all the time, and even more in plays. The thirtieth or fortieth performance is really their work and not mine.

BD: Would you prefer that the critics came to the third or fourth performance?

Sequi: Of course, because it would be much better. There's always too much tension on the opening night, so they are a bit cold. Also, the public is better later on. Opening nights all over the world are a bit more social and less passionate about the music.



* * * * *



BD: If you're asked to do the same opera in another theater, do you bring the same ideas and sets?

Sequi: We could do sets in more or less the same style, and change some details, but some works I completely rethink. When you work with a certain singer, you can adapt some things for him or her.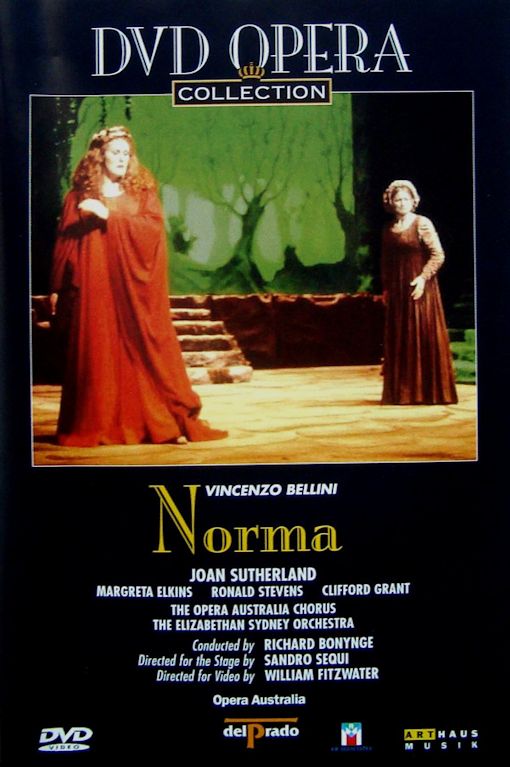 BD: Do you force the singers into your own molds?

Sequi: No, quite the contrary. Even with actors I have a very clear idea of what I want, but when I see that something I would like doesn't fit them, we do something else. We try as much as possible, and they try to do everything I want, but sometimes they don't digest it. Then, after a while, I change it because I hate for it to be forced. There must always be some genuine qualities on the stage. That's the first thing, in my opinion. Usually when you rehearse carefully, day after day, there comes a time when your idea becomes their life on stage.

BD: How do you feel about this new gimmick of the supertitles?

Sequi: I think it's very useful. When I've seen productions that use them, I've enjoyed it very much. I could follow every word, especially in works that I don't know myself. I went to Götterdämmerung in Dallas, and for the first time I understood every word. I glanced at the supertitles, and listened at the same time, and understood the liaison between words and music, which is extraordinary in that work.

BD: Do you feel this helps to bring the casual listener closer to opera?

Sequi: Maybe a little bit. I think people who go to the opera have a feeling for theatrical music. People don't stay away from the opera because it's difficult, they stay away because they don't have the right sensitivity to the music, or for theatrical music. There are people who love classical music but who don't like opera. I have friends who say "I love you, but I won't come to see your productions because I don't like opera!" So I excuse them, but there are quite a few like that. Everyone has certain limitations in their love for the arts. People who love musicals may not know much about painting, and so forth.

BD: Are you conscious of the singers' diction all the time?

Sequi: Yes, very much. I try to correct them, and I insist they do it right. It's very important.

BD: Do you do any operas in translation?

Sequi: It's not done very often. I staged Lohengrin in Bologna in Italian, but that opera has a long tradition in Italy, being the first Wagner to be done there, and in the same theater where I did my production! Many great Italian singers have sung that opera. It's a pity that it's only done in German nowadays because Italian singers just don't learn it anymore.

BD: Has the public become spoiled by recordings?

Sequi: Perhaps. It seems like everyone knows what they get on their home machines, and everyone expects perfection. On the discs you get the greatest artists, the best orchestras, the finest conductors, and a false picture of the real music. Then when these record collectors come to the theater, there are many defects because live performance cannot be perfect.

BD: Do you then try to make it so exciting that the performance will overcome the faults?

Sequi: That's what one should try — something different, and something alive. Many performances that you could never publish are really marvelous.

BD: Does opera work on television?

Sequi: [Hesitating] You can have coffee, and you can have decaffeinated coffee. Televised opera is decaffeinated coffee, but it's better than nothing. Being a professional, I can understand what is being done. If I want to see what a colleague of mine has done, I can watch it in my house, or in the theater, and know exactly what he has done. But the emotion doesn't come out, especially in opera, which is very involving for the public. I have done a number of plays for Italian television, and it's not the same as a good film. I enjoy going to the cinema to see a film because the communion of the people in a dark room is something extraordinary.

BD: A live movie?

Sequi: Absolutely! [Much laughter]



* * * * *



BD: Is it easier, or more difficult, to direct an opera which is having its world premiere?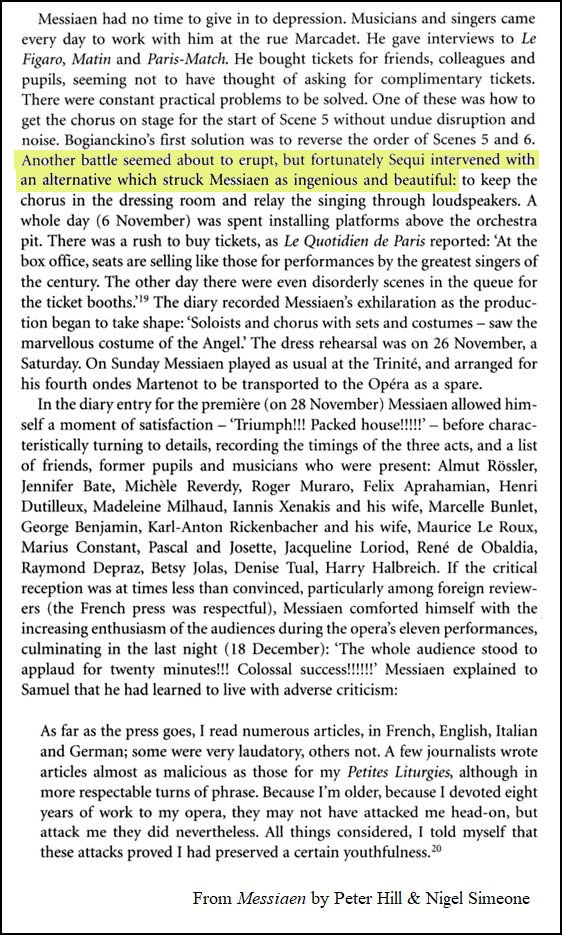 Sequi: It is difficult. I did Messiaen's St. Francis of Assisi a few years ago, and it was thrilling, but it's not really an opera. It's sort of a huge theatrical dream with music and not any action. So, it was very difficult. Messiaen is not a theater man, and he often insisted on certain specific things being exactly so. At times it was dangerous. He would ask why I was doing something this way and not that, so it put doubts in the singers' minds, and that is very dangerous. I finally had to ask him, with all due respect, not to come to the rehearsals for a few days so I could work. But it all came out, and when the premiere was broadcast all over Europe, he came out and had many nice things to say about my work. He said he'd found a marvelous director, so he was as pleased as I was. But it was very exciting for me to be part of the creation of a very important work of art.

BD: Might the work become a repertory piece?

Sequi: Certainly not! It lasts five and a half hours, and uses an immense orchestra.

BD: [Gently protesting] But the audience is used to that length with Götterdämmerung and Meistersinger.

Sequi: [Smiles] But those are real dramas. The Messiaen is sort of mystic and monotone. It's fascinating because of that, but it is monotone. Besides, Ozawa, who conducted it, had forty-six rehearsals, and they had to close the theater for twenty days.

BD: Are there works you've done where the drama is too strong for the music? [Vis-à-vis the box at right, see my interviews with Iannis Xenakis, George Benjamin, and Betsy Jolas.]

Sequi: This happens often with modern music. I did a work by Luciano Chailly — the father of the conductor Riccardo Chailly — on Dostoyevsky's The Idiot. The music was very good, but still, in a way, the drama was so powerful that the music was a bit behind. I did an opera by Franco Mannino, who does music for Visconti's films. He is married to Visconti's sister. It was done last year at La Scala — The Happy Prince, taken from Oscar Wilde's tale. It's sort of an opera for children with lots of ballet, and it was lovely to do. It was a great pleasure because he has a great sense of theater.

BD: Where is opera going today?

Sequi: In my opinion, it's going more towards 'theatrical music', as I call it. In the future there will be less to see and more to understand. Music can help the drama to have more interior references. The psychology of man is so complicated that words cannot describe it. Music can easily express what words can't.

BD: Are you optimistic about the future of opera?

Sequi: I'm not optimistic about the future of the world. There will be a day when art will not be important. That is my personal opinion, and I'm very sad for it. Art was always the fruit of suffering. People who live very well rarely produce good works in the arts... sometimes, but very rarely.

BD: What advice do you have for young directors coming along — in the time we have left to us?

Sequi: It happens to me that they come and ask. My old-fashioned advice is to learn the métier [your trade or job], to learn the works. Many people can have ideas, especially in opera. Carmen can be set in Brooklyn, and Trovatore can be set in a refugee camp. These are not original ideas. When it is thought through, I admire it, but when it's just thrown on the stage, it's nothing. You must know the technique. A pianist cannot play in public without a technique, and the same is true for a director. When I come out of the National Academy of Dramatic Arts in Italy, I knew techniques, but I didn't know the works. Those I had to learn myself. You can attach yourself to a great director, even if you don't like what he does. If he's a good director, one can learn from him. You need to know how to move a chorus on stage. You need to know when a gesture is wrong, or when it is good. Our job is artistic, but we're also teachers. In Italy, we use the word insignare, which is to teach.

BD: Is directing fun?

Sequi: Not always. [Laughs] People think it's fun, and it can be, but it's work, serious work. Because I'm mentally organized, I don't improvise, so it can be boring to teach people something that I know very well. But when I find personalities that are alive and receptive, something happens. You give the idea, and take it and add something. Then it starts moving and you have something interesting. Even more than the rehearsals, I like the preparation I do alone in my house with the designer. We listen to the music, and read the text, and see the world that comes to life. Then, in the last rehearsals, when everything comes together with the thoughts you had two years before, that is when you feel you've done something. In between it can be tiring for me, doing things once more, and once more, and once more. I wish I had a magic wand and could drop the whole thing into their heads at once! [Laughs]

BD: What advice do you have for audiences coming to the opera?

Sequi: Just to let their imagination be completely free. Don't come with predetermined ideas. Follow what happens.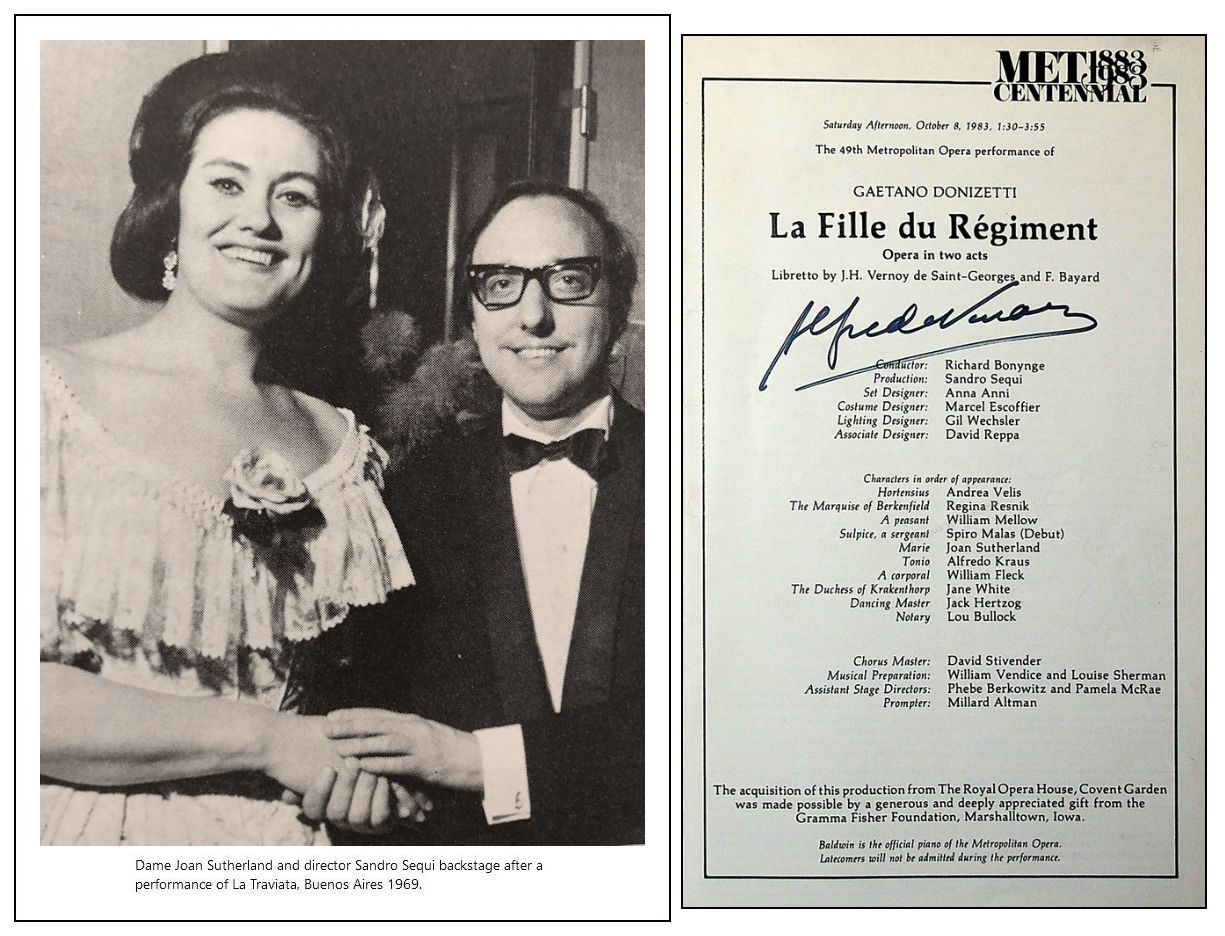 © 1988 Bruce Duffie

This conversation was recorded in Chicago on September 7, 1988. Portions were broadcast on WNIB the following week, and again in 1990. This transcription was made late in 1993, and published in The Opera Journal in December of that year. It was slightly re-edited, photos, links, and other material in the boxes were added in 2020, and it was posted on this website at that time. My thanks to British soprano Una Barry for her help in preparing this website presentation.

To see a full list (with links) of interviews which have been transcribed and posted on this website, click here.

Award - winning broadcaster Bruce Duffie was with WNIB, Classical 97 in Chicago from 1975 until its final moment as a classical station in February of 2001. His interviews have also appeared in various magazines and journals since 1980, and he now continues his broadcast series on WNUR-FM.

You are invited to visit his website for more information about his work, including selected transcripts of other interviews, plus a full list of his guests. He would also like to call your attention to the photos and information about his grandfather, who was a pioneer in the automotive field more than a century ago. You may also send him E-Mail with comments, questions and suggestions.