Pier Luigi Samaritani, designer: born 29 September 1942; died Rome 5 January 1994.
Known as the designer of many opera productions, mainly in Italy and the United States, Pier Luigi Samaritani later became an equally well-known director. A pupil of Lila de Nobili, he worked as her assistant and also as assistant to Franco Zeffirelli and Giorgio de Chirico. His traditional style, a heightened version of realism, was graphically demonstrated in the magnificent sets he designed for Semiramide, performed at the Florence Festival of 1968 with Joan Sutherland in the title-role, and later exported to Chicago.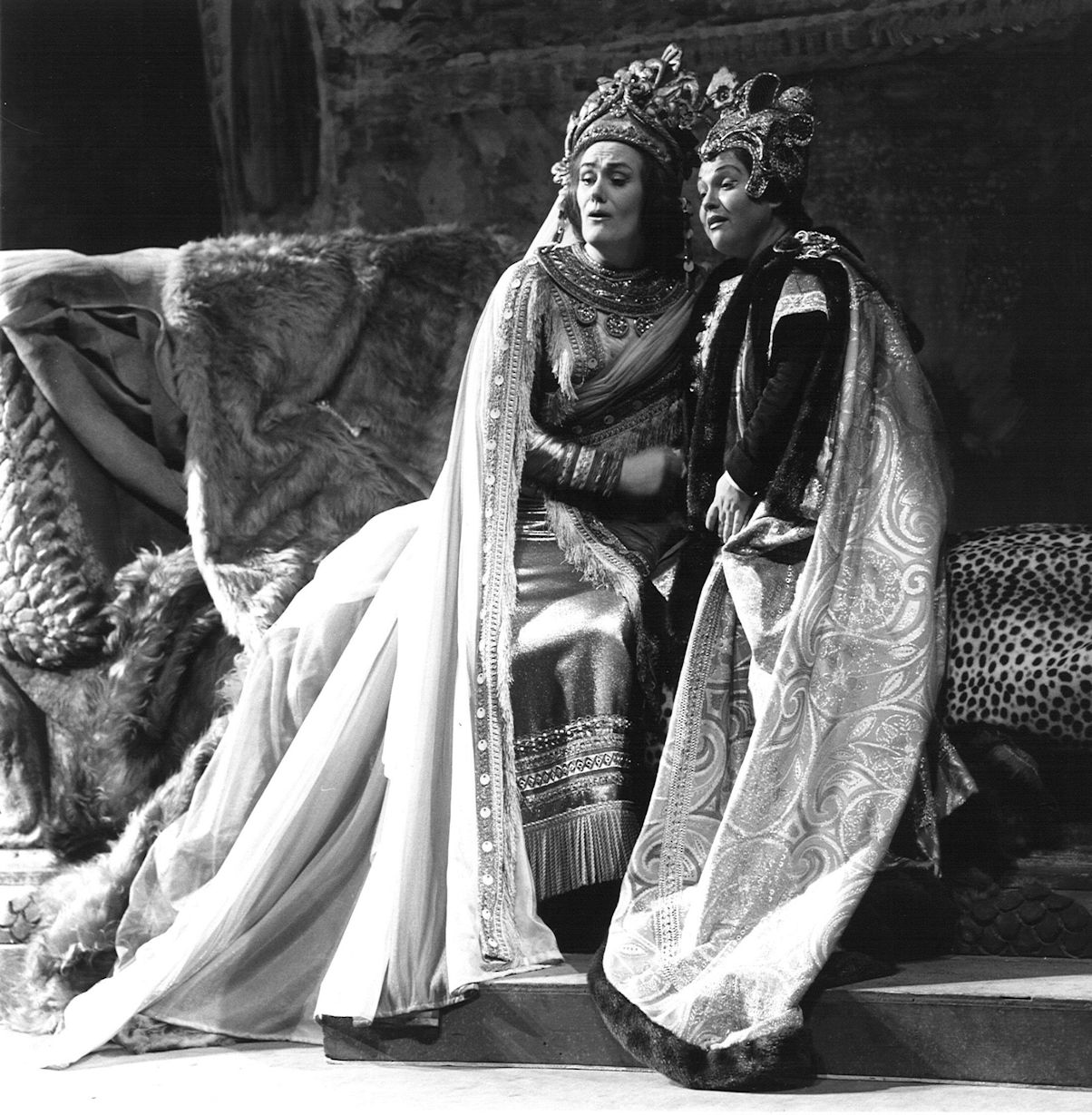 [Sutherland and
Marilyn Horne
in
Semiramide
in Chicago]
Samaritani was greatly helped at the beginning of his career by the composer Gian Carlo Menotti, whose staging of The Medium at Spoleto he designed in 1969. Other Menotti productions which he designed included Help, Help, The Globolinks, given in Geneva, Rome and Vienna; Maria Golovin, seen at Marseilles, Paris and Trieste; Don Pasquale, set in Rome of the 1930s, unveiled at the Theater am Gartnerplatz in Munich and revived in New York at the Juilliard American Opera Theater; and a much-admired staging of La Bohème for the Paris Opera. During the 1970s Samaritani also designed Carmen and Luisa Miller for La Scala; Giovanna d'Arco, Lucia di Lammermoor and Maria di Rohan for La Fenice, Venice; and productions in Rome and Naples.
In Florence, where Samaritani had achieved his first success, his sets for Mosè were found very handsome and those for Eugene Onegin utterly exquisite, while his designs for Henze's Re Cervo, and Les Vepres Siciliennes were also liked. His fame had spread to the United States: designs for Les Contes d'Hoffmann at Dallas were very successful; in Chicago his lavish settings for Orfeo ed Euridice were admired, and he scored a triumph with sets for Massenet's Don Quichotte that evoked for one critic Constable, Turner, Goya and Dore.
Meanwhile Samaritani had turned director, staging The Old Maid and the Thief at Spoleto in 1975. His production of Faust for the Chicago Lyric was considered bizarre, but a Madama Butterfly and Werther in Florence were greatly liked, as were Rigoletto at Parma, Manon in Rome and Les Pecheurs de perles at Nice. All these productions were seen in other cities. In 1983 he designed and directed Ernani for the Metropolitan, and the following year Eugene Onegin was restaged in Chicago; an admirable production but for the thick scrim that obscured the handsome sets.
Samaritani's later productions included Guillaume Tell in Cagliari; La Forza del destino at San Francisco; and Andrea Chenier in Florence. He returned to Spoleto as designer in 1987, for a most impressive Parsifal, staged by Menotti, which later travelled to Trieste and Spoleto USA, and in 1992 for an equally fine Die Meistersinger, also directed by Menotti.