Conductor Henry Holt

Two Conversations with Bruce Duffie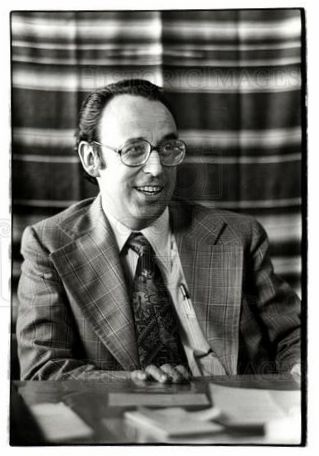 Henry Holt (April 11, 1934 in Austria - October 4, 1997 in Charlottesville) was an American conductor, opera director and music educator.

Holt's family fled to the United States from Austria before the Nazi occupation, and Holt grew up in Los Angeles. He was general director of the Portland Opera from 1964-1966, and from 1966 to 1984 he was music director of the Seattle Opera. He co-founded the Pacific Northwest Ballet, and the Pacific Northwest Festival in Seattle. There he performed Richard Wagner's Ring des Nibelungen for ten consecutive years. In 1984, he returned to Los Angeles and became musical, later general director of the Los Angeles Opera Theater, as well as artistic director of the Baton Rouge Opera.

As guest conductor he joined the New York City Opera and the Chicago Opera Theater. Among other things, he conducted the world premiere of Carlisle Floyd's opera Of Mice and Men. In 1996 he directed the Ring at the Arizona Opera. As a music educator he devoted himself especially to music education for children. He worked with the National Guild of Community Schools of the Arts, the Kennedy Center Education Program, and the E.D. Hirsch National Core Knowledge Movement. He also gave opera workshops at the University of Southern California, Lewis and Clark College, and Louisiana State University.





-- Names which are links in this box and below refer to my interviews elsewhere on my website. BD








This webpage presents two interviews I had with conductor Henry Holt. Having known of his fine work with the Seattle Opera, including their famous Ring production, I was glad for the opportunity to meet with him and chat about Wagner, and other musical ideas.

We first met when he was in Chicago in March of 1980 to promote the upcoming Ring, and then again exactly ten years later when he returned to conduct The Lighthouse by Peter Maxwell Davies.

We begin with the first conversation, which was held in the studios of WNIB, Classical 97 . . . . . . . . .


Bruce Duffie: This will be your sixth set of Rings coming up this summer. How has it changed over that period? [Cast shown below is from 1980 cycles. Photos are from various years in which Holt conducted.]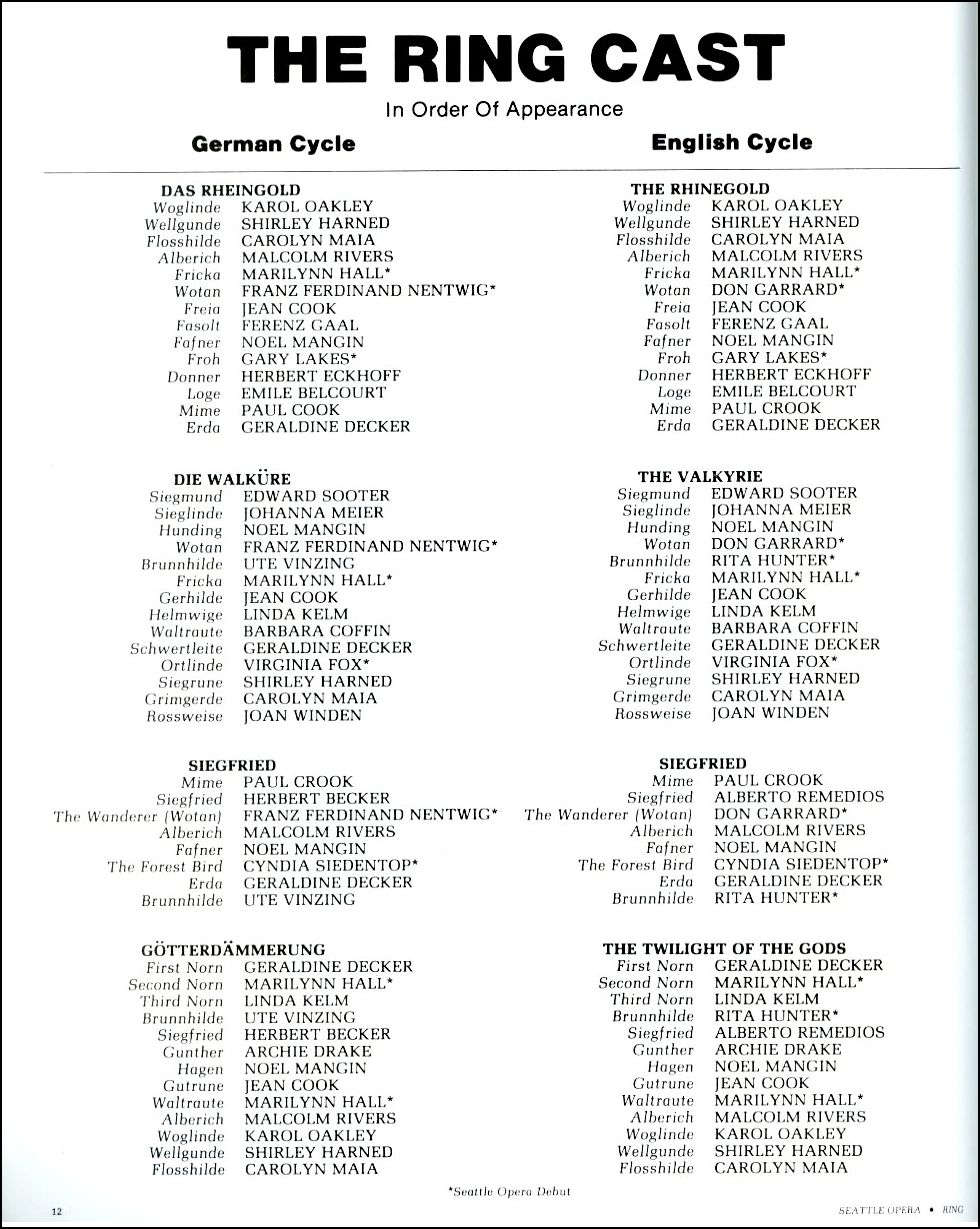 See my interviews with
Émile Belcourt
,
Geraldine Decker
,
Johanna Meier
,
Archie Drake
,
Don Garrard
, and
Andrew Porter
(who made the English translation)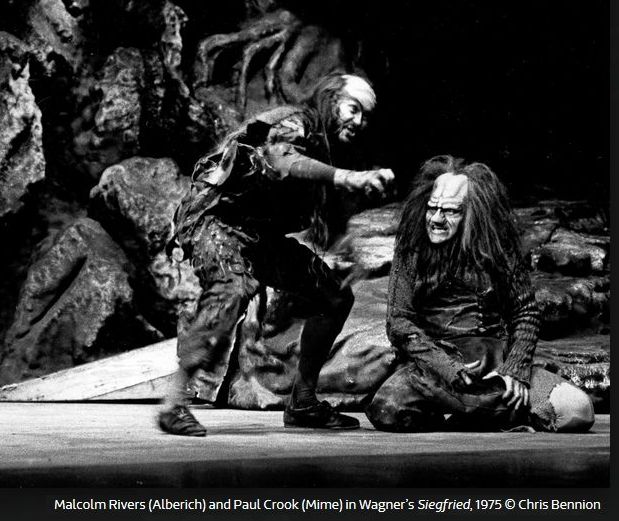 Henry Holt: It's developed primarily from doing it so many times and with so many different artists, and having done some of the operas separately in other companies, but primarily from reworking it every year. I find myself starting from scratch several months before rehearsals, and trying to rethink every bar of music, or at least every phrase. I take out some clean scores, sit down at the piano and start to play, and I try to be open to discovering new things about the Ring.

BD: Do you find that the various singers that come and go in your performances bring new ideas?

HH: Yes. One of the new things is that some of the singers that have repeated with us over the years — for example, our two ugly fellows, Malcolm Rivers as Alberich and Paul Crook as Mime [shown in photo at right] — created these roles for the first time with English National Opera. They are the kinds of people that work consistently on their craft and their roles all the time, so every year they come with new input and with new depths. Then some relationships are interesting, for example, Herbert Becker as Siegfried with Paul Crook as Mime. They have developed fascinating business, and I would say that their first act of Siegfried tops anything I have ever seen in that opera [shown in photo near the bottom of this webpage.]

BD: Those two singers performed with the English National Opera company, so they had learned the roles in English. Had they ever performed them in German?

HH: No, the German was first with us.

BD: You then have an interesting situation where some singers have sung it in German and are singing it German and then English for you, while other singers have performed it only in English, and are singing it in English and German for you.

HH: That's right.

BD: How does the conception of the work change from one cycle in German to a second cycle in English?

HH: First of all, I think of the four works as one. I think of the Ring not as four operas, but as one immense work, and of the two cycles as two different conceptions. One cannot use the same tempi, or even the same dynamics, or even the same accents arbitrarily from one to the other. It's a matter of finding the right thing for the totality of that production, which means the singers, their vocalism, their ability with words, their natural musical tendencies, their dramatic tendencies, make it a very live thing. We're talking about live performance, and as a performer I am enough of a gambler that I will take chances and run with something if it seems to be on a winning streak.

BD: Does it often work?

HH: Yes, it does! That's what performing is all about — you rehearse and you prepare very carefully, and you have your conception, but then in live performance you have a situation that you must be responsible for. But going back to some new things and impetus, this year we have a new Wotan and a new Fricka in the production. That will change a great many things, and will really start to put a whole other framework onto the production. Our new Wotan is Franz Ferdinand Nentwig, who has done this role extensively. In America, he's only done one of the Wotans — Rheingold at San Francisco — and was recently at the Met doing Pizarro in Fidelio. I heard him in Hamburg, and he's a stunning artist. The Fricka is an American singer making an American debut, Marilynn Hall. She's been in Germany her entire professional life, and is a very exciting woman. [These two singers are shown below.]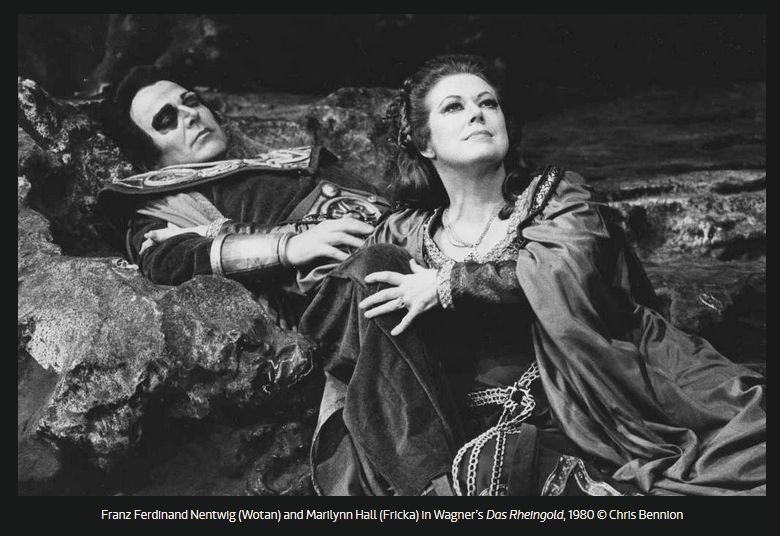 BD: Do you find that the singers have any problem negotiating the two different languages, or the two different interpretations? Might they look down at you in the second cycle for something they remember from the first cycle, and expect it and not get it?

HH: It's very difficult for them, especially doing a long role. To have that much text going in your mind at one time in two different languages is very, very difficult.

BD: Do you use a prompter?

HH: We do not use a prompter. These are festival performances where singers should not rely on a prompter. It's not like doing a repertory season where you're doing twenty-five different works, and every night the same performer has something else. Also, we're not physically set up well for a prompter. We do have assistant conductors in the wings who are following along, and who can help out in case of an emergency, but we try not to encourage their use as prompter.

BD: Have they been a lifesaver on occasion?

HH: On one occasion that I recall only too vividly, yes! [Both laugh]

BD: You set aside these festival performances of the Ring as a completely separate entity. Does Wagner and Wagnerian opera fit into the regular season of the Seattle Opera?

HH: Yes, it does, and it will in March of 1981. We're going to be doing a new production of Tristan and Isolde, and that will also play during the '81 summer festival.

BD: So then the Pacific Northwest Festival is starting to go along the lines of Bayreuth, in which you incorporate a couple of Ring cycles plus a few scattered performances of other Wagnerian works.

HH: That's correct, yes.

BD: Will those Tristans also be in German and English?

HH: Right now we're not absolutely set on that. It depends on a number of things. We have announced at least one performance in German, and we're waiting to see the result of this year's Ring to determine that.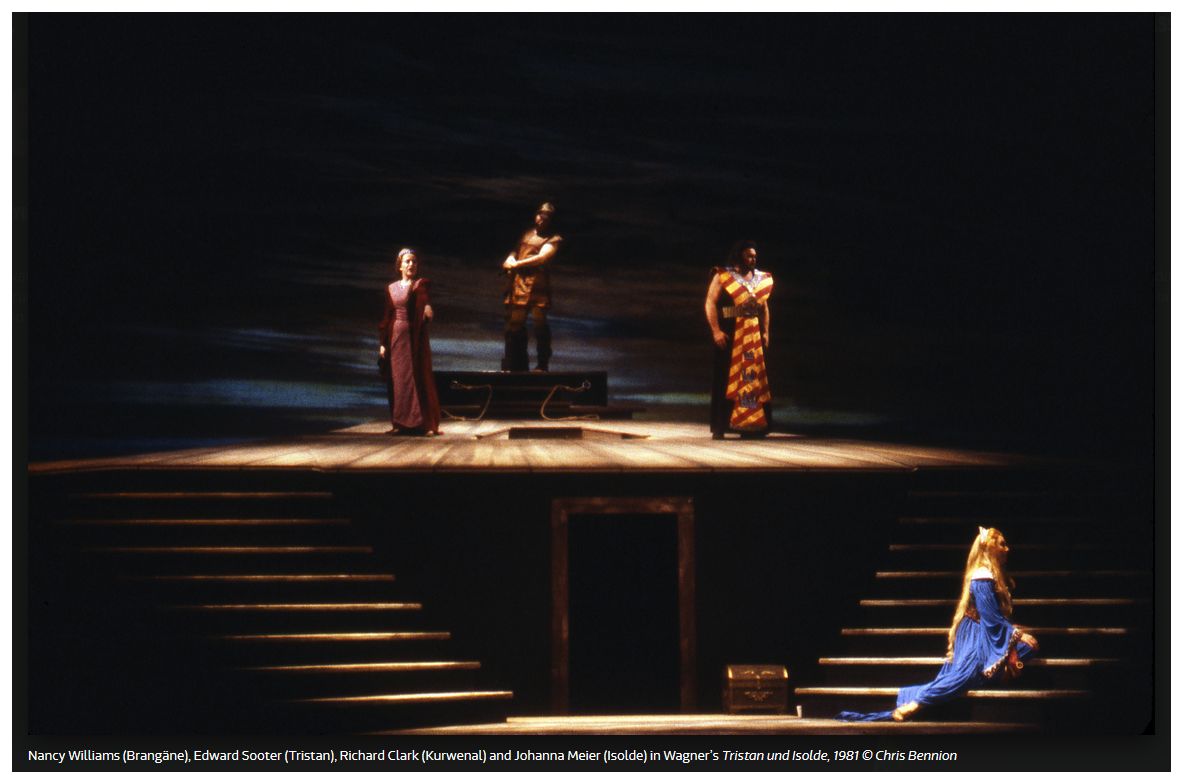 BD: Talking about Wagnerian opera specifically and other operas in general, do you prefer working in the English language or in the original language?

HH: In terms of the work itself — meaning the rehearsal period and the planning for that — I must say that I always prefer the original language no matter what it is. In performance, it's another story. Sometimes I enjoy the English Ring more because of the communication with the audience. Because of what happens between audience and stage, I find that very exciting.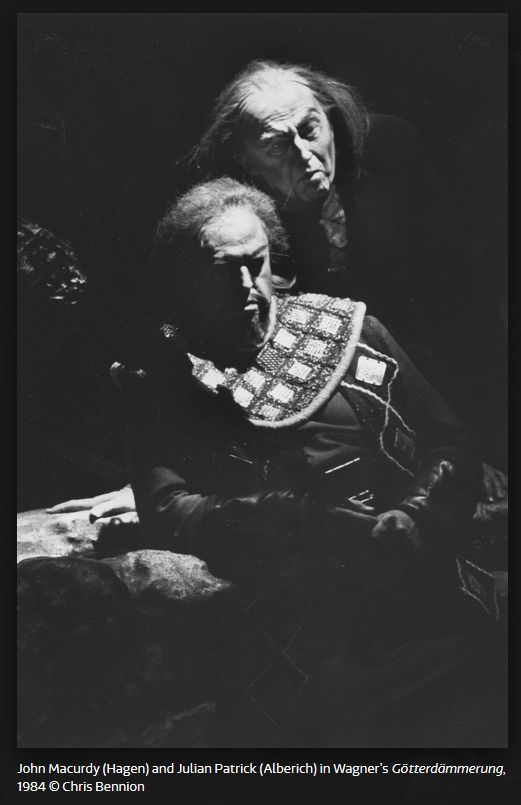 BD: So you feed off the audience?

HH: Yes, very much so.

BD: Do the performers also feed off the public in the auditorium? [Vis-à-vis the photo shown at left, see my interviews with John Macurdy, and Julian Patrick.]

HH: I think they do. A live performance is a combination and an exchange of energies. Three thousand people out in the house send their expectancy energy, and this is answered by the performers and by the back-stage personnel. The amount of energy generated from the beginning of a performance through the end is incredible, and that's what makes a live performance ever more exciting than any other form of appreciating the art.

BD: This Ring cycle in 1980 will have a bigger orchestra than the previous Ring cycles?

HH: That's right. We would have started with the full orchestra had we had the space, but just after the last bars of Götterdämmerung in last year's English Ring, we started a project that had to be completed in six weeks' time of rebuilding the entire orchestra pit, which meant tearing out a great many structures that were there. The work is completed, and we have been using it in the regular season. The pit now will seat the full complement that Wagner asks for. What we had done in the past was to use fewer strings. We didn't use a reduced orchestration, but we could not use the full complement of strings and harps that he requested.

BD: What orchestra do you employ in the pit — the Seattle Symphony?

HH: Yes, the musicians that make up the Seattle Symphony sign a contract with a multiple employer. They are then the Symphony of the Opera and the Ballet, and the summer festival is part of that work.

BD: So then they have nearly year-round employment.

HH: The Orchestra now is going to a forty-five-week season.

BD: How do the players feel about playing Wagner every summer?

HH: It's mixed, like everything else. There are those who consider this the most exciting part of the year, and they thrive on it, and do a great deal of work on their own, and come in with great many questions throughout the season. They even have their own parts by now. Then for some of them it's an incredible chore and a headache they'd rather do without. But I would say that overall, it's still a very exciting event for them, and mostly positive.

BD: Tell me a little bit about the orchestra. Would they rather play opera, any opera, or would they rather play symphonic concerts on the stage?

HH: We've been very lucky in Seattle that opera got off to a good start. The company started as a fully-fledged professional entity doing high-level work, so we've also treated the players very well. We've always made the orchestra a very important part of the production, and given them an attitude that they've reflected on, so it's positive. Every symphony orchestra has to spend the bulk of its time being a symphony orchestra, or they simply won't be good enough. The kind of refinement required of the symphony orchestra in our time is extreme — not that it isn't required in opera, but the focus isn't that much on it, and the sound is a little more diffused coming from the pit than it is coming from the stage.

BD: Do you also conduct concerts with the Seattle Symphony?

HH: Yes, I am in charge of the Seattle Symphony Education Programs, and I have my own concert series related to that.

BD: I hate to ask this question but which do you enjoy more — the symphony concerts or conducting opera?

HH: Oh, that's very simple. My profession is opera, and I do enjoy the symphony work very much. It's a great hobby. [Both laugh] I have another great hobby which I love dearly, and that is conducting ballet. That's a wonderful time, and we have an excellent young company. But my profession is opera.



* * * * *



BD: You conduct the Ring cycle as a festival each summer. How does this differ with the operas during the season, where you also conduct the standard repertory? Do you find the Ring as exciting to prepare, or is it completely different?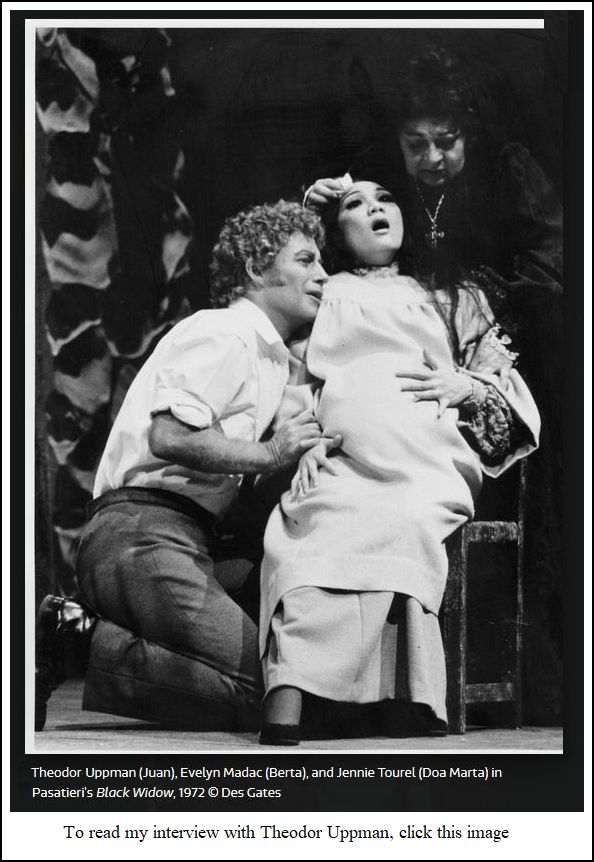 HH: What is most exciting is to prepare new works, and the only thing I would ever, ever trade the Ring for would be the opportunity to do a lot of new music.

BD: Have you conducted some world premieres?

HH: Yes, I have. I was involved in the world premiere of Carlisle Floyd's Of Mice and Men. However, I didn't do the very first performance. I worked with another cast because we had a double-cast situation there.

BD: Where was this?

HH: This was in Seattle, and I did quite a number of Thomas Pasatieri's works. I did the world premiere of Black Widow [shown at left], and I did the West Coast and East Coast premieres, but not the world premiere, of The Seagull, which may be his most successful work to date. I also did the world premiere of his Washington Square in Detroit. [More about that production is shown farther down on this webpage.]

BD: If a young composer comes up to you and asks what you look for in a new opera, what advice would you him or her?

HH: My first question is always is about the dramatic premise of the opera.

BD: Do you expect the music to be fitted around the drama?

HH: That's right. With some composers — for instance, with Pasatieri, or with Carlisle Floyd — I know all of their works, and I know what their musical capabilities are. So, if they pick a subject that I think is far removed from what I know, I would question it. For example, Tom Pasatieri wants very much to do an opera based on Elmer Gantry. Well, that's very far removed from anything he's done, and so I asked a lot of questions about it.

BD: But still if he writes it, would you go ahead and produce it?

HH: Most likely, yes. [To date, he has not written this work.] My other advice is to find an idiom that still allows singers to be protagonists as singers, and that really requires find vocalism from them.

BD: [With a gentle nudge] You don't just want an obligato part over the orchestra?

HH: [Smiles] No, and I don't want the kind of vocal noise-making that isn't really singing.

BD: You've mentioned Pasatieri and Carlisle Floyd, a couple of very fine American composers. Are there other American composers that you are very interested in?

HH: Yes, I'm just now looking at a work by Lee Hoiby. I'm very interested in what he does, and I also very much want to produce Black River by Conrad Susa. I have looked at most of the works of recent vintage of all the American composers, and a new composer who is making the scene now is Henry Mollicone, who's written some 'one-acters' that I find absolutely delightful

BD: Do you find it is satisfactory to present a couple or three one-act operas on an evening, as opposed to a single work?

HH: I find it always very interesting. I, as audience, love to go, but that sentiment is not shared by the bulk of the ticket-buying opera public. So, it's a rare event with us.

BD: Have you done some composing yourself?

HH: Yes, I have. There was a period from about 1967 through 1971 that I was involved in a statewide project having to do with education, and I was in a very fortunate position to being able to do multi-media shows and experimental stage works, and I wrote one.

BD: Do multi-media events work?

HH: Those were the early days of multi-media, and we did it on a low budget. It was very challenging, but I have no idea. I was a protagonist. I was composer and performer, so at the time I thought it was just the greatest thing in the world. In retrospect, I find it a little over-rated, and not as interesting now as I thought then.

BD: It's passé?

HH: Yes. Imagine a chess game with unlimited squares, that you can move and move and move in any direction. It would not be such an interesting game. The very fact that that a chess board has boundaries makes it the stunning game that it is, and I find a strict discipline a source of real excitement.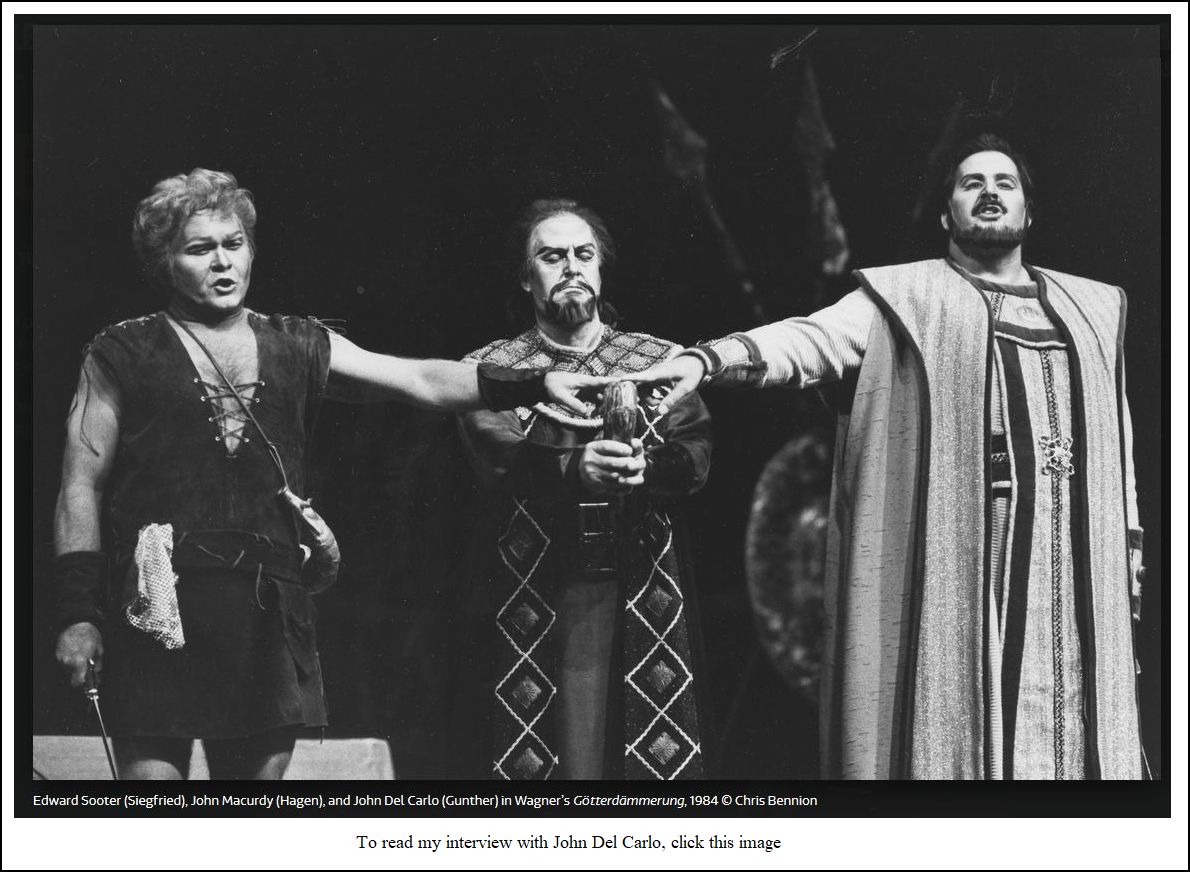 BD: Do you feel that composers are getting back to the boundaries that you're talking about?

HH: I don't know because composers are going in so many different directions. One wonderful trend and that is composers are discovering that one can also make music out of music; that one does not need to rely purely on electronics, or the unlimited possibilities of dodecaphonic music. The fact that composers are willing today to write real tonal music is not step back but a step forward.

BD: So we've gone afield and now we're coming back. Are we coming back with a great insight?

HH: I think so, yes.

BD: We've talked about American composers. Are there some non-American composers that interest you, or would you rather stick mostly with American works?

HH: No, there are lots of non-American composers that interest me. I'm studying right now some scores by some Japanese composers. Though it is not a new work, we're planning to do a production of Szymanowski's King Roger, which dates from 1926, and which we've scheduled for two years' hence. I'm interested in music from everywhere, however I do feel a strong commitment to American music and American composers. These are people whom I know as friends, and I know directions that they can take. I like to be influenced by them, and in return, influence them. I like a working relationship with them. I feel that the composer's been too much removed from the performance scene, and I want to do my part to change that.

BD: Will the Szymanowski be given in Polish or in English?

HH: We do everything in the original language and in English, so we will double-cast and we'll do that.

BD: The Ring is not really double-cast. It has a few singers that do both, and few that are just in one or the other.

HH: The practical circumstances seem to dictate that that's the way it's to be done, and we do it in the regular season that way also. Generally, the strenuous roles that the singers could not sing five times in a row are the ones that are double-cast. So in the Ring, for example, it is Siegfried, and Brünnhilde, and Wotan that really must be double-cast.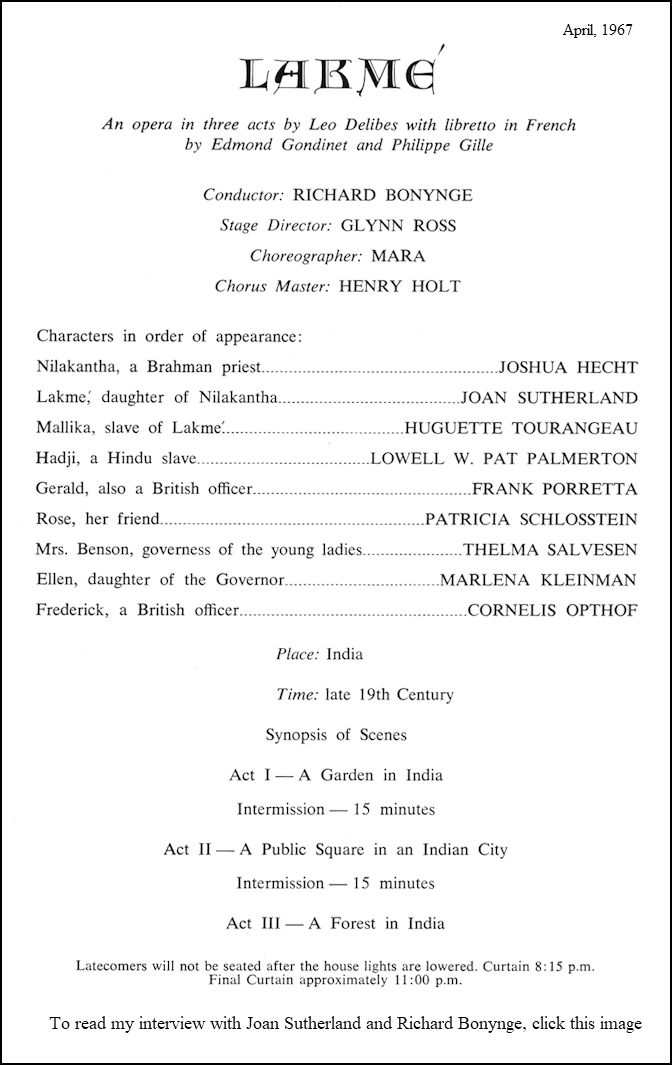 BD: The rest of the roles can be performed by the same singers?

HH: That's right.



* * * * *



BD: You're also involved in education?

HH: Yes. I find my work in education most enjoyable, challenging, exciting, and I don't really want a separation.

BD: Is this education for youngsters, or for adults, or both?

HH: It's both, and my approach to it really is to make a grid. Along one side I list all the population groups that one can possibly identify and hit with an educational project or a program. Along the other side I list all of the projects that we're presently doing, and some that we might be doing in the future. I then check the resulting squares with where a project really hits a particular population group. The goal is to have a grid filled with squares, by which I mean that we are doing a lot of work in the public and private schools. But we're also interested in working with ethnic groups, handicapped people, senior citizens, and with people in industrial settings. Wherever we can find a potential group of people to work with, we'll try to dream up an education project.

BD: How do the children respond to opera? Do they like it?

HH: It depends on how they approach it. The traditional approach is to take a group of children and say, "Children, you're going to see this opera. It's a great masterpiece, and you will enjoy it because generations before you have enjoyed it. This is the story, and this is who these great singers are." Then you bus them over to the opera house, and they see it, and you take them back to the classroom, and say, "Let's write a letter to the producer, or the conductor, or a singer, and tell them what your favorite moment was!" That's deadly! In spite of it being deadly, there will be maybe five or six per cent, or maybe even ten per cent that will still like it in spite of that traditional treatment. Now, breaking away from that, what we're trying to do is to approach it not from the 'great cultural heritage' point of view, but rather from 'this is singing, and this is drama, and this is acting in drama, and this is costuming, and this is make-up, and this is lighting.'

BD: And let them find out that opera is fun?

HH: Right! We show them all these things somewhat separately, and we get them involved in these various disciplines, and enjoyment. We then get them to create something of their own. Our best projects have been those where we've had the kids write their own libretto and their own music, produce their own opera, perform it themselves, and tour if it's any good. Then they really get the full impact, and those kids who go through that kind of program, love it.

BD: Do you use the same kind of approach then when you're dealing with adults?

HH: We have one that is very similar. For instance, we're starting to work that way with senior citizens because they have the time to do it. We generally try to think in terms of music-theater rather than opera. It's a little less threatening, and it gives them an idea that it isn't such a foreign element. But it's a matter of fitting the approach to the group. Sometimes I will work with a group and I'll see, right at the very beginning, that they demand a traditional approach. If they wouldn't trust anything else, we give them a traditional approach.

BD: Is this where you think opera is going today — bringing it to as many people as possible?

HH: I think it is. Opera's is incredibly expensive, so in order to make it viable at all, we're going to need more than that less-than-one-per-cent of the public of an urban community. We have to be close to two per cent now to make it work in the city. If we were at about ten per cent, then we wouldn't to do the crazy kind of fundraising we do, and that's what we need to work towards.

BD: How is the budget going in Seattle? Are you managing to make it with contributions and everything, or is this a question I should ask Glynn Ross, the General Director?

HH: No, every artistic decision is a financial decision, and vice-versa. So, I have to be as aware of budgetary restrictions as Glynn.

BD: Is he supportive of all of your decisions?

HH: Yes, we are very mutually supportive. Glynn is just a wonderful person to work with, and working 'with' is the key word there, because he demands that each member of the staff really hold their position and fight for it. The budget is now at about $3 million, and only about half of that is earned income at the box office. So, the fundraising part of that has to be solid. The rest we have to fund through public funds, through foundations, through help from industry, and help from private individuals. There should be a balance of all those things. Right now, we are pretty well balanced. I would say that industry is the one that could appreciably improve.



* * * * *



BD: We touched on it, but let me ask directly. Where is opera going these days?

HH: I'm Chairman of a couple of committees of Opera America. The ones that I'm involved with are 'Education', and 'Opera in English'. We've got a couple of very interesting projects going right now. The 'Opera in English' project is really to identify all of the factors that are involved in making quality performances of opera in English, whether it's a translated opera or an original. We've generally thought that intelligibility is the sole responsibility of the singer, and that's simply not so. There are so many other factors involved, such as the acoustics of the house, the relative dynamics for orchestra, and the construction of the sets, and things like that.

BD: Do you find singers generally prefer singing in the original, rather than an English translation?

HH: I would say by and large most singers want to study roles and perform them in the original language, but there's an ever growing group of singers, and some really fine top singers, who are very willing and eager to sing opera in English.

BD: What do you say to the singer who doesn't want to work on an American opera? They would rather do a Traviata than a new opera by Pasatieri, or even an established opera by Pasatieri?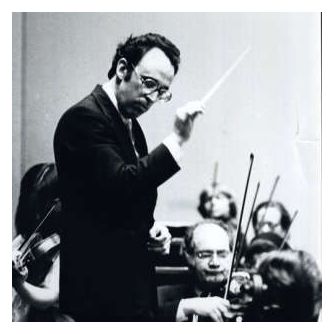 HH: It depends on who they are. If it's a singer that I really like a great deal and that I admire as an artist, then I will try to convince them of the viability of American opera, and particularly someone like Pasatieri who writes a great vocal line. I'll play some music for them. I'll play some tapes for them, or I'll sit down at the piano with them, and go through something that I particularly like, and say why I think it would be good for them. I've convinced lots of singers to use Pasatieri's arias as audition pieces, because some of them are stunning audition pieces. On the other hand, if it's a singer that I don't particular care for, or that I don't think would fit into a contemporary American opera, then I don't try to convince them of anything. I may be grateful that they're going to stick to the standard repertory because they may not be an asset to our American opera.

BD: Do you enjoy conducting standard repertory pieces?

HH: Very much! I love the repertory, and I've conducted practically the entire standard repertory, as well as many other things. But I would still say that the greatest thrill is doing new works.

BD: So you find then it's a good balance for you going back and forth?

HH: Yes, it is.

BD: If you could have any single wish for opera as an institution as it's going today in America, what would it be?

HH: You said a key word, 'institution', and I feel that's part of the problem. All of human endeavor goes through various stages. It starts with an idea, and that idea results in some activity, and that activity is then organized, and the organizations become institutions. When this has become institution, then decisions are made not on the basis of what the original idea and activity were, but on the basis of 'how do you maintain the survival of this institution?' I want opera to survive and develop, and I don't care about institutions nearly as much. I do care about them because they provide me with a livelihood, but I don't care about them as much as I do about opera. So, we need to get away from all the institutional gearing to the presentation of opera, and we need to do a lot more experimental work, and a lot more new works. We need to raise audiences to expect to see new works in a season. Our theater audiences and our dance audiences are now expecting that. You cannot put on a ballet series, or a dance series, or a repertory theater series without doing some new works, and I hope we get to that point in opera.

BD: Boulez said a few years ago that we should blow up all opera houses! This is not your aim, is it?

HH: [Laughs] Not in the least, no, certainly not. I don't think that's wise or necessary, but I understand Boulez's impatience with existing institutions. He just overstated his case. We need to be awake and alert to our times and the needs of people in our time, and not rely just on the past.

BD: You're a theater conductor. What is your view of non-theatrical performances of opera, such as recordings, films, television?

HH: I enjoy them. I use them — as anyone in our time of the electronic age does — to learn pieces that I wouldn't otherwise be exposed to. Often there are recordings and tapes more easily available than scores, but basically I don't like them. They give us a misconception of the work. I don't mind hearing a tape of an opera after I've seen it, but I much prefer seeing it. You're missing five-sixths of it if you don't see the work in performance, so I'm not as interested. I don't like opera on television. It's valuable, and we should continue doing it, and I'm planning to do some myself, but I don't like it. It's neither good opera nor good television. Unless you do a simulcast and have great stereo equipment, the problems with the sound are excruciating. Also, the limitation of the TV screen is bad, so it's not great opera. [Remember, this interview was held in 1980, and as it is being posted (nearly forty years later), the technology in both video and audio has advanced tremendously!] The subject matter of opera doesn't lend itself to be good television. There was an example of one that could be both, and that was Pasatieri's Trial of Mary Lincoln. That came very close to being satisfying both operatically and as television.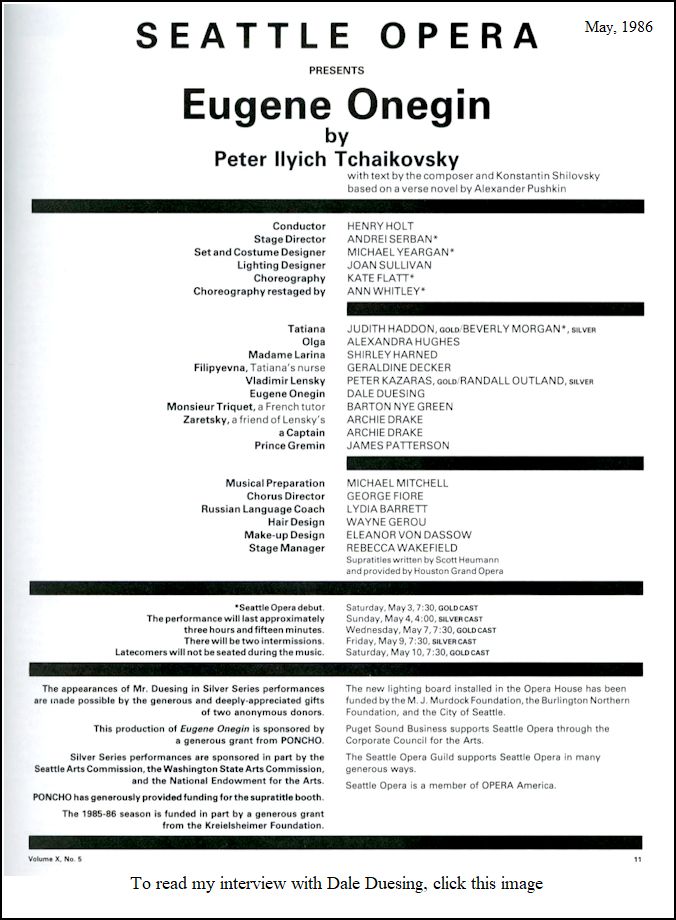 BD: It worked very well. It was an enjoyable thing to watch, and it was a small-scale work that ran only an hour.

HH: That's right.

BD: So, you find films and recordings should be used, perhaps, as a stepping stone but not more than that?

HH: I think that it will take care of itself. I don't think opera on television will get the kind of massive audience with great ratings that it would need to become commercially viable. [Again, consider the time which has passed since these comments were made.]

BD: What about the people who sit at home and play a video tape of their favorite opera?

HH: I think that's fine. Anything that people do for their own enjoyment is fine. I applaud it. We should try to make opera available in as many forms that we possibly can. The joy and the excitement of the live theatrical experience will always be there, and nothing will ever eclipse that.



* * * * *



BD: As a theater conductor, you're bombarded with professional and amateur criticism all the time. Do you read the newspapers and magazines, and what they have to say about your performances?

HH: Yes, I always read them, but I read them in two different ways. Let's say I'm in Seattle, and I'm doing a production which runs about two weeks before we're finished with performances. I wait until I have finished the last performance before reading any of them. But then I read them all because I do find them interesting and instructive in a variety of ways — not in terms of their accuracy, but in terms of what is accepted today as criticism. I find least interesting the comments about what was good and what was bad. The least interesting thing a reviewer or a critic can say is that good/bad side of it. Sometimes they have interesting insights about how things happened, or surmises why they happened.

BD: Is it important that they say how it worked in the theater?

HH: I find that interesting. Sometimes they really do their homework, and have interesting historical things to report. They are wonderful in this way. Andrew Porter's collected reviews for the New Yorker make really wonderful and valuable research materials. Sometimes a review is good entertainment because some critics have a very witty style of presentation. It is not much help to a performer, though, because one really can't totally believe either the good or the bad. One has to develop one's own convictions about who one is a performer, and how it works.

BD: If a critic tells you something didn't work, or something came off beautifully, would you believe him?

HH: I believe that he believes that. He, and probably a slice of the audience may have similar feelings, and that's significant. Sometimes I will read a review of something that has been put on tape, and I'll go back and compare and see whether there is validity. Often there is, but that's only one opinion. The other way that I read reviews is as an administrator, and that's quite different. I read the reviews where I did not conduct as someone concerned about the future of that company in that city, and how the reviews affect ticket buying, and so on and so forth. That's an entirely different thing. Also, it's different when I am a guest conductor. I read reviews from a slightly different point of view than I would in my own home town.

BD: Do you prefer conducting in your own home town, or do you prefer going on the road and guest conducting in various other companies, and then coming back?

HH: I would say they're both very necessary. I most prefer working at home, because it's building those circumstances that have made up the major part of my life for the past fifteen years. But in order to gain artistic experience and a wider range of possibilities, I do a fair amount of guesting. This season, for instance, I was at the New York City Opera doing Bohème. I was also in San Antonio doing Wozzeck, and just recently in Winnipeg doing The Merry Widow.

BD: A wide range of operas.

HH: Yes, and I found all three experiences most satisfying in some ways, and frustrating in other ways. For example, the New York City Opera is a wonderful company right now. They do a beautiful Bohème production, and it's been on the board for some time. I had an excellent cast to work with, and very fine working circumstances.

BD: Did they give you enough rehearsal time?

HH: They gave me quite a bit of rehearsal time, including even an orchestral rehearsal, which is unusual for them to do with a repertory opera. At the first performance I was very pleased, but the second performance was a week later, with many changes in orchestral personnel, and I found that almost everything that I had rehearsed orchestrally was eroded. The Wozzeck in San Antonio was fascinating. First of all, just doing that kind of a work in San Antonio is already amazing, but I had ample rehearsal time, and the orchestra reached a level that I'm told is really extraordinary for them. It was generally a first-rate production, and let's face it, any time one gets to do that work, it's a great day! [Both laugh]

BD: That's right!

HH: Then to Winnipeg with a wonderful orchestra there. In addition to being the Symphony, they are also the CBC Radio Orchestra, and they're a very polished group. That was a very fine experience.

BD: Do you have any use for old operas, such as Handel, Vivaldi, or Cavalli?

HH: Yes, and that's a very interesting subject. I started off my musical training with a great harpsichordist. Her name is Alice Ehlers, and she was one of the people who did a tremendous amount for that research and interest in baroque music. She taught at the University of Southern California for many years, so I had a lot of background in baroque music.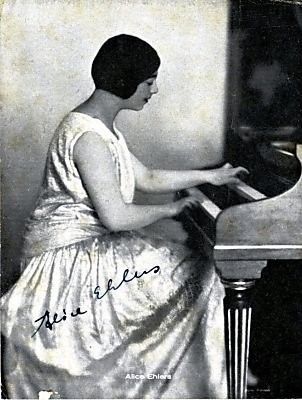 Alice Ehlers (1887-1981) began piano lessons as a child, later studying the instrument under Robert and Leschetizky, and music theory with Schoenberg. In 1909 she matriculated at the Berlin Hochschule für Musik as a piano student. Immediately upon Landowska's appointment as professor of harpsichord in 1913, Ehlers became her pupil and remained with her until 1918.

After a successful concert debut in Berlin, she toured as a harpsichordist in Europe, the USSR and the Middle East. She also taught at the Berlin Hochschule until 1933, after which she left Germany, taking up temporary residence in England and Austria. She first toured the USA in 1936, and moved permanently two years later, settling in California and becoming an American citizen in 1943.

In addition to making film and radio appearances, Ehlers toured extensively, especially on the Pacific coast. She also had a long association with Dr. Albert Schweitzer both as a student as a colleague. A selection of letters they exchanged between the years of 1928 and 1965 was published in the book Albert Schweitzer & Alice Ehlers - A Friendship in Letters.

She was a featured performer in Samuel Goldwyn's Wuthering Heights (1939, shown below), where she performed onscreen Mozart's Rondo Alla Turca for the assembled party guests on a double-manual harpsichord.

She remained active as a teacher, first privately, and later as professor of harpsichord at the University of Southern California at Los Angeles, a chair which she held from 1942 until her retirement in 1962.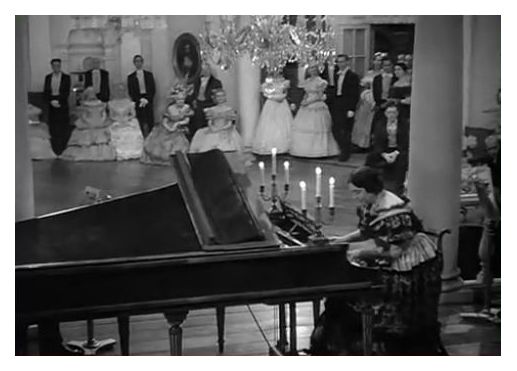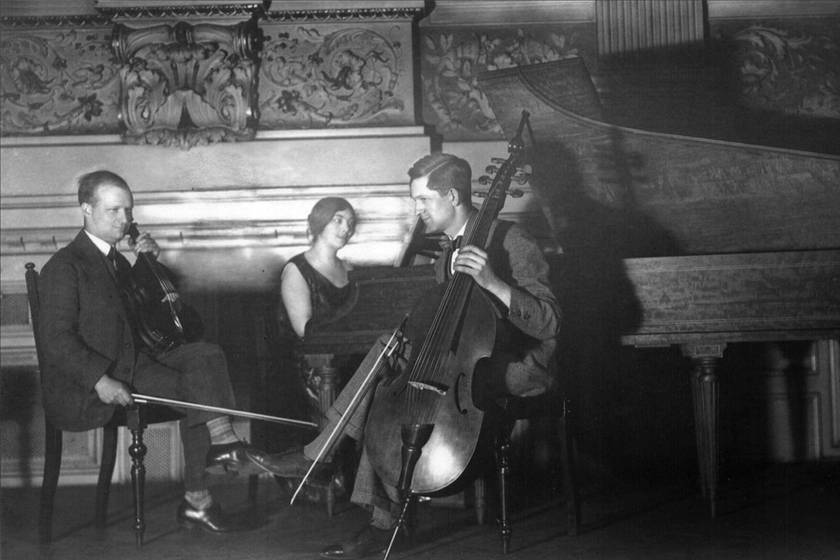 Paul Hindemith, Alice Ehlers, Rudolf Hindemith (l-r)






There are two ways in which baroque operas are presented. One is to try to do a fairly traditional approach with authentic instruments, and so forth, and the other I would call the Raymond Leppard way, which is to make modern viable stage-worthy pieces out of them.

BD: Which do you prefer, or do you find a place for both?

HH: I find a place for both. Without someone of Ray Leppard's excellence, I really have great respect for him, and his drive in getting these works out. Without him, we might be seeing much less. However, I still don't think we've seen anything like the optimum, and that would require a lot more research and resources to try to recreate the visual spectacle that these works gave. A great deal of baroque opera was spectacle.

BD: Even with the considerable limitation of the stages of the day?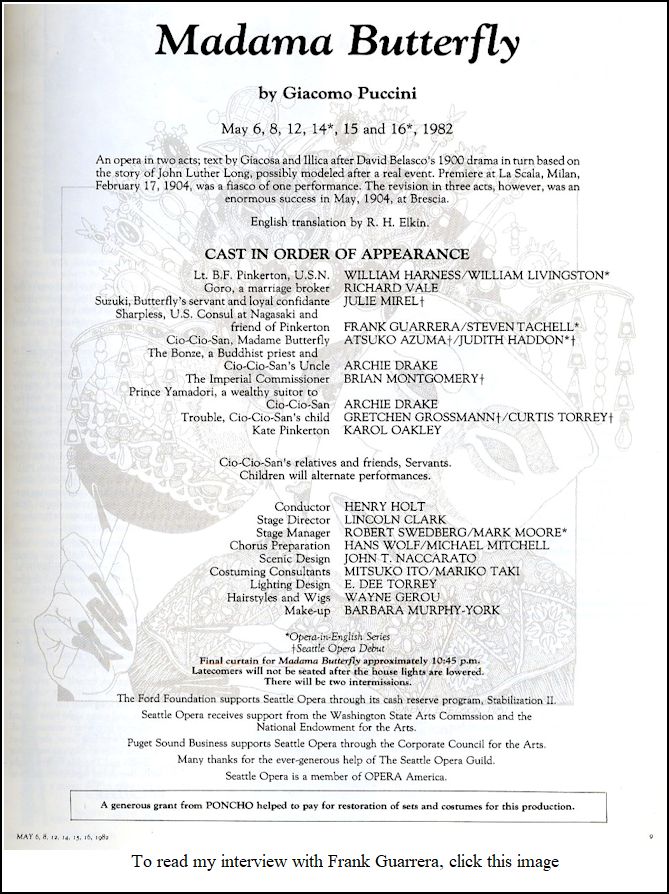 HH: They weren't as limited as you might think. Look at how Lully's operas were produced, and the size of the forces there, or the late works of Rameau, and others of the French baroque. But I'm afraid that we don't have the artists with the right kind of training. The type of vocalism of that period, and the type of training that singers went through is very different from what passes as vocal training today. I'm not saying it was all great, but it was totally different, and at some point it would be nice to create a school of baroque performance, and do these works properly. I don't think it's possible to do them properly today. [Yet again, we can see the amount of progress made since this interview took place! For instance, let me cite the work of Nicholas Harnoncourt, William Christie and Nicholas McGegan...]

BD: So you don't foresee bringing them back with any regularity during the Seattle season?

HH: To this day we have not done a baroque work, and that's simply because I don't want to do it in a less than excellent manner. I find standard performance and production practice, and the kind of rehearsal periods that one can get together, and the way in which one generates scenery and costumes all work against the presentation of a really excellent baroque opera. So, I don't want to do it that way.



* * * * *



BD: Do you feel the future of opera in America is getting more and more healthy, especially through your work with education, and the performances that you are able to give?

HH: Yes, I do. The diversity is what makes it so healthy, and that the fact that every opera company has its own artistic conceptual head, and none of them agree with each other. They all think something else is important, and they all put their eggs in different baskets, and at the same time they are totally convinced that theirs is 'the way', and that's very good. The fact that Carol Fox [General Manager of Lyric Opera of Chicago] and Glynn Ross are never going to see eye to eye on opera is an advantage.

BD: So we, as a public, benefit by being able to experience both?

HH: That's right. Yes. I am always going to be a protagonist for the composer. I feel the composer is the most important person in opera, and has to be recognized as such in our time.

BD: Maybe a hundred years from now, you'll be remembered as the composer's friend?

HH: [Smiles] Well, I don't care about that. How I'm remembered is not as significant as what kind of work I generate while I'm able to.

BD: Has the Seattle Opera done any commissioning of new works, or does it intend to?

HH: The answer to the first part of the question is no. We have presented new works, and we've done some world premieres, but in both cases they were works that had been previously commissioned but not performed. I would like to do some commissioning in the future. There are problems with commissioning that haven't been totally solved yet in terms of how much money is a decent amount. I feel most commissions are too low. One expects a composer to devote a year or more of his life to something, even when one pays him much less than a year's wages for it.

BD: If you commissioned something, and it came in substandard, would you still produce it, or would you let it go?

HH: That's the other big problem. Because of the amount of money involved — not just in the commissioning itself, but in the gearing up of a production — one must protect that investment. Therefore, one must have time to spend with the composer, and know early in the game whether it's headed in the direction that one considers usable.

BD: Do you feel it would be valuable for a composer to have a work presented, even though it's not done very well, and then perhaps do extensive revision on it, or just draw on that experience for another work?

HH: I was involved in a project that ended up that way, Pasatieri's Washington Square, which was a two-act work with some real problems. It was very successful in its premiere [by the Michigan Opera Theatre at the Detroit Opera House], but not nearly as good as it should have been. Then it was revised to a three-act work. Some material was deleted, and some material was added, and some vocal lines were very much changed. The entire tessitura of one part changed. So it depends on the individual circumstances of where it's being produced, and the producing company, and who the audiences are to be. We should take a more sporting attitude about the whole thing. We shouldn't expect that a composer's going to hit a home run every time he comes up to bat. I don't mind an occasional single, or even a strike out. Sometimes a healthy swing and a miss is worth something. The only thing is that one shouldn't lose the team as a result of that. One shouldn't lose the opera company because of idealism of that sort, so one needs to find the right way. One right way is coming in these composer-workshops that are being organized in various parts of the country. This is where, during a two- or three-month period, a composer can see his work come out it in a minimal kind of production, and he can do some work on it, and make some revisions.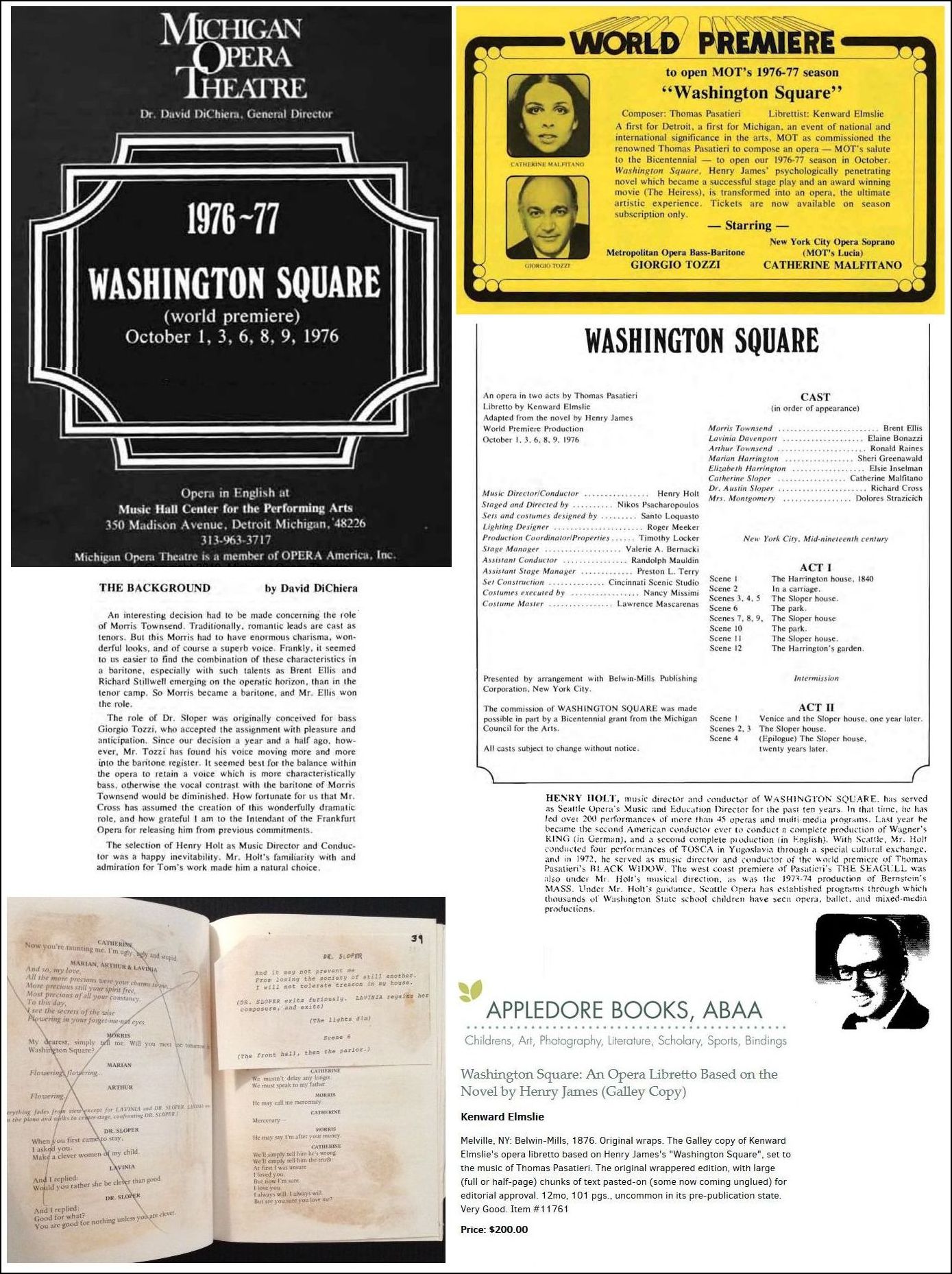 See my interviews with

Catherine Malfitano

,

Giorgio Tozzi

, and

Sheri Greenawald

.

The revised version was given the following year by the New York Lyric Opera at the NYU theater on Fourth Street, just east of Washington Square!



BD: Do you think there's any value in studying original conceptions and how the revisions are made?


HH: Very much so. I try whenever possible to get hold of the original source material to see what the original form of an opera was. For instance, for years I conducted Madama Butterfly mindless of what the work had been in its original form, until finally I was able to get all that material together. Now, some of the rather awkward musical transitions make sense to me because that's where the cuts were, and he never really bothered to totally clean it up. I worked very closely with Carlisle Floyd on revisions for Of Mice and Men before the first production. An entire scene was omitted from that opera, but there were two very important arias in that scene that had to be inserted somewhere else, and we found the places for them. But we had to do it in a hurry, and it was done without all the necessary plastic surgery.

BD: So the bandages are still apparent as you look at the final version?

HH: That's right. Anyway, to answer your question, it's very valuable, and I find as long I'm in this business, the more research I do, and the more I try to get hold of original material.

BD: Do you enjoy doing the work that you're doing? You seem to be very happy. [Vis-à-vis the program shown at right, see my interview with June Anderson.]

HH: Tremendously! I like all aspects of it. There's nothing in the opera business that I find tedious or boring. Whether it's work on promotion, or with an opera guild, or education, or the box office, it's all interesting. And I find that it gets more and more interesting the more one knows about it. At the beginning, it was all a great mystery. I was a musician, and I knew the score, but I didn't have any idea about anything else in opera. As I began working in workshops, I found great satisfaction in doing stage-managing, and working as a lighting assistant, or in the make-up room, and learning how to sew a wig. One can't afford too many areas of ignorance in opera. One has to really know quite a bit about everything. Then one doesn't have the wool pulled over one's eyes. [Laughs]


[At this point we went over a few of the specific details of dates and singers for the upcoming Ring to use as promotion on the radio, as well as how people could write to get tickets... which led to a couple of funny stories...]


BD: Last time when Glynn was here, he said that someone just put 'Ho-Yo-To-Ho' on an envelope, and apparently it got there!

HH: Right. I do remember that. People come from all over the world. We had a funny incident last summer at the airport. Two fellows talked while picking up their baggage, and went in search of a cab into town. When they got into the cab, one of them said something like "Nice day," to the driver, and the driver replied, "It's always nice when the Ring is on!" Since both the fellows were going to the Ring, one of them said, "Let's place a little bet that I've traveled more miles than you getting here." The other fellow agreed, so they placed a $5 bet. The first fellow said, "I'm from Montreal," and the other fellow said, "You lose. I'm from New Zealand!" [Much laughter]




=== === === === ===





Exactly ten years later, in March of 1990, Holt was back in Chicago to conduct The Lighthouse by Peter Maxwell Davies, in a production by the Chicago Opera Theater. We arranged to meet again, this time backstage at the theater, and here is what was said . . . . .


BD: Tell me about working with the music of Sir Peter Maxwell Davies.

HH: It's fascinating. I had not played much of his music. I worked on Eight Songs for a Mad King once before, and coached a singer, so I knew about his very unusual vocal style and use of alternate sounds and strange harmonics, but I hadn't really worked on conducting a score of his. So when I received this score, I plowed into it. At first it looked very arbitrary, like he was making it unnecessarily difficult. But as I got into it, I saw what a brilliantly crafted piece it really was. The virtuosity pays off, and the extreme rhythmical complexity pays off, and it all really works.

BD: How does it pay off?

HH: It pays off in that edge it puts on the performers. The kind of energy that it takes to play the score is extreme. You can't lay back in this piece, so the energy coming out of that twelve-piece ensemble is remarkable. It also pays off in that the way in which he sets text is very unusual. It goes frequently rather against normal speech patterns, but only in certain places, and only when specific dramatic things happen... for instance, when there's a narrative and they're not quite telling the truth about what really happened. It's really quite brilliant. Also, the colors are wonderful. In this ensemble he uses solo strings, two woodwinds, a few brass instruments, trumpet, horn, trombone, also guitar, banjo, celeste, and an out-of-tune upright piano. There is also a whole group of percussion instruments played by the others doubling. It's a very interesting ensemble, calling forth some really remarkable colors. When did you last hear, for example, an ensemble featuring guitar, celeste, crotales for extended sections?

BD: It's not just a momentary effect?

HH: No, no! There are extended sections with these instruments playing. Or, on the other end of the scale, an ensemble with cello, bass, and bass clarinet.

BD: Is this work designed to be an opera, or is it more of a music-theater piece?

HH: The hard line is becoming much softer and blurred. It's a music-theater piece, but it definitely is an opera. It is all sung, and requires singers of amazing stature.

BD: Are you getting that stature that you need?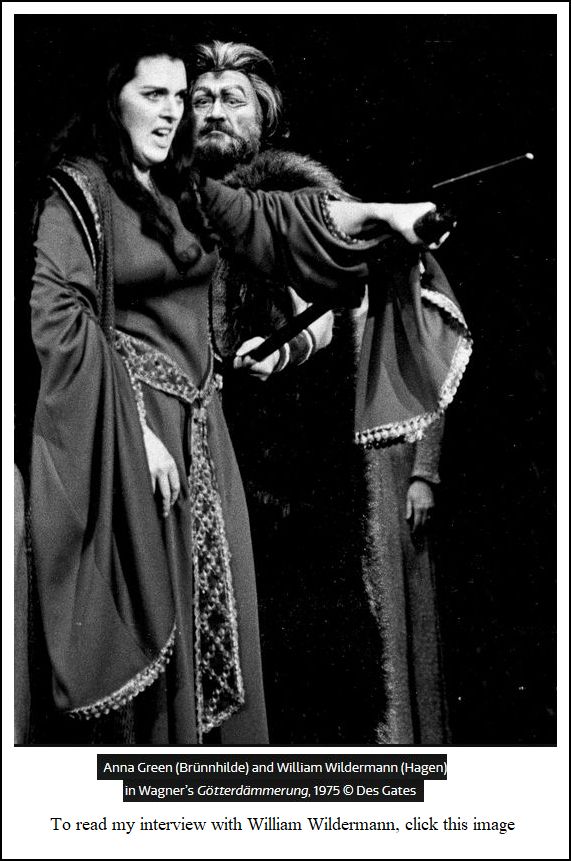 HH: We've got it. We have three wonderful singers for this, and I'm very pleased with them. To learn these roles is excruciating. The vocal lines are every bit as complicated rhythmically, or even more so, than the instrumental lines. There are things like having to sing seven notes in the time of five, and always against the beat of the conductor.

BD: You're used to it because you're working with it every day, but what impact does this make on the audience which is not used to the style?

HH: The audience needs to be open to this, and hear what it is, and not to try to compare it to anything else. There can be people who come and wonder where's the Puccini melody, or where are the wonderful rhythms that one hears in Verdi. You can't approach a piece like this in that way. You have to be open to what it brings. Peter Maxwell Davies is telling a very fascinating story which is based partly on a true story. Very briefly, it is in the year 1900, off the north coast of Scotland, where three lighthouse keepers very mysteriously disappeared. When the relief officers came, they found the lighthouse empty — or so they said — and the court of inquiry could come up with nothing damaging to anybody. They just mysteriously vanished, and so the composer takes this story and creates a remarkable multi-level almost ghost story out of it.

BD: Does he answer the question at the end?

HH: Well, he answers it, but maybe as enigmatically as Wagner answers what the end of the Ring is all about. It may be he took a page out of Wagner's book, in knowing if you dot every I and cross every T, you're not likely to get as many people talking about it. People will talk about this opera because it's so mysterious. The three singers start off as the relief officers at the court of inquiry. They're being questioned by the court, and the questioner is the French horn in the orchestra. So, we get from their answers what the questions really are. They're being asked to describe the whole situation of their going to relieve these people, and what they found there. In the process of doing this, there are flashbacks where they really recall exactly where they were and what happened.

BD: Are these flashbacks made clear in the score?

HH: They're very clear in the text, but it shifts from past tense to present tense. We are there, and then we are suddenly back to the court of inquiry again. It's almost a cinematic technique that he uses.

BD: There was a recent movie with a lot of flashbacks, and the critics were saying you couldn't tell where the flashbacks were, and the characters were not enjoined one to another, so you couldn't follow them.

HH: We have tried to clear this up with the lighting and with the use of a garment — a slicker, or a raincoat with a rain hat — which they use when they're in flashback, and I think it will become quite clear to the audience. In the main act of the piece, they are the three lighthouse keepers who mysteriously disappeared, and we find out that they are very interesting individual characters, each of whom has an autobiographic song, which are in the popular musical styles of that time. The baritone starts, and he sings a kind of parody of Gilbert & Sullivan, except that it's with a banjo accompaniment so it sounds almost like a Hillbilly song. The second one sings a Victorian love ballad, and the third one sings a Salvation Hymn. They reveal the skeletons in their closets, and as the time gets longer and longer, they're not relieved, and they start going slightly off their head. But I don't want to give the entire story away. At the very end, we see them suddenly become the relief guard again, and then they come back once more as the ghosts of the three who disappeared.

BD: Does it make a tremendous impact on the audience as well as on the performers?

HH: I think so. It has been a very successful work. Since 1980 when it was first performed, it's received maybe sixty-five production, so it's become quite a popular piece.

BD: It's not a terribly long piece...

HH: No, it's quite brief. The net music time is about an hour and fifteen minutes, so with intermission it will be a bit over an hour and a half.

BD: Can it be done with anything else on the bill?

HH: No, it's a full evening. Believe me, it is so intense that you couldn't take anything else after. It's like Salome. What can you do with that opera?

BD: [With a gentle nudge] Elektra?

HH: No! [Gales of laughter from both] That would be the killer bill of all times!

BD: Is there any chance that The Lighthouse is too intense for the average opera audience?

HH: It might be, but then it's a question of what kind of intensity. Certainly nothing gets much more intense than the duet between Santuzza and Alfio in Cavalleria Rusticana.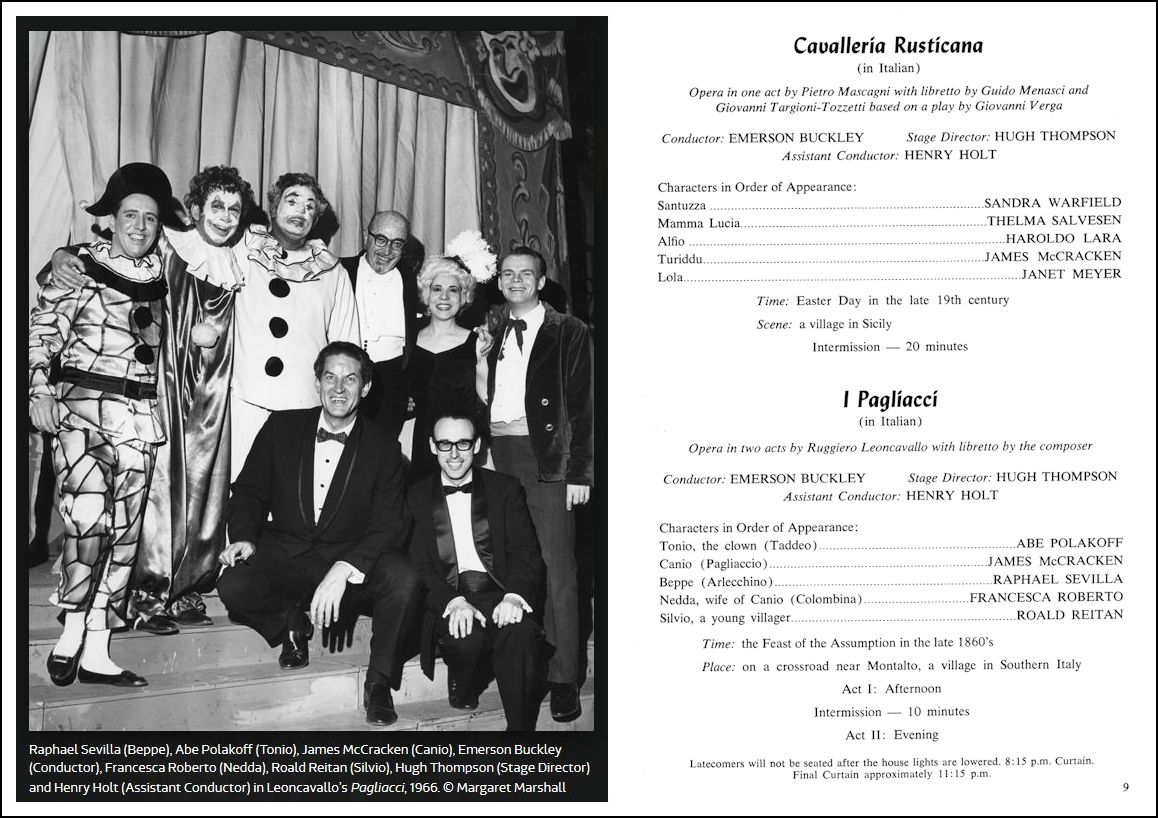 See my interviews with

Sandra Warfield

,

James McCracken

, and

Emerson Buckley



BD: But at least there there's a tune that people can hang onto and recognize.

HH: Right. There are some tunes in this. The three songs are real tunes, and they sing a kind of a hymn at the end... though they sing it in the most outrageous fashion because they've turned almost into beasts at that point. There are some tunes, but it's a different aesthetic altogether, and you're right, it may not be everyone's cup of tea. There are maybe two ways composers can make an indelible mark in opera. One is to write great vocal melodies like Verdi and Puccini, and another way is to do something similar to what Alban Berg did in Wozzeck, which is to create a musical ambiance, a musical atmosphere that immediately calls to mind that particular piece. I will always be able to recognize music from that opera whenever and wherever I hear it because it's that remarkably unique.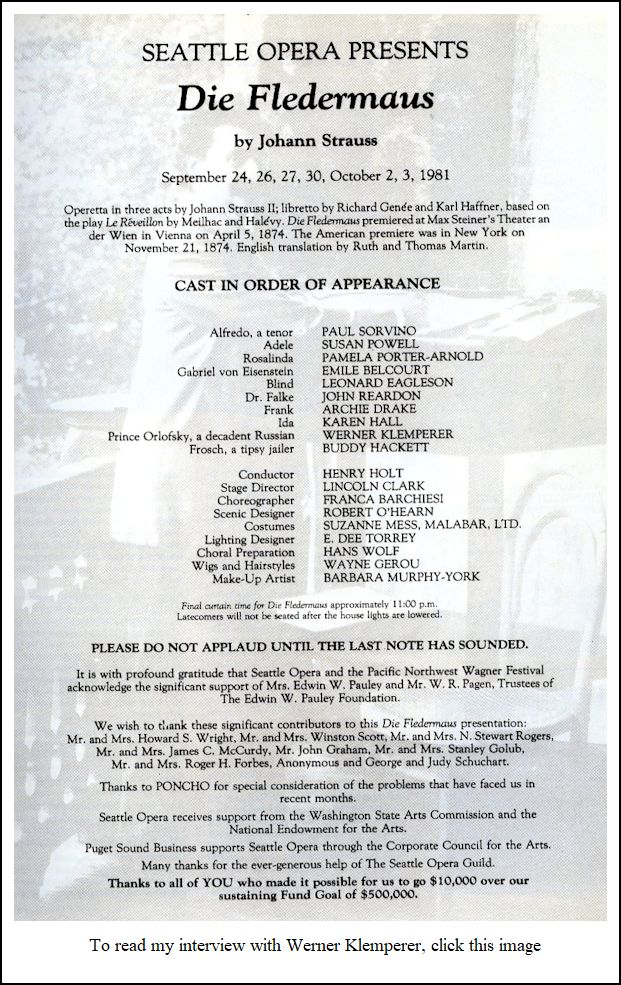 BD: Is that what makes it special — that it is unique?

HH: Yes, absolutely! You can see immediately there's a real super craftsman at work, a real artist. Every note of the score betrays a master.

BD: Has he balanced the art and the craft?

HH: I think so, I really think he has.



* * * * *



BD: Let me ask a big philosophical question. What's the purpose of opera in society?

HH: I think that it needs to be broadened a little bit. I can answer a little bit better if the question were about music-theater, because some form of a combination of music and drama has been with humanity since the very beginning. We know from even Neolithic times that there was this kind of ceremonial and sometimes extreme dramatic presentation with musical theater. It's a way in which humanity has gotten out its hopes, and dreams, and fears, and mythology. Opera's a special case. Opera came about somewhat by mistake and somewhat by happenstance, and featured as principal element the human voice. So, it's a very special kind of music-theater, but it's serves a very vital purpose. Our problem in America is that opera has been bit of a layered-on art form. It did come from Europe, and all of the people in opera were from Europe originally, and it's taken a long time to get rid of that, or, let's say, to minimize that to a certain extent.

BD: Is this what music-theater is doing — trying to get some of the layers off?

HH: Possibly... Every piece of music-theater creates its own rules, so what we're missing is the richness of literature in repertory that's really performable, in presentations that will really hit an audience squarely in the heart. That is still not present in contemporary times. We have some very unusual and very wonderful pieces, of which this Lighthouse is one, but I don't think that this is a piece that makes us forget Carmen and Bohème. It's not meant to. It's set up for an entirely different aesthetic.

BD: Are you trying to get the audience of Carmen and Bohème into the performance of The Lighthouse?

HH: Yes, and also people who've never gone to an opera. This is a theater piece that would attract a pure theater audience. This is also a piece that certainly would attract a contemporary music audience.

BD: But should we try and get the audience of The Lighthouse back into Carmen and Bohème?

HH: Yes!

BD: How?

HH: By giving them something really challenging to chew on in the form of opera.

BD: Is there enough that is challenging in the old warhorses, and even in the lesser lights from the past?

HH: I think there is. I do the warhorses all the time. It's unusual that I have a chance to do something as interesting and challenging as this. I just came from a season where I was doing Butterfly and La Forza del Destino, and I will be going into Carmen after this, and Don Giovanni after that. So, I do them all the time. I find them challenging every time, and if one does a really honest job of them, and really looks at the content and actual musical events of those pieces, it's always challenging and it's always interesting.

BD: So, one of these new pieces will then keep the older ones fresh?

HH: That's right. The older operas have less validity without the contemporary repertory. Then it's just a club that likes to hear the old tunes. But if we have a strong and vital new music-theater, then it's wonderful as a contrast to hear what we consider classics.

BD: Will someone who wants to hear just new music want to go and hear Bohème and Carmen again?

HH: They might. They might be interested in some of the artists that are performing it. There are so many ways in which people can be drawn into opera. Just the phenomenon of the performance values would draw some people in.

BD: Do you feel that opera is for everyone?

HH: Potentially, yes. I don't think it's an elitist art form by design, and I certainly don't think that it's difficult to understand, particularly these days. Even though I'm not crazy about supertitles, when you are able to read the text, certainly that has been a help in bringing a lot of people to opera who wouldn't otherwise come.

BD: [Genuinely surprised] Aside from James Levine, you're about the only one I've talked to who's involved in opera on a day by day basis who really doesn't enthusiastically support the supertitles.

HH: I will tell you why I don't like them. Getting into opera means getting the totality, so you do not have one element that supersedes all others. The minute you print text up there for people to read, you're saying inadvertently that the words are the most important thing. You're also causing people to do a reading process, using a part of their brain which maybe isn't the most interesting, to engage in at an opera performance. So, I'm not thrilled with it, but I am thrilled with the number of people that it's bringing to opera. I hope that gradually they're not going to need those idiot words! [Both laugh]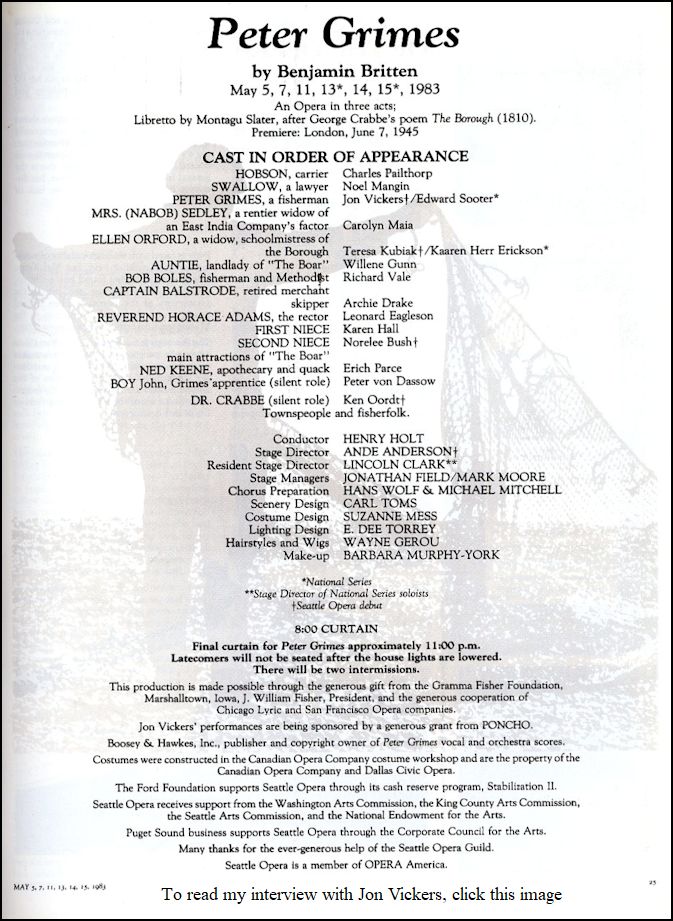 BD: You don't feel that the trade-off is of more benefit than not having them?

HH: Again, you have to go piece by piece. There are certain pieces where it's a real help to have the text, and there are pieces where I feel that you get so busy reading that you don't watch the artistic value of the performance. A live performance is just that — you watch a singer go through an extended scene, and you watch him or her moment for moment, and see how they create this moment of truth of stage.

BD: Are they creating it, or has the composer-librettist team created it?

HH: Well, sure, the composer and the librettist team has created it, but in their recreation, the performers can add a great deal to it. One of the wonderful things about even a tight composer like Peter Maxwell Davies is that he still leaves a great deal for the interpreter to do.

BD: So he expects the interpreter to add the colors and the dimension?

HH: Absolutely.

BD: Verdi and Wagner did this too...

HH: Certainly. In Wagner, for example, he didn't even put metronome markings in his scores. He said, "I don't want to put a number there so that any idiot with a metronome thinks he knows how to conduct my music." That's not where it is. It's in how the music itself develops, and how flexible the conductor is in his choice of tempi.

BD: So it really is from the heart of the conductor going to the heart of the audience?

HH: That's right. You've got it!



* * * * *



BD: I assume opera continues to grow and change as you watch it and participate in it. Is it growing in a good way or a bad way?

HH: There are a few things that are dangerous. We're in an era where the producer — the stage director and sometimes the designer — is pretty much at the top of the heap, and can dictate absolutely to an opera company what he or she wants to do.

BD: Has he gotten to the top of the heap by clawing his way there, or is he there by default?

HH: Probably by default, but different kinds of personalities emerge. When a person like the late Jean-Pierre Ponnelle emerged as a strong force in a public, with very strong ideas and with the research and background that he had, he certainly made an impact. The problem is when these 'concept' productions are not in the hands of the great artist who is also sensitive to the original intent. What happens is that the composers become liars. The music no longer tells the truth, and to me personally, I feel that opera is at its best when it presents on stage moments of such absolute and unquestionable truth that we are drawn into that. Then that becomes an indelibly memorable moment for us. Though that does not happen very often in these productions that we're getting where the producer has changed the time and period, and forced performers into guises which have very little to do with the original intent.

BD: [Being Devil's Advocate for a moment] Yet, of course, the stage director will argue that that is exactly what he was trying to do.

HH: Yes, the stage director can argue — sometimes very successfully — and I argue with him in many cases that we also need to look at the impact that this piece made on its contemporary audience. We also want to recreate some of that, and in the hands of a sensitive person, this is terrific. It's wonderful, but it doesn't often happen.

BD: I assume you don't want opera performances to be a museum.

HH: No, but I also don't think it should never be a museum. I would like to see once, for example, a performance of Freischütz very much the way it was done in Weber's time. It might be wonderful.

BD: With just a flat piece of scenery as background, and the tree?

HH: Well, it wasn't just with a flat and a tree. There was all kinds of stage machinery that was used for the Wolf's Glen Scene. There were many things, and when you say just a flat and a tree, not let's forget about the great scenic artists that we've had in this business; artists of real stature that have painted wonderful, wonderful things on canvas. Now we don't use that anymore very much, but the fact is that there were some great artists that did that, and again I would like occasionally to see that, too.

BD: But is it right to expect the audience who has come through conflicts, and wars, and depressions, and diseases, and experiments, and space shots to really understand an opera with a beautifully painted drop in the back?

HH: I think they can understand it. If opera companies do production in many different styles, and occasionally really try to recreate the original production, and use the musicologists, and the students at universities to recreate as much of the performance practice and style as possible, occasionally that's a very worthwhile task. It would be particularly interesting, for example, in works that were not produced. I'm thinking of a work like Rameau's last opera, Les Boréades, which was not produced because he died. I don't think it's seen a stage production since it's been recorded, and I happen to know the score because I've done excerpts from it. It would be wonderful to really dig into the performance style of late Rameau, and produce Les Boréades exactly in that style. It would be wonderful task! Give it its world premiere in the style in which it was intended to be originally performed.


BD: Only three hundred years late...

HH: That's right. [Both laugh]

BD: You conduct operas in different styles. Do you have a particular affinity for any specific style, perhaps even the American style?

HH: Yes! There are some that are terribly close to me. Mozart certainly is right at the top, as is Wagner, as is Verdi. I enjoy very much conducting the composers of the verismo period — Puccini, Giordano, and so on. I don't feel I have quite as much of real importance to say about that music as I do in some others, and yet occasionally I will be given a chance to do a Butterfly, as I did recently, which is quite remarkable, and intrigued me just as much as anything else. It's hard to say. The classic answer to that question is 'whatever piece I happen to be working on,' but I will tell you that given an opportunity to conduct a repertory piece, or something new, I will always pick the new piece anytime.

BD: Because they don't come around as often?

HH: Right. Over anything, I will pick a new piece.

BD: You have garnered a bit of fame for doing the Ring year after year in the two different languages. Now that you've gotten away from it a bit, do you still hark back Wagner? Do you still do a little bit of Wagner?

HH: Oh yes, certainly, and I'm actually preparing the possibility of another Ring. I'm not at liberty to say any more about it at the moment, but you might guess because my partner in crime is Glynn Ross. So, you can probably figure out what I'm talking about. [This would be the Ring by the Arizona Opera.] But once you do the Ring, it never leaves you alone, and I find myself rethinking all of those pieces. I certainly rethink the mise-en-scene of what that really should be. I've seen many Rings since I did my last one in 1984, and I've seen four different productions since then. Some of them were quite wonderful, but none of them was the way I would like to see it.

BD: Is it more enlightening or more frustrating to sit in the audience for a production of the Ring?

HH: [Smiles] Oh, I'm not an itchy-fingered conductor. If a production is going well, even if it's very different from what I would do, I can enjoy it a great deal. No, I don't feel that I have to be up there doing it to enjoy it. I very much enjoy going to opera. I'm a great member of the audience.

BD: What advice do you have for youngsters who would like to get into the opera conducting racket?

HH: The biggest help is to work with singers, and to approach it from the piano as a coach.

BD: As a repetiteur?

HH: Right, but there's a difference between coaching and repetition. The coach is the one who really studies the opera and tries to know it better than the singers, to be able to teach the singer some special things about it.

BD: But for that you really need an old head on young shoulders.

HH: No, I don't think so. A little bit of that is very helpful. Then, in addition to that, one should have a real instrumental background in playing in orchestras as an instrumentalist. But more important than anything else is a real love and dedication to it, so that you really make those scores your own.

BD: Are you trying to make each one the best Verdi, or the best Wagner, or the best Maxwell Davies?

HH: No, you're over-stating what I meant. By making your own, I mean that you really know them inside out. You memorize large portions of them so that you feel you could step into any one of the characters of that opera and perform it credibly.

BD: So you really take it into your heart, rather than just your mind?

HH: Yes, so you know that special feel for every character in the opera, and for the orchestration, and for the whole thing, so that it doesn't stay at the surface. The conductor is the one who really most dramatically represents the composer.

BD: You're the composer's advocate?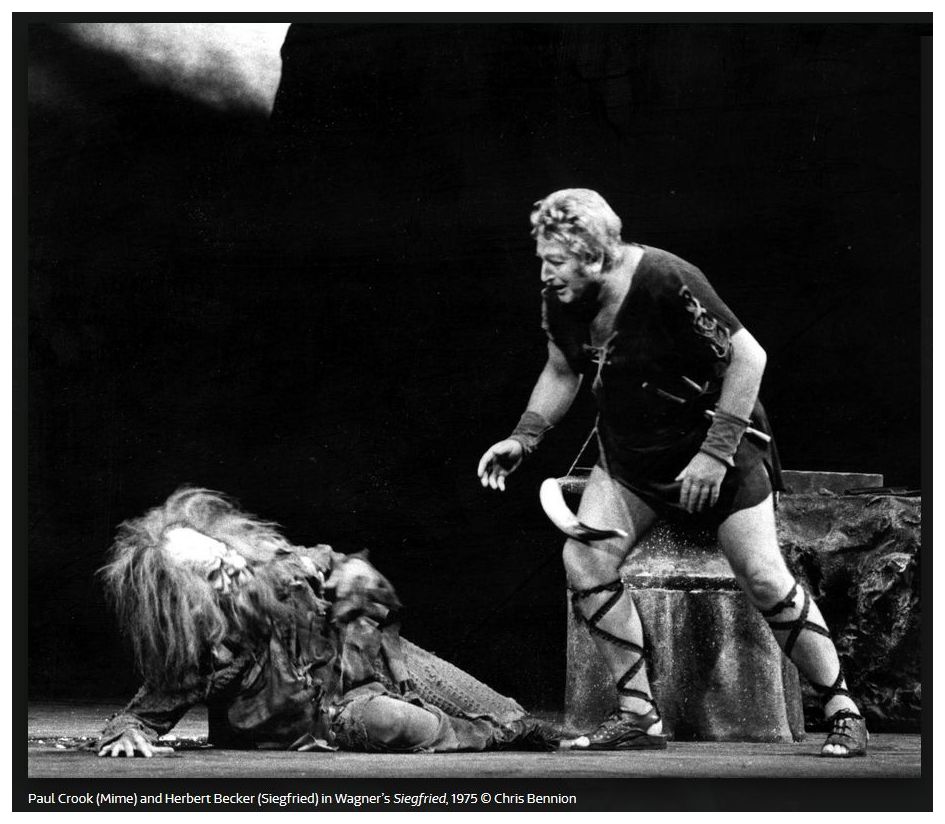 HH: Yes, I think so. We also have to be detectives, and figure out why the composer wrote the piece in the first place, and how he went about it. Where were the inspirations? Why was this scene chosen instead of another scene, and why does this aria come to this character instead of another character? You need to know how the whole piece moves. What we have to do as conductors is to make every moment of music sound inevitable, like it's the only right moment of music that could come out of the previous one. That takes a lot of quality.

BD: Are there some pieces that just simply don't work because they're not strong enough?

HH: Yes, I think so.

BD: Should they be done anyway, or should they be consigned to the library, or the waste basket?

HH: One looks to see where is the value. Is it in wonderful arias and great melodic material that's memorable, or is it in an unforgettable drama? Generally, the popular operas are so popular because of the marriage of the characters with their music, so that it all becomes inseparable. You can't think of Carmen without thinking of the Habanera, the Seguidilla, and the Card Aria. You can't think of the Barber in The Barber of Seville without Largo al factotum. Their principal music becomes absolutely associated with them, and we find it in all the truly popular operas. So that gift of the composer to characterize the leading figure in an opera is a key part of that, and it is a conductor's job to thoroughly delve into that, and to discover why these things work the way they do.

BD: Is that something you can impart to other composers, and say certain things work for this particular reason, or try this, or go in that direction?

HH: Yes. I've done quite a lot of work recently with composers and librettists, and also with conductors. I've worked with composers and librettists on how they should really work together, and what kinds of things they need to work out between them in order to create a libretto that is compose-able, and that also will hold the stage. I also did an opera conductor's seminar two summers ago, along with Gunther Schuller. We had about eighteen young conductors there.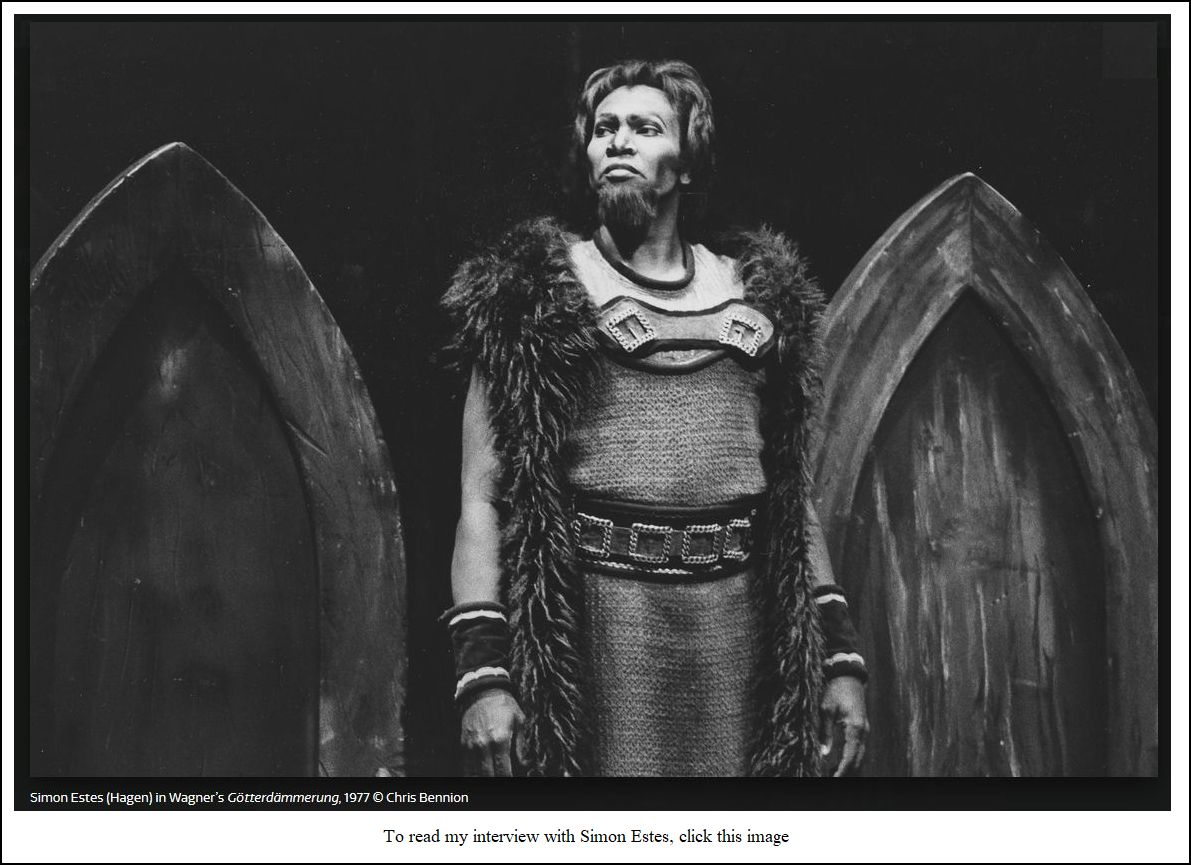 BD: Are you optimistic about the future of opera?

HH: Absolutely! There's a lot of vitality in the field. To go back to your previous question about how I feel generally it's going, some of it's going very well. I mentioned the producer who is changing the style and period, and I didn't really mean to get off on that exclusively. Many things are going very well. There's a tremendous amount of talent — vocal, instrumental, conductors, directors, designers. We've just loaded with wonderful talents.

BD: We've made so many strides, technically, and we're getting technical perfection. Are we getting musical perfection, too?

HH: Not in the sense as you pronounced the word 'musical', no. We're not getting enough of that. We're not getting enough music-making that people really care about, that people really love. Opera people tend to go off for extremes — high notes, how long did the tenor or soprano hold this note or that note, things like that — which are really extraneous. One of my pet peeves about this business is that conductors are always thought of as dealing with the orchestra, and because that's the way reviews are written, that's what everyone things about it. Certainly, the conductor conducts the orchestra, but he spends infinitely more time with the singers than he ever does with the orchestra.


[At this point we were abruptly informed that our particular backstage space was needed for something else, so we had to quickly end our conversation.]


BD: Thank you so much for meeting with me again. It was nice to talk to you.

HH: Great to see you, too.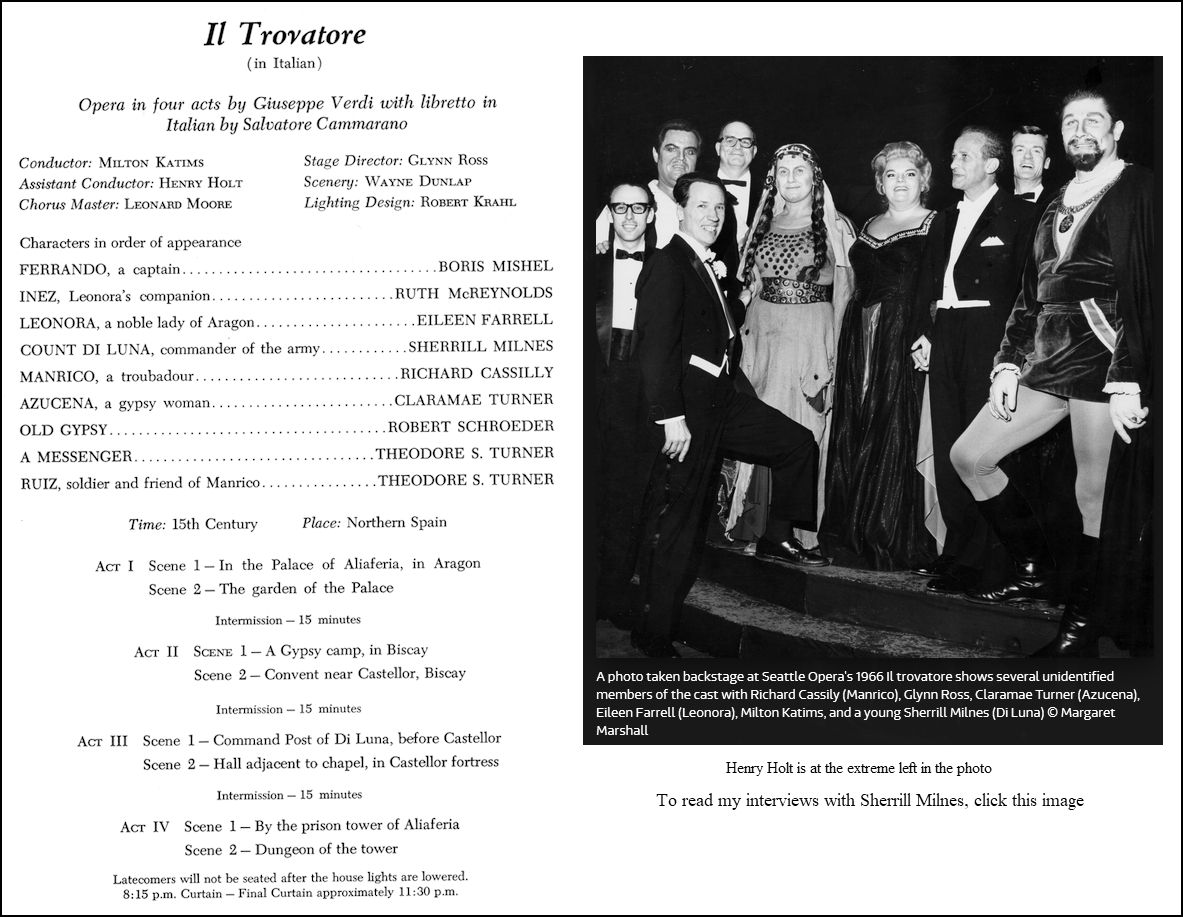 © 1980 & 1990 Bruce Duffie

These conversations were recorded in on March 19, 1980, and in mid-March of 1990. Portions of the first one were broadcast on WNIB two months after it was recorded, and the second one a few days after it was recorded. This transcription was made in 2019, and posted on this website at that time. My thanks to British soprano Una Barry for her help in preparing this website presentation.

To see a full list (with links) of interviews which have been transcribed and posted on this website, click here.

Award - winning broadcaster Bruce Duffie was with WNIB, Classical 97 in Chicago from 1975 until its final moment as a classical station in February of 2001. His interviews have also appeared in various magazines and journals since 1980, and he now continues his broadcast series on WNUR-FM, as well as on Contemporary Classical Internet Radio.

You are invited to visit his website for more information about his work, including selected transcripts of other interviews, plus a full list of his guests. He would also like to call your attention to the photos and information about his grandfather, who was a pioneer in the automotive field more than a century ago. You may also send him E-Mail with comments, questions and suggestions.