Actor / Director Charles Nelson Reilly
A Very Lively Conversation with Bruce Duffie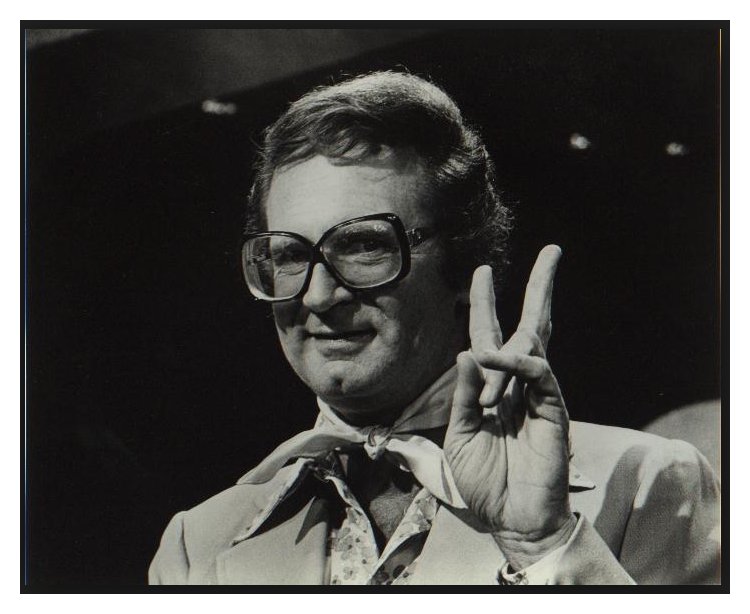 Obituaries
Charles Nelson Reilly, 76; Tony-winning actor, TV game show regular
May 29, 2007|Valerie J. Nelson |

Los Angeles Times

Staff Writer [Text only - photos added for this website presentation]

Charles Nelson Reilly, whose persona as a wacky game show panelist and talk show guest overshadowed his serious work as a director and Tony-winning actor, has died. He was 76.

Reilly, a longtime resident of Beverly Hills, died Friday of complications from pneumonia at UCLA Medical Center, said Paul Linke, who directed Reilly's one-man show "Save It for the Stage: The Life of Reilly." "The average person thinks of him as being on 'The Match Game.' That was a mixed blessing for him," Linke told The Times on Monday. "One of the reasons I was so motivated to get his show out there was because I wanted people to recognize that this was a heavyweight talent." When a

Times

reporter visited his home in 2000, Reilly displayed an opera review that referred to him as "Charles Nelson Reilly of 'Hollywood Squares' fame." "It's like a scarlet letter," Reilly yowled in his high-pitched, nasal voice.

Wearing his trademark ascot and oversized glasses, Reilly made a near-record 97 appearances on "The Tonight Show Starring Johnny Carson," often making ribald ripostes. After a "Tonight Show" guest who was talking about Shakespeare dismissed Reilly's attempt to join the conversation, he silenced her by delivering Hamlet's "the play's the thing" monologue straight, with depth and passion, the New York Observer reported in 2001.

He broke through on Broadway in 1961, winning a Tony for playing the insidious nephew Bud Frump in the original production of "How to Succeed in Business Without Really Trying." Reilly also received Tony nominations for his role in "Hello, Dolly!" in 1964, and for directing a revival of "The Gin Game" with Julie Harris in 1997.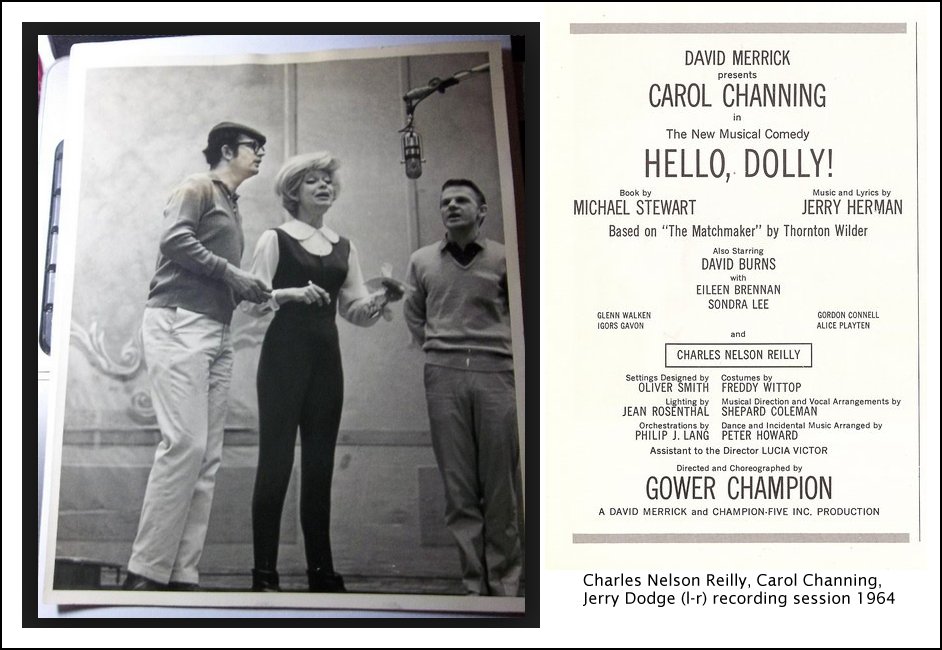 Reilly often directed plays that starred Harris, including "The Belle of Amherst," a 1977 one-woman play about Emily Dickinson that remained one of his proudest achievements. "He's a wonderful actor but never gets enough chance to do it," Harris told the

Times

in 2000. "He's taught me a lot about theater. It's his insight into the personal idiosyncrasies of human beings. He's attuned to small details -- the pieces of the puzzle that make up the whole picture."

Reilly's close friend Burt Reynolds said in a 1991

Times

article that he thought Reilly's reputation as the perpetual jester had worked against him in Hollywood. "We have a thing in this town that if you are enormously witty and gregarious, you can't be very deep. There's something wrong with a society that says, 'You're the wit, but you're not the teacher.' People just haven't seen him in this arena," Reynolds said.

A well-regarded acting instructor, Reilly moved to Florida in 1979 to teach at the Burt Reynolds Institute. Reilly also coached Liza Minnelli, Bette Midler, Lily Tomlin and Christine Lahti and ran an acting school in North Hollywood. In his one-man show, which would be his final work, Reilly told the story of his life, which began Jan. 13, 1931, in New York City. The play's name came from the phrase his mother often said when her son spoke: "Save it for the stage." In 2006, the show was made into the movie "The Life of Reilly."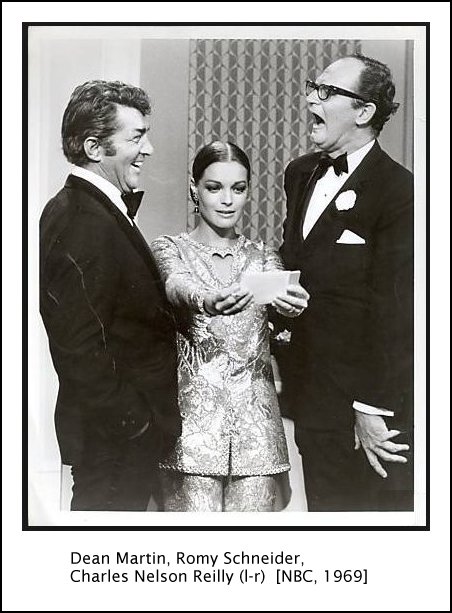 He was the only child of the former Signe Elvera Nelson and Charles Joseph Reilly, who designed outdoor advertising for Paramount Pictures. After his father had a nervous breakdown, partly brought on because his wife made him turn down a job offer from Walt Disney, he was institutionalized, Linke said.

Reilly and his mother moved to Hartford, Conn., to live with 10 relatives, all of whom spoke Swedish, in an apartment that had only cold water. "Eugene O'Neill could never begin to get near all this," Reilly said in the 2000

Times

article. At 9, he got the lead in the school play, and a teacher told his mother that Reilly was the only true actor she had ever known, the

Observer

reported. When he was 13, he and a friend survived a circus fire in Hartford that killed more than 165 people. It was the last time he would sit in a theater as an audience member, Reilly repeatedly said.

By 18, he had moved to New York and was soon studying with Uta Hagen and her husband, Herbert Berghof, at their acting school. Classmates included Jack Lemmon, Charles Grodin, Geraldine Page and Hal Holbrook.

Reilly never tried to hide his homosexuality, and frequently cracked double-entendres on television about being gay. He got a job as a night mail boy at the Waldorf-Astoria Hotel and tried to get hired by NBC, but a producer told him "that they don't allow queers on television," Linke said. "Charles' response was, 'It didn't bother me. I knew in my heart his words weren't true,' " Linke said. Later, Reilly would count how many game show appearances he would make in a week -- once it was 27 -- and consider it his revenge.

When he first came to California to co-star on television in "The Ghost and Mrs. Muir" in 1968, he stepped off the plane and said of the 70-degree weather: " 'How long has this been going on?' He said he'd been cold his whole life until then," Linke said. Reilly made more money in one or two TV appearances with Dean Martin than he would in a year of performing on Broadway, so he stayed, Linke said.

Reilly went on to make many guest appearances in sitcoms and was a regular on "Laugh-In." In the late 1960s, Reilly bought his Beverly Hills home and also owned a 34-foot cabin cruiser that he kept in Marina del Rey.

"The world is a slightly less funny place now," Linke said. "He made people laugh along the way, and that's a legacy that lives on long after the game shows."

Reilly is survived by Patrick Hughes, his companion of more than 25 years.





My career in classical music allowed me to interview many of the world's greatest musicians, and after airing portions of them during my quarter-century at WNIB, Classical 97 in Chicago (1975-2001), I am grateful to be able to present these conversations again on this website. Only occasionally, however, did I get the opportunity to meet actors from the stage, screen and television, and this is one of those rare events. [Let me call your attention to Werner Klemperer, Sam Wanamaker, and Peter Ustinov. (Links on this page refer to those interviews which are already posted.)]

In the interest of full disclosure, one of my guilty pleasures is watching

Match Game

re-runs. As anyone who has ever seen it knows, it's not so much a game show as it is a party, and Charles Nelson Reilly is one of the major reasons for the unbridled goofiness of each half-hour.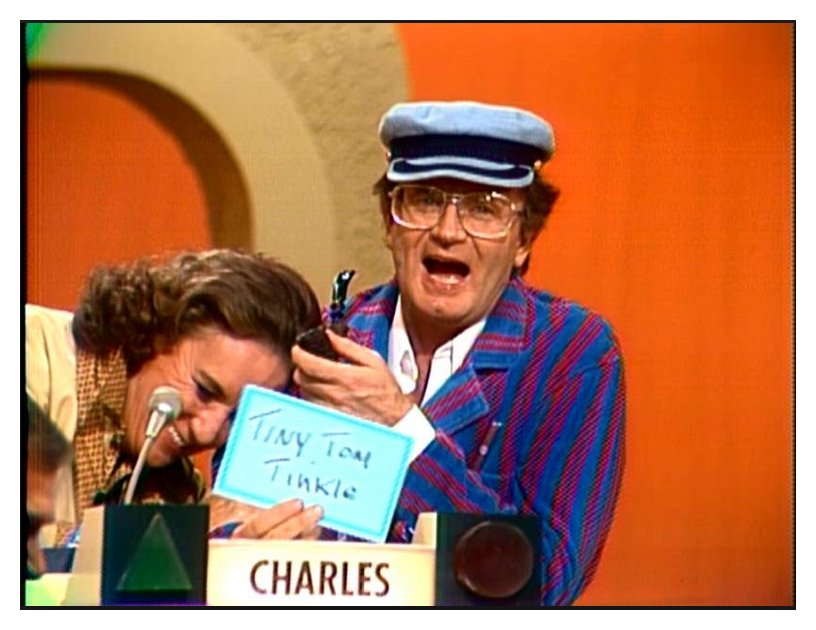 In April of 1988, Reilly was in Chicago to direct Rossini's opera

Cinderella

with the Chicago Opera Theater. At the beginning of our chat — and occasionally later — he speaks warmly about his cast and conductor. At one point he said, "We're trying a very simple, beautiful thing that stars Rossini and a very active Cinderella." As you can see from the following review in the

Chicago Tribune

, it was a big success and well-received.




Chicago Opera Theater`s `Cinderella` Makes Rossini Fit Like A Glass Slipper


April 25, 1988. By John von Rhein, Music critic.

Chicago Tribune




If Chicago Opera Theater was feeling the pinch of having to produce more opera within a shorter time span than ever before, no strain was evident in the company`s season finale, Rossini`s "Cinderella," which had its first performance Saturday at the Athenaeum Theatre.

Those who admired the high spirits and authentic musical style that have marked the Opera Theater`s previous forays into Rossini`s comic repertory will not be disappointed with "Cinderella." The production, beautifully sung by a youthful and attractive ensemble and buoyantly staged by Charles Nelson Reilly, makes a charming addition to the cycle.

Regular operagoers will draw comparisons with Lyric Opera`s most recent Rossini effort, "L`Italiana in Algeri." Here it must be admitted that the Opera Theater enjoys a sizable advantage over the Lyric, because the Rossini comedies really work best when presented in the language of the audience in small theaters that allow the words to be easily projected and clearly understood. They do not require major international casts to make the kind of effect the composer intended.

Why has "Cinderella"-or "La Cenerentola," to revert to the original Italian title-failed to achieve the enormous popularity of Rossini`s earlier buffa, "Il Barbiere di Siviglia"? Certainly its score is equally fine, and in some respects it is even superior. Perhaps the fairy-tale plot of a poor servant girl wooed and won by a handsome prince is stretched rather too far here, but then, the repertory is full of operas that shamelessly make comic mountains out of narrative molehills.

One thing, however, is certain. The Opera Theater is presenting more of Rossini`s score than most Rossinians probably have ever heard, this despite deleting all music not written by Rossini that has found its way into various corrupt editions. True, this makes for a long evening in the theater, but conductor Louis Salemno wields such a knowing, firmly propulsive hand, and elicits such crisp playing from the chamber orchestra, that the 3 1/4 hours of "Cinderella" pass very pleasantly indeed.

The Opera Theater cast is strong from top to bottom. I first heard Stella Zambalis in the title role last year in St. Louis, where she was wonderful. This time allowances had to be made for the fact that she was singing through a case of flu so severe it forced cancellation of the Sunday matinee. (That performance now has been rescheduled for May 8.) However, only in "Non piu mesta" did one notice that Zambalis was not in her best vocal form. The warmth and flexibility of her wide-ranging mezzo, and her touching portrayal of the character, won all hearts.

To find a young Rossini tenor as sweet of voice and as accomplished of technique as Glenn Siebert is good news indeed these days. His confidently sung Ramiro blended nicely with Zambalis` voice in the tender duets. James Rensink was a dandy Dandini. If his coloratura was less than precise, this rakish courtier clearly relished his princely masquerade; every amusing flourish was drawn to perfection. John Fiorito, the Don Magnifico, managed to avoid the usual buffo overkill as the opera`s serio-comic figure. Janis Knox and Kathryn Hartgrove added much to the prevailing high spirits as the not-so-ugly stepsisters. Rossini`s Cinderella has a human godfather rather than a fairy godmother; the character was nobly sung by Greg Ryerson.

The simple, storybook-cutout sets, borrowed from Texas Opera Theater, were a good match for the bright costumes of Kerry Fleming. Ruth and Thomas Martin`s English translation adhered to the general sense, if not always the literal meaning, of the libretto.

"Cinderella" plays through May 8.

`CINDERELLA`

Comic opera in three acts by Rossini, presented by Chicago Opera Theater April 23 at the Athenaeum Theatre, 2936 N. Southport Ave. Conducted by Louis Salemno, directed by Charles Nelson Reilly, set designs by Peter Dean Beck, costumes by Kerry Fleming, lighting by Michael S. Philippi, artistic supervision by Alan Stone. Length of performance: 3:15. Repeat performances at 7:30 p.m. Wednesday and May 4, 8 p.m. Friday and Saturday, 3 p.m. Sunday and May 8. Tickets $14 to $36. Phone 663-0048.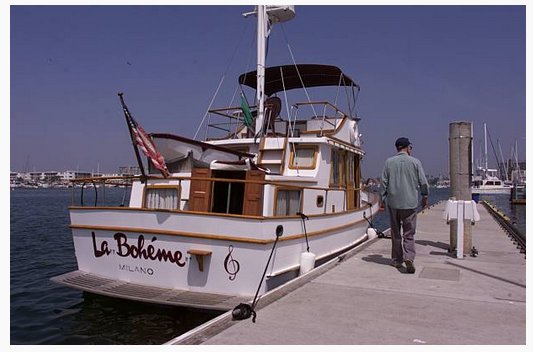 As may or may not be generally known, Reilly was very much into opera, and his knowledge stemmed from both practical experience and genuine love of the form. He even named his boat the

La Bohéme

. (Note that the accent is incorrect, but, as shown in the photo at right, that is what appears on the back of the watercraft! He even says the name as 'la boe-aim' rather than 'la boe-ehm'.)

In mid-April of 1988, before the opening of

Cinderella

, the director graciously allowed me to visit him for a conversation. If you have seen Reilly doing talk shows on television, you are aware of his manic-pace in speaking, and have observed how he runs thoughts together while interjecting related (or unrelated!) ideas, or simple non-sequitur phrases. It's a riot and a half, and everyone loves it, and he was that way with me. Using the tape on the radio was lots of fun, but getting his ideas down onto a visual version has been very tricky. Nearly every idea was punctuated with laughter. While not changing any of his ideas, nor dampening any of his enthusiasm, I have worked very hard to make this text-version readable.




Bruce Duffie

: The first thing I like to ask a director of comic operas is how you make sure that it stays comic and does not become slapstick?



Charles Nelson Reilly

: First of all, to everyone's surprise, we're not doing it as what you would call a 'comic opera'. Over the years, this poor vehicle has always been mis-done, and over-sung. So we went back to the original story before all the improvements went in. There's nothing about these sisters being ugly. They're just a little Joan Collins, if you know what I mean. You just don't want them around. There's no step-mother, and there's no slipper. The original has two bracelets. There's no magic coach or anything. She does manage to get a good dress and a comb, which is all you need. It's a love story and a fairy-tale. It's very warm, and there's no fright wigs or funny noses. Intuitively the play never suggests that it should have gone that way. The thing that I'm trying to do in this is to let the Rossini music be lots of the action because he's a very actable composer. The music is constantly alive, to put it mildly. One line of his music has as much as 'Moon River' four times over. It's so difficult to sing, and these singers are wonderful. The conductor, Louis Salemno, who is just thirty-five, says, "I'm just an old-fashioned Italian conductor," and I thought that's what we need for this old-fashioned Italian opera. He has worked with the singers for two weeks prior to the stage rehearsals, and the seven singers are better than any singers I've heard in the tapes and videos that I've researched. I must say that when I come home and play some of the tapes to do the work for the next day, I can't listen now because I'm now spoilt by the seven singers that the Chicago Opera Theater has assembled. I'm kind of tough about that, as you'll find out later on. In the sextets and septets they sing across the stage, Rossini has a nobility and a majesty like Mozart. The movie

Amadeus

I thought was wonderful Mozart, and it helped Mozart. I have a friend who hates opera. He is a set designer, and when I went to his studio he was listening to

Amadeus

while designing a set for the

Jackie Mason Show

, which was a hit. [Laughs] You can figure that out. I said, "You're listening to opera," and he said, "Oh, no, that's a movie." So we can get a lot of people very interested in Rossini and what this score is. It's been submerged in a lot of what you said, slapstick. I have

The Nerd

playing here which is a slapstick comedy, which is wonderful. [

Reilly

's

Broadway production ran for 441 performances, starring Mark Hamill

.] But

Cinderella

is different. The music is so beautiful, and not known. There's a wonderful duet that's just as gorgeous as any duet in a lyric opera of that kind. I have her literally washing the entire stage because Rossini sort of says that. It's written 'stroke rinse', 'stroke, stroke, rinse,' and it's clear. The tenor moves the pail, and they are just having the best time. It's just lovely, and it's a lot of fun, and it will be very funny and charming. The baritone is God's gift to the stage because he's very humorous, and so is the bass-baritone. They all have wonderful sense of humor. The

maestro

says that she's by far the best interpreter of the role in the world today. Her name is Stella Zambalis — rhymes with Callas — and she's a young Greek girl. She said to me, "Oh, I don't think Cinderella should get mad. Cinderella should do this and Cinderella should do that." So I said, "Look! You get the record of this opera. It's on six sides.

Tosca

's four,

La Bohème

is four,

Cinderella

's six. That's means you've got fifty per cent more time out there, and you've got to do something. I want all this Greek fire!" She's part Tosca. She's everywoman, and it's wonderful. You'll find each cast gives you a different idea. I never plan ahead. You don't plan ahead because when you meet the people, you study the artists you have, and you make that the point of view of that particular production. You use the people.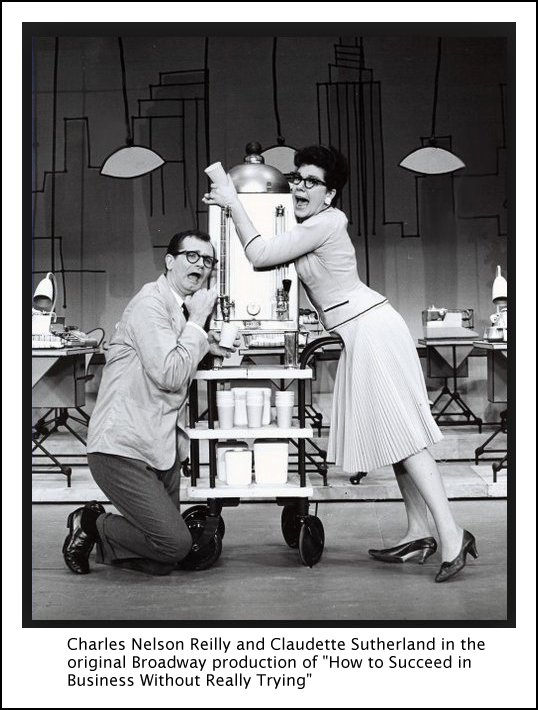 BD: Were you involved in the designing of the sets?



CNR

: No, they're coming from Canada.



BD

: Will that impose a point of view on the production?



CNR

: Yes, but I do that with the acting. [Whispers] I don't care much about the set, but the costumes are beautiful. The actors are very happy with them. They tried them on yesterday. I worry about the acting. Sometimes someone will say the light and the leaf outside of the window is not good. That's true, I swear, but if someone's going to notice that, we're in a lot of trouble. I trust the designers. I always have done that. I have enough to do with making the acting human. I don't want anyone walking or being 'in an opera'. I want it to be life.



BD

: So you trust the designer.



CNR

: Yes.



BD

: Does the conductor trust you?



CNR

: Oh, yes, we're good friends. He got me this job. He saw my work, and we've been friends over the years, and he always recommends me. We work very well together because we

don't

work together. He sits next to me, I sit next to him, and we don't even talk. But we do the same thing, and that's really the way to work together. I don't talk a lot; I do a lot. Be careful of the director that talks so much! I just read something about

Macbeth

which opens on Broadway this week. They had like three directors, five designers, seven Macduffs... The legend went that they had all these points of view. One director wanted to do it as

The Three Witches were Martians

. It's a two-page article in

The New York Times

today. It just goes to show you. I didn't think all these famous people understood about doing a play, but it is a disaster. When I work, I just do what the guy wrote. I always go back to the play, and if I do an opera I open it up like I don't know it, and it's a new play. I just see what the man that wrote it wanted.

Cavalleria

shouldn't be

Mafioso

, with everyone running around shooting each other. I just picked up the English magazine

Opera

, and there's a

Bohème

playing in England where, at the curtain of the second act, instead of Alcindoro, Musetta's suitor, seeing the bill and fainting, Colline takes out a gun and shoots them. [Both laugh] So it's a lot of fun. I just try to go back to 'what the heck did they want?' When we first started doing this

Cinderella

, a lot of it is because the bass is wonderful. John Fiorito, from the Met and from the City Opera, is a wonderful bass-baritone. He studied with Robert Weede, and every once in a while a bit of Rigoletto creeps in, which is just wonderful.



BD

: You've done a lot of stage plays. How is that different from directing opera with music?



CNR

: It's the same. I had two great teachers — Uta Hagen, who was my teacher and is still my friend, and her husband, Herbert Berghof. They taught me everything. They didn't know they teach you everything, but they teach you everything. If I do

The Rocky Horror Show

or

La Traviata

, to me it's the same process.



BD

: [With a gentle nudge] But you won't ever do a 'Rocky Traviata'...



CNR

: [Laughs] No, but maybe in that

Bohème

. Now that Alcindoro's dead, his part was over anyway. [More laughter] I guess that they're all the same to me, and they think I'm such a silly zany that I could go crazy. I gave an interview on the television the other day about the tessitura of Rossini operas, and I compared this

Cinderella

to

The Barber of Seville

. With the difficulty of singing, you must be really a 'coloratura assoluta' in your technique. You can't sing other things and then every three years sing a coloratura thing. You have to make that part of your daily training and technique. I'm talking very seriously, and they introduced me as the 'wacky zany' Reilly. I just can't get out of that, but

Cinderella

will not be wacky and zany. You might fall in love with Rossini like you fell in love with Mozart. It's good PR. Like ballet had good PR with

Turning Point

,

Cinderella

is going to be good PR for Rossini.



* * * * *





BD

: Let's talk a little bit about audiences. Do you think that the audience that watches you on game shows should come to you and see you directing opera?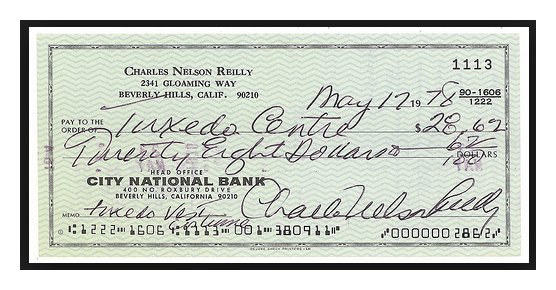 CNR: Sure. Why not? I have such a strange career. I leave here after the matinee — and the party, I might add — so the 10 o'clock flight gets me in at 1 o'clock in LA. That same day, Monday, I do five

Hollywood Squares

. Now nobody was ever a stage director and game player in the same year, let alone on the same day, and you can go a little crazy. [Musing to himself] "Now what am I today? Am I a panelist, a teacher or a director?" I'm a professor, too, you know, and you get so confused. You can't possibly have clothes for all these parts [

notice his check at left

]. I'm getting a little old and a little tired, but my first love has always been the musical theater, and mainly opera. I just spoke to my friend today, Arthur Matera. We were boyhood friends in Hartford, and his wife, Barbara, is the very celebrated woman who handles all the costumes. She makes Sutherland's clothes, Barbara Matera, Limited, from London. We've been friends for fifty-some odd years. Arthur first got me interested in opera when he was in West Hartford, Connecticut. I was in his living room when he was about nine, and we acted out the whole of

Tosca

to the Gigli/Caniglia recording. I got very taken by that, and I seriously studied to be a singer with the teacher of Teresa Stich-Randall, Ivan Velikanoff, but I couldn't free my top. What happens is now that my top is free, I'm too old! [Laughs]



BD

: You don't want to go back now and do Benoȋt?



CNR

: Well, I would love to. No, I turned that down. I did sing the Sergeant in

La Bohème

about 1949.



BD

: How about Frosch in

Fledermaus

?



CNR

: It's not a good part. Everyone thinks it's a good part. You know when you know it's not a good part? When you play it. It's just not a good part, but don't tell your listeners. My friend, Leonard Fry, played it.



BD

: Jack Gilford played it at the Met.



CNR

: Yes, and Sid Caesar recently. Jack Gilford was wonderful... he is wonderful. I directed a

Fledermaus

a couple of years ago in Toledo with Franz Allers. I worked with him, and he studied the Strauss score from the original protégé of Johann Strauss himself. He's been conducting it for sixty-five years. He's about eighty-six now. We'd come home from the Toledo Opera and go back to the Holiday Inn, and he would say, "Any messages for [pronounced as if it was French] 'Appartemont' 104?" I'd say, "It's not an 'Appartemont'. We're at the Holiday Inn!" [Both laugh] Later I asked him of all the Rosalinda's he has conducted — Steber, Kirsten, Jeritza, Rethberg, some of the greatest singers — which one was the best, and he said, "I'm still waiting." Aren't they fun? We have a lot of fun. Opera's wonderful. It's so much fun. I love to do it, and I love to teach acting to young singers. I've helped the singers here, I feel. The conductor says I give them things they can take to their next opera, which makes me happy. My teacher taught me how to this. She was a great teacher, and I love to do that. We have such a good time, and I love to do it. These singers are wonderful. They all have color in the voices. They have wonderful individual voices, like a car goes by you say, "That's the Volkswagen." When any of these singers go by, "That's (their names)" because they really have amazing trademarks in their young sounds, which I think is what's missing today.



BD

: Are some of these Volkswagens going to become Porsches?



CNR

: Oh, sure! You want to know what being rich is? My friend Tom Selleck gave twenty-six Porsches to the entire crew and cast of

Magnum PI

. Can you imagine that? Twenty-six! It's true. They're $55,000 this particular model. Isn't that amazing? [Aside] I'm having trouble with the room service with the eggs in the morning! [Both laugh] I have a boat in California named 'La Bohéme' because I played the Sergeant in

La Bohème

. The program is framed on my wall. The Mimì was Sayão, and the tenor was Björling. The following year, 1950, I sang the jailer in

Tosca

with Tagliavini, and his wife, Tassinari, and a wonderful baritone named Alexander Sved. [Tagliavini and Tassinari recorded several operas together, including L'Amico Fritz conducted by Mascagni.] That's what I actually wanted to be, a singer. I had a very impressive voice for one-line parts. People would see such promise because I was six foot four and this big voice came up. But they didn't know I could only get about three notes out, let alone do a phrase or maybe someday an aria.



BD

: [Gently protesting] But you made it to Broadway and sang there.



CNR

: Oh, yeah, but that's with my fake baritone voice! [Laughs]



BD

: Are we blurring the line between Broadway and opera now?



CNR

: That's a good question. [Thinks a moment] I think we are. I don't know where we're going but it's time for melody to come back. It's time for more music in the works, more lyricism, more romanticism.

The Rocky Horror Show

is an opera because it is completely sung. There's no spoken lines. We're getting somewhere. Something's happening.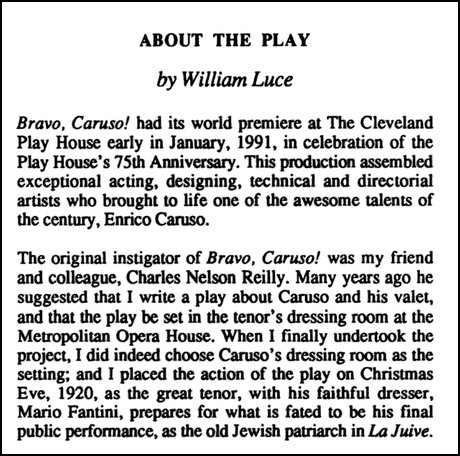 BD

: We're always moving, aren't we?



CNR

: Yes.



BD

: I wonder what direction we're moving in.



CNR

: Maybe to works that will be completely sung, and maybe the music will get better and better and more interesting. I could get arrested for saying this, but I saw

Nixon in China

when it was in Houston...



BD

: You weren't taken with that?



CNR

: No! I understand it, and it's lovely, but it's got to touch you. That's the whole purpose of the proscenium. I do a lot of one-person plays with Julie Harris and Piper Laurie, and another coming up about Caruso, which you'll love. It's going to be wonderful! [

See the note about it by the author (at right).

]



BD

: Who's going to play Caruso?



CNR

: Vincent Gardenia wanted to. It was commissioned for him, but he doesn't want to do it because he doesn't want to go alone on the road. So we have a wonderful Italian actor, Joseph Mascolo. But we got back at Vincent, who is one of my best friends, because now it's a two-character play. [

Reilly discusses the play later in our interview.

] But when I was a kid I went to New York to be a serious singer. I auditioned for scholarships and didn't get any. The top of my voice was not yet free. It's a lot of fun to share a dressing room with Beverly Sills on a talk show, and sing the fourth-act phrase

Oh, mia Violetta, mia Violetta gioia

really quite well. She looks at me and I thought she might say, "That's wonderful," but she said, "Oh, everybody wants to sing." [Both laugh] I can't impress upon you enough that I really love to do this [

direct opera

], and I do it well. It's hard for me the first days because I go, "What are you doing in this uniform? You haven't been in it in a year and half or two years." The last opera I directed was in Dallas with my friend, Rescigno, who conducted the

Tosca

and the

Bohème

in the '40s. [Pauses a moment to reflect] I did a play called

Paul Robeson

about ten years ago with a dreadful actor, James Earl Jones. He is terrible! He has no music in him, but I had a go with him because he's famous. I went to Sidney Poitier first. He's a friend of mine. He was in his tennis outfit in the bank, and I said, "Sidney, we've just finished this beautiful play on Paul Robeson. PLEASE do it." Then he said, "Oh, I have so much money. I don't want to do the theater. It's too hard." I said, "Well you then you have to show you have so much money, so you should get a new tennis outfit. That's terrible." [Both laugh] But

Paul Robeson

was interesting, as was that whole period there, which included Dorothy Maynor.



* * * * *





BD

: You touched on this briefly before, so let me ask the question... what is wrong with opera today?



CNR

: Let me tell you what I feel. This is terrible. Last year I went with my teacher, Miss Hagen, who hadn't been to the new Met yet. She teaches and works very hard. Because I know the people there and they're very nice to me, we sat in the first row and watched the young singers who had won the competition, but there wasn't one tenor. I thought in the whole of the United States, they can't find a tenor? Even a runner-up? This year, seven of the eleven chose arias that were manifestly beyond their present vocal capabilities, and made heavy weather of them. It would serve little purpose to catalogue these problems, singer by singer, but what is one to think of the judges and teachers and coaches behind the concert? What's wrong is we live in a fast period now. I teach acting, and when I used to study acting, we went in a room for eight or nine years, and we paid a dollar on Sixth Avenue to Miss Hagen's class at the Berghof School. In that class there was Geraldine Page, Jack Lemmon, Fritz Weaver, Hal Holbrook, Jason Robards, David Hedison, Stiller and Meara, Peggy Cass, Barbara Barrie... all of them successful. She comes to California and we all give her a party. Here are all these white-haired men with toupees running around, screaming, "Our teacher's coming!" It's really kind of pathetic, and then she has a good time. We studied for years because the rent was $40 a month, and today they seem to skip over that study period. There seems to be a great need to score and 'make it', and to be 'successful'. I don't think Björling or Sayão wanted to be a super-star. You hear them sing in their prime, and they got mild applause in the '40s and '50s because that's how people sang. They wouldn't even stop for applause for

Recondita Armonina

which I heard on a pirated version with Björling. I don't know the new operas. I was asked to direct the world premiere of

Three Sisters

[

probably the setting by Thomas Pasatieri, first given in March of 1986 by Opera Columbus

]. Someone got sick and I couldn't, and I regret that because a World Premiere would be a wonderful thing to do. But what it has to be for me is the voice. It is the punch is it in the fighting ring, the serve on the court, the kick in the oval, the home run on the diamond. I've got to have that. If I don't have that, I don't have anything, and if I don't hear a famous sound, then I'm not in that sport. I can go to the theater instead. I don't want to go to

Phantom of the Opera

and see a lot of effects. I want to be touched by a word or a sound.



BD

: You want to bring the humanity back into the opera?



CNR

: I've got to. Otherwise we're in trouble. There's a lot of aggression, a lot of career-moves, a lot of this, a lot of that, and nobody studies and makes it their craft. A lot of famous teachers have wonderful pupils that fail at these auditions because they're past the age of thirty. They'll favor the twenty-five or twenty-six-year-old who will not have had enough craft yet, and the other ones are forgotten. Yet we now have in front of the public many singers past the age of sixty who are fabulous — Bergonzi, Kraus, Sutherland, Rysanek... [continues musing about his favorites] Jan Peerce who was such a wonderful man. He said the voice is the last thing to go but you must take care of it. He said to Stella Roman when she sang her first Mimì, "Stella, just sing the part. Don't try to swallow the theatre." [Suddenly looks intently at the interviewer] This is so good for me to do because you don't look at all like Johnny Carson! [Both laugh] It's such a pleasure.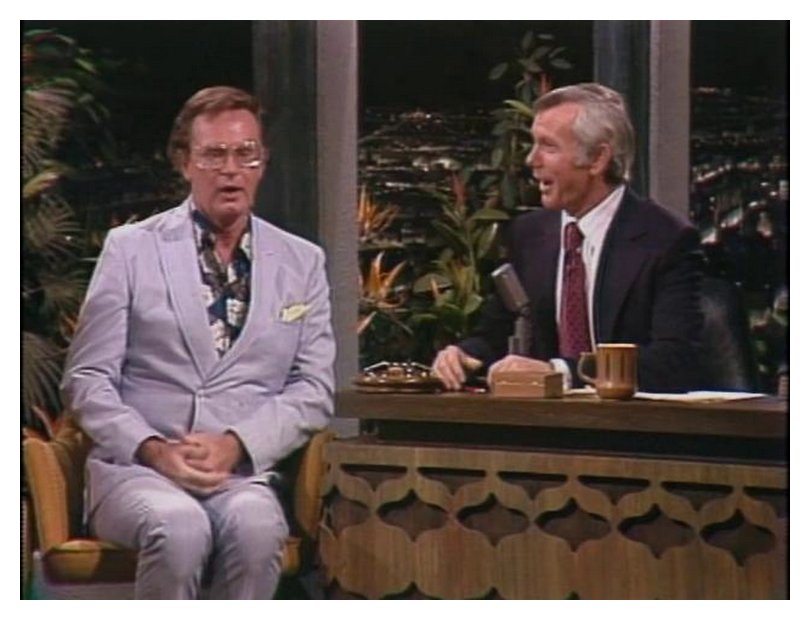 BD

: Thank you so much! Basically I agree with what you're saying...



CNR

: I would hope so! [More laughter]



BD

: ... but is there no way that the twenty-five year olds who get selected at the auditions are going to develop into mature artists?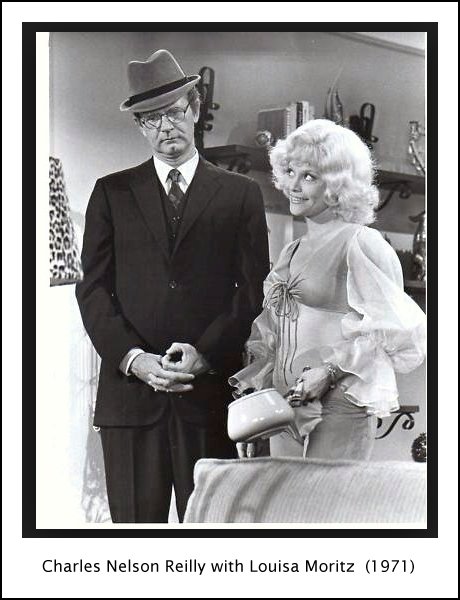 CNR: Yes, they can if they work hard and put the time in.



BD

: So what you're saying is they skip the basic hard work?



CNR

: They skip the craft like the cabinet maker learns. It's all too fast. You can't learn it that way. All I ask for is a voice. There's a lot of wonderful singers, but it's not color, it's experience and thought. I yelled at the chorus last night because they don't think. They're wonderful, but I have to. I'm the director so I have to make a noise. They don't think, and they get caught out there. They just have to go and do everything. [Returning to his musing] Roberta Peters is a very good friend of mine. We're so close because we were brought into the world by the same doctor in the Bronx a few days apart.



BD

: [With amusement] My goodness.



CNR

: Dr. Liam Brodsky, who's eighty-six and who now lives in Palm Springs. We've been close friends for twenty-five years, and I coached her in all her parts. Twenty-five years and we didn't know it until recently. He had his eighty-fifth birthday, and they sent out messages to famous people he had delivered in the Bronx. She's now over thirty-five years at the Met, and she's been honored many times. She always asks me to speak when she gets awards. "You must close the program because you always get a laugh." I always say that the babies got mixed up, and I should have been singing at the Met, and I should have married the rich hotel owner. [Laughter] She's a princess. She's got everything, but she knows roles in three languages, and if someone got sick tonight in Miami, she could go and do Traviata. She could do it in English, she could do it in Italian, and she could do it in Russian. She did it in Russian and was the first American singer to get a Bolshoi Medal. But the thing is I have known her for twenty-five years and I've never seen her study. She studied when she was twelve to twenty-five, and everything she has ever sung is in there somewhere, like in a computer. I have never seen her go over anything, and yet she could do

Sonnambula

tonight in Canada if she had two hours on the plane. She would get it again, and use that part of her mind. I work with actors all the time, and they're petrified of the lines, especially the actors in the movies, and that's everybody now. There's nobody left on the stage. There are no stage stars, and they're all petrified. Now the singers come knowing an awful lot of words, and not once does someone say, "What's the line?" That goes with the territory. They come with two legs, two arms, and with a total memorization, word perfect. There's not even the thought that it would falter for a moment. I have such respect for singers, and actors can learn from that.



BD

: Then there is hope for opera these days?



CNR

: Oh, sure. It'll come back again. What's interesting is when you go into a record store, there are the singers that I found when I was child. They're now on CD. They just reissued the old Victor Opera series, and they're wonderful. All of the Leinsdorf recordings from the thirty years ago, and they're fabulous. Today they get a lot of superstars who've never sung the roles on the stage, and they sight-read the parts for the recording, and it doesn't fly. It doesn't come alive.



BD

: Yet all the young singers want to sound like Milanov or Björling.



CNR

: Yes, and I hope they can. Sound is thought. It's not a God-given color that comes on a palette. It's experience; it's thought; it's the right kind of thinking that makes for individuality. In this

Cinderella

, I have these seven singers standing across the stage. Every once in a while everything stops and they stand five, six, or seven across, and just sing. I want them to be like close-ups in a movie, and they each sing about what's going on. They stand and sing, and Rossini is the star. It just takes your breath away. I reminded them that from the time they were seven years old, when someone told them they had a nice voice and should go to music school, they got the money together, went to their lessons hoping someday they'd have a career and get into make-up and costume, and be with a conductor and have violins in front of them. I tell them they have about ninety years' experience in the vocal studio, so please stand there and show me the achievement of that. So they sing and it takes your breath away. It's just gorgeous. That's opera to me; not a bunch of extras screaming, chopping heads off in

Nixon in China

to really not very attractive music. I know it's important to make new operas, but let's learn from the old ones.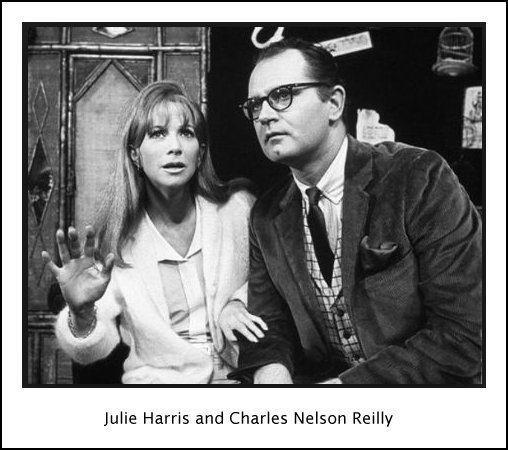 BD: I assume, though, that you want operas to be more than just stand-and-sing affairs.



CNR

: You mean a different thing. It can be anything if it touches you. If it doesn't touch you, it doesn't matter. It can be the worst music in the world, but if you have a tear or something... I don't know the first thing about poetry. I never read a poem in my life. But Julie Harris, my dearest friend, is carrying on with this Emily Dickinson stuff. We played Chicago three times in three different years. I started to read this stuff and we made this wonderful play from nothing. It took us eight years. Nobody wanted it. No one wants to listen to Julie Harris spurt poetry, but she says everything that was in the play is from the Dickinson letters. She put English words together better than any other American writer... at least that's my opinion. They are amazing words, and that's what the voices in opera should be — amazing. The sound is a reflection of thought, and the hard wood's inside a singer. The last thing inside a singer should be a career-move and making the next competition. It should be fulfilling the libretto of the work. My teacher taught me that you make the work an end in itself... They called me from Dallas about a new soprano who was singing there for the first time — Gale Tremitiere, who's from Evanston [

first suburb North of Chicago, and home of Northwestern University

]. This wonderful dramatic soprano, who never was in a play before and never was in the theater, was going to the dentist, and her friend said Rescigno needed a dramatic soprano for Susan B. Anthony in

The Mother Of Us All

[opera by Virgil Thomson]. I guess I'll keep doing that opera until it's a masterpiece! I know I tried, but some day... Anyway, she goes to the audition on the way to the dentist, and gets the part. This was two years ago. Rescigno had her back, and since then she's returned to Dallas to sing

Andrea Chénier

. Last season, she made a debut at the City Opera in

Turandot

, and was at the Metropolitan in one of the Wagner pieces but in smaller role. So she's in both houses.



BD

: Wow! [Tremitiere appeared with the Chicago Opera Theater in March of 1989 in Albert Herring by Britten. John von Rhein wrote in the Tribune, "Gail Tremitiere`s autocratic Lady Billows was a Wagnerian presence in more ways than one. Her trumpeting soprano suggested the unlikely, if amusing, prospect of a Margaret Dumont-like Valkyrie transplanted to East Suffolk."]



CNR

: It's wonderful because she had given up. She has a child, and she's wonderful! So they called me up and they said, "Come early and help her because she's never been in an opera before." She is a wonderful singer, so I said "No, because it's going to make her feel she's getting special treatment, and it's going to make her insecure." So I said, "I'll sit down with her for an hour when I'm there, and we'll figure it out." Now she did everything a young unschooled singer to the stage does. She walks like she's in opera. She gestures, she turns, so I sat down and I asked her what she thought it was all about. She talked for a long time, and all of it was unnecessary. I said to her, "You have a marvelous sound. You have a marvelous voice, a true dramatic soprano, like Eileen Farrell as a young woman. How wonderful. What do you want? What is your overall objective in this opera you want?" She [Susan B. Anthony] wants votes. She's got to get the vote. So I said, "Everything you do with your mouth is to get a vote, so go out and campaign with what's in your throat. Forget about where the hands are. Just go out and get the votes." That's the fun of it. It's acting!



* * * * *





BD

: Earlier, before we turned on the tape machine, you were talking about Licia Albanese.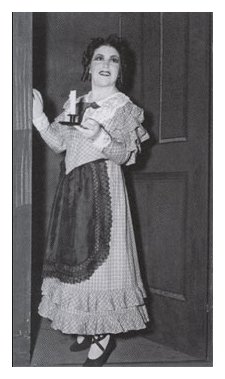 CNR

: What impressed me about her as a child and all through my life is that she's the only one who really uses the word to the fullest. There was a Polish tenor, Jan Kiepura, who, when he sang in Italy, the Italians would say, "We love the way you said that." It's interesting, isn't it? Albanese spoke very well, and she said whenever she was tired on the stage, she would never sacrifice the word, but would save her voice at times if she was not up to the pacing. But the word, she said, is the whole thing. Listen to sixty versions of the scene of

Bohème

where she comes in and he lights the candle, and then she says, "

Buona sera,

" and goes out. If you were an actor, you fulfill that moment and say, "Good night." Now if you listen to every recording, Albanese is the only one that says, "Good night" as if there's no more music in the part [

photo at right

]. The others all anticipate they've got three and half acts to go. She says, "Good night," and it's over because at that moment it's over. It's a real 'good night', and it knocks you over when you hear a real 'good night' instead of a vocalizing, "I'll be back in a moment," with one foot on the threshold. I saw Rysanek once at the old Met thirty years ago in

Aïda

. I was sitting way at the top, and she walked into the room in the first scene. She walked into the room, and the whole balcony leaned a foot forward. Aïda always shows up at four minutes after eight, but she just walked on. She didn't walk on her hands, or sway side to side posturing. She wasn't a soprano in an opera; she was a woman who worked for a queen. She was a handmaiden, and she simply walked in a room. My teacher says everyone puts their pants on the same way. She just walked in the room. I saw something very interesting about two years ago at

Bohème

in Los Angeles, presented by the New York City Opera. I can stage the boys' chorus in the second act faster than any other director. Do you know how you do it? When they meet you they all smile at you, and you say, "All you boys with braces go on the right, and those without braces go on the left." It only takes a minute. I know all the tricks. But anyway, there was a stage filled with activity. There was the complete cast, Parpignol, and everybody had a toy and everybody had a big banner. Musetta was in a white sled with a muff. Sonja Henie never had such an outfit! [

Sonja Henie (8 April 1912 – 12 October 1969) was a Norwegian figure skater and film star. She was a three-time Olympic Champion (1928, 1932, 1936) in Ladies' Singles, a ten-time World Champion (1927–1936) and a six-time European Champion (1931–1936). Henie won more Olympic and World titles than any other ladies' figure skater. At the height of her acting career, she was one of the highest paid stars in Hollywood and starred in a series of box-office hits.

] There were a million things going on, but the audience was looking at the extreme right of the stage in the corner. It was the whole audience. I checked. The whole audience, in truth, was looking at a corner because a UCLA boy was a super, and the stage manager told him, "Go out in the Café Momus set and dry the glasses." So this boy went out. He was told to dry the glasses, and what did he do? He dried the glasses. The whole audience looked at that because it was the only natural thing, the only honest thing on the stage, and it lit up like you wouldn't believe. You heard people talk about it at intermission. In opera it's what you do. In

Traviata

I have her take two pills. I stole that from a Camille. She has two pills knotted in her handkerchief, and she takes the two pills while the baritone is singing. She takes the water from the well and takes the pills. The audience talks about those pills at intermission. You don't have to be a genius. She's got tuberculosis, so the doctor in the first act maybe gave her a pill. Those are the things the audience will remember, and they free the singer. Yesterday I had a wonderful scene in

Cinderella

where Cinderella, who's delicious, carries this big pan of hot water to bathe the feet of the sisters and the father in the morning. You can see the steam, so the three of them are sitting in the hot water, and they're sitting in this hot water because the family's in hot water. [Laughs] They're going to be bankrupt! He's going to go to prison for abusing this child and not giving her a full birthright. It's true. That's the original story. So the three of them are singing and sitting in this pan of water, and it's steaming, and it's very funny. I got the idea this morning that I'll have the mezzo who plays Cinderella be asphyxiated for a few minutes from the smoke. She has nothing to sing there, so she can be asphyxiated for few minutes. [Both have a huge laugh] I think it's wonderful! That's the fun of that opera, but they sang better because they were really doing something. They were bathing their feet, and for a minute they forgot this dotted note and that technique of vocalism, and it soared for a minute. It's not about the music; it's about life. The words can free you, and they'll sing better. It'll be glorious if you really say, "Good night."



BD

: You asked me to remind you about the singers referring to the opera as the 'show'.



CNR

: Yes, that makes me upset. I hate when the singers say 'The Show'. They call the opera the 'show'. "The 'show' went well; it's going to be a good 'show'". I said, "Show???"

Call Me Madam

is a 'show!'

Cinderella

's an opera.



BD

: This is one of my favorite questions. In opera, where is the balance between the artistic achievement and the entertainment value?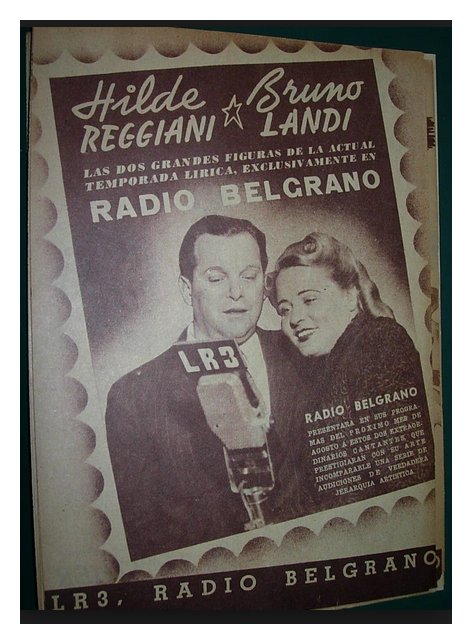 CNR: It's got to be right even.



BD

: Right down the middle?



CNR

: It's gotta be that way. I've seen so many operas, but I saw only two that came to life. The first one was De Luca in

Rigoletto

with Bruno Landi, a lyric tenor who I'll talk about in a minute, Hilde Reggiani, and a great bass named Virgilio Lazzari. This was in 1948 or '49. The other one was

Tosca

at the Metropolitan with Gobbi and Renata Tebaldi. Barry Morell was scheduled to sing but was sick, and Franco Corelli replaced him. The three of them and the audience behaved as if they were in a bullfight. I remember that Gobbi tickled her with a feather, and she didn't expect it. I know that it was not planned, and she turned and spat at him because that's what you do! The audience went crazy. Tebaldi was a very fine actress, though she was a little stiff sometimes. But she was Italian, and she was wonderful. I remember in one

Bohème

she made Tucker look for the key. Tucker didn't want to get on his knees. When you have that much money and you're that famous, you don't want to go hovering on a dirty stage. But she yelled at him and made him look for the key. When you're in the way of 'honesty', you have to sometimes respond with it on the stage. Am I making too much of the word? I'm a play aficionado, but that's what's missing. So many singers today pontificate when they sing because they're in opera. You've got to forget you're in the business of opera. You've got to be in the business of life. You've got to find out what you're saying because whether you sing it or say it, you're still stating it. That's what makes one part different from the other — the words. [Pauses a moment] Let's talk about Bruno Landi. When I was in the chorus in Hartford for six or seven years, he would be the tenor that would most likely come. His wife sang at the Met, too. She was a lyric, a coloratura, named Hilde Reggiani. She was excellent. They would get in a station wagon and drive to Scranton [Pennsylvania] to sing

Rigoletto

. If Kirsten was the star of

Traviata

, Landi stole the show. He made the most beautiful sound I ever heard on an opera stage from a man. At the end of the aria in

L'Elisir d'Amore

, that pianissimo! He did something. He held it, and it floated. It took your breath away. After he got off it, there was an ovation. About ten years ago I went on the

Dinah Shore Show

and I was interviewing Pavarotti. He shared my dressing room because the host has a big dressing room, so I said to put Pavarotti with me because the couch was better. When he came in the dressing room he was so wonderful. He was putting a little thing on his hair to cover the bald spot, and I said to him, "You have to be careful because it might rain tonight." He said, "You're very

humoroso

from what I understand. I see you on television." I thanked him for all he's done for opera, for what he meant to opera — to bring people to it — and how wonderful he was, and that he was my second favorite tenor. He asked who was the first, and I said, it was a tenor that sang many years ago at the Met named Bruno Landi. He had to sit down. His mouth opened and he said, "That's what my father says."



BD

: My goodness!



CNR

: Isn't that a beautiful compliment? And that's true. He had a voice with a leggiero of Schipa. He could float, and then he could sing Rodolfo, and make it like Di Stefano. He used it so carefully from A to Z, not always with aggression and driving it. It just was an amazing voice. It was so beautiful. The sound was beautiful. When I was in San Francisco to emcee the Fol de Rol concert, I spoke with Kurt Herbert Adler about him. Another voice that could float a note was Eileen Farrell, who sang a pianissimo Bb at the Old Met on that exit in

La Gioconda

where the cellos come with in with the theme. When she sang the pianissimo and floated it and turned to walk, the audience gasped.



BD

: That's what opera is.



CNR

: That's what it's about for me, not a Zeffirelli production in which the set goes up and down. Put that in the Radio City and let them tap dance on it. Opera is special, and we gotta get that back. It comes from thought and from commitment to the craft, rather than from show biz and the awful fastness and competitiveness of today. Young people never get support these days. They don't learn to trust themselves. I give compliments and their mouths fall open. I say why not? That's wonderful. They're not supported enough in what they do.



BD

: It's a tough business.



CNR

: It's an amazing thing. [Pauses again] Back to Emily Dickinson for a minute. She only went out of the house a couple of times in her life, and once was to see Jenny Lind.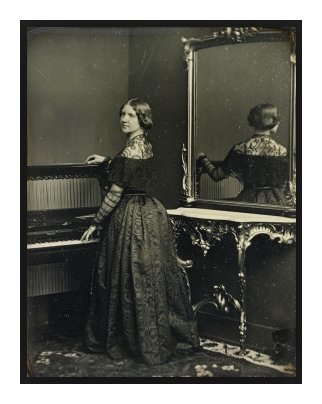 Johanna Maria Lind (6 October 1820 – 2 November 1887), better known as Jenny Lind, was a Swedish opera singer, often known as the "Swedish Nightingale". One of the most highly regarded singers of the 19th century, she performed soprano roles in opera in Sweden and across Europe, and undertook an extraordinarily popular concert tour of America beginning in 1850. She was a member of the Royal Swedish Academy of Music from 1840.

Lind became famous after her performance in

Der Freischütz

in Sweden in 1838. Within a few years, she had suffered vocal damage, but the singing teacher Manuel García saved her voice. She was in great demand in opera roles throughout Sweden and northern Europe during the 1840s, and was closely associated with Felix Mendelssohn. After two acclaimed seasons in London, she announced her retirement from opera at the age of 29.

In 1850, Lind went to America at the invitation of the showman P. T. Barnum. She gave 93 large-scale concerts for him and then continued to tour under her own management. She earned more than $350,000 from these concerts, donating the proceeds to charities, principally the endowment of free schools in Sweden. With her new husband, Otto Goldschmidt, she returned to Europe in 1852 where she had three children and gave occasional concerts over the next two decades, settling in England in 1855. From 1882, for some years, she was a professor of singing at the Royal College of Music in London.

There are no recordings of Lind's voice. She is believed to have made an early phonograph recording for Thomas Edison, but in the words of the critic Philip L. Miller, "Even had the fabled Edison cylinder survived, it would have been too primitive, and she too long retired, to tell us much".




Lind did

Norma

and all those things. I never knew that until recently. She gave a concert in Amherst over a hundred years ago, and went out with Dickinson's father was the treasurer of the town. He was upset because she went out of the town with $4,000. That was a lot of money in those days. She was like Pavarotti that way. But anyway, Emily Dickinson came home, and she wrote that she went to the concert and Lind sang, and sang, and sang, and sang, and sang, and sang, and sang... we got home after Midnight. Bouquets fell, and fell, and fell, and fell. Dickinson said, "I would much rather have seen a Yankee Whippoorwill!" When Beverly Sills saw the play, she screamed. This poor woman, all by herself in the audience, screamed because Emily Dickinson described Lind's singing as, "Well, I will admit her trills were curious."



BD

: Does opera belong on television?



CNR

: I think so. Yes, I've seen some good ones. The

Turandot

I enjoyed, and on my boat years ago I saw wonderful acting from Scotto as Desdemona. It can be good if it's photographed not like it's on the stage and looks like it's a stage piece photographed. It is much better if they can get some cinema in it, with angles and things so you're not aware that you're constantly looking at a Proscenium that's been flatly photographed. But Scotto came out like a movie star. I was surprised.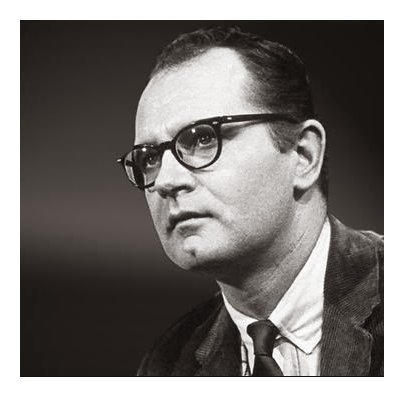 BD: Maybe she knew where the cameras were?



CNR

: But you do the same thing. That's what the younger ones don't know. You act the same way in an opera and in a play. You don't adjust it to different means, because acting is acting. If you do it honestly, it'll be bigger than a waterfall. If you really just do the simple little things, it'll become so big in its honesty. That's where they all make mistakes.



BD

: Even when it's a four thousand-seat theater?



CNR

: Even if it's six thousand-seating. When Julie Harris did

The Belle of Amherst

in Dallas, it was in a huge theater, and the people in the back row were leaning forward like she was in their lap because she had the ability touch them. When I direct, I sit near the stage and I know how it's going. Some directors go in every corner of the balcony because they feel if it's going to be good in the balcony, it will be good elsewhere. In truth, if it's good, it's going to be good and it will go. You will see it, you will hear it, you will feel it at that distance if it's honest, and not, as Roberta Peters says, '

affectado

' or '

exaggerada

'. Those are big words for Jewish coloratura! [Both have a huge laugh] What a wonder woman she is. It's amazing her accomplishment.



* * * * *





BD

: You must get offers to direct operas all over the place...



CNR

: No, not really because they're leery of me. What I do is get a job each season for some opera. I did my first

Bohème

because of Miss Peters. There was a very interesting article in the

New York

magazine... I mention that magazine, although they hate me when I direct a play. "Here comes Mr. Gameshow directing again on Broadway."



BD

: My question is, how do you decide which operas you will accept and which operas you'll decline?



CNR

: Oh, I'll do anything because that's my passion and I love it. They're all the same to me, but mangers will think they'll get me because it's an American opera, or it's a funny opera, but they won't get me for

Ariadne Auf Naxos

. They'll get 'Herbert Kresh Kukmarshanheim'.



BD

: Do you want to get asked to do

Ariadne

or

Tristan

?



CNR

: Yes, anything because to me it's all the same. A scene is a scene. The material is different but the process is the same. You find out what the playwright wanted, and you mount it. My teacher said if you can act one scene, you can act them all. It's the same thing. I'm a teacher – if you're an actor, you can't be a real teacher. If you're an actor, you're an actor.



BD

: How do you view new operas that are being written?



CNR

: I haven't done any.



BD

: The newest one is

The Mother of Us All

?



CNR

: Yes. I hate to admit this, but it got under my skin, and we started humming the tunes, much to our surprise. But it was an interesting work. I watched

Mice and Men

[by Carlisle Floyd, also running at the Chicago Opera Theater during this period], and it's a wonderful work. It was done here more than superbly. It was terrific singing and acting. I'm sitting there and forty-five minutes into it, a 'minstrelish' character with a harmonica plays. We find that he's the spirit of the wondering man of the homeless, a man of these men, and I wonder why is he forty-five minutes late? Is the bridge up? The composer and/or the librettist, and all the people who put it together must start with that character alone on the stage because he evokes the first two men's entrance. There's got to be some show-biz cat out there that could say, "Carlisle, give us three more pages of harmonica." In this

Cinderella

, the bass-baritone has three arias in a row, so let's change the name to

The Father

by Strindberg. Three arias in a row! Cinderella has one aria at 11:15, so I got her cleaning the floor and doing the windows. She's doing everything.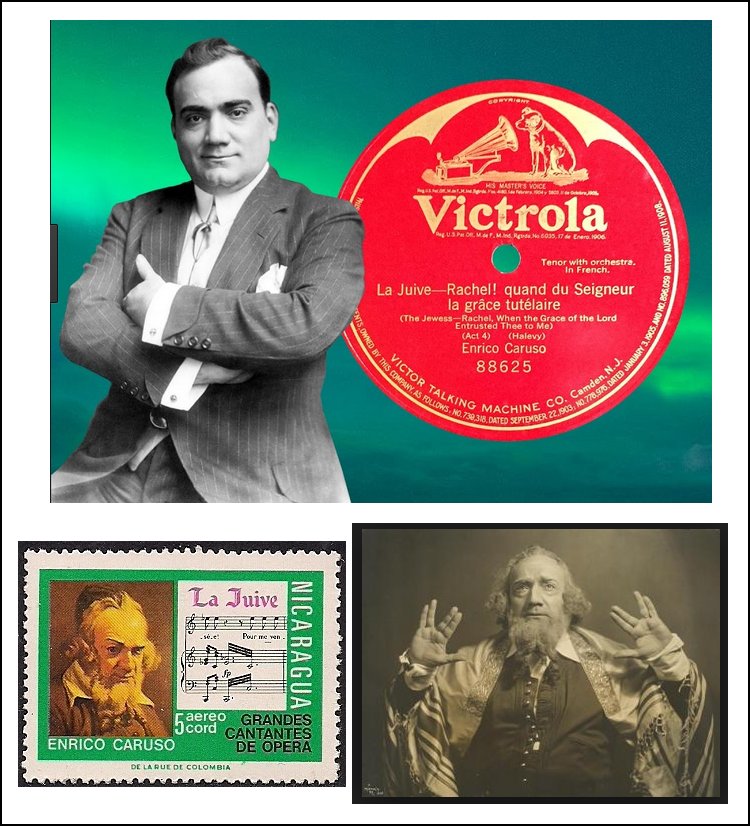 BD

: You haven't reset the numbers?



CNR

: No, we don't touch it. It's like religion. You can't do that. It's a no-no.



BD

: No, but Rossini would have done that, and he would have re-arranged things to suit the situation or the singers.



CNR

: He should have done it then because I can't do it now. His friend was playing the part, so Rossini said, "I'll give my friend another number." So we're stuck three hundred years later with it. Every time I do

The Magic Flute

, I always say to the set designer, "Can we do with nine temples instead of eleven?" [More laughter] We really need just one temple... or give me a couple of blocks is all we need. Mozart will save us, but the guy who played Papageno wrote the libretto.



BD

: Sure, Emanuel Schikanader.



CNR

: [Pauses again] So I didn't tell you about the play about Caruso. It's written by William Luce, the man that wrote

The Belle of Amherst

, and the play I just did with Piper Laurie, which is going to come here,

The Last Flapper

, about Zelda Fitzgerald. Anyway, it's Caruso's two hours between 6 and 8 PM on December 24, 1920, the last night he sang

La Juive

at the Met. It's Christmas Eve and there are presents around. It's the two hours prior to the performance, and he talks to three reporters, which in truth he used to do sometimes because he would be nervous. He gets dressed in front of the audience, and explains it all. A Jewish man, a friend of his who made umbrellas and was the head of his fan club taught him how to do the part. He became as close a friend as Caruso had in this country. I was so happy that last opera wasn't

Pagliacci

, which is the cliché image and is the thing that's overdone. It is more interesting that it is

La Juive

, and we have permission from Victor to use the records. It's explained at the end about the music in his mind. Whatever's happening on the stage— such as when he's telling about the woman who left him for another man with the children, and he's fighting with her — it matches some opera scenario. He was one of twenty-one children. [

Though this detail is presented in some biographies, including one by his widow where she quotes the tenor about it, this has now been shown to be an urban legend. He was the third of seven children, three of whom survived infancy.

] He was the only one that had milk from the neighbor, a midwife. He felt that is why he was a singer and none of the others had talent. His brother went to the army for him. More people died in the Italian army in those days from the food than the bullets. The General had to go to the front because the men said they wouldn't fight until the food improved. You know how Italians are about food — there is no fooling around. So the General went and tasted this rancid soup, and the stew, and he said, "Just needs a little salt." [Both laugh] So there's a lot of funny things, but it's very moving about the responsibility of having that gift in your throat. But it's not just a silly anecdotal thing about music. It's well researched, and it's about the responsibility of being Caruso, about the responsibility of being that special, and what it causes you.



BD

: So this is a play that all young singers should see and take to heart?



CNR

: Sure, I think so. One other tenor I always like to mention is Léopold Simoneau. His Mozart recordings are seamless.



BD

: I met Simoneau and his wife up in Victoria, BC, last year, and they're doing fine. He's going to be seventy next month and I will do a special program for him.



CNR

: Really? Oh, congratulations, that's nice! Tell him I'm a big fan. I really am! It's funny... Carl Reiner is a good friend of mine, and there's no one more delicious than Carl Reiner that ever took up acting.



BD

: Does he like opera?



CNR

: Yes. He hates the boy he went to school with, though. To this day he hates him... not really, but it's Robert Merrill! At sixteen or seventeen, when they were kids together, they went to a baseball game, and Merrill didn't tell him he was going to sing the National Anthem. To this day, Carl Reiner will never forgive him because he wanted to be an opera singer, like myself. He gets so mad at him...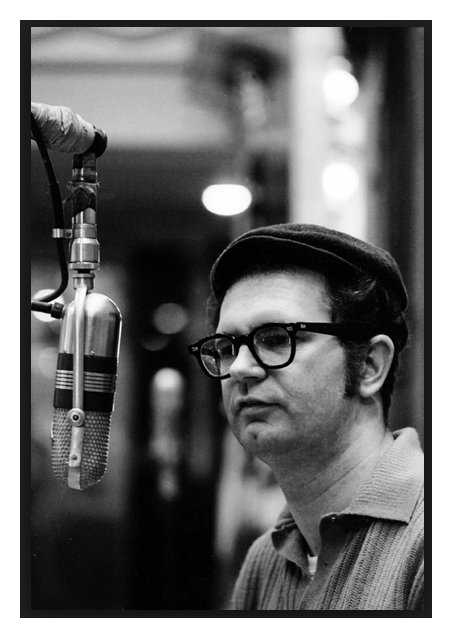 BD

: Why does everybody want to be an opera singer? Why don't people want to be Cabaret singers?



CNR

: Oh, that's no good. I guess it's the majesty of the music. You fantasize about that.



* * * * *





BD

: You mentioned your second favorite tenor. [With a gentle nudge] Who's your second favorite soprano?



CNR

: Licia Albanese is my first because she talks so good, and she's a funny lady. Someone I write to and who writes to me, who I absolutely think is my kind of singer — maybe she's not someone else's cup of tea, but she's 'Albanesey' — Virginia Zeani. She takes risks. They both take risks. My teacher would say she wants to get in and break the cellophane. Zeani and Albanese broke the cellophane. It wasn't so orderly, like life isn't that orderly, but it spilled over, and boy, were you moved.



BD

: Zeani is married to Rossi-Lemeni.



CNR

: Yes, and they're teaching at Indiana University. She's quite wonderful. I just wrote her a fan letter because I love her recordings. I love those pirated recordings. It's no news that people go to concerts and operas and make little recordings. That's no news, right? Everyone knows that! It's not nice to do but you get some wonderful stuff.



BD

: There was a cartoon in one of the audio magazines showing people exiting Carnegie Hall going through a metal detector that would erase all the tapes. [Both laugh]



CNR

: My favorite opera recording of anything is one of those pirated things of

I Lombardi

from about seven years ago at the San Diego Opera with Deutekom, Plishka, and Bergonzi. It is breath-taking. I have a friend and his wife who have taken it a step further. In Palm Beach, where I direct, they come and are very well dressed. The men have boutonnières, and this friend's is the microphone, so it's a good one. His wife also has one, and they sit across the aisle from each other and record the opera in stereo! Nothing stops them. [Pauses another moment] Jan Peerce used to come to my home. He was a magnificent artist, and I loved him very much. He used to say that he always sang with the interest never the capital, and he sang all the arias in the original key. Toscanini used to yell at him and say, "You are Italian. I don't care what you say, you're an Italian man." I was standing in front of my friend's antique jewelry store on Rodeo Drive in Beverly Hills about eight years ago, and this man tapped me on the shoulder. I turned around and he said, "Do you know where an old Jewish singer can find shelter for the High Holidays?" It was Peerce, and I said, "Where are you going now?" He said, "I'm going to buy some shirts across the street." I said, "I'll see you there in ten minutes." I knew my friend's jewelry store had diamond cufflinks shaped a G clef. So I went in and bought them, and I went up and gave them to Peerce. He said he couldn't accept them. I said, "Accept them. When I first heard you on the Mutual Hour in 1944, Sylvan Levin conducted you and Robert Weede in

The Pearl Fishers

duet, and something happened to me. So what's a few diamonds?" A few years ago he came to my house, and I forgot he didn't eat anything but Kosher food. I had this big Italian feast after he sang a joint concert with Roberta Peters. He came in his white tie and tails, and there was nothing for the man to eat. I said to his son Larry, who was a wonderful director, "What if I take the salami out of the salad?" Larry said, "He'll know." Peerce wrote a book about Kosher food and where to get it if you were in Chicago, or if you were in Hibbing Minnesota, or Eau Claire Wisconsin, or Juno Beach, Florida. So the only thing the man ate after singing a concert, sitting on my couch in his white tie and tails, was box of the driest raisins in the world. When he left, I said, "I'm sorry, I just didn't think." He said, "That's perfectly all right. Let's just say you have the best raisins on the island." But to know those people is a very big thrill for me. I am always in awe of someone who is in the business of opera because you don't fool around. In my business you can get away with murder. You can do three lines, and do a take, and you are in a movie. You don't have to study. That's why I have such respect for these singers, especially the seven I have in this opera. I love them, and we have such a good time. They haven't done

Lakmé

, have they? I just discovered it, and I'd love to do that opera. [COT would do it two years later, conducted by Fiora Contino and directed by David Gately.]



BD

: We had it at Lyric about five years ago. Wonderful piece. [The cast included Luciana Serra, Sharon Graham, Barry McCauley, and Dimitri Kavrakos, conducted by Michel Plasson, directed by Alberto Fassini, with ballet by Maria Tallchief.]



CNR

: Do you know the recording with Mady Mesplé? That's beautifully sung, and they sold hundreds and thousands of those truly from the commercial for British Airways. They can't keep the CD in stock now. On the front it says 'as heard on the British Airways'. Isn't that amazing? Truly you can't get it, and it's sung beautifully.



BD

: You also told me to remind you about your boat...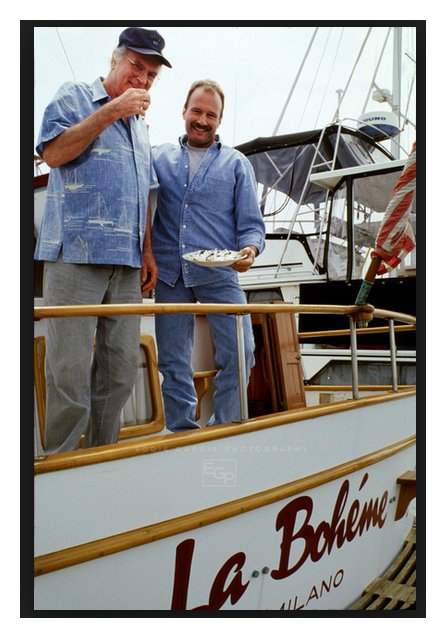 CNR: I have a boat called 'La Bohéme'. It costs more than my house. It's rotting, and the boat's the worst thing in the world, but I love it, and I have a good time. I make all the commercials and the training films for the Coast Guard. I'm a member of the Coast Guard Auxiliary, and if you go learn how to make a boat, I'm the teacher, believe it or not. Ain't that funny? I should direct Vasco da Gama's opera... [L'Africaine

is a grand opera in five acts, the last work of composer Giacomo Meyerbeer. The French libretto by Eugène Scribe deals with fictitious events in the life of the Portuguese explorer Vasco da Gama. Meyerbeer's working title for the opera was, in fact,

Vasco de Gama

. The opera had its first performance by the Paris Opéra at the Salle Le Peletier on 28 April 1865.

] I do these things nobody knows about. It's mad. It's a strange life. But anyway, my friends come, and about two years ago, Jean Simmons, the actress, wanted a party on my boat. It was to be at four o'clock in the afternoon. Now Marina del Rey is the largest marina in the world with privately owned boats. On weekdays it's not very busy, there's nobody out, and this was a dreary day. She wanted to have a party for the three men who played her son in

The Thorn Birds

. So I make supper at home, and I bring it on the boat, or if there's just two or three people I cook it on the boat. You can cook on the boat, but I like to make it nice at home and then heat it on the boat because food is important to me. So anyway my friend, Abigail van Buren came, too. She's funny. She's a wonderful woman. So they all came along with a couple of other friends, so it was eight or nine people at 4 o'clock on a very dreary day. I took the boat out. What I do is go up and down and the channel to see the other boats. Then we go to the ocean, and it's usually a little rough... So we don't do that. It's just the sight-seeing in the channel to see hundreds of beautiful boats. They're from New Zealand, from Spain, they're not all from Malibu. We go around and have drinks, and it's very nice. Another boat was passing us, a smaller four seat dingy was passing us on the side, and as it passed I heard the first act duet of Freni and Pavarotti in

La Bohème

. They had a generous tape recorder on the back seat, and I recognized it, of course, as it went by. So that's that. An hour and half later, about 5:30, we came back from the ocean, and they were following us this time. We were the only two boats around on that dreary day. There were four young people on it. The girl looked like Valerie Harper, and they were screaming maniacally at the top of their voices. I thought they recognized Jean Simmons and the three boys. Two of them were famous, beautiful young men, and Abigail van Buren was there, but they were screaming and trying to catch up to us. It turned out that her mother had died, and they went to put the ashes of the mother in the ocean. In the Will, the mother stipulated that

La Bohème

play. After they did that, they were following us, and my boat goes by, and says right on the back, La Bohéme. That to me is unbelievable. So I gave them everything on my boat that said La Bohéme. They got everything — every place mat, every napkin — and I said, "In memory of your mother." Why was it just our two boats and no others? Isn't that an amazing story? It's not a sad story, but it's an interesting one.



BD

: A nautical marvel.



CNR

: Now to my favorite story. The old met closed in 1966, and the next morning, Sunday at 10 o'clock, there was a program on CBS called 'Camera Three'. It's a half an hour, and I saw in the paper they would be having all these famous opera singers to discuss the Metropolitan. So I got up and I sat and watched this program. The cameras started way back, and you saw about ten singers in a semi-circle in deck chairs, and a moderator. The camera comes in, and you realize that they're all between seventy and eighty-five. They're the celebrated older singers of the Met. There's Richard Crooks, Elisabeth Rethberg, George Cehanovsky, Giovanni Martinelli, Lotte Lehmann, Jarmila Novotna, and they're in a semi-circle all talking about how [in a typical foreign accent] "It was thrilling to 'verk' with the composer, to coach with him, and it was thrilling to be 'zayr' to be with the Maestro." In the middle of all this is this girl, and you were aware that she was a younger person sitting next to Lotte Lehmann. It was Lily Pons, who had on the chicest two-piece suit, the bow, the hair, the shoes, the legs. She was sitting next to a woman relatively her same age and she looked like her granddaughter. That's what the picture looked like. So they're all talking, and finally the camera comes on Lily Pons, whose contribution to opera was immense. First of all, she was a first-class singer, a wonderful coloratura, and she brought a little zip.



BD

: And a bare midriff!



CNR

: Yes! She was something, and she sang all her life very ill. She had cancer all her life, and had a colostomy bag. She sang with that obstacle, and that's why it was such an amazing situation. Friedrich Schorr was a friend of mine, and he passed away because his operation didn't work. He went to the same doctor. She recommended that doctor. Jan Peerce mentioned it subtly on the stage on her twenty-fifth anniversary. I was there when she sang three acts from three different operas in a concert. But anyway, she was sitting next to Lotte Lehmann, and all of them looked like her grandparents. The Moderator said, "Madame Pons, how do you do it?" and everyone leaned in. It was wonderful, like they were staging a comedic thing. They all just came in two inches, and she said, [with a tiny voice and a French accent] "Everything is with lemons. I put lemons on my face, I shampoo my hair with lemons, I take a bath with lemons. I have twelve lemons for breakfast, fourteen lemons for lunch, I put lemons on my elbows, everything is with lemons." Then the camera goes on Lotte Lehmann sitting next to her, and the moderator says, "Now Madam Lehmann, tell us..." Well, she shouted angrily in broken English, "I don't know what I used to do, but tomorrow I get zose lemons!" [Lots of laughter] I love directing famous singers. I asked Theodor Uppman, who did did Sharpless with everybody except Sophie Tucker, who his favorite Cio-Cio-San was. He said it was first, Kirsten; second, Albanese; third, Tebaldi. I saw Grace Moore. She was a very fine singer. Grace Moore was wonderful. She was the only opera singer in the history of the motion pictures to make movies and made money. Not Mario Lanza, because he wasn't in the business of opera. But she saved United Artists' Studios with her movies.



BD

: [Noticing that we had been together for almost two hours] Thank you so much for spending this time with me today.



CNR

: It's lovely to see you.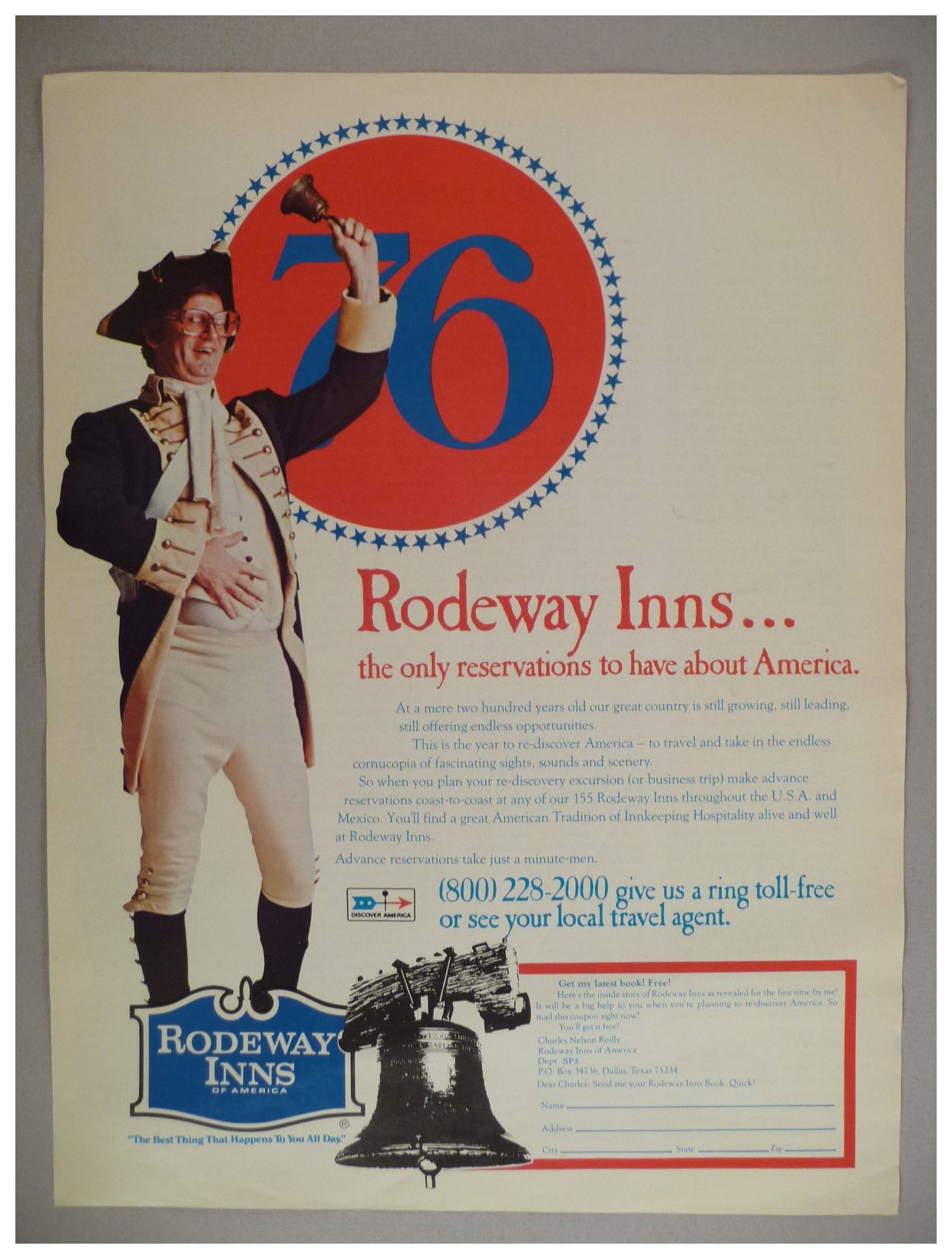 © 1988 Bruce Duffie

This conversation was recorded in Chicago on April 17, 1988. Portions were broadcast on WNIB two days later. This transcription was made in 2017, and posted on this website at that time. My thanks to British soprano Una Barry for her help in preparing this website presentation.

To see a full list (with links) of interviews which have been transcribed and posted on this website, click here.

Award - winning broadcaster Bruce Duffie was with WNIB, Classical 97 in Chicago from 1975 until its final moment as a classical station in February of 2001. His interviews have also appeared in various magazines and journals since 1980, and he now continues his broadcast series on WNUR-FM, as well as on Contemporary Classical Internet Radio.

You are invited to visit his website for more information about his work, including selected transcripts of other interviews, plus a full list of his guests. He would also like to call your attention to the photos and information about his grandfather, who was a pioneer in the automotive field more than a century ago. You may also send him E-Mail with comments, questions and suggestions.