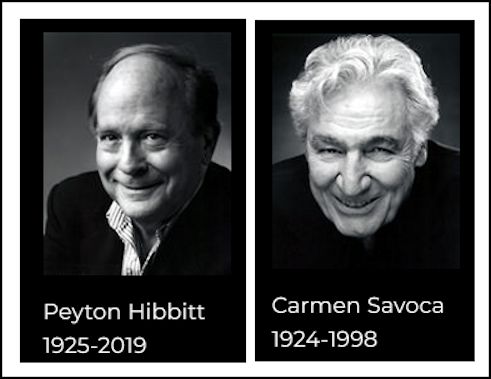 For 49 years, Carmen Savoca was the Artistic Director of the opera company he founded with Co-Artistic Director Peyton Hibbitt. He also served as Producer and Stage Director for Tri-Cities Opera since its founding in 1949. During his tenure with Tri-Cities Opera, he also served as vocal instructor for the Resident Artist Training Program. A 1950 graduate of the Philadelphia Music Academy, he also studied extensively with Vienna State Opera Director Josef Tornau.
Over the course of his career with Tri-Cities Opera, Mr. Savoca directed all but three of the productions presented over 49 seasons including the world premieres of Myron Fink's Jeremiah in 1962 and Chinchilla in 1986, and Ezra Laderman's Galileo Galilei in 1979. His directing credits outside of Tri-Cities Opera include work with Chautauqua Opera Association, Edmonton Opera, Arizona Opera, Oklahoma City Opera, Wichita Opera and the New York City Opera.
A gifted singer, he performed title roles in Rigoletto, The Barber of Seville and the world premiere of Jeremiah in his early career. Mr. Savoca also served on music panel of the New York State Council on the Arts, and for 20 years was an adjunct professor and co-director of the Master of Music in Opera program at Binghamton University. In 1993, Savoca and Hibbitt were given the University Medal by Binghamton University President Lois DeFleur. One of the highest honors the University can bestow, it is given to persons who perform distinguished service to the University, to higher education, and to the community.
In 1992, Savoca and Hibbitt were given a Special Citation by New York Governor Mario Cuomo, "[I]n recognition of their role in forming the Tri-Cities Opera Company and developing the company into an acclaimed cultural institution."