Interviews by Bruce Duffie
with artists of
Lyric Opera of Chicago


The First Fifty Years
1954 - 2003/04




This chart contains a listing of the musicians (and a few supporting personnel) whom I have interviewed, and who have been
associated with Lyric Opera of Chicago during its first fifty years.
The list is divided into sections for various decades, and the order of the names is approximately by date of debut with Lyric.

The links go to the transcripts which are posted on my website.
Names which are not linked have not yet been transcribed, but (hopefully) will be done in the near future.

Obviously, I did not interview everyone who graced the stage during that glorious half-century, but
this list does include quite a few of the artists, both well-known and little-known.

Those who were at Lyric in the early years were interviewed much later, and sometimes on the telephone.
Those from the 1980s and later were mostly done in-person at the time of their appearances in Chicago.
A few who appeared in the earlier years did return, and in-person conversations were then held at that later date.

Technically, the final seven names listed appeared for the first time at Lyric after the 2003/04 season, but since their
interviews are in my library I have included them. I have not met any other artists who debuted in subsequent seasons.

There is also an appendix which includes names of artists I interviewed who appeared with resident companies in Chicago
prior to 1954, as well as a few more links and details related to Lyric Opera.

If you find errors of any kind on this page -- or in any of the transcripts -- please let me know so they can be fixed.
Other comments and suggestions are also welcome.

I hope you enjoy what I have gathered and presented.

Thank you very much.

Bruce Duffie

duffie@voyager.net


"Calling Card" Don Giovanni of February, 1954


Fall Seasons of 1954 - 1959


Fall Seasons of 1960 - 1969
[Note: There was no season in 1967]





Fall Seasons of 1970 - 1979


Fall, Winter, and Spring Seasons of 1980 - 1989/90


Fall, Winter, and Spring Seasons of 1990/91 - 2003/04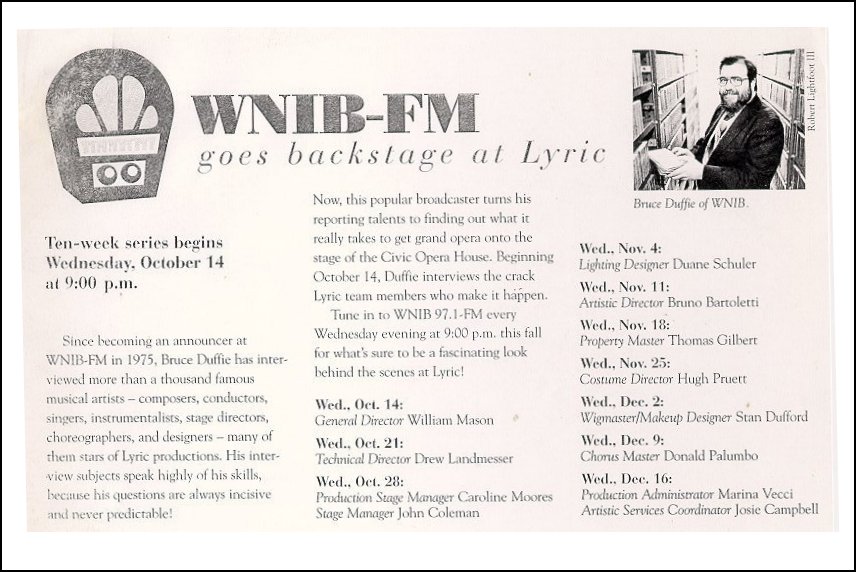 This series aired in the fall 1998, and was repeated early in 1999.

William Mason, Drew Landmesser, Duane Schuler, Bruno Bartoletti, Thomas Gilbert,
Hugh Pruett, Stan Dufford, and Donald Palumbo have been transcribed, and are
listed above. The others in this special series have not been transcribed as yet.
Marina Vecci also translated for many of my Italian guests, for which I am deeply grateful.









Besides the well-known composers whose operas were presented during the
regular fall seasons (and whose names are listed above), Lyric Opera established
a composer-in-residence program for younger creators. Their operas were given
both workshop and full performances in the Civic Theatre, the Blackstone Theatre,
Northwestern University, and various other locations in and around Chicago.






Appendix


Here are the artists I have interviewed who appeared with
the resident opera companies in Chicago prior to 1954.
Some of them appeared in several seasons, while
others came to Chicago only once or twice.

Note that Bidú Sayão, Italo Tajo, Dorothy Kirsten,
and Lorenzo Alvary sang with the company in the 1940s,
then returned to sing with Lyric Opera, and are listed above.
Also, Amelia Goes To the Ball by Gian Carlo Menotti
was presented in 1946, and he is listed above, when
The Consul was given by Lyric in 1996.

It should be remembered that the name 'Lyric Opera of Chicago'
has only been used since 1956. The company was re-born
in 1954 as the Lyric Theatre of Chicago, and was
re-named Lyric Opera of Chicago two seasons later.
Prior to 1954, the resident companies had various names.
Here is the correct list of names and dates:

Chicago Grand Opera Company, 1910-1914
(There was no season of 1914-15)
Chicago Opera Association, 1915-1921
Chicago Civic Opera, 1921-1932
(There was no season of 1932-33)
Chicago Grand Opera Company (again), 1933-1935
Chicago City Opera, 1936-1939
Chicago Opera Company, 1940-1946
(There was no season of 1943)
(There were no seasons from 1947-1953)

Fairly often, when looking up singers who appeared in those very
early years, the listing will say that they sang with Lyric Opera
of Chicago, not knowing that there were other names for the
companies in the first half of the Twentieth Century. I have
sometimes tried to contact those websites with the correct
information, occasionally with a successful result... (!)





Soprano Dame Eva Turner Mezzo-Soprano Sonia Sharnova Soprano Helen Jepson Soprano/Mezzo-Soprano Rose Bampton Mezzo-Soprano Herta Glaz Conductor Edwin McArthur Conductor Maurice Abravanel Soprano Jarmila Novotná Mezzo-Soprano Risë Stevens Administrator/Conductor Kurt Herbert Adler Soprano Licia Albanese Conductor Laszlo Halasz Baritone Martial Singher Conductor Erich Leinsdorf

[Two Interviews]

Mezzo-Soprano Blanche Thebom

Though not connected directly with Lyric Opera of Chicago,
these critics wrote often (or occasionally) about the company.

Critic/Professor Thomas Willis
[
Chicago Tribune
]
Critic/Author Robert C. Marsh
[
Chicago Sun-Times
]
Critic/Author Bernard Jacobson
[
Chicago Daily News
]
Critic/Lecturer Harold Rosenthal
[Editor of
OPERA
Magazine 1953-86]
Editor/Broadcaster/Soporano Ruby Mercer
[Founder and Editor of
Opera Canada
]
Author/Administrator The Earl of Harewood
[Founder and first Editor of
OPERA
Magazine]
Radio Commentator George Jellinek
[Host of weekly syndicated program
The Vocal Scene
]
Producer
Boris Goldovsky
gave pre-performance lectures at Lyric Opera several times

Here are two major articles I have written about opera in Chicago prior to 1954.
Included are photos of the artists, as well as programs and reviews from various years.





To see a detail featured in the design of the Opera House
as interpreted by Chicago artist
Kathy Cunningham
,
click
HERE
.